Cook: Let Shotzi Blackheart Book WWE NXT!
NXT Halloween Havoc was a hit, thanks in no small part to host Shotzi Blackheart. Steve Cook has a pitch for more Shotzi in charge of NXT!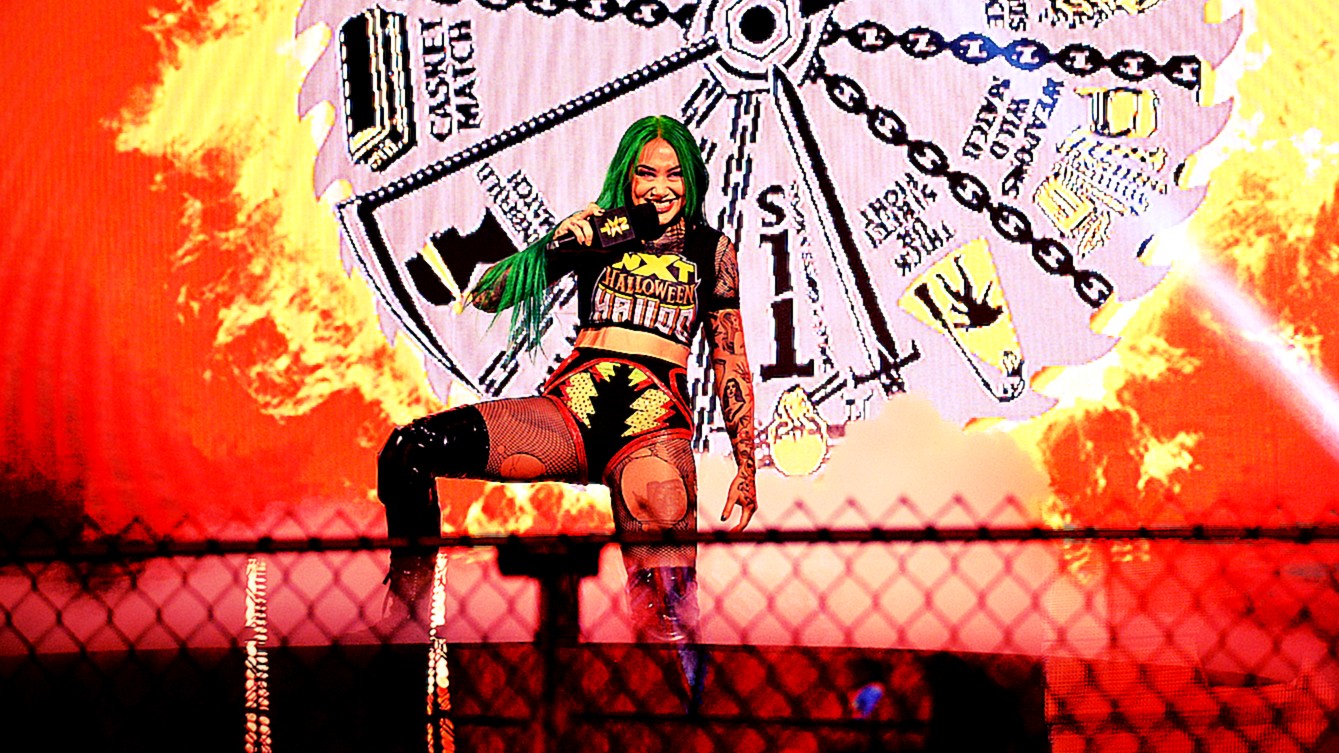 NXT Halloween Havoc was a hit, thanks in no small part to host Shotzi Blackheart. Steve Cook has a pitch for more Shotzi in charge of NXT!
Let's be honest.
The Wednesday Night War has been as much of a war as the US invading Grenada was a war. AEW Dynamite has been kicking WWE NXT's ass for most of the time. There have been some occasions where NXT got the upper hand on viewership, but AEW has been owning those prime demos and overall viewership for most of the past several months.
NXT has gotten the upper hand when they've embraced wrestling's past. It's funny, because WWE noticed this when Cody got the copyright to "Bash at the Beach". One of WCW's premier shows, and up until that point WWE's policy was to pretend that WCW didn't exist, because they saw no value in that brand. After all, WWE won the Monday night war! Also, the WCW mid-carders they signed after didn't get over enough for an Invasion. Obviously, WCW wasn't worth a shit and the horrible booking of all WCW talent in the Invasion angle was deserved.
Once "AEW Bash at the Beach" got over, WWE took notice.
They saw how the named episodes got over, and they saw how those named episodes had WCW names. As much as some wanted to deny it back in the day when everybody insisted that most fans liked ECW more than WCW, there was some WCW nostalgia! They also had more political power than the folks behind AEW, so any claim they made on one of Dusty's names for WCW's shows would carry more weight.
If Cody wanted to claim copyright on any of his father's names for shows, he would be denied because the U.S. President is a friend of Vince McMahon. Cody got Bash at the Beach while WWE was sleeping on those WCW trademarks, which was a good get because that was one of WCW's biggest shows each year it took place. Also because Chris Jericho likes to hold a Jeri-Cruise once a year, so some matches on that boat make sense as a Bash at the Beach. I mean, maybe Jericho has donated enough money to Donald to change his mind…except that Linda McMahon is one of the top fundraisers for that cause. Whoops!
Why am I getting political? People don't like that!
So let's get back to the wrestling wing of this situation. Once the WWE brass figured out that those WCW show names still had value, they clamped down on those names. Which I don't blame them for, since Dusty came up with some great names for shows while working for WCW/Jim Crockett Promotions/whoever else WWE has in their video library. Not only were they great names, but those names were put on shows that people fondly remember.
We saw it back in July when NXT presented the Great American Bash. The GAB started out as a stadium/arena tour for JCP in the mid-1980s, with mixed results attendance-wise but also some great matches. NXT's Great American Bash lasted two weeks, and the second week was the last time NXT won the viewership battle over AEW…
Until Halloween Havoc.
NXT really leaned into the Halloween Havoc gimmick. They even brought back the Spin The Wheel, Make The Deal business, which backfired for WCW one out of two times they did it because they weren't smart enough to gimmick the wheel the first time. It was still recognized as a great idea, which WWE brought back from time to time when Eric Bischoff hosted Raw Roulette. What wrestling fan doesn't like the idea of match stipulations being decided by the spin of a wheel? Seems natural to me.
We also need to pay homage to the host of NXT Halloween Havoc, which somebody behind the scenes was smart enough to let happen. Who better to host Halloween Havoc than a woman arguably creepier than anybody else to not enter the Undead Realm? We all know that Shotzi Blackheart could have been a suspect in the #WhoShotBravo saga, but she went a different route. The fact of the matter is that the one thing WWE has been lacking in their women's divisions on Raw, SmackDown or NXT is a little bit of the dark side. They have some heels, no doubt about it, but they still lack that true connection to the dark side. Every division on every wrestling show needs that.
Shotzi Blackheart has that connection.
Sure, we all love her. We worry whenever she does some stupid looking bump that gives me material for Botched columns. I don't like using those, as I'm a big fan of everything that Shotzi Blackheart brings to the table. Including that connection to the dark side of the ring.
Shotzi's success in the role of host of Halloween Havoc can only be a boon to her career. She's proven her worth as a hostess of destruction. You can use that on either side of the face/heel fence. Father James Mitchell became a cult hero in TNA/Impact Wrestling for nearly two decades, and I think he'll get to that two decade mark pretty easily since he's that talented.
We love people that bring us to that dark side. James Mitchell, Paul Bearer, Shotzi Blackheart. These people bring a feeling to our hearts we didn't know was there, for better or worse. Most wrestling fans are open to folks from the dark side, even if we shouldn't be. We saw Paul Bearer lead the Undertaker as a babyface. We've seen James Mitchell get over as a babyface even if TNA/Impact Wrestling didn't intend for that to happen. People just love that dark side. That was a thing back in the day, and I doubt that's changed in 2020.
So here's what we've learned this week.
Using old WCW names draws attention.
Shotzi Blackheart draws attention.
I can get behind both of these ideas, as an old man that remembers these WCW shows, and being attracted to Shotzi…ok, I shouldn't have admitted that last part even if it doesn't matter. I could get Me Tooed out of this business if I wrote it somewhere else. As things stand, I can just state the obvious.
NXT was getting absolutely murdered in the ratings until Shotzi Blackheart took control.
If I was WWE I would give her the book. Couldn't hurt!
King's WrestleMania Rewind: Charlotte Flair vs. Asuka from WrestleMania 34
Chris king is back with one of the most underrated matches in WrestleMania history–Charlotte Flair vs. Asuka!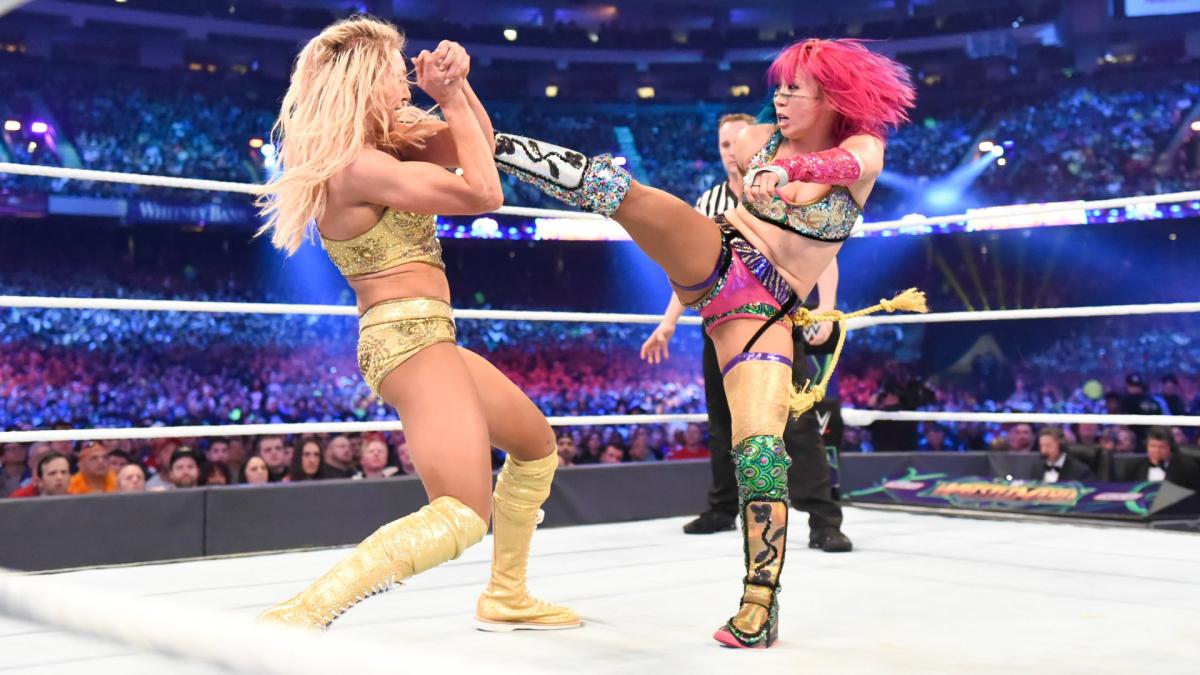 Chris king is back with one of the most underrated matches in WrestleMania history–Charlotte Flair vs. Asuka!
We look back at Charlotte Flair vs. Asuka at WWE WrestleMania 34. 'The Empress of Tomorrow' put her unprecedented and historic undefeated streak of 914 days on the line against 'The Queen's' SmackDown Women's Championship.
For years, this was considered a dream match while Asuka dominated the roster in NXT, while Flair won numerous championships on the main roster on both Raw and SmackDown. The Empress made her long-awaited debut on the September 11th episode of Raw and began to tear through the competition.
Asuka outlasted all twenty-nine other women in the historic first-ever Women's Royal Rumble match to challenge for the title of her choosing. At Fastlane, she made her choice.
The WWE Universe was so excited for this match myself included. Both superstars delivered a fantastic performance on the Grandest Stage of Them All executing counter after counter. Asuka showed off some nasty-looking kicks to her opponent, and Flair hit a thunderous Spanish Fly off the top rope. Flair was seconds away from defeat at the hands of The Empress but she locked in Figure Eight and Asuka was forced to tap out.
I can't even begin to explain how shocked I was at this outcome, as nearly everyone expected The Empress to continue her undefeated streak and walk away with the women's title. This controversial decision was the downfall of Asuka's momentum. She would ultimately win the SmackDown Women's Championship at the 2018 TLC pay-per-view in the triple-threat ladder match.
Fast forward to this year when Asuka has recently returned with her Japanese-inspired persona Kana. Kana is dangerous and ruthless and is heading into a championship with Bianca Belair at WrestleMania 39. The Empress has regained all her momentum and is highly favored to walk away with the Raw Women's Championship. Let's hope that Asuka and Belair can tear the house down and deliver an A+ grade match both women are fully capable of.
King: Dominik Mysterio Needs To Do This At WrestleMania
Chris King is here with what WWE should do with Dominik Mysterio at WrestleMania in his long-awaited match against his father Rey Mysterio Jr.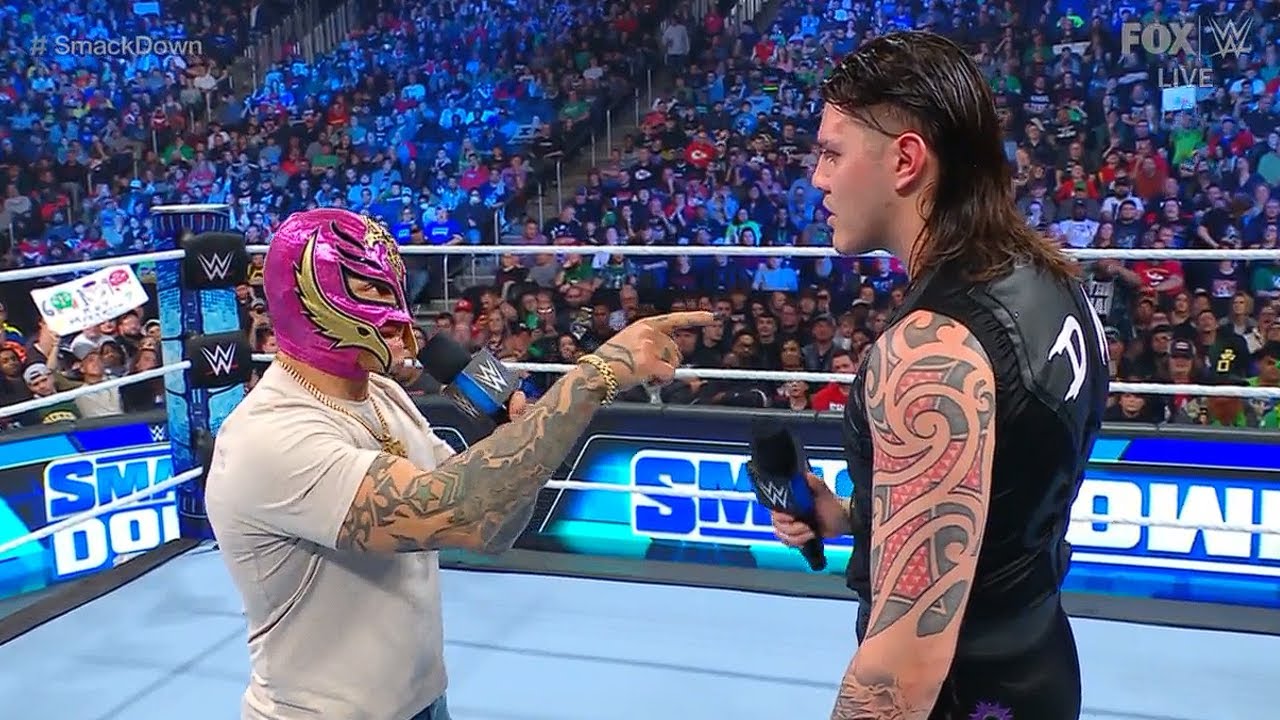 Chris King is here with what WWE should do with Dominik Mysterio at WrestleMania in his long-awaited match against his father Rey Mysterio Jr. 
On this week's episode of Friday Night SmackDown, Rey Mysterio finally snapped and beat some sense into his disrespectful punk-ass kid Dominik. The member of the Judgement Day came out to push his father again for a match on the Grandest Stage of Them All, this time with his mother and sister at ringside. The ungrateful punk told his mom to "Shut Up," as a father even I wanted to jump through the screen and whoop his ass.
Back in October of last year, Mysterio made the emotional decision to possibly quit the company but, instead, Triple H persuaded the Lucha libre superstar to move over to SmackDown to avoid his son. This came after Dominik shockingly turned on his father at Clash at the Castle. Mysterio did everything he could to refuse his despicable son's challenge for Mania but, a man can only be pushed so far. Mysterio will be inducted into the 2023 WWE Hall of Fame and I expect Dominik to embarrass his father during his speech to further this personal feud.
Yes, the WWE Universe hates Dominik and wants to see him get the ever-loving crap kicked out of him but, this feud is missing a special ingredient to capitalize on the biggest heat possible. Throughout this feud, Dominik has made mention of the legendary Eddie Guerrero on several occasions going back to the "iconic" 2005 feud.
I know WWE might not want to go this route but, Dominik MUST come out to Eddie Guerrero's theme at Mania. The disrespectful punk needs to come out in a lowrider to garner nuclear heat. It doesn't matter if The Judgement Day comes out and causes interference for Dominik to get the win, all that matters is that both superstars get the biggest payoff of this nearly year-long feud. Just imagine the Roman Reigns heat after he defeated The Undertaker and multiply that by ten. Dominik portrays the perfect heel and he truly is the missing ingredient that The Judgement Day needed to grow and evolve into a top faction.