Cook's WWE NXT TakeOver: Stand & Deliver Gambling Picks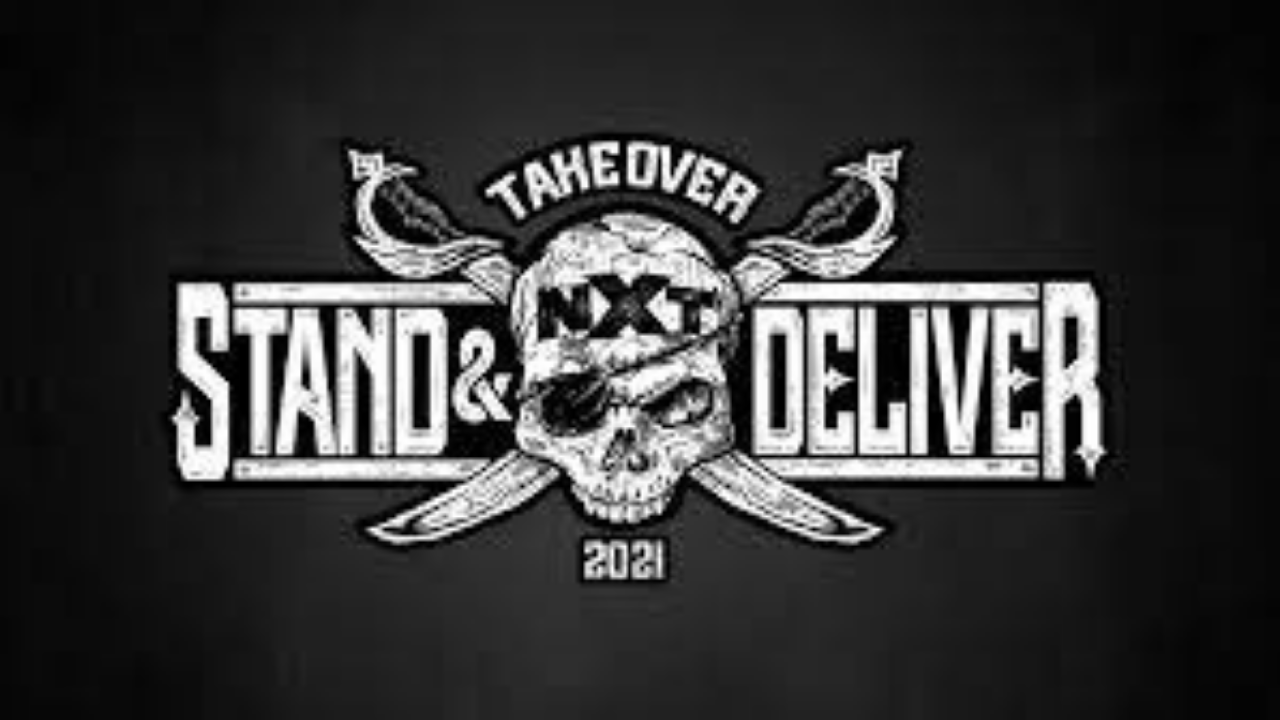 It's WrestleMania Week, which means we got some NXT TakeOver action for ya! Just like WrestleMania, TakeOver needs two nights to get all its business done this year. One on USA, the other on Peacock/PPV.
You know I got all the lines for you via BetOnline, though I must remind you…it's for entertainment purposes only.
Night One ("Stand"?)
Gauntlet Elimination Match
Dexter Lumis (-200) vs. LA Knight (+250) vs. Bronson Reed (+500) vs. Cameron Grimes (+1000) vs. Isaiah Scott (+4000) vs. Leon Ruff (+4000)
EXCLUSIVE: The past is the past. Let @LAKnightWWE talk to ya about his victory in tonight's #BattleRoyal on #WWENXT! pic.twitter.com/8ch2Tj0BqL

— WWE Network (@WWENetwork) April 1, 2021
The winner here will face Johnny Gargano on the next night for the NXT North American Championship. Lumis has been feuding with Gargano for some time, and did score a victory over Johnny the last time they met, so he does seem like the smart choice here.
Who would I pick to make some money? Honestly, I'd stay away from Scott & Ruff, neither has much momentum at the moment. Cameron Grimes has an awesome character but I don't think it's time to turn him for the title shot. LA Knight's an interesting character, but I don't think he makes sense here. I see Bronson Reed there at +500 and that looks like a pretty good value to me. He was on quite the winning streak before losing to Grimes, and has yet to face Gargano in a singles match. I think I'd like to see that, certainly much more than creepy Dexter Lumis.
NXT Tag Team Championship Match
MSK (-175) vs. Grizzled Young Veterans (+125) vs. Legado del Fantasma (+800)
Which team will become #WWENXT Tag Team Champions for the very first time on Night 1 of #NXTTakeOver: Stand & Deliver? pic.twitter.com/8vg8LtR0zX

— WWE NXT (@WWENXT) April 6, 2021
MSK has been on quite the hot streak here. They have yet to lose a match since arriving in NXT, which tells me that now is the time for that to happen. Out of the other two teams, I think you have to go with Legado del Fantasma if you want to make some money. As it turns out, Joaquin Wilde & Raul Mendoza are on a pretty good winning streak, winning four out of their last five matches. Nothing wrong with that.
Pete Dunne (-150) vs. Kushida (+110)
ok,Pete.I will face you next week #NXTTakeOver
Pete Dunne vs KUSHIDA
Let's do this‼️ pic.twitter.com/VraetzfcDG

— KUSHIDA (@KUSHIDA_0904) April 1, 2021
Gotta feel for Pete Dunne a bit. He was a King of NXT with his boys Oney Lorcan, Danny Burch & Pat McAfee. They were running things. He was going to beat Finn Balor for the NXT Championship. He lost to Balor, and he's also lost his running buddies.
The one bright side? He gets to beat Kushida to try & re-establish himself as a contender.
NXT United Kingdom Championship Match
WALTER (-600) vs. Tommaso Ciampa (+350)
WALTER on his wrestling philosophy: "For me, it's a dramatic competition. That's what I want to portray. I want a competition. Everybody can understand physicality. That's how I think wrestling should be done"https://t.co/FWPnFAkwMz

— Justin Barrasso (@JustinBarrasso) March 31, 2021
Unless Ciampa plans on moving to Europe, this one seems pretty easy to call. I guess you could switch the title here if you really wanted to, but why would you waste WALTER's big loss here? Dude has held the title just over two years now, the loss needs to go to somebody that can be made by it. Like that Ilja Dragunov kid or somebody like him. Ciampa winning or losing here makes no difference towards his status in the NXT Universe.
Walter wins, and people get hit really hard. Easy predictions here.
NXT Women's Championship Match
Io Shirai (+150) vs. Raquel Gonzalez (-200)
Get an in-depth look at @RaquelWWE's training ahead of challenging @shirai_io for the #WWENXT #WomensTitle at this Wednesday #NXTTakeOver: Stand & Deliver Night 1️⃣! pic.twitter.com/QUTcV55JSb

— WWE NXT (@WWENXT) April 4, 2021
Raquel being favored is easy to understand. The last couple of big NXT shows have seen her score big victories, like the Last Woman Standing match against Rhea Ripley, or the Dusty Rhodes Women's Tag Team Classic alongside Dakota Kai. Or even War Games, where she scored the winning pinfall over Io Shirai for her team. When the lights are on bright, Raquel delivers.
Io has been champion for over three hundred days now. She's had some very good matches and is one of the best in-ring women in the company, but it feels like time for a change here. She's run through everybody. NXT's women's division could use a refresh, and Raquel Gonzalez could be the right person to do that with.
Night 2 ("Deliver"?)
NXT North American Championship Match
Johnny Gargano vs. Gauntlet Eliminator Winner
NXT Officials asked me and the rest of The Way™ to partake in that press conference thing but I said all questions must be directed to our puplicist. pic.twitter.com/Zii33U2Km3

— Johnny Gargano (@JohnnyGargano) April 6, 2021
Shawn Michaels is one of the chief mentors of the NXT kids. Gargano is one of the people that has patterned himself after Michaels, and considers himself to be to TakeOver what Michaels was to WrestleMania. Indeed, Johnny TakeOver has had an incredible series of matches at the event, much like HBK did at Mania. However, much like HBK at Mania, Johnny's TakeOver win-loss record leaves something to be desired. Gargano is 6-15 at TakeOver, among the wrestlers with the most wins, but the wrestler with the most losses by a wide margin.
This is me telling you that the Gauntlet Eliminator Winner, whoever it may be, is the smart pick here.
NXT Cruiserweight Championship Ladder Match
Jordan Devlin (-120) vs. Santos Escobar (-120)
PROVE. ME. WRONG. 👊🏽☠️🇲🇽 https://t.co/QiHs9ya1AK

— SANTOS ESCOBAR💀🇲🇽 (@EscobarWWE) April 6, 2021
It's been a few weeks since NXT had a ladder match, so something like this was bound to happen. Devlin has been the official NXT Cruiserweight Champion since the Worlds Collide show back in January 2020. At the time, the fact that Devlin was based in NXT UK didn't seem like such a big deal. The pandemic obviously changed that, and NXT needed an interim champion. Santos Escobar ended up winning that, so once Devlin was able to come to America, the title could be properly decided. It'll be nice to get that taken care of.
It's a tossup, as the line indicates. I tend to lean towards Santos Escobar. Don't really have a reason why, other than I liked him in Lucha Underground. These men's NXT work is basically even to me.
NXT Women's Tag Team Championship Match
Shotzi Blackheart & Ember Moon (-200)  vs. Candice LeRae & Indi Hartwell (+150)
.@wwenxt @ShotziWWE
We have been ready for #nxttakeover #NXTTagTeamChampions #TCBWEL #WelcomeToTheFirePit pic.twitter.com/7JaT5uqaQp

— Ember NXT Moon Palmer (@WWEEmberMoon) April 2, 2021
The saga of the Women's Tag Team Championship in WWE has been one of those "Be careful what you wish for" things. Many of us wanted this thing to happen. Unfortunately, the only time the title was interesting & relevant was when Bayley & Sasha Banks held it with the Raw & SmackDown individual championships. Before & since, the division has been clogged with acts with nothing else to do.
It's such a logjam that NXT made a Women's Tag Team Championship of their own, which was necessitated by the fact that the one time the WWE Women's Tag Team Champions defended in NXT, WWE official Adam Pearce inserted himself in the proceedings to make sure that the champions kept their titles. William Regal didn't like this, and made his own title. The only problem? He decided to award it to Dakota Kai & Raquel Gonzalez, who promptly lost the championship later in the evening. Talk about a convincing way to start a championship.
Fortunately, Shotzi Blackheart is one of the champions. So that at least has me interested in this. Can't pick against the Blackheart/Moon team.
Unsanctioned Match
Kyle O'Reilly (-150) vs. Adam Cole (+110)
Prime Target takes a look at the deep, emotional and painful history between @AdamColePro & @KORCombat ahead of #NXTTakeOver: Stand & Deliver.#WWENXT pic.twitter.com/9M8gABFhFa

— WWE NXT (@WWENXT) April 2, 2021
O'Reilly has a built in out for losing this match, as he's not medically cleared in storyline, and only getting a shot at Cole here because WWE & NXT have washed their hands of the matter & aren't sanctioning it. Losing to Adam Cole here would certainly be nothing to be ashamed of. However, defeating Adam Cole would be a big deal to his career, and set him on a higher track in NXT.
I say they don't pull the trigger. I just got a bad feeling for Kyle here, as Adam Cole tends to get things done at big moments like this one. Plus, you throw the rules out the window and that boy won't hold back.
NXT Championship Match
Finn Balor (+110) vs. Karrion Kross (-150)
You haven't even seen my bad side yet… 😈#FallAndPray pic.twitter.com/UHOOqbFreH

— Scarlett Bordeaux (@Lady_Scarlett13) April 6, 2021
We talked about Johnny Gargano's less than stellar TakeOver record earlier…Balor's record is quite the opposite. 14-1 at TakeOver events. That alone is enough to tell you that he has a chance, even if he's an underdog. Gotta tell you though, I think that 14-1 goes to 14-2 on Thursday night.
Kross has only had one defeat since arriving in NXT, and that was as Balor's tag team partner against Danny Burch & Oney Lorcan. He never lost the NXT Championship, and now seems like the perfect time to get it back & take care of the business he didn't get to start. A new champion for a new era of NXT. Karrion Kross is the pick here.
News From Cook's Corner 4.12.21: The E-S-T of the I-W-C
Cook taking the long week/weekend and assessing some fun aspects that came to the forefront! Check out the news!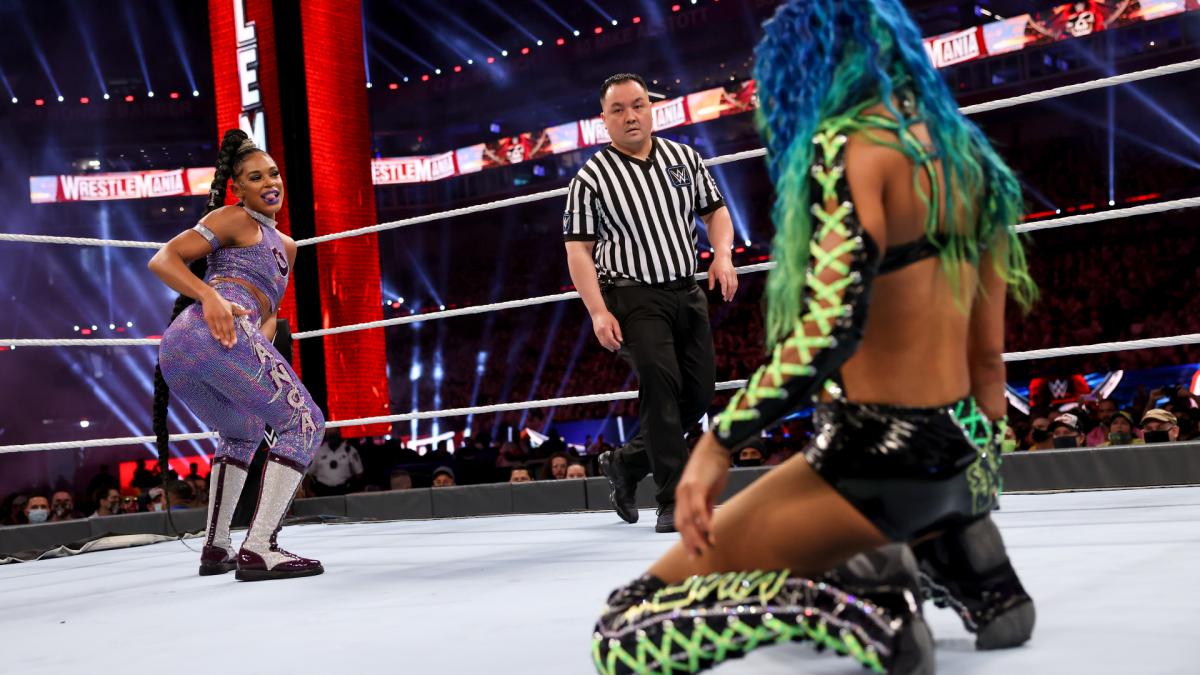 Hi, hello & welcome to News From Cook's Corner! It's been a bit of a weird week for me. While the rest of you are celebrating WrestleMania or the cornucopia of WM Weekend shows, I'm stuck working very long shifts at a job I've given notice at. So I'm a lame duck while wrestlers in Tampa are swimming in the rain like ducks. Kind of ironic, I suppose.
What that means for this column: Haven't finished the show. Watched Night One through parts of Sunday, watched the Broken Skull Sessions with Chris Jericho since I didn't get home in time to watch Night Two from the beginning. Kind of awkward since this is a news column getting posted the day after WrestleMania, but hell, I've written about stuff I haven't been watching for decades now. Gotten really good at faking it, though my exes would disagree with that notion.
(What can I say? When you're single for most of your life and getting older, sometimes you try to act like things are working in a relationship when they really aren't. Fortunately I'm over all this now and am quite happy with life as a spiritual eunuch. I'm not really sure how any of this is relevant to the column, just riffing here to fill space and give you a little update on how things are going. Those who were around back in the day remember I was quite emo about the lack of female attention. Now I've kinda had my fill and am good with it, though my friends try to make me think I'm not. I think we've riffed enough now and can start with some wrestling news.)
Anywho, here's the news!
New Announcers For Raw?
WWE likes to shake things up on multiple levels after WrestleMania most years. Sometimes that involves a change in the announce booth, and that seems to be on tap this year. WrestlingInc reported that former ESPN host Adnan Virk will be joining Raw's announce team starting this Monday, replacing Tom Phillips on play by play. Andrew Zarian added that Corey Graves will also be moving over to Raw, replacing Samoa Joe. No word yet on if this means Graves will be working both shows, or if Joe will be moving to SmackDown, or if Joe will be moving back into the ring, or if Phillips will be moving to NXT UK, NXT India & whatever other NXT pops up in the next couple of years.
Many folks I know like to make a big deal of these things, as they feel announcers are crucial to the overall enjoyment of a show. I used to as well, but the more I watch these things the less I think that they're that critically important to the sports or sports entertainment presentation. Sure, it's nice to have a legend of the business, or a dynamic presence in their prime, on the microphone talking about the action. It can get the die-hards through some rough seasons, or some less than compelling in-ring action. Does it really affect viewership? I don't think so. It's not like Los Angeles Dodgers fans stopped following their team after Vin Scully retired. On the flip side, it's not like the 50+ wrestling fan demographic has flocked to AEW Dynamite to listen to Jim Ross or Tony Schiavone.
It's what the people are talking about that matters, not the people talking about it. Which a lot of us in the talking & the writing business could stand to remember from time to time.
Why did the Hurt Business break up?
It's the question that was on everybody's minds right after Shelton Benjamin & Cedric Alexander were sent packing by Bobby Lashley & MVP. Why split them up? It was a stable that was working pretty well together, seemingly getting over with the public in the right way, and added a lot of options to Bobby Lashley's act as WWE Champion.
The answer seems to be the same answer behind every other decision WWE makes. Cause Vince McMahon said so. He decided that Alexander & Benjamin didn't deserve a push, which is pretty consistent with how their runs with WWE have gone, and that was that. Really not that surprising when you think about it. Somebody talked Vince into giving them a chance, Vince didn't see it working the way he wanted it to, and then you had King Corbin backing up Lashley for an episode of Raw.
It's a shame for Alexander & Benjamin, but it's not in the least bit surprising. We'll see if somebody else can talk Vince into giving them a chance down the road. Until then, the checks will clear.
Damian Priest Barely Made It To WrestleMania
I remember finding it kind of odd when Miz vs. Bad Bunny was announced for WrestleMania. It'd been reported for months that Miz & Bad Bunny would compete in a tag team match at the show, with John Morrison & Damian Priest as their respective tag team partners. It eventually got made into that, but what was with the pause?
Turns out that Priest had a back injury and wasn't cleared until the days leading into WrestleMania. Which is really lucky for him, as one of the points of this whole thing was to get him over. At least I think it was. Now we got everybody talking about how Bad Bunny was the best debut wrestler since Pat McAfee, which really wasn't that long ago but now feels like it happened multiple years ago.
Don't know what the odds are on Bunny & McAfee main eventing a future WrestleMania, but I rule nothing out these days.
Becky Lynch & Ronda Rousey Back Soon?
Nothing
Is
Guaranteed
Here
Tonight
Only
Now
Eternally pic.twitter.com/1snol8vvTC

— The Man (@BeckyLynchWWE) April 9, 2021
That's the word according to WWE President Nick Khan, who told Colin Cowherd as such on his radio show last week. Quite the scoop for Cowherd, who was once detested by fans for making fun of Eddie Guerrero after he died & calling wrestling fans "booger-eaters". Now, he's got WWE executives appearing on his show. Makes me feel better about getting WWE executives on my non-existent show one of these days.
Becky teased a WrestleMania Night One return on her Twitter account, but as usual with her social media teases, nothing came of it. Dave Meltzer mentioned in the Observer that at one point there were plans to have her show up in a truck during a Bayley talk show segment, but obviously the plans for a big truck were shifted to Bad Bunny. Gotta say that it feels like a misfire not having Becky return at WrestleMania in front of the live crowd if she's coming back anytime soon. If she's not, no big deal, but if she's a Night After WrestleMania surprise in the ThunderDome, it's not the same as bringing her out in front of 25,000 people.
As for Ronda, she was rumored to be coming back for this year's WrestleMania when it was taking place in Los Angeles. Dunno if that means she'll be back for WrestleMania two years from now or not.
Dabba-Kato Returns
DABBA KATO IS BACK!!!!!

Why is he dressed like Stalin though? 🤨#Wrestlemania pic.twitter.com/Yri1WohKey

— ❦ ꫝꪗ᥇𝘳𝓲ᦔ ❦ (@TheHybridEnigma) April 12, 2021
Surely you remember Dabba-Kato from his time on Raw Underground. The big fella hadn't been seen after the end of those segments until Sunday night, where he re-debuted as Commander Azeez & helped Apollo Crews win the Intercontinental Championship. I would say this pretty much guarantees that he'll be in line for a big push at the expense of Crews, but it's not like the rest of Retribution has done anything since they dropped Mustafa Ali like a bad habit.
Here's my question: The guy's first name is Babatunde. Why don't they just go with that? It just rolls off the tongue. No need to give him stuff like Dabba-Kato & Azeez when "Babatunde" is right there.
Mox vs. Gage?
PARADIGM SHIFT from Jon Moxley to Nick Gage THROUGH THE LIGHT TUBES #rSpringBreak pic.twitter.com/XgJYRtziTB

— Tripping Balls (@IsThisWrestling) April 10, 2021
The biggest news to develop from GCW's Collective weekend involved Jon Moxley making a surprise appearance to confront Nick Gage after Gage re-gained GCW's championship. Moxley had wrestled against Josh Barnett on another GCW show during the weekend, but this was the first time Moxley & Gage had crossed paths since their glory days in CZW. I don't know if they consider their CZW days "glory days", but it seemed like a good phrase to use there.
One expects that it'll lead to a match between Mox & Gage for GCW, which would be a pretty big deal for them given Mox's drawing power and the fact that Gage will be the subject of a Dark Side of the Ring episode this season, which starts next month. I also wouldn't rule out a Nick Gage appearance in AEW, as Tony Khan is a huge fan of people from that era of CZW & AEW has seen nearly everybody else in the business not contracted by WWE make an appearance at some point this year.
That's all I've got for you right now. Later this week we'll do a Fave Five for April, maybe pick up the Top 5 Quarterbacks by Franchise gimmick where we left off, and whatever else I can think of for wherever else I can think of. Thanks for reading, and keep your stick on the ice.
Greg DeMarco's WWE WrestleMania Sunday Stream Of Consciousness
It's WrestleMania Sunday and Greg DeMarco is back to see if WWE can follow-up a great Night One!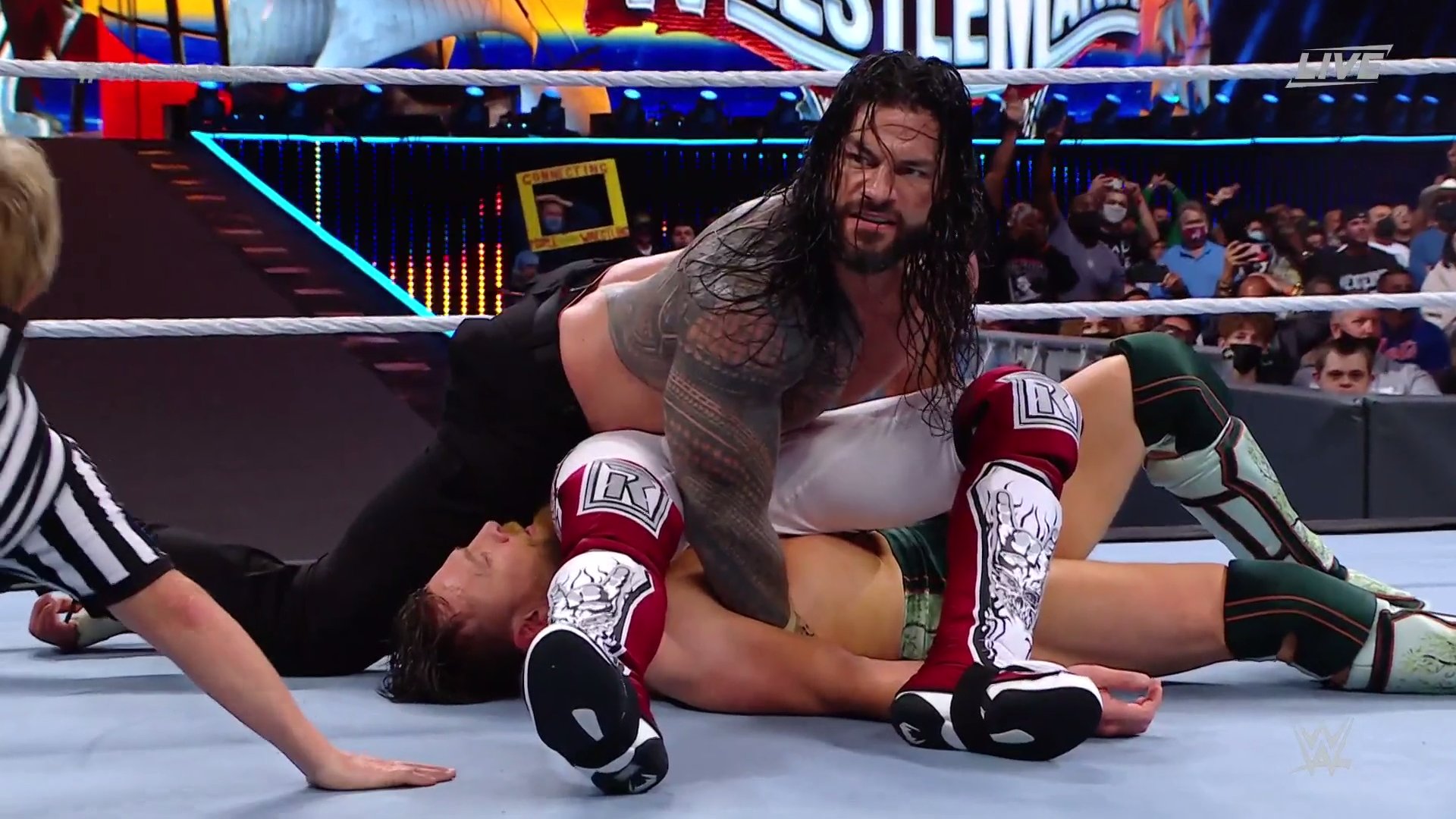 It's WrestleMania Sunday and Greg DeMarco is back to see if WWE can follow-up a great Night One!
WWE WrestleMania is the Showcase Of Immortals, and it's also when the WWE gets to showcase itself. After a tremendous Saturday, WrestleMania Sunday has a tough work to follow. Can it follow? Read on to see what Greg DeMarco thought in real time!
Randy Orton vs. "The Fiend" Bray Wyatt w/Alexa Bliss
Honestly, this is a great choice to open. It might run long, and they can adjust where needed.
Nice to see the video ring posts and ring aprons back. I understand why we didn't have them last night (cage match), but this also help separate both nights.
No more burnt #PizzaTheHut, who ruins my Bold Prediction on The #Miranda Show.
Dude, Alexa Bliss AND The Fiend are insanely O.V.E.R. Randy is, too.
A bit odd seeing The Fiend acknowledge the crowd.
Goddammit Alexa Bliss is amazing at this character. It's even better in front of fans
"The Fiend has been restored!"
Amazing entrance sequence overall.
Bray Wyatt (the guy) keeps getting himself into better shape. Glad to see I'm not the only one who didn't waste the quarantine.
Box like structure….you mean the box? #WresltleMania

— Christopher Platt (@therealcplatt) April 12, 2021
Glad to see Randy Orton keeping the "White Gear #WrestleMania" trend alive for 2021.

— Greg DeMarco (@ChairshotGreg) April 12, 2021
In a rather odd ending, Alexa Bliss distracted The Fiend with fire and weird shit dripping from her head, allowing Orton to hit the RKO for the win. Obviously this is heading somewhere. Finn Balor?
Winner: Randy Orton
So that started out WHITE HOT and ended on a rather odd note. We'll see where this goes in the future. I like the idea that Alexa is pulling some strings…but why tho?
Bayley's Back!
"My fellow co-hosts," and she's a huge fan of his podcast! Love it.
Bayley is doing her best Billie Kay impersonation, and it's working.
Hogan looks like a mascot for McDonald's.
Titus being upset that he can't hang out with Hogan is just wrong.
WWE Women's Tag Team Championships: Natalya & Tamina vs. Champions Shayna Baszler & Nia Jax
I am actually surprised we didn't get more Saturday ➡ Sunday carryover.
Sad that Shayna Baszler is the second fiddle in this tag team, at least from the entrances. She's such a bad ass, but she only has so many years left.
Natalya with the ol' babyface "C'mon you guys!" yell. That's what you do when you're not over.
I don't think anyone told Nia that Peacock edits shit out.

And other words, too.

— Greg DeMarco (@ChairshotGreg) April 12, 2021
At least the right team won. Hopefully we find better champs so Shayna Baszler can dispatch of Jax and move on to somethign better.
Winners and STILL WWE Women's Tag Team Champions: Shayna Baszler & Nia Jax
Sami Zayn vs. Kevin Owens
A feud that has been going since 2009 gets the WrestleMania stage for the first (and probably not last) time. But Sami Zayn is doing his best work sans mask in pretty much ever.
Sami Zayn seems overcome with happiness about working in front of a stadium crowd, and heaving them sing his theme. I bet we see babyface hero Sami at some point in 2021.
Honestly we don't need Logan Paul for this one, but his reach is undeniable.
But Logan's gonna pull a Mike Tyson and cost Sami in the end.
"Expertly trained conspiracy theory expert" and "modern day Copernicus" are some of my favorite lines of the night so far.
Rare referee naming by Michael Cole, calling Jessika Carr by name.
Brain Buster on the apron… glad to see nothing has changed with these two. #WrestleMania #SteenGenerico

— Greg DeMarco (@ChairshotGreg) April 12, 2021
Jessika Carr is back to being "the official," btw.
Second time tonight a ref has had to pull their count before someone kicked out. Timing off, I am thinking it's due to being in a stadium with fans for the first time in 1 year, 1 month, and 2 days.
Nice recover on the Blue Thunder Bomb reference… when Zayn actually hit the move.
STEENALIZER!
"You could hear that echo through Raymond James Stadium" … that's because it's two-thirds empty.
KO wins with the "You Did This" Stunner, and Logan Paul was worthless (so far).
Winner: Kevin Owens
Thoroughly enjoyed that one, and I have a feeling that's not their last WrestleMania showdown.
Sami turns on Logan Paul and gets pushed over.
Kevin Owens hits the Stone Cold Steve Austin feel good Stunner on the guest, as expected.
United States Championship Match: Sheamus vs. Champion Matt Riddle
I legit want Sheamus to destroy Riddle. Really, really can't stand the guy.

— Patrick O'Dowd (@WrestlngRealist) April 12, 2021
Hard hitting match to start, crowd is out of it a little. Not surprised after Owens-Zayn.
Top Rope Overhead Belly To Belly Suplex! That woke up the crowd, and they seem to be sticking with it now.
Brogue Knee might be more effective than Brogue Kick.
There were some botches in the match that definitely hurt it, but the finishing Brogue Kick was impressive, and "the right guy won."
Winner and NEW United States Champion: Sheamus
Nigerian Drum Battle for the Intercontinental Championship: Champion Big E vs. Apollo Crews
This is basically a No DQ Match that happens to have Apollo Crews in it, but I like that they named the stipulation after him. It's a nice touch.
PLUNDER! That adds to this match as well.
I was literally just watching and not typing lol.
Babatunde finally has a role, and Apollo has his championship win. Once again, the right person wins.
Winner and NEW Intercontinental Champion: Apollo Crews
Raw Women's Championship Match: Rhea Ripley vs. Champion Asuka
After losing at WrestleMania 36 (in the best match of the entire event), Rhea Ripley kinda needs to win here.
Sometimes I really enjoy a live entrance theme. This is not one of those times. This rendition of Ripley's Brutality theme sucked.
Asuka should be the baddest woman on the planet, but instead she…dances. Don't blame her level of success on WWE booking, it's how she plays her character.
You know, it's weird. When the bell rang, Rhea Ripley seemed to lose steam.
I think that early kick really rocked her.
Rhea Ripley hits the Riptide, but I bet she'd love to have that one back. Right person, yet again, wins.
Winner and NEW Raw Women's Champion: Rhea Ripley
I really think that early kick in the corner rocked Rhea, and it hurt the match a bit. Rhea pulls it out in the end.
Universal Championship: Daniel Bryan vs. Edge vs. Champion Roman Reigns (w/Paul Heyman)
Very surprised by the lack of a reaction for Roman Reigns. His entire turn took place with no fans, this is truly the first time he has fans for it.
Edge wearing the white WrestleMania gear, it's basically him and Randy Orton.
Jey Uso immediately attacks Daniel Bryan… and it's BRILLIANT.
Jey was the MVP of the early portion of the match, before being taken out.
WAY too much commentary talk about Roman losing his title without being pinned.
For the record, I picked Daniel Bryan to win, beating Edge.
We've settled into the typical triple threat match formula, and here's the thing: IT'S WORKING.
Roman Reigns is honestly selling his ass off for Daniel Bryan.
So much happened in this match–so much. Hell of a way to close out one hell of a WrestleMania.
PAIN. #WrestleMania @WWERomanReigns @EdgeRatedR @HeymanHustle pic.twitter.com/IXqdv9HTJz

— WWE (@WWE) April 12, 2021
Winner and STILL Universal Champion: Roman Reigns
I know I picked Daniel Bryan–and I got it wrong–but this feels like the right call seeing it live. Everyone had their spots, Edge had some moments where it would seem like he was going to win, but Roman Reigns supreme.
Big E is freed up to feud with Roman, and Daniel Bryan and Edge can feud all summer. I think we are in for a fun ride through October's WWE Draft over on Smackdown.
Overall Impressions
It's too soon to call, I need to re-watch it. But this feels like an all-time great WrestleMania. So many things clicked, so many things seemed to go right. This was 7 hours of wrestling action, but it was spread over two nights. I hope this format is here to stay. Kudos to all involved, especially the crowd. Welcome back!