WWE Week in Review November 12-18, 2018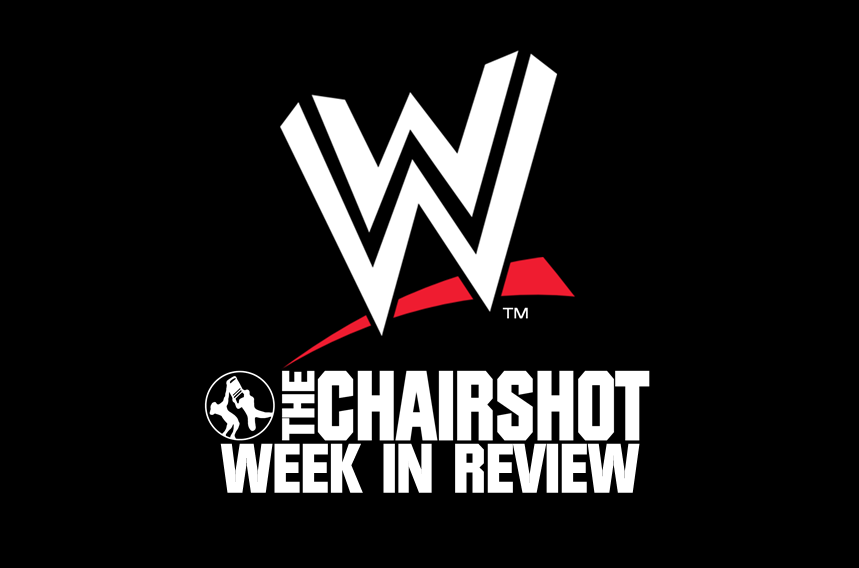 We are in the final week before WWE Survivor Series and TakeOver: War Games II and everyone's looking to gain momentum going into Survivor Series Weekend.
On RAW, Alexa Bliss decides on the RAW Women's team, Seth Rollins tries to focus on his upcoming match with Shinsuke Nakamura, but a shocking act by Dean Ambrose throws all that out the window. The RAW Elimination Team tries to find their captains. Baron Corbin finds himself in hot water with Stephanie McMahon, who finds herself making a deal with Braun Strowman to save Survivor Series, and Ronda Rousey learns a painful lesson about arrogance when RAW has some unexpected company.
On SmackDown, the fallout of the invasion of RAW throws Survivor Series into chaos. Miz finds himself in a position to make some changes to the SmackDown Men's team. Becky Lynch swallows her pride and turns to a former friend when the consequences of her actions leave her on the sidelines. A confrontation between Styles and Heyman over Survivor Series has unexpected consequences that stun the WWE Universe.
On NXT UK, Triple H and Johnny Saint make a historic announcement that has a huge impact on the fledgling Women's Division. While the gentlemen all jockey for position and respect.
On 205 Live, Lio Rush's undefeated streak is on the line against a hungry and desperate Cedric Alexander. Buddy Murphy and Mustafa Ali prepare for their confrontation at Survivor Series, and Drew Gulak and Jack Gallagher face former friend Brian Kendrick and former victim, Akira Tozawa.
On NXT, Mia Yim face the EST, Bianca Belair. Lacey Evans tries to teach class to a rookie. Kyle O'Reilly faces Hanson to decide which team will have the advantage in War Games.
So, how did WWE do with all these balls in the air? Let's find out!
RAW
WWE Universal Championship: Paul Heyman and Brock Lesnar were in the house to hype the big rematch from last year: Brock Lesnar vs AJ Styles Part II. Heyman did his usual schtick of hyping Lesnar and vowing victory for his client.
This broken record was interrupted by Jinder Mahal, who had nearly faced Lesnar last year at Survivor Series. Mahal wanted to bring his enlightening mediation to the Beast. Lesnar seemed to play along before treating Mahal to a thunderous F-5. Not satisfied, Lesnar also took out the Singhs before leaving.
Baron Corbin vs Braun Strowman: Baron Corbin has been a marked man since his actions at Crown Jewel cost Strowman the Universal Championship. Strowman was denied his prize last week when Corbin high-tailed it out of the arena. Refusing to be denied his prey this week, Strowman interrupted the battle royal to decide who would captain the RAW Tag Team-Team, throwing everyone out, and declaring that he was not leaving the ring until Corbin came out here.
Instead of Corbin, Strowman got Stephanie McMahon, who was certainly wary of Strowman, but not really scared. Stephanie tried to talk Strowman down, assuring him that she understood that he was pissed over Corbin's actions, but that she needed him to focus on Survivor Series and leading Team RAW to victory.
Strowman interrupted her, which is never a smart move and tells her that he doesn't give a damn about brand supremacy or what Shane did. Strowman knows Stephanie's trying to manipulate him. Stephanie offers a compromise: If Strowman leads Team RAW to victory on Sunday, she'll give him whatever he wants.
It was here that Baron Corbin learned the ultimate hard lesson about being a toadie for the McMahons: They will never hesitate to throw you to the wolves. Strowman's demands were simple: He wants Brock Lesnar for the Universal Title. He wanted Baron Corbin, and he wants Corbin to sign a waiver so he wouldn't be held responsible for what happens. Stephanie agrees to his demands on one condition: He had to wait until after Survivor Series.
Strowman didn't seem to realize that he was actually in weaker position and threatened to go to WWE Headquarters and destroy the place if Stephanie tried to renege on the deal. Before Stephanie could answer, she was interrupted by Ronda Rousey.
Stephanie wasn't happy about this, but seemed willing to play nice, but Rousey wasn't. It seems that Ronda's head has gotten a little too big for her hat because she tells Stephanie that she doesn't need a pep talk to get motivated to face Becky Lynch. She then moves on Stephanie, who hadn't done anything.
Baron Corbin, who seemed to been emboldened by the fact that Strowman couldn't touch him, came out to calm things down. He made the huge mistake of not only talking down to Rousey but touching her, which lead to him getting thrown by the irate Rousey. Barely recovering from that embarrassment, Corbin was confronted by Strowman, which lead to Stephanie having to get between them. Strowman threatened to neuter Corbin after Survivor Series, before leaving.
RAW Women's Division: Alexa Bliss told the Women's Division last week that she was looking for people with killer instinct for the RAW Women's Team.
In that spirit, Ember Moon took on Tamina Snuka in one on one action. Tamina was accompanied by her new partner, Nia Jax. Ember had a much better go of it this week, but the presence of Nia Jax kept her from maintain any momentum. The advantage of Nia paid dividends for Tamina who was able to pull out the win with a Superfly Splash and Alexa, who had been watching backstage, seemed pleased with this.
For weeks, Ronda Rousey and Becky Lynch have been having an increasingly nasty war of words on social media. On Monday, Rousey addressed Becky Lynch in a final promo before Survivor Series. Rousey arrogantly dismissed Lynch and her threats as ridiculous, showing Lynch minimal respect. She then nearly broke her own arm patting herself on the back talking about how hard she'd worked to get where she was, not seeming to understand that Lynch had worked that hard and harder to get where she was and was a lot hungrier than Rousey.
Last week, the Riott Squad showed how far they'd go to get one over on their opponents when Ruby Riott ruthlessly broke a pair of sunglasses that supposedly belonged to Nattie's late father, Jim Neidhart.
This week, Ruby Riott addressed the situation, showing some remorse, before revealing that she'd loved every minute of destroying those sunglasses. Her only regret was that she'd only destroyed the sunglasses. Nattie had had everything handed to her because of her name, but the Riott Squad had had to scratch and fight for everything. Riott said that she'd wanted to make Nattie cried and was happy that she'd succeeded.
At this point, Nattie's music hit, and the Riott Squad turned to deal with the threat, but Nattie came out of the crowd and attacked Riott from behind. Logan and Morgan came to Riott, but Nattie tried to hold her own, but was overwhelmed by the vicious Squad before suffering the indignity of being hit with a Hart Attack by Logan and Riott.
Alexa Bliss announced her picks for the RAW Women's Team, and her picks were no surprise for the most part: Mickie James, Nia Jax, Tamina. The one big surprise was Nattie, who Bliss had sent home to calm down. As for the final spot, Bliss announced that there would be a match between Sasha Banks and Bayley to determine who would get the final spot.
The match between Banks and Bayley was typically amazing. Both women wanted that spot and it show, especially when Bayley hit a Bayley-to-Belly on Sasha on the apron. However, as usual, we didn't get a winner for Banks vs Bayley because the rest of Team RAW attacked the two women, ending the match in a No Contest. It was then that Bliss revealed that the match had been a game. The final member of Team RAW is Ruby Riott.
Before Banks or Bayley could fully process that, we were alerted to a commotion backstage. Going to the Women's locker area, it was discovered that Becky Lynch had attacked Ronda Rousey and had Rousey in the Dis-Arm-Her while Rousey screamed and thrashed around. While Team RAW tried to process that, Lynch's music hit. The women in the ring dared her to come in the ring, Team SmackDown jumped the RAW women and the fight was on!
What happened next wouldn't be fully revealed until the next day, but somewhere in the brawl, Nia Jax punched Lynch square in the face, not a working punch, or even a potato, but a full powered punch in the face. Lynch's nose started spurting blood, but it didn't stop her from fighting, taking out Ronda Rousey when Rousey tried to come to Team RAW's rescue. RAW ended with a bloodied Lynch in the audience, leaving Team RAW and Ronda Rousey in the ring.
Backstage, an enraged Stephanie McMahon berated Corbin for what happened. Corbin tried to make excuses, but Stephanie's patience had run out. She orders Corbin to do something about what had just happened and warned that RAW could NOT lose on Sunday.
Seth Rollins vs Dean Ambrose: For weeks, Seth Rollins, and the WWE Universe have been trying to get answers for Dean Ambrose's shocking turn, and Ambrose had refused to answer. This week, however, Seth had bigger things on his mind, namely, his match against Shinsuke Nakamura at Survivor Series.
Rollins gave an interview to Corey Graves, who asked him about his preparations for Survivor Series. Rollins admitted that he usually puts a lot of preparation and thought into his matches, especially a big one like the one with Nakamura, but right now, he's not thinking about Survivor Series and didn't really give a damn about Nakamura.
Graves, who had seen what Nakamura is really capable of, tried to warn Seth that Nakamura wasn't someone to take lightly, but Rollins wasn't listening. He was more focused on the situation with Dean Ambrose. Despite his words last week, Rollins said that he still wanted answers from Ambrose about why Ambrose turned on Rollins and Roman Reigns, despite the fact that Ambrose hadn't turned on Reigns, just Rollins. Rollins then said that Dean wasn't a stupid man, he just wasn't man enough to come to Rollins to tell him what the problem was.
At that point the TitanTron came to life, revealing that Dean was outside, sitting on the hood of a car, next to a roaring trash fire. Ambrose said that he was man enough to come in out of the cold and beat the hell out of Rollins, but he wasn't going to do it. Ambrose said he didn't owe anyone an explanation for what happened. He blamed Seth's treatment of him for part of what happened and said that he'd changed and Seth and Roman didn't notice. He then said that maybe part of him hoped his brothers would forgive him one day, but he said that the Shield, Seth, and Roman made him weak because he'd believed in that brotherhood and those days were over, he was going to burn it down.
What Dean was burning down became obvious when he pulled out his old Shield vest and through it into the fire. Seth was devastated, and went in search of his former friend, presumably to have it out once and for all.
Dolph Ziggler vs Finn Balor: Last week, Drew McIntyre shocked the wrestling world by soundly defeating Kurt Angle, with Angle's own move, the Ankle Lock. This week, McIntyre didn't hesitate to crow about his victory over the Hall of Famer and voicing his disgust over Angle crying in the ring. He also claimed that he'd sacrificed more than anyone in WWE and that he's done with nostalgia acts.
Balor come out to save us from this nonsense, calling McIntyre a liar and saying that his actions against Angle last week crossed a line. McIntyre, not realizing, or caring that Balor isn't someone to take lightly, made the massive mistake of talking down to the Irishman, saying dignity wasn't a right, and insulting the Balor Club.
Tired of the blowhard Scot, Balor challenged McIntyre to a match, but McIntyre, claiming that Balor was beneath him, offered up Dolph Ziggler instead, saying that if Balor could beat Ziggler, he'd get McIntyre but before the match could start, McIntyre got in a cheap shot on Balor.
The match between Balor and Ziggler was really good. Thanks to McIntyre's cheap shot, Ziggler dominated the first part of the match, but Balor got his wits back pretty quickly and was able to battle back. Ziggler COULD have put Balor away if he'd been more focused on wrestling than showing off. It looked like Balor was done for after Ziggler was able to dodge a Coup de Grace, but Balor rolled up Ziggler for the pin. Infuriating McIntyre, who'd looked more and more worried during the match.
To add more fuel to McIntyre's woes, when Balor go backstage, Stephanie made him the final member of Team RAW, over the protests of Corbin, Ziggler, and McIntyre.
Tag Team Battle Royal: Since Strowman had rudely interrupted the first attempt, the Tag Team Battle Royal to determine who would be the captains of the RAW Tag Team Team at Survivor Series. It came down to Roode/Gable and the Ascension. Roode and Gable would pull out the win, but the RAW Tag Team would include pretty much the whole Tag division, not including AoP.
Bobby Lashley vs Elias: Lio Rush did his usual hype job for Lashley for his magnificent body, which seems to be about all Lashley has going for him sometimes. This body worship was interrupted by Elias.
Elias announced that he was reporting Lashley for kidnapping a child, asking Rush how old he was. He also found Rush's gushing over Lashley's body while Lashley was bent over, a little disturbing, asking the audience if they wanted to walk with Elias or bend over for Lashley and that Lashley was in danger of putting people to sleep.
Unamused, Rush called Elias a clown and challenged him to say all that to Lashley's face. Amused, Elias told Rush to calm down, he was just trying to help the whole world understand that Lashley sucked.
The actual match was pretty good. Elias was able to keep up with Lashley, but Lashley's hype man earned his pay yet again, when Rush was able to keep Elias from beating the ref's count, earning Lashley a win by countout and the final spot on Team RAW.
Greg DeMarco's Good, Bad, & Ugly: WWE Smackdown On FOX (November 3, 2023)
It's the go-home show for WWE Crown Jewel, and Smackdown is in full force! As is Greg's Good, Bad, & Ugly review!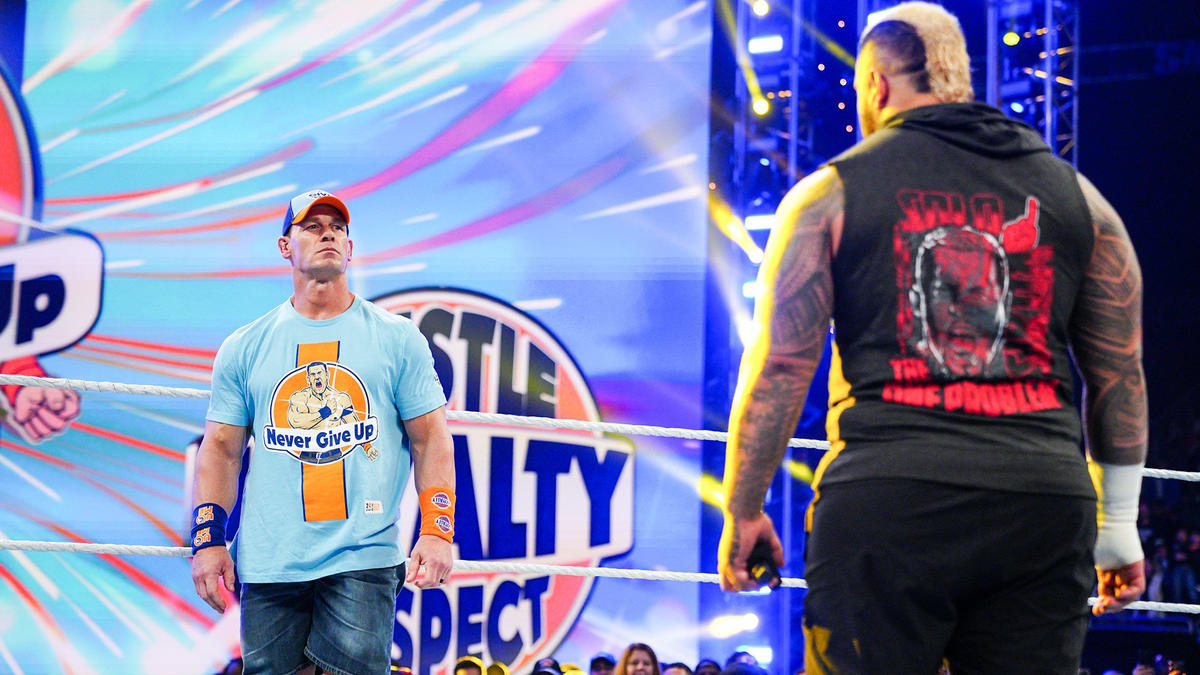 It's the go-home show for WWE Crown Jewel, and Smackdown is in full force! As is Greg's Good, Bad, & Ugly review!
WWE Smackdown On FOX sends us home for the Crown Jewel premium live event, so it has to be strong. But is it? Maybe it's Good. Possibly it's Bad? I sure hope it isn't Ugly.
Let's find out!
---
If you haven't checked out Mitchell's Results & Review for this episode of Smackdown, go and check it out now!
---
Good
Roman Reigns & LA Knight In Ring Promo – Last week LA Knight got the better of Roman, so it made sense for Roman to get it all back this week. And he did just that. "Redneck Cosplay of my cousin" was a fantastic line from Roman Reigns, but "I ain't here to finish something" from LA Knight got a bigger reaction from me. Roman calling himself the megastar was also a phenomenal line. Good stuff all around.
Kevin Owens vs. Austin Theory – Kevin Patrick keeping "The 150 million hit man" schtick going for Austin Theory is so great. Milk that for all it's worth! "What is your issue with Kevin Owens' face?" "LOOK AT IT, MAN!" Absolutely brilliant shit. "How's that feel, idiot?" Grayson Waller should be on commentary every week, for every match. And this match, by the way, was really good. Austin Theory has settled into his current role, showing he understands the WWE cycle. And Owens is Owens.
Backstage Series Of Events – We had the Bianca Belair interview where she was attacked by Damage Ctrl, followed by The Street Profits & Bobby Lashley running into Logan Paul and then B-Fab. Flowed well, no issues for me.
Chelsea Green & Piper Niven vs. Shotzi Blackheart & Charlotte Flair – No surprise that Charlotte Flair was the partner, and no surprise that Alba Fyre and Isla Dawn made an appearance. This was a perfectly fine TV match–didn't set the world on fire, but also wasn't Bad or Ugly. This was a step in this story, and an effective one.
The Brawling Brutes vs. Pretty Deadly in a Good Ol' Fashioned Donnybrook! – Shout out to Sheamus, whose return I look forward to seeing. With Ridge really coming into his own, we're to the point where all four of these guys range from good to great to fantastic on any given night. Putting Pretty Deadly into any "manly fight" is always guaranteed entertainment. Really, Pretty Deadly in anything is typically guaranteed entertainment. Pretty Deadly picking up the win was not a shock, although I'd have loved to see Butch and Ridge Holland pick up a win here. Given the rules (or lack thereof) of this match, Pretty Deadly basically won clean here.
Rey Mysterio vs. Logan Paul Crown Jewel Weigh-In – A very effective way to pretape something, which saves time as part of a double taping. It was essentially a go home promo, but done in a different way. I liked it. It also smoothly transitions into the rundown of the card by the commentary team, which I always appreciate.
Bianca Belair vs. Bayley – If you know me, you know that Bianca can be hit or miss for me. She can't "work with anyone," but she can definitely work with Bayley. Bayley, of course, is money with anything she does. Both women delivered a main event quality match, and no one should complain that Bianca Belair won. She's challenging for the Women's Championship in less than 24 canon hours, so she needs to win. Bayley is a made woman, losing here doesn't hurt her one bit.
"Just Enough Nick" Nick Aldis Usage – Triple H has done an amazing job of establishing Nick Aldis. Three weeks in and he already "belongs." Much of that is attributed to how Aldis carries himself. But they are also using him to the right degree. It's not too much, but it's also not too little. Adam Pearce could miss two weeks of Raw and when he shows back up, it all makes sense. For Aldis, he needs to be very present, but not overbearing or "shoved down our throats." They have the right balance.
BAD
Solo Sikoa & John Cena In Ring Promo – John Cena, lost voice and all, completely buries Solo Sikoa. He "cooks" Solo, as promised. And, as Cena does, he makes Solo look like crap. Bargain Basement Tazz Rip Off? C'mon man, you're better than that. But here's the real problem: what happens if Solo loses? Cena made him look like a loser, and then proves that he is? Solo has to win this match. If he doesn't, and Cena is gone, then Solo is left out in the cold. And you don't want to do that to Solo Sikoa at this point of his career.
UGLY
Misstep for Theory – Referencing Halloween as if it hadn't already happened. You can edit this episode–c'mon, man!
Kevin Owens' Crotch Chop – C'mon, man! We're better than crotch chops in 2023.
The Verdict
Good – 8
Bad – 1
Ugly – 2
In all honesty this was a damn good show. Milwaukee showed out considering they'd already seen 2 hours of Smackdown before this was taped. Good on them, and good on WWE for a great go home show for Crown Jewel.
Interesting of note – the pictures for this show that are posted to the WWE website are uploaded in the order the matches and segments were recorded, not the order in which they aired. Just a little tidbit that I found interesting.
Greg DeMarco's Wrestling Ratings Report: Monday Night Raw (10/30/2023) & WWE NXT (10/31/2023)
Greg DeMarco takes a look at your Monday and Tuesday night TV ratings. What do they mean? Do they matter?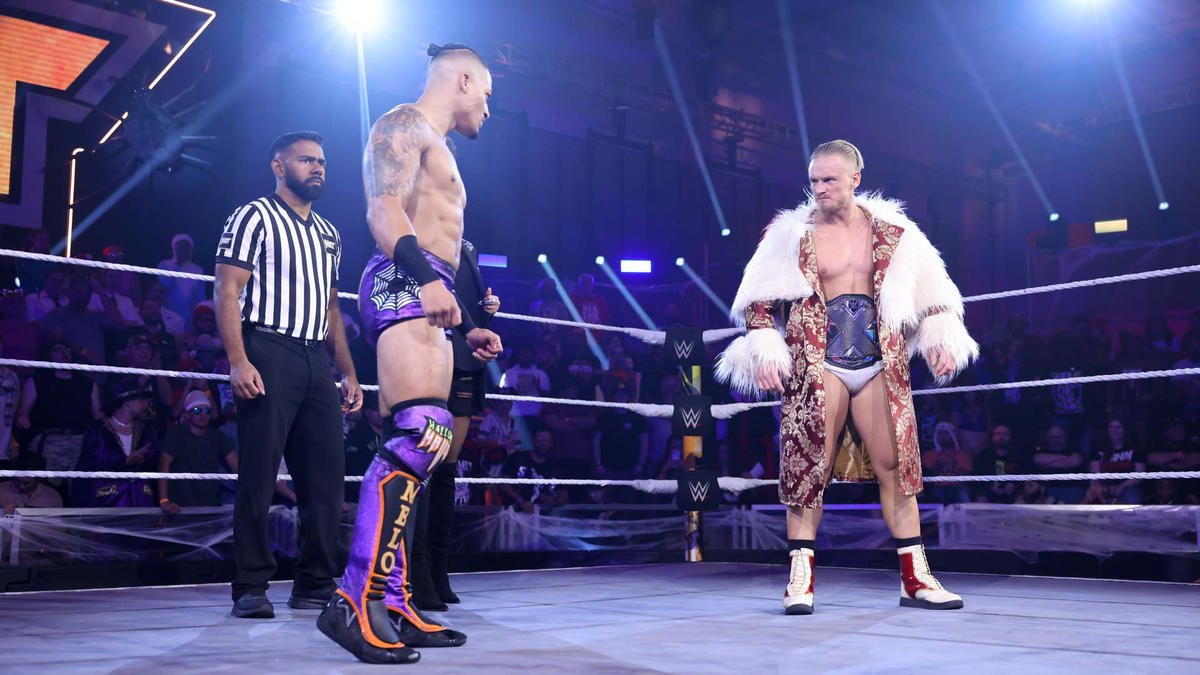 Greg DeMarco takes a look at your Monday and Tuesday night TV ratings. What do they mean? Do they matter?
Settle in for a look at this week's ratings for WWE Monday Night Raw and WWE NXT Halloween Havoc Night 2! Both were up against some stiff competition–let's see how they fared!
WWE Monday Night Raw (October 30, 2023)
Hour #1 – 1.466 million viewers, .44 demo rating, #6 for the night on cable
Hour #2 – 1.450 million viewers, .46 demo rating #5 for the night on cable
Hour #3 – 1.256 million viewers, .39 demo rating, #8 for the night on cable
WWE Monday Night Raw for October 30, 2023 faced some stiff competition on Monday night. You had Monday Night Football as normal–which aired on both ESPN and ABC–along with the usual peripheral shows (Monday Night Football Postgame, Monday Night Football Kickoff, SportsCenter, and the Monday Night Countdown, which factored into the Top 10). 6.851 million people watched Monday Night Football on ESPN, a number that more than doubles when you factor in ABC.
What does it all mean? It means that outside of Monday Night Football–on cable–WWE Monday Night Raw was the top rated show. If you take away all things NFL, Raw finishes #1, #2, and #3 for the night. Viewership did drop off for our 3, but that's the 10 PM hour that sees kids go to bed and people checking on the Monday Night Football and World Series games.
Speaking of which, that's another factor to consider–the World Series! 8.126 million people watched the World Series on FOX (not really that good), with another 8.356 million watching Monday Night Football on ABC (yes, more than the World Series) for a decent-at-best Lions vs Raiders match-up.
In summary, it was another successful night for WWE Monday Night Raw, which was the go-home edition of the program. You can check out my Good Bad & Ugly look at Monday's Raw, where I gave the show an overall "Good" rating. Haven't watched yet? Give Mitchell's live coverage a read.
---
Listen to this week's edition of Bandwagon Nerds!
---
WWE NXT Halloween Havoc Night 2 (October 31, 2023)
Entire Broadcast – 674 thousand viewers, .20 demo rating, #6 for the night on cable
WWE NXT (Halloween Havoc Night 2) for October 31, 2023, had to deal with a myriad of external factors this week. First is the most obvious–it was Halloween! Many people had plans, Trick-Or-Treat escapades and more. That right there will be a detriment to any ratings results. Add in two live NBA games, each drawing over a million viewers for TNT. Combine it all together and WWE NXT was the top rated program that wasn't sports programming on TNT or ESPN. Hell, the entire Top 12 consisted of ESPN and TNT sports programming, plus NXT.
It's easy to call this a failure since viewership was lost week over week. But that's very shortsighted. The fact remains that NXT was among the most watched programming for the night, holding its own against live sports and sports-peripheral programming.  If you're WWE and USA Network, you're nothing but happy with these results.
NXT, of course, featured the second week of Halloween Havoc, headlined by Ilja Dragunov defending the NXT Championship against Carmelo Hayes in the third match of their trilogy. Along with that you had The Creed Brothers in a Tables, Ladders, and Scares (Chairs) match with Angel Garza & Humberto Carrillo, Lola Vice vs. Kelani Jordan in the finals of the Women's Breakout Tournament, and much more.
I'd call the Tuesday program a ratings success. My Good, Bad, & Ugly review of NXT Halloween Havoc Night 2 is available here, where I called it "Good" overall. If you haven't seen the show yet, check out Mitchell's play-by-play.
As the weeks roll on, I will compile some historical data and look more about week-over-week (and beyond) patterns in all of my ratings reports.