(NOAH) WEEKLY NEWSLETTER VOL.37 ~ 2ND JUNE 2019
Slightly new format, same great NOAH content from the Emerald Princess herself, Hisame!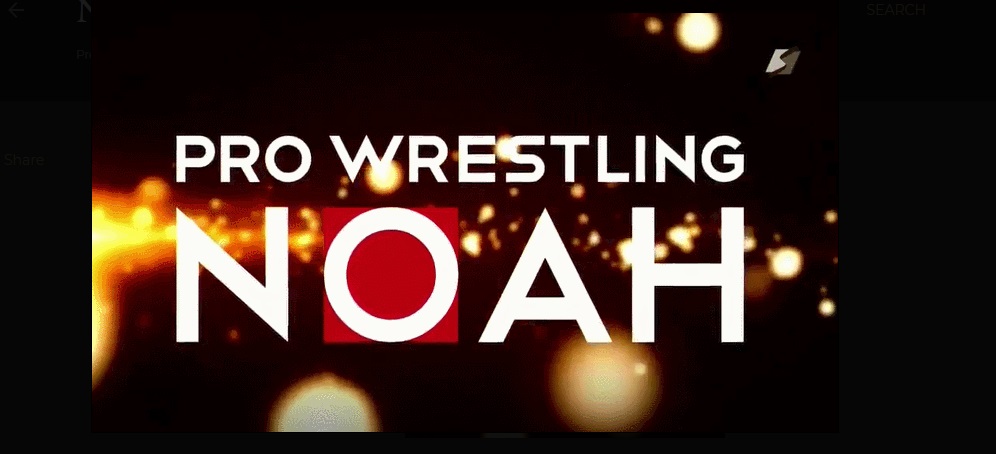 Slightly new format, same great NOAH content from the Emerald Princess herself, Hisame!
As it has been a long week in NOAH, I have decided to not include the "News" section of this weeks newsletter, as the news it all tied up with what has happened on the five days of tour.

CURRENT TOUR RECAP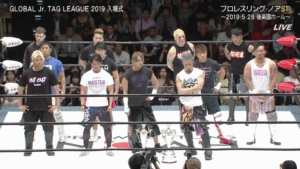 The first night of Global Junior Tag League 2019 was held on a Tuesday night at Korakuen Hall in Tokyo. NOAH did not manage to sell out the event, but I think they were expecting it as it was weeknight. The second night of the tour 30th May, took place in Hiroshima.
Hiroshima is a place of memories for NOAH due to both the time of year, and what happened in the city in 2009 when Misawa died. It was hard on all of them, especially Go Shiozaki, Akitoshi Saito and referee Shu Nishanaga. When NOAH left the venue that evening, Nishinaga put his hands together in prayer. NOAH have only once returned to Hiroshima to hold a memorial event for Misawa at the arena where he died and on the day itself. It was so painful for them that they have not done it again, and do not intend to do so to mark the ten years of his passing.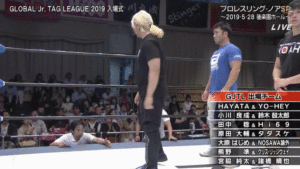 As per tradition, the participating teams of Global Junior Tag League 2019 came to the ring for the annual celebration (Tadasuke managed to stand in the wrong place, with Daisuke Harada accidentally treading on Senior Referee Shu Nishinaga as he went to get in the ring, as he was trying to get Tadasuke to move).
All the teams came out (plus the debuting Chris Ridgeway, who was teaming with Hitoshi Kumano), except for the GHC Junior Heavyweight tag team champions, Stinger (Kotaro Suzuki and Yoshinari Ogawa) who refused.
There were many cheers for the returning YO-HEY.
Kotaro Suzuki (who Yoshinari Ogawa says "speaks for us"), says that they want to win Global Junior Tag League as they don't want to have a title match or defend the belts, such is their contempt for the other juniors.
Chris Ridgeway won his debut match at Korakuen Hall. The crowd were a little unsure of him at first, but soon warmed up when they saw he could both torture Ohara as well as Ohara could, and kick hard too.
The team of himself and Kumano have been doing very well for what is known as an "unknown" team. Ridgeway said that he wanted a rematch against Harada, and that he would bring the IPW Junior Heavyweight back to England.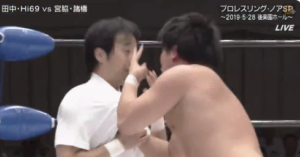 The big news of the night at Korakuen was Junta Miyawaki getting his first win, with people getting on their feet to applaud him. During the match, Morohashi pretty much let Miyawaki do it by himself, and the tension was notched up by several near falls and kick outs. After his win (via a jack-knife pin), Miyawaki went insane, throwing himself around the ring, rolling on the floor with Morohashi and asking the referee if he really did get the three count. Being a big fan of The Clash, Tokyo Sports reported that he screamed that he wanted to tell Joe Strummer in heaven about it.
Miyawaki, however, has not managed to get another win yet.
YO-HEY & HAYATA started Global Tag League 2019, facing YO-HEY'S former friends in Stinger. Stinger, enraged by YO-HEY'S betrayal, kept him isolated from HAYATA in the beginning stages of the match, attacking his lung. However, neither team prevailed as it ultimately went to a count out, although YO-HEY managed to scramble in the ring just after the count had ended. The match itself was insane, with YO-HEY putting any doubts to rest that he wasn't ready to return by his somersault off the top turnbuckle, outside the ring, onto Kotaro Suzuki who was standing behind the crowd rail.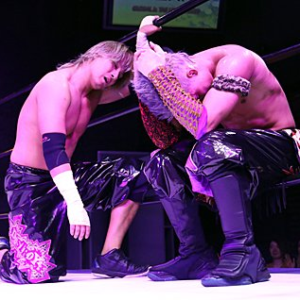 YO-HEY seems to be getting on okay, although HAYATA is being protective over him, especially after the match with The Sugiura Army (Hajime Ohara who yelled "lung" when he attacked him) in Hiroshima, when he was seen holding his hand over YO-HEY'S lung at the end of the match, and then getting up to push NOSAWA away when he went to drive his foot in.
Hajime Ohara says that he wants further revenge on HAYATA & YO-HEY for beating himself and Hitoshi Kumano last year in the Global Junior Tag League finals. He doesn't want revenge on them as a team, he wants revenge on them individually.
YO-HEY & HAYATA sadly have not been as dominant as they had hoped to be towards getting their third win in a row for the league, and throughout the tour only managed to get the win over Junta Miyawaki & Seiya Morohashi (having been counted out against Stinger, beaten by Nosawa & Ohara, and beaten by Daisuke Harada & Tadasuke. The only other win they got was not in Global Junior Tag League.)
Jinsei Shinzaki made his NOAH debut on the 28th May, teaming with Naomichi Marufuji (who had returned from injury) and Daisuke Harada.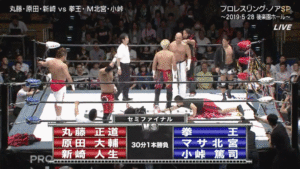 Shinzaki quickly found himself the most adult person in the match as Harada and Marufuji acted like children, with Harada refusing to move from where Marufuji wanted to get in the ring at, and then Kenoh squaring up to Marufuji the moment he got in the ring, and Marufuji pointing at Kenoh, hiding behind Shinzaki (who just stood there), and each of them practically chasing each other round him. Despite the difficulties between himself and Harada, they worked together to get the victory. They seemed to have patched up their differences a bit, but are still capable of being immature with Harada saying that he is still Marufuji's enemy, and that he doesn't like him, and Marufuji pixellating his picture out of himself, Harada and Shinzaki.
Marufuji continued winding up people, particularly Kenoh, Go Shiozaki and Maybach Taniguchi. Kenoh because Kenoh is filled with obsessive hatred for him, Shiozaki because they are having a singles match at the Misawa memorial night at Korakuen Hall (Shiozaki has also never beaten him in a singles match), and Taniguchi as they will face off at the other night in Osaka, and caused a brawl in Hiroshima outside the ring between the three of them after he shoved Taniguchi.
Naturally, NOAH's resident bumbling old vet, Masao Inoue (who was already being harassed by Sugiura during the tour), came in for his share of teasing too – especially after their singles match in Osaka, when Marufuji went to hold the ropes open for him and then kicked him. Despite his teasing of Inoue, Marufuji later said that ever since he was a trainee in the All Japan dojo, he had always had a liking for Inoue. Inoue was also menaced by AXIZ in Hamamatsu on the 2nd June, especially by Katsuhiko Nakajima, who looked as if he was going to hunt him down.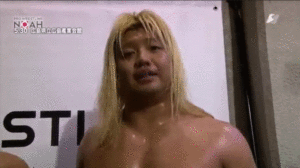 Daisuke Harada and Tadasuke have vowed to end HAYATA & YO-HEY'S dream of three consecutive wins, with Tadasuke becoming manic after victories, and at one point singing a theme from a Pokemon trainers game (and probably one which RATELS have played many times over together) as he walked off. Daisuke Harada warned that "Crazy Tadasuke" would come out more than ever, but "Crazy Tadasuke" proved a little too much for him at one point, and he left leaving Tadasuke to warble on.
Their team has been doing better than their teammates in RATELS, who have not been doing well so far.
Despite the rivalries that Global Junior Tag League (always) causes between them, the four of them were on form in their traditional home of Osaka, in what fans called "RATELS day" where YO-HEY & HAYATA signed autographs, and Daisuke Harada & Tadasuke did the NOAH's Ark fan club photo session. However, in the match, Tadasuke and Harada were pulled off the turnbuckles during their entry by HAYATA & YO-HEY, and like last year in GJTL, Harada and Tadasuke, were victorious.
Takashi Sugiura has two pre-matches (without KAZMA SAKAMOTO most of the time as he is a freelancer and not on this tour much), against both AXIZ and Kaito Kiyomiya.
Katsuhiko Nakajima was his usual smirking self, ducking Sugiura's punches, that was until Sugiura battered him with elbows. Kiyomiya, however, was as respectful as usual, and his only act of contrition was to get in the ring and hold the belt up to Sugiura. He was, however, a little more disrespectful with Kenoh and was held back by Taniguchi in Hiroshima.
Sugiura was not intimidated by either of them.
Kaito Kiyomiya spent the tour alternating between matches with Kenoh (Kiyomiya held the belt up to him, but had little to say in the post match promos, except about defending the belt) and Takashi Sugiura.
Kenoh's main focus was his hatred of LIDET, Naomichi Marufuji and Kaito Kiyomiya. Marufuji called Kongoh "Kenoh and his three dogs" and on the way home from the final night of tour, said that they were "the bearded dog, the dog with the cloak and the one with no eyebrows".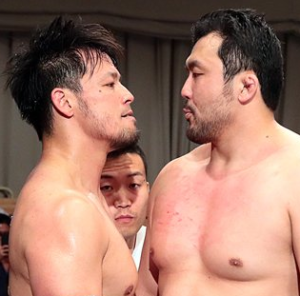 Hideki Suzuki finally got his wish to appear in NOAH again and with The Sugiura Army (28th May, Korakuen Hall). His original target had been Kaito Kiyomiya, but after facing off against Go Shiozaki, he realized that he had another opponent – and one of a similar size and body, and one who could chop. Suzuki was able to stand up to Shiozaki's lariat, and manhandle him,
Suzuki told Shiozaki that he was "NOAH's strength", a comment that did not go down well with Naomichi Marufuji.
Yoshiki Inamura debuted a new red ring costume (with "Kongoh") written on the back, a Sugiura style haircut and most bizarrely, shaved eyebrows – of which no one knows anything about, and he has never said anything about as to why they are shaved. Inamura had two singles matches against Takashi Sugiura, which Sugiura won (naturally), but he wouldn't give up.
The kick he received to the head caused some concern, especially as the card in Hamamatsu was changed at the last moment, but he turned up in the main event teaming with Kongoh against Stinger, Quiet Storm & Naomichi Marufuji. Fans are wondering why this change occurred, but it may well be related to the kick to the head with medical opinion having it that he could cope with a tag as he would have a chance to rest, but not a fully blown singles.
By the end of a grueling five days, (four events in a row and long bus journeys in between), everyone got back on the bus and seemingly fell asleep. Fans had mentioned that they all looked tired by Hamamatsu.
That is except Naomichi Marufuji, who was awake, bored, and tweeting to wind people up.
When the bus returned to Tokyo, Kaito Kiyomiya posted at 2.45am that he and Chris Ridgeway were training in the dojo. Mohammed Yone (like Daisuke Harada) went home to take a long hot bath, Yone said he was looking forward to seeing his bunny, Mimi.
Takashi Sugiura, however, returned home, did his laundry and one of his dogs became entranced with the smell of his pants…
EVENT RECAPS
Global Junior Tag League (28th May) Post match promos
Global Junior Tag League (30th May) Post match promos
Global Junior Tag League (31st May) Post match promos
Global Junior Tag League (1st June) Post match promos
Global Junior Tag League (2nd June)

CURRENT CHAMPIONS
TOUR TIDBITS
~ Fans were determined to give YO-HEY his welcome back streamers, and turned out to determinedly do this in Hamamatsu (as one fan put it, "we will fulfill the mission this time")
~ Fans are now calling the team of Hi69 & Minoru Tanaka, "Ultra Soul" (after the entrance music used)
~ Noah has a referee from America on the Global Junior Tag League tour with them, and who is also training with them. He is called Ben.
~ Maybach Taniguchi posted a picture of himself jogging, which Takashi Sugiura immediately seized upon and zoomed in on the picture of his face. He later asked why Taniguchi was wearing a hat during treatment, Taniguchi said it was to keep his hair out of the way…but Taniguchi does not have long hair.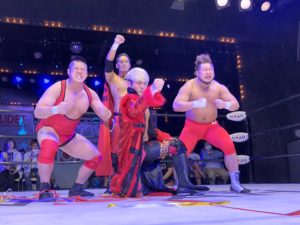 ~ Kongoh are now all wearing red. Masa Kitamiya has based his on Masa Saito's red attire (however, he sometimes wore black during the consecutive dates). It has been said that is nice to see a unit with a color in NOAH.
~ Naomichi Marufuji still looking for a new partner, even going to far as to post a picture of his car and saying that was his partner.
~ Maybach Taniguchi has debuted a new move (a camel clutch variation), he says he does not have a name for it yet though.
~ Takashi Sugiura turned 49 on May 31st, he says he will live for NOAH. Fans bought special streamers to the show for him. He also celebrated by photographing Masao Inoue at the urinal.

BROADCASTS

The 9th June show (the Misawa Memorial from Korakuen Hall, Tokyo and the second to last night of Global Junior Tag League) will be broadcast by G+ on Thursday 13th at 8pm JST.
The 13th June Mitsuharu Misawa memorial show from Osaka, will be shown on the 22nd at 10pm on Samurai TV. This will be the final night of Global Junior Tag League 2019.
Riki Choshu's Power Hall (featuring Go Shiozaki and Yoshiki Inamura) will be broadcast live on the 26th June on Samurai at 6.30pm
LINKS
Global Junior Tag League Mini Interview: Tadasuke & Daisuke Harada
Junta Miywaki rejoices in first point
Kiyomiya's presence in the pre-match fights
Naomichi Marufuji returns from lumbar disc herniation, 18th August declares victory in new opening league
PICTURE CREDITS: Noah GHC, Puroresu Weekly.
Newsletter written by Hisame
Mitchell's AEW Rampage Results & Report! (12/1/23)
Best Friends are on a Rampage!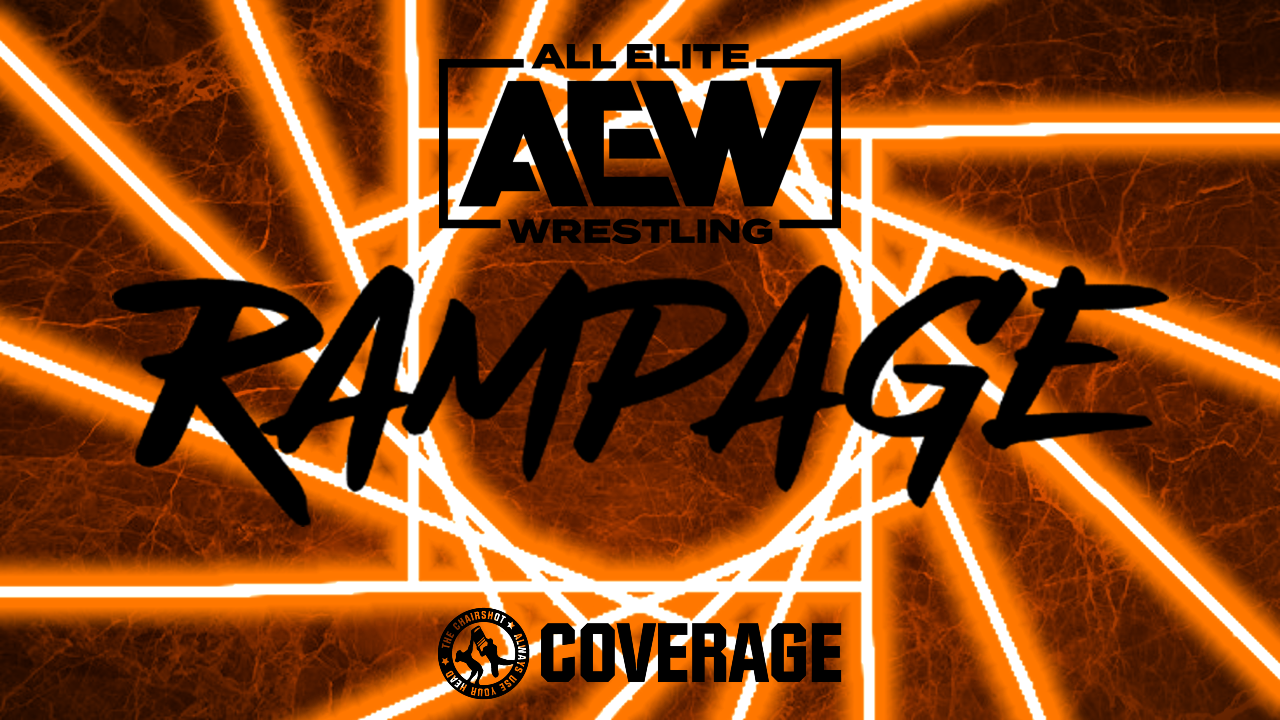 Will tonight be Very Nice, Very Evil or whatever?
Greetings humans! Danhausen is back in AEW, and to celebrate, he teams with Orange Cassidy, Trent Beretta & Hook in a Very Nice, Very BIG 8 Man Tag!
OFFICIAL RESULTS
Six Man Tag: Penta El Zero Miedo, El Hijo Del Vikingo & Komander w/ Alex Abrahantes VS Brian Cage & The Workhorsemen; win.
The Don Callis Family VS ???
Six Woman Tag: Anna Jay & The Outcasts VS Hikaru Shida, Skye Blue & Kris Statlander; win.
8 Man Tag: Orange Cassidy, Hook, Danhausen & Trent Beretta VS Matthew Menard, Angelo Parker & The Dark Order; win.
PLAY BY PLAY
[Due to scheduling conflicts, coverage of AEW Rampage will begin later tonight]
Mitchell's WWE SmackDown Results & Report! (12/1/23)
SmackDown hears voices!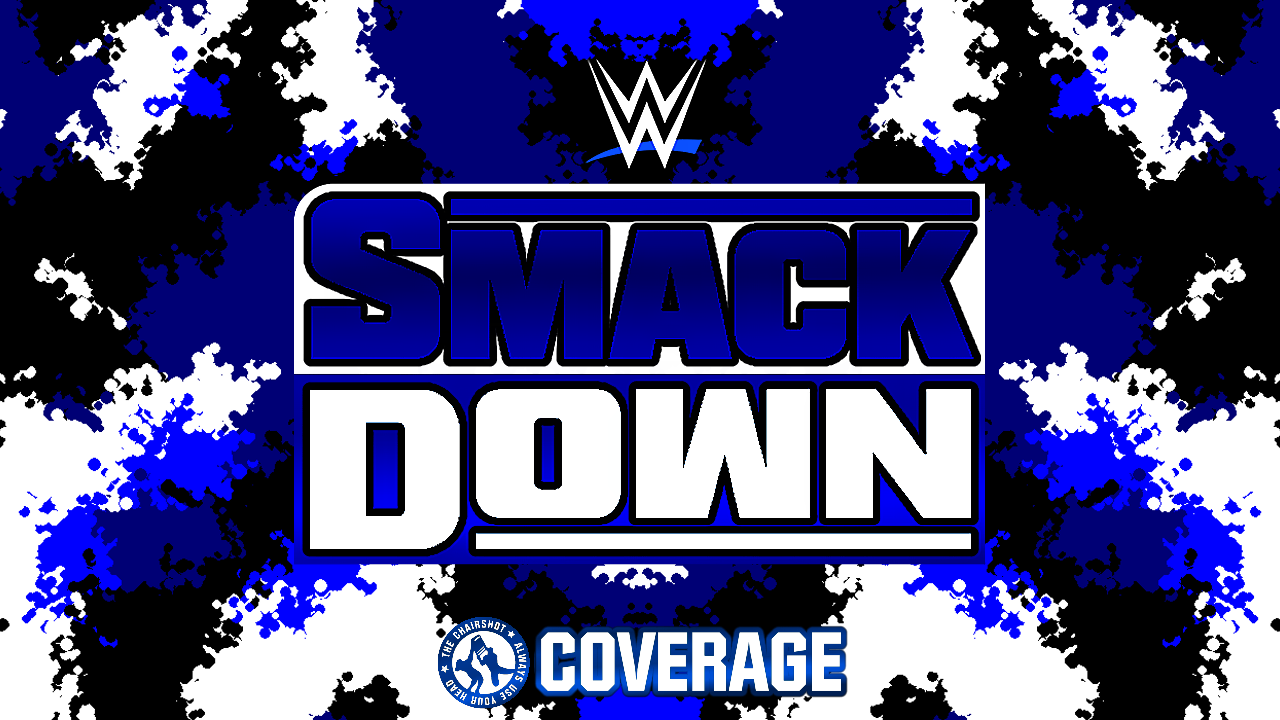 The Viper is here for The Bloodline!
He returned at WarGames, he returned to Monday Night Raw, and now, The Apex Predator, Randy Orton, returns to Friday Night SmackDown! Will he be able to strike at The Bloodline tonight?
OFFICIAL RESULTS
Pete Dunne VS Bobby Lashley w/ The Street Profits; Lashley wins.
Santos Escobar VS Joaquin Wilde; Santos wins.
Kevin Owens VS Grayson Waller; wins.
Bianca Belair w/ Charlotte Flair & Shotzi VS Kairi Sane w/ DMG CTRL; wins.
PLAY BY PLAY
Bianca Belair is here!
Brooklyn cheers The EST as she skips to the ring, her team victorious against Damage Control in WarGames! After a recap package, fans chant for Bianca and she gets the mic to say, "Man, it is so cool to be in one of the best boroughs in one of the greatEST cities in the world, Brooklyn!" The fans cheer that! Bianca says DMG CTRL really tried to take them out, but her team did what needed to be done. So shout out to Becky Lynch for coming through, showing up and showing out. Shout out to Shotzi for her guts and passion. And shoutout to Charlotte Flair for being a bigger person and making that call to Becky.
"Now while it feels great to be standing in this ring and celebrating that W from WarGames, my war with DMG CTRL, it ain't over~! Cuz Iyo Sky, I'm still coming for you, cuz I want my title back!" Fans also cheer that. But speaking of Iyo, here she comes! The Evil Genius leads DMG CTRL out, though where's Bayley? That aside, Dakota Kai is the one to tell Bianca, "It's really great how uh, you can get all of these people to cheer for you." The fans boo her but Dakota tells them to shut up! Dakota says just earlier, Iyo was saying how gross it is here in Brooklyn! It smells! Who would want to live here?!
DMG CTRL slide into the ring, and Dakota says Iyo was also saying that Bianca is in way over her head, dude. Iyo already beat Bianca twice. So… if Bianca wants to get yet another shot, she'll have to go through all of DMG CTRL. Well that ain't nothing new. So who wants it first, huh? But wait! Here come Charlotte & Shotzi to back Bianca up! Fans cheer as Charlotte says "Ladies~…! Bianca isn't the only one coming for you. And I'd love to go through all of DMG CTRL." Shotzi says it seems to her that there's enough DMG CTRL to go around. They rush in, and the brawl is on! Fans fire up but Iyo TOSSES Bianca and helps Asuka against Charlotte!
Shotzi and Kairi brawl in a corner, Bianca returns, Charlotte BOOTS Asuka way while Bianca RAMS Iyo into a corner! Bianca stomps Iyo down, Charlotte helps Shotzi with Kairi, and Charlotte sets Kairi up for Shotzi's BOOT! Iyo ends up isolated, and Bianca hits a SPINEBUSTER! Iyo scrambles out, DMG CTRL regroups, are their days on top numbered?
DMG CTRL regroups backstage.
And Bayley is confused as to what's going on. Iyo angrily asks where Bayley was but Bayley says no one told her they were going out there! Maybe if she knew, things would've been different! The joshi talk in Japanese, Dakota cools it off. What matters is that Kairi is facing Bianca tonight. No one knows Bianca better than Bayley so Kairi would appreciate the help. Kairi says yes, they're "tomodachi <friends>," that'd be appreciated. Bayley says okay, but are they really Bayley's friends?
Pete Dunne VS Bobby Lashley w/ The Street Profits!
With Sheamus recovering from injury and Ridge Holland just ditching him last week, The Bruiserweight is all alone against The All Mighty! Will Dunne stand a chance against the overwhelming strength of Bobby Lashley?
SmackDown returns and Lashley makes his entrance, Montez Ford & Angelo Dawkins by his side. But before the bell, Lashley gets a mic to say "Hey, listen, kid. When I told you to make a name for yourself…" The fans chant "BOBBY! BOBBY!" and Lashley says that's a name. Does Dunne know what Lashley can do to him? Lashley will break Dunne into pieces! Is Dunne ready for that? Dunne SLAPS Lashley! Fans fire up, Lashley grins, and the bell rings. Dunne then BOOTS Lashley! And BOOTS! And fires off furious fists! Lashley carries Dunne to then TOSS him! Dunne flounders but also snarls. Dunne swipes at the Profits, but Lashley run sin to CLOBBER him!
Lashley whips Dunne hard into buckles, then storms around. The Profits high-five Lashley and Brooklyn is behind him as he stands Dunne up for haymakers! Lashley smothers Dunne in the corner, lets off to whip corner to corner, then storms up on Dunne. Lashley digs hands into Dunne's face, the ref counts and Lashley lets off. Lashley runs in but Dunne BOOTS again! Dunne runs up to DROPKICK Lashley out of the ring! Fans are torn as Dunne goes out to FLYING KNEE! Lashley staggers back, Dunne sets up to MOONSAULT! Down goes Lashley and Dunne hurries back up! Dunne ARIHARA MOONSAULTS! Down goes Lashley and fans fire up as SmackDown goes to break!
SmackDown returns and Lashley clotheslines Dunne in a corner! Lashley then brings Dunne around to snap suplex! Dunne writhes, Lashley paces around him and the fans cheer. Lashley drags Dunne up, suplexes again, and this time he holds Dunne up! Dunne throws knees, gets free, and he runs, ducks 'n' dodges, but Lashley hits a MILE HIGH SPINEBUSTER! Fans fire up again and Lashley drags Dunne up. Lashley TOSSES Dunne out, storms out after him, and then drags Dunne up again. Fans cheer as Lashley fireman's carries Dunne, to then POST Dunne! The Profits say this is an extended Black Friday!
Lashley puts Dunne in, Dunne crawls away but Lashley aims. Lashley runs in, but Dunne sends the Spear into the POST! Lashley staggers back, the Profits coach him up, but Dunne GAMANGIRIS! Dunne runs up to ENZIGURI! Lashley ends up in a corner, Dunne GAMANGIRIS again! And again! Dunne KICKS and KICKS and KICKS, then pushes Lashley out so he can go up. Dunne DOUBLE STOMPS an arm! Dunne bends the fingers, isolates the arm, and STOMPS the arm! Lashley grits his teeth but Dunne reels him in. ASAI DDT! Cover, TWO! Lashley is tougher than that but Dunne keep son him with HAMMER 'N' ANVIL ELBOWS!
But Lashley fights up! Fireman's carry, then an adjustment, for the OKLAHOMA STAMPEDE! Cover, TWO!! Dunne survives and Lashley is annoyed. Ford says yeah, Dunne's got heart, but that's about it. Lashley hauls Dunne up but Dunne SLAPS him! Lashley LARIATS Dunne inside out! Lashley then drags Dunne up, MILE HIGH- ENZIGURI! Dunne gets up, Lashley SPEARS him back down!! Cover, Lashley wins!
Winner: Bobby Lashley, by pinfall
The Bruiserweight put up a fight, but Lashley is still Lashley. Will The All Mighty soon head for a title as we head for the New Year?
Paul Heyman walks into Nick Aldis' office.
The Wise Man seems rather indignant looking at the SmackDown General Manager. Heyman then dusts off the New York Jets NFL Legacy belt before speaking. "Did you invite Randy Orton to SmackDown tonight?" Aldis says yes, he did. And Aldis intends to sign Randy to a SmackDown exclusive superstar contract tonight. Heyman looks around and asks if the Tribal Chief knows about this. Aldis says Heyman has forgotten that there are countless memos: All communication to Roman Reigns must go through Paul Heyman. So consider this a communication to Roman: Aldis WILL sign Randy to SmackDown.
And if Aldis has to offer up the entire Bloodline as leverage, so be it. So the question to Heyman is… "What're you gonna do about it?" Heyman says, "Anything it takes." Heyman gets on his phone to call Roman Reigns. But is there nothing that can stop The Viper from finally being within striking distance of The Tribal Chief?
Backstage interview with Pete Dunne.
Kayla Braxton says he lost to Lashley, but she wants to talk about last week. Why did Ridge walk out on him? Dunne says he doesn't know. And he doesn't care. Because right now isn't about the Brutes, it's about Dunne! He is going to focus on himself. He is here to fight, and he will fight anyone! But in walk Pretty Deadly. They say this is so tough. But don't be sad, use this as a learning opportunity. Sometimes, being abandoned can help you find your own path. Even if that path, like Dunne's career, hits a dead end. Dunne HITS them! Dunne fires off but that's 2v1 and Pretty Deadly turns it around! They TOSS Dunne into a road case!
How's that, Butch?! HUH!? You're alone! ALONE! And always will be! Elton Prince & Kit Wilson have numbers on their side, but will Dunne still get revenge?
Backstage interview with Santos Escobar.
Cathy Kelley says given his recent history with the LWO, what can we expect in his match with Joaquin Wilde here? Santos says he's only trying to finish what Rey started. Rey turned his back on the LWO when he chose Carlito over Santos. And now Santos' own brothers in arms are blinded by their hero, not seeing that Rey will do the same to them. Cruz is still recovering from the last time he tried standing up to Santos. And if Wilde can't see the truth, Santos will put him on the shelf, too. The Emperor of Lucha is becoming a tyrant, but will he be unstoppable in destroying what he helped create?
Santos Escobar VS Joaquin Wilde!
SmackDown returns and Wilde makes his entrance. The bell rings and Wilde DROPKICKS Santos! And DROPKICKS again! Then kips up and ROCKS Santos with haymakers! Fans fire up, Wilde whips and ELBOWS Santos down! Then drops an elbow! Santos bails out but Wilde PLANCHAS out onto him! Fans fire up again and Wilde CLUBS Santos. Wilde puts Santos in the ring, then aims again, but Santos bails out! Fans boo but Wilde just goes to the corner! Springboard CANNONBALL! Direct hit and the fans fire up all over again! Wilde snarls and he puts Santos back in. Cover, TWO! Wilde keeps on Santos with a shove.
Wilde then goes up a corner, but Santos sweeps the legs! Wilde tumbles down, Santos stomps away and RAMS Wilde into a corner. Santos puts Wilde in the Tree of Woe, goes to the far side and runs in, DROPKICK! Wilde falls out of the Tree, Santos snapmares to cover, TWO! Santos is annoyed but he CLUBS away on Wilde's chest! Santos rips up the LWO shirt! Fans boo but Santos throws the shirt away. Santos drags Wilde up, CLUBS him, then clamps onto an arm with a cording hold. Wilde endures, Santos talks trash that HE is the LWO, but the fans rally up. Wilde fights up to his feet, throws knees, but Santos whips Wilde away.
Santos storms up, Wilde ELBOWS him, then bumps Santos off buckles. Wilde fires haymakers again, then whips. Santos reverses but Wilde ducks 'n 'dodges to dropkick a leg out! Fans rally up behind Wilde and he runs up to KNEE Santos down! Wilde roars and fans are with him! Wilde runs back in, SOMERSAULT SATELLITE DDT!! Cover, TWO!! Santos survives and Wilde grows frustrated. Wilde hurries back to a corner to aim again. Wilde runs in, into a SUPERKICK! Santos says this is what happens when you cross him! Fireman's carry, and "This is for YOU, Rey!" PHANTOM DRIVER!! Cover, Santos wins!
Winner: Santos Escobar, by pinfall
But Santos isn't done sending his message! He beats down Wilde with fists, the ref tells him to stop, but Santos refuses! So here comes Dragon Lee! The Boy Wonder may have lost at Survivor Series but he won't let Santos just do what he wants! Santos bails out, he did what he wanted. Wait, he slithers back in! But Dragon is ready and fires haymakers on him! Dragon whips, Santos reverses but Dragon RANAS! Santos ends up in a corner, Dragon JUMP KICKS, leg sweeps, and SWINGING DROPKICK! Combinacion Dragon hits, and fans fire up! Dragon aims again, BULL'S HORNS!! Santos flounders away, is his fight with Dragon far from over?
Nick Aldis greets Logan Paul backstage.
The Maverick is her with his United States Championship, ready to make his first appearance on SmackDown. What will the ImPAULsive Influencer have to say about being United States Champion? We find out, after the break.