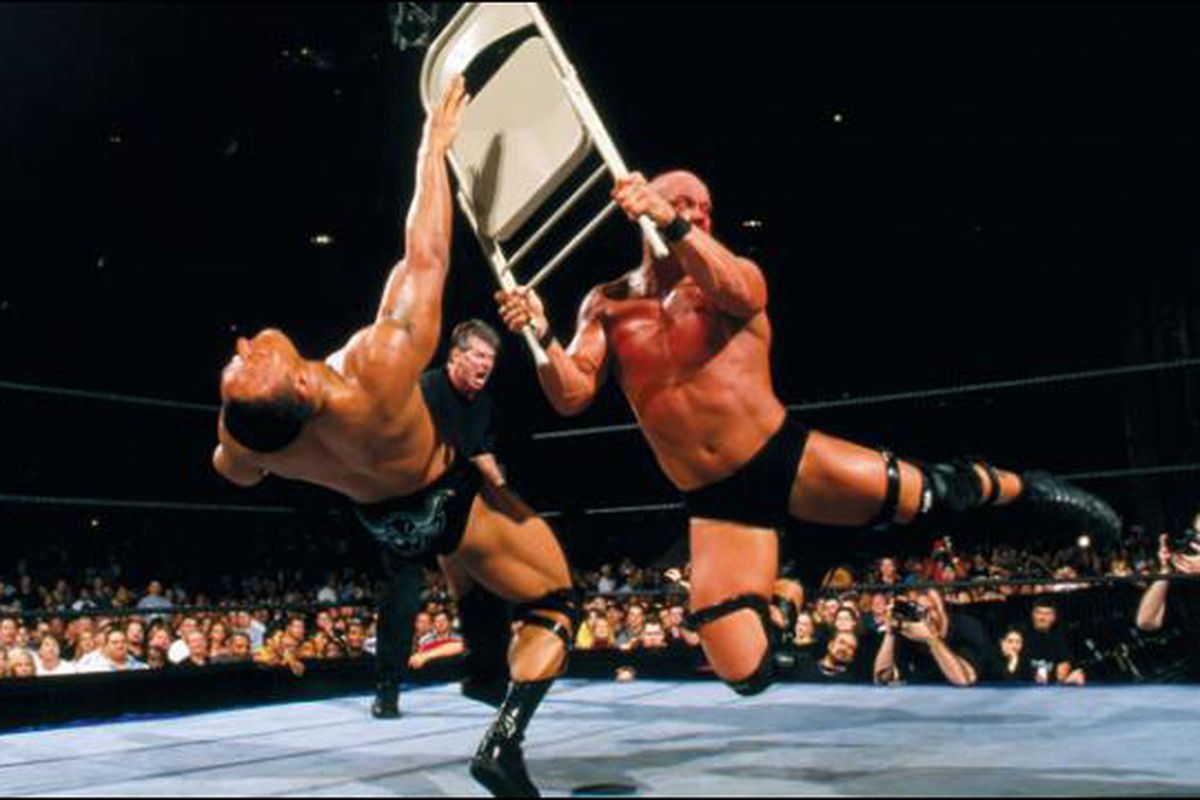 We're kicking it at a new address this week. Now we're all about hitting people with chairs. As I mentioned in a previous edition of this column, the chair is wrestling's pre-eminent foreign object. When people think about wrestling, they think of large men hitting each other with folding chairs. It happens all the time, but we all know that some chairshots have more meaning than others. Here are the five times a chair entered the fray that made the greatest impact in the history of wrestling.
5. The First Chairshot I Remember
Nobody ever forgets their first, right? The first chairshots I remember seeing took place on the September 28, 1991 episode of WWF Superstars. Ric Flair had recently entered the WWF & had begun feuding with Roddy Piper, who was on commentary with Vince McMahon & Randy Savage. Flair took the opportunity to attack Piper at the announce position, which led to all sorts of craziness. McMahon, who was only known to me as a mild-mannered announcer at the time, ended up taking a chair to the back from a confused Piper that was swinging at anything that moved.
I probably saw some before then, but this memory stuck in my mind more than the others.
4. Eddie Guerrero Nearly Dies of Blood Loss
Having seen some old school CZW shows back in the day, I probably can't say that this is the most I've ever seen another human being bleed. But it's right up there. John "Bradshaw" Layfield was feeling froggy and wanted to enter the main event scene for good at Judgment Day 2004. Eddie Guerrero did a little too much to help him here, I'd say.
3. Stone Cold Helps His Old Buddy Mankind
This one sticks out in my mind for two reasons:
I. Mick Foley was one of my favorite wrestlers ever since his days in WCW. Seeing him win the WWF Championship was a seminal moment in my wrestling fandom, and proof that the underdog could reach the top of the business, even if only for three very brief title reigns.
II. That pop when Steve Austin comes out & hits Rock with a chair still rates as one of the biggest pops I've ever heard, and I don't think I've seen a wrestling crowd collectively lose their minds like the Worcester fans did that night since. It was a combination of Austin coming back from a hiatus due to injury & doing Austin things along with the realization that Foley was actually going to win the title. Even if the show was taped, and even if WWF.com & WCW spoiled the result, it was must-see television.
2. Seth Rollins Buys In
I remember everybody wondering how The Shield's reign of dominance would come to an end. The odds of Dean Ambrose, Roman Reigns & Seth Rollins remaining together for the duration of their WWE careers were never great. It was a question of who would make their move. Most of us figured on Ambrose, as he'd been touted as a great promo for years. It ended up being Rollins, and it was the right move to make for his career. At the time, of course. Now The Shield is back together & they will surely never turn their backs on each other ever again.
1. The Chairshot Heard 'Round The World 
Before Raven became wrestling's go-to for sarcastic shoot interviews & Tommy Dreamer became the biggest crybaby in the history of the business, they waged a bitter rivalry in Extreme Championship Wrestling. Dreamer rarely ever got one over on Raven, so whenever he did it meant the world to ECW fans.
Heat Wave 1995 was one of those nights. Raven's lackey Stevie Richards was facing Dreamer's manager Luna Vachon in a steel cage because it seemed like a fair fight. One thing led to another & Raven ended up handcuffed to the cage in his trademark Jesus Christ pose while Tommy had a chair in his hand. Dreamer yelled E C F'N W & wrapped the chair around Raven's head as the crowd exploded. This scene would be part of ECW's show-opening montage for years afterward.
---
Always Use Your Head and visit the official Pro Wrestling Tees store for The Chairshot All t-shirt proceeds help support the advancement of your favorite hard-hitting wrestling website, The Chairshot!

---
Three Stars of The Night: WWE Raw (5/21) & Smackdown (5/22)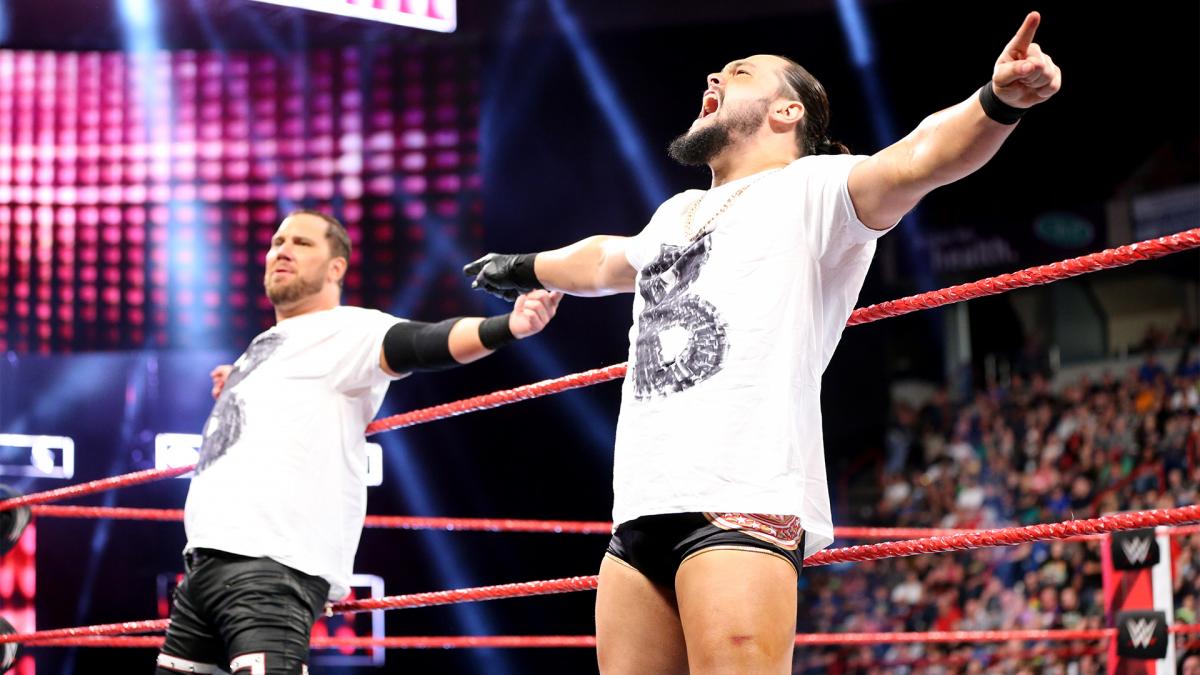 An abbreviated look at the Three Stars for this week's edition of WWE Raw and Smackdown Live.
---
In hockey, a game's "three stars" represent the top three performers of the night. For more clarification, I defer to this Pittsburgh Gazette explanation:
"The tradition dates to the 1936-37 season, when Imperial Oil became the principal sponsor of Hockey Night in Canada radio broadcasts and was seeking a way to promote one of its products, Three Star gasoline. The idea of doing so by selecting the top three performers in a particular game purportedly came from a Canadian advertising agency.
Many clubs do recognize the player with the most three-star selections with an award or trophy, usually in conjunction with a corporate sponsorship, at the end of the season (or sometimes, each month). All six Canadian franchises, for example, have an affiliation with a well-known brewery.
The NHL keeps track of its own three-stars-of-the-night selections, but that is done on a league-wide basis. The league employs a system that awards 30 points to a first star, 20 to a second star and 10 to a third – a running total can be found on the league's website – but it does not present an award based on them."
In hockey tradition, the first star represents the best of the three, but all three are considered to be receiving a high honor.
---
Without further ado, here are the three stars of WWE Monday Night Raw, May 21, 2018…
The Third Star:
Sarah Logan & Liv Morgan
I know what you're saying: "WUT?"
But sometimes it's the little things, and these two did an amazing, yet little, thing. In a fatal four-way, Logan and Morgan were finally in the ring alone, the ultimate "every women for herself" situation, with a spot in the Women's Money In The Bank Ladder Match on the line.
And of course they fought it out like partners always do, right? RIGHT?!?
Nope.
The laughed and went after their opponents. Because they are partners. They chose The Riott Squad over individual success. That deserves some recognition.
The Second Star:
The "B" Team of Curtis Axe & Bo Dallas
Tell me this act ain't straight fire. Go on, tell me!
You can't, because they are. Fans are making their own B Team t-shirts. Before WWE could make them! WWE should market a white t-shirt and Sharpie combo pack at Raw broadcasts moving forward. Money like the FOX deal!
These guys are organic, but they're also amazing. This has a real shot.
And now…a distinction usually reserved for the top performer of the night…the first star!
The First Star:
Jinder Mahal
After getting his ass handed to him last week, Jinder had a good week of retribution. He didn't shy away, instead doing what heels do and interjecting himself back into that no good MAN Roman Reigns' business.
Then Jinder, despite being on the losing tag team with Kevin Owens, got the best of both Reigns and Seth Rollins, courtesy of a chair.
HEEEEEEEEEEEEEEEEEEEELLLLLLL. And I love it.
---
And now, here are the three stars of WWE Smackdown Live, May 22, 2018..
The Third Star:
The Miz
This man is already the new King of Smackdown.
The Miz did an amazing job selling the Money In The Bank PPV. Most of this show did. But Miz drove home the story involving The New Day, continued to position himself, and then delivered big in the ring, with Big E.
Big E is a main eventer in waiting, and working with The Miz can only accelerate that process for him.
The Second Star:
The Club of Luke Gallows & Karl Anderson
I'm not this huge fan of The Club like many others. But I want to see an entertaining tag team division. They can help provide that.
So yes, their victory over The Usos (you know, the greatest tag team of this generation?) means something. Can they follow it up with a win at Money In The Bank over the Bludgeon Brothers?
Probably not, but that's a different Three Stars article!
And now…a distinction usually reserved for the top performer of the night…the first star!
The First Star:
Daniel Bryan
This is exactly where Daniel Bryan needs to be: victorious over a secondary champion (that's what Top Guys do), headed for a legendary showdown with Samoa Joe (that's who top guys face).
Both guys can make a case for needing to enter Money In The Bank, adding the extra element of intrigue to next week's showdown. You can't go wrong here, and Daniel Bryan is the catalyst for it with his win over United States Champion Jeff Hardy this week.
---
Who are your three stars of the night? Comment on social media @ChairshotGreg, @theCHAIRSHOTcom, and use the hashtag #UseYourHead!
---
Always Use Your Head and visit the official Pro Wrestling Tees store for The Chairshot All t-shirt proceeds help support the advancement of your favorite hard-hitting wrestling website, The Chairshot!

---
Mediocre is Money for Vince McMahon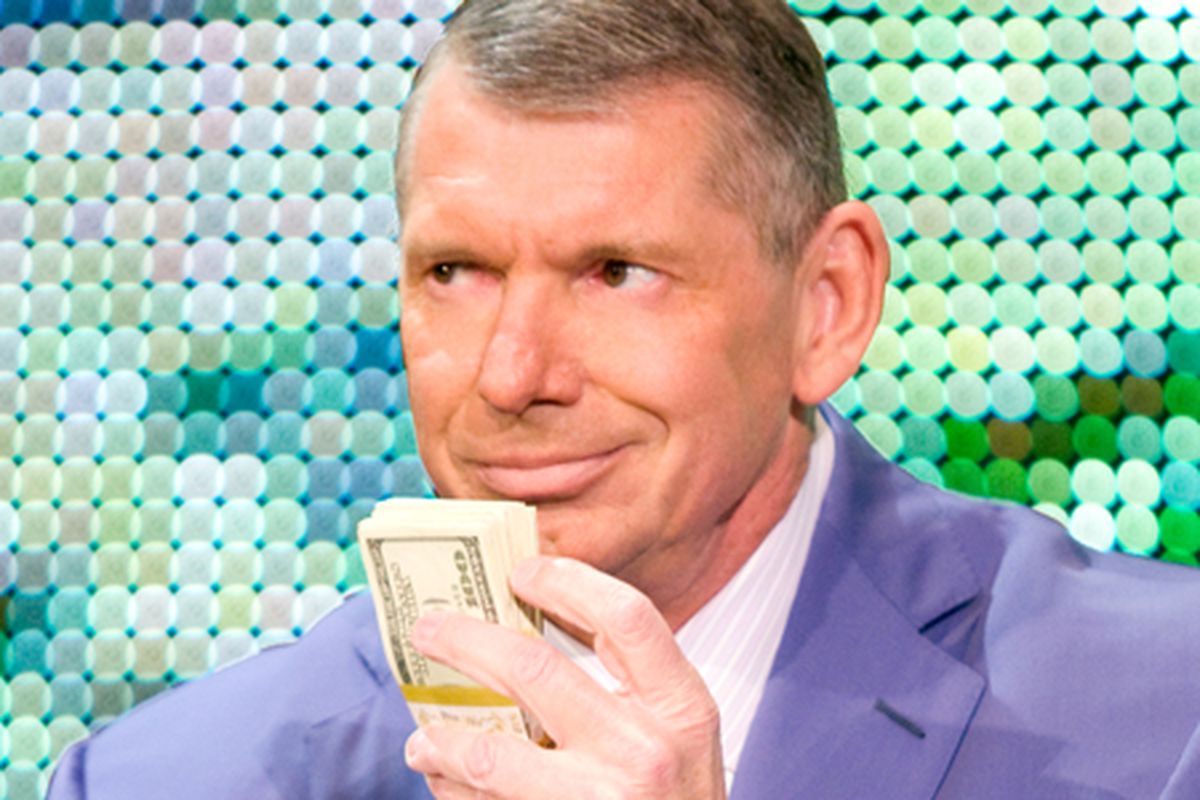 In May of 1998, Monday Night Raw's highest TV rating for the month of May was a 5.5, and never dropped lower than a 4.2 during the month. A year later in May of 1999, Raw scored their highest show rating ever with an episode hitting 8.1.
Fast forward twenty years and Raw's average rating this month has been hovering in 2.0's. This past week's show scored a dismal .90 rating among the 18-49 year olds- arguably WWE's core demographic.
If you wanted to discuss the reasons for this downturn and all of the things wrong with the current product, there are numerous articles and podcasts you could find that tackle that issue. (Spoiler: it's probably Roman Reigns' fault). But we can all agree that one thing is for sure- the WWE is terrible right now and is dying a slow death.
Right?
Vince McMahon would beg to differ. Actually, Vince McMahon and the FOX network would beg to differ.
FOX just paid the WWE two billion dollars for the rights to air Smackdown Live starting in October of 2019. Yes, that's billion with a "B." And yes, that is for the rights to SMACKDOWN! Not Raw, but Smackdown Live. Two billion dollars for a show that gets even lower TV ratings than Raw does.
What does this all mean? The WWE brand is alive and well. And it means the wrestling business belongs to the investors, TV networks, and advertisers. And the business plan going forward for the WWE is simply "Stay the course. Play it safe. Keep the networks happy"
When I first heard the news of Smackdown potentially moving to a different network, I thought it might be the best thing to happen if fans wanted to really see some changes in the product. Having two different shows on two different networks might create true competition from within, as each brand would be under pressure to garner ratings and keep their respective networks happy. Not quite the Monday Night Wars, but maybe the closest we would ever get in today's landscape. However, reality then struck me that the WWE has no reason to change anything.
While NBCU may have been willing to let Smackdown Live go, FOX was more than willing to pay out the ears for the rights to the "B" show. They didn't bid for New Japan. They didn't bid for "ALL IN." They wanted the WWE. Assuming ratings will, at best, stay steady in October of 2019, you have to assume that FOX would not buy the program unless they would deem getting those same ratings for themselves a success. There is a line of thinking that might suggest that Smackdown will attract more viewers being on a network like FOX instead of cable, but FOX also knows they aren't going to pulling in 8.0's every Friday night. And yet still, with ratings at times not even breaking 2.0, they jumped at the chance to make the program theirs. That is the power of the WWE brand. And it makes everything else- the storylines, the fans, even the wrestlers themselves- secondary.
For us fans that have been critical of the current product, it simply means we are in for more of the same for the foreseeable future. And simply put, the WWE has no motivation to change anything they are doing, anyway. Fans aren't going to stop watching completely (you know you won't, don't @ me). If they don't watch it on TV, they will check out clips on wwe.com or YouTube or social media, all of which generates revenue for WWE and their advertisers. And quite frankly, the hardcore "wrestling fan" is not as important to the business model of WWE as they once were. WWE is above all an entertainment business, and by the most important indicator- revenue- business is good.
Vince and the WWE have always been at their best when challenged. The MO has always been that Vince doesn't change course or make aggressive changes (or admit he is wrong somehow) unless he feels pressured to do so. In the 80's, Vince was on the warpath to buy out territories, take his company national and stake his claim in the sports entertainment business. In the Attitude Era, change was necessary because, for the first time, the WWE/F was met with real competition from WCW and TV ratings became king. In 2018, those sources of motivation are obsolete.
WWE is now a publicly traded company.
There is no other competition for TV ratings or for the eyes of the casual wrestling fan.
There's simply no reason for Vince McMahon or the company to take aggressive actions like in the 80s or to make any risky changes in direction or content like they did in the late 90s. We are in the "Just Enough" era. The company can coast on autopilot, and there's no imminent threat to cause them to change course. And honestly (and perhaps, unfortunately), given the news of the FOX deal, why would they?
The days of the WWE relying on "the fan" for its revenue and success is and has been, long gone. Just look at house show attendance and gate numbers for proof of that. This is the age of the advertisers.
The internet will keep complaining, but more importantly, won't stop watching, and Vince McMahon will keep laughing all the way to the bank.
---
Always Use Your Head and visit the official Pro Wrestling Tees store for The Chairshot All t-shirt proceeds help support the advancement of your favorite hard-hitting wrestling website, The Chairshot!

---
How "All In" Is Changing The Wrestling Scene
They said it could never happen, that a bunch of "indie" wrestlers could have there own event and sell out, for lack of a better term, but it's happening. All In is sold out, and they're only getting started.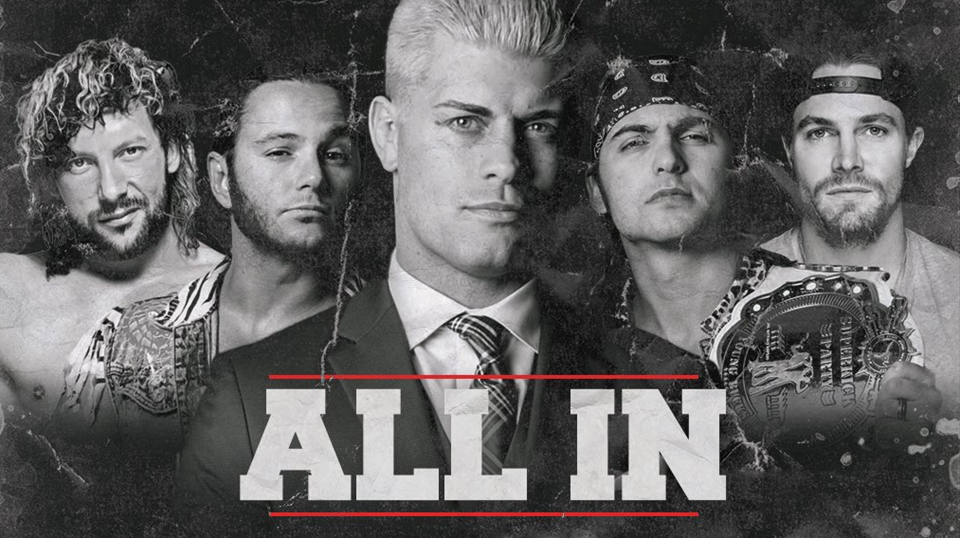 They said it could never happen, that a bunch of "indie" wrestlers could have their own event and sell out, for lack of a better term, but it's happening. The Young Bucks, Cody Rhodes, Kenny Omega and company have sold out All In in under 30 mins and are now getting ready for the biggest event in wrestling that doesn't have the letters WWE in front of it. On September 1st, 2018 at the Sears Centre in Chicago. 
Fans for 10 to 20 years ago couldn't even have thought up that a bunch indie wrestlers could start such a revolution in wrestling where fans of all kinds would be watching not only the WWE, but Ring of Honour, Impact, NJPW, and in the eyes of the fans and wrestlers alike have them commit with such a big business company like the WWE. To even imagine that these same wrestlers would put on their own show, with their own money and have it sell it would never have been imaginable…till now. While people may credit Cody Rhodes for drawing the average wrestling fans eyes to ROH or NJPW which is partially true. It is really The Young Bucks who with their Youtube channel, t-shirt sales, partnering with HotTopic, having their own Funko pops and just being damn good wrestlers have created this competition against the WWE.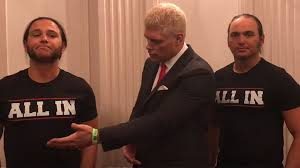 Yes, I said it and I believe that it is true. The Young Bucks, wherever they go, whoever joins The Elite,  what promotion they are on they become instant competition for the WWE. Now, having made a successful attempt and turned their dreams into reality with ALL IN they have put their metaphorical flag in the ground and stated that there is such thing as a career outside the WWE, there is such thing as a career after the WWE, as Cody has shown time and time again. You can make waves in another country and still have the buzz around you like you're wrestling in North America like Kenny Omega and Marty Scrull have shown.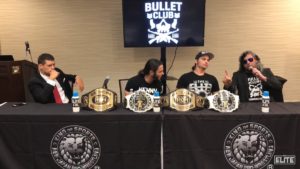 With the success of ALL IN with the likes of DDP, Kevin Nash, Hulk Hogan all appearing and tweeting about it has finally shown that the WWE has competition. It's not in the form of another promotion, but in the form of a bunch of guys who love wrestling as much as the fans do. And if you've seen any of these wrestlers wrestle you know how good the show will be and why the WWE finally has met its match.
---
Always Use Your Head and visit the official Pro Wrestling Tees store for The Chairshot All t-shirt proceeds help support the advancement of your favorite hard-hitting wrestling website, The Chairshot!

---