Greg DeMarco Show: AJ vs Jinder, Women's Royal Rumble & more!
The banter is back as Greg DeMarco and Patrick O'Dowd return to the airwaves with the latest edition of The Greg DeMarco Show!
Patrick and Greg discuss the brilliant performances of AJ Styles & Jinder Mahal at WWE Clash Of Champions, the announcement of a Women's Royal Rumble, the amazing 2017 of The Usos and more. Plus, Greg debuts an all new segment that will be sure to please every listener!
Don't miss a minute as Greg & Patrick contiue their mission: helping you enjoy wrestling more!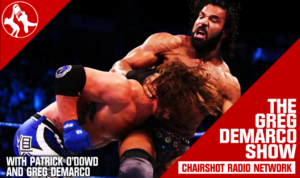 About The Greg DeMarco Show:
Originally built as an extension of their near daily banter, Patrick O'Dowd and Greg DeMarco have grown into some of the most respected wrestling analysts on the 'net. Add in an amazing slew of guests who bring in years of experience in and out of the ring and your ears might not be able to handle this!