Top 5: Matches of the Week (Ending 12/4/18)
Welcome to the final list that feeds into November to help decide The Chairshot: Match of the Year. Last week, we saw a pretty decisive win with Johnny Gargano vs Pete Dunne @ NXT winning by a wide margin.
This week is a pretty even list, 4 out of 5 are easy for everyone to watch, with the fifth being a nice match, from a promotion that needs to find it's identity. Let's get to the list:
5. All Japan Pro Wrestling: World's Strongest Tag Determination League: Kento Miyahara & Yoshitatsu vs Daichi Hasimoto & Hideyoshi Kamitani
In what seems like an unbalanced match up, we see Miyahara and Yoshitatsu (Former Triple Crown Champion, current Ace of the company and the man who just challenged for the Triple Crown championship, respectively) versus two relatively unknown wrestlers. Daichi Hashimoto is the son of Shinya Hashimoto, so those are very large shoes to fill, whereas, Kamitani found success in Big Japan and has been trying his hand in All Japan since 2016.
Initial perception of this match will be very sad for some watchers. The venue is basically a high school gymnasium with maybe 200-300 fans and a rather subdued malaise through most of it. Miyahara is the Ace of All Japan, mainly since most of their younger talent left and went to NOAH a few years ago. As for the match, it starts off rather slowly, giving all four men a chance to build up some momentum. Kamitani and Miyahara seem to get most of the support from the crowd, as the early portion seems to be in control of Miyahara and Yoshi.
After both teams try to cut one another off and use high impact tandem moves, Yoshitatsu spends a considerable amount of time outside of the ring. Brawling on all sides and each team having a member slide in for a pin breakup comes to a halt when Hashimoto catches Miyahara mid Blackout (basically a V Trigger like Omega does), hits a dragon screw leg whip and follows up with a Shining Wizard for the surprising pinfall victory over the Ace.
A somewhat by the numbers and unsurprising match until the last 5 minutes. It can be noted that they are trying to rebuild Yoshitatsu's ruined credibility and protecting him even from a pinfall. So given that the story is kinda easy to follow, the young kids get the rub and Yoshitatsu doesn't look like a complete trashbag…it's a solid match for a promotion that deserves a break.
Ranking: Silver I
4. Raw: Seth Rollins vs Cesaro
These two guys don't really put on a bad match, they're just not being prominently featured outside of the tag division.
For being an early match on Raw, this felt a lot like a kickoff match to a Pay-Per-View. The crowd was into it and the match went back and forth very nicely. Each wrestler got most of their stuff in, but Cesaro has been eating losses like candy bars, so the finish isn't surprising.
Not sure how much this will hurt Cesaro when they inevitably split up but he always puts on a good match. Here's to hoping he gets a few wins eventually or finally gets out of mid-card hell when it matters.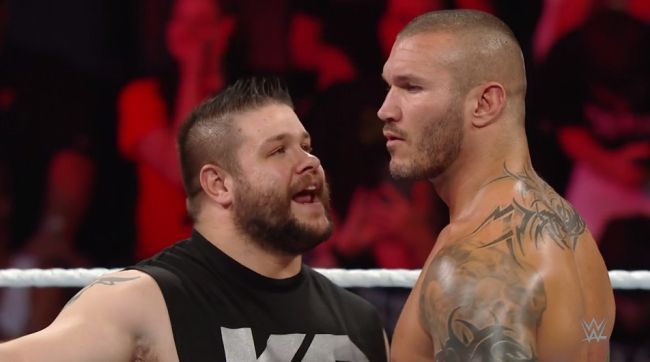 3. Smackdown: Randy Orton vs Kevin Owens
This match started off hot with Randy beating the holy hell out of Owens and took a while to turn around.
As soon as Owens got the momentum he never really lost. Sami Zayn was banned from ringside, but interfered once they started brawling up the ramp. It was an amusing way to get around the banning at ringside and added unexpected drama when Orton kicked out after the interference.
Owens goes up to the top rope for a Frog Splash, and actually hits it for the finish. Many people, myself included, was expected a big RKO spot; but nope, Owens went over in a solid and rough match.
Ranking: Gold V
2. NXT: Moustache Mountain vs Pete Dunne & Mark Andrews
Well this is everyone's new favorite everything and it's honestly just nice to see them doing something with the UK wrestlers.
The idea that Dunne can only find tag partners by promising them a title shot is amusing. The match though, was what you'd expect. Everyone got their stuff in quite well and quite often. Trent was the punching bag since Tyler is still being portrayed very strongly.
Moustache Mountain goes over and Dunne eats the pin, but goes postal and destroys Mark Andrews afterwards. So it was a solid showing from everyone involved, nothing overly flashy but worked well enough to close the show.
1. Impact: Alberto el Patron vs Johnny Impact
Well regardless of the fact it's Impact! and the match spawned one of the more ridiculous .gifs of the week, the actual wrestling and storytelling was fantastic.
It begins hard and fast since the two wrestlers hate each other, and continues to stay hard hitting and brutal. Alberto shows a vicious side of himself trying to get through Johnny to get to Eli who he feels isn't the rightful champion. Brawling outside and stiff shots keep the drama pretty high in this match, until Eli Drake shows up to ringside to observe, and in turn, distracts Alberto when he was looking to finish Johnny.
Since Alberto allows himself to be distracted, Johnny hits a nice Starship Pain for the win and then the ensuing beat down happens. Drake and Adonis (who eventually joins) helps beat up Impact, until Petey Williams comes in for the save. This is a good way to keep the story moving forward and keep Petey relevant in the title scene.
None of the matches dwarf the other in quality, so that makes the decision a difficult one. Out of all of them, I enjoyed the Impact: Alberto el Patron vs Johnny Impact match the most for the storytelling and over all intensity.
All Japan deserves a little attention for trying to build up, mostly with Veterans like Ultimo Dragon, Tajiri and Yoshitatsu, but they are trying with a limited budget. Just fast forward through the Dory Funk Jr and Great Kabuki matches, since those are just…sad…and…bad…and…sad.