8-Match Tag #1 – WWE Royal Rumble Show-Stealers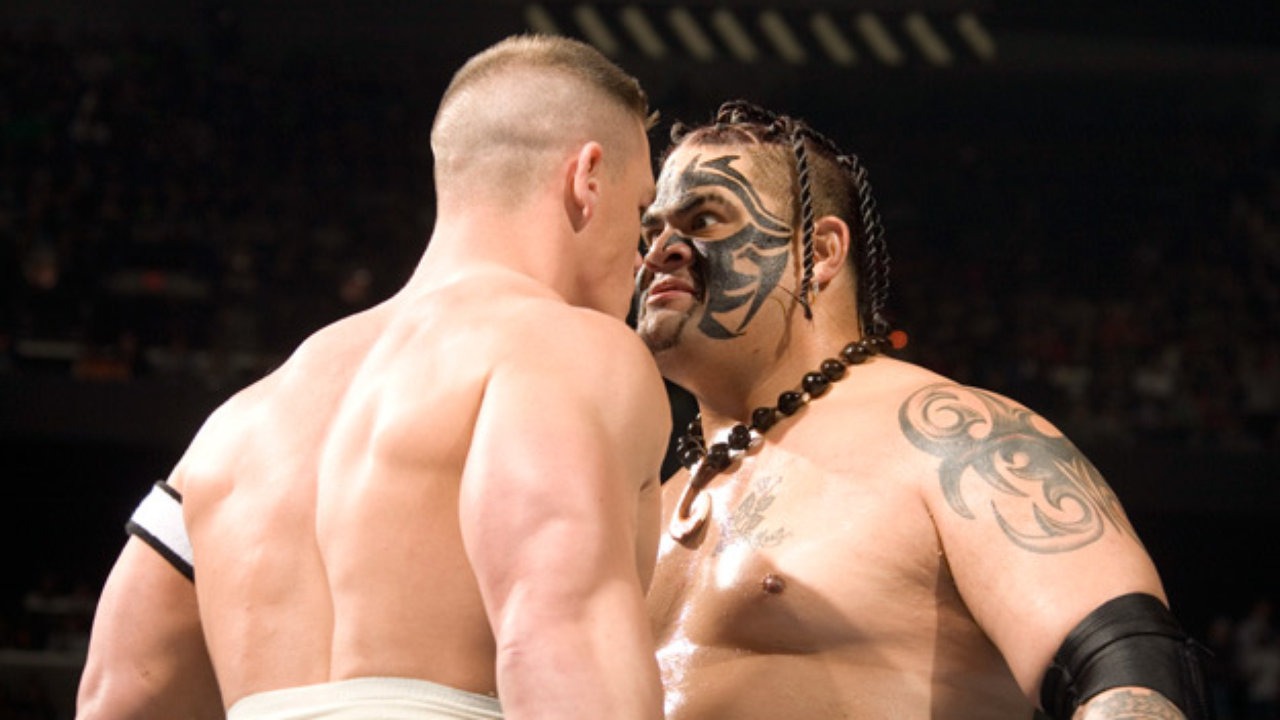 The most obsessively devoted professional wrestling aficionados following the Sport of Kings today tend to consume and dissect every facet of as many past and present promotions, styles and performers as humanly possible to an almost quantum degree of refined appreciation. To borrow from legendary manager Paul Ellering, you don't need to split atoms in order to see why these rabid students of the squared circle's lineage regard the WWE Network's seemingly incalculable hours of archival video alongside the wheel, mastery of fire, antibiotics and the AKI engine powering the Nintendo 64's "WWF No Mercy" alongside humankind's most enduringly appreciable achievements.
Everyone else, on the other hand? Let's all be reasonable. What virginally naive new initiate to our world of colossal, cartoonish, sweat-soaked gladiators with loins girded in spandex possesses the time or wherewithal to blindly scroll through such a mountain of media in search of something to validate a love affair with this absurd carny extravaganza?
That's where I come in. I'm Sean Comer. You're not. This, ladies and gentlemen, is my personal compendium of short-and-sweet curated playlists conceived as organized signposts denoting must-see landmarks across an intercontinental library of unforgettable moments in dramatized grappling. Welcome to 8-Match Tag.
Why only eight, you ask? Brevity is the soul of wit. The way I see it, a tidy octagonal centerpiece of matches or segments nails a bullseye in which a playlist should reasonably be able to say all it needs about a given subject before descending into monotony or unnecessary diversions from the heart of its message. After all, why do you think the 8-track tape was once the benchmark for any traveling audio experience? At their best, those musical plastic bricks delivered only the cream of an artist's crop in a perfectly portioned dose that ran its course before the sonic flavor could wear out its welcome.
So it is with these easily digestible meals culled entirely from the WWE Network collection. I have nothing whatsoever against WWE's own thoughtful anthologies, but some of those retrospectives include 20 or more clips. Even I typically can ill afford that kind of undivided time investment, and I work from home. Whether you crave your own nostalgic foray into one certain zone of interest or need a conservative beginner's primer for a viewer fresh off the boat, each considerately sized sampler is piping-hot killer and no filler.
---
For my first such offering of recommendations, let's salute an enduringly thrilling annual WWE tradition returning Sunday night to Philadelphia as the jumping-off point for the road to WrestleMania 34. The WWE Royal Rumble's titular signature match is equal parts grueling, unpredictable gauntlet and every-man-for-himself marathon battle royal, a wild contest with varying pivotal WWE Championship implications dating back to the 1989 edition. Incredibly, the climactic clash's propensity for shaping the course of the next Showcase of the Immortals has occasionally been overshadowed by at least one unexpectedly unforgettable showdown on the undercard. If you need a sampler platter of in-ring storytelling prior to this weekend's endurance trial of an event, fill out your watchlist with these eight Royal Rumble show-stealers instead of listening to Booker T make "Macho Man" Randy Savage's tenure as a color commentator seem like a "Best of Bobby 'The Brain' Heenan" highlight reel. I promise you won't regret it, because each and every one stands memorably alongside top attraction itself.
One caveat, kiddies: I did my best to commend each performer only once for the sake of variety. However, I also added the matches tempting me to throw that rule out the highest window possible to a second volume ready and waiting for next year's Royal Rumble. For the sake of argument, I categorized headlining championship matches as existing amid the "undercard," simply because the Royal Rumble match is and always will be the undeniable focal point of the card.
Let's rock. In no particular order…
---
WWE ROYAL RUMBLE 1991
THE ROCKERS vs. THE ORIENT EXPRESS
You didn't need a nuanced, meandering story to manufacture a restaurant-quality match involving these two firecracker duos. Just place all four men in the same ring.
Before reuniting as the second iteration of the Orient Express when Paul Diamond replaced Akio Sato by the side of Pat Tanaka in the World Wrestling Federation, the pair previously known as Badd Company captured their only American Wrestling Alliance World Tag Team Championship from Shawn Michaels and Marty Jannetty in 1988 shortly before the Midnight Rockers would drop the first half of their name and jump ship to the WWF. Tanaka would meet Michaels and Jannetty again at WrestleMania VI alongside Sato in 1990 to produce a forgettable little encounter, but this match is a 20-minute slice of nimble maneuvers, a smoothly paced story formula and effortless rhythm. The 1991 Royal Rumble match was nothing to overlook in itself, but this is the reason I can always come back to my first Royal Rumble as a reminder of the wrestling styles that captivated me from the beginning.
WWE ROYAL RUMBLE 2014
DANIEL BRYAN vs. BRAY WYATT
Most fans will remember this Royal Rumble as the first of two consecutive editions in which fans tore WWE a new one for failing to punch Daniel Bryan's ticket to headline WrestleMania. In 2014, the now-retired (for now) submission artist had spent his finest hours of the previous year waging war on Triple H, Stephanie McMahon and the rest of the Authority in pursuit of the WWE Championship stolen from him by Randy Orton at SummerSlam. At one point, his despair seemingly compelled him to accept the overtures of Bray Wyatt to end vicious weekly attacks by joining his creepy swamp cult, the Wyatt Family. Before long, Bryan would pull a fast one on Wyatt by laying in his own beatdown inside a steel cage after shucking the Wyatt Family's signature coveralls and leading the live audience in a thunderous "Yes!" chant.
Hence, it was decided that Wyatt and Bryan would collide at the Royal Rumble in an opening match every man, woman and child in the audience was convinced was but a prelude to Bryan entering and winning the Royal Rumble match later that night.
It wasn't. Bryan didn't win. He never even entered the match. Instead, he and Wyatt tore the house down and relieved themselves on the ashes in a brutal brawl that would have felt right at home on a vintage card booked by such realism-worshipping minds as "Cowboy" Bill Watts, Jim Crockett Sr. or Jim Cornette anywhere from 20 to 30 years prior. Not only did this match once more declare that there wasn't much Bryan couldn't accomplish between the ropes, but it merits consideration as proof that Wyatt may one day go down as a can't-miss performer handcuffed at every turn by horrendous booking and some simply abysmal luck.
WWE ROYAL RUMBLE 2007
LAST MAN STANDING WWE CHAMPIONSHIP MATCH
JOHN CENA © vs. UMAGA w/ ARMANDO ALEJANDRO ESTRADA
You will never convince me this match had any right being as outstanding as it was.
Triple H has previously claimed that he told privately John Cena during the buildup to their WrestleMania 22 main event the previous year that the anointed new face of WWE "sucked" and had a lot to learn as headlining champion. Watch this all-in donnybrook, and tell me Cena didn't take that criticism to heart.
The late Eddie Fatu broke out as a singles competitor in WWE immediately after the aforementioned WrestleMania with an initially laughable, stereotypical "island savage" gimmick. With patience, a capable mouthpiece in stylish loudmouth Armando Alejandro Estrada and stubbornly protective booking, he grew into his role as a monstrous hard-hitting heel to the point of earning a feud with Cena for the WWE Championship. Even more impressively, their interactions convincingly painted the Samoan Bulldozer as a physical force capable of demolishing the unbreakable former Doctor of Thuganomics.
To punctuate their months-long war, the two met in a combustible Last Man Standing match which yanked Cena from months of formulaic main-event performances and allowed them to cut loose in a plunder-filled riot of a match. Pay no resentment to Cena's inevitable win. Umaga lost absolutely no credibility in defeat. Rather, he took a full measure of the champion and forced him into deep waters and newly desperate measures to retain his title. Cena might have won, but he knew he had survived a fight like no other presented to him up until that point.
WWE ROYAL RUMBLE 1992
WWE INTERCONTINENTAL CHAMPIONSHIP MATCH
THE MOUNTIE © w/ JIMMY HART vs. "ROWDY" RODDY PIPER
The late, one-of-a-kind "Rowdy" Roddy Piper was well past his last days as a full-time WWE performer. As this short-but-sweet gem demonstrated, it would be a drastic mistake to declare he was necessarily also past his prime.
Quite the opposite. Hot Rod and the Mountie told an astoundingly entertaining back-and-forth tale in just under 10 minutes and delivered the legendary Piper's first and only singles championship victory in the company where he became an icon and impactfully shaped an entire formative era in the 1980s with Jimmy Snuka, Hulk Hogan, "Cowboy" Bob Orton, Paul Orndorff and even Mr. T.
Former tag team division mainstay Jacques Rougeau had returned fairly recently to the WWF as the Mountie in 1991, a cartoonishly conniving Canadian lawman who had transitioned from an amusing feud with the Big Boss Man to chasing the Intercontinental Championship won at SummerSlam that year by Bret "The Hitman" Hart. Days before this tilt, the Mountie had shockingly won the belt from Hart at an untelevised live event after Hart apparently entered the match with a reported 140-degree fever – a twist Rougeau would later bitterly dismiss as Hart's concocted way of refusing to cleanly drop the title to him. President Jack Tunney would then insist the Mountie defend his shiny new strap against Piper at the Royal Rumble.
For some of the questionable opinions painting him as an obnoxious pain in the ass backstage, Rougeau merits consideration alongside Mark Calaway (the Undertaker), Matt Borne (the evil take on Doink the Clown) and Mike Rotunda (wrestling accountant) among astute wrestlers who could also spin an initially moronic gimmick into solid gold. Throw in "The Mouth of the South" Jimmy Hart prattling away at ringside for added heat. Finally, let Piper display a timeless gift for keeping the crowd in the palm of his hand with infectious energy and always-entertaining charm. The resulting match never really lets up and swings just enough times between the two before going home. Need a few minutes between half-hour masterpieces? Look no further.
WWE ROYAL RUMBLE 1995
WWE CHAMPIONSHIP MATCH
BRET "THE HITMAN" HART © vs. DIESEL
Timing rarely treated Bret "The Hitman" Hart's individual championship reigns entirely kindly. His first Intercontinental Championship run unceremoniously concluded with an asterisk-bearing loss to the Mountie during negotiations for a new contract. After regaining the title, the epic Wembley Stadium duel with brother-in-law "British Bulldog" Davey Boy Smith was complicated when the coke-addled Bulldog completely forgot the structure of their match minutes into it and had to be guided through it by Hart, one spot at a time. His initial WWF Championship abruptly terminated with a surprisingly decent WrestleMania IX main event in which he dropped the belt to Yokozuna, Hulk Hogan immediately coming out and squashing Yoko in under a minute and the Immortal Orange Goblin then allegedly reneging on a promise to lose the title to Hart.
Huh. I feel like I'm missing an ugly ending to a championship push somewhere. Oh, well. I'm sure it'll come to me.
When the Royal Rumble rolled around in 199, Hart was a three-time WWF Champion after winning the title from Diesel in a fantastic match at Survivor Series months earlier. Sadly, Hart's workhorse run of title defenses was constantly overshadowed by the WWF's full-throttle babyface push elevating the inimitable Heartbreak Kid toward an inspiring eventual WrestleMania XIV collision with him. With that in mind, you could be forgiven for allowing this tense, down-to-earth stiff struggle to be overshadowed by Michaels winning his second Royal Rumble. Nevertheless, these two never shared a poor match, and this particular highlight stands up appreciably next to their earlier encounter. Say what you will about Kevin Nash being comically injury-prone far from a dazzling mastermind of creativity. When sufficiently motivated, his intimidating presence, sharp psychology that never receives its due appreciation and varying shades of charisma could more than make up for a conspicuous lack of triple-jump moonsaults or unorthodox submission holds.
WWE ROYAL RUMBLE 2016
LAST MAN STANDING WWE INTERCONTINENTAL CHAMPIONSHIP MATCH
DEAN AMBROSE © vs. KEVIN OWENS
Whatever your opinion of Dean Ambrose's more cartoonish shenanigans as a watered-down blend of Terry Funk and "Stone Cold" Steve Austin circa 1996, his wild ride as Intercontinental Champion defending his title against a still-sadistic Kevin Owens doesn't need great exposition behind it. This is professional wrestling storytelling at its simplest and best:
CHALLENGER: "I want a belt."
CHAMPION: "I have a belt."
CHALLENGER: "I want your belt. Give it to me."
CHAMPION: "You can't have my belt. It is mine."
CHALLENGER: "Give me your belt."
CHAMPION: "Fight me for it."
CHALLENGER: "OK."
What is goddamn difficult to understand about why that works?
Combine two notoriously violent individuals. Let hatred rise to a rolling boil over medium-high heat until a one-fall-to-a-finish match hasn't a hope in Hell of settling anything conclusively. Realize that no traditional ring will contain their loathing for each other. Accept that the surest means of stemming the tide of violence involves allowing them to simply beat the piss out of themselves until one man cannot reach his feet before a count of 10. There isn't an era in professional wrestling history when Ambrose and Owens wouldn't be two walking, talking sacks of money. At their best, both can make a match feel as "real" as any street-corner or barroom throwdown. Zod Almighty, can you imagine these two working under Jerry Jarrett and Jerry Lawler in Memphis? The Von Erichs in Texas? "Cowboy" Bill Watts?
This particular bout absolutely levels one perpetual bullshit claim among wrestling fans who view the Attitude Era as an apex of creativity: with the right commitment, anybody can elevate even a barn-burning melee with no holds barred without blood or outlandishly graphic content. Anyone who cannot manage that should never set foot inside a wrestling ring. Is the match a car-wreck? Yes, in the best possible way. Could you show it to a 12-year-old without a moment's hesitation after the obligatory "do not ever try this at home" warning? Certainly. Will it prove just as entertaining to a 35-year-old fan who began watching wrestling just after WrestleMania VII, witnessed the entirety of the Monday Night Wars and still contributes to three fan sites today?
Categorically, yes.
WWE ROYAL RUMBLE 2003
WWE CHAMPIONSHIP MATCH
KURT ANGLE © vs. CHRIS BENOIT
Stop. Right now, stop what you're typing. I realize future editions will force me to repeat this disclaimer, but I'm getting this out of the way right now in hopes you will all prove me wrong.
Nothing anybody has said or ever will say could begin to condone or explain the late Chris Benoit's actions. He murdered his wife and child. He then hanged himself. Only three people will ever know exactly what happened in those final hours or days, and they are all dead. I refuse to discuss that tragedy here or in any other space dedicated to this column any further than this: few performers in more than a century have exhibited Benoit's uncanny talent, conditioning or obsession with being the finest professional wrestler on Earth. That is a matter entirely apart from his collapse into such unthinkable acts as the ones that concluded his life. My appreciation for his body of work remains untainted and reserved in a context with which I am unquestioningly comfortable. That is how I always have and will continue to filter my perceptions. If that is enough of a deal-breaker that you won't resist centering your remarks on your bones of contention with my views, then while I respect your entitlement to your opinion, I strongly recommend you do us both a favor and partake in another commentary.
That being said…
In the nearly two years after his return from career-altering neck surgery, Benoit scraped and rip and tore his way toward WWE Championship contention. When he renewed his fierce rivalry with WWE Champion Kurt Angle at the Royal Rumble in 2003, he was a man with plenty to prove. An untainted world championship had eluded the 18-year length and breadth of his career, from his beginnings in Calgary Stampede Wrestling through his storied tenures in New Japan Pro Wrestling, Extreme Championship Wrestling and World Championship Wrestling and finally his 1999 arrival in the World Wrestling Federation. Meanwhile, Kurt Angle remained the WWE's closest equivalent to Benoit's technical brilliance every step of the way, including a three-way classic including Chris Jericho at WrestleMania 2000 and a one-on-one masterpiece at WrestleMania X7.
I would not waste a moment of regret showing this masterclass in straightforward psychology to anyone curious as to what keeps me coming back to a form of entertainment. For these two men, victory meant something else on an equal plain with a championship. This was a proving ground for two men who lived to pour every iota of blood, sweat and tears their bodies could produce onto a canvas for only one reason: to be nothing less than the undisputed best wrestler on the planet. Leading into the match, Benoit held two victories in as many months over Angle. Before that, Angle had gotten the better of Benoit more than once. This match steadily ratchets up the urgency and culminates in five minutes of deft mat wrestling every student of the game today should strive to one day equal. Even Michael Cole and Tazz were in undeniably rare form on commentary. Assuming you share my filter for reflecting on Benoit as a person and performer, you may find yourself sharing in the stunned Boston crowd's unforgettable standing ovation.
WWE ROYAL RUMBLE 2000
WWE CHAMPIONSHIP STREET FIGHT
TRIPLE H © vs. CACTUS JACK
I knew when I began this list that I would end it here.
Yes, Triple H backdropping Cactus Jack through the top of the cage during their blood-drenched Hell in a Cell encounter at No Way Out the next month might find its way into more WWE retrospective packages. However, anybody who tells you this all-out mutual assault isn't objectively superior may not have even seen it. The two years between 1999 and 2001 should be remembered for all time as the summit of Triple H's career in terms of match quality. For all the valid criticism levied The Game's way since the early 1990s, every classic and classically terrible match in wrestling history has involved at least two people. During this stretch, he simply didn't seem physically capable of delivering a patently "bad" match, whether paired with Tazz, Big Show, Jeff Hardy or The Rock. Meanwhile, Mick Foley was entering the twilight of his own full-time career and looking to…"retire." First, he wanted one last taste of the WWF Championship and to claim it at the expense of a mortal enemy who had plagued him for years. Both men demonstrated a willingness to brutalize, maim and cripple anyone in their path. However, there was only one WWF Championship.
Mankind would not be depraved enough to inflict the necessary violence. This was no country for Dude Love. Mick Foley himself could not go to the places needed to exact vengeance on the Cerebral Assassin.
On this night, Mrs. Foley's baby boy chose the nuclear option. He unearthed Cactus Jack.
The psychopath who left blood on multiple continents. He left an ear in Munich. Explosions and barbed wire broke his body in Japan. The parts that came home, the Undertaker nearly obliterated by flinging him first off of and then through a massive roofed cage – after which, he rose to his feet with a smile.
This 30-minute bloodbath is a gore aficionado's dream come true, but it also happens to be a well-structured narrative of both men's stakes. Triple H wants Mick Foley out of his life, once and for all. Cactus Jack wants to be the misfit king one last time. Evidently, Jim Ross and Jerry "The King" Lawler simply don't want either man to be carted away on a stretcher. Nothing that year's 30-man Royal Rumble roster could have done had a fair fight to eclipse this. It isn't the blood, the props or the violence alone that sets this match apart. It was simply the place where a feud encompassing the most compelling wrestling of the Attitude Era reached its apex. No Royal Rumble marathon is complete without this one.
---
From the bottom of my heart, thank you for coming along on this first journey through the annals of the WWE Network archive. If you have a future list you would like to see, let me know by following me on Twitter @ComerCodex or sound off in the comments below.
I'm Sean. You're not. Until next time, never dull your colors for someone else's canvas.
Mitchell's Wednesday Night War Review! The End!
The Wednesday Night War… is DONE!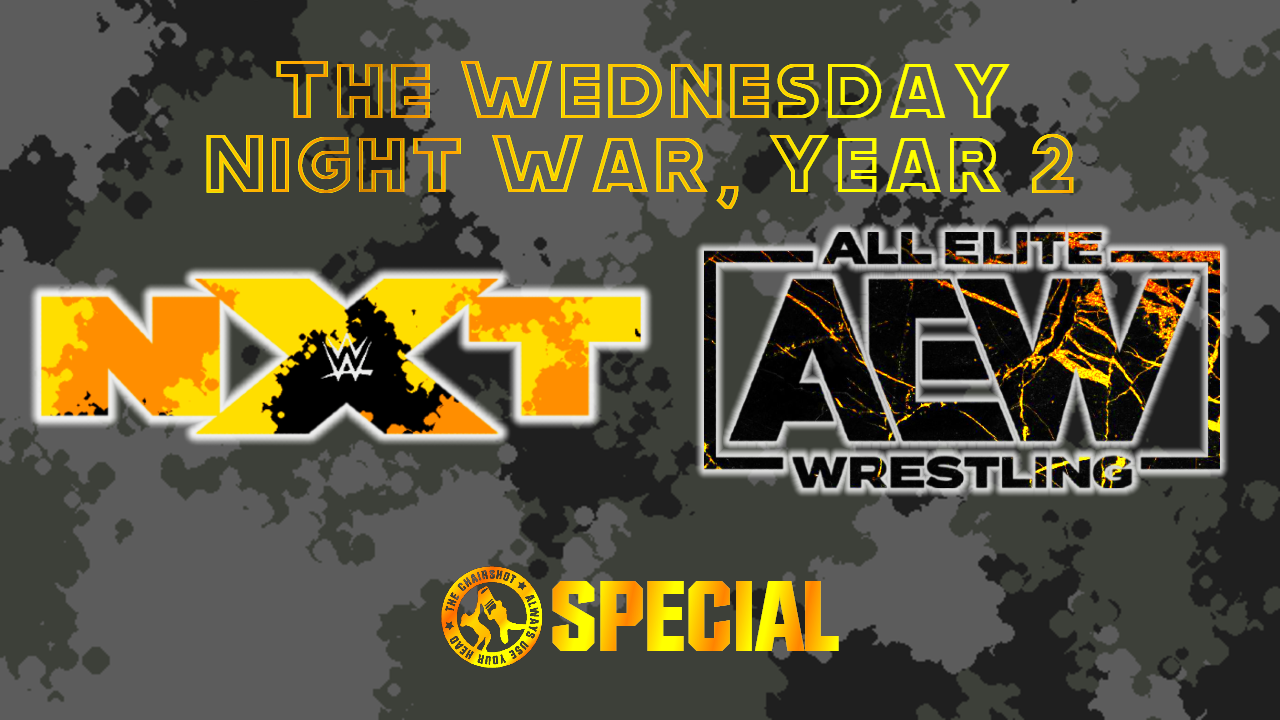 Thank you, Wednesday Night War! It was fun while it lasted!
With NXT moving to Tuesdays, the wrestling war on Wednesday nights is no more! But let's see where both sides stand now that the dust settles!
Let's recap Year Two's first phase.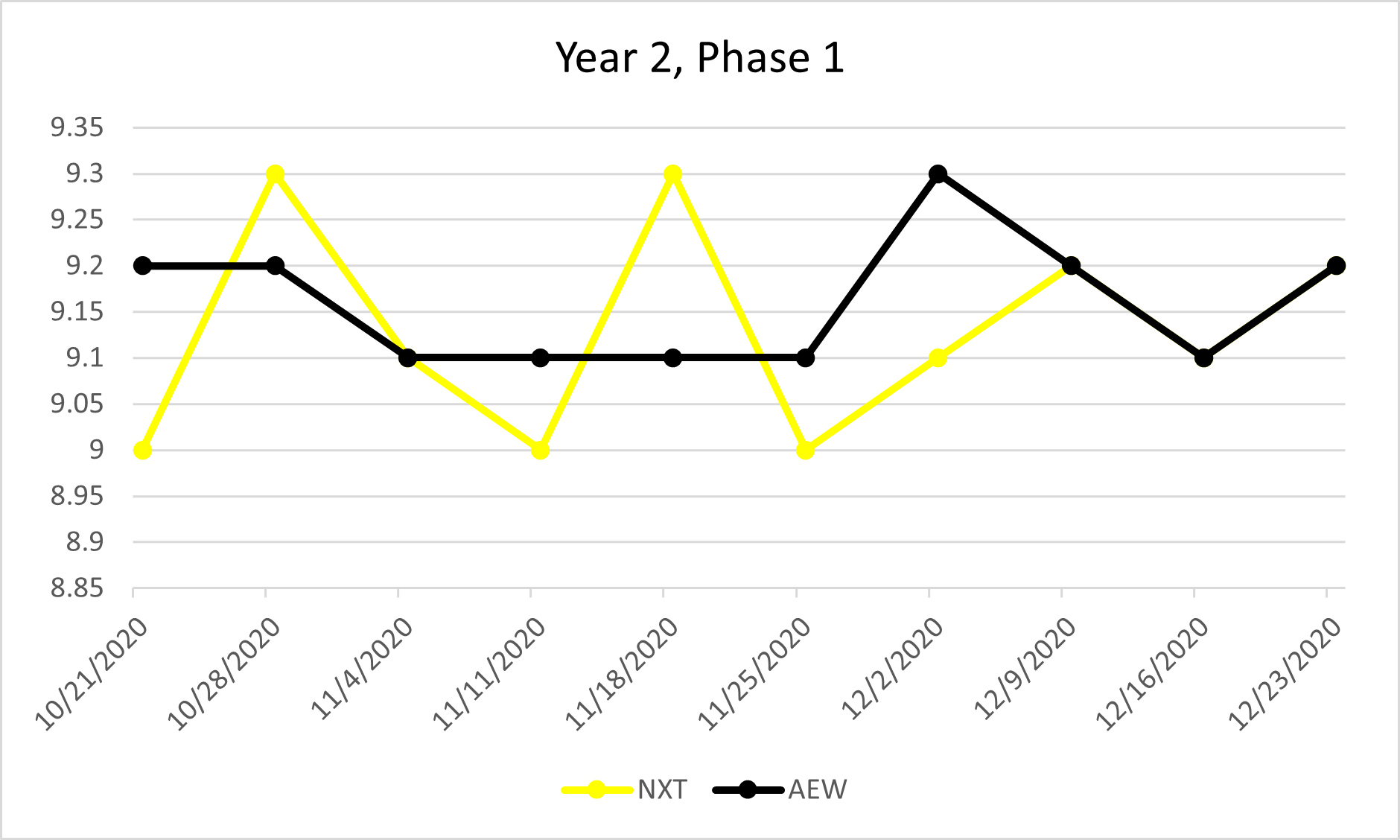 Year Two, Phase One Final Scores: NXT – 9.13; AEW – 9.16
The margin was close as ever, but AEW inched out the win to continue their dominance from Year One! Don't worry, NXT went past 12/9/20, it's just that they and AEW tied those last three weeks. And you'll notice that I left 12/30/20, the last Wednesday of the year, off because of the circumstances. Jon Huber, aka Brodie Lee aka Luke Harper, past away just days before that night, and AEW changed their plans to give us a "Celebration of Life" tribute episode. It did not feel right trying to give that show a score, because it wasn't supposed to be about AEW but about Jon Huber. And to be fair to AEW's score, I left off NXT's episode for that night, even though NXT did have great action on their Year-End Award episode.
Now, for Year Two's Phase Two, the WNW FINALE!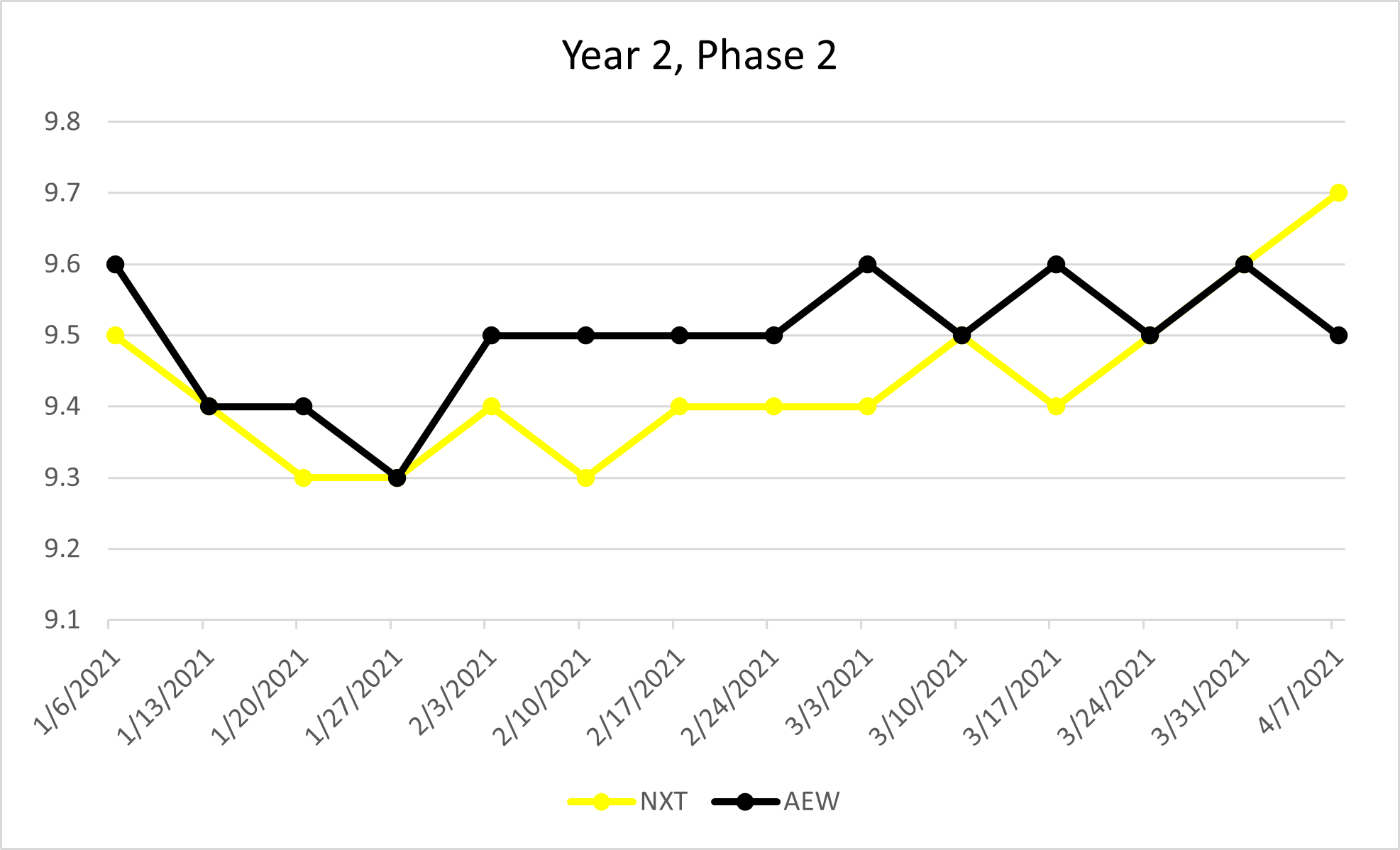 Year Two, Phase Two Final Scores: NXT – 9.44; AEW – 9.50
Year Two, Overall: NXT – 9.31; AEW – 9.36
Much stronger numbers from both sides this time, but these two companies started hard and kept going hard from New Year's Evil VS New Year's Smash all the way to TakeOver: Stand & Deliver and… Well, the AEW Dynamite put up against it. Just looking at it, that string in February for AEW made all the difference. They were just on fire right there, building towards AEW Revolution 2021, which itself was an awesome PPV (even with the pyro mishap at the end).
The margins were still close, but bigger than last phase's, and even with TakeOver: Stand & Deliver Night One bringing NXT up to a high level, it was not enough! AEW wins again! They win two phases to zero, and are therefore the overall winner of the Wednesday Night War!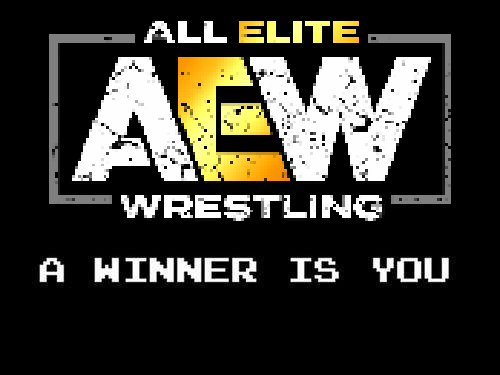 My Thoughts:
The Wednesday Night War may not have been as epic as the Monday Night War, or as long, but it was a lot of fun. NXT and AEW were giving us great wrestling every week, not just in-ring action but the promos and segments. The wrestlers on these shows are now stars because they got to be on cable network television, and literally kept me up late at night because I could not let either show wait until Thursday morning. But now, #NXTuesday is going to be how it is going forward, and we can all argue one way or another why the move happened but it doesn't really matter, I'm still going to be watching both anyway.
Cook's WrestleMania 37 Night One Gambling Picks
Who's trying make money on guessing the predetermined scripts? If that's you, Cook gots all the lines you need. This isn't Breaking Bad; we only do betting lines!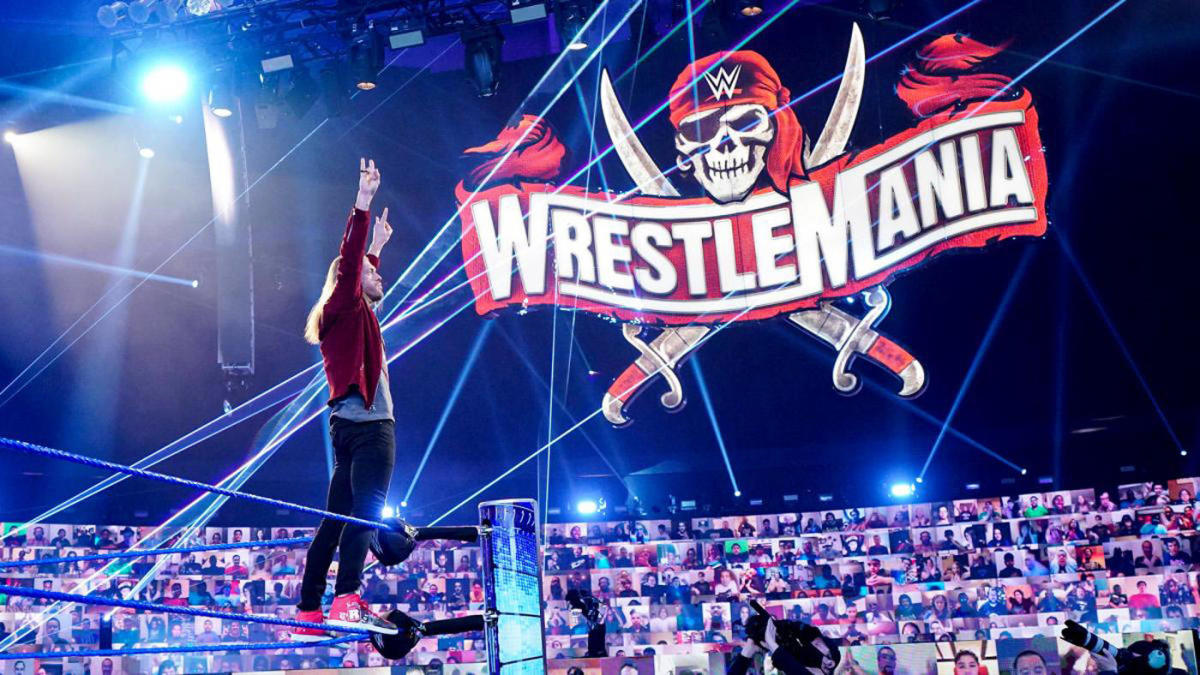 This is one of those columns that needs no real intro or explanation. Its WrestleMania! What else do you need me to tell you? Today we're talking Night One, tomorrow it'll be Night Two. Easy peezy lemon breezy.
I know that some of you prefer a 12 hour WrestleMania event, but to me, two nights is definitely the way to go. Think of it this way: instead of one night to watch the biggest show of the year, you get two. What's the downside?
Also, you can get two days to make money, if you're into the kind of thing we're talking about here. Though, I am contractually obligated to mention that my look at these matchups, with odds provided by BetOnline, is for entertainment purposes only.
Tag Team Turmoil
Lana & Naomi vs. Dana Brooke & Mandy Rose vs. The Riott Squad vs. Natalya & Tamina
History always repeats itself. #WrestleMania @TaminaSnuka pic.twitter.com/ss9FjOGYks

— Nattie (@NatbyNature) April 7, 2021
We've got a match setting up a Night 2 match here, as Nia Jax & Shayna Baszler will face the winners for the Women's Tag Team Championship. They've had some amount of issues with each team, so we can't really use that as an indicator of who will win. We also can't base it off of who will have the best match with Nia & Shayna, as that seems like a push.
We also don't have odds on this match as I write this. If some do get posted, my guess would be that Natalya & Tamina will have long odds and could be a good pick as a team WWE might want to give a little reward for their service over the years.
Bad Bunny & Damian Priest (-950) vs. The Miz & John Morrison (+500)
Dude…….#WWERaw pic.twitter.com/hE5sGI5YKC

— WWE (@WWE) April 6, 2021
We all know how this one is going, right? Bunny & Priest are the easiest pick on this two day extravaganza. I'm sure an outside celebrity lost a WrestleMania match at some point, but one isn't immediately coming to mind. I assume some are still complaining about Bad Bunny getting a WM match, I choose to be good with it since it gets Damian Priest a match too. Hopefully this all works out well for him.
Braun Strowman (-500) vs. Shane McMahon (+300)
We do this together!!!!!! #WrestleMania pic.twitter.com/rbYHQzUbm5

— Braun Strowman (@BraunStrowman) April 6, 2021
Braun is the natural pick here for obvious reasons (he's actually a wrestler), but one can easily make an argument for Shane. The usage of a steel cage rarely keeps interested outside parties out of a match, and surely Shane will have a few allies looking to make an impact on WrestleMania. We'll see Elias & Jaxson Ryker, and we'll likely see somebody else. Any big stiffs in the Performance Center not otherwise occupied could be an option for Shane here.
The thing about gambling picks: we're not always going to pick what we think will happen. I think Braun will destroy whoever gets put in his path here. But the object of this game is to make some money, and I think Shane McMahon at +300 is a good bet. Especially since I don't think this feud will be ending at WrestleMania. Still some more heat to get on this issue.
Cesaro (-300) vs. Seth Rollins (+200)
"I'm on fire. Don't touch me you'll get burned!" – @WWERollins on his #WWEHOF drip. pic.twitter.com/qNrAFkqCu5

— WWE on FOX (@WWEonFOX) April 7, 2021
Speaking of feuds that I think will extend beyond WrestleMania and will likely have the evildoer squeaking out a victory by nefarious means. I can easily talk myself into Cesaro getting a big win here, one which will lead to declarations that he's a made man and finally on the level he deserves to be at. I certainly wouldn't have a problem with that.
I think it's far more likely that Seth Rollins gets the win, and the issue between these two continues. Cesaro's big win is coming, but not at WrestleMania.
Raw Tag Team Championship Match
The New Day (+250) vs. AJ Styles & Omos (-400)
AJ Styles vs. Xavier Woods – straight out of 2008 TNA. A reminder WWE is a TNA nostalgia company. pic.twitter.com/VNU9VULZ7N

— Garrett Kidney (@garrettkidney) April 6, 2021
I've lost track of how many times I've been burnt by picking against Xavier Woods & Kofi Kingston. They have a knack for overcoming all obstacles at these major events and coming out on top. Its a good idea to keep these men featured on television, as they're positive role models for the community and I can only think of one time that one of them did something a bit embarrassing for the company.
I mean….that Jamaican accent. What were they thinking? Never mind, we got more accent stuff to talk about for Night 2, let's move on.
It is tempting to pick AJ & Omos, as there's an obvious story there hopefully leading to Omos' breakout as a singles star. That can easily be drug out though, and we don't pick against The New Day here. Their victory will be a good way to pop the crowd early in the evening.
SmackDown Women's Championship Match
Sasha Banks (+250) vs. Bianca Belair (-400)
IMPOSSIBLE, THINGS ARE HAPPENING EVERY DAY. pic.twitter.com/7iXlEA4gAe

— Mercedes Varnado (@SashaBanksWWE) April 8, 2021
This is a huge moment for Bianca, and for the Women's division in general, as the significance of two women of color fighting for a championship on the biggest show of the wrestling year can't be overlooked. Its a big f'n deal, as politicians would say.
A win here would put Bianca Belair over the top as a star in this company, and I think that's what happens here. Sasha doesn't need the championship to retain her relevancy, and it's not like any losses have hurt her standing with the people yet. She'll do whatever she can on this evening to make Bianca a star.
WWE Championship Match
Bobby Lashley (+150) vs. Drew McIntyre (-200)
"@fightbobby, how can you beat a man that will sacrifice everything?!" – @DMcIntyreWWE #WrestleMania pic.twitter.com/dFsnaKdtLl

— WWE (@WWE) April 7, 2021
People seemed legit shook when it was mentioned on Raw that this would be the main event of Night 1. Like…that wasn't obvious? As much as I like Sasha & Bianca & think they will have a fantastic match, the build of their match hasn't exactly gotten me any more excited than I was the moment after the women's Royal Rumble Match ended. Maybe y'all are more into TAG TEAM PARTNERS THAT SECRETLY HATE EACH OTHER than I am, but zero part of that whole thing seemed inspired to me. To be fair, it seemed even less inspired when Asuka & Rhea Ripley did it.
Meanwhile, this is the WWE Championship, dating back to the days of Bruno Sammartino & Buddy Rogers. Drew & Bobby's issue has been building since the Royal Rumble, and now is the time for Drew McIntyre to get the WrestleMania coronation they wanted to give him last year. Will it work?
Well, the mystery is one of the reasons we'll be paying attention.
Thanks for reading! Join me next time for Night Two!