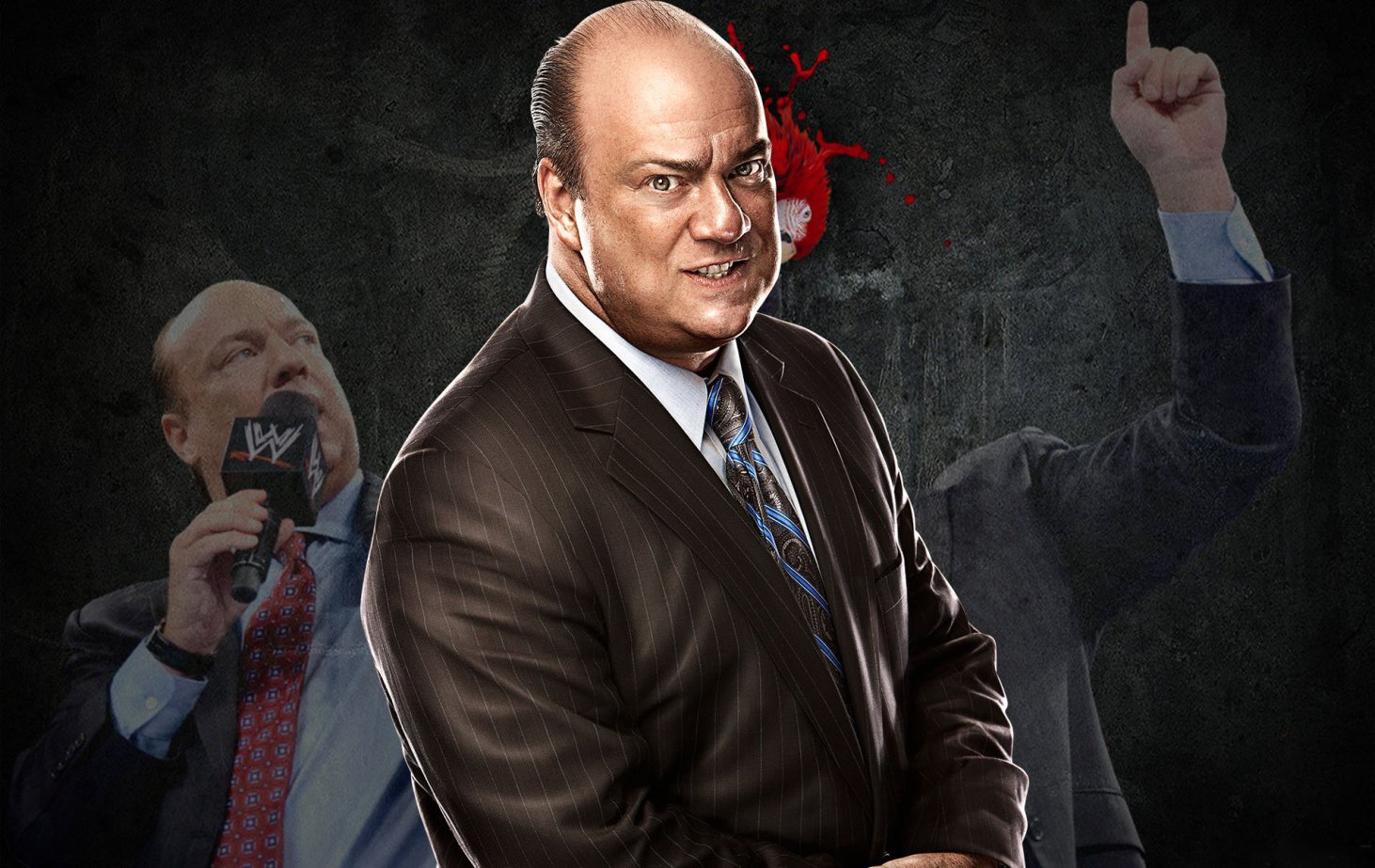 Paul Heyman. Possibly the most polarizing name in pro wrestling history. Talk to one person and they'll call him a visionary while another will call him a snake. One will call him a trailblazer, another will say he's evil. Even his best friends admit you shouldn't trust him as far as you can throw him. But there are a few things you can't deny him. The man is a genius, a survivor, passionate, a pioneer, a mad scientist and one of the most influential men to ever step foot in professional wrestling.
Because of his most recent TV role it is often forgotten that he has been much more than just a manager. He has literally seen and done it all, from his time as a teenage photographer blagging his way into big name events, on the commentary team alongside Jim Ross, head writer for Smackdown, owner of ECW and promoter for virtually every company he has worked for. He even managed to repeatedly blag his way into Dusty Rhodes' production meetings, desperate to learn from the best. If Paul Heyman hasnt done it … it ain't worth doing.
Despite his success, everywhere he goes his reputation proceeds him and it has largely come about from being unashamedly rebellious, the same attitude which has helped him achieve that success. Heyman was never one to follow the crowd, he would always put his neck on the line for anything or anyone he believed in. This bull headed approach to business has proved as much of a curse as a blessing, earning Heyman a whole host of enemies in the past and leading to him parting ways with employers on multiple occasions.
A perfect example of his rebellious determination would be the rise and eventual fall of his very own creation – ECW. It was 1993 when Heyman decided the industry needed more edge, something a bit more real … something extreme. He went head to head with WWE, regularly insulting the competition and hurling abuse live on air. ECW was something we had never seen before, it was dark, sexy, smeared with blood, depicted graphic violence and would unashamedly push the boundaries of what could be shown on TV. When the company ran into trouble financially, Heyman just wouldn't stop. He would often not sleep for days on end trying to conjure up ways to stay relevant and secure another national TV deal. The man is quite literally a human cockroach.
It got to a point where the company couldn't even afford to pay the talent, yet Heyman kept going and kept promising they would receive their wages despite nothing on the horizon to suggest that was even a possibility. Even in the face of certain bankrupcy he couldn't give up on his guys… ECW was a family and Heyman was very much the patriarch. He then surprised the world, and most notably his ECW stars by appearing on WWE TV. The ECW guys had no idea the company was no more, and Heyman instantly became public enemy number 1.
That was until they discovered the real reasons behind him keeping it a secret. Filing for bankruptcy would've resulted in him having to take back any wages paid in the months prior to the ruling… he wasn't being deceitful, he was once again putting his neck on the line and keeping his promise to those superstars who thought he had deserted them. Love him or hate him, he's honourable until the very end.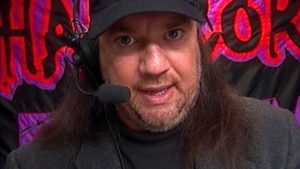 Over the last 5 or so years he has managed to tone down this side of his personality, and has instead put the majority of his time and efforts into his client and close personal friend Brock Lesnar. Paul has found a huge amount of success in everything he has done throughout the many chapters of his career, but his crowning glory has undoubtedly come about in his current persona of "the advocate."
We live in a time where unfortunately the role of managers are all but dead, yet Heyman is a wonderful reminder of the gold you can strike when giving someone creative freedom on the microphone. He's a 52 year old man from a humble up-bringing who has quite simply become the best in the world at what he does … and boy he would be more than happy to tell you just that, he is his own biggest fan and rightfully so. There is simply nobody out there today who has been as consistently entertaining or impassioned on the microphone, and arguably no-one from the past either.
There are a whole bunch of different kinds of promos, and Heyman can deliver them all to perfection. He's an artist and a master of his craft, proven in recent years by the way he has become such a fan favourite despite being a 'heel', with the attending fans helping him to deliver every single word from the opening of each promo. You know you're over when even your heel characteristics are welcomed by cheers from the crowds. Back in the day though he could incite any crowd with his intelligence and delivery, or by ad-libbing off of their reactions like the best stand up comedians do.
Unlike most managers and even superstars, Heyman is given a blank canvas to write his own scripts and craft his own promo without input from any others. The reason he's given this opportunity ? He has never let WWE down before, you will literally never find a bad Paul Heyman promo. His promos are money, people will make sure to watch next week if they know Brock Lesnar is appearing on RAW. Except they're not tuning in for Brock, they're tuning in to see Heyman.
One of Heyman's most admirable traits is he gives credit where it is due. He knows he's the best in the world but he also knows who helped him to get there. He benefited from being able to draw knowledge and experiences from the brightest and best talkers in history while on the road travelling from venue to venue. Lessons like how to generate heat as a heel, get people interested in an otherwise bland storyline and the difference between cutting an entertaining promo and drawing money. He has often credited the likes of Dusty Rhodes, Freddie Blassie, Austin Idol and Jim Ross for helping mould him into the advocate we see today.
What sets him apart from the rest of the bunch is his passion for what he does. In a 2016 interview with ESPN.co.uk, Heyman said. "People come at me and go, 'My job makes me feel alive.' OK, well good for you. My job doesn't make me feel alive, my job makes me feel ALIVE! I love what I do. I'm passionate about what I do. I live for what I do. And every morning I can't wait to stop sleeping and to jump up and get out of bed and start doing what I do." These aren't empty words, whenever Heyman delivers a promo you can see, hear and feel how much he cares about and believes every single word he's saying.
While he has no plans to walk away from the business any time soon, it'll be interesting to see what happens if the rumours surrounding Lesnar leaving for another run in UFC come to fruition. Perhaps he might move on to another superstar ? After all he has managed other big names in the past – the likes of Big Show, Cesaro, Tazz, Rob Van Dam and Rick Rude, leading them all to success, and later struck up a fantastic partnership  with CM Punk. Or maybe he'll find himself a place back on the writing team where he helped to make Smackdown such a triumphant success when it first debuted. Either way, there's no doubting that he still has a huge amount to contribute to the future of WWE.
Paul Heyman has been every bit as important and influential to professional wrestling as the likes of Eric Bischoff, Ted Turner and hell… even Vince McMahon. I'd even go as far as saying he was more important. He pushed the envelope and made the others step up their game. He turned the guys around him into superstars, he gave us things we had never seen before and he turned scripted fights between two men in pants into must see TV,
Ladies and Gentlemen, his name, is Paul Heyman.
---
Always Use Your Head and visit the official Pro Wrestling Tees store for The Chairshot All t-shirt proceeds help support the advancement of your favorite hard-hitting wrestling website, The Chairshot!

---
My Favorite SummerSlam Matches Over the Years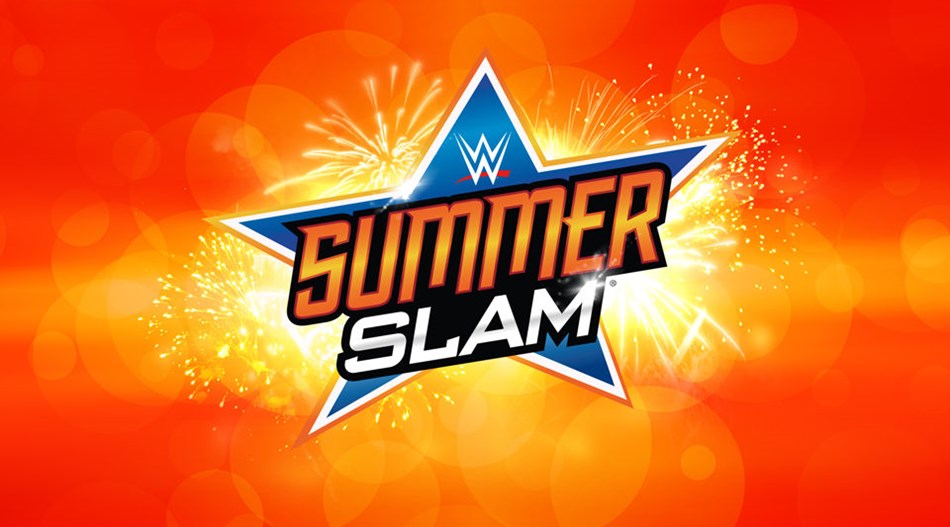 This was inspired by a topic by another wrestling fansite that I saw yesterday. The topic was: What is your all-time favorite SummerSlam match. Anyone who has ever asked me what my all-time favorite anything will tell you, my answers are always a little complicated because it's hard for me to pin down one single favorite anything because my favorites change depending on the day, my mood, and what pops into my head. However, I do have several SummerSlam matches that I would consider my favorites.
1. Intercontinental Championship Match: Bret vs The British Bulldog – SummerSlam 1992
This is still considered the greatest Intercontinental Championship Match of All Time, and with good reason. This was an amazing match by both men. The story of their conflict affecting their personal relationship (Davey Boy was Bret's RL brother-in-law at the time) was a little 'eh' but pretty interesting at the time. Watching Davey Boy win the Intercontinental Championship in London, with a HUGE home country crowd cheering for him was amazing. The pop must've been deafening LIVE because it was loud on video and Wembley Stadium was open air, so it must've been loud.
Where I was: I was nine when this match happened, my parents weren't into wrestling so I never got to watch PPVs live, but I remember a guy my dad worked with loaning me his taped copy of the PPV and I just remembered being enthralled. The storyline didn't really interest me, but I remember loving the match.
2. Intercontinental Championship Ladder Match: Triple H vs The Rock – SummerSlam 1998
This is an underrated classic, in my opinion. When people think of Triple H and Rock now, they don't think 'ladder match', which is a shame because this was a really good match. Triple H and Rock were just coming into their own as main event players and were leading feuding factions Degeneration X and Nation of Domination. The ladder match was, admittedly, not as good as the TLC matches that would become legendary a couple of years later, but it was still very good and is definitely worth a watch.
Where I was: I was fifteen when this match happened and saw it later on video. It's crazy to think of a time when Triple H and the Rock weren't in the main event scene, let alone being in a ladder match together.
3. WWF Tag Team Championship Tables, Ladders, and Chairs Match: Edge and Christian vs the Dudley Boys vs the Hardy Boys – SummerSlam 2000
The match that launched a hundred careers. This is a legendary match for a very good reason, not only was it great on its own, but it launched six careers outright, spawned several sequels, and would eventually get its own PPV. It was one of those matches where no one really remembers who won (Edge and Christian, BTW), they just remember how crazy the match was. All six guys tore the house down and well-deserve the legendary status the match gave them.
Where I was: I was seventeen in 2000 and would see the highlights on RAW later and when I saw the full match, I was amazed and intrigued by TLC. Ladder matches are still some of my favorite kinds of matches, in part because of TLC.
4. WWF Championship Match: The Rock vs Triple H vs Kurt Angle – SummerSlam 2000
This match is one of my favorites because it was not only a really good match on its own, but I was enamored with the Triple H/Stephanie/Kurt Angle storyline going into it. For those who weren't watching WWF back then, the storyline revolved around Triple H becoming convinced (with good reason) that Kurt Angle was trying to move in on Stephanie McMahon, who was Triple H's on-screen wife at the time (they would get married in RL a few years later) while they were both being managed by Stephanie and challenging Rock for the WWF Championship. This was one of the more intriguing storylines of the Attitude Era, which had primarily relied on sex and shock for ratings, rather than interesting storylines, or good wrestling. This was one of those matches where the storyline overshadowed the title, which I normally hate as an adult, but teenage!me was enthralled by the love triangle.
Where I was: As stated above, I was seventeen and getting ready to enter my senior year of high school.
5. Hell in a Cell Match: Edge vs The Undertaker – SummerSlam 2008
This was the culmination of the Edge/Undertaker feud that had been going on since 2007. Edge had done everything imaginable to screw Taker out of the World Heavyweight Championship, thank in large part to his onscreen relationship with SmackDown GM, Vicki Guerrero. Unfortunately, Edge made the HUGE mistake of thinking with the brain between his legs instead of the one between his ears. When Vicki found out that Edge had cheated on her with their 'wedding planner', Alicia Fox, she was NOT happy and hell hath no fury like a woman scorned. As the ultimate act of vengeance against her faithless husband, Vicki not only brought back Undertaker, who had been 'fired' after Extreme Rules, but put his return match inside Hell in a Cell against Edge.
This match was brutal, even for a Hell in a Cell match. Taker and Edge hit each other with everything but the kitchen sink, though that may have been because no one had thought to put one under the ring. Even the commentators weren't safe as a spot by Taker actually knocked out a section of the Cell and narrowly missed hitting JR and Tazz, who were doing commentary. Taker would emerge victorious, and would give the WWE Universe one of the most memorable moments in SummerSlam history, when Taker chokeslammed Edge through the ring and flames burst out of the hole.
Where was I: I was 25 when this match happened and watched it on DVD later. I cheered when Edge was chokeslammed to Hell and that Taker was back.
6. Lumberjack Match: Dean Ambrose vs Seth Rollins – SummerSlam 2014
I love this match just because it was fun and crazy. Seth Rollins had just turned heel on Dean Ambrose and Roman Reigns and Dean was out for revenge. So, after beating Rollins in the Beat the Clock challenge, Dean was allowed to choose the stipulation for their SummerSlam match and he chose a Lumberjack Match, but not just any old Lumberjacks would do. In a display of maniacal brilliance, Dean decided that the Lumberjacks would consist of the people the Shield had attacked during their run, which would ensure that neither he nor Seth would have allies in the match and that they would tear each other apart. The Lumberjacks were hilariously bad at keeping Ambrose and Rollins IN the ring, but it made for some great spots. Seth would emerge the victor, but not without some help and after Dean used Seth's own finisher, the Curb Stomp, against him.
Where was I: I was just getting back into watching wrestling full time when this match happened and I was livid that Dean lost, but looking back, I really enjoyed the match.
7. RAW Tag Team Championship: The Bar vs Seth Rollins and Dean Ambrose – SummerSlam 2017
Did you honestly think this Dean Ambrose/Shield fangirl was going to leave out Rollins and Ambrose reuniting after three years of feuding to take on the Bar? The story of Rollins and Ambrose mending their fences and beating the Bar at SummerSlam was such a big deal last year, The New York Post actually dubbed it the most interesting storyline of the SummerSlam build. It was a slow build but to finally see Ambrose and Rollins united and champions was great storytelling and had me running around my house like a nut when they won.
Where was I: I was on my sofa, watching this live and screamed and cried when they won.
So there are the my all time favorite SummerSlam matches…at least right now. I know that there are sometimes gaps of several years between them, but these are the ones that I love to rewatch, sometimes repeatedly. What are your favorites?
---
Always Use Your Head and visit the official Pro Wrestling Tees store for The Chairshot All t-shirt proceeds help support the advancement of your favorite hard-hitting wrestling website, The Chairshot!

---
Roman Reigns: He Deserves It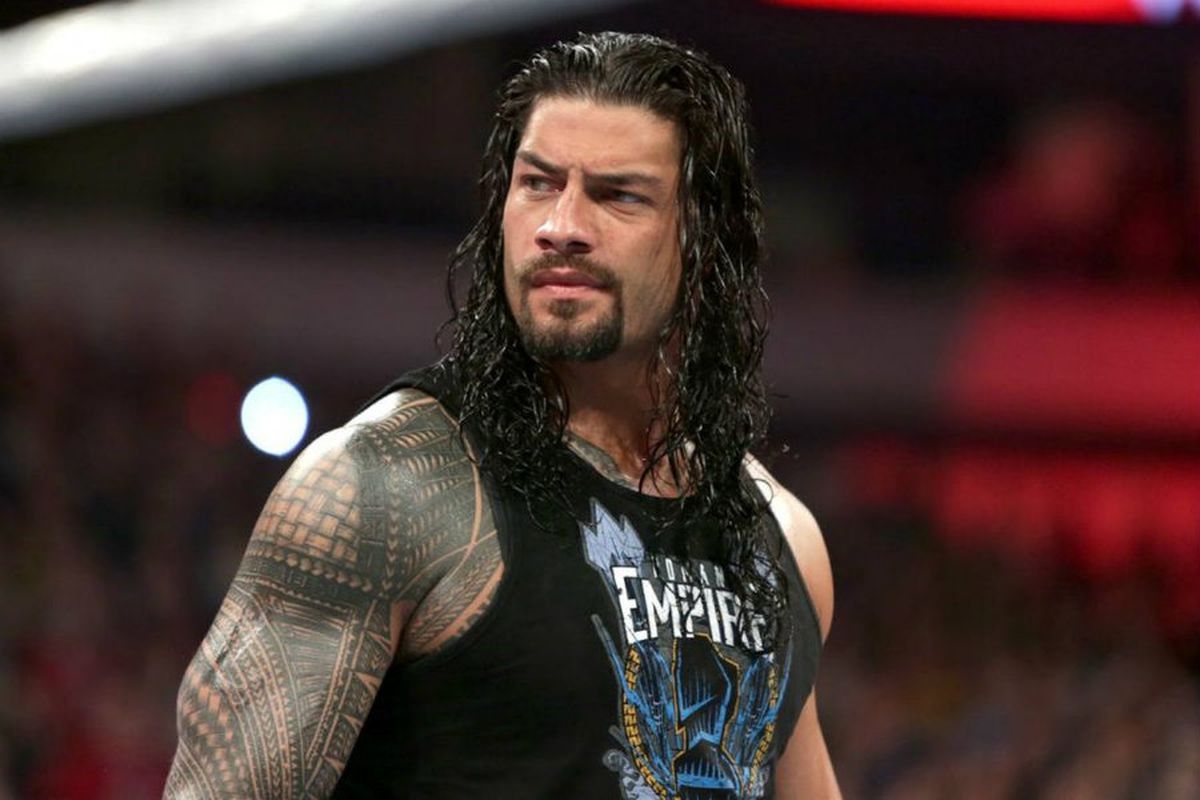 Let me start off by saying that I normally hate the 'You Deserve It!' chant, because it's normally done for people who's long journey is deemed worthy of praise by a group of gatekeeping fans.  For example, Daniel Bryan's journey through the indies and Japan and then to WrestleMania 30 gets held in high regard but Jinder Mahal working his way back to the company after getting fired is constantly ignored.  If you're one the designated cool kids by so called hardcore fans then your struggle is respected but if you aren't then it's disregarded.
I've said before that the main title in a wrestling company is not a merit badge, it's an indicator that the company believes you will draw money as champion.  That is all.  Yes there are wrestlers who have done good work for a long time and whose efforts warrant some kind of thank you from they work for.  Instead of tweeting or chanting about that you think they deserve a title, push for them to get a raise, or an opportunity to get in an angle that might help them make more for their company, or to get a nice cushy office or agent gig when they retire.   Don't spend the next five years complaining about them not getting a world title belt.
OK now that I got that out of the way, I'm going to contradict what I just said and tell you why Roman Reigns deserves to win the Universal Championship at SummerSlam.
First up, the money question has already been answered with him.  He sells a lot of merchandise, his show segments routinely get over a million views on YouTube and with him being their primary main event guy they've been successful enough to secure over 2 billion in TV rights fees.  Hell yes that matters, because you know good and well that if all those numbers were at the other end of the spectrum you'd use them to campaign for him to be demoted from his position on the roster.
But that's not it.  For the last two years they've used him to heat up everyone from Finn Balor to Braun Strowman to Bobby Lashley to Seth Rollins (don't forget Seth pinned him in the gauntlet match earlier this year) to the Revival.  He also lost the US and Intercontinental Titles, respectively, to Chris Jericho and The Miz to help them get the ball rolling on the angles for their next WrestleMania matches.  I haven't seen anything like that other than when Ric Flair used to do jobs in tag matches back when he was NWA World Champion to give an upcoming opponent some shine and put a little more heat on the title match that would soon follow.
That you can send him out there to that and he still stay popular enough with his supporters to remain a moneymaker for the company is pretty damn remarkable.  And there comes a point where if you have a guy who is the man to beat for that long, that you should go ahead and cement it by putting your top title on him.  No top guy has put this many people over and gone without the top title for this long.  It's time to end the charade and do what is the tradition in this business.
(Side Note: If you're that damned intent on Brock keeping the Universal Title to take to his UFC fight then just send Roman over to Smackdown and crown him World Champion).
And for those of you ready to fire off those tweets after reading the last paragraph……..just stop it already.  If you never were a fan, that's fine.  Just accept that they're not going to put someone else in his spot as long as the numbers are what they are and either take the show as is or move on.  But for those of you who keep running lame explanation after lame explanation up the flagpole and who keep moving the goalposts every time one of your 'facts' is debunked, I got nothing for you and I hope Vince gets that way soon.
Because no matter how they've moved Roman around the card you haven't been satisfied.  When they've put him in less significant matches, specifically midcard matches where no title is even involved you still claim that he's being shoved down your throat. If he's in a big match where he does the job and puts over someone else like Braun or Finn or Lashley you complain that Vince is trying to make him a more sympathetic figure.  So what's the point in trying to please you if you're never going to be satisfied?
I've said this before and I'll say it again – he's not getting fired and he's not going to be relegated to some kind of off camera, curtain jerking on house shows kinda role, so get over yourselves already.  You're never going to get anything in regards to him that will stop your keyboard driven bellyaching so there's no point in trying to appease you.  And turning him heel so that you can start cheering him is the most ass backwards, stupid logic out there.  Just because it sounds good when 100 of you type it at the same time doesn't mean it makes sense.
This is a rare case where someone has both earned a win by what they've done in the ring and how they've helped the company succeed financially so it's time to go forward with it.  I'm tired of dealing with you jerks thinking that you own the show because you bought one ticket or signed up for one network subscription.  The rest of our money is just as green as yours so if we either want him to win or just don't have a problem with it, what we think matters just as much as what you think.  And no we're not all women and children but even if that was the case it wouldn't make our stance any less valid.
Got a problem with that?  Well, just remember that there is no pathway to any of your supposed favorites getting a shot at winning the Universal Championship as long as Brock as champion.  Seth is not going to be booked to beat him and neither is Finn.  So you got Roman, Braun, or Bobby Lashley.  Bobby isn't happening and after their match last year I'm not really trying to see Braun labor for 10 minutes with Brock in mail it in mode again.  And look, Braun (or Kevin Owens if he gets the briefcase in their match) may very well cash in and win it either immediately or soon afterwards.  And furthermore….forget it, I'm done.  Roman should win Sunday because he's earned it.  Go argue with your grandma.
---
Always Use Your Head and visit the official Pro Wrestling Tees store for The Chairshot All t-shirt proceeds help support the advancement of your favorite hard-hitting wrestling website, The Chairshot!

---
Where WWE Can Take The New Dean Ambrose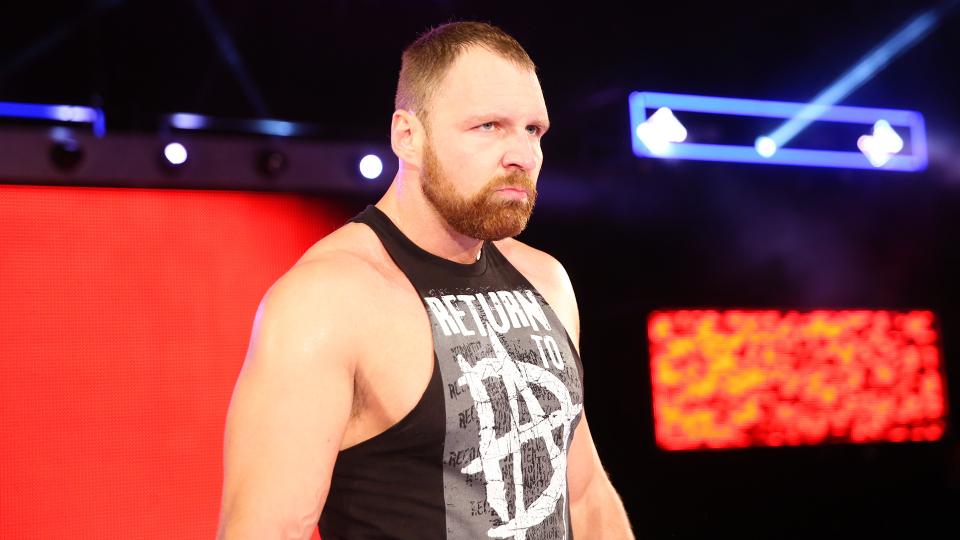 RAW needed a big moment to end their go-home show for SummerSlam, and boy did they get it! The Lunatic Fringe, Dean Ambrose, returned from a nearly year long recover from a nasty triceps injury back in December. For months, the Ambrose Asylum had been teased and tormented by rumors of his impending return, only to be disappointed when he didn't materialize, to the point where most of us stopped listening. Monday, our prayers were answered when Dean was revealed be the man in Seth Rollins' corner when Rollins takes on Dolph Zigger for the Intercontinental Championship at SummerSlam. That surprise was big enough, but Dean's new appearence: Shaved head, more muscles, and a seemingly new attitude, was another surprise altogether, but not an entirely unwelcome one.
It's clear from the audience's reactions to Rollins' promo leading up to Ambrose's return that Ambrose is still as popular with the WWE Universe as he was back in December when he got hurt, which is always a relief to a performer who has lost nearly a year of their career. However, Ambrose showed a more hard-nosed attitude and hard hitting style than he'd shown before his injury, which can lead to all sorts of fun possibilities.
1. Heel Turn on Rollins. Okay, fellow Asylumers, hear me out. I'm not saying he should turn heel right away, but his new look doesn't lend itself well to the funny, goofy Lunatic of pre-December 18, 2017. The original plan WWE had for Ambrose and Rollins was to have Ambrose turn on Rollins at the Royal Rumble, but with Ambrose getting hurt, that plan was scrapped. However, WWE could revive it now that Ambrose has been cleared.
2. Stay Face, New Attitude. Given the response to Ambrose's return, WWE might decide to keep him as a face, but make the new look and attitude work in a babyface capacity, maybe have him be more like how Austin's character was.
3. Heel Turn a la Mojo Rawley. While I get what Rawley's new gimmick is supposed to be, I don't think Rawley, who has had a mediocre run at times, is the right person for it. With Ambrose's track record and popularity, he could probably fill that role better than Rawley. Having him call out guys for being 'lazy' o
4. Shield Reunion. I know even a lot of Shield fans have mixed feelings about this since the last Shield reunion was hampered by bad luck with both Reigns and Ambrose getting hit by illness and injury. However, with Survivor Series a few months away, finding a way to reunite the Shield, even if it's just for Survivor Series, would be nice.
There's no telling what WWE is going to do with Ambrose now that he's back. The fact that he's been brought in as part of a big storyline, and the audience's reaction to his return shows that the Lunatic Fringe is still as over with the WWE Universe as he was before he got hurt. Given his new look and seeming new attitude, there's many possibilities for the Lunatic Fringe to semi-reinvent himself.
---
Always Use Your Head and visit the official Pro Wrestling Tees store for The Chairshot All t-shirt proceeds help support the advancement of your favorite hard-hitting wrestling website, The Chairshot!

---