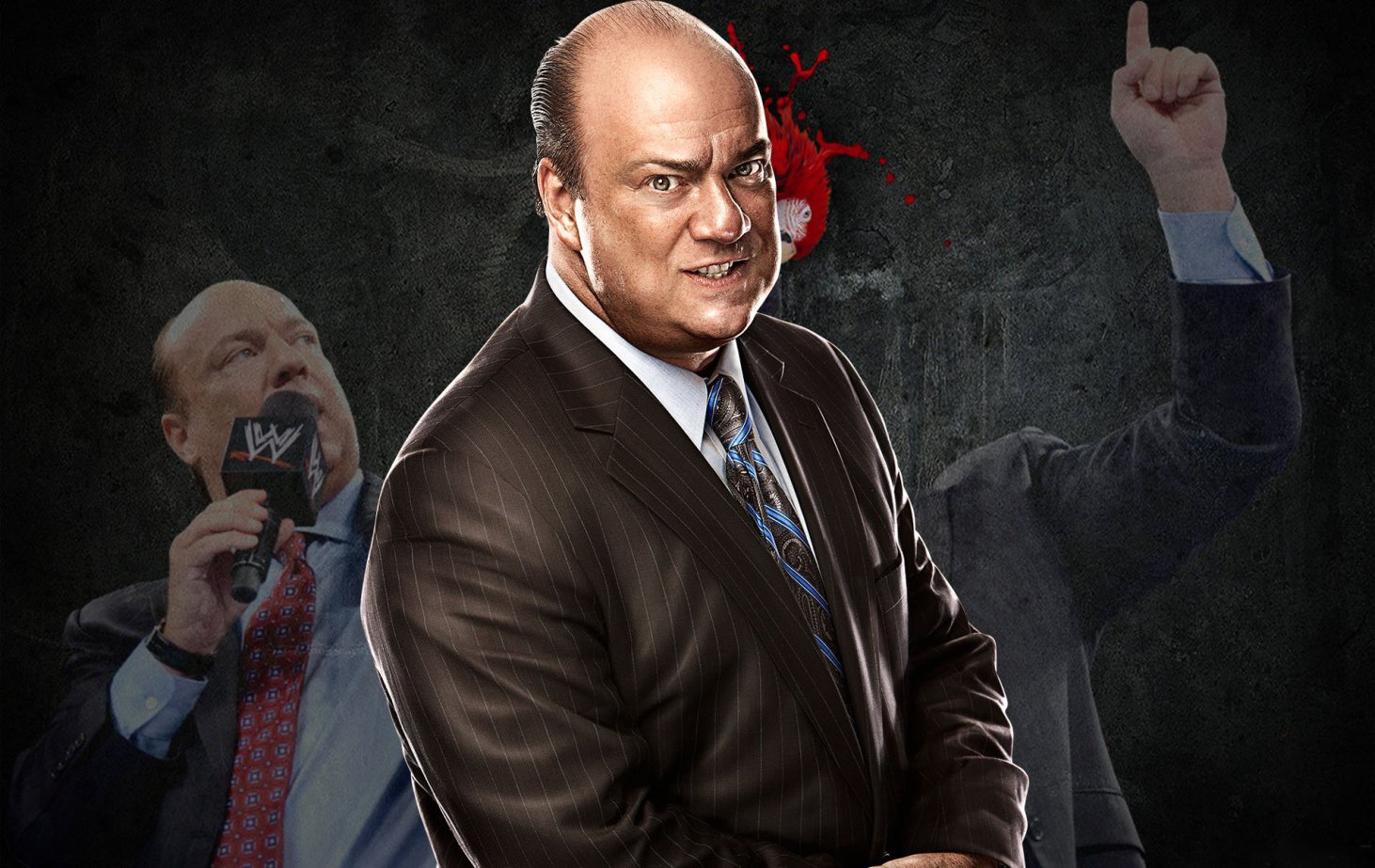 Paul Heyman. Possibly the most polarizing name in pro wrestling history. Talk to one person and they'll call him a visionary while another will call him a snake. One will call him a trailblazer, another will say he's evil. Even his best friends admit you shouldn't trust him as far as you can throw him. But there are a few things you can't deny him. The man is a genius, a survivor, passionate, a pioneer, a mad scientist and one of the most influential men to ever step foot in professional wrestling.
Because of his most recent TV role it is often forgotten that he has been much more than just a manager. He has literally seen and done it all, from his time as a teenage photographer blagging his way into big name events, on the commentary team alongside Jim Ross, head writer for Smackdown, owner of ECW and promoter for virtually every company he has worked for. He even managed to repeatedly blag his way into Dusty Rhodes' production meetings, desperate to learn from the best. If Paul Heyman hasnt done it … it ain't worth doing.
Despite his success, everywhere he goes his reputation proceeds him and it has largely come about from being unashamedly rebellious, the same attitude which has helped him achieve that success. Heyman was never one to follow the crowd, he would always put his neck on the line for anything or anyone he believed in. This bull headed approach to business has proved as much of a curse as a blessing, earning Heyman a whole host of enemies in the past and leading to him parting ways with employers on multiple occasions.
A perfect example of his rebellious determination would be the rise and eventual fall of his very own creation – ECW. It was 1993 when Heyman decided the industry needed more edge, something a bit more real … something extreme. He went head to head with WWE, regularly insulting the competition and hurling abuse live on air. ECW was something we had never seen before, it was dark, sexy, smeared with blood, depicted graphic violence and would unashamedly push the boundaries of what could be shown on TV. When the company ran into trouble financially, Heyman just wouldn't stop. He would often not sleep for days on end trying to conjure up ways to stay relevant and secure another national TV deal. The man is quite literally a human cockroach.
It got to a point where the company couldn't even afford to pay the talent, yet Heyman kept going and kept promising they would receive their wages despite nothing on the horizon to suggest that was even a possibility. Even in the face of certain bankrupcy he couldn't give up on his guys… ECW was a family and Heyman was very much the patriarch. He then surprised the world, and most notably his ECW stars by appearing on WWE TV. The ECW guys had no idea the company was no more, and Heyman instantly became public enemy number 1.
That was until they discovered the real reasons behind him keeping it a secret. Filing for bankruptcy would've resulted in him having to take back any wages paid in the months prior to the ruling… he wasn't being deceitful, he was once again putting his neck on the line and keeping his promise to those superstars who thought he had deserted them. Love him or hate him, he's honourable until the very end.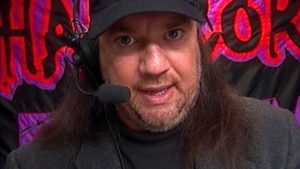 Over the last 5 or so years he has managed to tone down this side of his personality, and has instead put the majority of his time and efforts into his client and close personal friend Brock Lesnar. Paul has found a huge amount of success in everything he has done throughout the many chapters of his career, but his crowning glory has undoubtedly come about in his current persona of "the advocate."
We live in a time where unfortunately the role of managers are all but dead, yet Heyman is a wonderful reminder of the gold you can strike when giving someone creative freedom on the microphone. He's a 52 year old man from a humble up-bringing who has quite simply become the best in the world at what he does … and boy he would be more than happy to tell you just that, he is his own biggest fan and rightfully so. There is simply nobody out there today who has been as consistently entertaining or impassioned on the microphone, and arguably no-one from the past either.
There are a whole bunch of different kinds of promos, and Heyman can deliver them all to perfection. He's an artist and a master of his craft, proven in recent years by the way he has become such a fan favourite despite being a 'heel', with the attending fans helping him to deliver every single word from the opening of each promo. You know you're over when even your heel characteristics are welcomed by cheers from the crowds. Back in the day though he could incite any crowd with his intelligence and delivery, or by ad-libbing off of their reactions like the best stand up comedians do.
Unlike most managers and even superstars, Heyman is given a blank canvas to write his own scripts and craft his own promo without input from any others. The reason he's given this opportunity ? He has never let WWE down before, you will literally never find a bad Paul Heyman promo. His promos are money, people will make sure to watch next week if they know Brock Lesnar is appearing on RAW. Except they're not tuning in for Brock, they're tuning in to see Heyman.
One of Heyman's most admirable traits is he gives credit where it is due. He knows he's the best in the world but he also knows who helped him to get there. He benefited from being able to draw knowledge and experiences from the brightest and best talkers in history while on the road travelling from venue to venue. Lessons like how to generate heat as a heel, get people interested in an otherwise bland storyline and the difference between cutting an entertaining promo and drawing money. He has often credited the likes of Dusty Rhodes, Freddie Blassie, Austin Idol and Jim Ross for helping mould him into the advocate we see today.
What sets him apart from the rest of the bunch is his passion for what he does. In a 2016 interview with ESPN.co.uk, Heyman said. "People come at me and go, 'My job makes me feel alive.' OK, well good for you. My job doesn't make me feel alive, my job makes me feel ALIVE! I love what I do. I'm passionate about what I do. I live for what I do. And every morning I can't wait to stop sleeping and to jump up and get out of bed and start doing what I do." These aren't empty words, whenever Heyman delivers a promo you can see, hear and feel how much he cares about and believes every single word he's saying.
While he has no plans to walk away from the business any time soon, it'll be interesting to see what happens if the rumours surrounding Lesnar leaving for another run in UFC come to fruition. Perhaps he might move on to another superstar ? After all he has managed other big names in the past – the likes of Big Show, Cesaro, Tazz, Rob Van Dam and Rick Rude, leading them all to success, and later struck up a fantastic partnership  with CM Punk. Or maybe he'll find himself a place back on the writing team where he helped to make Smackdown such a triumphant success when it first debuted. Either way, there's no doubting that he still has a huge amount to contribute to the future of WWE.
Paul Heyman has been every bit as important and influential to professional wrestling as the likes of Eric Bischoff, Ted Turner and hell… even Vince McMahon. I'd even go as far as saying he was more important. He pushed the envelope and made the others step up their game. He turned the guys around him into superstars, he gave us things we had never seen before and he turned scripted fights between two men in pants into must see TV,
Ladies and Gentlemen, his name, is Paul Heyman.
---
Always Use Your Head and visit the official Pro Wrestling Tees store for The Chairshot All t-shirt proceeds help support the advancement of your favorite hard-hitting wrestling website, The Chairshot!

---
The Case For Ronda Rousey To Lose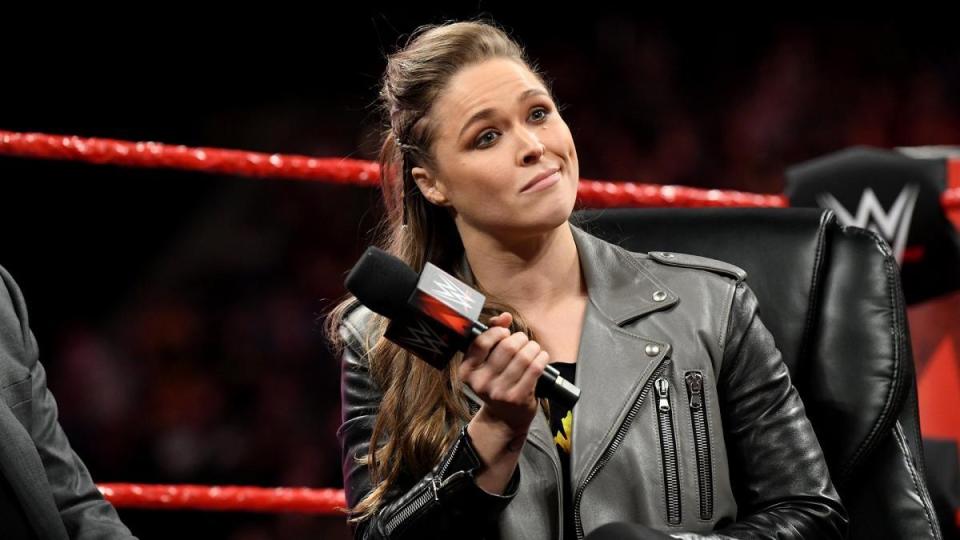 "Rowdy" Ronda Rousey may be one of the hottest commodities in wrestling right now but she should lose her first title match.  I know this is a very hot take but I think the best thing the WWE can do for Rousey's character development, if she plans on joining the roster full time, is to lose to Nia Jax at Money in the Bank. I'm not saying by Pinfall or Submission, as that could hurt her character, but a well executed DQ finish. More on that later.
If, and most likely, when she beats Nia at Money in the Bank, she would become the third fastest WWE SuperStar to win a premier title at 141 days. The fastest being "The Dirtiest Player in the Game", Ric Flair. He accomplished this feat at the 1992 Royal Rumble by eliminating Sid Justice and becoming the only one to win the Heavyweight strap by doing so. This was 113 days after he debuted but "The Nature Boy" was a 9 time Heavyweight champion at this point, 8 times in the NWA and 1 WCW reign. She has her accomplishments to this point, former UFC/StrikeForce Women's Bantamweight champ and two Olympic medals, but this is Professional Wrestling. As much as I like "Rowdy" Ronda, she is not even on the same playing field as Flair was when he earned The Strap so quick. If Rousey beats Nia Jax it would slot her between Sheamus, at 116 days, and Brock Lesnar, who at 126 days beat The Rock at SummerSlam '02. She and Lesnar have similar pedigrees, but the difference is we actually saw something in the ring from Lesnar first. All we have gotten from Rousey is a gimmick match at WrestleMania, which was great by the way but a gimmick still, and NO singles matches. Don't get me started on the mic skills.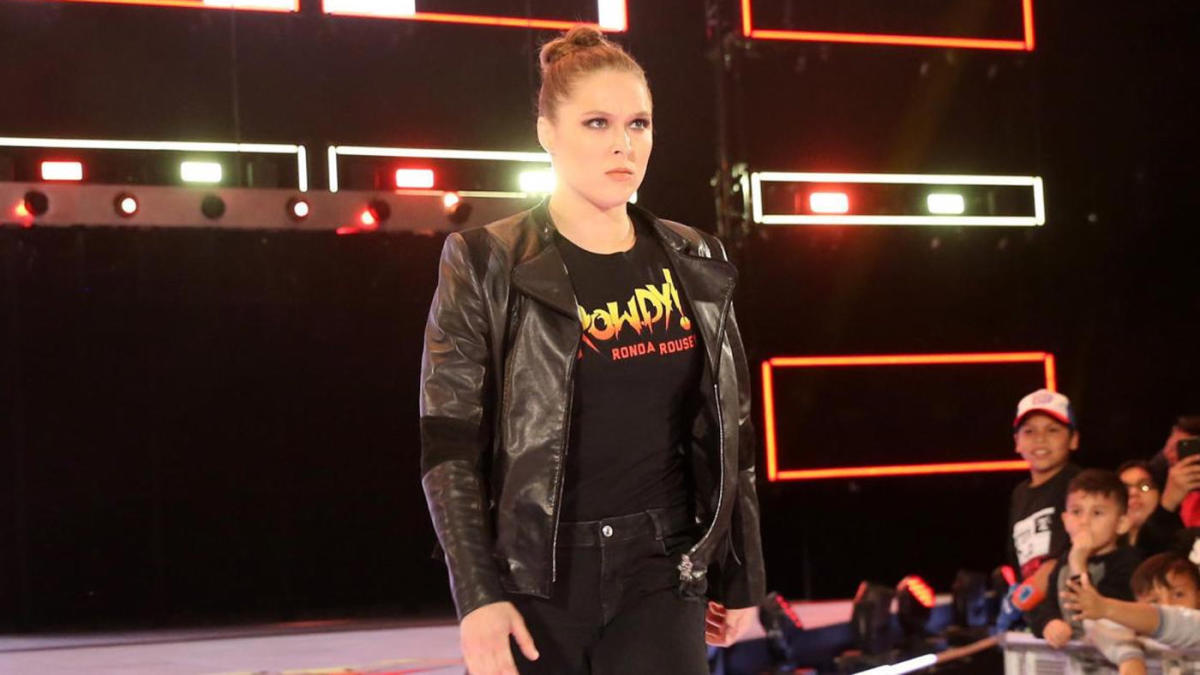 I think the only way to end this and still leave credibility for Ronda Rousey's character is to have her loose by DQ. Be it by Alexa Bliss having a "Moment of Bliss" and trying to regain the trust of Jax after the "bully angle' or whatever the "Road Dogg" throws together over there at Titan Towers.With this angle we would get the hype, like we have had with the Styles/Nakumara feud of late, and they could even finish in a cage match at Extreme Rulez. Imagine "Rowdy" Ronda Rousey winning her first WWE Women's Title in the cage. That would make for good TV.
But we won't get this. The same "Marks" who BOO Roman Reigns will cheer to the high heavens when Ronda wins from a premature, undeserved push. Roman deserves it. He has been around for awhile now and even came up through the NXT system. But because he comes from a wrestling family, The Anoa'i Dynasty, and has the proverbial "Machine" behind him the fans don't give him the time of day. Or, maybe it's because he falls in the "MAN" category (more on that here)  That's a discussion for another day. We will most likely see her become a Brock Lesnar type champ, with part time appearances and this guy as her mouthpiece.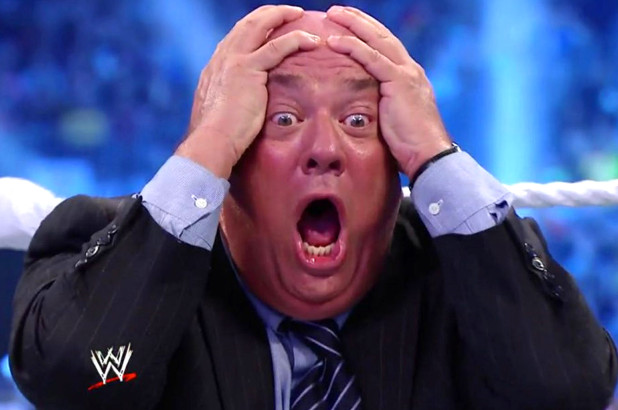 Make sure to tell me what you don't like about my opinion on TWITTER @james_callear
---
Always Use Your Head and visit the official Pro Wrestling Tees store for The Chairshot All t-shirt proceeds help support the advancement of your favorite hard-hitting wrestling website, The Chairshot!

---
What Happened To The Heels?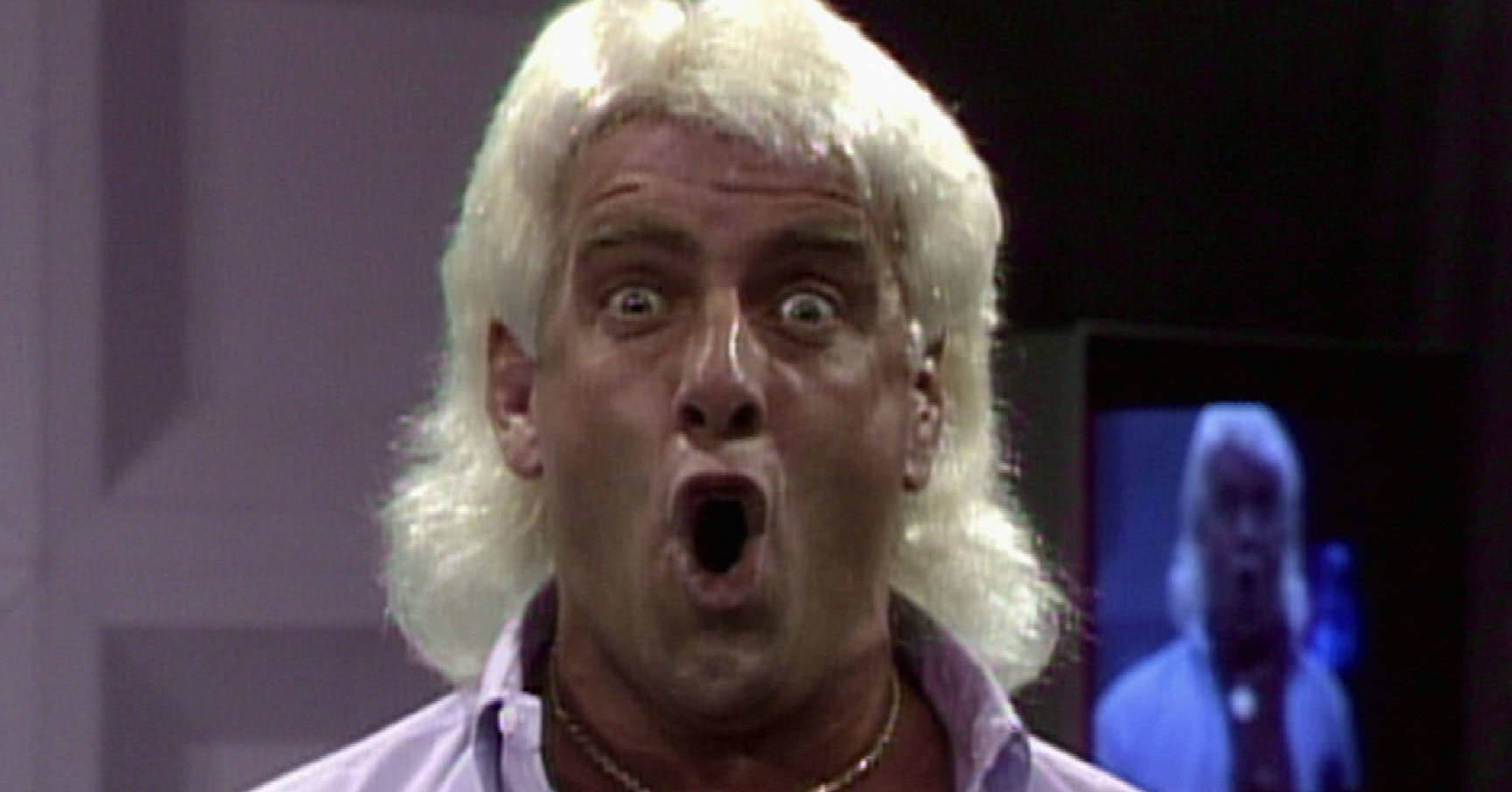 Where have all the good heels in professional wrestling gone? Why aren't there characters like the ones from my youth that struck fear in me while watching the NWA on Saturday mornings with my father?
Granted, I am a bit older than I used to be and I know what professional wrestling is now as opposed to being seven years old. Still, the heel wrestler has been eliminated like the "Loser Leave Town" matches from the days of territorial promotions.
After finally watching ESPN's 30 for 30 documentary on Ric Flair, it has occurred to me there will never be a heel as solid as the "Nature Boy" and a generation will never know what "real" wrestling was about.
I will need a moment of silence to get over this pain I feel.
Back in the day, when Kayfabe was alive and well, Kevin Sullivan terrorized my mind at night with his cryptic messages on Championship Wrestling from Florida. The Wild Samoans scared fans in the stands at Madison Square Garden. Gary Hart and his band of Japanese heels proved to be evil. They were just a few of the "bad guys" fans hated with a passion. There was no blurred line. Heels were hated, babyfaces loved. It's a phenomenon that is scarce in WWE or TNA or even ROH.
We can thank Vince McMahon for that and the creation of Sports Entertainment. The name on the marquee used to be "wrestling" and that is what superstars did, helping to create my childhood memories of Dusty Rhodes and Sullivan, Dory Funk, Jr. and Jack Brisco.
Blake Oestriecher of Forbes.com wrote a story recently about the deficiency of heels in WWE. He makes a valid point, addressing the issue of fan support for the bad guys while the scales are tipped toward the babyfaces on both Monday and Tuesday nights. This would never have been the case if McMahon had just let wrestlers wrestle and honored the traditions of 1970s grappling.
Those days are gone forever.
"Overall, WWE has a lot of depth on the heel side. There are quality villains on Raw in the form of Kevin Owens, Sami Zayn, Baron Corbin and Jinder Mahal and on SmackDown with guys like Shinsuke Nakamura, Samoa Joe, and The Miz," Oestriecher writes. "It's not the number of heels that is the issue. Rather, it's WWE's presentation of those heels and the creative team's inability to establish them as bona fide superstars in that role that have really hurt the quality of WWE's programming."
Oestriecher hits it out of the park with that one paragraph.
Mahal is as close to a throwback heel you will find in WWE. His look, his gimmick, the venomous dialogue he spews and takes heat from the fans. It's a perfect combination. Mahal, who has become a fringe main event star, would be successful in the 1980s NWA with Rhodes championing the cause of fighting good versus evil.
Other than the former WWE champion, who else besides Brock Lesnar, who is back hibernating with the Universal Title under his pillow, is there to fill that role? Even Lesnar, who by all accounts is a heel based on his gimmick, his look, and his mouthpiece Paul Heyman, is cheered simply because of size, power and his ability in the ring.
"Now, with Brock Lesnar, who is widely viewed to be WWE's No. 1 heel, apparently not set to wrestle again until at least July, WWE finds itself with a gaping hole on the heel side of Raw," Oestriecher adds. "There is not one particular thing that will make up for the loss of Lesnar, who many still consider to be WWE's biggest draw, and doing so on Monday nights won't help the blue brand."
This might be a case of fans learning to deal with deficiencies in booking, that creative writers don't see three steps in front of them and the bad guy is really the good guy and the good guy is really bad because he doesn't have the qualities fans want in today's business. If that is the case, then why is Roman Reigns so hated by the wrestling community?
That's another column for another time and place.
No matter what WWE does to try and correct its problem, there will never be a viable solution. The present and future dictate the company sticks to the script of uneven booking. And until the problem is eased – not fixed – we will all wonder whatever ever happened to the "real" heels of professional wrestling?
---
Always Use Your Head and visit the official Pro Wrestling Tees store for The Chairshot All t-shirt proceeds help support the advancement of your favorite hard-hitting wrestling website, The Chairshot!

---
Will 'All In' Be All The Smarks Want It To Be?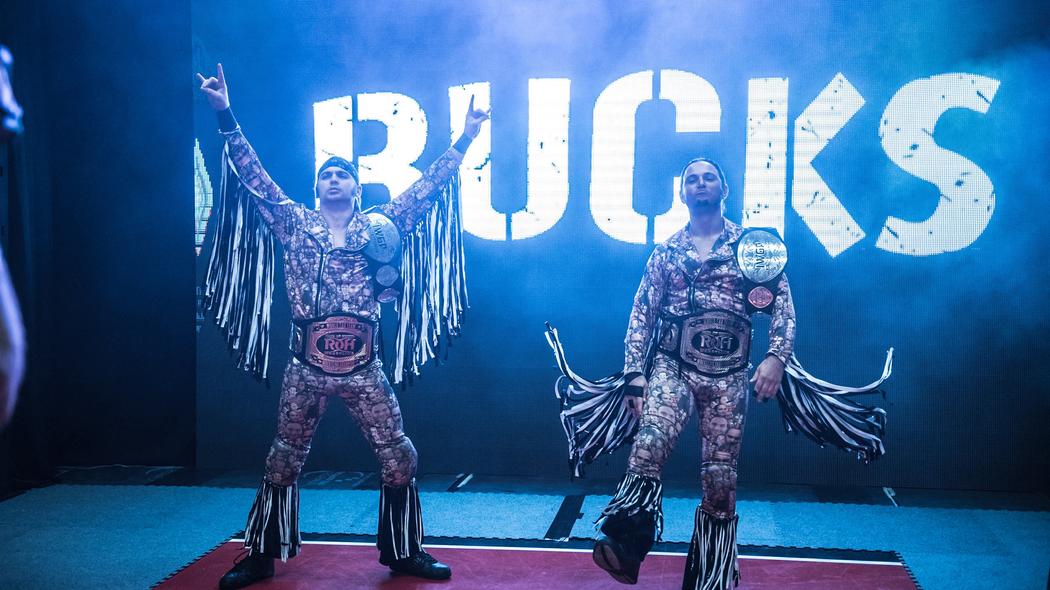 So the biggest thing the wrestling world seems to be talking about is All In, the one off indie show that Cody (Rhodes) and the Young Bucks have put together and are saying that it's sold 10,000 tickets. If this is true, it's quite a feat and would make it the first non-WWE show to sell that many since WCW folded in 2001. Since this news came out on Monday, smark fans have trumpeted this a the salvation of pro-wrestling because it's supposedly a shot against WWE's monopoly on the business, but is it really? Or are the smarks so desperate to prove their coolness that they're ignoring some issues with this situation?
I'm going to preface the following by saying that I have nothing against Cody or the Bucks. I'm not a fan of either him or the Young Bucks and have no intention of watching All In, but I wish them luck on this thing. However, I feel the need to point out the problems I see with this whole thing.
1. The Lack of a Card. I realize that it's a little early to be griping about the lack of a card, and if it were an actual promotion, WWE or not, I wouldn't be, but the fact that as of right now, the only match on the card is Cody vs Magnus/Nick Aldis for the NWA World Heavyweight Championship is a little concerning to me. The Young Bucks, Rey Mysterio, Kenny Omega, Okada, Skrull, Tessa Blanchard, Pentagon Jr, Fenix, and Deonna Purrazo are going to be involved in some way, but there's no other matches lined up.
2. The Title Match Itself. This is based on what I'm reading about the title match. Nick Aldis is actually scheduled for an NWA title match against PJ Black (Justin Gabriel) before competing at All In, though the article didn't say when. Which means, if Aldis loses, All In's main event will be a 'Special Non-Title Match', which is nice, but doesn't have the same drawing power as an NWA Title Match. Do I think Aldis will lose to Black? No, but given that it's the only match on the card so far, it's a big risk to take.
3. The Emphasis on Cody and the Bucks. I'm willing to admit that I'm not into indie wrestling. I watch WWE and I used to watch TNA back when it was good, but even not knowing a lot about a lot of the people scheduled to appear, I'm worried about what the back up plan is if Cody and/or the Bucks get hurt, which is a distinct possibility in the wrestling business. Do they have a backup plan? We've all seen WWE have to throw out almost an entire WrestleMania card because of a rash of injuries, and that's with a roster of around 50 guys. What do Cody and the Bucks have in reserve in case s**t happens?
4. The Lack of a Plan to Build On It. I think this the think I find puzzling about this whole thing: Is there a long-term plan for this? Does Cody have a plan of building on this, maybe making deals with other promoters and making it the WrestleMania or Starrcade of the indies? Given Cody's background, I assume he wouldn't do this without some kind of plan for the long-term.
5. What Kind of An Event Is This?  I ask this because as I was looking through the people who are scheduled to appear during All In and I noticed that there are a lot of Legendary performers listed. In fact, it seems that there are more people making appearances than are scheduled to wrestle on the show. So that begs the question: Is this a wrestling show with a fan convention attached, or a fan convention with a wrestling show attached? I will give Cody props for having the good sense to BAR Vince Russo from the Starrcast event.
Again, I'm not knocking this event, if Cody and the Bucks can actually pull this off in September, kudos to them, and I understand that fans who are not necessarily hardcore WWE fans are wanting to bask in the moment of somehow striking back at WWE, but let's not get so caught up in the moment that we ignore the issues.
---
Always Use Your Head and visit the official Pro Wrestling Tees store for The Chairshot All t-shirt proceeds help support the advancement of your favorite hard-hitting wrestling website, The Chairshot!

---