Chris Deez's Top 10 Moments In WWE RAW History
In case you somehow missed WWE's non stop advertising these last couple of months, RAW is about to turn 25 years old. Happy Birthday RAW! To celebrate this momentous occasion I've dragged my way through a whole heap of great and not so great WWE Network content to compile a definitive list of my favourite moments in RAW history. Some of them are iconic, defining moments and some are just my own personal highlights. Enjoy!
Honorable Mentions
DX showing Bullet Club how to invade a show properly when they paid a visit to Nitro, Ric Flair's emotional retirement ceremony, The Festival of Friendship completely breaking my heart, Dolph Ziggler cashing in Money In The Bank and receiving the most insane pop, Triple H and The Undertaker setting the stage for Mania 27 without saying a damn word.
10. Shane O Mac Buys WCW
As disappointing as the WWF/WCW Invasion angle turned out to be, this was still an iconic moment in pro wrestling history. Not only was it the very last RAW of the Attitude Era, it was also the first ever simul-cast, with segments of both RAW and Nitro being broadcast across two networks at once. Just days before Shane was due to face his father Vince at Wrestlemania X7 – still hands down the best 'Mania of all time = Vince went out to the ring to announce that he had finally beaten his long-term nemesis Ted Turner and bought out WCW.
His moment of glory was short lived though as Shane would appear live at the Nitro broadcast and announce that although the signature on the contract did say McMahon… it said SHANE MCMAHON! This moment added fuel to the fire in their already heated feud, and led to an almighty destruction derby match at Mania with Shane coming out on top.
9. The CM Punk Pipebomb
I always liked CM Punk, I think most people did to be fair, so it's a shame that despite all his great matches he will forever be remembered for this infamous moment more than his god given talent. Nevertheless, Punk had every single wrestling fan in the world on the edge of their seats by cutting an unscripted promo in protest at WWE's treatment of him and their apparent refusal to push him to the top. Over the course of the promo he repeatedly tore into the entire McMahon family, John Cena, The Rock and even went as far to say that WWE would be better off once Vince was dead. It was incredibly candid, but the reason it resonated with so many of us was that he was speaking the truth… the things that almost every fan of the business was thinking at the time. We will likely never see Punk return to WWE due to his fractured relationship with management, so this will more than likely be what he will always be remembered for.
8. The Undertaker v Jeff Hardy Ladder Match
An unusual choice, right? Well this is my list dammit! Until this point Jeff had almost always been known as no more than a tag team specialist alongside his brother Matt, but it was in this brutal encounter with The American Badass incarnation of Taker where he showed the world just what he could do as a singles competitor.
Competing in a ladder match was right up Jeff's alley, and he pushed Taker to the very limit in a match that took the veteran right out of his comfort zone, but ultimately fell flat right at the final hurdle when Taker's brute strength became too much for him. Jim Ross put in some of the best work of his life in making Jeff look like a legitimate superstar and his line 'CLIMB THE LADDER KID, MAKE YOURSELF FAMOUS!' will stay with me forever.
The icing on the cake was Taker raising Jeff's hand in a show of respect, and solidifies this as one of my favourite moments in RAW history.
7. Destruction Of The Shield
Ah Evolution… everywhere they go there seems to be some sort of betrayal or break up! This time around though it wasn't the members of Evolution committing the betrayal, instead they watched on as Seth Rollins turned on his Shield brothers in arguably one of WWE's most surprising and shocking moments ever. It was one of those beautiful moments completely out of the left field which we so rarely see anymore… The Hounds of Justice were absolutely on fire at the time and were deeply embroiled in a rivalry with Evolution/The Authority, so having the charismatic, talented fan favourite Seth sell out by attacking Roman Reigns and Dean Ambrose was the perfect way to set up his career defining heel turn.
Any betrayal is usually greeted with anger from the fans and solidifies you as a heel, but by splitting up the most over faction we had seen in years, WWE had pulled off a masterclass in how to generate heat. In the long run it ended up turning all three men into main event stars, gave us a fantastic three-way rivalry further down the line, and we even ended up seeing them reunite in 2017. So, all's well that ends well!
6. The Prodigal Son Returns
I hate putting Shane O Mac in my list twice as I absolutely detest the guy, but this moment was undoubtedly one of the most shocking we've ever seen in WWE. We hadn't seen Shane for 7 years at this point, so for him to show up completely out of the blue and stake his claim as the rightful heir to the McMahon throne was incredible. Fondly remembered by fans for his death defying exploits during the Attitude Era, Shane was welcomed by one of the loudest pops you will ever hear which almost brought him to tears in the ring.
Not only was this moment significant because of the somewhat tarnished relationship between the McMahon family, it also signaled the start of a new era and the first WWE Draft we had seen since the end of the brand split in 2011. RAW vs Smackdown Live has for the most part been fantastic since the 2016 split, and has brought us two great Survivor Series PPV's, and although I don't agree with the focus being on the management, seeing Shane and Steph's verbal sparring has brought back some wonderful moments of nostalgia for this old fart.
5. The NEXUS Destroys RAW
This was yet another invasion angle which WWE managed to screw up by dragging it out too long and trying too many different and silly things, but you can't take away how astonishing the arrival of The NEXUS was. The group, which was made up of all the rookies from the first class of NXT way back when it was more of a competition/reality show, completely decimated everything in their path on their debut. They beat the living daylights out of John Cena, CM Punk and Luke Gallows, trashed the ringside area, attacked various members of WWE staff, ripped up the floors, destroyed barricades and tore the ring apart leaving everyone in attendance astounded… we had never seen anything like this before!
The only downside to this segment was Daniel Bryan's rather short-sighted decision to strangle a ring announcer which ultimately saw him fired for a short while. Nevertheless, this was one of the most exciting things I have ever seen watching WWE Raw, for a group with so many members to be this dominant had you genuinely fearing that nobody was safe. The NEXUS also introduced us to a plethora of future champions: Wade Barrett, Bray Wyatt, Ryback, Darren Young, Justin Gabriel, David Otunga, Heath Slater and of course Daniel Bryan.
4. Eddie Guerrero Tribute Show
This one is honestly quite painful for me to write. Eddie is one of my favourite wrestlers of all time and was able to connect with the fans in a way that very few had ever done before him and even less will be able to do in the future. For him to be taken away at such a young age, leaving behind a wife and kids and with so much more to give was a very hard pill to swallow.
So why would I put this in my top 10 moments? Because it is important for me that people understand how hard Eddie worked to get to where he was, he had a tough upbringing but did everything in his power to make sure his family didn't duffer the same. Follow this link and watch the show for yourself, then you'll understand. The impact that Eddie had on not just the fans but also his fellow superstars will leave you bawling like a baby. Seeing grown men cry while telling stories about a wonderful human being, Eddie chants all night long, in ring tributes… it made for one of the most heartfelt and moving tributes ever recorded.
Eddie never did anything for himself, he always put his friends, family and the fans first. That's because we were his family, every single one of us. Thank You Eddie.
3. The Very First Stunner
You could argue that this was the most important moment in the entire history of WWE. That's a pretty bold claim I know, the company had some huge moments and huge superstars prior to this, but when you think of what made the Attitude Era so good, THIS is what you think of, and it helped to catapult Stone Cold Steve Austin into the GOAT debates.
It was the clumsiest Stunner you'll ever see but it was also the most significant as it kicked off what was hands down the most intense, captivating and entertaining rivalry we had ever seen up until then. Not only did it do wonders for Austin, it did the same for Vince McMahon as it helped to develop his character of being the sinister, maniacal, egotistical boss from hell who made his employees lives miserable. We've all had a boss like that which is exactly why we were able to relate to so well, we all wanted to see the authority figure get his comeuppance and 99% of the time Austin delivered!
I said before that Eddie connected with the crowd like very few others could do… well Austin was one of those few who managed it, he could generate any kind of reaction he wanted whether he was a face or heel, and the crowd absolutely loved him for it.
2. The Finger Poke Of Doom
The night where WWE finally managed to turn the tide and gain their first ratings victory over WCW in a very, very long time… but it was their rivals they had thank. At the time WWE was a recorded show which aired 6 days later while WCW was broadcasting live. Referred to as the Finger Poke Of Doom after Hulk Hogan gained a pathetic pinfall victory over Kevin Nash, a very silly man called Tony Schiavone, commentator for WCW at the time, was instructed during the match by his boss Eric Bischoff to break the news that Mankind was due to become WWF Champion that night and proclaimed the infamous line:
'"Fans, as Hollywood Hogan walks away and you look at this 40,000 plus on hand, if you're even thinking about changing the channel to our competition, fans, do not, because we understand that Mick Foley, who wrestled here one time as Cactus Jack, is going to win their world title. Ha! That's gonna put some butts in the seats, heh".
Well funnily enough it did put butts in seats. Mankind was such a huge fan favourite and underdog that Tony's words encouraged several hundred thousands of fans to switch channels and see this feel good moment for themselves. This moment literally saved WWE from the financial difficulty they were going through at the time and rightfully deserves the penultimate spot on this list.
1. The Debut of Jericho
I have made no secret of the fact that Chris Jericho is the GOAT in my eyes, hence why I have his unforgettable debut in 1999 as my Greatest Moment in RAW History. Fans had been clamoring for him to jump ship from WCW to the big leagues for a long time, but nobody expected the cryptic clues and videos to culminate in Y2J interrupting The Rock on Raw that fateful night. But why is this my number 1 choice? Its just a debut, right? Wrong!
Chris Jericho has been every bit as important to WWE as the likes of Austin, Rock, Hogan, Flair and any other name you can pull from the plethora of legends we've seen down the years. His ability to reinvent himself and his character, stay relevant despite his exploits outside of WWE, he put over young fresh talent, his mic work is second to none, his incredible CV consisting of an impressive 26 championships and his in-ring ability which still puts some younger guys to shame. In the last couple of years, he has managed to make a scarf and an A4 piece of paper on a clipboard get more over with the fans than half of the roster.
His debut didn't come at the expense of a local talent or a mid-card jobber, he introduced himself by going toe to toe in a war of words with The Great One and didn't even come away as the loser of the confrontation. In my eyes, Chris Jericho has been the single most important thing to happen to Monday Night RAW, he helped to elevate the show like very few others could and is more than deserving of topping this list.
Drink It In Maaaaaan!
The Good, Bad and Ugly: WWE SmackDown (01/22/2019)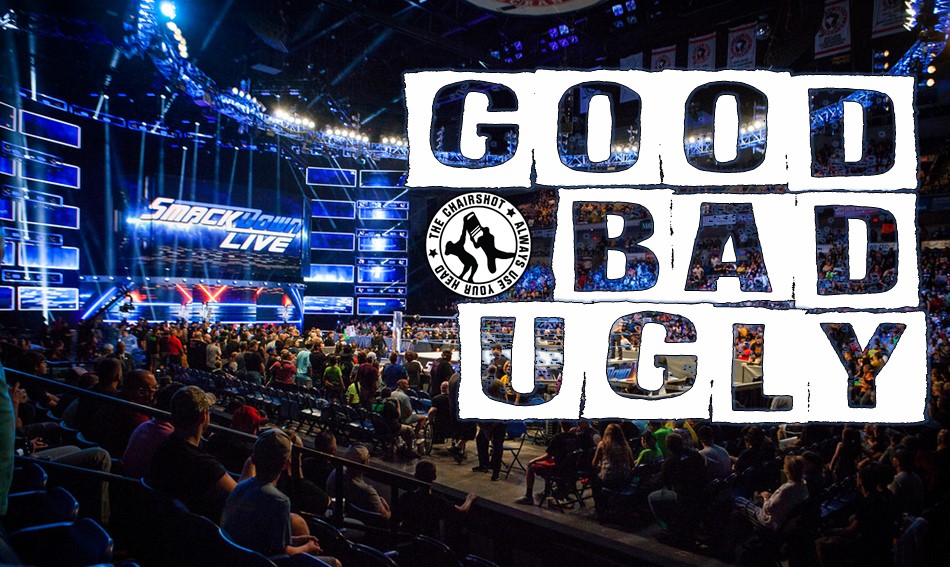 Bobby Fernandes delivers his Good, Bad, and Ugly review for WWE Smackdown on January 22, 2019–the last Smackdown before the Royal Rumble!
SmackDown before the Royal Rumble is here and now.  The better of the WWE weekly television is up to bat, and ready to take us home.  The actual card looks decent for the PPV especially on the SmackDown side of things.  Raw did a Good job packing in a ton of relevant content and building up the excitement.  Can SmackDown deliver yet again? 
THE GOOD
Opening Segment w/ The Man Becky Lynch
She is still on "fire" and the crowd cannot get enough of her.  She looks fantastic, confident, and on top of her game.  Lynch has done her job and took down the "Queen" and claims that she will do the same to the "Empress."  Even a badass like Lynch has an uphill battle against a foe like Asuka.  Asuka is so impressive and this feud is just amazing.  Charlotte Flair didn't take a whole lot of time to get involved and was warmly "Woooed" by the crowd.  Charlotte walks tall, talks the talk and is just overall unbelievable.  Asuka and Lynch's heat then boiled over at the joy of Charlotte.  They got some Good shots in.  This has been an enjoyable feud and it's "finale" should deliver. 
The Miz w/ Shane McMahon vs. Cesaro w/ Sheamus
So far the Miz/McMahon duo has had some subpar content, last week being the worst of it.  Luckily this week, Miz and Cesaro can both do some great things in the ring, and could be Good for a decent match.  Cesaro is freakishly Good and one of the most criminally underrated in the industry, even with the Tag Team Championship.  Anyone watching has to love the chemistry that The Bar has weekly.  They don't always have the best matches but are a fantastic Tag Team overall.  Miz was on point as well in this match.  This was a Good set up for the Royal Rumble in which Cesaro gets the Win w/ a "Neutralizer" after a Sheamus interference.  McMahon wasn't having it and attacked The Bar only to be beaten the hell out of for his trouble.  To add insult to injury, Shane O Mac was bombed onto the Miz, through a table.  It looked fantastic, and hopefully this Tag Team Title Match Sunday will not disappoint. 
Daniel Bryan/AJ Styles/Vince McMahon Promo
The fans are certainly "fickle" to the New Daniel Bryan.  The crazy, nut-bag has done all he can to become a hated entity.  Daniel Bryan has improved on the mic, and this heel gimmick is well suited.  The less AJ talks the better.  However he did well this time around, and just about when things were going overboard, the Chairman of the Board put a stop to it, and demanded Bryan get in the ring.  Bryan went on to be disobedient and continue his banter, now attacking McMahon's Generation.  AJ Styles had enough and attacked Bryan until Bryan used McMahon as a shield taking out Styles and retreating.  Overall, this wasn't Bad and did its job hyping the WWE Championship Match Sunday at the Royal Rumble. 
Samoa Joe vs. Mustafa Ali
Not that this is a new thing, but Samoa Joe has lost his mind.  He is a savage in the ring now, and as stiff and brutal as his reputation is, he is exceeding expectations.  Mustafa Ali is very impressive, his entrance, look, and of course in ring ability.  Samoa Joe seems to have given himself the task of breaking in the young star.  He is literally breaking him.  Ali is getting viciously bounced around by the veteran.  Samoa Joe controlled almost the entire match.  Ali even looked shocked when hitting some solid offense.  It was short lived, as Joe trapped Ali in the "Coquina Clutch" for the brutal victory. 
(2 out of 3 Falls) Andrade vs Rey Mysterio
This rivalry is fantastic.  It completely revived Rey Mysterio.  Andrade can hang and with someone at the level of Mysterio it is Gold!  No Zelina Vega is a little disappointing as she does her job very well, and is a great addition to any content.  Highspots galore, the two showoffs did just that, they gave the fans their money's worth, and put it all out there.  Andrade is for sure a fan of Mysterio, probably watching all of his content as a before he was a huge success.  His style is very similar, as most Lucha style is.  Andrade lost his mind and hit a "sitdown powerbomb" off the top for the first fall.  The timing, and landing was beautiful. 
Andrade continued on hitting a few big moves but unable to get the finish.  Mysterio hit the crazy "spike" type move out of nowhere and gets a counter pin fall.  Andrade and Mysterio really do such unique things, always getting the correct pop at the right time.  Masterfully showcasing the Lucha style, and impressing everyone during the Main Event.  So much respect for the sport, and rare amounts of pride are shown in their work.  Even a botched spot was forgiven by the hot crowd, because they just pressed on.  Mysterio almost had Andrade beat, but Samoa Joe interferred and destroyed Mysterio and Andrade.  Joe continued his vendetta to the Cruiserweights at the worst possible time.  This was a Bad run in, on a Good Match.  All aside the wrestling that was had between Mysterio and Andrade was quality.  Then, just like that "RKO" out of nowhere.  Randy Orton making his presence felt before he will appear in the Royal Rumble on Sunday. 
THE BAD – N/A
THE UGLY
Naomi vs. Mandy Rose w/ Sonya Deville
This whole feud is a bit ridiculous.  If these two talents would have just been paired up to a match it would have been better.  No one seems to care at all about the story here, and the content so far has been poorly executed.  Naomi and Mandy Rose are very talented but it is being paraded around on this horrendous platform for seemingly no reason. 
The Sonya Deville/Carmella Match that was foolishly skipped last week would have been much better, and it was a ugly shame it was left out.  Naomi controlled most of the action, literally bitch slapping the blonde bombshell Mandy Rose.  Mandy had very little offense in this tough to watch match.  The action was poorly executed, and awkward.  Mandy got the upper hand when it counts, with the help of Deville, hits Naomi off the post, and gets the quick pin.  This was a horrible match, so much to hate about it, just disappointing.    
FINAL
GOOD – 5
BAD – 0
UGLY – 1
OVERALL
SmackDown, unlike Raw this week, was a little light on the content.  NXT almost had as much content last week and they are only an hour.  That being said, it was a successful week for the "blue" brand.  Royal Rumble has the makings of a Good show.  WWE overall has been pretty Good lately and are very protective of their brand. 
WWE took it home in a major way, now onto NXT's version of the story to finish out before the big Takeover and Royal Rumble weekend.  We could see some serious changes so close to Wrestlemania, and as usual, all we have to do is sit back and watch.  Please like, comment and share!  Catch you tomorrow night post NXT.    
Andrew's WWE Raw & SmackDown Live Review & Notes (1/21 &1/22)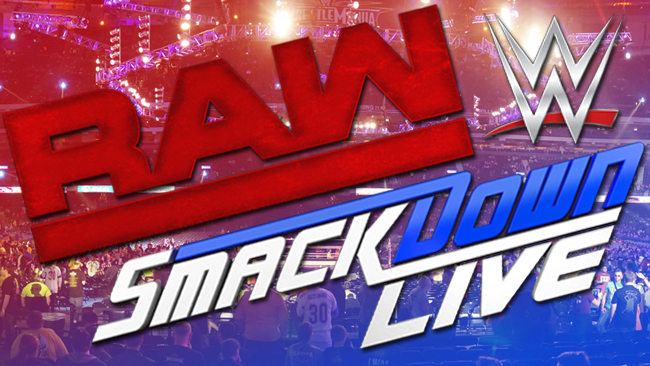 The Royal Rumble "Go Home" shows. Did they produce entertaining content, or limp towards the finish line since most will watch Rumble purely on name value. Let's find out!
Now given that I enjoyed Raw so much last week, I'm tempering my expectations for this week. It's been longer than I care to try and remember, that WWE has knocked it out of the park two weeks in a row.
With the low bar set, do we see a Fosbury Flop, or well…just a flop. Let's see!
Raw Ratings:
Finn Balor vs Braun Strowman: Balor wins via DQ after Lesnar interferes – * 1/2
Apollo Crews vs Bobby Lashley: Lashley wins via Spear – *
Seth Rollins vs Drew McInture: Rollins wins via Cradle – ** 1/2
Lucha House Party vs Jinder & The Singhs: Gran Metallik wins via Backbreaker – -* (yes it's negative)
Elias vs Baron Corbin: Corbin wins via End of Days – N/A
The Ascension vs Heavy Machinery: Otis wins via Caterpillar – N/A (squash)
Raw Tag Team Titles: Bobby Roode & Chad Gable vs The Revival: Gable retains via Rollup – ***
Bayley & Sasha Banks vs Natalya & Ronda Rousey: Banks wins via Bank Statement on Natty – ***
Review Notes:
We kick off things with talking…well now, new changes right? Heyman does his played out thing by now, Vince comes out and tells his own variation of a Wikipedia edited David and Goliath story. Braun shows up to try and look menacing and speak words that don't matter. Finn walks out after like 15 minutes of bickering, to point out that this is typical. He then tells a closer to correct David and Goliath story. Vince gets the bright idea that Brock should be at ringside for the real David and Goliath bout of Finn versus Braun.
Now before this match started, we all knew how it was gonna end. Brock at ringside, Braun is a monster so he can't lose clean and Finn is the challenger…so he can't lose clean. So yeah, making matches that can't logically have a winner is a waste of time, much like this match. The action was alright, the spot where Lesnar catches a falling Balor just to Overhead Suplex him to the floor was moronic since the referee saw it and didn't throw out the match there. Finn fights back valiantly, then right after landing the Coup de Grace, Lesnar F5's Balor and THAT'S a DQ apparently. Must've gotten NFL referees for this match.
Lashley and Lio come out, and every bit of praise I gave them the last two weeks goes out the window here. Lio is worthless saying nothing of merit, and this somehow devolves into a pose off when Apollo Crews comes out to throw his hat in the ring. The pose off did showcase a little personality from Apollo, so that was a bright spot, but come on…this is dumb. Then Lashley attacks him and a match happens regardless of any previous words or stipulations to the pose off (yay wrestling).
Lio apparently will now be a bigger player in the matches, which is fine. But when no one cares about either wrestler, we came off roughly 20 minutes of talking into a gimmicked finish, for another match without a clean finish. Short match with no story or reason to care.
Rollins comes out, gives a speech we're supposed to care about, but I really don't. He brings Roman up AGAIN, and really seems to be going through the motions almost to a disingenuous point. McIntyre comes out to save the segment before it leads to a match, cause everyone in the Rumble needs to be showcased leading to it, yeah, that sounds right, sure.
The match is standard fair for a Rollins match. Okay work rate, slightly predictable sequencing, but since the finish was a Cradle…that's different. I don't know, the match was fine, but McIntyre losing just signals that now he wins the Rumble or finds a way to at the very least, cost Rollins the win.
The Revival discuss their position with Vince in the back, say they'd like an impartial special guest referee and Curt Hawkins walks up. Vince tells him he's the special ref and Hawkins has the best line of the night with "Well, I have seen a lot of threes lately…", and then the Revival start buttering him up before the match.
Lucha House…Jinder and the Singhs…WHY!? This has no business being a thing beyond they are two groups of 3. Stupid, useless, worthless, I hate the Lucha House Party. Send them back to 205 Live, deport them, I don't know…just stop. This is not good, they have no personality, and have been damaged from that dumb House Party rule gimmick from a few weeks back. Screw this team. And who wins with a Backbreaker not named Roderick Strong?!
Dana Brooke is talking at EC3, I say talking at cause he doesn't respond and she just hits him with a litany of questions as Elias walks to the ring.
Elias tries to do his thing, Corbin interrupts, a forgettable match happens and Corbin wins cause he needs to look like he's marginally competent going into Rumble.
Alexa Bliss' Moment of Bliss, is a train wreck again, multiple women just walk out, declare their piece for the Rumble, Alexa even makes note of all her shows have been awful and she's sick of it. So she announces herself in the Rumble, the only highlight was Lacey Evans finally came out and said a few things for the first time. All you Nasties are gonna learn.
The Ascension get to be fed to Heavy Machinery! Well I guess that proves they're staying on Raw since Raw loves job matches. Only real note from this is Otis' Worm, is not called the Caterpillar. You know, like the company that makes heavy machinery. The writers are true wordsmiths I tell you.
This tag match was like a highlight real of heel wrestling 101 and a referee actually being attentive. Hawkins is by far the best referee of the night (and weekend probably too), so a decent match. Nice spots, these two teams have nice chemistry and we see a reuniting of Zack Ryder and Curt Hawkins at the end. So maybe that's where The Revival go next. Only odd take away is why would you make The Revival sympathetic for the last few weeks and then ruin it completely in 2 weeks. The direction just makes no sense.
Ronda with a passionate, yet clumsy and weird biblical promo with the hair washing feet thing. What since David and Goliath was referenced now we're quoting the bible for promos? Ugh…no more talking Ronda please.
Yes we all know Sasha had a wardrobe malfunction during this match. But let's not have that take away from a decent match and the fact that Bayley and Sasha did technically give Ronda her first loss in WWE. So building up the challenger for two weeks right before the PPV seems like the obvious set up, but be honest, 99% of us have Ronda winning anyway. Sasha could've defeated the whole women's division and we'd still go, "yeah but". It was nice to see Bayley and Sasha continue to work decently as a team, but they did sow some seeds for Bayley versus Sasha since Sasha tended to move out of the way a lot and let Bayley eat moves.
Overall Score: 5/10
There really seemed to be no passion or imagination in this show except for Ronda's odd promo. As Tony Acero so nicely put on Raw Reaction, I was just saying "okay", through most of this show. It didn't surprise, intrigue or go outside of the box at all. Just a basic color by numbers Raw. Mediocrity encapsulated in a show, if you will. SmackDown has to be better…
SmackDown Live Ratings:
Mandy Rose w/Sonya Deville vs Naomi: Rose wins via pinfall – **
Miz w/Shane vs Cesaro w/Sheamus: Cesaro wins via Gotch Neutralizer – ***
Mustafa Ali vs Samoa Joe: Joe wins via Coquina Clutch – ** 1/2
2 out of 3 Falls: Rey Mysterio vs Andrade Almas: Rey wins via DQ 2-1 – *** 3/4
Review Notes:
So since it's WWE we start off with talking, but this one is Becky and Asuka, and we like them. Becky does the old school heel thing of listing Asuka's accolades but making sure to mention that Asuka didn't BEAT her and she's still just better than Asuka. Charlotte saunters out, let's out a Woo and Asuka tries to get in a cheap shot on Becky, thus creating a brawl for a few minutes. Becky gets the upperhand throwing Asuka into the announce desk, before the brawl heads backstage.
Naomi has every right to try and kill Mandy. She tried to cause problems in her marriage and Naomi had the upperhand in most of the match. A flurry of kicks and elbows from Naomi give us hope she'll get her revenge, but Sonya's interference becomes too much, giving Mandy the opening to show Naomi into the ring post and cover her for the pinfall.
Miz and Shane might be my favorite thing on SmackDown story wise. I mean I love Andrade & Rey Mysterio angle, but the sheer fun and enjoyment Miz and Shane seem to be having is infectious.
The match had a lot of good resiliency from Miz. The Miz has been looking like a better wrestling ever since the World Cup tournament. Miz tried to get an early win with the Figure Four Leglock, but Cesaro got out of it. Sheamus eventually takes out Shane so they can get in a cheap shot, which leads to a Gotch Neutralizer and a win for Cesaro.  Post match beatdown sees Shane eat a Brogue Kick, as well as getting driven through Miz and effectively through the announce table. Feels like a heavy signal that Miz and Shane will win at Rumble, but who knows.
Mustafa points out an interesting aspect of Joe beating him down last week. That being, Joe looks down on him, like he doesn't belong there and he wants to prove himself.
Vince basically moderates the discussion between Daniel Bryan and AJ Styles. Not much is really said except for AJ turning the FICKLE word against Bryan and it catching a little. Styles chases Daniel outside the ring, lays in a few shots, rolls him back in for the Phenomenal Forearm, Daniel uses Mr. McMahon as a shield to then lay out AJ with Knee Plus.
Truth and Carmella are walking through the back discussing the Rumble. Truth toys with the idea of challenging Buddy Murphy for the Cruiserweight title, and when Carmella points out the weight limit, he takes it as her calling him fat and storms off a bit. Charlotte and Carmella have a few words, but nothing really noticeable here.
Ali showed that he learned from last week and turns around some call back spots into flips and body presses. But Joe eventually proved to be too much and Ali taps out to the Coquina Clutch.
New Day have a nice moment discussing Rumble plans, Kofi has a moment of doubt if he can't come up with a cool spot, Kayla tries to ask the question everyone does about would they eliminate each other. After going through a list of people who asked, they say "Is Tony Chimmel gonna ask us too?", and Chimmel shows up before they shoo him away asking if they look like Edge and to get going.
YAY! 2 out of 3 falls match! Andrade and Rey all day! First fall comes after Andrade connects on an Avalanche Sitout Powerbomb. Rey hits a Code Red, doesn't' get him, but pulls out the Canadian Destroyer as a counter to what looks like a Powerbomb and evens it up at one a piece. Rey tried to get a quick win with the West Coast Pop, but Andrade kicks out. After Rey finally connects with a 619, Samoa Joe shows up to ruin the finish. In the middle of making his final decree, Randy Orton RKO's Joe to a giant pop from the crowd.
Overall Score: 7/10
Well okay we're back to the normal situation of SmackDown being the clearly superior show and Raw being mediocre at best. Andrade and Rey are just wonderful together, that match could've been something special if it were allowed to finish decisively. I look forward to a time when they get 20+ minutes on a PPV to just tear the roof down. SmackDown is such a treat coming off a Raw that left, not a sour taste in my mouth, but ashy disappointment.