Official Chairshot Ratings & Review: WrestleCircus The Show Must Go On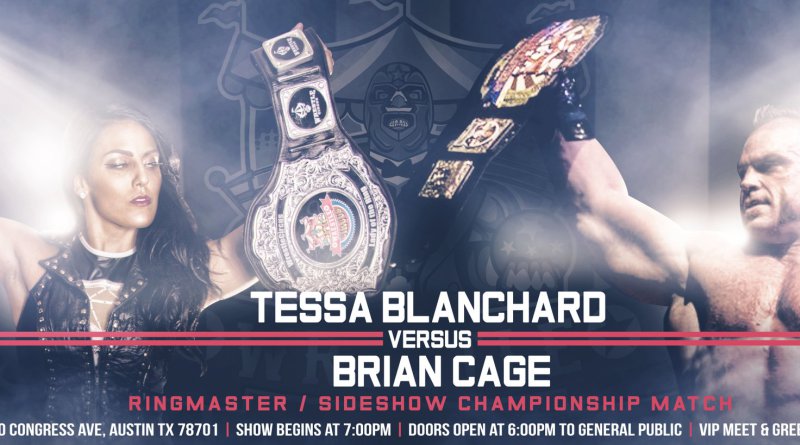 What looks like an independent scene all star show, WrestleCircus returns with The Show Must Go On. Firstly, let me say it's nice to hear the Al Lenhart's health is trending up. No one likes cancelled shows, but someone's health is more important. So this whole show is built on a wonderful premise of hope and future health.
God that last sentence was a little more fluffy than I go for. So…let's get to the card before I break into a sonnet or something.
---
The Chairshot is Hiring Writers and Podcasters! Click here for more info.
---
Jervis Cottonbelly vs Colin Delaney
Hmm, a guy with a mask that has a mustache on it and cotton on his stomach against…a guy in a Spongebob shirt. Kay.
If the entrance didn't scream comedy match, then I don't know what else would. Perhaps a dance scene? Dirty Dancing Chant? A ref bump that has the two men fight over the Eddie Guerrero spot, so much so, when the ref comes to they keep fighting over the foreign object and has the ref hit both of them?
I suppose this match was what fans of both wrestlers expected, but there were too many slow points to even really call it a match. I think there might have been 5 real spots that ended in a roll up finish. So yeah, I'm not Jim Cornette, I just felt the action in this match was too stilted to be considered even average from a random observer.
Rating: 1/4 (Bronze V)
The Dirty Devils vs The Boys
Well Dalton Castle's Boys and Dirty Devils are fighting over the number one contender slot, for the tag titles.
This match was paced very deliberately early on, and had some outside interference from the "Insidious Follower", but was all in all a decent match. The Boys showed off some chops, nice double Eat Da-feet, a few high flying spots, but the Dirty Devils eventually edged them out. After a Brainbuster/Best Moonsault Ever combo, the Devils pick up the pinfall victory.
Rating: ** (Silver V)
Shane Taylor vs Space Monkey
Well Trent was supposed to be Shane Taylor's opponent, but due to injury Space Monkey stepped up.
Now, this was… a special kind of different. Space Monkey started off with mostly comedic spots (He's a Canadian monkey from Space, that only communicates in monkey), but it turned into something eventually. It seemed like Taylor was toying with Space Monkey for a time, but the monkey got some good offense in.
A bunch of nice springboards, dives and flips showcased he was more than a gimmick and some bananas. He showed the heart of at least…a dozen monkeys. Kicking out of piledrivers, 2 big right hands and a multitude of other power moves, the monkey just wouldn't die. A little more offense from the Space primate, including a nice backflip double stomp variation, but still no victory for Monkey. A third big right hand was "Monkey got knocked da eff out".
Pretty good match after a goofy beginning.
Rating: ** 1/4 (Silver IV)
Shane Strickland vs Scorpio Sky
Both men have reputations that precede them, along with a little heat with one another.
This was a nice combination of high spots and hard hits. Sky nearly kills Strickland with a Cutter on the apron, Strickland nearly breaks Sky's arm, along with many others. The best spot of this match was Shane throwing Sky's Manager into him, while seated in a chair on the outside, and hits a Swerve Stomp on both of them amidst the fans.
One more Swerve Stomp gives Strickland a hard fought victory. Great match, could've easily main evented. Gonna be hard to top.
Rating: **** (Platinum V)
Elimination Match: Chelsea Green vs Christi Jaynes vs Deonna Purrazzo vs Leva Bates
Leva Bates enters this match to Zack Ryder's theme, even dressed as him…much to Chelsea Green's chagrin.
This match was actually very fun. A few more light hearted spots utilizing the Green/Zack Ryder connection to allow for double Broski Boots and a few other fun spots. Christi Jaynes is the first out when Purrazzo submits her with a Fujiwara Armbar. Leva Bates manages to get the best of Deonna next via pinfall. Then the fun twist is Chelsea took a rough rider and rolled to the outside for a few minutes.
When she appears from beneath the ring, she's Laurel Van Ness. Hits the Unprettier on Leva and pins her by straddling her and kissing her through the 3 count. Not a bad match at all. Fun spots, technical spots, but a great match for right after intermission.
Rating: *** (Gold V)
Death Match: MASADA vs Brody King
Well this was definitely a fight between two big and angry men, not afraid to use weapons.
Brody showed a lot of toughness by taking Masada's skewer spot, getting them rammed further into his head via DDT and then multiple CHAIRSHOTS in the corner, but he still fought back. A big lariat followed by a Powerbomb on the chair almost won the match for King.
Masada however, catches the chair, breaks the seat out over Brody's head and then uses it in a chair assisted STF variant. Brody never tapped though, he just passed out, so it still makes him look like a badass.
Rating: *** 1/4 (Gold IV)
Jordan Len-X vs El Hijo del Fantasma vs Matt Cross
Well a three way lucha style match, has every chance of being a show stealer.
Matt Cross, much like the commentary team said, is smooth as butter with whatever he does. He was the largest highlight in this match. Jordan Len-X was on the receiving end of the largest "Holy Shit" spot of the match when Cross hits a Frankensteiner and sends him head first into 4 upright chairs.
Nice back and forth the entire match, but some spots looked a little off and the fight in the corner just went a little long. Between trying a Tower of Doom, to some other sunset flip variation, it just lingered a little long, but the pay off ended up being a highlight.
Jordan sneaks in after staying on the outside for a while after his nosedive through chairs. Puts Fantasma's head through a chair and hits a crucifix style GTS for the pinfall victory. Not a bad match at all.
Rating: *** 1/4 (Gold IV)
WrestleCircus Ringmaster Title / WrestleCircus Sideshow Title Match: Brian Cage (c) vs Tessa Blanchard (c)
The opening salvo of crowd chants was actually pretty amusing. Cage and his crew did the slow to start heel thing, and the crowd was heavily behind Tessa.
So Cage dominates the early going, but also plays the part of cocky heel, underestimating his female opponent. Tessa picks up some momentum on the outside after Cage turns his back on her. She goes through about half of the front row, hitting Cage with repeated CHAIRSHOTS. When the action gets back in the ring, most of her offense was built around countering Brian's power offense.
He flung her in the air, she caught him with a beautiful DDT. He tried to Powerbomb her, she hit a Canadian Destroyer. She absorbed plenty of his signature moves, and even landed her top rope Codebreaker (Magnum). This went back and forth, and had many believable near falls for Tessa. Cage finally ends up keeping her down after a Discus Lariat and Drill Claw, but it was such a good fight.
Even through a few awkward spots, the story the match told was very nice, the in-ring work was impressive and it was damn entertaining. If anyone had thought Tessa got her position based on her last name, watch this match, and shut the hell up. Beautiful match.
Rating: ***** (Diamond V)
So even though I opened this article less than enthused after the first match, the show built up nicely. Scorpio Sky and Shane Strickland, the Masada match, and of course the main event were the corner stones of this event. Plus Space Monkey, I mean, I think I invented something like him after a long night of drinking, but I'm still amused.
WrestleCircus put on a very nice show with The Show Must Go On. Comedic matches and spots, brutality, high flying, technical mastery…this show had something for everyone. You don't get many shows that know how to mix multiple styles and still make it seem true to the brand, but hot damn, this was the most fun I've had watching a show, outside of Japan.
I look forward to more WrestleCircus and more Tessa Blanchard.
King's WrestleMania Rewind: Stone Cold VS. Scott Hall (WrestleMania X8)
Chris King is back with another WrestleMania Rewind, looking at the NWO's Scott Hall battling Stone Cold Steve Austin at WWE WrestleMania X8 from Toronto!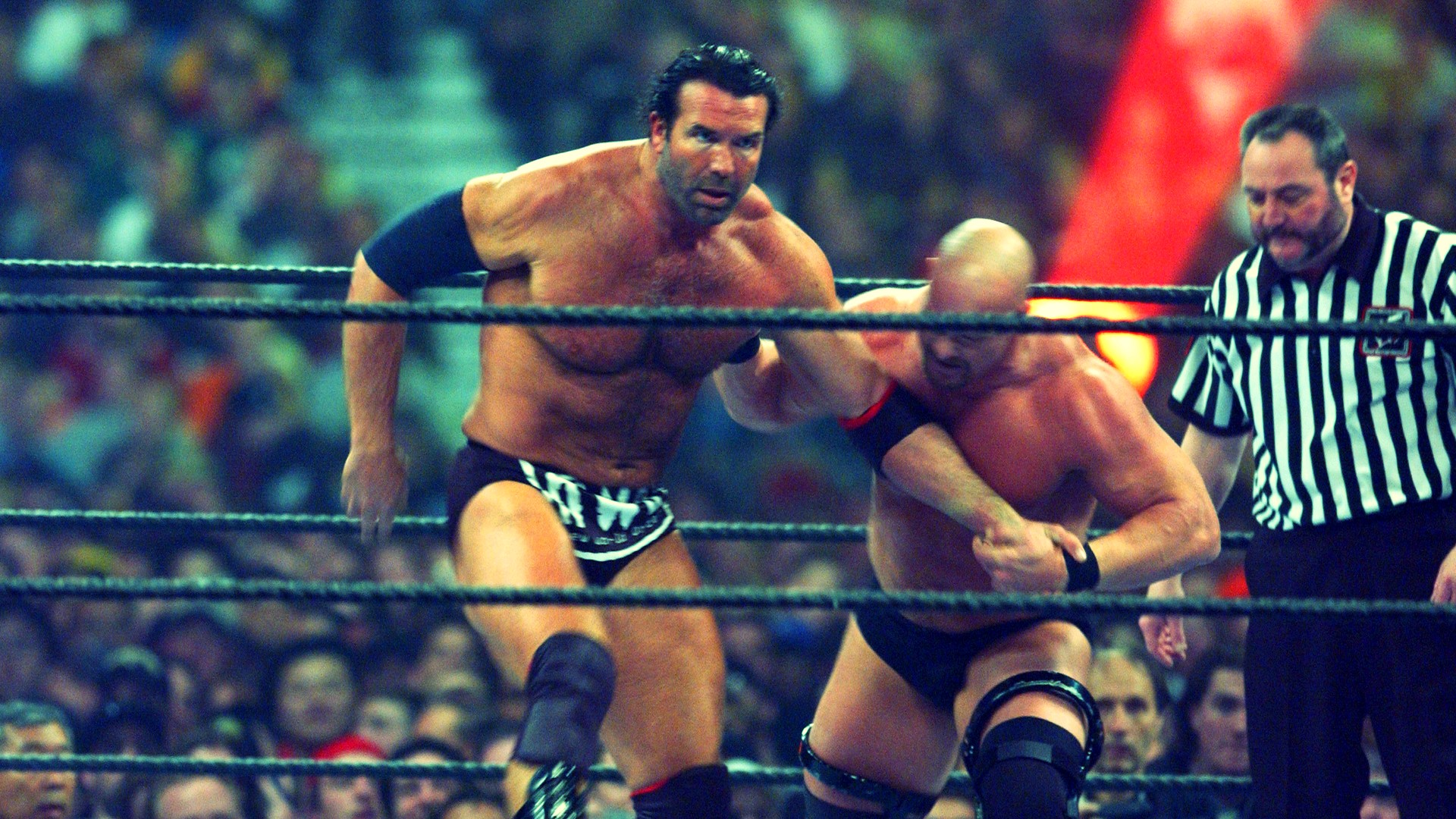 Chris King is back with another WrestleMania Rewind, looking at the NWO's Scott Hall battling Stone Cold Steve Austin at WWE WrestleMania X8 from Toronto!
Chris King is back this week with another edition of WrestleMania Rewind, where he is rewatching all the past Mania matches and feuds. This week you're in for a treat as we look back at 'Stone Cold' Steve Austin vs. Scott Hall at WrestleMania X8.
In late 2001, Vince McMahon bought out his competition WCW and acquired the rights to a plethora of talent including Booker T, Eddie Guerrero, Chris Benoit, and the iconic trio known as NWO. Hulk Hogan; Kevin Nash, and Scott Hall were hell raisers, and what better way to make a name for yourself than take out the two top superstars in the WWE The Rock, and Stone Cold?
The NWO cost Austin his chance at becoming the Undisputed Champion at No Way Out during his match with Chris Jericho. Adding insult to injury, the NWO spray-painted 'The Texas Rattlesnake' with their brand logo just like they did in WCW. As you can imagine, Austin was pissed and out for revenge against the group and primarily Scott Hall.
Hall would challenge Stone Cold to a match at WrestleMania 18. Both superstars beat the living hell out of each other leading up to this highly-anticipated match for who runs the WWE.
The glass broke and Stone Cold made his iconic entrance, and black and white NWO covered Halls' entrance alongside Kevin Nash. With the odds stacked against 'The Toughest S.O.B' could Austin or NWO prove their dominance? Sadly the NWO  broke up that very night when Hulk Hogan came to the aid of his adversary The Rock after their 'iconic' dream match. Stone Cold would ensure the victory with the Stunner. Hall would perform an Oscar-worthy sell over the finisher.
What a time to be a wrestling fan in the 2000s when nothing was impossible for WWE. Who would've thought WCW would go out of business and Hogan would make his long-awaited return to WWE?
King's WrestleMania Rewind: Seth Rollins vs. Kevin Owens (WWE WrestleMania 36)
Chris King takes a look at the most underrated WWE WrestleMania matches, and starts off with Seth Rollins battling Kevin Owens at WrestleMania 36!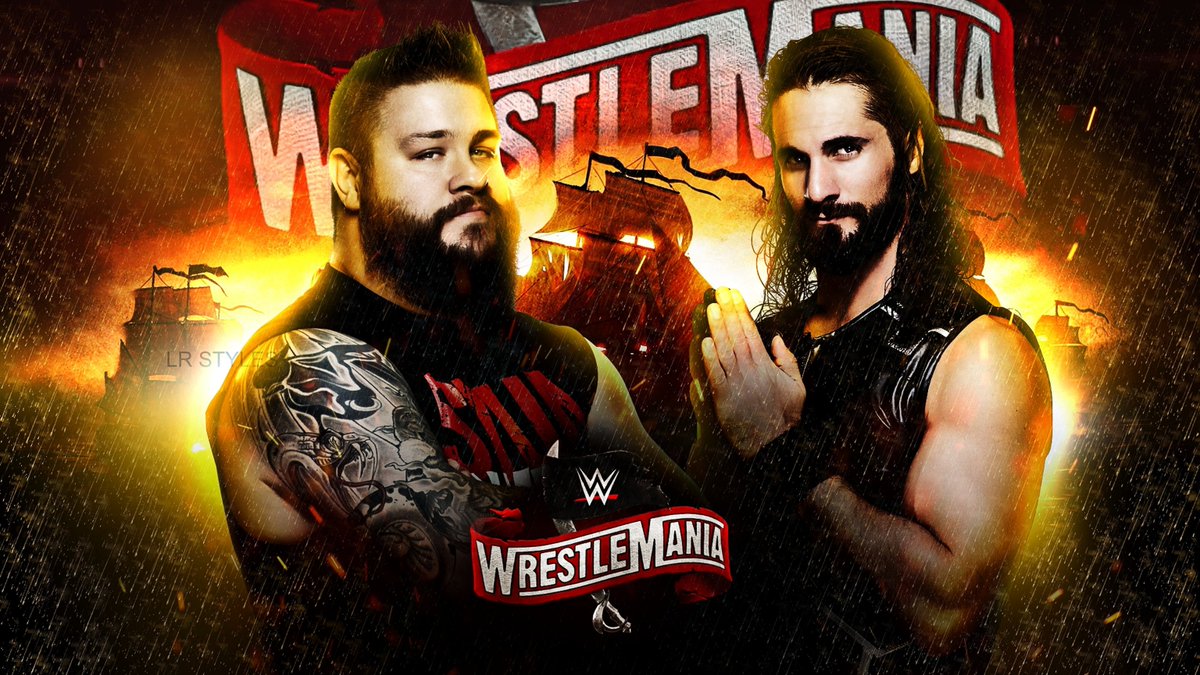 Chris King takes a look at the most underrated WWE WrestleMania matches, and starts off with Seth Rollins battling Kevin Owens in the WWE Performance Center at WrestleMania 36!
Chris King is starting a new series heading into WrestleMania season dubbed WrestleMania Rewind. Each week he'll be going back and sharing his insight over underrated matches at the Show of Shows. First up, is Kevin Owens vs. "The Monday Night Messiah" Seth Rollins at WrestleMania 36.
At the 2019 edition of Survivor Series, Rollins sacrificed himself during the men's traditional match allowing SmackDown to ultimately gain the victory. The following night the self-proclaimed Messiah, berated the whole roster but KO was not having any part of it. Owens quickly became a huge barrier in Rollins' cause for the greater good. The Authors of Pain attacked Owens with Rollins' character in question.
Owens finally had enough of his rival's mind games and torment and challenged Rollins to a match on the Grandest Stage Of Them All. Rollins mockingly accepted his challenge and the match was made official for night one of WrestleMania. Owens came out of the gate beating the holy hell out of the Monday Night Messiah trying to achieve his long-awaited moment at Mania but, Rollins tried to steal a disqualification victory by using the ring bell.
Owens hellbent on revenge provoked Rollins into turning their encounter into a no-disqualification contest where the fight could be taken all over the empty arena. The highlight of the match, was when KO used the WrestleMania sign to deliver a thunderous senton bomb through the announce table. Owens would secure the victory with a Stunner in an incredible match. Despite having no crowd during the pandemic era, both KO and Rollins put on an intense performance under the brightest lights.
In my personal opinion, this was a great feud that helped both superstars in their transformation as compelling characters for years to come.