Top 5 Ways WWE Is Doing WrestleMania Better In 2018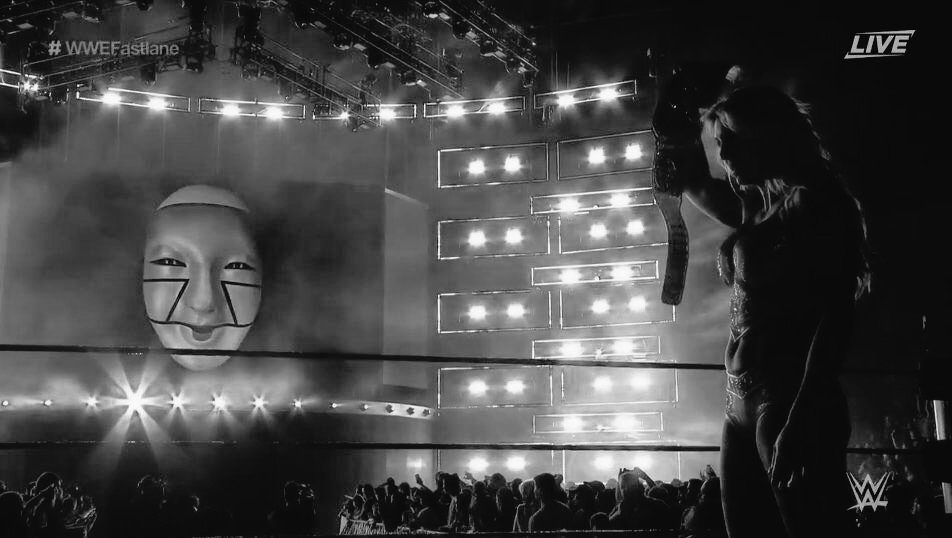 Us wrestling fans are a cynical bunch sometimes. However justified that may be when watching the current WWE product though, is another story. Right now I'd like to dive in to the good things that we'll get this year for WrestleMania. WrestleMania 34 is showing signs of improvement in some areas of the card, and if all of the below are carried out we can expect a better show than last year (unless Roman/Lesnar main event to choral boos, then it would be bad).
Midcard Title Relevancy
This is mostly referring to the coveted Intercontinental Championship as the US title match did make it to the main card last year. At WrestleMania 33, Dean Ambrose successfully defended his title against Baron Corbin on the pre-show. The match was awful; I know, I was in the audience. A lazy build mixed with two rather bland personalities at the time produced a poor showing for one of WWE's most historic titles.
WrestleMania 34's Intercontinental bout will however be filled by three of WWE's most exciting stars- Finn Balor, Seth Rollins and The Miz, which is a group worthy of a title match on the grandest stage of them all. In addition, the US title will most likely be defended on the main card by Randy Orton, bringing some legitimacy to the matchup with Roode and Mahal, who are well-established in their own right.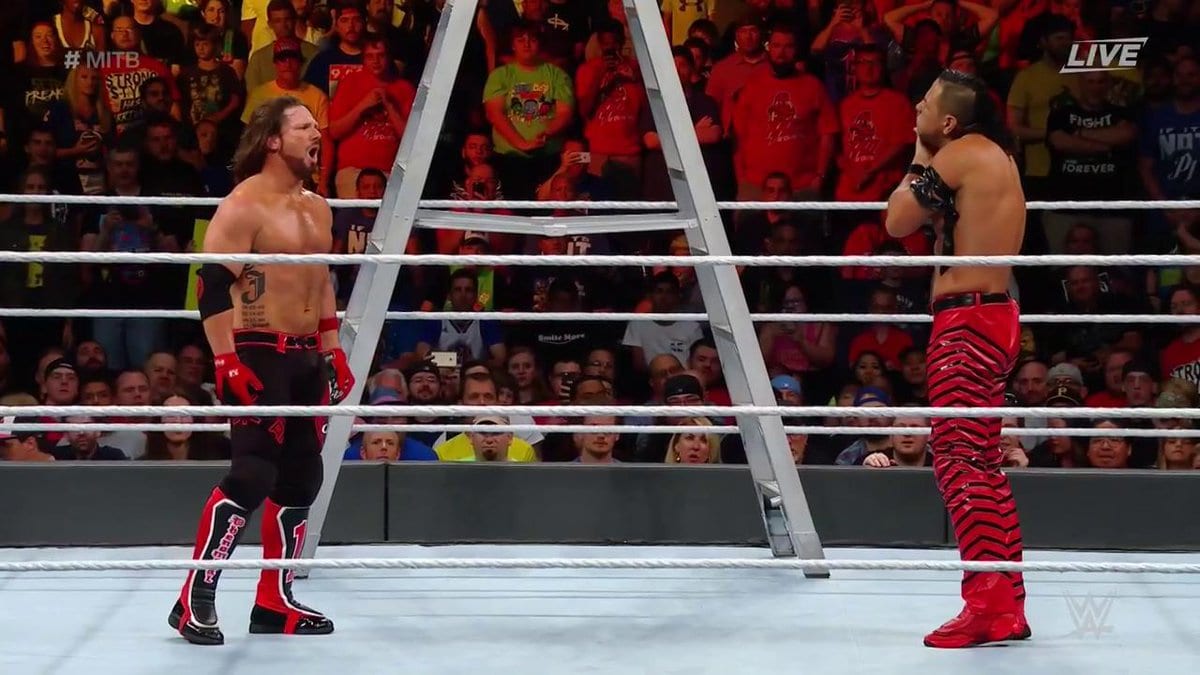 Fan Service (for one match)
AJ Styles vs. Shinsuke Nakamura for the WWE championship at WrestleMania. Doesn't that just sound great? In the two world title matches, WWE decided to listen to all the fans clamoring for these two to go at it under the WWE banner. Nakamura winning the Royal Rumble initially signaled the possibility of this match, and in turn saved face in lieu of another mild or negative Royal Rumble ending. Nakamura vs. Styles is the match we wanted, and we're getting it. The fact that it probably won't go on last is a little ridiculous, but at least it's happening and at least Styles is going into WrestleMania as WWE champion.
Cruiserweights on the Main Card
This has yet to be confirmed, but it seems that the finals of the cruiserweight title tournament will take place on the main card of WrestleMania. Since taking over 205 Live, Triple H has admittedly made some great moves in the right direction, placing the focus back on competition much like he did with the Cruiserweight Classic. Cedric Alexander is set to take on the revitalized Mustafa Ali and I'm rather excited to see these two tear it up in a spot they deserve.
Tag Team Title Shakeup
Braun Strowman will have a partner at WrestleMania, but is as of now is currently challenging for the RAW tag team titles by himself. Although this buries teams like The Club and The Revival, I think this is an innovative and hilarious move by WWE. There's a lot of intrigue around who his potential partner will be, which is making RAW quite fun to watch. Braun certainly deserves to be on the card in some capacity and as of now I'm happy WWE aren't throwing eight tag teams in a large ladder match again.
Women's Single Matches
This is the biggest stride for WrestleMania 34 as compared to 33. All women's title matches on last year's show were multi-women matches, much like those segments on RAW or SmackDown that WWE just throws all the women into just to use them for the evening. That is thankfully not the case this year, as we're going to get Charlotte Flair vs. Asuka and Alexa Bliss vs. Nia Jax. Although the latter has me a bit less intrigued, I think that a few singles matches on the WrestleMania card are a huge improvement.
Charlotte and Asuka are set to clash for the first time and put on a classic, and that is what WrestleMania is all about isn't it? The SmackDown women's title is also getting the spotlight it deserves at the biggest event of the year, bringing heightened legitimacy to the entire women's division.
Overall, WrestleMania 34 has all the tools to best WrestleMania 33, but we will see if the matches are as good in the ring as they seem on paper. Regardless, the event is largely set up for success built from the shortcomings of last year, and I aim to enjoy almost all of it.
Steve Cook's Fave Five: April 2021
It's a little more than halfway through April! You know what that means…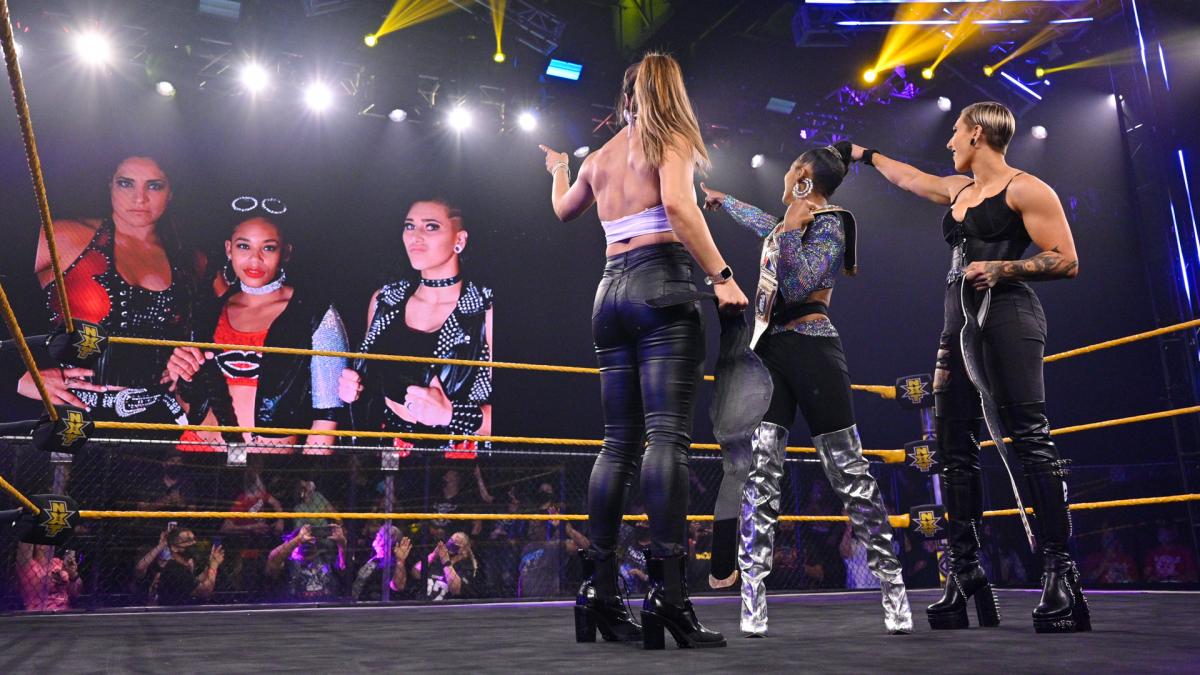 It's a little more than halfway through April! You know what that means.
It's time to talk about my current five favorite wrestlers like I'm Booker T. Let's break down the Fave Five!
5. Samoa Joe
A gentle reminder that Samoa Joe is one of the greatest talkers in the game pic.twitter.com/p4TZeZIAV7

— Kenny Majid – A Kenny For Your Thoughts Podcast (@akfytwrestling) April 15, 2021
I figure what happened between Samoa Joe & WWE was the following: WWE offered Joe an announcing contract since either they didn't want to use him in the ring or their doctors wouldn't clear him to wrestle. Joe looked at the contract, noticed the financial discrepancy, realized he could probably get NJPW to let him train young boys in California for that kind of money and said "thanks but no thanks". Nothing else really makes sense to me.
Unfortunately, those who thought that WWE wouldn't utilize Joe to their fullest potential were right. It wasn't all WWE's fault though. Joe had a lot of miles on his tires when he got there. Injuries are always more of a concern with larger wrestlers the older they get. And when Joe was healthy, he did get to do some good stuff and show people a glimpse of the Samoa Joe that people like me raved about back in the mid to late 2000s.
In any event, Joe got his WWE run. It was a thing that happened. I'd be shocked if he doesn't wind up in AEW because he seems like the kind of guy Tony Khan would throw all the money at. Should be fun!
4. Kris Statlander
Like she never left 👽 #AEWDynamite pic.twitter.com/rlNgLBAFoU

— All Elite Wrestling on TNT (@AEWonTNT) April 15, 2021
AEW does have a pretty insane number of factions right now. It risks the possibility of all of the groups blending together, with none of them really capturing the attention of fans. However, there are positive things about AEW's faction warfare that shouldn't be overlooked. It makes booking fresh matches to fill cards pretty easy. You can have groups facing off each week, but in different combinations that keep it fresh.
Another good thing: It can help us decide how we feel about characters that we might be on the fence about. Kris Statlander's character was a topic of discussion from the moment she entered AEW. A lot of people weren't sure how to take her. Wrestling aliens, or wrestlers who think they're aliens, aren't exactly common. Its the kind of thing that gets over in the indies, because those feds attract fans that are more willing to buy into unique concepts. Mainstream is a tougher sell.
Aligning Kris with the Best Friends makes sense to those in the know, since she came up working shows with them. It also helps people that don't know about her figure out more. The Best Friends are a happy go lucky group that are the whitest of white meat babyfaces you'll find in AEW, and that's a good thing. They're welcoming to people with unique personalities, as Orange Cassidy's presence establishes. A friendly alien couldn't ask for a better group to surround herself with, and from their appearances so far she seems like a perfect fit.
Add in the fact that the time on the shelf helped her get into better shape and refine her look & presence, and the sky's the limit for Statlander. As long as she can stay in the ring, I'm expecting big things from her in 2021.
3. Tay Conti
Sometimes, all one needs is a change of scenery to approach their true potential. Tay spent a few years at the WWE Performance Center learning how to be a professional wrestler. During her time there, Tay never showed much in the way of potential. Even though she had a combat sports background and had the type of physical appearance that gets attention, Conti's TV time was very limited and uneventful. She seemed like one of those wrestlers that was bound to stay in developmental until WWE gave up on them, then drop off the face of the earth without most wrestling fans noticing.
Tay's story took a different route. She ended up being one of the cuts that AEW took an interest in, and was brought in for the Deadly Draw Women's Tag Team Tournament. Her teaming with Anna Jay worked well on & off-camera, and she pretty much fit right in with the group immediately. She started training with Dustin Rhodes, and pretty much immediately started looking better in the ring & figuring out what worked for her. Now, she's one of the people helping AEW's women's division go to a higher level.
This isn't meant to denigrate WWE's Performance Center or its methods. There just isn't a wrestling training center out there that's going to work for everybody. Tay had to find what worked for her. The people that recently got cut will have to do the same. Hopefully, the people that recently got signed by WWE will thrive in that environment.
2. Bianca Belair
We've recently seen three new Women's Champions under the WWE umbrella, all of whom are great in their own way. I've talked about Rhea Ripley before, she's got unlimited potential and so far she's done very well on the main roster. Raquel Gonzalez is doing very well on NXT and her push to the championship made perfect sense & got over. I do think the best of the title changes was Bianca's defeat of Sasha Banks in the main event of WrestleMania Saturday. It was a special moment for Bianca, a very fun match to watch, and a great performance from both Bianca & Sasha Banks, who did everything she could to make Bianca in that match.
You see the video of the NXT segment up above, with the three current Women's Champions under the WWE umbrella celebrating together. Apparently there was a picture taken in 2019, and there were pictures taken after this week's NXT, with Triple H making sure to get in there as he likes to do with all new champions. I've never really been a fan of that sort of thing, even the "Horsewomen" celebrations on previous NXT shows didn't do much for me.
Besides the usual complaints people have about things like that, the thing that I didn't like was how Rhea & Raquel came off. They were all smiling & happy like they were Big Daddy Cool Diesel after beating Mr. Bob Backlund in 1994. Completely against what Raquel has been up to this point, and what Rhea has been when she's been at her best. Hopefully this is just a one-time thing for Rhea for the portion of the NXT audience that likes their lady wrestlers crying & happy after their performances, and hopefully it's leading to Raquel getting dismembered by Dakota Kai, who can't be happy about her heater winning the championship and then turning into Smilin' Diesel.
Fortunately for Bianca, it does nothing to affect her character or our opinion of her. That's why I think her title run will go best. I'm also putting her here because I'm pretty well convinced there isn't a wrestling move or spot she can't do well. Insanely talented, and the more experience she gets the better she'll be.
1. Darby Allin
Sometimes you just want to watch something that's stupid fun. Something that doesn't need too much thought in order to enjoy it. Just people doing crazy things to entertain an audience. Darby Allin matches are just what you need when you're looking for something like this. There isn't anybody crazier in pro wrestling today than Darby, which is probably for the best. I'm convinced this kid has a death wish.
The one thing that kinda gets me about Darby sometimes is how he kicks out of everything. Poor Matt Hardy wasn't going to beat that kid unless he shot him with a gun, and apparently there's a metal detector at Daily's Place. (Shoutout to Matt by the way, hell of an effort in that match.) But then I remember that Darby Allin is a daredevil and constantly posting videos online where he's jumping off high places and doing crazy things. Obviously, it's going to take a little more to beat a daredevil than your average pro wrestler.
What's it going to take to beat Darby Allin? That's a good reason to keep watching.
NXT Minus 6: About that Cole-O'Reilly match…
It was the Takeover match that held the most promise. Where did it go wrong?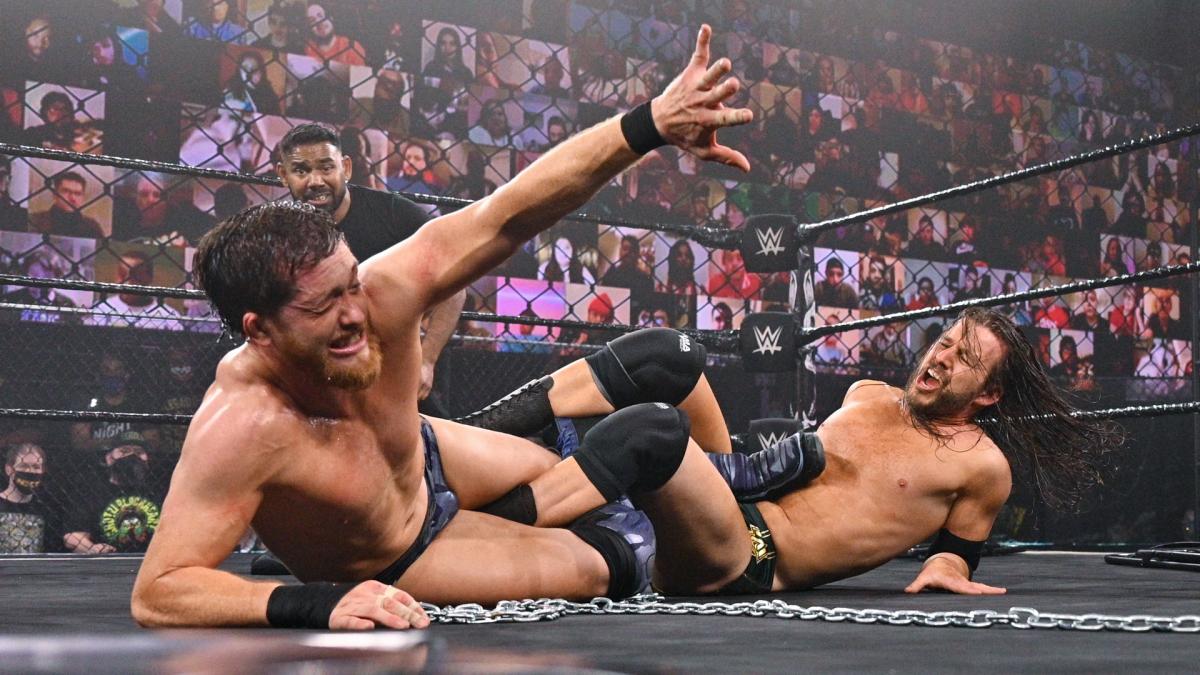 It was the Takeover match that held the most promise. Where did it go wrong?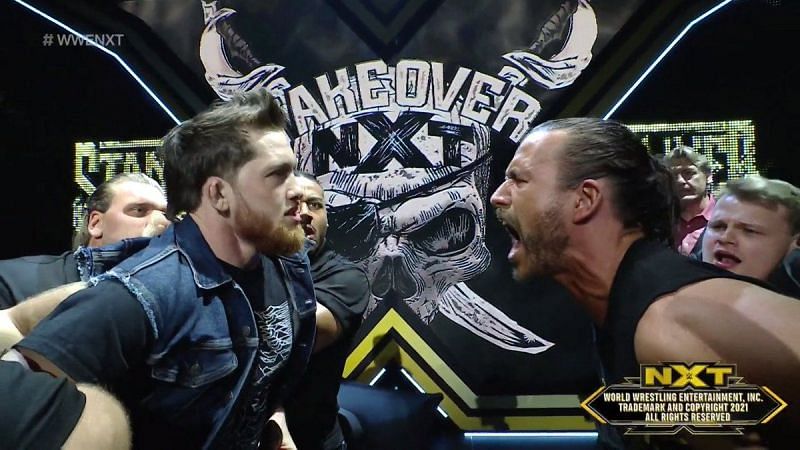 6. I was jacked to 11 for Adam Cole versus Kyle O'Reilly. I was ready to give it a Tokyo Dome 6 stars. MOTY before the bell rang. A masterwork of storytelling. I correctly predicted it would be an unsanctioned match. Then the action started, and it quickly became "be careful what you wish for because you just might get it."
5. After the first few acts of violence, it was apparent that the problem with the match would be the stipulation. The last NXT unsanctioned match was Johnny Gargano versus Tommaso Ciampa in 2018. That was 3 short years ago, but things move quickly in today's world. There is very little chance an unsanctioned match can deliver the level of violence it promises as long as NXT is on the PG-13 Peacock.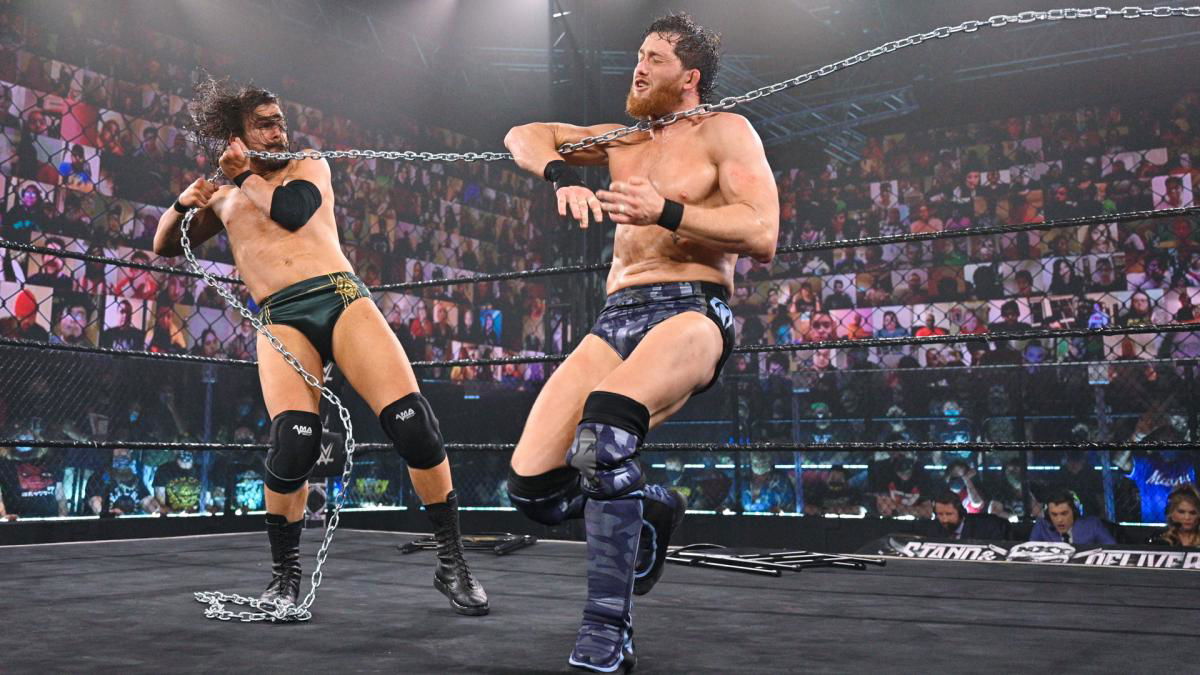 4. Fans are losing their minds over all the content Peacock is leaving on the cutting floor. A lot of it was offensive and would never work today, but that's not the point. The fact is there's only so much violence Peacock's parent company NBC will tolerate from wrestling. Take the chain, for example. Other than the clothesline, it was practically useless. O'Reilly tried to make it work, but it fell flat. In an unsanctioned match, 20 feet of heavy duty chain should be all you need to decimate another human being.

3. Maybe I'm a victim of my own wrestling memory. An unsanctioned match in Memphis in the 80's would have been a bloodbath. Someone would have been hung over the top rope with the chain around his neck. Whipped across the back. Hog tied. Someone would have wrapped it around their fist for a few stiff shots to their opponent's forehead. But that goes back to my original point. None of that would fly today even if NXT was only on the WWE network.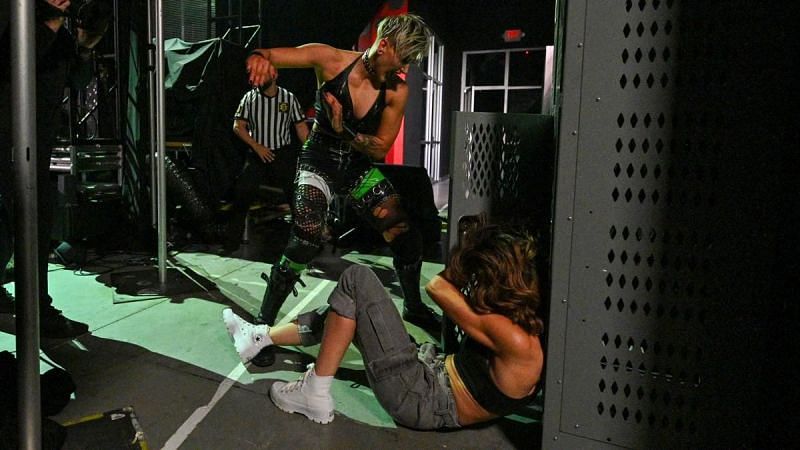 2. I'll go so far as to say the only violent-promising stipulation that interests me is Falls Count Anywhere. There is zero drama in wrestlers pulling chairs from under the ring. The chance to use the naturally occurring environment as a weapon still holds a world of suspense. Someone is going through windows, walls, off the stage, over the guardrail, stuffed in a locker. Honestly, I'm tired of people getting hit in the stomach with folding chairs. Of all the ways to hit someone with a folding chair, that's the least practical. 
1. I'm sorry to say Kyle O'Reilly versus Adam Cole didn't deliver what I expected. Maybe I'm in the minority. Maybe I don't need over-the-top violence to entertain me. Maybe I don't need wrestling to keep pushing the envelope. Five of my top 6 matches of 2021 are straight up wrestling matches. Maybe all I need is two (or three or four) strong characters and a good story. Damn, I sound old.