Cheap Shots: Cena, The Married Couple, And The Kids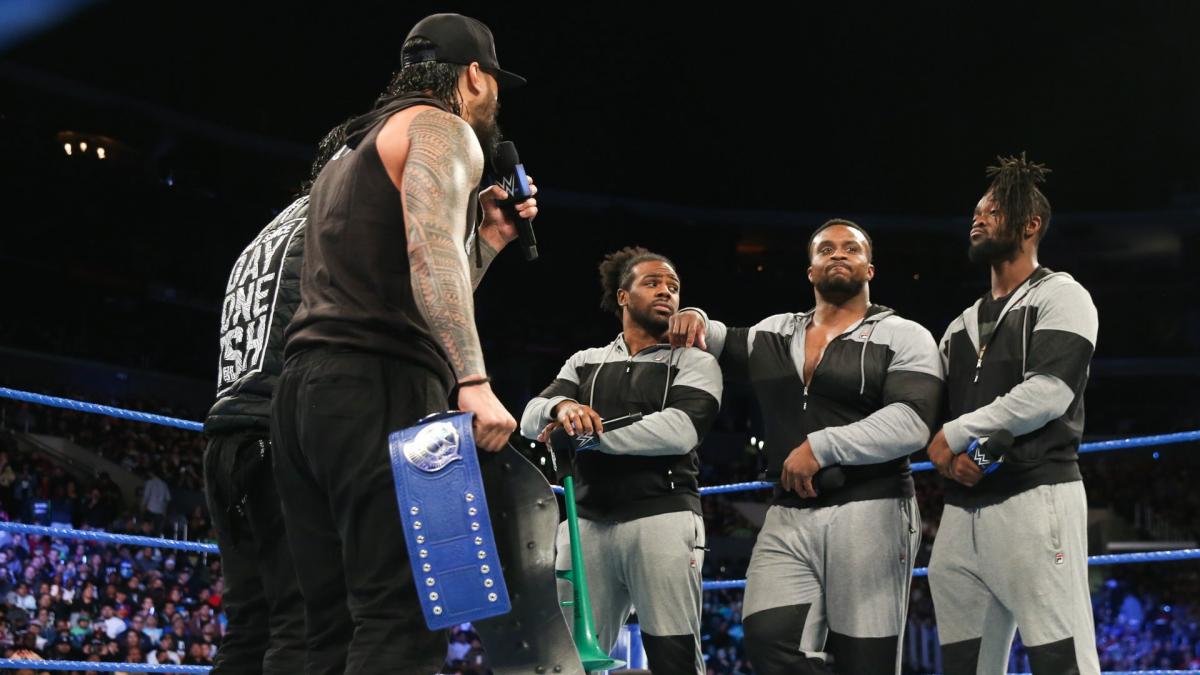 Cheap Shots are unfiltered, uncensored opinions, and those opinions reflect only the author!

"Mad Man" in my crop duster for an initial flight over SmackDown Live. Turbulence may be harder to avoid. I snuck some things on board to compensate. Wheels up, let's fly. SmackDown tends to feel more thrown together than Raw. Ten minutes in, here they go again. It's The City of Angels so WWE brought out the big guns, and Cena doesn't make a habit of lying. Big Match John comes out cutting a promo and looking for an opportunity to live up to his moniker once again at Mania.
There is a five-way championship match coming at Fast Lane. Naturally, Cena wanted in. Shane comes out. Says SmackDown is the land of opportunity. Daniel Bryan's music hits. The bearded one says passage into a big match required overcoming a big challenge. Bryan set the main event; another Styles/Cena showdown. This time Shane agreed with him. The hand-holding of these two impersonating a decades-long married couple would stop after the first match started.
The goofy Canadian tweener Sami Zayn took on the heel with no pulse, Baron Corbin. The goat allowed the obnoxious Canadian tweener, Kevin Owens to do commentary. Graves should take notes because KO is actually funny. Watching the match in back, the married couple started arguing over whether Owens would interfere. Corbin won when Dolph Ziggler did a run in from behind the announce table to Superkick Owens in the head. Zayn got distracted and took an End of Days from Corbin upon turning around. After getting the win, Corbin took A Zig Zag from Dolph. All parties in this match are scheduled to compete with AJ Styles in the main event at Fast Lane. After the match, Daniel passive-aggressively said Shane had everything under control and asked to go home. His request was granted. We'll see if this leads to more friction.
The women were spotlighted next. Mini flashback: The Scrimshaw Shadow began to flip the script on The Queen last week. Charlotte has been dealing with The Riott Squad for a while now. Her frustration led her to count Riott and her cohorts as victims on a hit list. The Squad Leader is the only one remaining on Charlotte's list. Unfortunately for Becky and Naomi, being Second Nature's backup comes with a price. Riott took The Lass Kicker out last week. The Glow Worm followed suit this week. Both ladies are squared up and ready for their high noon showdown for Gold at the PPV.
Breezango took us on a painful trip that was pure B movie. They are usually better than this, but it was so bad. The lead actor of USA's new series on the Biggie/Tupac murders was involved. WWE's Big E nor The New Day could save the segment. The level of seriousness went from 0 to 5 when The New Day cut an in-ring promo rehashing their rivalry with The Usos. Intensity increased to an 8 when the Samoans responded with a face-to face rebuttal. Turn it up to 12 and rip the knob off…IT'S THE BLUDGEON BROTHERS! They slowly walked to the ring, hammers in hand and switched places with both of the teams they were looking at. Didn't need to say a DAMN thing. Give The WWE Universe the triple-threat match already!
The next few segments ran together. Rusev Day was pestering Shane because they hadn't been on TV in two weeks. Their efforts earned Aiden English a match with Shinsuke Nakamura. Dolph cut a brightly colored promo. Then Bobby Roode cut a backstage promo questioning Randy Orton's problem with him. Was it the contrived SmackDown Live Top 10 List? The Viper was quick to clarify by interrupting. The United States Championship was the only Gold he hadn't held yet.
We all knew what would happen when The Songbird met The Artist. Still the match was solid and longer than expected. When the camera panned to Rusev, I couldn't help pining for the singles match between Nakamura and The Bulgarian Brute. We'll have to wait. Cena and Styles closed things out this week. It was a rock-solid match for current WWE. Intensity from both men. High spots and false finishes everywhere. Of course Cena won, making the main event at Fast Lane a Six Pack Challenge. The Mad Man thinks this was a good show. Many elements fell into storyline. I hope the flock enjoyed it. Join me soon for our next departure from fly over country!