How WWE Could Handle Shane McMahon At WrestleMania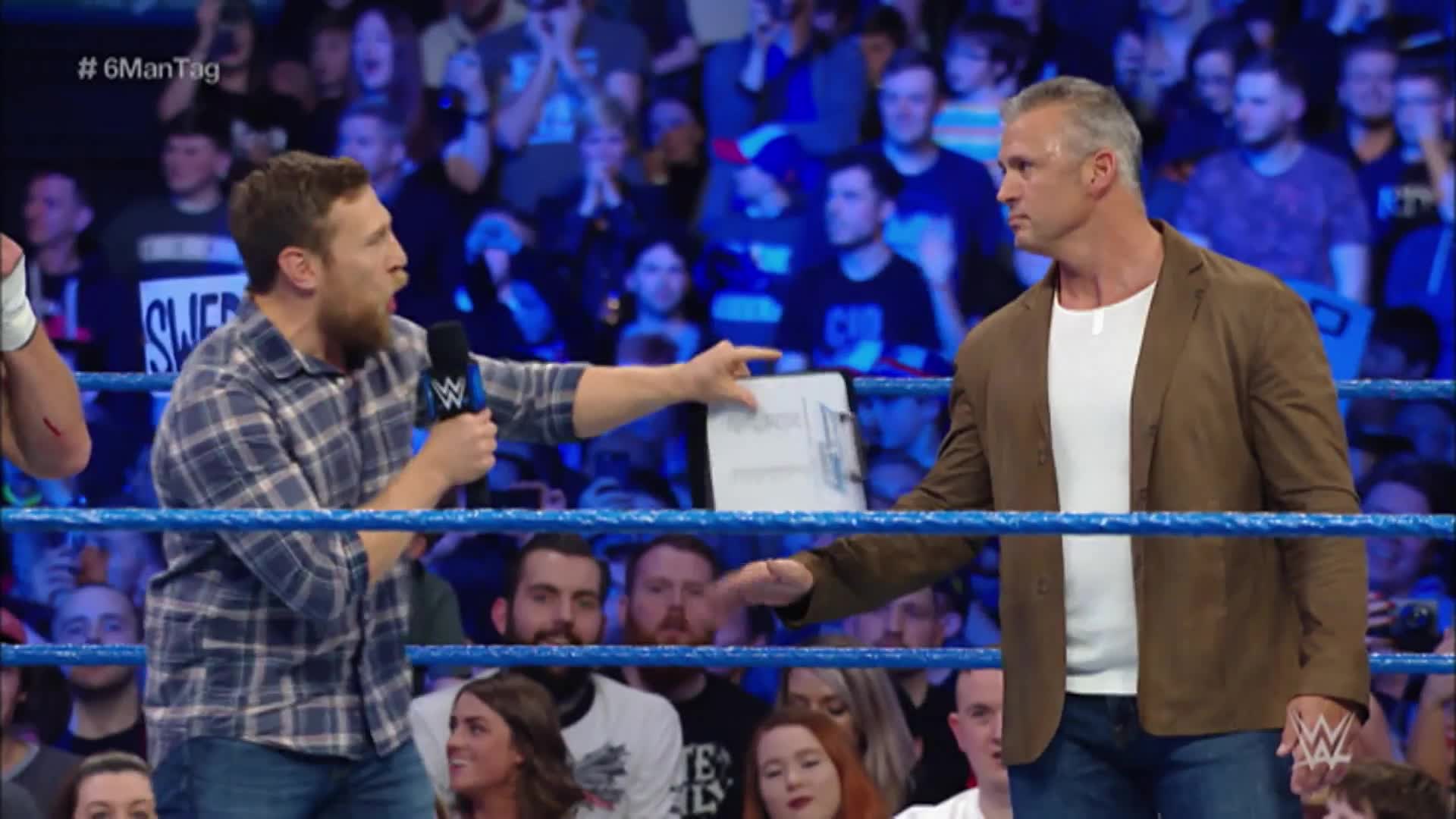 On Monday, it was announced that Shane McMahon had been hospitalized with acute diverticulitis and an umbilical hernia, he's going to be fine, but what if he still has to miss WrestleMania. This is a problem as he and Daniel Bryan were announced to take part in a tag match against Kevin Owens and Sami Zayn. This has been SDLive's big feud for months, so it is unlikely that WWE would scrap it now or make it a handicap match given that Bryan has JUST been cleared to wrestle. That leaves WWE with some interesting options to replace him. Several of these are ideas my buddy Ken came up with so credit to him for his brilliance.
Kane: Bryan and Kane's history goes back. They were tag team champions for several months between 2012/13 and, as Team Hell No, gave us some rather hilarious moments. They are also legitimate friends, Bryan has helped Kane in his bid to be Mayor. Kane also spoke on the WWE24 about Bryan's retirement in 2016. Even though Kane is part of RAW, him teaming up with his old tag partner is easy to picture
Dean Ambrose: This comes from information that came out earlier this week that Dean Ambrose's Sunday Morning Axxess had been changed to Sting and Ric Flair. The reason why that got people's attention is that typically, guys who do Axxess on WrestleMania morning are typically guys who aren't going to be wrestling that day. The fact that that information came out a few hours before the news of Shane's illness is a little too close to be coincidental. Ambrose also makes sense because he and Bryan are long-time friends and Ambrose has had issues with Owens on more than one occasion. Ambrose is currently on the RAW brand, but that could easily be put aside as him helping out an old friend.
Johnny Gargano: I'm not totally sold on this. The theory is that Gargano was just fired from NXT and would be a great asset to SmackDown Live. However, I'm not sure how that would translate into getting such a prime spot in the middle of a hot feud. However, the right storyline as to why he was brought in could cover that issue.
Neville: Neville's been off WWE television for the better part of a year and while there have been signs of reconciliation on both sides, nothing has been signed to bring him back to WWE TV. That said, it would be a great surprise to have Neville return this way.
Chris Jericho: This is a remote possibility, but a good one. Remote because Jericho's band, Fozzy, is scheduled to do a concert that day. Now, the concert could be cancelled or rescheduled to allow Jericho to perform, but no artist likes to cancel or reschedule a show and disappoint their fans. If Jericho was amenable to doing that, he'd be a great pick. His issues with Owens have been well-known and it would make a huge amount of sense of him to team up with Bryan.
NXT Guy: There are plenty of NXT guys that could get the nod, but much like Gargano, I'm not sure if any of them would work in this spot for kayfabe.
Rusev: This is another one I'm not quite sold on. It's true that Rusev has been underutilized in the eyes of many fans and his 'Rusev Day' is hugely over, but I'm not quite sure how they could come up with a credible story for Rusev to suddenly turn on fellow heels to help Bryan.
Shane McMahon: This thought is just for the possibility that the illness is a work to up the stakes of the tag match, much like 'firing' KO and Zayn last week. The illnesses are kind of odd ones to use for a storyline, but this is WWE. Maybe Shane turns out to be okay enough for the match.
John Cena: Yeah, I know, Cena's supposed to be working with the Undertaker, but so far the build for this dream match makes Cena look like an entitled brat bullying an old man to get his way. Scrapping the Taker match and putting Cena with Bryan makes a lot of sense: They're brother-in-laws, and Cena has had his issues with Kevin Owens. Plus, since Cena claims to be a company man, taking one for the team and doing a tag match instead of the Taker match makes sense.
Scrap The Match: Okay, before anyone breaks out the pitchforks, I'm not saying scrap the whole thing, but scrap the match and put Owens and Zayn in the Battle Royal with their jobs as the prize they're going for: Whoever lasts the longest gets their job back and keep the feud going somehow and either do it at Money in the Bank or hold it until SummerSlam, when Shane will be cleared.