Shane McMahon To Make WrestleMania Announcement Tonight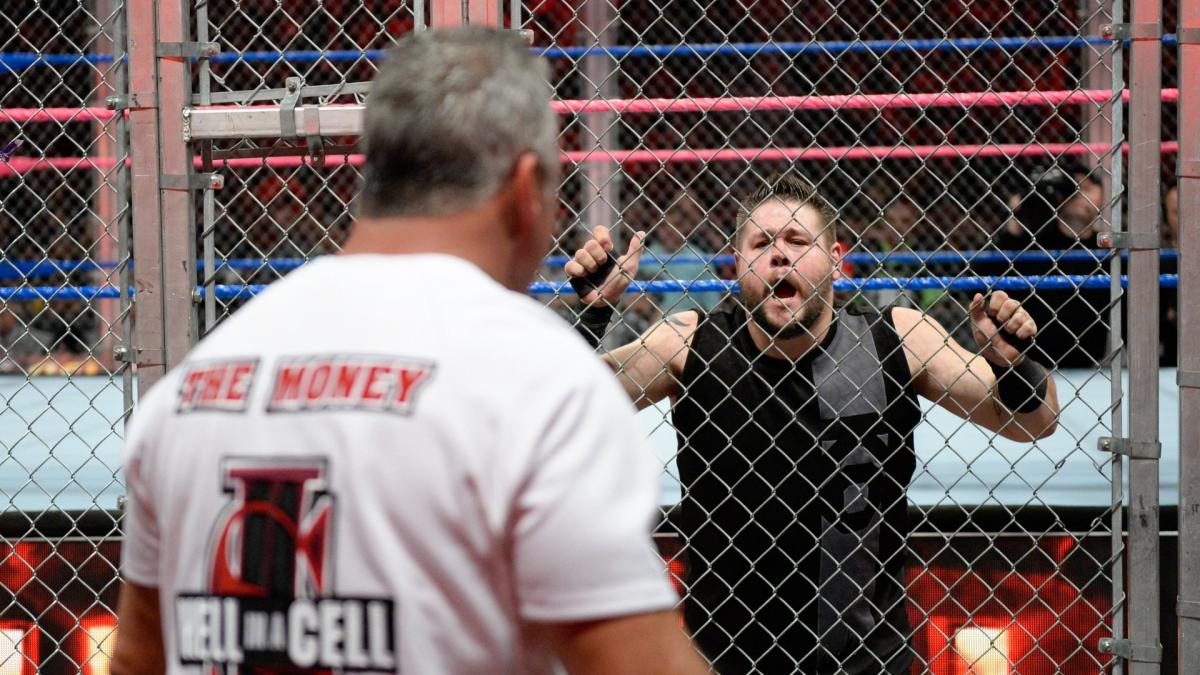 The Wrestling Observer is reporting:
My Thoughts:
I'm pretty sure the announcement tonight will be Shane vs. Owens and Zayn in some way. I believe we will see Shane and Ziggler team and take on Owens and Zayn. This allows Ziggler a big WrestleMania match, which he may have asked for in his new deal. Also as a caveat, I'm also predicting Daniel Bryan to be the special guest referee. This could allow Bryan to make his first physical moment at WrestleMania, making Smackdown two nights later must watch.
Please continue to follow us and share our articles. Checkout the podcasts and more. You can see all the latest content @theCHAIRSHOTcom. Follow @Awesomephinatic for news updates and fantastic opinion. Remember when it comes to rumors…. Always Use Your Head!
---
Always Use Your Head and visit the official Pro Wrestling Tees store for The Chairshot All t-shirt proceeds help support the advancement of your favorite hard-hitting wrestling website, The Chairshot!

---
Jordan Fox Blog: My Life in Wrestling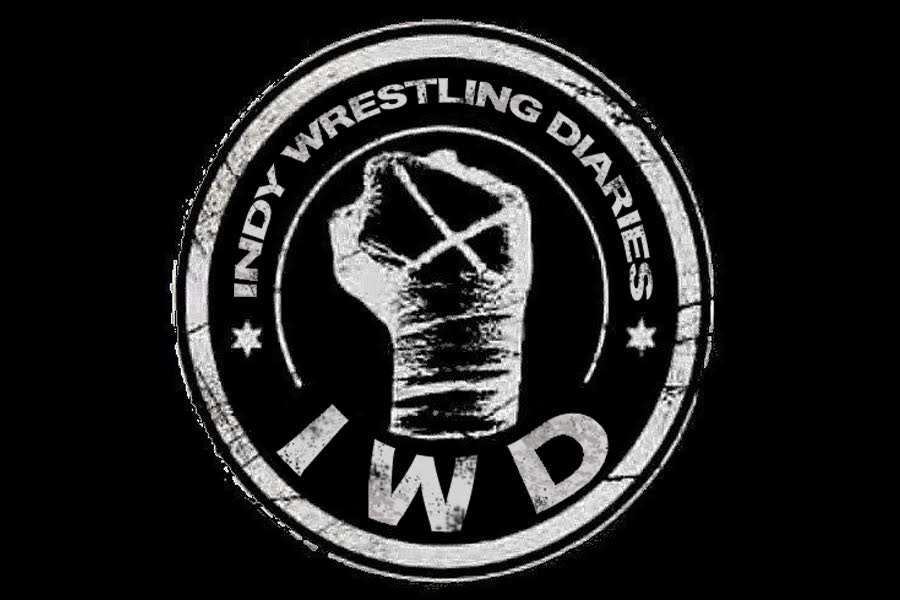 Wednesday August 15th, 2018
Quick shout out! Yesterday's episode of my show Indy Wrestling Radio has already gotten over 500 downloads!! So thank you to all the listeners!!
Disclaimer – Sometimes you might wonder what the point of the stories are… I'll be honest, sometimes there isn't going to be any meaning to what I'm blogging. I just simply want to share these really cool moments I get to experience. I get to experience these wonderful moments because I work in "The Business." I work in wrestling, that might not mean much to a non fan, but to wrestling fans, being a full time wrestling employee, like I am, is the Holy Grail.
I don't have a "shoot" job. The wrestling business is my job & this blog details the fun I experience in our wacky world of wrestling… ENJOY!
On Sunday I had my first show with Heroes of Wrestling which is based out of Royse City Texas, which is 30 miles outside of Dallas.
That sentence alone is incredible when all things are considered. I finally got clean & sober, 8 months now. My time in Iraq, time as a flight paramedic & 7 years as a fulltime firefighter have not been easy on the body or mind. I was been left with PTSD that was so crippling at times that I began to self medicate.
I know what people think about PTSD, they either think "I've seen dead bodies, what's the big deal?" or they'll feel so sorry for you that they won't take you seriously, you'll get the whole "Ahhhh, good for him." I hate that. The first one is the worst, the "I've seen dead bodies" one. I'm not discounting that you've seen some shit, I actually feel sorry for you, I don't wish that upon anyone but to think because you have seen screwed up shit & you don't have nightmares doesn't mean that I should be judged because I wake up terrified thinking I smell human flesh burning. I've seen so many things that I wish I hadn't, I couldn't begin to name them all, but the smell of human flesh burning is that one, that one thing above all else I would take away from my memory if given the chance.
Anyway, back to wrestling. I was, am still am, in a boot on my left foot because I rolled my ankle at the wrestling academy that I'm attending in Tulsa. Anyway, the show was absolutely great. I got to meet a ton of new guys & call their matches. It was a lot of fun, A life experience that every wrestling fan should experience.
The night started off with me getting ready in the locker room & as I was pulling my hair back, my friend & stablemate, Malico, came to me & said we need to shoot something short for our MadWorld web series we are developing. During the 30 second clip he called me by my character name for the first time, Sly. I was over the moon. Something I've worked so hard towards & dedicated so much time to felt like it was starting to come together at that moment. It couldn't of come at a better time either, with me being somewhat depressed that I can't train for a few more weeks because of my ankle.
I called my first "bull rope match" which featured Randy Wayne & Graham Bell. Holy shit these two guys are tough. That was a lot of fun. I had met both guys earlier in the evening & both were really cool to talk with. I was in a couple of group convo's with Randy & you can tell he knows a lot about the wrestling business so I hope to pick his brain more as I get to know him better. I didn't want to be the douche bag that asks him for advice on the first night lol.
Andy Dalton & Will Allday had a great match. I got to kinda shoot the shit with Andy for a little while but I didn't get to talk to Will a ton. My partner on commentary, Wil Rigdon said that he was from Booker T's school/promotion, Reality of Wrestling. It was obvious that wherever he was training, they are amazing because the guy was great. Both guys were. I actually watched a match of Andy's on Twitch randomly so it was cool meeting him.
Brock Baker, who had a very entertaining match with Chandler Hopkins that night as well, & Will Allday are in the middle of a feud & it was a lot of fun being on commentary as that unfolded. I wanna say that Rigdon said that Brock Baker is a Booker T guy as well.
I called a match that featured a former WORLD CHAMPION! The fan in me still can't believe that. The match was Tim Storm vs Bam Bam Malone. Bam Bam was a really cool dude, as was Brysin Scott who I got to kinda BS with for awhile. he had recently won a promotions title so I got to see his new hardware & pick his brain a bit.
AND, in a really cool moment, my good pal Malico faced off against Barrett Brown & it was great. Two world class athletes going head to head like that while I get to call the action from 12 feet away, it's indescribable. I met both guys on my first night in wrestling, so I love when I get the chance to work with either of them. I obviously don't get to work with Barrett as much but it's a blast when I do get to.
It was a ton of fun. I'm still a fan, even though I work in wrestling full time between commentary, TheChairshot.com & podcasting, I'm still a huge fan & anytime I have the opportunity to "suspend my disbelief" I'm going to take it.
These guys are stars & still on the rise, so go check them out on social media! Thanks to everyone for checking out this weeks blog entry!
Stay strong & Too Sweet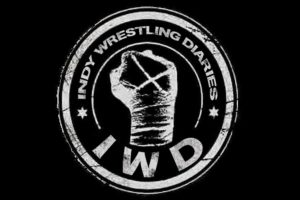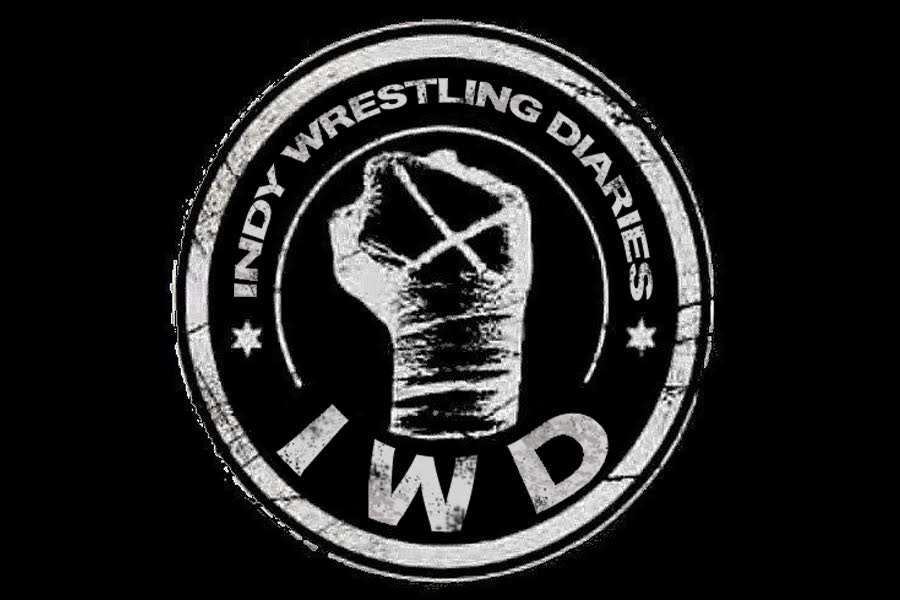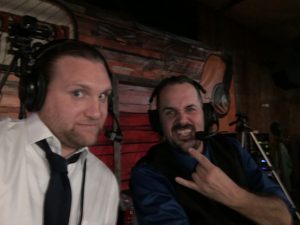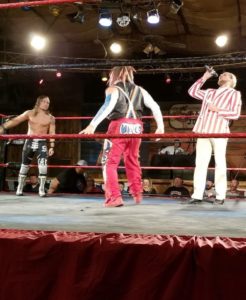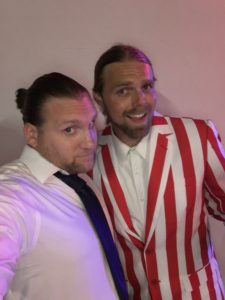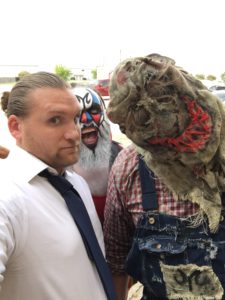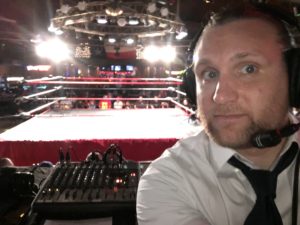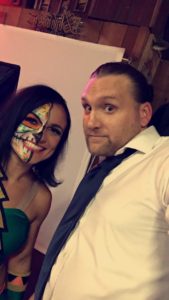 ---
Always Use Your Head and visit the official Pro Wrestling Tees store for The Chairshot All t-shirt proceeds help support the advancement of your favorite hard-hitting wrestling website, The Chairshot!

---
3000+ G1 Supercard Tickets On Stubhub: What Does it Mean?
Ring Of Honor and New Japan Pro Wrestling sold out Madison Square Garden with G1 Supercard, and the wrestling world doesn't really know what to think.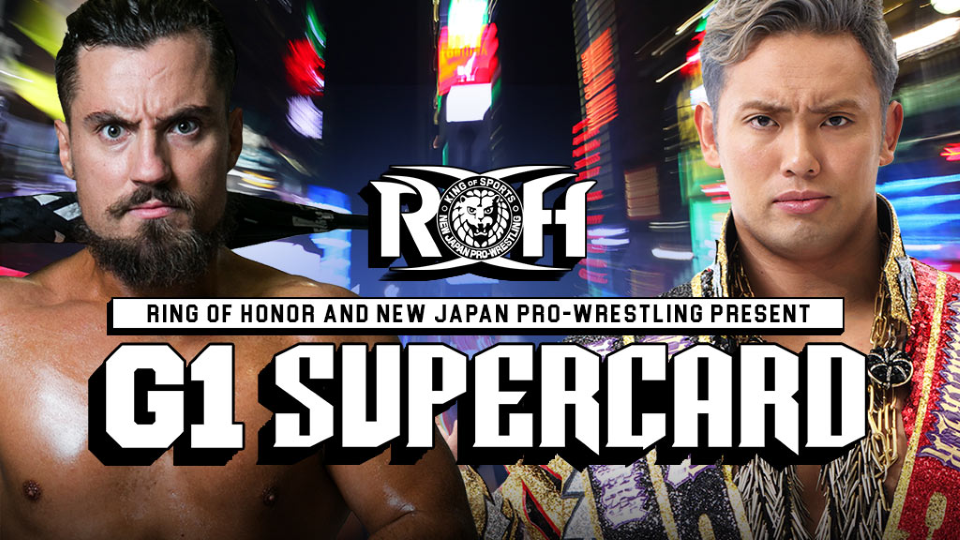 Ring Of Honor and New Japan Pro Wrestling are constantly in the news, but no topic has been more high profile for both groups than their attempts to run Madison Square Garden. First they were in, then they were out, then they were (finally) in again. All In, at that. (That's a pun.)
Then they went and sold the place out!
WE DID IT!!! I want to thank all involved in the G1 Supercard at MSG selling out today!! You know who you are!! @ringofhonor @njpwworld

— Cary Silkin (@rohcary) August 10, 2018
This is an amazing accomplishment for this partnership to come together and sell out the single building most closely linked to the ascension of the largest sports entertainment company in the world in WWE. It obviously wasn't easy. There were probably lawyers involved. But the world's most famous arena wanted to be a part of WrestleMania Weekend, and now it is.
Before we get into the secondary ticket market, realize one thing: Ring Of Honor and New Japan (which drew 43,000 to the Tokyo Dome for WrestleKingdom 12 in January) teamed up to compete with NXT.
It's something to be said that the number 2 and 3 wrestling organizations in the world have to team up just to compete with WWE's developmental brand. This is notable, but when one company does this on their own, then we have something to talk about

— Rey Ca$h (@itsreycash) August 11, 2018
But the bottom line is that ROH and NJPW sold Madison Square Garden out in 19 minutes. That's not 19 real minutes, mind you, because 10,000 tickets were sold in advance to those with the presale code via Honor Club (or found on Twitter). I would love to see the Honor Club numbers for August, as I have seen multiple posts on social media about people buying more than one Honor Club membership just to get these tickets. I don't know if they signed up for the monthly ($9.99), the annual ($99.99) or the VIP ($119.99), but's astounding business for Ring Of Honor if you ask me.
But let's look at the real matter at hand here…the secondary ticket market.
"Have fun buying those tickets at jacked up prices from secondary ticket resellers!"
This is a comment I have seen more than once since G1 Supercard sold out. And it's a sentiment that I totally understand. First thing I wanted to do was put some numbers to it: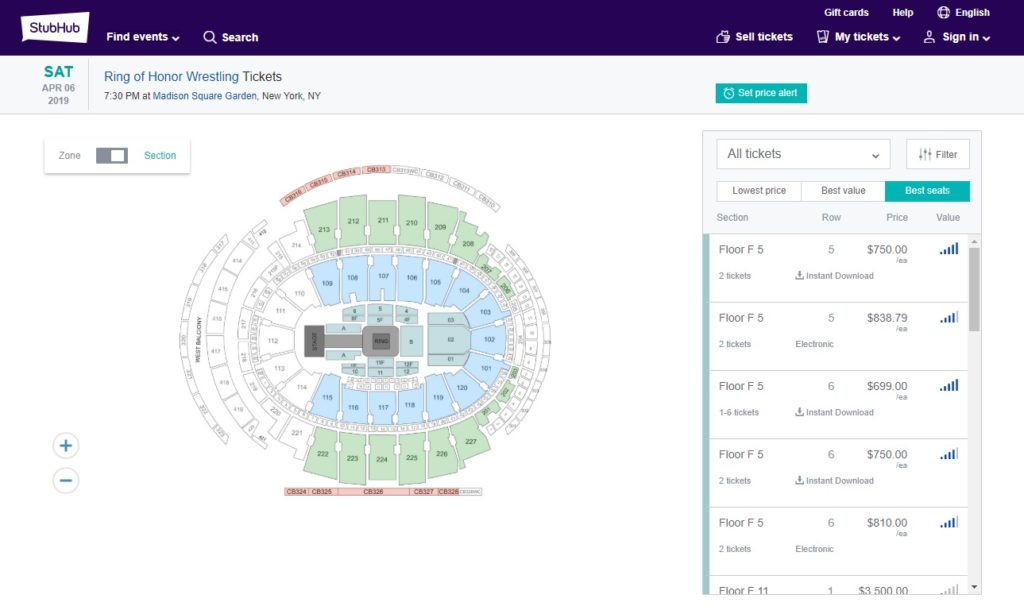 I went to StubHub, the largest and most prominent ticket reseller not named Ticketmaster, and did a little hand-count-research on G1 Supercard as of about 8:45 AM the morning of August 11 (pacific time), there are 3291 tickets available for this event. Tickets are available in every section of the building, at prices ranging from $3500 (good luck selling those) to $114 (those might move).
If the assumption that Madison Square Garden is configured for 19,000 fans for G1 Supercard (allegedly expanding to 21,000 between now and bell-time), that means 17.32% of the tickets sold are currently available on the secondary market.
17% seems like a high number, right? Well it's about to seem bigger when you consider that the same hand-count-research, at the same time, tells me that 548 tickets are available on StubHub for ALL IN. This represents 5.48% of the assumed 10,000 seats sold.
But ALL IN is less than a month away, and isn't part of WrestleMania Weekend. And it's not at Madison Square Garden. (But it IS a Ring Of Honor event, don't let yourself be fooled!)
Who else is hit by the secondary market?
I went in and checked SummerSlam as well (this is a little more difficult due to the ticket packages), but there are 2871 tickets available, and the 2017 edition of SummerSlam has a reported attendance of 16,128. That's 17.8% of the SummerSlam tickets available for SummerSlam, and at the time of this writing, that event is 8-days away.
Side note: Based on tickets already sold for G1 Supercard and the available seating configurations of both Madison Square Garden and The Barclays Center, ROH/NJPW are guaranteed to outdraw WWE NXT. At least in terms of people, but probably in gross ticket sale revenue as well.
Something else to keep in mind is why tickets are even listed on the secondary market. There are types of sales on the secondary market:
Ticket resellers who buy tickets with the sole purpose of reselling them online
Individuals who buy tickets with the hopeful intention of selling them online but will otherwise likely attend
Individuals who buy tickets with the full intention of attending the event, but would be willing to skip it if it means making a substantial profit
Individuals who bought tickets with no intention of ever selling them, but ended up needing to sell them due to not being able to attend or having a financial need arise
Earlier I mentioned that StubHub is the most prominent ticket resale site not named Ticketmaster. Ticket scalping, legal or otherwise depending on your location, has been a very real thing far longer than most of us have been alive. Much like professional sports leagues getting into the gambling market, Ticketmaster has long taken the "If you can't beat 'em, join 'em!" stance on scalping.
They've made a legal platform for you to sell tickets you own, and do so on the Ticketmaster website. They even take care of the distribution of your personal sale! What's more, you can sell your tickets in the very same spot Ticketmaster is selling them for the same even, oftentimes to a buyer who might not even realize they are buying a resale ticket. I've used this service myself to secure multiple event tickets, and I've always done so at a great price. But it's a thing, and can't be ignored.
It also confused the hell out of some people buying G1 Supercard tickets:
Did anyone come across this during @ringofhonor's #G1Supercard pre-sale? pic.twitter.com/2eut6EN67P

— HOOD NAITO 🧐 (@morishima_youth) August 8, 2018
But what does it all mean, man?
It's really easy to try to rob Ring Of Honor and New Japan of the credit they deserve for selling out Madison Square Garden. G1 Supercard sold out MSG, a historic venue forever associated with WWE in the eyes of most wrestling fans. They sold 19,000 tickets with barely anything announced. This is right in the face of the fact that Cody Rhodes, The Young Bucks, and Kenny Omega could work for WWE by the time April 6, 2019 rolls around.
At least 17% of those tickets are being sold on the secondary market, most of them (but not all) probably purchased with the intent to do so. This same thing happens to WWE, UFC, NFL, and every other major entertainment outlet in the United States. For Ring Of Honor (and New Japan) to be included in that category is NOTHING but a compliment.
But it also speaks to the power of WrestleMania Weekend, which was built of course, by WWE. I was asked to provide a quote for someone today, and here's what they got:
"On average I'd say the biggest financial opportunity for the biggest companies exists on WrestleMania Weekend."
The criticism of Ring Of Honor (most people don't lump New Japan in with this one) only selling this out due to it being WrestleMania Weekend is just silly. ROH wouldn't try to run Madison Square Garden on a regular basis, hell WWE doesn't even sell 19,000 tickets that many times per year.
What this truly means is that Ring Of Honor is a sustainable business entity in the world of professional wrestling. They can manage the ups and downs of a yearly cycle, can capitalize on opportunity (like WrestleMania Weekend), and can draw eyeballs all around the world. They're often criticized because they made changes the product to appeal to a larger audience. Well guess what? That worked!
Ring Of Honor has outlasted WCW, outlasted ECW, and outlasted so many other wrestling promotions that shot for the moon and missed. They've grown, they've shrunk, they've changed, and they've evolved.
But they're still here, and they still keep achieving more and more each year. G1 Supercard is the latest (and biggest) achievement on that list.
---
Always Use Your Head and visit the official Pro Wrestling Tees store for The Chairshot All t-shirt proceeds help support the advancement of your favorite hard-hitting wrestling website, The Chairshot!

---
Snapped: Bayley's Surprise Ambush Rekindles Historic Rivalry
When one thinks of Bayley, we think of the smiling, lovable, girl next door who rose to prominence on NXT just a few short years ago.  Fast forward to her time on Raw, the former Raw Women's Champion had her share of mishaps and subsided booking.  Until recently, she had her best friend Sasha Banks by her side since her surprise debut two years ago as her mystery partner at WWE Battleground.  But on Monday, oh how the tables have turned.
After months and months of agonizing tension and slow burn, the divide between both women has been established for the main roster.  In an absolute "WOW" moment, Bayley attacked  Banks after their loss to the Riott Squad.  A new side of Bayley was introduced as she mercilessly beat and threw Banks around like a rag doll.  If anyone is familiar with their feud in NXT, there was no doubt that it would carry over onto WWE in time.  Teasing and rumors aside, it very well looks like that the time is now to revisit what is the historic Sasha Banks vs. Bayley.
The surprise factor was present on Monday, and fans reciprocated the notion.  I am willing to bet that hardly anyone suspected Bayley to be the one to ambush Banks on this past Raw.  Matter of fact, I don't think many thought Bayley had it in her to carry out such an attack.  I immediately think of last year's Extreme Rules where Bayley was unable to tap into that dark side, resulting in her loss to Alexa Bliss.  If we would have seen that Bayley in the Kendo Stick on a Pole match, the Goddess certainly wouldn't be on the pedestal that she is on currently.
The change for Bayley is certainly welcomed, and it brings intrigue and interest to the revisited feud with Banks.  A heel turn was necessary for this feud to happen once more, and for Bayley to be the one to do it was a smart move.  Bayley's character has been in purgatory for a while although there have been some glimmers of hope during the course of 2018.  Of course, Bayley's kid-friendly reputation has defined her character, but the saying 'the higher the risk, the greater the reward' applies here if the story is executed correctly.
This turn of events has me excited for next week.  Both women are scheduled for "counseling", which more than likely it will end up in pre-Fourth fireworks by the time the segment is over.  It's intriguing that while Bayley carried out the attack, it was Banks who has been subtly egging her on over time.  Either way, whatever happens between these two women in the coming weeks will be one of the stories at the forefront of the flagship show.  Especially with Extreme Rules, then SummerSlam around the corner gives them so much opportunity to take the feud to further heights.
Another thing that I thought about is the longevity factor. Think of  Trish Stratus and Lita; their feud is no doubt one of the greatest female feuds in WWE history.  Their feud lasted during the course of six years; with both women flipping the script between babyface and heel is one of the reasons why their feud was so successful.  There are some overlying factors with Bayley and Banks, and while both feuds are historic in their own rights, there is definitely more to accomplish with this feud in 2018.  With Hell in a Cell in September – after SummerSlam – the potential of the two women battling it out inside the cell is there 100%.  I'm all over that if it comes to that point.
Sasha Banks and Bayley created history in NXT with the first Women's Ironman match followed with main eventing the next Takeover event.  Their match at Takeover:  Brooklyn is easily one of my favorite matches of all time.  And it's so ironic how this rekindled feud is happening close to SummerSlam time – there's so many factors that can make this next chapter of Banks and Bayley something more special now that the feud is definitely on for the main roster.  After Monday's ruthless attack from Bayley, it's indeed a hot start to the summer and something more.
---
Always Use Your Head and visit the official Pro Wrestling Tees store for The Chairshot All t-shirt proceeds help support the advancement of your favorite hard-hitting wrestling website, The Chairshot!

---