Top 5 Most Emotional WrestleMania Moments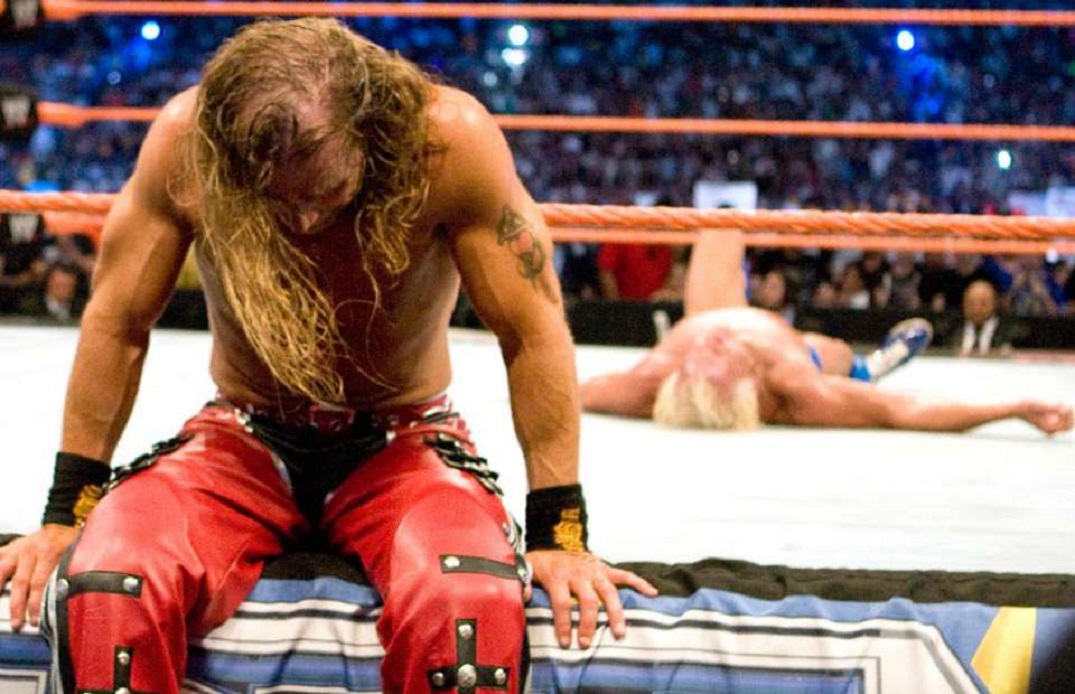 It's WrestleMania season. To wrestling fans this is our Christmas, the one weekend of the year when the biggest, brightest and best stars in the professional wrestling industry gather together to put on a plethora of shows over one action-packed weekend. WrestleMania weekends are packed with a blend of the stars of today, the ones carrying the business into the future, and the stars of past, who grace us to mix the present day with nostalgia to give us that bittersweet sensation we so rarely feel. While we do have a variety of shows on offer, none of them come close to ''The Granddaddy of them All''.
But what it is it that makes WrestleMania so special? The bright lights? The humongous stage? The arena being packed with over 70,000 rabid fans every year? The returns of some familiar faces? The rise of new ones? Or maybe because it's the one time of year that we as fans, as lovers of professional wrestling place aside our biases and general preferences, to watch one event so large and significant within the world of Sports-Entertainment that we all bask in the excitement in-front of us.
Since my very first WrestleMania in 2007, all the way until April 8th of this year, I have been delighted in sitting through some of the finest moments in the history of professional wrestling, moments that reminded me just why I love this form of entertainment in the manner I do, and with that has come a train of different emotions. From happiness, to sadness and even to moments that result in buckets of tears, it is those moments that stand out as the best.
Today we're going to look at the 5 Most Emotional Moments in the History of WrestleMania.
1. Daniel Bryan wins the WWE Championship (WrestleMania 30; April 6, 2014)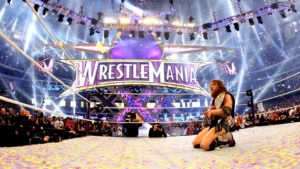 A lot of people are critical of Michael Cole as the lead WWE commentator, feeling he's either bland, continuously incorrect or just spouts far too much generic dialogue. I for one, bow to him on this night. His line of; ''A miracle on Bourbon Street!'', is one of the finest calls in the history of the WWE. Daniels Bryan's road to the WWE Championship at WrestleMania XXX was paved with controversy. A string of matches with Randy Orton, getting pulled out of the title picture entirety and the mess that was the 2014 Royal Rumble, fans hadn't been this rabid over a superstar in a very long time.
Despite numerous attempts to shove what we perceive as their 'Corporate Image' down our throats, fans refused WWE's attempts at implementing stars like Randy Orton & Batista, and had made up their mind, Daniel Bryan was the next big thing.
Having already gone to war, and successfully defeating Triple H earlier in the evening, Bryan had been victim to a lot of punishment, and having him step into a ring with both Randy Orton & Batista seemed almost criminal. The fans at this point were already depleted, from one particular moment earlier in the show and were begging for something to life their spirits.
In a grueling match, everyone's valiant underdog constantly came back into the fight despite being knocked down more times than I can count. It's the end of the match however that sparked an eruption that few can garner in today's wrestling word.
Following his execution of the 'YES Lock', Daniel Bryan made Batista tap out in the middle of the ring to an explosion of fans embracing and celebrating their chosen underdog finally climbing to the top of the WWE mountain without any controversial external factors. His initial WWE Championship reign may have been short lived, and fairly tragic, but the memory of this moment will live on forever and constantly show us the power of the WWE fans.
2. Hulk Hogan slams Andre The Giant (WrestleMania III: March 29, 1987)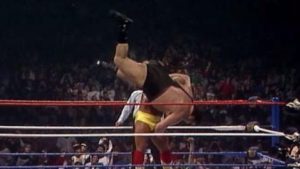 While this view is certainly up to debate & personal preference, I'm a firm believer that Hulk Hogan slamming Andre The Giant at Wrestlemania III is the most iconic, game-changing moment in the history of professional wrestling.
During the 1970's and 1980's WWE (then WWF), was regarded to most familiar with it as the 'Land of the Giants'. This was a place where athletes almost literally larger than life dominated the main card of every event, towering over their opponents like behemoths and dominating the field with absolute ease. There is perhaps no example more intimidating, jaw-dropping and iconic as Andre The Giant, a name that still runs through the annals of the business to this very day. Not only was this man the pinnacle of a 'giant', but, WrestleMania III at the Pontiac Silverdome might not be the best show in terms of wrestling quality, but it could very well be seen as the event that truly launched WrestleMania into the stratosphere it is today. The show boasted a main event that would take place in-front of the largest audience in the business to that point, a colossal 93,000 fans all of whom paid their ticket to see Andre The Giant take on his biggest challenge to date, Hulk Hogan. Hogan to many would be the latest victim in an undefeated streak that had spanned close to 15 years, but many had confidence that the one man capable of stopping him had come along.
The match itself isn't what most remember about this particular moment in time, but that one moved that changed everything. Hulk Hogan, mid-match, managed to muster all of his strength and pick up the 7-foot-3 Andre The Giant and slam him right back down onto the mat. Performing a move this basic, may seem like an odd choice to most wrestling fans these days, but it was the context of what this symbolized; the first man to ever defeat Andre himself, and the first man to ever successfully slam him over his 15-year undefeated streak.
It is moments like this that remind me of just how good professional wrestling can be when a long-term story is implemented. Memories such as these only come along once in a generation, and the fact that this moment is still discussed in professional wrestling fanbases all over the world.
3. The Rock vs 'Hollywood' Hulk Hogan (WrestleMania X-8: March 17, 2002)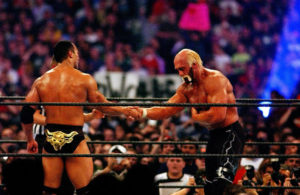 To quote the legendary Jim Ross; ''This is a WrestleMania Moment''.
The WWE buy out of WCW/ECW in early 2001 left many fans excited, the biggest stars of the brand would be crossing over into the dominant territory to wage war on a whole new playing field. As it turned out, many of us were left disappointed. Some of the biggest names (i.e. Hulk Hogan, Kevin Nash, Goldberg, Scott Hall, Sting, etc.) had all signed pre-set contracts and were not contractually obligated to work under any circumstances. This left much of 2001 fairly empty in terms of major league star power.
In 2002 however, the WWE decided to reunite the NWO under their own roof, in an attempt to bring the nostalgia of WCW over to post-Monday Night War fanbase who had been clenching for some new faces. The revival itself was fairly substandard and did little to mimic the success the faction has in their earlier days, but one positive that came out of this was this historic evening in Toronto.
I list this entire match and not one particular moment because of the impact that every single second had on us as fans. This match wasn't just a dream match, it was everything the WWE vs WCW/ECW invasion should have been, a battle of past vs present and representation of everything that made this sport so grand over the last decade.
In terms of action the style was simple, but straight to the point and did everything it intended to. The purpose of this was never to be a mat-classic, but just see the two hottest stars at the time landed their signature moves one after the other. WWE did attempt to replicate similar success with Cena vs Rock a decade later, and while the buyrate may have been higher, this is one of those moments that has withstood the test of time and will forever be remember as the ultimate dream match of this generation.
4. Ric Flair says goodbye to the WWE (WrestleMania XXIV: March 30, 2008)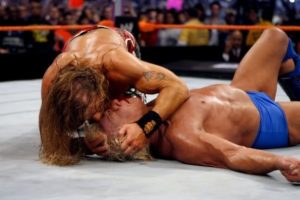 Saying goodbye to our favourite superstars over the years is something we as fans always struggle to accept. From the likes of Edge, Shawn Michaels, Steve Austin & Daniel Bryan, we always live in the moment and hold the belief that these athletes are truly invincible despite the abuse they put themselves through.
At the time, Ric Flair had been in the wrestling business for close to 40 years, a career that is filled with so many memories I would need an entire other essay to discuss on its own. The end of 2007 marked the first time that fans had a reality check, the thought of Ric Flair never entering a WWE ring again was officially a possibility.
Despite overcoming a plethora of obstacles, from the likes of MVP, Mr.Kennedy, Triple H, Edge, Umaga & even Mr.McMahon himself, but no obstacle had fans as intrigued as his match with Shawn Michaels. The build to this match was equally as excellent as what we got on display in Orlando, as the use of 'Old Yeller' added a range of emotions that is rarely seen in this sport, or any for that matter.
The match itself was a masterpiece. Despite his old age Ric Flair held his own with the best singles performer in WrestleMania history, constantly using the tactics that made him so famous to try and outsmart the 'Heartbreak Kid'. It is the ending of the match however that will stick with me forever, HBK putting the stamp on Ric Flairs career with those faithful words; ''I'm sorry, I love you''.
We saw the end of the career of one of the best to ever lace up a pair of boots on this evening, a record-setting former champion who forever changed the game of professional wrestling. If there is ever a way a wrestler wants to go out, it would be like this, on the highest note possible in a moment that would bring a tear to the eye of any fan.
5. Brock Lesnar breaks The Undertaker's Streak (Wrestlemania XXX: April 6, 2014)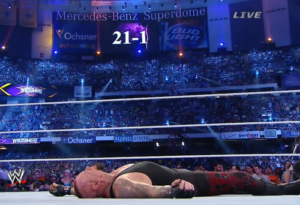 The image above is to many, the most horrifying, emotional but telling image that could ever be capture on camera.
Wrestlemania & The Undertaker go hand-in-hand, both the event and the man made the other. If it wasn't for The Undertaker, the hype and build towards any event under this chronology would be substantially less than when we know 'The Deadman' was coming back to claim his latest victim.
In no way is this intended to favour the number of '21-1' over the feat that Brock Lesnar accomplished at WrestleMania XXX, because even the harshest of critics can admit how surreal of a moment this was, regardless of where you were. Brock Lesnar having his hand raised at the end of this match was something that no living wrestling fan saw coming, it was the end of an era, and for many of us the destruction of our childhood.
The Undertaker's streak played a big role in moulding many of us, myself included, into fans, with countless classic matches that will span across decades with their unbelievable quality. His match against Brock Lesnar was by no means the finest he has ever put on, if anything this was on the weaker end of his WrestleMania performances, but this was without question the most impactful.
Seeing the eyes, jaws and faces of over 70,000 fans in absolute disbelief, shock and just pitch silence is an image that sticks with everyone. It was one of the few times wrestling fans had no genuine reaction to what had just played out in front of them, many believed the match would restart and waited patiently, while others burst into tears as arguably the most popular WWE superstar of all time collapsed on the stage that he used to own.
This may sound like a heartbreak & horrifying moment, but it is one that reminds me just how phenomenal of a stage WrestleMania could be, and on no other night would anything of this magnitude have made this much of an impact. In my humble opinion, this is the greatest WrestleMania moment of all time.
King's WrestleMania Rewind: Charlotte Flair vs. Asuka from WrestleMania 34
Chris king is back with one of the most underrated matches in WrestleMania history–Charlotte Flair vs. Asuka!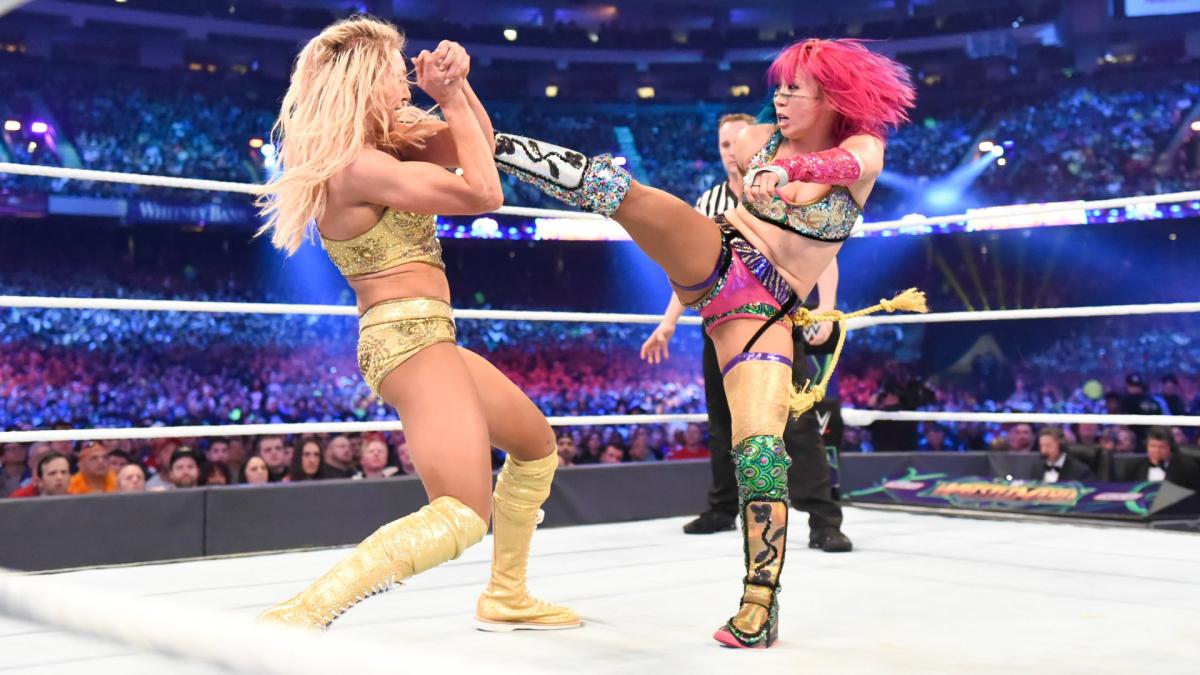 Chris king is back with one of the most underrated matches in WrestleMania history–Charlotte Flair vs. Asuka!
We look back at Charlotte Flair vs. Asuka at WWE WrestleMania 34. 'The Empress of Tomorrow' put her unprecedented and historic undefeated streak of 914 days on the line against 'The Queen's' SmackDown Women's Championship.
For years, this was considered a dream match while Asuka dominated the roster in NXT, while Flair won numerous championships on the main roster on both Raw and SmackDown. The Empress made her long-awaited debut on the September 11th episode of Raw and began to tear through the competition.
Asuka outlasted all twenty-nine other women in the historic first-ever Women's Royal Rumble match to challenge for the title of her choosing. At Fastlane, she made her choice.
The WWE Universe was so excited for this match myself included. Both superstars delivered a fantastic performance on the Grandest Stage of Them All executing counter after counter. Asuka showed off some nasty-looking kicks to her opponent, and Flair hit a thunderous Spanish Fly off the top rope. Flair was seconds away from defeat at the hands of The Empress but she locked in Figure Eight and Asuka was forced to tap out.
I can't even begin to explain how shocked I was at this outcome, as nearly everyone expected The Empress to continue her undefeated streak and walk away with the women's title. This controversial decision was the downfall of Asuka's momentum. She would ultimately win the SmackDown Women's Championship at the 2018 TLC pay-per-view in the triple-threat ladder match.
Fast forward to this year when Asuka has recently returned with her Japanese-inspired persona Kana. Kana is dangerous and ruthless and is heading into a championship with Bianca Belair at WrestleMania 39. The Empress has regained all her momentum and is highly favored to walk away with the Raw Women's Championship. Let's hope that Asuka and Belair can tear the house down and deliver an A+ grade match both women are fully capable of.
King: Dominik Mysterio Needs To Do This At WrestleMania
Chris King is here with what WWE should do with Dominik Mysterio at WrestleMania in his long-awaited match against his father Rey Mysterio Jr.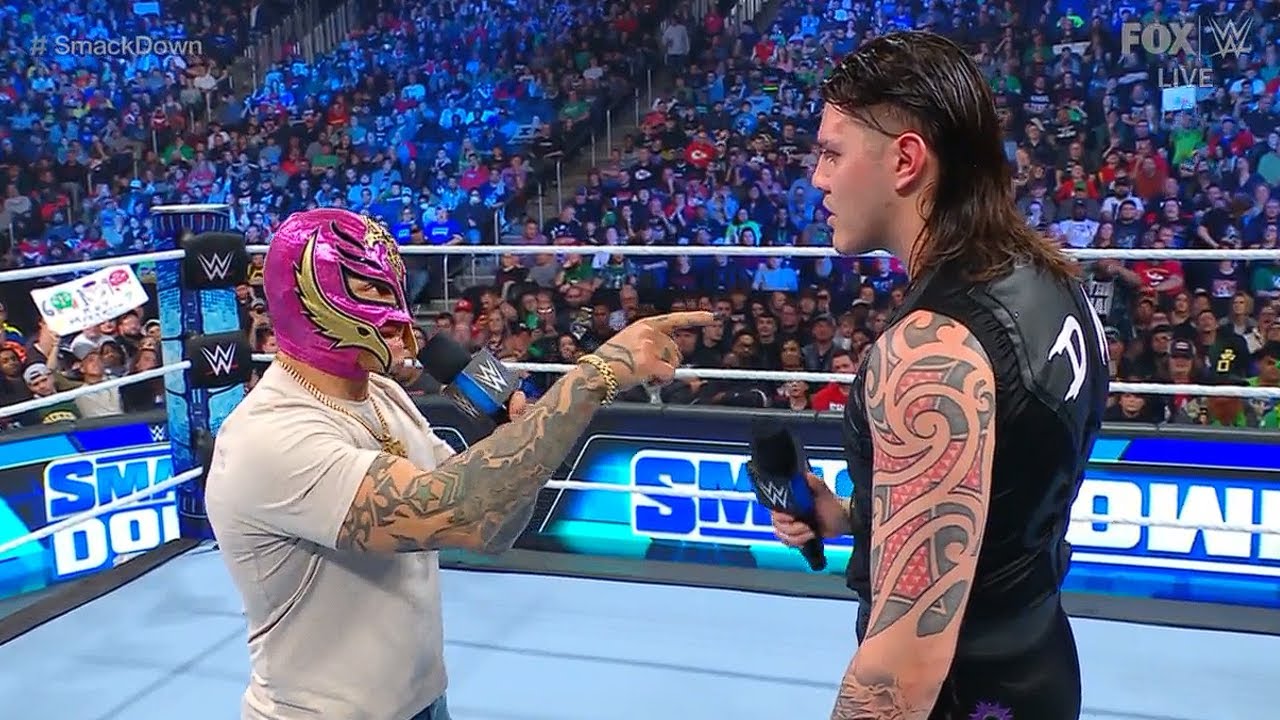 Chris King is here with what WWE should do with Dominik Mysterio at WrestleMania in his long-awaited match against his father Rey Mysterio Jr. 
On this week's episode of Friday Night SmackDown, Rey Mysterio finally snapped and beat some sense into his disrespectful punk-ass kid Dominik. The member of the Judgement Day came out to push his father again for a match on the Grandest Stage of Them All, this time with his mother and sister at ringside. The ungrateful punk told his mom to "Shut Up," as a father even I wanted to jump through the screen and whoop his ass.
Back in October of last year, Mysterio made the emotional decision to possibly quit the company but, instead, Triple H persuaded the Lucha libre superstar to move over to SmackDown to avoid his son. This came after Dominik shockingly turned on his father at Clash at the Castle. Mysterio did everything he could to refuse his despicable son's challenge for Mania but, a man can only be pushed so far. Mysterio will be inducted into the 2023 WWE Hall of Fame and I expect Dominik to embarrass his father during his speech to further this personal feud.
Yes, the WWE Universe hates Dominik and wants to see him get the ever-loving crap kicked out of him but, this feud is missing a special ingredient to capitalize on the biggest heat possible. Throughout this feud, Dominik has made mention of the legendary Eddie Guerrero on several occasions going back to the "iconic" 2005 feud.
I know WWE might not want to go this route but, Dominik MUST come out to Eddie Guerrero's theme at Mania. The disrespectful punk needs to come out in a lowrider to garner nuclear heat. It doesn't matter if The Judgement Day comes out and causes interference for Dominik to get the win, all that matters is that both superstars get the biggest payoff of this nearly year-long feud. Just imagine the Roman Reigns heat after he defeated The Undertaker and multiply that by ten. Dominik portrays the perfect heel and he truly is the missing ingredient that The Judgement Day needed to grow and evolve into a top faction.