What Will WWE Do With John Cena At WrestleMania?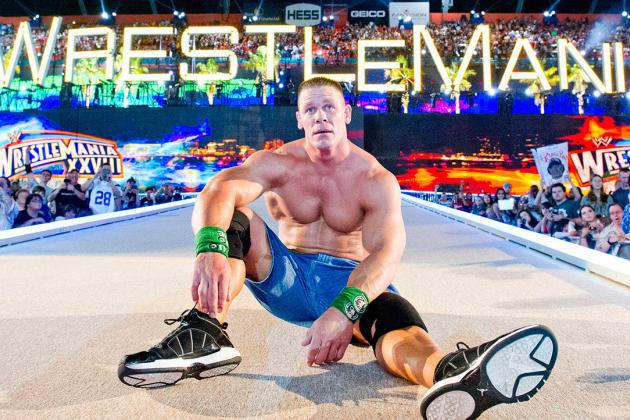 John Cena. One of the most divisive names in the history of WWE. Whether you love him or hate him, there is no denying the monumental impact he has had on the company and the loyalty he has shown throughout his 16 years in the business. He is still a huge draw capable of bringing in millions of casual viewers from all over the world and he has earned the respect of even the most Anti Cena member of the WWE Universe, myself included. But now we find ourselves in somewhat unfamiliar territory… it is less than 5 weeks until WrestleMania 34 and Super Cena still has no concrete plan set in place, with not even a sniff of a potential rivalry starting. Despite his inclusion in the main event at the final PPV on the road to WrestleMania, Smackdown Live's Fastlane, Big Match John finds himself with little direction and even less purpose. So, who could John take on at the Showcase of The Immortals? Let's take a look at some of the widely rumoured potential opponents, fantasy bookings and most likely superstars to go one on one with the face that used to run the place…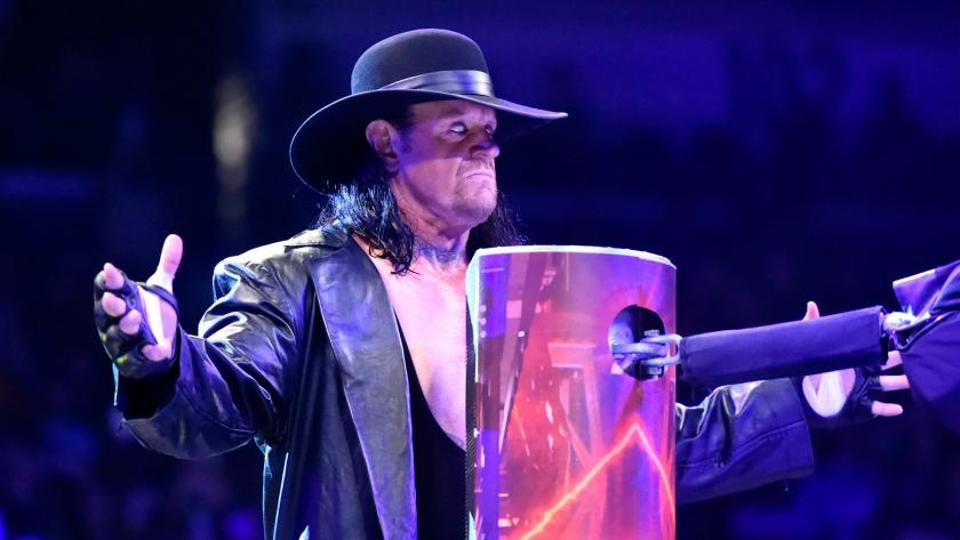 The Undertaker
The most obvious choice but also the one which brings the most uncertainty would be The Undertaker. Taker is arguably the greatest of all time in the majority of fans eyes, but his current status within the WWE is very much up in the air. He gave the strongest indication ever that he was finally hanging up his boots after defeat to Roman Reigns at last years event, and his rare out of character appearance on WWE 24 Orlando suggested he would be happy if that was his last appearance for the company… but if history has taught us one thing, you just never know when it comes to The Deadman. The good thing about this potential feud is that despite the age of both men, their long storied careers and part time schedule it would still feel fairly fresh – both men have managed to evade the attention of the other throughout the years, and it would be nice to see a completely new rivalry started even this late into their journeys. There could even be a little more weight added to proceedings by having both men claim to be the GOAT or the most influential to set foot in the ring, potentially even making this a career vs career contest.
The real sticking point with this one though is who do WWE give the win to? Neither man needs the victory at this point of their careers, and with no title up for grabs it becomes even harder to call. The Undertaker's WrestleMania streak is long gone, so a win does virtually nothing for him and wouldn't even help to make amends with the fans for the fact he has been toppled twice in his own back yard. Likewise, the loss doesn't damage him too much. The defeat to Brock Lesnar was one of the greatest shocks in WWE history, and the subsequent loss to Roman Reigns even more so as nobody expected another great big L to be added to the legendary tally… at this point a third loss would probably be expected and would struggle to raise many eyebrows. The problem is, the exact same points can be made for Cena. The 16 time world champion also doesn't need the win and doesn't suffer from the loss either, so I really am at a crossroad here. Taker wins, retires on a high, Cena bows out for a while after failing and makes sporadic The Rock style appearances. Cena wins, leaves for a while on the ultimate high, Taker retires once and for all, finally enters the Hall of Fame.
That is both the beauty and the beast of this match –Unpredictability. WWE fans love to be kept guessing so that we can strike up our own theories and fantasy book until we are blue in the face. The match also makes sense from a business standpoint. Two of the companies biggest and greatest stars facing eachother on the biggest night of the year can only mean one thing… $$$.
There is another reason however that this match should not take place. The Undertakers legacy is immense, there is no doubt about that, and he has had some outstanding matches along the way. His encounters with HHH and Shawn Michaels, both men losing to Taker on multiple occasions, were legendary and iconic despite The Deadman clearly lagging in the ring. Fast forward a few years to his matches against Brock Lesnar, Bray Wyatt, Shane McMahon and Roman Reigns… they were truly difficult to watch. A once awe inspiring, intimidating, dominating mountain of a man was made to look weak and past his prime, and there is only one sad, uncomfortable reason for that.. he IS past his prime. Nostalgia can be a wonderful thing creating true Mania moments, but when it is overdone you end up seeing your heroes embarrassed and looking like a shell of their former selves. Taker doesn't need this match, he doesn't need to return to WrestleMania or WWE in general for that matter. Which makes me all the more certain that this match will happen. If there is one thing WWE love to do more than anything else, its flog a dead horse.
However, Cena could be used for much bigger and better things, such as putting over the next big thing…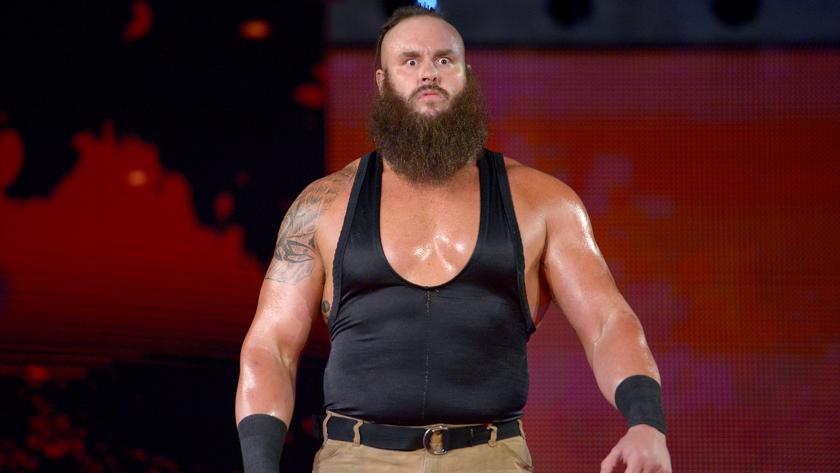 Braun Strowman
That next big thing comes in the shape of The Monster Among Men. There aren't many superstars who can claim to have had a better 2017 than Strowman despite him still not holding a major championship. He was a key component in the title scene at Summerslam, had the rivalry of the year with Roman Reigns, made Kane relevant again, repeatedly made Brock Lesnar his bitch, tipped over an ambulance and a semi truck, pulled down scaffolding with a grappling hook on top of Lesnar and Kane, went on multiple rampages destroying the arena and everyone in his path, developed his character beyond anyone's expectations, smashed a giant bass over Elias' back after singing a song to him, coined two of the best catchphrases in years (Get These Hands! & I'm Not Finished With You!) and even managed to bring out great performances and matches from Big Show. One of the most amazing things about Strowman is the ease with which he can switch between being a monster one week, a goofball the next and then back to being the monster again. It should also be noted that he isn't your typical giant by any means, he is lightning fast for someone of his size and regularly pulls off huge dropkicks and top rope moves. In two short years he has gone from being a lumbering mess with The Wyatt Family to being one of, if not the, best big guy in WWE history.
He now finds himself in a similar situation to Cena though. Strowman has done everything in his power to show he is worthy of opportunities, but despite being places into major feuds he keeps coming up short and now he finds himself with not a lot going on. The closest thing he has to a rivalry right now would be Elias, and as entertaining as it has been this doesn't do much for either man. They're both over in a huge way, but in a straight up contest there would only ever be one winner and this will only end up hurting Elias going forward. The great thing about having Cena take on Strowman is that we have witnessed Cena beat monsters and giants many times before, so it gives Strowman some genuine competition for once. We've seen Strowman take down some huge names over the last two years and seen WWE show huge faith in him, but a victory over Cena on the grandest stage of them all could push him to the moon and back.
This is another scenario which doesn't hurt Cena in the slightest. He wouldn't be losing to a flash in the pan superstar who will be forgotten about in a few months, he would be losing to a dominant killer who is destined to be the top guy at some point down the road. Plus there is no shame in losing to a man who can throw Lesnar around like a ragdoll. Cena has made it clear he is happy to help put over new talent, and after the impact Strowman has made, Cena could help propel him to stardom. Speaking of impact…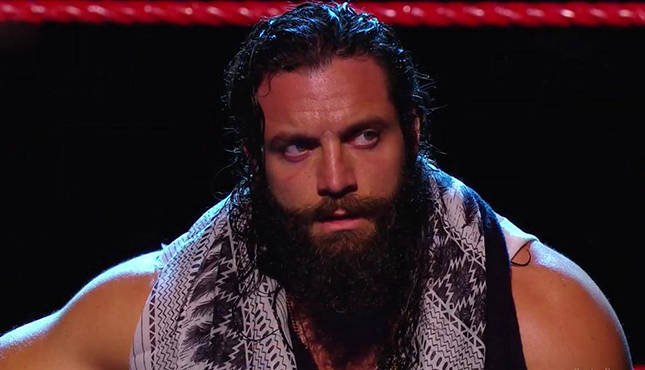 Elias
How about a guitar across the back for impact? Elias and Cena had the makings of a nice little rivalry starting back on Christmas Day last year when Elias attacked Mr Hustle Loyalty Respect with his trusty instrument (okay, okay settle down children). The rivalry had to be waylaid briefly while the Elimination Chamber main event scene was sorted out, but now would be the perfect time to rekindle the feud. Elias is another guy who has come a long way in a short time, just like Strowman, but needs one great rivalry to really put him over rather than the drips and drabs he has been feeding off. He has quickly gone from making a few mysterious backstage appearances, to an uninspiring feud with Jason Jordan (really WWE?) to putting on main event calibre matches with Reigns and Cena in which he was the main attraction and needed no carrying throughout the contests whatsoever.
Elias is all the way over right now in terms of his gimmick and in ring ability but is still some way off from being championship material. We've already seen great chemistry between the two men in their recent encounters, and a WrestleMania victory over a name like Cena could be the start of a long and prosperous career. Even if Elias was to win this matchup, I would definitely think about moving him over to SDLive where the roster is thin on the ground and needs another good heel. RAW is full to the brim around the Universal and Intercontinental Championship scenes, so potentially entering him in to the United States Championship scene with new opponents could help to keep him from going stale. Many would say Elias isn't established enough yet to defeat someone as prolific as Cena, but surely Fandango's WrestleMania victory over Chris Jericho was weirder? Speaking of weird decisions…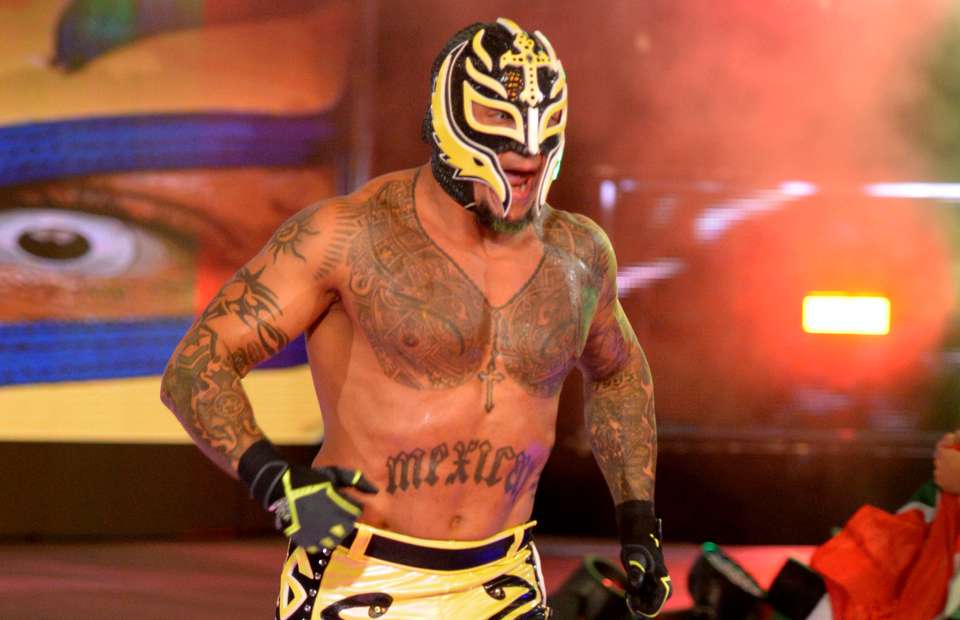 Rey Mysterio
Bizarre. The only word to describe it. Seeing Rey appear at the Royal Rumble this year was a fantastic moment and one which brought back some phenomenal memories. We've seen some brilliant, strange and unexpected returns throughout the years but its very rare they lead on to more than just a brief cameo. Recent rumours would suggest that Rey will be bucking that trend and returning to face Cena at Mania, which really raises just the one question… WHY!?
Rey returning would be cool don't get me wrong, he looked in amazing shape at the Rumble and showed he hasn't lost a step in the ring but it just doesn't make any sense when you consider where he is at in his career. He has continued to find success everywhere he has been since departing WWE, and is still booked as a major star in any promotion he sets foot in… at this point Rey doesn't need WWE. The one constant theme around WWE in recent years is fans complaining about part timers returning for a big pay day. We have a Universal Champion who appears 10 times a year, Cena off somewhere doing his best impression of The Rock, Jericho prioritising his music career… the only exception would be The Undertaker who has put in 30 years of his life and should be allowed to pop in to say hello whenever he feels like it. Rey has nothing to prove, nothing to gain, has options falling at his feet in terms of getting regular work elsewhere and unfortunately would more than likely be booed by a lot fans. WWE are turning us against our favourite superstars of the past by refusing to focus on the present and the future.
Please WWE. Stop. Just give it a rest. There's no need, it cheapens WrestleMania and doesn't make sense. While we are on the subject of things which make no sense…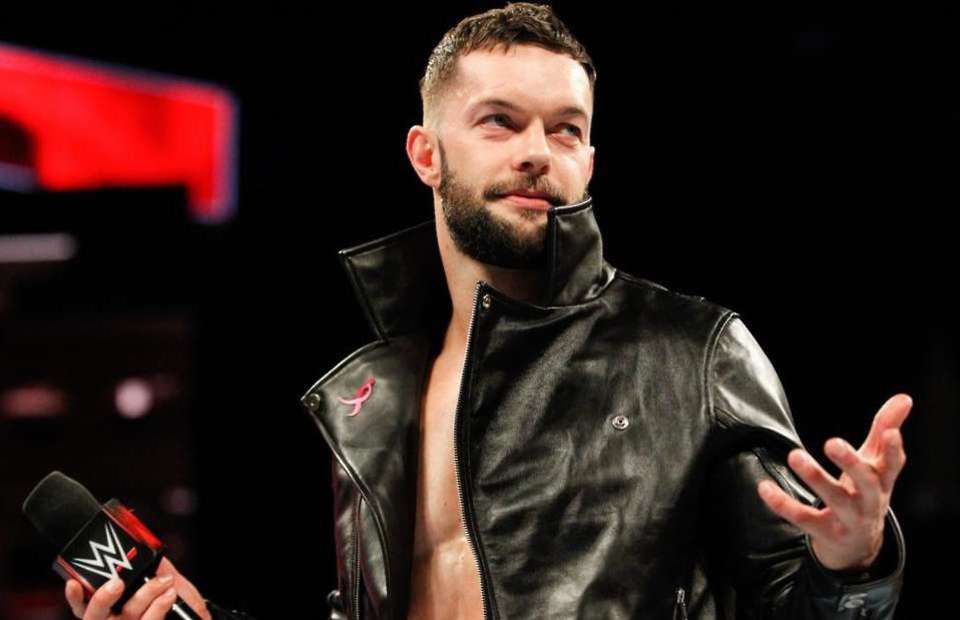 Finn Balor
Finn Balor's treatment throughout most of 2017 made absolutely no sense either. The first ever Universal Champion had a year to forget after returning from his long-term injury and has only recently found himself as part of WWE's major plans around the Intercontinental Championship heading into WrestleMania season. Only 4 short months ago, Finn was about to walk in to a comical farce of a match at TLC which would have seen him doing his very best Tony The Tiger impression while facing Bray Wyatt dressed in drag pretending to be his dead sister. Yep. That nearly happened.
Finn is undoubtedly one of the best wrestlers in the world right now, incredibly popular with the fans and is right up there with Strowman as one of the next big stars to carry WWE forward unto the future. It is strongly believed that some members of WWE management still don't view Balor as the future of the business due to various factors including his size, his injury record and lacklustre feuds up to now, but Cena's backstage influence and his relationship with the WWE's higher-ups could easily see these doubts set aside with one recommendation. This match would undoubtedly be a show stealer, Finn has always treated us to great matches and Cena has shown some of his best ever work over the last 12 months against the likes of AJ Styles. This could quite easily be Finn's best rivalry to date and be the making of him in WWE.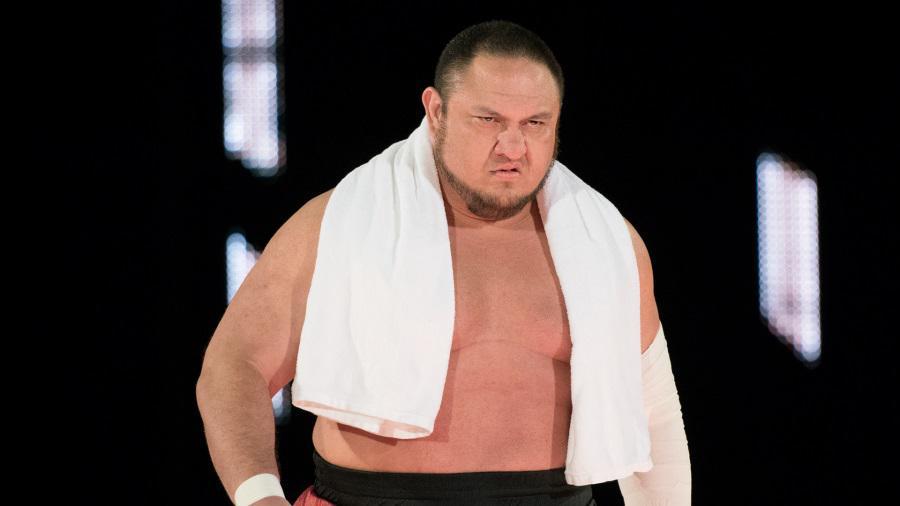 Samoa Joe
This. This is the one for me. Joe has been out injured for a short while and it couldn't have come at a worse time. He was an integral part of the Universal Championship scene leading into Summerslam, had a great rivalry with all three members of The Shield and had solidified himself as one of the best heels the company had to offer with his attack on Paul Heyman. Joe would certainly have made a major impact in the Royal Rumble and was nailed on for a huge push, but as much as his injury derailed his career slightly it could have been a blessing in disguise for the Samoan Submission Machine. A pissed off Joe could come back to RAW looking to make up for lost time, immediately starts taking people out left right and centre and then sends a challenge to the entire roster for WrestleMania. Who should answer? The leader of the Cenation of course.
Joe is absolute fire on the mic, bringing a level of intensity which you don't always get from the larger powerhouse superstars, and his potential promos with Cena have me foaming at the mouth. Their wrestling styles compliment eachother to perfection, they both have the advantage of many years of experience at the top level and despite their career trajectories taking very different paths they can both claim to be the top stars in their respective promotions which could be something to sink their teeth into during back and forth verbal sparring. With the correct booking behind it, this could prove to be Cena's greatest rivalry to date.
This could well prove to be the last WrestleMania for John Cena, so it needs to be a good one. Regardless of your views on WWE's poster boy, very few men or women have made an impact the size of his and he deserves one more great Mania moment to be remembered by. His most likely opponent? The Undertaker. The one I want to see? Samoa Joe.
John Cena's time is very nearly up… and his time to cement his legacy is certainly now.

---
Always Use Your Head and visit the official Pro Wrestling Tees store for The Chairshot All t-shirt proceeds help support the advancement of your favorite hard-hitting wrestling website, The Chairshot!

---
Top 5 Matches: Week Ending 9/23/2018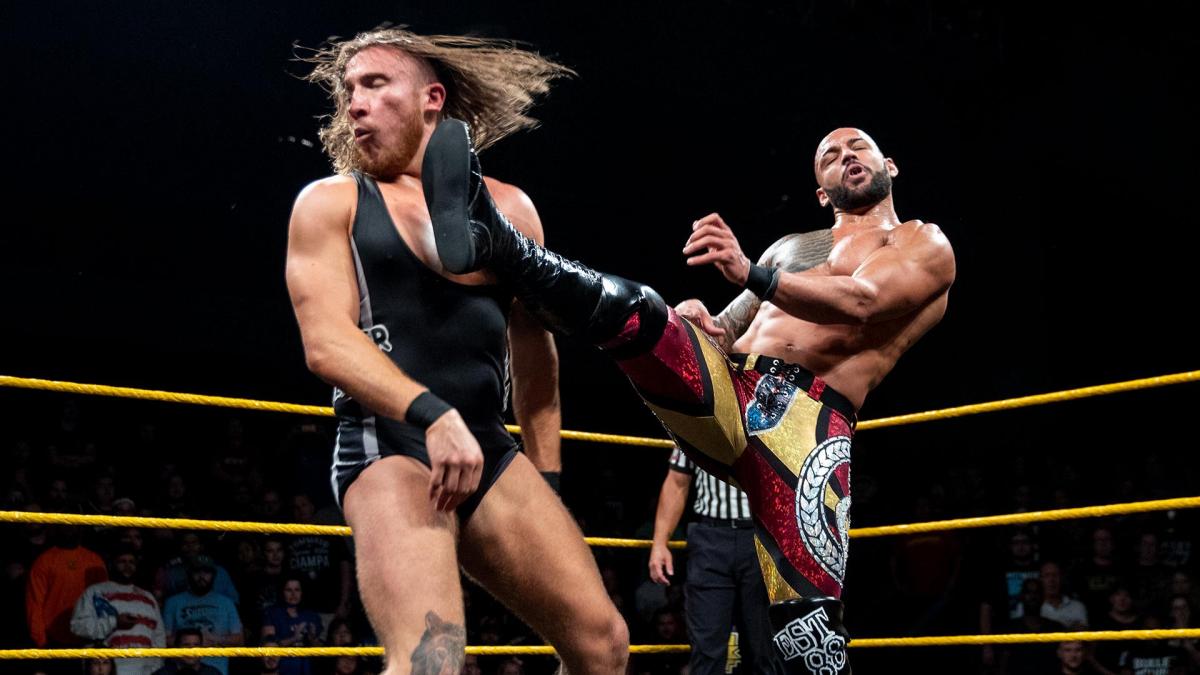 With Monday on the horizon, we have yet another installment of the Top 5 Matches of the week. Now first we have to go over who won last week's vote.
In a close, but still decisive vote, WWE HIAC: Samoa Joe vs AJ Styles, manages to add to our interesting list of September matches.
This week we got our first highly touted New Japan show since the G1 Tournament, so do they tip the scales and run away with the week? Let's find out.
5. Stardom 5 Star Grand Prix: Hazuki vs Mayu Iwatani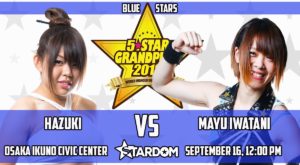 From Mathew's Coverage Article:
A win here is very crucial for Mayu Iwatani if she wants to tie it up with Kelly, otherwise she would be eliminated from the tournament and her opponent, Hazuki would take the top spot with nine points and potentially win the whole thing if things work out in her favor. The last time the both of them fought one on one was around February during the ROH Women of Honor tournament and Mayu would come out the winner of that match and Mayu wants to beat her again to show she's on a whole different level now. Who will take the top spot of the standings, Mayu or Hazuki?
Hazuki is in my top 5 wrestlers of Stardom right now and this match here with Mayu just solidified my statement for this claim. This whole tournament, she has been one of the most consistent wrestlers in her matches with her sequences being on point, her moves are crisp, and how to handle a match lately has been outstanding that she should be under peoples radar. Hazuki right away was being aggressive with Mayu before the bell even rang when she attacked her from behind and kept rolling her up which failed, but she kept on the attack by throwing her around into chairs on the outside and even destroyed Mayu's arm during the whole match and not holding back on her, I love this side of Hazuki.
This match is one of my favorites in my block next to Hazuki/Momo still being my favorite one, but this one was still pretty damn close with their chemistry in the ring together gave us a special match and it's not even their last one for their block. They told a great story in the ring, executed everything almost flawlessly, seeing a more aggressive side of Hazuki in her previous two matches, and Mayu selling it all to make it look more dangerous than it probably is, but they were just on point with everything together. Hazuki was pulling out all the stops with having her in the Crossface, working on her arm, stiff Dropkicks and a Codebreaker, but it still wasn't enough to take Mayu out as she hits the Dragon Suplex Hold and gets the victory to tie first place with Kelly Klein. After the match, she told the crowd that she was now in first place and hopes the crowd will still support her as she looks to win it all at the final.
Winner: Mayu via Dragon Suplex Hold
Rating: ****
4. AJPW Royal Road Tournament: Jake Lee vs Kento Miyahara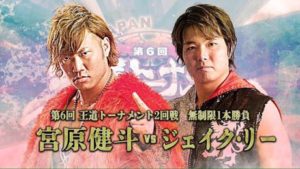 This is an interesting match. When Jake Lee returned to All Japan earlier this year, he wanted a match with Kento. So Kento obliged a non-title match a few months ago, and even though Jake held his own at times, Kento outclassed him fairly easily. So in the matter of two or three months, how much has Jake changed his game?
Well the answer is quite a bit, but not quite enough. The pace of this match was much faster than their previous encounter, with Jake being more proactive in his offense. He chased Kento outside, whipped him into the guardrail a few times before Kento turned it around and we got his signature necklock against the ring post moment.
As I stated in their last match, Jake has a poise similar to Okada, but I also noticed more that he throws knees almost exactly like Jun Akiyama. Numerous knee lift variations and running Big Boots, kept Kento on his heels. Eventually Miyahara lands a few Blackouts and we start getting a vibe that Kento is on cruise control. That was Kento's first mistake.
Kento goes for a few pinfall attempts after only Blackouts, and Jake kicks out. So the realization starts to wash over Kento that Jake is harder to beat. So he attempts the Shutdown German Suplex, but Jake breaks away and hits a flurry of kicks and knees. Kento lands a Blackout to the back of Jake's head and hits the regular German Suplex Hold, but Jake kicks out at 2.
It's at this point the crowd wakes up a bit more and you start believing Jake has a shot. Jake catches Kento with a big Running Knee Strike, but only for 2. Then we see Kento light up Jake's face with a few more Blackouts and FINALLY hits the Shutdown German Suplex Hold, for the victory.
Faster paced, harder hitting and Kento definitely looked like that match was close. Jake will be a major player sooner than later.
Winner: Miyahara via Shutdown German Suplex Hold
Rating: **** 1/2
3. 205 Live Cruiserweight Championship Match: Cedric Alexander (c) vs Drew Gulak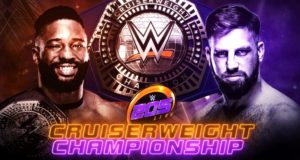 From Mitchell's Coverage Article:
The Soul of 205 Live must now face the Brain of 205 Live as he defends his title in the rematch Gulak so expertly manipulated into happening. Can Alexander keep his undefeated-in-2018 streak going? Or will Gulak prove that when you step to him, you will tap out?
The introductions are made, the belt is raised, and we begin! Alexander has the fans on his side while he circles with Gulak. Gulak is bothered by the chanting, but he grits his teeth as he continues to circle the champ. Kendrick swipes at Alexander, and Gulak goes for the GuLock! Alexander gets to the ropes quick, and Gulak lets him go. Kendrick and Gallagher play innocent, but Alexander circles with Gulak again. Alexander is keeping his eyes on Gallagher & Kendrick even as he ties up with Gulak. He puts Gulak in a corner as fans rally up, but then Gulak comes back out.
They go around, Gulak waistlocks, but Alexander standing switches. Gulak escapes and they circle again. Another tie up and Alexander gets a headlock. Alexander brings Gulak down to the mat, but Gulak powers out. Alexander runs him over with a shoulder, then puts Gulak back in the headlock. Gulak stands up and powers out again, but Alexander runs him over again. Cover, ONE, so it's back to the headlock. Alexander grinds Gulak down more, but Gulak stands back up. Gulak puts Alexander in a corner, then whips him corner to corner. Alexander goes up and over, headlock takeover, but Gulak prevents a cover. They stand up again, and fans cheer for Alexander.
Gulak fights out and whips. Things speed up and Kendrick trips Alexander! Gulak pleads that things not disqualify the match, and the referee agrees. The referee EJECTS Gallagher & Kendrick! The Ungentle Men argue with it, but Alexander grins and laughs at their major mistake. Alexander then handsprings, headscissors and dropkicks Gulak down! Cover, ONE. Alexander keeps on Gulak with a chop, then another. Gulak walks to another corner but Alexander throws haymakers. Alexander bumps Gulak off buckles, then more buckles. He snapmares Gulak and dropkicks him in the head. Cover, ONE, but Alexander keeps his cool.
Alexander has the armlock, and fans still cheer him on. Gulak gets a ropebreak with his foot, so Alexander lets him go. Alexander comes back to wrench the arm, then kneels on it. Alexander "applauds" Gulak before stomping the arm! He wrenches the arm again, and traps it in a standing hammerlock, to fall back and tweak it! Gulak gets to ropes but Alexander is on him with a shoulder breaker. Alexander whips Gulak corner to corner, but Gulak reverses. Alexander slips out, forearms Gulak, but his step-in shot gets caught into an exploder!
Both men are down, but Gulak grits his teeth as he stands up. Gulak looms over Alexander, and stomps his stomach. He stomps more, then sits Alexander up to kick him. Gulak goes after Alexander's arm now, but fans rally up for the champ. Alexander feeds off the energy and arm-drags, only for Gulak to arm-drag Alexander back down. Gulak grinds his knee into Alexander's head and clamps onto Alexander's shoulder. Alexander kcisk back with his legs but Gulak drops an elbow on the arm. Alexander chops back, but Gulak elbows him again. Gulak gives springboard stomps now, keeping Alexander down. Gulak drags Alexander up to then put him in a corner. He chops Alexander now, but Alexander boots back. Alexander runs but into a back elbow! Cover, ONE, but Gulak is right on Alexander with a chinlock.
Gulak grinds Alexander down, but fans rally up. Alexander works his way up, and jawbreakers! Gulak knees back but Alexander blocks the suplex. Alexander fights back and suplexes them both out, to land on his feet and suplex Gulak again! Both men are down but the fans are fired up. The referee checks on both men but they're okay to continue. Alexander sits up first as the 10 count begins. Gulak follows as the count reaches 8. Both men enter at 9.5! Alexander grins, he's actually enjoying this. They start brawling, and Alexander blocks to counter forearm. Alexander runs and runs Gulak over with lariats. He whips but Gulak reverses, only for Alexander to dropkick the legs out. Gulak hits buckles, but then Alexander kicks him back in from the outside! Alexander springboards for the clothesline! Cover, TWO! Alexander is shocked that Gulak survives.
Fans rally up and Alexander fires up. Alexander brings Gulak up, lifts, inside cradle! TWO, and handspring to Neuralizer! Gulak falls out of the ring, Alexander runs, and FLIES! Air Alexander hits! Alexander puts Gulak in, climbs back in, but ends up in a GuLOCK! Gulak has the body scissors but Alexander pops out to get the ropebreak. Gulak lets Alexander go, but the sleeper took a lot out of him. Fans rally as Gulak drags Alexander up for a big clothesline! Cover, TWO! Gulak drags Alexander back up, scoop slams him down, then says "For a better 205 Live, punk!" Another scoop slam, and Gulak is feeling good. Gulak drags Alexander up but Alexander slips out to shove. Alexander jumps over, sits down on the cover, TWO! Another clobbering clothesline! Cover, TWO!! Gulak was so close, but still so far from winning.
Fans continue to cheer Alexander while Buddy Murphy watches back stage. Gulak clubs Alexander out to the apron. He drags Alexander back up, and dragon sleepers on the ropes! Alexander fights out with uppercuts, then swing kicks. Gulak stays up, but Alexander sunset flips. Gulak rolls through but Alexander slips out of the bomb to Michinoku Driver! Cover, TWO!! Alexander is shocked that Gulak survives. Another 10 count begins, and Alexander drags himself to ropes. Gulak pursues at a crawl, but Alexander stands. Alexander chops Gulak, but Gulak eggs him on. Alexander chops him again, but Gulak wants more. They stand and Alexander gives another chop. Alexander says THIS is for 205 Live as he chops Gulak even harder.
Alexander whips corner to corner but Gulak tumbles to the apron. Gulak forearms Alexander back, then decides to go up top!? He never does this! But for the title, he hits a flying clothesline! Cover, TWO!! The title means this much to both men, that Gulak will do what he rejects. Gulak goes back to his real game as he slaps Alexander around. Alexander gets up but ends up in a GuLOCK! Alexander resists as fans rally for him. He rolls around and goes for ropes again, but Gulak drags him BACK in! Alexander gets back out of the body scissors, to then hoist Gualk up in the fireman's carry, and Death Valley Drive Gulak into buckles! Both men are down but fans love it.
Alexander stirs as the 10 count passes 5. Gulak follows and gets to the opposite side. They both stare down from across the way, and run in for double boots! Alexander swings but Gulak SLAPS and SLAPS! Gulak wants another but gets an elbow! Alexander lifts, Lumbar Check!! Cover, Alexander wins!!
Winner: Alexander via Lumbar Check
Rating: **** 1/2
Honorable Mentions:
NJPW Destruction in Kobe: Bushi vs Kushida
Winner: Kushida via Back to the Future
Rating: ****
AJPW Royal Road Tournament: Zeus vs Suwama
Winner: Zeus via Jackhammer
Rating: *** 3/4
Lucha Underground: Fenix vs Aerostar
Winner: Fenix via Black Fire Driver
Rating: *** 3/4
Impact Wrestling: Rich Swann & Matt Sydal vs Pentagon Jr & Fenix
Winner: Pentagon via Double Stomp/Fear Factor Combo
Rating: *** 3/4
NJPW Destruction in Beppu: Tetsuya Naito vs Minoru Suzuki
Winner: Naito via Destino
Rating: *** 1/2
Raw: Drew McIntyre vs Dean Ambrose
Winner: McIntyre via Claymore
Rating: *** 1/2
AJPW Royal Road Tournament: Yuji Hino vs Ryoji Sai
Winner: Hino via FUCKING BOMB
Rating: *** 1/4
NJPW Destruction in Kobe: YOSHI-HASHI, Jay White & Will Ospreay vs David Finlay, Toa Henare & Juice Robinson
Winner: White via Blade Runner
Rating: *** 1/4
Stardom 5 Star Grand Prix: Utami Hayashishita vs Rachael Ellering
Winner: Time Limit Draw
Rating: ***
NJPW Destruction in Beppu NEVER Openweight Title Match: Taichi vs Hirooki Goto (c)
Winner: Taichi via Last Ride
Rating: ***
2. NXT UK & North American Championships Match: Pete Dunne (c) vs Ricochet (c)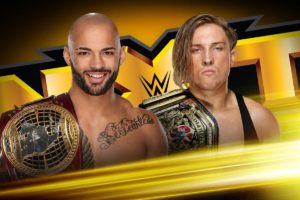 From Mitchell's Coverage Article:
A miscommunication during their tag team match with the Undisputed Era escalated the tension between the One and Only King of Flight and the Bruiserweight. They both did agree on one thing, though: they both wanted the belt the other man had. Both men are the second-ever champions to the belts they hold, but Dunne's had his title for much longer. Will that matter when Ricochet does things no one else can? Or will his reign meet a Bitter End before it's barely begun?
The introductions are made, both belts are raised and we begin this first-for-NXT main event! Fans duel without slowing down as the two men stare down. They circle and tie up, and Dunne gets a headlock takeover. Ricochet headscissors, Dunne pops out and there's a role reversal. Dunne shows he can kip-up, too, and the two men stare down again. Ricochet and Dunne circle again, and fans compromise as they chant for 'Both These Guys!" Ricochet gets a wristlock and a standing armbar, then back to the wristlock. Dunne and Ricochet struggle for control, and Dunne reverses. Dunne stands on Ricochet's foot to trap it, then shoves him over. He goes after Ricochet's arm but Ricochet rolls. Dunne gets him back down and traps the wrist inside his elbow. He then bends it even more and jams the fingers into the mat!
Ricochet gets up but Dunne has a finger hold. Dunne lifts and throws Ricochet to then grapevine snap the arm. He keeps torturing the elbow and wrist, but Ricochet gets up to reverse the hold. Ricochet has Dunne in a standing grapevine of both an arm and a leg, and then chinbars. Dunne resists, and Ricochet can't put as much pressure as he can because of the damage Dunne has done. Ricochet shifts and goes for the toehold. He has a standing knee wrench, then drops another toehold. Ricochet ties the legs up for a modified deathlock! Dunne turns it over and turns it around on Ricochet. Figure four leg and then shift an armbar. He digs in his knuckles but Ricochet slips through to hammerlock Dunne. Ricochet uses an armlock recliner to cover, ONE. Dunne gets a takedown, then his own Indian Deathlock!
Fans applaud this amazing exchange. They continue to duel while Ricochet works his way out. But Dunne is on those legs again, and has Ricochet in a modified Queen Angelito. Dunne tortures each arm as he brings them back, for a modified surfboard! Ricochet pops out to a cover, ONE! Dunne has Ricochet trapped on the mat and grinds in his forearms. He gives Ricochet a hammerlock chinlock while fans duel red hot as ever. Dunne wants Rings of Saturn but Ricochet slips out, stands up and clubs Dunne's arm. Ricochet drops a knee, but Dunne gets to ropes. Ricochet lets Dunne go but gets a BIG forearm smash! Dunne grins as he gets the better of Ricochet here. He stands on Ricochet's hand and brings him up, but Ricochet fights back.
Ricochet chops Dunne, forearms, chops again, but Dunne gives him a kick. He chops again, then whips, but Dunne reverses. Ricochet slides off Dunne's back, ducks under then handsprings and dropkicks! Dunne bails out but Ricochet builds speed to DIVE! This time Ricochet did mean to hit Dunne! Ricochet drags Dunne up and in, fans continue to duel, but Dunne runs. Ricochet dodges, handsprings, but Dunne blocks it! Dunne takes the foot and twists it for a toehold. Then he kicks out the arm! Fans reach a fever pitch as Dunne stalks Ricochet to a corner. Dunne kicks Ricochet while he's down, then drags him into a hammerlock. Dunne ties Ricochet up, one arm trapped within his own leg for a modified Half Crab. Then he shifts to go after that arm itself, and bends a finger as far back as he wants it to go! Two fingers now!
Dunne twists the hand around, then the elbow and shoulder. Fans hope they "Fight Forever!" at this rate, as Dunne stomps Ricochet's head! Ricochet rolls to a corner for safety, but Dunne doesn't care. Dunne drags Ricochet up by his ear and jabs an elbow in. Dunne kicks Ricochet's bad arm, but Ricochet comes back with a forearm! Ricochet gives another, even as Dunne kicks him. Dunne dodges the next, hammerlocks an arm, and stomps! Ricochet avoids it, but doesn't avoid the slap. Dunne runs, but into the rolling thunder lariat! Both men are down but the fans are loving this. Dunne rolls to a corner while Ricochet gets himself fired up. Ricochet runs in for an uppercut, then a roaring elbow, then puts Dunne into buckles for the tiger feint kick! Springboard uppercut! Cover, TWO! Ricochet keeps his cool, he and Dunne are far from over.
Fans duel more as Ricochet fireman's carry. Dunne slips out and lets Ricochet fall, but Ricochet avoids the kick. Dune goes up and over to then enziguri Ricochet! X-Plex but Ricochet lands on his feet, to shooting star! Cover, TWO!! "This is Awesome!" and "Fight Forever!" are the two chants fans can agree on. Ricochet hurries up top, aims, but Dunne gets over. Ricochet leaps over and pushes Dunne away. Only to roll into the armbar! Dunne adds finger torture, too! Ricochet makes it a cover, TWO! The Penalty Kick misses, but so does the standing moonsault! Dunne stomps away on Ricochet's hand! Dunne grabs Ricochet but gets a knee! Ricochet drags himself up, springboards again, but into a forearm!! Dunne keeps going, X-Plex slam! Cover, TWO!? Ricochet shocks everyone as he survives!
Dunne snarls at Ricochet as he stands up again. He drags Ricochet up again, wanting to end this. Pumphandle, but Ricochet slips out to German Suplex! Dunne lands on his feet to Penalty Kick Ricochet! Then he runs, but into an enziguri! Dunne ends up outside again, and Ricochet builds speed again. Ricochet adjusts as Dunne evades, to then SUPER MOONSUALT! Dunne evades and Ricochet lands on his feet, to get a forearm! And an apron X-Plex! Then, pumphandle, but Ricochet slips out to REVERS-RANA! Cover, TWO!!? Just as Mauro says, "What in the Hell are Ricochet and Pete Dunne made of!?" The fans are loving it either way, and continue to chant "This is Awesome!" "Fight Forever!"
The two men fight on the mat, but then Dunne grabs both hands. Dunne stands on both hands, to STOMP both hands! Buzzsaw kick but Ricochet boots, Dunne enziguris again. Ricochet rolls but into a lariat! Dunne runs, but Ricochet ducks and handsprings, tornado DDT! Cover, TWO!?!? No one can believe what's going on, but fans chant for "NXT! NXT!" Ricochet grits his teeth and refocuses himself while Dunne rolls to a corner. This puts him in a drop zone and Ricochet goes up again. Dunne sees him up there, and follows after. Ricochet intercepts and now they're fighting up top. Dunne goes after the hand, but Ricochet uses his good one to fight back with body shots. Ricochet adjusts, for a SUPER STEINER!! Ax kick, to complete shot! Cover, TWO?!?! How?! Fans don't care how, they give this a standing ovation.
The chant sounds more like "Bruiser-chet" now, but the One and Only isn't done with Dunne yet. He positions Dunne, springboards into a TRIANGLE! Dunne squeezes as hard as he can while keeping himself up. Ricochet pushes himself around, shifts his weight and covers. ONE, but Ricochet shows his strength with a deadlift powerbomb! But Ricochet's fingers are snapped! Then a Kimura wristlock!! Ricochet screams and shouts as he endures, but then powers his way back to a facelock. He deadlift suplexes for a brainbuster! Both men are down from exhaustion, and the fans are still chanting. A 10 count begins, and reaches 5 before either man stirs. Fans continue to duel, and both men lock eyes. Neither backs down, and they start brawling. But oh no, here come the Undisputed Era! They attack and ruin this match!
Winner: No Contest (Interference)
Rating: **** 3/4
1. NJPW Destruction in Kobe G1 Wrestle Kingdom Contract Match: Hiroshi Tanahashi vs Kazuchika Okada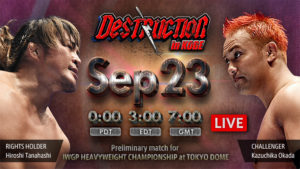 Tanahashi versus Okada XIII, the thirteenth match over 8 years. Going into this match the record was 5-4-3 in favor of Okada, and one of Tanahashi's wins was Okada's farewell for excursion match. So all things considered, the rivalry is very even, but Tanahashi hasn't been able to beat Okada in nearly 4 years. So do we see the briefcase change hands, or does Tanahashi get one step close to completing his comeback tour?
This match was a testament to old school psychology and pacing. Every spot mattered, every high spot had significance, and if you didn't feel anything during this match….check your damn pulse, cause you're probably dead.
Both men set the aggression early, with Okada taking a cheap shot during a break, instead of his usually calm and cocky chest pats. Tanahashi however kept going at Okada, even landed a Dropkick sending him to the outside, Tanahashi nails Okada with a Tombstone which almost gets him a countout victory,but follows up with a High Fly Flow, which might have been a mistake. Tanahashi starts favoring his left knee early and that gives Okada a target.
Low Sliding Dropkicks to Tanahashi's knee seems to be the equalizer for a while. Okada also busts out a few leg submissions like a Seated Cloverleaf and Figure Four Leg Lock. When Tanahashi gets some distance, he manages to return the leg favor and Dragon Screw, as well as, Inverted Dragon Screw Okada's legs.
A simple shocking moment was Okada hitting his Standing Dropkick in the corner, and Tanahashi gets his banged up knee caught and hangs backwards. Red Shoes tells the Young Lions to help him up, and that's not something we haven't seen in other companies with the referee helping someone out of ropes or a move. Okada jumps on Tanahashi quickly, and we continue this back and forth power struggle.
We get late in the match after Tanhashi has already hit two High Fly Flows and Okada hit a Rolling Rainmaker. Tanahashi is on the top rope, Okada keeps trying to take him down. Tanahashi fights him off twice, before Okada tries again, and Hiroshi rocks him. An open hand slap sends Okada slowly down to the mat, and Tanahashi hits the High Fly Flow as soon as Okada hits the mat.  Okada slowly gets up, and gets hit with a High Fly Flow, then with a burst of adrenaline, Tanahashi pulls off one more High Fly Flow for the pinfall victory.
This match was a classic, with numerous callbacks. Hell they even called back to the last G1 match when Tanahashi was trying to crawl to the ropes for a High Fly Flow, immediately as the 30 minute call was made. So the layers, emotion, story telling and impact of every move were momentous. Powerful, fantastic match, gets my highest rating of the year.
Winner: Tanahashi via High Fly Flow
Rating: ****** 1/4
Thoughts:
Now the Cruiserweight match was solid, and made complete sense especially with Buddy Murphy getting a shot at Super Showdown. So I can't complain about that. The NXT match was a fantastic match that would've easily been a 5 Snowflake match, if it was allowed to finish properly. But nothing can touch, Hiroshi Tanahashi vs Kazuchika Okada.
It was just on a whole different level, and people really need to watch this.Also goes to prove why Kenny Omega is completely wrong in his little interview argument (be it work or shoot), Tanahashi's matches tell a story, like wrestling is supposed to.
---
Always Use Your Head and visit the official Pro Wrestling Tees store for The Chairshot All t-shirt proceeds help support the advancement of your favorite hard-hitting wrestling website, The Chairshot!

---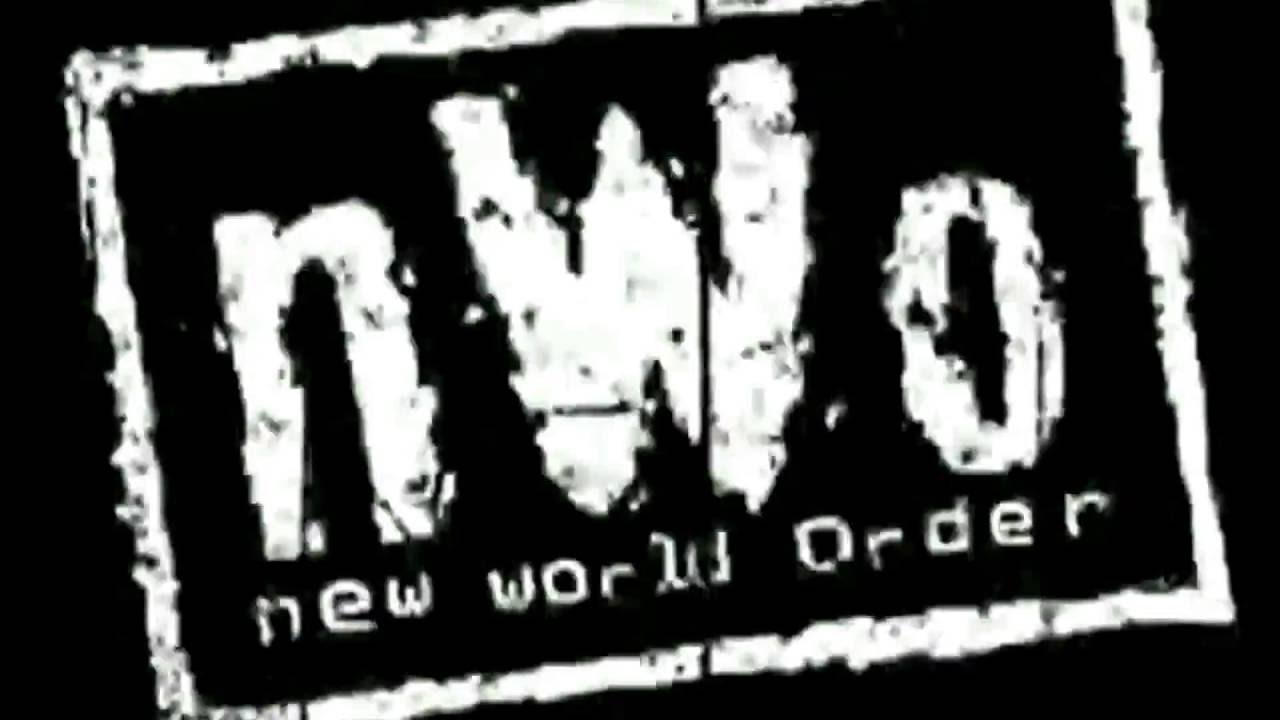 On May 27, 1996, Scott Hall shocked the wrestling world when he waltzed into a WCW ring (during a match) and cut the promo that would change everything. Initially pitched as an "invasion" angle, Hall would later be joined by Kevin Nash as The Outsiders. When the "third man" was revealed, it was much bigger than Mabel, it was none other than the biggest star in the history of the business, Hulk Hogan. The NWO was born and wrestling was never the same again.
Eric Bischoff turned a fan question around to his Twitter following, asking who could be used to build a new NWO in 2018. Sounds like a great time to me!
In order to build a proper NWO, certain elements are needed, and in a certain order. So let's start with the Scott Hall role.
---
The Initial Invader: Cody Rhodes
Scott Hall kicked off the angle, entering from the crowd and getting an immediate reaction. The Initial Invader needs to have a chip on his shoulder regarding WWE, and needs to be able to cut a scathing promo to get this over in 2018. The man for the job is none other than Cody Rhodes.
Cody Rhodes requested his release from WWE while working the Stardust gimmick. After a promising initial run, he realized he needed to leave and reinvent himself. Scott Hall initially left WCW under his Diamond Studd gimmick, gaining (then) WWF fame as Razor Ramon.
The first man needs to get the people talking, and no one is better for that than Cody Rhodes. Cody is hot, and he can set the world in fire as the Initial Invader.
Others considered: NONE.
---
The Back-Up/Muscle: Pentagon Jr
Kevin Nash made his WCW debut (as Kevin Nash, anyways) walking up to the commentary booth. He would go on to, at times, take the lead for the NWO. And he has absolutely zero similarities to Pentagon Jr. He, of course, gained his initial WWF fame as Diesel, former bodyguard to Shawn Michaels and eventual WWF Champion.
This is about building a 2018 NWO, and Pentagon Jr is perfect for this role. He's an ass kicker, can be any type of enforcer needed, and he's intimidating. He speaks better English than anyone ever gives him credit for, and we all know what he's capable of in the ring.
Even in 1996, we had enough access online to easily make the connection from Scott Hall's debut to Kevin Nash's. Pentagon Jr would be more of a surprise, which is needed in 2018. He's not a "former WWE talent" in the mold of Hall and Nash (or Rhodes), but he doesn't need to be. In fact, it's better that he's not.
There's one more reason to include Pentagon as the second guy: he's OVER. Like crazy over. Like one of the Top 5 most over wrestlers in the entire world.
Others considered: Kenny Omega (too obvious), John Morrison, and Brian Cage.
---
The Third Man: John Cena
You can't have the NWO without the third man, can you? Listening to 83 Weeks with Eric Bischoff, you'll learn that Sting and Hulk Hogan were under consideration to be the third man in the NWO. The modern day equivalent is basically Randy Orton and John Cena. In that time, Hogan was the obvious choice, and Cena is that here.
Randy Orton would be totally fine as the third man, but he's just like Sting in the fact that if he's the big reveal, it's not being talked about 20 years later.
John Cena is the Modern Day Hulk Hogan. He would have to deal with the same issues as Hogan in turning heel: the kids, the families, Make-A-Wish, merchandise sales, etc. It's not an easy call to completely turn your back on who made you.
But if this were to actually happen (and I don't see it ever happening), it has to be Cena. There is no other performer that can turn and make such an impact as John Cena.
Others considered: Randy Orton, Kevin Owens, and Sasha Banks.
---
Expanding the Crew
The NWO didn't stay at three members all that long. In total you had 45 members in WCW. You had tribes such as the Elite, the B-Team, Hollywood, Wolfpac, and 2000.
I'm not going THAT far, but we do have the chance to add some members that are of interest…
Kevin Owens  – the second turncoat (The Giant)
Shane McMahon – the office (Eric Bischoff)
The Young Bucks – the pest(s) (Syxx/X-Pac)
Andrade Almas – the mid-card guy (Buff Bagwell)
Zelina Vega – the manager (Elizabeth)
Dolph Ziggler & Drew McIntyre (the later additions)
Roman Reigns & Seth Rollins (the "now this is too much" guys like when Sting and Lex Luger joined)
---
What do you think? Tweet @ChairshotGreg and @theCHAIRSHOTcom using the hashtag #UseYourHead to share your three founding members of what would be the 2018 NWO!
---
Always Use Your Head and visit the official Pro Wrestling Tees store for The Chairshot All t-shirt proceeds help support the advancement of your favorite hard-hitting wrestling website, The Chairshot!

---
Is Shinsuke Nakamura Right Where He Belongs In WWE?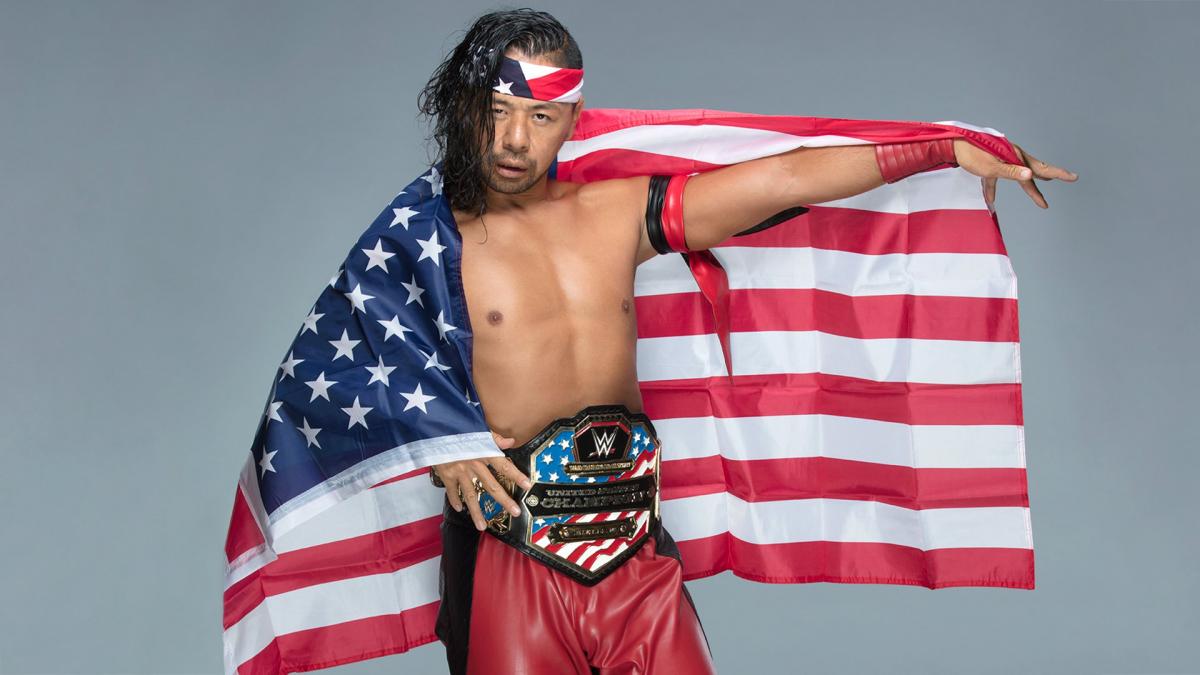 Shinsuke Nakamura is one of the top stars working in the pro wrestling business today. That's due in large part of course to his proven track record in New Japan Pro Wrestling. But it's also due to his time in WWE. But some fans are wondering where he stands today.
Nakamura is a born entertainer, there is no denying that. He has the ability to turn on his charisma at the push of a button and it may very well be that he never turns it off. Shinsuke looks and acts like a star because he is one. He has a full understanding of how to play the game and very few play it better than he does. So is he right where he belongs?
Many would argue he's not and that's understandable. He was so hot in New Japan that imagining him as anything any less was impossible when he left the company. He was the rockstar of New Japan and he embraced that role like no one before him ever had. It was logical to assume that his success would directly translate to WWE's main stage.
Of course that assumption was perhaps not rooted in reality. WWE didn't exactly have the best track record when it came to promoting Japanese Superstars. Then there was the fact that many independent talents were often encouraged to change their gimmicks upon arriving in Vince McMahon's company. But there was reason to hope for the best.
This is not the same WWE that so many indie stars encountered in the past. This WWE embraced the independent scene and used that fact to its advantage. WWE does not force a guy to change who he is, merely for the sake of trying something new. In fact many Superstars are now extensions of their former selves. WWE allows them to bring what they have to the table so they can expand upon it.
It's true that WWE's treatment of Japanese talents has been less than stellar but Shinsuke Nakamura is an exceptionally gifted athlete. There was just no way that WWE, or any other company, could ever look at him and not see him for the star that he is. So if he's allowed to be himself and if he's given an opportunity to impress on the main event level, then what would stop him from excelling in WWE?
Shinsuke Nakamura came in like a star and that's exactly how he was booked. WWE did right by him and much to everyone's surprise, Shinsuke did get the red carpet treatment. He conquered NXT, just as many knew he would. But he also received an impressive amount of spotlight when he came to the main roster. 
Nakamura was presented as a respected athlete known around the world because that's exactly what he is. The company knew what it had with him and any doubt as to WWE's ability to properly book him was gone. This was the Shinsuke Nakamura that everyone wanted. He was the real deal.
But somewhere along the way, things began to go a bit south. Nakamura's heel turn at WrestleMania 34 was shocking and while that's not necessarily a bad thing, it was completely out of character for him. Yes, Nakamura had been a vicious heel in New Japan. He was fully capable of turning on anyone at any time and he would do it with a smile on his face. However, that was The King of Strong Style.
This Nakamura is The Artist. His canvass is the WWE ring and his artwork is beyond compare. Shinsuke was popular because he was different. He was over because he was unique. His flair for the dramatic set him apart from everyone else and it made him a must-see WWE Superstar. He was indeed an attraction.
But the moment he turned on AJ Styles was the moment he put the WWE Championship above his art. Nakamura was no longer an exceptional character capable of wowing an audience of millions. Now he was just another heel with an agenda. What made him special was overshadowed by what made him typical. Shinsuke was just like everyone else. But is that really the case?
Nakamura has thrived in many respects since WrestleMania 34. He was able to use a different side of his personality and he learned to get over in different ways. Instead of using his crowd-pleasing character to make the fans smile, he now uses it to make them recoil in confusion. What's wrong with him? Why does he act like this? What happened to the lovable guy we once knew?
Now his character is more enigmatic than ever before. Was The Artist persona merely just a mask he wore to fool everyone and now he's finally showing the world his true self? Is he now Batman when he previously had everyone believing he was Bruce Wayne? Shinsuke Nakamura is fully immersing himself in this twisted version that WWE fans didn't even know existed. But most importantly, he's loving every minute of it.
There's a reason why Shinsuke Nakamura is the United States champion. That belt could have landed on any number of SmackDown Live Superstars but it currently sits on Nakamura's waist. Why? Because he can wear it like no one else can and because he's a Japanese Superstar that came to WWE with dreams of doing great work on the worldwide stage. That's exactly what he's doing and he doesn't need the main event in order to do it. 
Would fans love to see him as WWE champion? Yes. Could he wear that title and add value to it? Absolutely. Does he need it in order for fans to consider him successful? Absolutely not. Shinsuke Nakamura may not be the top guy and he may not be the face of WWE but he is an important piece of the presentation. But is that enough?
The fact is that Nakamura will probably leave WWE one day. He will likely return to New Japan and reclaim his throne as The King of Strong Style. But until then, fans have a chance to enjoy one of the most colorful and capable characters that WWE offers today. He may get a run at the top eventually. If he does, then everything that came before will merely be just another chapter in his story. With any luck, that story is far from over.
---
Always Use Your Head and visit the official Pro Wrestling Tees store for The Chairshot All t-shirt proceeds help support the advancement of your favorite hard-hitting wrestling website, The Chairshot!

---