AJPW Champion Carnival A Block Results & Review: Part 6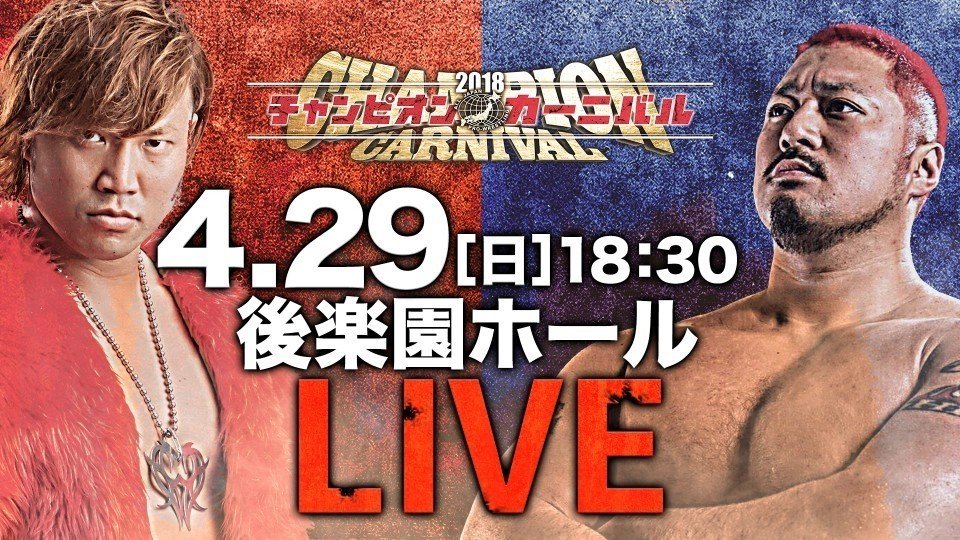 Hello and welcome to the final day of A Block as we find out who goes onto the finals. At the last show, the winner of B Block was crown and congrats to Naomichi Marufuji for winning his match against Jun Akiyama and if you haven't seen that match, check it out because it's a great match and probably the best in the whole Carnival.
Now who will be the one to fight him in the finals? Well let's not waste any time and….dive right in.
Champion Carnival 2018 Block A Match
The Bodyguard vs. Ryoji Sai
Review: With both of these able mathematically eliminated from the finals, either one of them winning or losing will now affect the other three matches at all. However, they still do need to fight each other much like how NJPW does with the G1 Climax and must face everyone on your block. It appears as though Bodyguard's leg has healed up a little bit since he's not limping or having a hard time moving like he did with his match against Shuji, so that's a good thing at least since his last match at the Carnival shouldn't be slowed down due to an injury. Aside from his match against Shingo, I think this one is his best bout against Ryoji since he felt a little bit more like himself here and actually was able to do some more stuff.
Ryoji has been an underrated performer throughout the entire Carnival since his matches have been really solid and this one is no different right here. Bodyguard would get a strong offense near the end as he hits his Lariats to the corner and gives him another one for a pinfall, but Ryoji kicks out of that one to stay alive, but then tries to go for a powerbomb until Ryoji flipped him over for a pin shades of his match with Shuji, but now Bodyguard kicks out of it. After a stiff Shinning Wizard by the corner, Ryoji attempts to go for a Double Stomp off the top rope, but Bodyguard moves and his another Lariat, but only for another two count, then Bodyguard would actually get the win when he applies the Camel Clutch! With Bodyguard getting the win here, I wonder if it will also put him as a future contender for Sai's All Asia Heavyweight Championship, only time will tell.
Recommended: Solid match actually, so yes.
Champion Carnival 2018 Block A Match
Naoya Nomura vs. Joe Doering
Review: This the first out of the three matches that can determine the entire outcome of the Champion Carnival as Joe is tied with Kento, Yuji, and Shingo as a win here could put him one step closer to being one of the finalists to fight Marufuji, but for him to almost secure a spot, he would need to defeat a guy who only has one win in his name, Naoya. But if Naoya can actually win this match, then Joe would be eliminated from the tournament completely, so he could ruin his chances if he can somehow pull off a victory over the former Triple Crown Champion.
Soon as that bell rings, Naoya knew what he had to do to get some momentum as he charges in at Joe to make sure he didn't get an early advantage over him and would keep on going til Joe made Naoya hit the ropes, leading him to fall outside. Joe regained his composure and started to work on Naoya now til he got him back in the ring in which Naoya starts to get a bit of a comeback, hitting his first Spear to at least knock him down. You gotta admire Naoya's fighting spirit throughout this match and wants to give it his all despite not making it to the finals, but he can at least try to take someone down with him here. Joe would knock him out with his famous Diving Body Press and that looked vicious, but Naoya kicked out of it somehow! Joe doesn't waste any time as he picks him up for a Firemans Carry to slam him down, but holds his arm to pull him in for a Short Arm Lariat, but he still kicked out! Joe has had enough and goes for a Revolution Bomb, but gets countered with a Sunset Flip, but only for another two count! Naoya would roll him up one more time and he gets the surprise victory over Joe! Joe is now eliminated from the tournament and Naoya gets a huge victory in his final match in the Carnival! Looks like Andrew's uneducated guess for A Block ends right here since he picked Joe to win, now I still have a chance.
Recommended: Short match, but it was still good for what it was. Naoya is definitely the future.
Champion Carnival 2018 A Block Match
Shingo Tagaki vs. Shuji Ishikawa
Review: Now that Joe Doering is eliminated from the tournament, it means that Shingo has a 50/50 chance of making it to the finals and all he has to do is defeat Shuji right here, and Kento would have to win his match for Shingo to become a finalist due to Shingo defeating Kento on day one of the tournament. If he loses however, then he will be eliminated from the tournament as well and it would only come down to the main event to see who would make it. I really want this dream match between Shingo and Marufuji to happen, so I'll be rooting for him to get one step closer to making it a reality, but Shuji is no laughing matter either as he's one of All Japan's best and even won it last year too, so he can pull a victory here and derail him.
I'm gonna go on record by saying that this match just blew me away, definitely my favorite match out of my entire A Block. Shingo Tagaki has been the highlight of A Block due to giving us great and entertaining matches with all of his opponents here and I didn't expect him to top his matches with both Yuji and Kento, but this one definitely did. I felt their energy, the power, the passion, I felt all of that here in this match with these two competitors. Shuji Ishikawa has also been great in this tournament despite some having a couple of hiccups, but his bigger matches definitely delivered in this tournament as well and I'm glad that these two fought on the final day since to me, it felt like it was more special. Both of these guys have hit some of their strongest moves like Shuji hitting his deadly knees along with his Fire Thunder, but Shingo even kicked out at one on that one! Shingo would hit his Pumping Bomber which looked great and even his MADE IN JAPAN, but Shuji would also kick out of that as well as these two will just not give up.
In almost twenty minutes, Shuji would pick up with win with his Giant Slam and eliminating Shingo in the process, meaning that I failed in my prediction also. I'm not even mad with this decision even though it was something I would like to see, but the two gave us a great match that it left me satisfied with it. After the match, the two would bow, shake hands, and hug each other in a show of respect to these two fantastic wrestlers and even said they wanted to fight each other again, so I think we'll get that soon. Bravo to both of you guys.
Recommended: Definitely watch this one.
Champion Carnival 2018 A Block Match
Yuji Hino vs. Kento Miyahara
Review: Well, it all comes down to this now as both Joe and Shingo have lost their respective matches, it is now down to these two men right here. First we have Yuji Hino who has surprised most of us with his performance throughout the whole thing since a few others such as myself didn't expect him to make it this far in. He even defeated Joe Doering and Shuji Ishikawa, two former Triple Crown Champions in the beginning of his matches along with Shingo to give him a heavy lead in the thing along with being considered a crowd favorite with his famous FUCKING BOMB. He unfortunately would have terrible luck near the end after being defeated by both Ryoji Sai and The Bodyguard to ruin his undefeated streak and his chances of securing a final spot early on, but still in good shape since he can still win this one and all he has to do is defeat Kento Miyahara.
Next, we have our current Triple Crown Champion, Kento Miyahara. Kento has made his Champion Carnival in 2014 and since then hasn't made it to the finals, even during times when he wasn't the Triple Crown Champion as he would come close the last couple of years, but would always end up short to not make it in the end. So for Kento, he needs to win this to solidify himself more as AJPW's top guy even though he is considered their ace, a win here would do him wonders. Despite losing on the first night against Shingo Tagaki, he would bounce back by winning three of his matches and also having one bye due to The Bodyguard being injured and kinda wonder what would happen if the injury didn't occur. Despite that though, he was on a roll and could've won the whole thing right here except that Joe Doering ruined his chances when he defeated Kento in the previous show to make himself tied with the others. But now that the only two people that have defeated are eliminated, he has a chance to win A Block finally and all he has to do is defeat Yuji Hino. Who will fight Naomichi Marufuji in the finals on April 30th? Let's find out.
The match didn't even start yet and Kento is getting Naito like chants with just his entrance alone, that's how much the All Japan fans love Kento Miyahara and why he's their new ace. The match started off evenly matched as none of them was letting up, but Yuji would get the upper hand on him and would control the majority of the match and I love the story with that since Yuji is just so confident in his in ring ability, it really does show in this match since his expression is pretty much "You're the champ and I'm gonna make you my bitch when this is over.", and he just has that mentality during the whole bout. Yuji attempted the FUCKING BOMB early, but Kento would start to make his comeback for a short while, but gets knocked back down again! Yuji isn't someone you want to mess with here and just destroys Kento's chest with both chops and Lariat's that looked painful every time he hits him. Kento would eventually get more momentum as he hits some Blackout's and a German Suplex Hold, but would kick out since he didn't get the whole Shutdown. Yuji would try to put him away with another attempt at the FUCKING BOMB, but Kento counters it as he hits his Shutdown German Suplex Hold for the win! Great match and fantastic story here between these two. After the match, Yuji would tell Kento that his move hurt as they were being friendly with each other. They both attempted a handshake, but Yuji would flip Kento off while Kento held up his finger saying he's number one, but the two laugh and fist bump each other with them showing good sportsmanship.
Kento would be making his way to the back, he went back into the ring as he talked about being in the finals and that it's his first time making it this far as he now is set to fight Naomichi Marufuji in the finals in another AJPW vs. NOAH type match and what better place to do it? Even the kids would be by the ring to chant Kento's name as the chants go on throughout the rest of the show, this man is going to be one of the greatest of all time.
Recommended: Absolutely yes.
Overall: This was one of the best nights for A Block as all four of these matches delivered with what it needed to do. Both A and B Block have been great as we're now set for the finals to take place the next day and I'm looking forward to it. Also they had over 1600 people attending this event, so it's good that a bunch of people still go and got to witness a big night.
Favorite Match: Shingo Tagaki vs. Shuji Ishikawa
Least Favorite Match: Naoya Nomura vs. Joe Doering
Score: 8.5/10
Join us as me and Andrew will both cover the finals together along with the rest of the card. We'll see you then.
Final Standings:
Kento Miyahara (5-2) (10 Points) (Winner)
Yuji Hino (4-3) (8 Points)
Joe Doering (4-3) (8 Points)
Shingo Tagaki (4-3) (8 Points)
Shuji Ishikawa (4-3) (8 Points)
Ryoji Sai (3-4) (6 Points)
Naoya Nomura (2-5) (4 Points)
The Bodyguard (2-5) (4 Points)