Chairshot Classics: NWA Bunkhouse Stampede 1988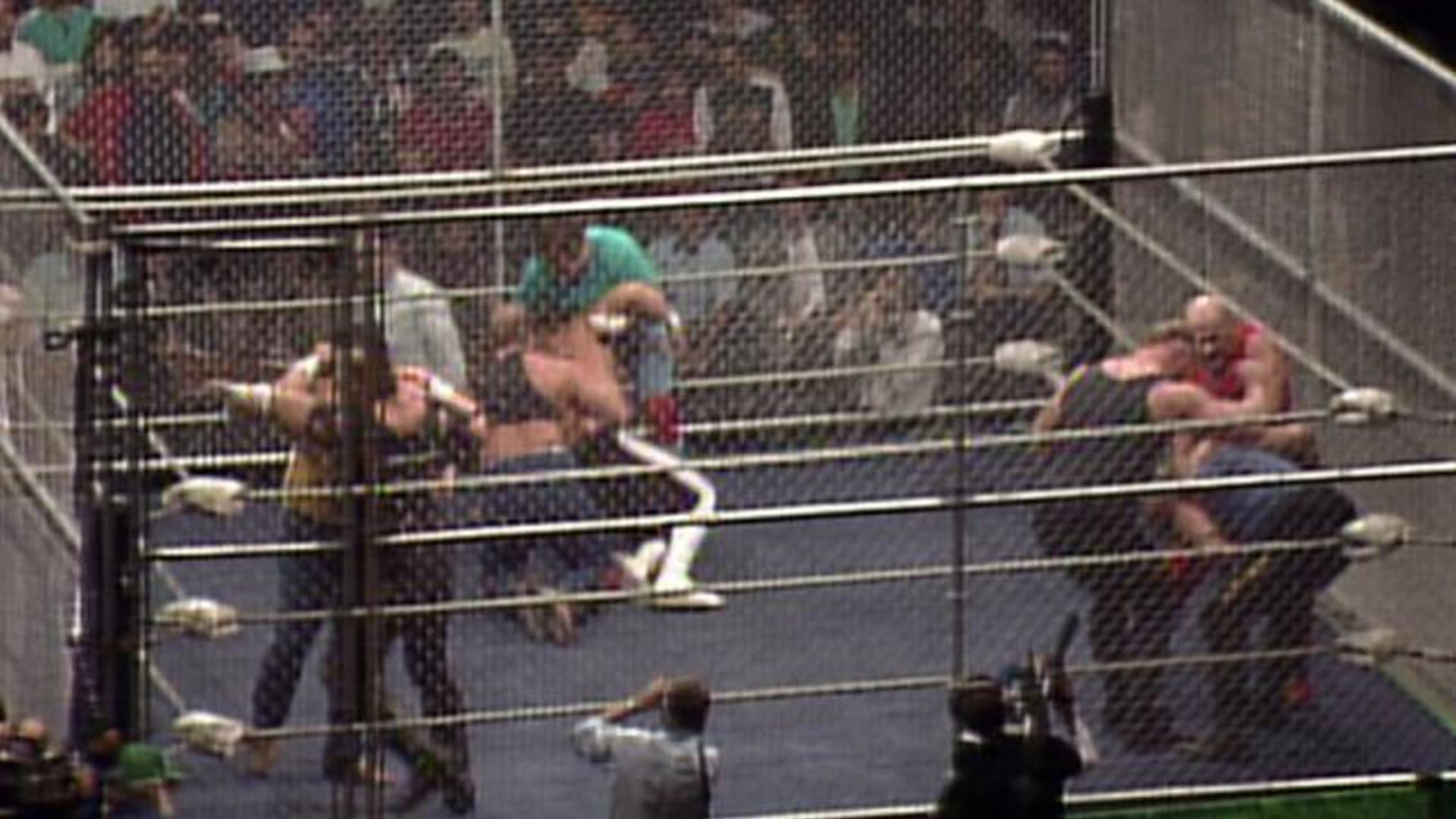 Jim Crockett Promotions and the NWA make their first foray into more pay-per-view events with the inaugural and only Bunkhouse Stampede! There were four Bunkhouse events, but this is the lone one to be broadcast as JCP follows in the WWF's footsteps of adding to their PPV schedule. The match itself is another Dusty Rhodes creation to headline the show, however the WWF would fire back yet again with JCP in their stomping grounds of Uniondale, New York. After running the inaugural Survivor Series up against Starrcade '87, Vince McMahon would do it again here with the first Royal Rumble event broadcast. Not on PPV mind you, but on the USA Network in an attempt to stop people from buying JCP's product. Let's see how it plays out as our opening match gets ready to begin, but first…
Ringside: Bob Caudle & Jim Ross run down the card for the night which consists of three title matches, plus the finals of the Bunkhouse Stampede.
Match #1 for the NWA World Television Championship: NWA United States Tag Team Champion 'Beautiful' Bobby Eaton w/Jim Cornette vs. NWA World Television Champion Nikita Koloff
A big pop for Koloff at his ring announcement. The two lock up and quickly release. Eaton immediately checks in with Cornette. They lock up a few more times and Eaton works Koloff into the corner before another clean break. The next lock up features brief chain wrestling before Eaton breaks it up in the ropes. At the next lockup, Eaton works Koloff into the corner and delivers punches that wake Koloff up. Nikita responds with a shoulder tackle. They lock up again and Koloff wins a test of strength. Koloff applies an arm bar followed by repeated blows on the back. Koloff works Eaton to the mat with a wristlock submission.
Back to their feet, Eaton breaks the hold with an elbow to the nose and kicks Koloff who stumbles through the middle rope to the floor. Some brawling ensues on the floor before Eaton rolls Koloff back into the ring. Eaton attempts to knock Koloff into the turnbuckle but Nikita reverses. They slow it down and both men are squaring up back in the ring. Eaton with a take down off of a side headlock and he maintains a headlock on the mat. Cornette is constantly barking at the referee. Koloff slowly makes his way back to his feet with the headlock still on. He whips Eaton to the rope but is hit with a shoulder tackle. They run the ropes after this and Koloff is able to land a power slam. Eaton regroups with Cornette at the side of the ring.
The two lock up again and Eaton hits another side headlock take down. Koloff rolls from the lock and attempts a pin but only gets 2. Eaton maintains control with the headlock on the mat. Back to their feet, Eaton once again powers Koloff to the concrete floor. He follows Nikita and lands some punches before Koloff throws him off and into the ring post. Koloff follows up with a hip toss on the concrete floor. More brawling happens on the floor before Koloff is pushed back into the ring. Eaton delivers a snapmare takedown followed by a standing elbow drop. There is a pin attempt and a 2 count. Eaton applies a hammerlock submission on the mat. Cornette plugs his ears as the crowd cheers for Koloff to get up.
The crowd loudly cheers "Cornette Sucks!", Koloff slowly works up to his knees and finally stands, delivering 2 elbows and a shoulder tackle before Eaton gets a knee up in defense. Eaton climbs to the top rope and lands a missile dropkick. Pin attempt for a 2 count. Eaton applies another hammerlock submission. The crowd is really giving it to Jim Cornette. After a hammerlock that feels like forever, Tony Schiavone announces there are 5 minutes left in the time limit over the loud speaker. Koloff is back to his knees but he is still trapped in the hammerlock. Koloff finally breaks the hold with a few elbows and hits Eaton with a half-hearted Russian Sickle that hangs him up in the ropes.
They get to their feet at approximately the same time and Eaton has another arm submission takedown. 3 minutes remain. Koloff refuses to submit, and Eaton puts his knee into his opponents back. 2 minutes remain. Koloff back to his feet, with elbows to the stomach but Eaton responds with some kicks of his own and a modified arm bar take down. More submission work on the mat. 1 minute remaining. Koloff strengths back to his feet. They exchange stiff punches. Eaton begs for mercy. Koloff drives Eaton to the corner and delivers 6 punches before an Irish whip to the other corner. Koloff lands a solid Russian Sickle, but there's not enough time for a pin.
Winner: Time Limit Draw
After The Bell: Cornette is in the ring, but he loses his tennis racket in a terrified jump. Eaton attacks Koloff from behind and 'Sweet' Stan Lane of the Midnight Express runs in to make it a double team. The partners kick Koloff out to the concrete.
EA's Take: These two solid NWA stars delivered quite a stinker here. If I ever re-watch the match, I'm getting a stop watch out and timimg how many of these twenty minutes were simply spent laying on the mat in a hammerlock submission. JR did his best to make sense of the "strategy", but there was no logic or strategy here. If the crowd wasn't so interested in heckling Jim Cornette, you probably could have heard some snores. After Cornette claimed Eaton & Lane were respectively going after singles titles, that leads to our match tonight. Eventually, Nikita will team with Dusty (the champion Lane went after) to evolve the feud, but I don't get the finish here. To me, Nikita goes over here, lays claim to a title shot due to the victory, THEN pairs up with Dusty to switch the focus to the US Tag Titles. That's how this should have gone down.
Match #2 for the UWF Western States Championship: Larry Zbysko w/Baby Doll vs. UWF Western States Champion Barry Windham
Zbysko argues with the ref while Baby Doll argues with Windham. The ref finally demands Baby Doll get out of the ring. The two lock up and have a clean break. Windham gets the better end of the next lockup, powering Zbysko to the mat. Windham applies a head lock, runs the ropes and delivers two shoulder tackles and a hiptoss. A frustrated Zbysko consults Baby Doll outside the ring. He takes his time getting back in. Zbykso hits a single leg take down and a short leg submission.
Back to their feet, Zbysko is complaining that Windham is illegally pulling his hair. Windham applies another headlock. The two run the ropes and Windham stops short causing Zbysko to miss a dropkick. They lock up and Windham reverses a hammerlock into a fireman's carry take down. The two work their way to the turnbuckle and they exchange right hands. Zbysko attempts a martial arts kick but Windham catches his foot. Zbysko is back to the concrete again, very frustrated.
Baby Doll appears to be trying to distract Windham, but to no avail. Zbysko is back in and hits another single leg take down. Zbysko tries to work on the seemingly injured leg but Windham breaks the hold by yanking on Zbysko's face. The two run the ropes. Zbysko hits a shoulder tackle, followed shortly by a drop toe hold. Zbysko is applying what looks like a modified half-crab submission. He turns Windham over into a toehold submission. Windham works his way to one foot and breaks the hold with a kick to the head. They regroup, run the ropes and Windham delivers a power slam followed by a 2 count. Windham to the top rope but misses his jump. Zbysko goes right back to work on the vulnerable knee. Windham is back up and hopping on 1 leg but Zbysko maintains the hold until Barry finally lands a few punches. Zbysko delivers sloppy bodyslam and a lateral press for a 2 count.
Zbysko puts a head lock on, but Windham reverses it with a 1 armed belly to back suplex. Windham can't build off the momentum as Zbysko hits another drop toe hold and goes back to that half-crab. One back to their feet, the two exchange hard rights until Windham lands 3 in a row and Zbysko goes down on his back. A whip into the ropes and Windham lands a dropkick. Windham with a vertical suplex and another 2 count. Windham with a side solto suplex and another 2 count. He whips Zbysko into the ropes and grabs him in a sleeper hold. Zybysko breaks the hold by stumbling to the ropes and he rolls out to Baby Doll. Windham has none of the attempted slow down and follows him out.
Some brief brawling before Zbysko rolls into the ring first. 15 minutes have expired. Zbysko walks toward the apron and Windham grabs his ankles dropping Larry on his back. Windham pulls him over for a low blow against the post. Windham re-enters the ring. Zbysko is whipped to the ropes but ducks down on the comeback. Windham attempts a massive lariat and his momentum takes him through the middle rope and back to the floor. He's able to take control when Larry follows though, and Zbysko is smashed face first on a nearby table. As Windham slowly gets to the apron, he hits a shoulder to Zbysko's stomach and attempts a sunset flip. This is countered by Zbysko's right hand. Zbysko attempts a neckbreaker but Windham reverses it into a backslide for a 2 count.
Zbysko sets up for a piledriver but it is reversed into a back body drop. Back to their feet, Zybysko is whipped into the ropes. The two collide in the middle of the ring and they both drop to the mat. Slowly to their feet, Windham moves on an Irish whip to the turnbuckle. Windham steps up to the 2nd turnbuckle and the crowd counts the punches off. On the following Irish whip to the opposite turnbuckle, Zbysko collides with the referee. Windham has Zbysko rolled up into an apparent 3 count, but the ref is down. Windham celebrates but then realizes the situation. He checks on the ref and Zbysko appears to hit him from behind with a foreign object. Zbysko gets the pinfall win.
Winner and NEW UWF Western States Champion: Larry Zbysko (Foreign Object)
EA's Take: This is definitely better than our first match, but that wasn't hard to accomplish. As I stated in my Starrcade '87 review, Barry's being setup for a push towards the top so losing the non-prestigious Western States Title is a good thing. Zbysko would take off from the NWA the following year still as the champion and it was subsequently retired, so that shows how "revered" it was. It wouldn't be but a couple of months later that Windham will turn heel and join The Horsemen, possibly the most recognizable incarnation of the group in its history.
Match #3 for the NWA World Heavyweight Championship: Road Warrior Hawk w/Paul Ellering vs. NWA World Heavyweight Champion Ric Flair w/James J. Dillon
The two lock up and Hawk quickly powers Flair down. Flair takes his time contemplating his next move. Hawk with a side headlock. Flair works Hawk into the corner for a chop, but Hawk just stares him down. Flair walks out to the apron and paces, baffled by his opponent. The two lock up again, Flair delivers a knee and chop to the midsection. Flair attempts a shoulder tackle that doesn't even move Hawk. He goes for a 2nd shoulder tackle and instead Hawk catches him in a gorilla press slam.
JJ Dillon tries to call timeout but the ref won't have it. Yet another gorilla press from Hawk. Flair is backing up on the mat screaming "no". Hawk delivers a barrage of kicks to Flair's midsection. Flair with plenty of theatrics after this attack. Hawk pulls him up and lands a standing dropkick followed by a blow to the head. Hawk relentlessly pulls Flair up for a hiptoss. Flair rolls out of the ring and Dillon tries to give him some encouragement. Hawk meets him at the apron upon his return and vertically suplexes Flair back in. Flair is whipped into the rope and is caught in a bear hug. Hawk works Flair's shoulders down to the mat for a two count. Flair is back to his feet and lands more useless chops. Flair is whipped into the ropes and Hawk lands a shoulder block.
Flair rolls out of the ring and around on the concrete while Ellering stares down Dillon. Hawk joins Flair on the floor who is able to rake the eyes. This only makes Hawk angry and he stalks Flair around the ring. Once back in the ring, Hawk muscles Flair to his knees and Ric finally gets some offense with a low blow. Flair with seemingly more effective kicks, chops and an eye rake after this disruption. The crowd is chanting for Hawk. Flair with a snapmare take down followed by a knee to the head. He covers Hawk for a 2 count. Flair pulls Hawk up and throws him through the middle rope and onto the floor. Flair follows him out and whips Hawk into the steel gate twice. Hawk stumbles back toward the ring as Flair taunts the crowd.
Flair climbs the turnbuckle and hits a double axe handle and another knee to the head. Lateral press from Flair for a 2 count. Flair whips Hawk to the rope who surprises Ric by reversing it into a neck breaker. Hawk to the turnbuckle but misses his attempt at a knee drop. His left knee is apparently injured so Flair takes advantage and works it over in a variety of ways. Outside, Ellering is stalking Dillon to make sure there is no funny business. Flair taunts Hawk yelling "Come on, tough guy" as he delivers more blows to the injured knee. Flair with some chops followed by a belly to back suplex. Flair pulls Hawk to the ring post and swings the injured knee into the metal. Back in the ring, Flair successfully applies the figure four leg lock and uses the ropes for leverage when he can. Hawk refuses to quit. Hawk starts an attempted reversal as Schiavone's voice is heard saying 15 minutes has expired.
The crowd cheers loudly as Hawk completes the submission reversal. Flair is screaming in pain before breaking the hold at the ropes. Both men are slow to get up. Flair hits an elbow to the head and goes to the top rope. Hawk beats him to the punch and Flair takes his patented gorilla press bump from the top. Hawk with chops in the corner. Flair turns him around and sends him to the opposite side with an Irish whip. Hawk comes off the turnbuckle strong and lands a clothesline but he accidentally hits the ref as well. The two run the ropes. Hawk ducks a clothesline and comes back, sending Flair over the top rope with a clothesline of his own. Outside the ring, Hawk runs Flair face first into the post twice. Flair is bleeding.
They work their way back into the ring where Hawk delivers a power slam. Flair cowers into the corner and Hawk lands some rights, followed by an Irish whip and a clothesline. Somehow, Flair climbs to the top turnbuckle but Hawk meets him there. Hawk superplexes Flair, and there is plenty of time for a successful pinfall but there is no conscious ref. JJ Dillon enters the ring and hits Hawk with a chair. This barely phases Hawk who gets up and stalks Dillon down. Flair picks up the chair and delivers a headshot when Hawk turns around.
The ref rolls back in the ring shortly after this as Flair has a lateral press on Hawk but only gets a 2 count. Flair delivers a massive vertical suplex but is shocked to see Hawk is right back to his feet, completely unphased. Flair begs for mercy but Hawk climbs to the 2nd turnbuckle and the crowd counts off the 10 punches. Flair stumbles and falls in the middle of the ring. Flair retreats back to the turnbuckle but sneaks in a knee to the midsection and rushes to get the chair. He hits Hawk with the chair across the back and the ref calls for the bell.
Winner: Road Warrior Hawk (Disqualification)
EA's Take: Classic Flair here as Hawk looks like a million bucks. Lots of no-selling from one of of The Road Warriors and Naitch sells the crap out of the offense, so while I don't care for screwy finishes, I don't know how else you keep the belt on Flair while accomplishing the overall goal. It was interesting to see Hawk going for a singles title, which adds to my intrigue in the match. I have always been of the opinion that Hawk could have been a singles star had he wanted it and had his head screwed on straight. Animal? I'm not so sure, Hawk just always seemed to have much more charisma and was certainly a better promo. They would always come back together however, as we all know.
Match #4 is a Steel Cage Bunkhouse Stampede: Arn Anderson vs. The Barbarian vs. Tully Blanchard vs. Ivan Koloff vs. Road Warrior Animal vs. The Warlord vs. Dusty Rhodes vs. Lex Luger
Everyone takes a dance partner and goes to work. Arn Anderson and Dusty double team Ivan Koloff. Dusty almost eliminates Tully Blanchard immediately through the door. Luger and Warlord exchange blows as Dusty changes his attention back to Koloff. He goes for another elimination but Koloff holds on. Anderson and Blanchard try to double team Luger out of the cage to no avail. Koloff, Rhodes and Barbarian are all up on the top rope in one corner exchanging blows.
Barbarian tries to send Dream over but can't get the big man over. Animal is stalking Tully Blanchard as they tight rope walk across the top rope. Animal grinds Blanchard's face on the cage. Arn is being pursued by Dusty for an elimination but is saved when Koloff hits Dream from behind. Luger is up on the 2nd turnbuckle delivering blows to the head Barbarian. Rhodes throws Blanchard head first into the cage, where back in the center, Luger hits an atomic drop on Koloff. Arn Anderson is bloody and getting his face grated on the cage. Barbarian and Warlord double team Animal. Barbarian bites the bridge of Animal's nose.
Luger is going crazy throwing rights to all comers and the crowd pops as Rhodes uses a strap on everyone else. The Barbarian is able to pull the strap away from Rhodes and uses it against him in the corner. Luger's momentum slows and Arn Anderson delivers some rights. Animal has Dusty's strap now and uses it on Koloff before giving it back to Rhodes. Dream whips Koloff who really seems outmatched. The Warlord and Barbarian with a double team clothesline on Animal. Arn Anderson has removed one of his boots. Koloff steals the strap and uses it against Rhodes' bleeding arm. Luger takes the boot away from Arn Anderson and threatens to use it on Blanchard. Animal saves Rhodes from Koloff.
Luger is driven into the cage by the Warlord and receives a set of double team chops from he and Barbarian. We see Anderson being close to thrown over by Animal while partner Blanchard now has the strap around the neck of Koloff at the door. Anderson fights it off and is back in the ring delivering a double axe handle. Rhodes' arm is a bloody mess. Ivan Koloff is eliminated over the top of the cage by Animal. Back in the ring, Luger rakes Barbarian's eyes over the top rope. Barbarian fights back with some chops, but is met with an attack from Rhodes. At the door, the Warlord is hanging on tight as Animal is punching him out.
Animal is attacked from behind by the Barbarian and they both go out at the same time. Road Warrior Animal & The Warlord have been eliminated.The Horsemen and Rhodes and Luger team up and go at it. Power slam from Luger on Blanchard and he gets Tully into a brief torture rack submission. Barbarian takes over with Rhodes while Anderson tries to save his partner. Luger tries to fight both of them off but can't overcome the double team. Barbarian is biting the bloody arm of Rhodes while the Horsemen carry Luger to the door. Luger fights back. Blanchard goes to the top rope, but Luger knocks him off.
All 3 men are battling at the door. Anderson hovers over a punching Luger on the apron. Blanchard is using his feet to slide Luger out but Anderson is father outside than Lex. All 3 men simultaneously fall out to the concrete. Arn Anderson, Lex Luger & Tully Blanchard have been eliminated. Only Dusty Rhodes and The Barbarian remain in the ring. Rhodes delivers some bionic elbows near the ropes but Paul Jones sneaks a foreign object into Barbarian's hand. Barbarian wastes no time to use it.
Paul Jones cheers him on as Dusty is on his back in the middle of the ring. Barbarian goes to the top rope and delivers a diving headbutt. Barbarian drags Rhodes to the door. Both men are slowly out to the apron. Dream appears to be in trouble but comes back with more bionic elbows. Back in the ring, Rhodes whips Barbarian and hits an elbow. Both men to the turnbuckle and both men climb to the top rope. Rhodes lifts Barbarian to a seated position atop the cage. A first bionic elbow knocks Barbarian to the outside of the cage. A 2nd elbow knocks him to the floor.
Winner: Dusty Rhodes
EA's Take: Kind of like the scaffold matches, this gimmick match is visually interesting, but conceptually nonsensical. Granted, five of the competitors were eliminated at the door which is at least a realistic sell, but over the top of the cage? It meant there were a lot of spots where multiple wrestlers were up on the top turnbuckle and walking across the top rope in a way they never would in a normal match. Most of the time, the wrestlers were simultaneously climbing up the ropes willingly and unprompted. If your goal is to avoid being thrown over the cage, why would you put yourself in a more dangerous spot? It made as much sense as someone in a modern Royal Rumble choosing to jump over the top rope and fight guys off from the apron. Being eliminated at the door is more realistic, but the door eliminations weren't very exciting. The guys gave a good brawl in the ring, but I think they would have been better off with a traditional battle royal concept.
EA's Finisher: This two hour event leaves a lot to be desired and quite frankly, that would be reflected in the number of buys it would gain. It was widely ridiculed by the pundits, primarily because Dusty booked himself to win all four Bunkhouse Stampedes. Was it justified? Who am I to say? I think it may have helped had the dark match been on the main card, which was Sting & Jimmy Garvin vs. The Sheepherders, better known as The Bushwhackers. With only four matches, there was no reason that couldn't be part of the broadcast. While many on this card are beloved Hall of Famers, none of these matches were exactly Shawn Michaels and Bret Hart putting on a technical clinic that captivates our attention for a long period of time. JCP will be back at it as they go to a whopping THREE PPVs in 1988, with The Great American Bash up next in June. It's refreshing to cover an event other than Starrcade and JCP does have talent, but unless you are interested in seeing what this Bunkhouse Stampede match is all about, you should avoid this one.
Top Three To Watch
1 – Ric Flair vs. Road Warrior Hawk
2 – Bunkhouse Stampede
3 – Barry Windham vs. Larry Zbysko
Attitude Of Aggression #277- The Big Four Project Chapter 4: Summer Slam '88 & Survivor Series '88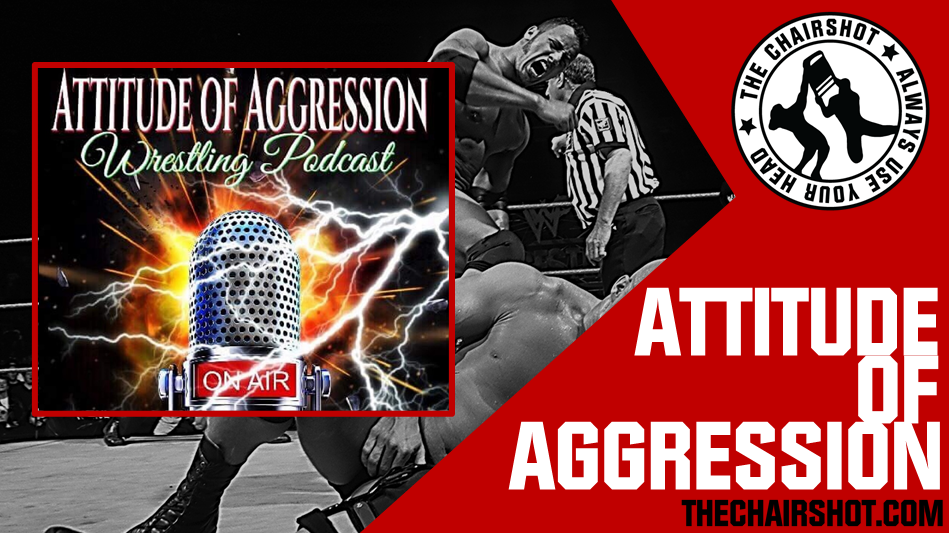 The Attitude Of Aggression returns for Chapter 4 of The Big Four Project, a chronological analysis, review, and discussion about WWE's Big Four PPVs/ Premium Live Events. On this Episode, Dave is again joined by the one and only PC Tunney to discuss two more huge events in pro wrestling history, the inaugural Summer Slam and Survivor Series'88. However, the guys are also joined by the debuting DJ of The Mindless Wrestling Podcast to join in the festivities. Summer Slam '88 was a key event in the story of the rise, and eventual fall, of The Mega Powers. But it also saw a different kind of explosion as The Ultimate Warrior burst upon the scene like few had before him with an iconic dethroning of The Honky Tonk Man. The fellas look at how the events of that night in MSG nearly 35 years ago redefined an industry. From there, Dave & DJ recap the second Survivor Series. While not as unique or good as the first Survivor Series, there were still many key moments that took place that night. The Mega Powers would be the sole survivors of their match that night,,,,but they would not survive as a united force for much longer. What changed that night in Richfield, Ohio so long ago? We have the whole story for you here on Chapter 4 of The Big Four Project!
About the Chairshot Radio Network
Created in 2017, the Chairshot Radio Network presents you with the best in wrestling and wrestling crossover podcasts, including POD is WAR, Women's Wrestling Talk, Chairshot Radio daily editions, The #Miranda Show, Badlands' Wrestling Mount Rushmores, The Outsider's Edge, DWI Podcast, Bandwagon Nerds, the Greg DeMarco Show, 3 Man Weave, Five Rounds, Turnbuckle Talk, The Reaction and more! You can find these great shows each week at theChairshot.com and through our distribution partners, including podcasting's most popular platforms.
The Chairshot Radio Network


Your home for the hardest hitting podcasts and radio shows!
Listen on your favorite platform!
iTunes  |  iHeart Radio  |  Google Play  |  Spotify
Listen, like, subscribe, and share!
---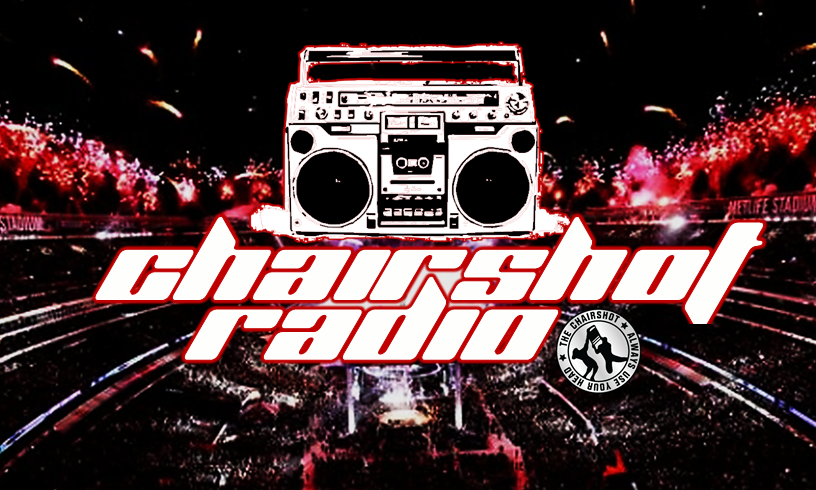 Chairshot Classics: What I Watched #16 – ECW Guilty As Charged 1999
Breaking up the 2018 time travel with a much deeper dive! Harry goes back to some prime ECW with Guilty As Charged 1999!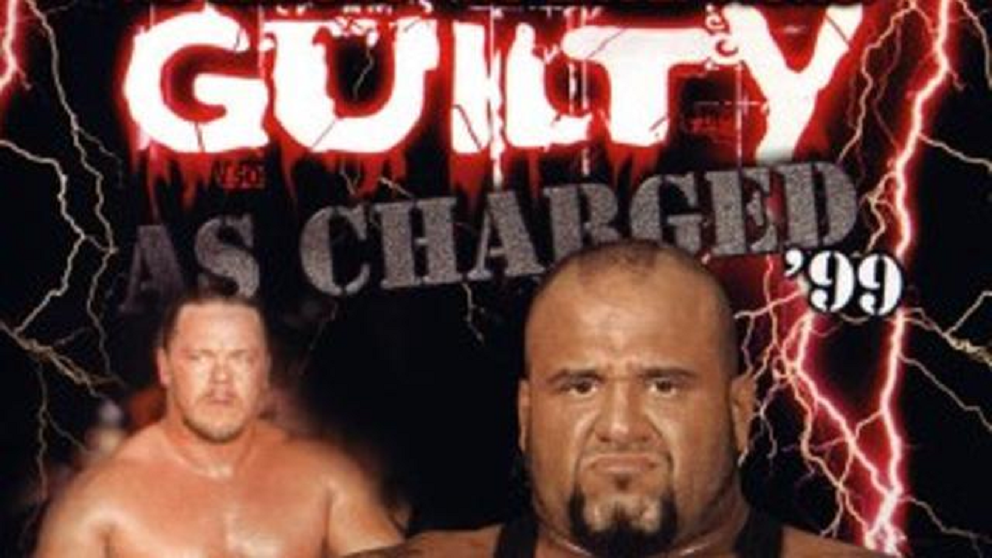 Greetings, salutations and welcome back. Harry here once again with another edition of 'What I Watched'. As the calendar year turns to 1999 on my watch-through of all things 'big three' wrestling, I covered Starrcade 1998 in an earlier edition of WIW. I figured since this is probably the last year where all three major companies are relevant (at least at the start), it could be fun to compare and contrast how I feel about the respective PPVs when compared to some of the independent wrestling I've been covering recently. Or even going back to the PROGRESS or Impact Wrestling shows that I've covered before. I am fully aware there are going to be some bad shows in 1999. But there is also a lot to talk about in a drastically changing industry. Let's do this, shall we?
ECW is in flux as talent losses haven't yet gotten to what they would become but names like Sandman, Mikey Whipwreck, Bam Bam Bigelow and others are no longer with the company. To make matters worse, the ECW-FMW relationship is falling apart now as well as a Chris Candido and Sunny (sorry, Tammy Lynn Sytch) no-show of a scheduled FMW appearance. Paul Heyman himself is the first person we see telling us the card is going to change…how much does it change? The WayBack Machine takes us to January 10th, 1999 in Kissimmee, FL as it's time for ECW to be Guilty as Charged!
What I Watched #16
ECW Guilty as Charged 1999
1/10/1999
Millenium Theatre in Kissimmee, FL
Runtime: 2:40:30 (Peacock)
Commentary By: Joey Styles (PBP)
THE RESULTS
Match 1: Axl Rotten/Ballz Mahoney win 3 team tag elimination match, eliminating Little Guido/Tracy Smothers @ 10:44 (Danny Doring/Roadkill eliminated @ 8:15)

Match 2: Yoshihiro Tajiri pins Super Crazy, dragon suplex @ 11:37

Match 3: Psycho Sid Vicious pins John Kronus, powerbomb @ 1:31

Match 4: Bubba Ray and D'Von Dudley def. New Jack/Spike Dudley, both Dudleyz pin Spike @ 10:05

Match 5: ECW TV Title- Rob Van Dam pins Lance Storm, bridged German suplex @ 17:46

Match 6: Justin Credible pins Tommy Dreamer, That's Incredible on ladder @ 18:44

Match 7: ECW Heavyweight Title- Taz defeats Shane Douglas © by KO, Tazmission @ 22:15
THE BREAKDOWN
Three Team Tag Elimination Match

Started as a straight up 2 vs. 2, but within the first two minutes, Ballz and Axl (Axl making his return to the company after the passing of his grandmother) join the frey and it becomes your traditional ECW three team brawl. Nothing really stands out here but the overall work is good enough for what the match is supposed to be. The elimination of Doring and Roadkill is well done, as a FBI double-team fishermanbuster looks really cool and gets a decisive win for what was to be the original match. They do give the win to Axl and Ballz here, which I get given the fact they are a popular act, but I personally think  that Guido and Tracy were a better team during the time frame. (**½)
Super Crazy vs. Tajiri
Yes, it's the feud that never ends. But this is where it begins. Both men were relative newcomers to the American wrestling scene with both having had limited exposure on WWF TV (both were in the Light Heavyweight title tournament). This is a good match but not a great match and honestly, I think timing is the issue here. Eleven minutes may seem like a lot but knowing what these two would be capable of down the road once there is more of a fan and time investment into their matches, it ends up being a good starting point but probably not the blow away match that ECW was expecting to deliver here. (***)
John Kronus vs. Mystery Opponent
So, ECW fans are notorious for their belief that the "big oaf" style of the WWF and WCW wouldn't work in ECW. Obviously, they are wrong. Guys like Big Dick Dudley and 911 became massive fan favorites due to their look, not anything they could do in a wrestling ring. You can add another name to that list, as Psycho Sid makes his ECW debut here (following an introduction by the 'Judge' Jeff Jones) and absolutely kicks Kronus' ass in less than two minutes. Sid was never anything special in the ring but he is one of the more charismatic big men in wrestling history so the cult-like following is easy to understand. Too short to rate, but fun for what it was. (X)
Dudleyz vs. New Jack/Spike Dudley
Sixteen year old Harry getting into ECW was a huge Joel Gertner fan. Thirty seven year old Harry going back and watching these shows is an even bigger fan of Joel Gertner. Granted, his shtick is incredibly juvenile but sometimes, you just want to laugh…
The match is your standard ECW garbage brawl. Most New Jack matches definitely have a similarity to them that does not hold up well for re-watching. I will openly admit to being a Spike Dudley mark and he does well taking an ass whooping from Bubba Ray. The Dudleyz definitely have their moments in ECW (the best is still to come in my opinion) but this isn't one of their best performances. I will give props to New Jack for taking 3D on the ramp, even if it doesn't come across the cleanest. About what you'd expect, but nothing more. (**)
TV Title- Rob Van Dam © vs. Lance Storm
Rob Van Dam vs. Masato Tanaka was the originally scheduled match and I think it could have been fun. However, Tanaka apparently has visa issues which prevent him from being able to get into the US for the show and thus ECW has to pivot quickly. I do have to give credit to Lance Storm for his pre-match promo here. For someone who is not known as one of the better talkers in wrestling history, he does a really good job explaining the situation with the 3 way that was supposed to happen (Storm vs. Spike vs. Jerry Lynn (cracked pelvis)) and then calling out Rob Van Dam since his opponent wasn't there either. Storm has a really good closing line for the promo too: "I'm not the 'Whole F'n Show', but I am the best damn part of it'. That is one of the lines that sticks with you and you remember it.
The match itself is very good but not great. It is better than anything else on the show, so perhaps I'm rating it on a slight curve for that. Van Dam's selling is sporadic but to be fair, Van Dam's selling is always sporadic. The biggest thing for me is that despite that, they still keep an impressive pace and the match is by and large clean. There is a super weak chair shot by Storm (which the crowd gives him a good ration of shit over), but they do manage to turn that crowd around for the finishing sequence. A little surprised by the choice of finish, but I imagine that has something to do with telling the idea that Storm got caught and wasn't soundly defeated like most of Van Dam's prior opponents had been. (***½)
Stairway to Hell- Justin Credible vs. Tommy Dreamer
The problem for Credible in ECW is that Paul wanted you to believe that Justin was this huge deal but truthfully, the booking never actually treated him as such. Yeah, he won…A LOT…but more often than not, it was almost treated as an afterthought. He very rarely won the big matches on his own and while I get that as a heel, you want to give him that sense of dickishness, as a wrestling fan eventually you have to make it look like the dude could stand up on his own. Dreamer has long been a favorite of mine, even if he has overstayed his welcome in the ring on occasion. You know going in that win or lose, Tommy will bust his ass to give you as good a match as he is capable of. 
As for this match, it never reaches that next level that you expect a gimmicked semi main event of a PPV to reach. It's not actively bad or anything (in fact, probably up there for Credible's best match in ECW to date) but with the stipulation and the gaga around it, it feels like there was so much more it could have been. The finish comes off really flat as well as it renders the whole point of the stipulation useless and only serves to put more heat on Credible by way of Funk. (**½)
Heavyweight Title- Shane Douglas © vs. Taz
So, I'll be a little nicer to this match then some other reviewers I've seen for a couple reasons. It completely accomplishes the goal that Heyman set out for it. Taz comes out of the match looking like a world beater. Douglas comes out of the match as the face of the company who "went out on his shield" as the old phrase goes. Sabu looks like a lunatic and a viable threat to take the title at any time he damn well pleases. Candido comes off as a huge dick and sticks the final knife in Douglas' back for the end scene. So the story telling is magnificent. 
The match itself? At least a good five to seven minutes too long for that story. I get wanting that epic storytelling to fold out but when you guys are down and low on ideas, it might not be the worst idea to take it home. The other issue is that by trying to serve so many masters, Heyman causes the main event to end up being epically overbooked. Granted, that is an ECW trademark but for what was to be the crowning moment for Taz, I don't think the 73rd Airborne needed to be a part of it. Sabu could have just as easily returned post match to set up a run with Taz. Or Candido could have turned on Douglas post match to give him a direction going forward since Taz would be occupied with Sabu. I'm not saying it completely takes away the moment but it does make it mean less than it could or should have in the overall scheme of things. (**)
THE FINAL REACTION
Best Match/Moment:

Rob Van Dam vs. Lance Storm, although I do think their match at the first ECW PPV 'Barely Legal' (which I imagine I'll eventually do) is better

Worst Match/Moment:

The main event. What could have been an awesome moment for the 'Human Suplex Machine' and the biggest ass kicker in the company is ruined with a boring crowd brawl (to the home viewer) and a couple of run-ins that either end up actively taking away from it.

Overall Show Score:

5.5/10

MVP:

Joey Styles is the best thing about this show with his one man performance. There is a reason he was such a major influence on what I did as an announcer.
THE SIGNOFF
It's not a bad show. It's just not a particulary good one either. And while ECW would put out worse, it only barely outdoes Starrcade 98 to avoid the worst show of the return thus far.
So, where do we go from here? January of 1999 had no chill. The very next Sunday would see the first WCW outing of 1999, called Souled Out. The Sunday after that would be the 1999 edition of the Royal Rumble. I'm going to hit both of those but as a fair warning, I'll probably try to mix an Independent show from 2018 in the middle of them. Hope to see you guys at Souled Out. And feel free to check out my archives by clicking on my name at the top of this review. Thanks for reading, everyone.