CheapShots: A Finn Balor Heel Turn Should Happen at WrestleMania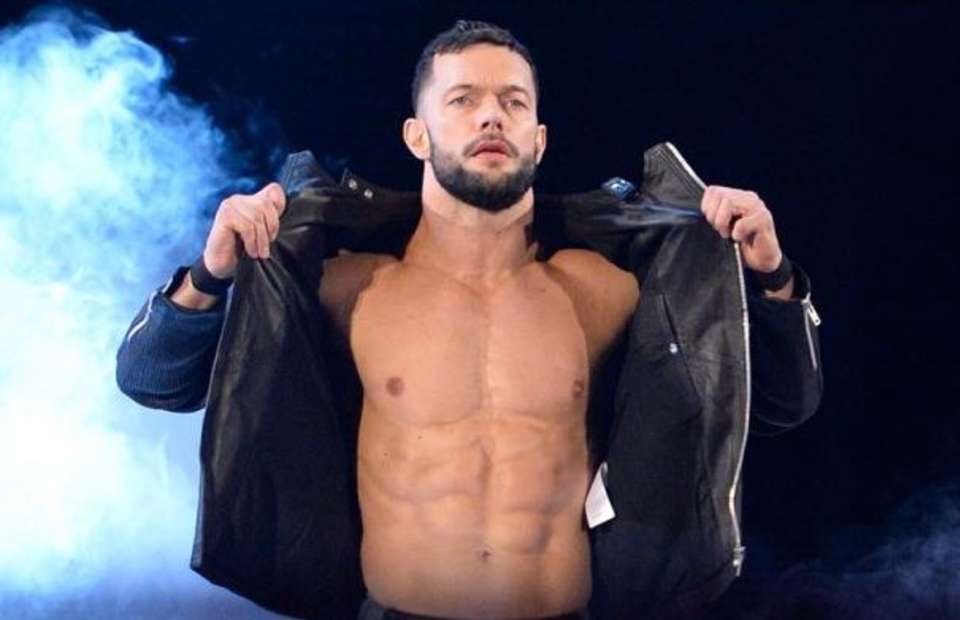 Finn Balor, who lead the NXT to new heights, Finn Balor, whom was the first ever Universal Champion, Finn Balor, who "Isn't over enough" according to Vince McMahon. Yes, that is the Finn Balor I am talking about. The timing could not be better for Finn's heel turn at WrestleMania. Will it happen? Probably not, cause the creative team at WWE is still writing with their Crayons. But, let me throw this idea out there and you can decide for yourself.
Cheap Shots are unfiltered, uncensored opinions, and those opinions reflect only the author!

A Horrible Run Thus Far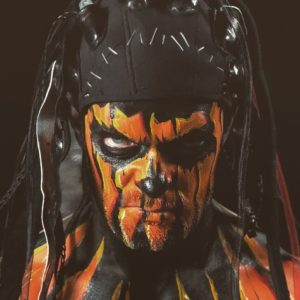 Vince and his Idiotic creative team have given Finn Balor very little to do since his return from injury. He had a horrible run against Bray Wyatt, where we got Pumpkin face Finn (Seriously? WTF was that?), a match where he almost, (Thank God Bray got sick and we didn't see this garbage) wrestled Bray in drag as Sister Abigail. Since then he has been floating around the Mid-Card not really doing anything.  We now have a crappy version of the stable Finn created (the Bullet Club) as the Balor Club. Which is just a name, because the Balor Club does nothing that tells me they are a faction that are together and are trying to accomplish anything, besides hanging out.  As Price Devitt, Finn's best run in NJPW was when he was a Heel. With his run in WWE not currently going anywhere at the moment why not have him turn Heel?
Build up to WrestleMania
Allow me to paint the scene for you. If the past weeks are any indication, with The Miz pitting them off against each other, we are building to Finn Balor vs Seth Rollins match. The Rumor is that Seth Rollins will walk away at WrestleMania as IC Champ. So why not add some added spice to the mix? So, at Mania let's have Seth win the Title. In doing so, he screwed Finn over (stealing the pin from him, something like that) Finn gets raging mad and goes off like a rocket and beats down Seth. Thus, Finn turns his back on his friendly competiveness with Seth, claiming it is now personal. The Miz and Seth go at it for a few weeks, with Finn constantly disrupting the match, trying to get Seth to lose the title. This leads to a number one contender match against The Miz, with Finn going over. What this leads to is a heated feud, building to the perfection of Seth vs. Finn. Raising the stock of everyone involved.
Final Thoughts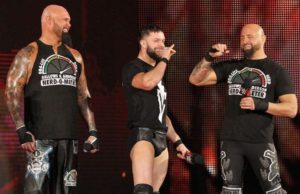 Wouldn't turning heel hurt Finn's image? No, because he isn't doing anything of great importance, and isn't "over enough," according to Vince.
Being a heel would hurt his merchandise sales. Yea, cause when he created The Bullet Club those shirts didn't sell. (Eye Roll)
Wouldn't Fans be upset? Yes, but that is the point of being a heel. Everyone that seen Finn do his thing in NJPW would breathe the fresh air, of him finally being a heel again.
For those of you who never seen him as a heel in NJPW, because let's be honest Vince didn't either. Allow me to pitch it to you. Finn with his cocky smile, being a smart ass, being able to back up what he says because he is damn good in the ring, having the good brothers behind him to back him up, and help him (cheat) to excel, sounds like a heel to me. Would he be hated at first? Most likely, but that is how heels work. But, once fans got through the initial shock phase, we would finally have a cool bad guy and a cool faction in the Balor Club. One that we haven't seen in the WWE since the days of DX, we would all love to hate Finn and his crew's antics, making him popular and cool as a renegade bad guy. Thus, making him "Over enough."
---
Always Use Your Head and visit the official Pro Wrestling Tees store for The Chairshot All t-shirt proceeds help support the advancement of your favorite hard-hitting wrestling website, The Chairshot!

---
Shakedown, Breakdown, Let's Bust 'em Up Twice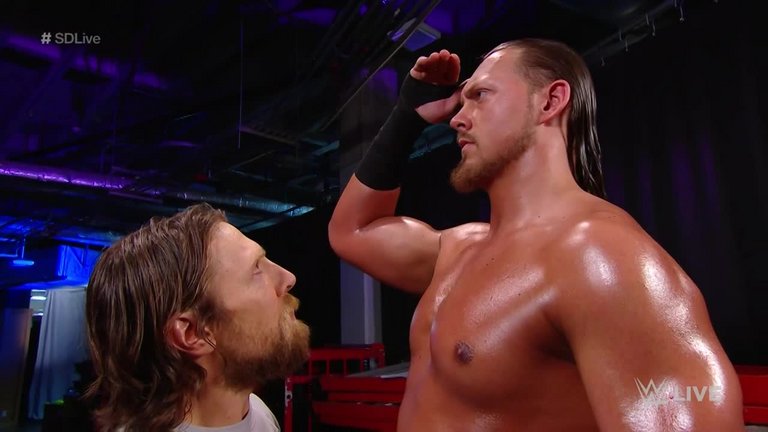 Cheap Shots are unfiltered, uncensored opinions, and those opinions reflect only the author!

Quick New England turnaround in the big bird as we hit the Capitol city of the smallest state in the country. So much for thinking Round 2 of The Superstar Shakeup would be less insane because SmackDown Live is a shorter show. Once again. passengers are instructed to grab their oxygen masks and take a deep breath. Air sickness bags won't be required. Tuesdays tend to make more sense at this circus. Show starts as AJ Styles' music hits. The WWE Champion is frustrated. Who wouldn't be after repeated shots to the little rocks? The Phenomenal One wants a fight. His request is answered, but The Artist Formerly Known As is nowhere in sight. Instead, it's Rusev Day. A match between Styles and The Lion of Bulgaria ends in a schmoz when Aiden English jumps AJ to avoid a quick finish. A 2-on-1 attack leads Daniel Bryan to make the save.
Shakeup craziness starts when Shelton Benjamin comes out solo. Chad Gable has moved to Raw. More on that as necessary. Brock's college buddy cuts a heel promo on his former partner while asking for "big competition". Okay Shelton, can you handle a Viper? Except, Randy Orton and his music are hijacked half-way up the aisle. It's Jeff Hardy, and my Seth Rollins to SmackDown prediction was DEAD wrong. Jeff was sent to RAW to bring The United States Championship back to Tuesdays. Just Creative making sure smart marks are still clueless sometimes, nice swerve!
In a slight bit of strangeness, Orton looked on from the ramp without getting involved. Benjamin is a veteran ace, but there is no way Vince was giving him Gold last night. It was a solid match. The Charismatic Enigma won clean with A Twist of Fate & Swanton Bomb. Betting Cowboy Bob's Kid will continue lurking in the weeds assuming Hardy gets passed Jinder Mahal in the desert. For once in your obnoxious life; Vinnie, don't turn this into a triple-threat when it isn't necessary. Otherwise you'll add more credence to my Mahal/Carmella comparison.
We have now entered the squash portion of the program. Although Superstar Shakeup goosebumps for most smart marks and sheep would return shortly. First, there was a singles match between Harper and Jey Uso with each man's partner at ringside. This was over quickly. Harper went over. Intensity did not dissipate after the bell as Jey was knocked unconscious. The Bludgeon Brothers then turned their brutality to Jimmy, tossing him easily around the outside. The Samoan's painful exodus halted at the ring steps. The ginormous Tag Team Champions threatened to squash his head with a mallet. Fourth Wall Alert: This brought a freaked-out Naomi from the back to protect her husband. Luckily, the monsters showed some mercy and left. Good luck finding a team to take The Gold off of them.
Next in-ring action finds Hunico waiting for opposition. For blind marks and other sheep. There's only been ONE Sin Cara! The real deal is apparently competing for a top promotion in Mexico. In the current art form: only Rey Mysterio EVER moved on the same wavelength. Unfortunately, The Faceless One is the closest thing I've seen to a human piñata. It's hard to perform in The American Style; acrobat or not, if you are constantly injured. Even though Vince is clueless in terms of handling his kind of talent, WWE fans were blessed they blinked long enough to see him. Guessing my passengers weren't expecting to find that soapbox in cargo. Please stand by as we return to The Superstar Shakeup. The knockoff was ready to be a carpenter for…. Samoa Joe! Joe beat him in under five mins. leaving the rest of the fighter's time for a promo. C'mon Joe; please don't have a heart attack while holding a microphone. Don't forget to breathe. If he can stay healthy, this could be fun. Otherwise, I am shoot scared for him.
Cut backstage: Rene Young is interviewing Daniel Bryan. She asks him why he helped AJ Styles. The American Dragon says he respects The Champ. During his three-year fight, Styles' name was at the top of his list of potential matches upon his return. Suddenly, Daniel stops mid-sentence and looks up. Rene stops, slowly pointing the mic upward. First, we don't see a face, but the physique is unmistakable. We haven't seen Big Cass since his knee injury months ago. "This is what all the hype is about?" This just got good!
In a pathetic reminder of Stamford stupidity, sheep are taken from Incredible potential to an unnecessary waste of space with The Mellabration. Thankfully, The Fake Wrestler was interrupted by Charlotte. Given the level of last week's Down Under beatdown, I was shocked. Slowly, Second Nature came to the ring, poking holes in Carmella's Kleenex. Bringing up the mugging from last week. Even mentioning a certain chinless freak! PREACH! The Iconics came out to interrupt things; recapping the assault and congratulating Blondie Circus on wasting time. The Sexy Koalas tried to press repeat on last week until Becky Lynch ran down for backup. One of The Aussies made her competitive debut. It was Billie Kaye. She was impressive, but give Charlotte prep time, and any girl's in trouble. Kaye tapped out to The Figure Eight with Peyton Royce at ringside; and Carmella looking bored at the commentary table. About as bored as me watching her steal money. Bell rings, heels jump Charlotte and Becky 3-on-2. Who did The Superstar Shakeup send to make the save? The Rising Sun Mystic! At even strength, the arrogant heels left in serious pain.
Main Event time! After the Rusev/Styles contest ended with a run-in from Aiden English, our new GM had to do something. With a better bounce than Teddy Long EVER had, Paige makes the obvious tag match between Styles & Bryan and Rusev Day. The match was good for just over ten minutes before The Artist Formerly Known As came through the crowd. At this point, AJ Styles wishers he was a Mounds instead of an Almond Joy. Not to mention, Big Cass ran in and kicked Daniel Bryan's head off! No parrot should put a microphone in Shinsuke Nakamura's face. He's not gonna answer you! Alright Pale Rider, find two baby faces and make the 8-man tag match next week. That show was a pin ball game. I can certainly see why a ton of fans think SmackDown Live made out better than RAW with The Superstar Shakeup. However, my heart will always be where I can find Mercedes. I will see my passengers in St. Louis next week. Safe travels everyone!
---
Always Use Your Head and visit the official Pro Wrestling Tees store for The Chairshot All t-shirt proceeds help support the advancement of your favorite hard-hitting wrestling website, The Chairshot!

---
CheapShots: Carmella's Cash-In Is A Win…Even If You're Not A Carmella Fan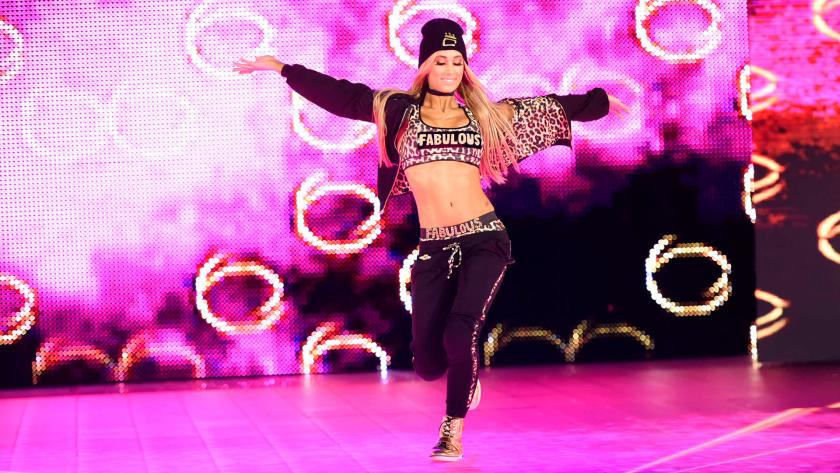 Cheap Shots are unfiltered, uncensored opinions, and those opinions reflect only the author!

So, by now, everyone's heard that after several failed attempts, Ms. Money in the Bank, Carmella, has successfully cashed in her briefcase on Charlotte and is now the SmackDown Women's Champion. A lot of fans were perplexed by WWE booking Charlotte to beat Asuka's streak at WrestleMania, only to lose her title to Carmella on SmackDown, even though it took a beatdown by the debuting Iconics to make her success possible.
Carmella's successful cash-in is important and should be celebrated, even if you're not a fan of Carmella's:
It frees Charlotte to go back to RAW. Charlotte has done very well on SmackDown, but I know a lot of fans are anxious for her to go back to RAW.
It keeps Carmella on SmackDown. I know some fans want her to go to RAW, but I think keeping her on SmackDown would be a better idea right now.
It makes the Women's Money in the Bank Look Legit: After all the BS with how Carmella won the briefcase, WWE needed to have her win or have the Women's Money in the Bank look like a joke.
It elevates Carmella. Carmella has really suffered from a lack of direction for a few months now and her failed cash-in were starting to hurt her in the eyes of fans. For her to beat Charlotte and have a successful cash-in really helps her over the long run, plus it gives her a chance to shine and show her skills in the spotlight.
I know Carmella isn't everyone's favorite, but her getting the title is a breath of fresh air, a nice surprise, and opens up new feud possibilities for SmackDown going forward. Am I guaranteeing that her first run is going to be great? No, but it is a change and Carmella has come a long way from her days as Enzo Amore's hairdresser on NXT, watching her grow as a champion will be fun to watch.
---
Always Use Your Head and visit the official Pro Wrestling Tees store for The Chairshot All t-shirt proceeds help support the advancement of your favorite hard-hitting wrestling website, The Chairshot!

---
CheapShots: Tommaso Ciampa – The Heel We Need…and Deserve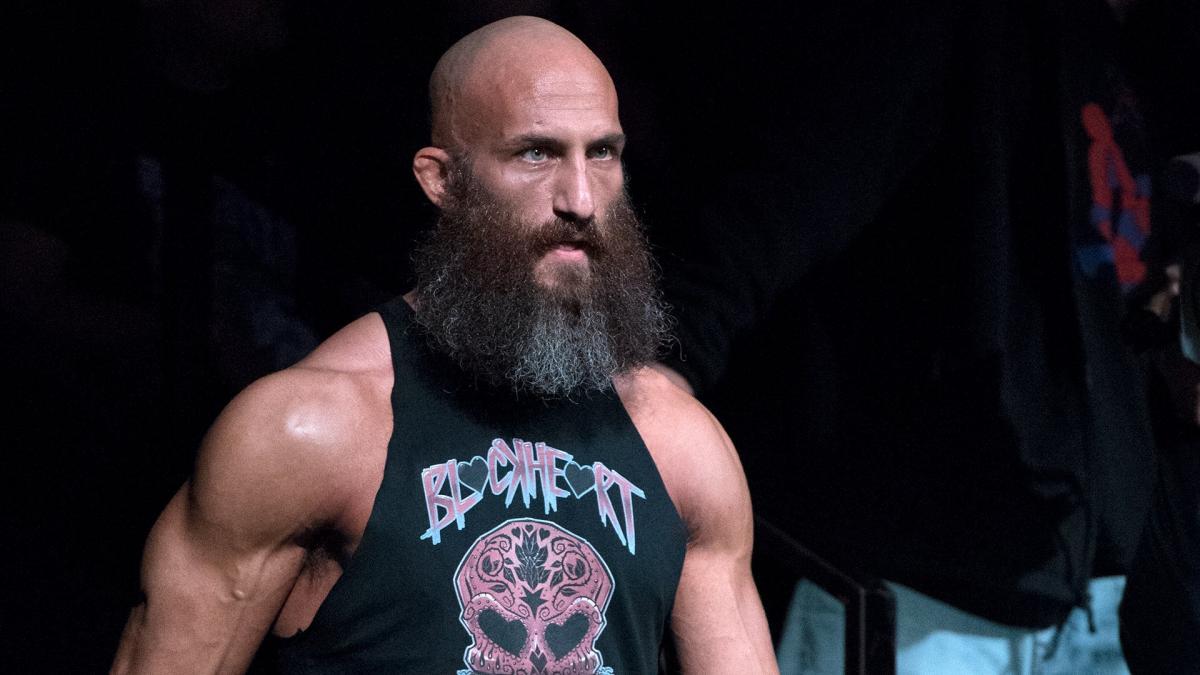 The very foundation of the story of Wrestling is baby faces vs. heels. At what point did WWE decide to throw this out of the window? Has the rise in social media collapsed this belief because everyone is twitting and hanging out back stage? Every decade of wrestling has had its major Heel and Face feuds. In this day and age though everyone balances in the grey, because we still got to sell those T-Shirts right? But, out of the ashes of want to be heels, Tommaso Ciampa has risen. And it is the freshest air I have breathe in WWE for a long time.
After NXT New Orleans, one thing is clear, Ciampa is a heel. But, not just any heel, a proper heel, and one we haven't seen the likes of in a long, long time. KO and Miz do a good job as heels, Nakamura will most likely be in the same boat as KO and Miz but, at the end of the day they aren't true proper heels, they balance somewhere in the grey. Ciampa on the other hand is in the black. I have said it before and I will say it again, if you are getting cheered as a heel you aren't doing your job right. Here are a couple of reasons why I believe Ciampa is the heel we need in this day and age, and one we deserve for years to come.
Merchandise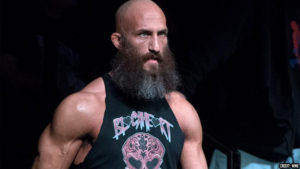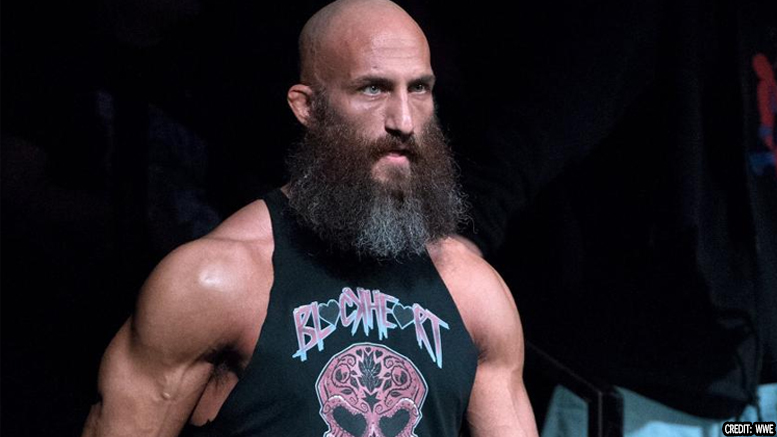 Now a day, everyone has merchandise they want to sell, so they can get those royalty checks, including the heels we have on the main roster. Chris Jericho is has mentioned that when he is a heel he won't allow WWE to sell his merchandise. Why would Jericho do this? Well, back in the old days of wrestling, there was no merchandise for heels. Why? Because they generated so much heat, and were so hated, you didn't want to buy their merchandise. Now whether this is a call from Ciampa (most likely), or NXT they are doing it right by not selling his Blackheart shirt. (Even though I want one) This is an old school move and one that applaud Ciampa or NXT for doing.
The Heat
Is he generating old school heat? Not exactly. No one is jumping the barrier and try and kill him, or chasing him out the building. But his entrance at Takeover showed just how much heat he can generate. You could feel the hate coming from the fans, and that is what a heel is supposed to be, no one should be cheering for them. With that kind of heat, when they are beaten it makes the crowd pop that much more, because everyone wants to see them fail, and lose.
Final Thoughts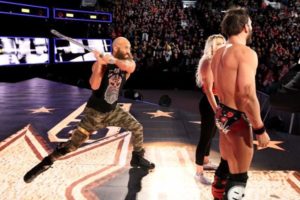 A hero is only as good as its villain. This is story-telling 101. The NXT writers struck a nerve with the audience with the Gargano -Ciampa feud. This is a feud that we will see play out on the main roster for years to come. But, the key thing that NXT and WWE need to do and it is imperative, is keep Ciampa a heel for the foreseeable future. It is obvious that he is good at it, and is a natural. They need to let him build this same type heat with others on the roster. Make him the most hated man in WWE. If they can do this, and keep their finger on the pulse, then Ciampa can become one hell of a villain to the WWE story. A story with that type of villain is one that I want to see.
---
Always Use Your Head and visit the official Pro Wrestling Tees store for The Chairshot All t-shirt proceeds help support the advancement of your favorite hard-hitting wrestling website, The Chairshot!

---