Ja'Von's IMPACT Redemption PPV Live Report! (4/22/18)
IMPACT Wrestling presents Redemption tonight, live from the Impact Zone in Orlando, Florida. A total of eight matches are announced, including the much anticipated triple threat (re)match between Impact World Champion Austin Aries, Pentagon Jr, and Fenix. The promotion has debuted new championships (Tag Team, Knockouts, X-Division, World), and a new stage/set.
Keep Refreshing For The Latest Results!
---
IMPACT Redemption Quick Results:
Impact World Championship
Austin Aries (c) vs. Pentagon Jr. vs. Fenix: NEW Impact Wrestling World Champion Pentagon Jr. 
Impact Knockouts Championship
Allie (c) vs. Su Yung: STILL Knockouts Champion Allie via pinfall
Impact X Division Championship
Matt Sydal (c) vs. Petey Williams: STILL X-Division Champion Matt Sydal via pinfall
Impact World Tag Team Championship
LAX (c) vs. Eli Drake and Scott Steiner: NEW Impact Tag Team Champions Eli Drake and Scott Steiner via pinfall
House Of Hardcore 6-Man Tag Match
Tommy Dreamer, Moose, and Eddie Edwards vs. oVe: oVe via pinfall
Ishimori vs. Dezmond Xavier vs. El Hijo del Fantasma vs. Brian Cage vs. DJZ vs. Trevor Lee: Brain Cage via pinfall
Aerostar vs. Drago: Aerostar via pinfall
Taya Valkyrie vs. Kiera Hogan: Taya Valykire via pinfall 
---
IMPACT Redemption Play-By-Play:
Redemption opens up with the cold opening.
Drago vs Aerostar: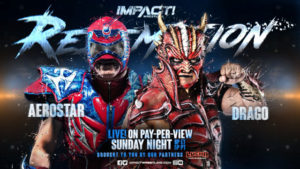 Drago vs Aerostar kicks us off tonight as Drago makes his way to the ring. Aerostar makes his way to the ring next. Collar and elbow tie up with a go around and Aerostar gets the upper hand with a headlock but Drago turns it around into a wristlock hold on Star. The match starts to pick up the pace just a tad with back and fourth counters. Aerostar dodges Drago and connects with kick to the chest.
.@aaaerostar1 with a springboard crossbody! #Redemption18 pic.twitter.com/667cSNuGDr

— IMPACT (@IMPACTWRESTLING) April 23, 2018
Aerostar kicks Drago in the face while he's in the ropes. Fast forward a bit and Drago launches Aerostar with his feet from the corner and follows up with a kick to the head. Back and forth we go and Aerostar is driven out of the ring and Drago follows it up with twisting tope con hiro and throws Aerostar back in the ring for a two count. Drago stays on Aerostar and flips he over into the seated position and connects with a kick to the back of the head. Drago picks up Aerstar to follow but Aerostar counters and gains control of the March sending Drago out of the ring and hitting his signature move La Bonetia and gets a two count.
.@aaaerostar1 propels himself back at Drago. #Redmeption18 pic.twitter.com/YVdKjm5fQk

— IMPACT (@IMPACTWRESTLING) April 23, 2018
Back and forth ww go with multiple covers only getting two counts. Both guys have the same idea in their heads as they hit double clotheslines and both men are down. Aerostar comes charging in at Drago but he counters with a back breaker across the knee followed by a kick to the side of thehead. Drago then hits a hangman's DDT for a two count. Drago hits multiple shots on Aerostar but Aerostar pushes Drago out of the ring and follows with a tope. Star rolls Drago back in the ring and covers him for a two count. Aerostar stays on Drago but comes up empty and Drago knocks down Aerostar for a two count. Drago puts Aerostar in the La Miestra cradle for a two count. Aerostar is planted with a powerbomb and looks to go for another but wastes time and allows Aerostar to counter and hit a springboard neckbreaker.  Aerostar hits Drago with a flying codebreaker for the pinfall victory.
Winner: Aerostar via pinfall 
Backstage segment showing Josh Mathews and Matt Sydal talking and Matthews saying that Sydal has fully blossom and doesn't need him anymore. He also wishes him luck in his title match tonight against Petey Williams.
Eli Drake and Scott Steiner vs LAX (Impact Tag Team Championship Match):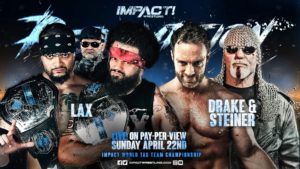 LAX is shown in the clubhouse getting ready for their match. They get a call and apparently someone has taken out Konnan but they don't know who. They now have to refocus and get ready to defend their titles. Eli Drake makes his way to the ring and debuts a new theme song. Scott Steiner makes his way to the ring for the match.
Big Poppa Pump is here! #Redemption18 pic.twitter.com/K3hcmy7sQ9

— IMPACT (@IMPACTWRESTLING) April 23, 2018
LAX make their way to the ring without Konnan. LAX is jumping at the bit to get at Eli Drake as the ref holds them back.
This crowd is HERE for LAX! #Redemption18 pic.twitter.com/auWxwEdiQa

— IMPACT (@IMPACTWRESTLING) April 23, 2018
Collar and elbow tie up and Eli pushes Santana into the corner. Drake begins to trash talk Santana and regrets it immediately and finds himself in enemy territory. Ortiz tags in and they hit double team maneuvers for a two count. Drake fights back and hits a knee to the gut of Ortiz. Steiner and Eli hit a double team maneuver which knocks Ortiz out of the ring and Eli follows him out and knocks him down. Drake throws Ortiz back in and tags in Scott who gets a one count. Stiener hits a big move on Santana and then the same move on Ortiz. Drake tags in and hits his signature elbow for a two count.
Steiner unleashes a Belly To Belly suplex. #Redemption18 pic.twitter.com/6efvi91mx3

— IMPACT (@IMPACTWRESTLING) April 23, 2018
Ortiz begins to fight back and Steiner tags himself in but gets pushed into a corner and eats a boot for his troubles. Both Ortiz and Steiner tag out and Santana fires off on Drake. LAX begins their double team maneuvers for maximum impact but Steiner stops them in their tracks and hit a overhead suplex on Santana. Steiner sets Santana up on the top rope and hits a frankensteiner. Scott tries to lock in the Steiner recliner but Ortiz comes back in and breaks it up. Down the stretch Scott Steiner was taken out but Santana and Drake hits the gravey train on Ortiz for the pinfall victory.
AND NEW IMPACT World Tag Team Champions – Eli Drake and Scott Steiner! #Redemption18 pic.twitter.com/xBbf865Oq9

— IMPACT (@IMPACTWRESTLING) April 23, 2018
Winners: NEW Impact Tag Team Champions Eli Drake and Scott Steiner 
Dezmond Xavier vs Trevor Lee vs Taiji Ishimori vs El Hijo del Fantasma vs DJZ vs Brian Cage (Six Way Match):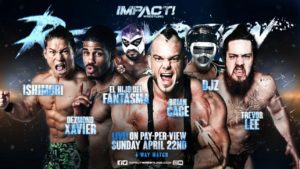 Everyone makes their way to the ring for the match. DJZ and Dezmond Xavier start the match and DJZ gets a wristlock on Xavier. Dezmond counters and gets a side headlock on DJZ. DJZ counters and puts Xavier in a headlock of his own.
Big dive by @IAmDJZ. #Redemption18 pic.twitter.com/tS8juz6NGr

— IMPACT (@IMPACTWRESTLING) April 23, 2018
The match begins to pick up a bit and Dezmons hits a dropkick on DJZ which kicks him into a corner. DJZ knocks Ishimori off the apron with a flying senton flip. Since DJZ went to the outside Trevor Lee gets in the ring and thinks he tossed Xavier out of the ring. Xavier toss Lee out of the ring and Fantasma enters the ring. This match takes off and the two men that become legal are Ishimori and Fantasma. Ishimori hits a springboard senton. Ishimori gets taken to the outside and Trevor Lee comes in and gets a two count on Fantasma.
Golden Moonsault by @taiji_ishimori! #Redemption18 pic.twitter.com/fEO9tunDP2

— IMPACT (@IMPACTWRESTLING) April 23, 2018
The match breaks down and Lee has now attacked Cage twice but he's still on the apron while everyone is down. Cage finally gets in the ring and hits multiple clothesline to Trevor in the corner. Xavier enters the ring and almost gets thrown out of the ring for his troubles. Fantasma and Ishimori try to take out Cage who fights back and hits a springboard moonsault on Taji. Cage is eventually sent out of the ring and DJZ hits a DDT to the outside of the ring taking out Cage.
INSANE strength by @MrGMSI_BCage. #Redemption18 pic.twitter.com/SjvYnR3JQC

— IMPACT (@IMPACTWRESTLING) April 23, 2018
The match is fast and furious as Xavier and Fantasma work together to take out Brian Cage to no avail. Trevor Lee enters the ring and counters him for a two count. Down the stretch Cage takes out Lee, Fantasma and hits the Drill Claw on Dezmond Xavier for the win.
Add another five men to the list of people who can't beat @MrGMSI_BCage. Machine. #Redemption18 pic.twitter.com/Yp0ebpTh4O

— IMPACT (@IMPACTWRESTLING) April 23, 2018
Winner: Brian Cage via pinfall
Taya Valykire vs Kiera Hogan: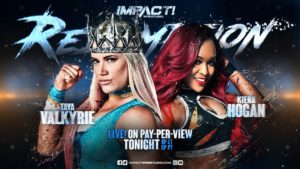 Taya Valkyrie makes her way to the ring.
Royalty is coming. #Redemption18 pic.twitter.com/qqKPACi58M

— IMPACT (@IMPACTWRESTLING) April 23, 2018
Kiera Hogan makes her way to the ring for the match. Taya pushes Hogan down to the mat. Hogan uses her speed against Taya but she knocks her down with an elbow. Kiera fights back and hits a hurricanrana on Valykire in the corner. Kiera keeps it up on Taya and hits a springboard move on Taya. The match spills to the outside but Taya eventually regains control.
.@Tess_Blanchard has joined @CyrusOverHuge and @realjoshmathews on commentary. Is she IMPACT's newest Knockout? #Redemption18 pic.twitter.com/zNaBkpGV9o

— IMPACT (@IMPACTWRESTLING) April 23, 2018
TESSA BLANCHARD JOINS THE COMMENTARY TABLE MIDMATCH. Taya stays on Hogan but Kiera fights back for a bit but Taya counters and hits a big move for a two count. Taya then hits Kiera with a big knee for another two count. Kiera tries to fight back while Taya holds her hair with multiple elbows. Hogan breaks free and hits a huge double sledgehammer on Taya for a two count.
.@TheTayaValkyrie connects with a vicious suplex. #Redemption18 pic.twitter.com/iaP01tRUTC

— IMPACT (@IMPACTWRESTLING) April 23, 2018
Taya rushes Hogan in the corner but Kiera counters and stomps down Valykire. Taya fights back and hits a big suplex for a two count. Taya has had enough of Kiera and clubs Hogan in the back of the neck with multiple elbows in the corner. Taya Valkyrie eventually hits the Road to Valhalla for the win.
Winner: Taya Valkyrie via pinfall
Matt Sydal vs Petey Williams (X-Division Championship Match):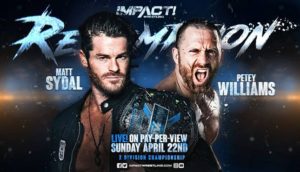 Petey Williams makes his way to the ring for the championship match with his feast or fired briefcase.
Are we looking at the next X-Division Champion? #Redemption18 pic.twitter.com/E3TlVIx93C

— IMPACT (@IMPACTWRESTLING) April 23, 2018
Matt Sydal makes his way to the ring to defend his title. Collar and elbow tie up and Petey goes for the go behind Sydal counters and takes down William's with a headlock then turns it into a head scissors. Sydal then puts a submission on Petey but Williams breaks it and gets Matt in the corner and hits a gut shot on Sydal. Matt counters but Petey then counters and sets up Sydal on the top rope and hits a hurricanrana. Petey sets Sydal in the tree of woe and steps on his no no area then a superkick on his knee.
Oh Canada! #Redemption18 @iPeteyWilliams pic.twitter.com/6ix8Unm7KB

— IMPACT (@IMPACTWRESTLING) April 23, 2018
Petey continues the aggression and attacking the lower body of Matt. Sydal eventually gets control of the match and wears down Petey. Sydal hits a standing moonsault on Petey for a two count. Petey is thrown into the corner and Sydal rushes in but eats an elbow for his troubles. Petey hits a big move and both men are down for a moment. The match picks back up a bit as Petey hits a big Russian Legsweep. Both guys go back and forth and Sydal gains control and knocks Petey in the corner and hits a sliding knee on Petey. Sydal tires to go for a hurricanrana but Petey counters and locks in a submission on Sydal. Matt breaks free and goes to the apron to recover but Petey meets him out their hitting a slingshot code breaker knocking Sydal to the floor. Williams throws Sydal back in the ringgit Sydal counters and hits a big knee then a hurricanrana. William's fights back and hits the Canadian Destroyer but Matt rolls out of the ring. Petey follows and drags Sydal back in the ring and goes for a super Canadian Destroyer but Matt holds on and eventually hits a pumphandle slam for the pinfall victory.
AND STILL IMPACT X-Division Champion – Matt Sydal. #Redemption18 pic.twitter.com/qnwsna6jHR

— IMPACT (@IMPACTWRESTLING) April 23, 2018
Winner: STILL X-Division Champion Matt Sydal
Moose, Eddie Edwards, and Tommy Dreamer vs oVe (House of Hardcore Rules Match):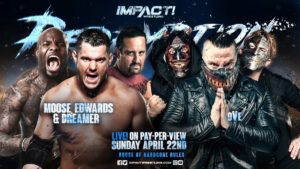 oVe makes their way to the ring for the match followed by Tommy Dreamer, Moose, and Eddie Edwards. What makes this a little interesting all the competitors are in street clothes. Jake Crist is caught mid dive and powerslammed into the apron.
Powerbomb on the apron by @TheMooseNation. #Redemption18 pic.twitter.com/lqb6MN8Mnn

— IMPACT (@IMPACTWRESTLING) April 23, 2018
Sami Callhian comes in to attack but taken down. The faces grab the toys and get started taking out oVe. Dreamer connects with a cookie sheet to Jake Crist and then sets him up in the tree of woe.
Exploder suplex on the chair by @TheSamiCallihan. #Redemption18 pic.twitter.com/rzKG5q1Z38

— IMPACT (@IMPACTWRESTLING) April 23, 2018
Dreamer was about to hit Crist with a chair but Sami comes in and hits a big boot taking out Tommy. Sami takes out Eddie and covers him for a two count. Moose comes in and hits a pop up powerbomb on Callihan. Moose goes for a tope con hilo but lands right on the ladder.
.@TheMooseNation crashes and burns on a ladder. #Redemption18 pic.twitter.com/ah1hy66lTJ

— IMPACT (@IMPACTWRESTLING) April 23, 2018
Dreamer and Eddie back inthering locks in submissions on the christ brothers. Sami gets back in the ring to make the save. Callihan instructs the Crist Brothers to get the the tables. They set up two tables on the outside. oVe have Eddie all alone inthe ring and go on the attack but Eddie fights back until Sami hits him in the head with a trashcan. The Crist Brothers hit the all seeing eye on Eddie on top of chairs and they cover him but Moose makes the save. Moose is on fire right here as he knocks Sami off the top rope with a dropkick. Moose then sets a trashcan in front of one of the Crist brothers and hits a dropkick. On the outside Dreamer puts Sami Callhian through a table via death valley driver.
.@TheMooseNation is taken out of midair. #Redemption18 @TheDaveCrist @TheJakeCrist pic.twitter.com/sBpTdfWq9L

— IMPACT (@IMPACTWRESTLING) April 23, 2018
Dave Crist introduces thumbtacks into the match but ends up going through them thanks to a knee from Eddie. Dave Crist is set up on a table and Moose looks to put him through a table but midjump eats a cutter from Jake Crist.
.@TheMooseNation is taken out of midair. #Redemption18 @TheDaveCrist @TheJakeCrist pic.twitter.com/sBpTdfWq9L

— IMPACT (@IMPACTWRESTLING) April 23, 2018
Back in the ring Eddie and Sami trade blows but Callihan hits the get out of here for a two count. Sami grabs his baseball bat but Dreamer makes the save with a barbed wire bat and hits a DDT. Sami hits a lowblow on Dremer to secure the win. Post match Eddie puts the barbed wire bat over Sami's eye and busted him wide open. Eddie then tapes Sami to the ropes. Eddie then kicks Sami in the groin and follows up with multiple shots with a kendo stick. The ref tries to break it up but ears a kendo stick of his own. Dreamer tries to stop Eddie but eats a Kendo stick shot then Jake Crist. Eddie's wife Alisha enters the ring to stop him and turns around and accidentally hits his wife with the kendo stick.
What did @TheEddieEdwards just do? He was so focused on revenge he lost sight of everything around him. #Redemption18 pic.twitter.com/qkDf1ljxsY

— IMPACT (@IMPACTWRESTLING) April 23, 2018
Winners: oVe via pinfall
Allie vs Su Yung (Knockouts Championship Match):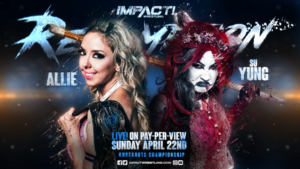 Braxton Sutter introduces Su Yung and she makes her way to the ring. Allie makes her way to the ring to defend her title. Su Yung gets the jump on Allie as Allie was trying to get Braxton to go to the back. Allie fights back and hits the thez press on Yung followed a hair toss. Allie gets distracted by Sutter and Su tries to take advantage but Allie is having nothing of it. Allie goes to the top but gets distracted by Braxton which drops her into the tree of woe postion and Su Yung goes on the attack. The match spills out of the ring and Yung removes her bloody dress and hits a rolling senton. Yung drags Allie back in the ring for multiple near falls. Su puts on a body rubber glove and tires to use it but Allie counters with a code breaker and both ladies down. Su props herself in the corner and Allie hits big elbows on Su but Allie gets caught by a big elbow from Yung. Allifights back and hits a russian legsweep for a two count. Allie goes for the BSE but misses and Su hits a tiger driver for a two count. Allie eventually hits the BSE but Sutter gets on the apron to stop the pin. Su Yung from behind tries to hit the paincswitch but Allie counters for the pinfall victory.
AND STILL IMPACT Knockouts Champion – Allie! #Redemption18 pic.twitter.com/uMB0zcxwcc

— IMPACT (@IMPACTWRESTLING) April 23, 2018
Post match Braxton says he can fix the situation and proposes to her. Su Yung answers with the red mist to his face then puts the mandible claw on him.
.@BraxtonSutter's proposal went about as well as it always does. #Redemption18 @realsuyung pic.twitter.com/vdL2TzbW2u

— IMPACT (@IMPACTWRESTLING) April 23, 2018
Winner: STILL Knockouts Champion Allie
Slammiversary just announced to take place in Toronto, Canada on July 22nd
We are delighted to announce that Slammiversary will take place on July 22nd in Toronto, Canada. #Redemption18 pic.twitter.com/pEq4Z4Kd9d

— IMPACT (@IMPACTWRESTLING) April 23, 2018
Austin Aries vs Pentagon Jr. vs Fenix (Impact World Championship Match):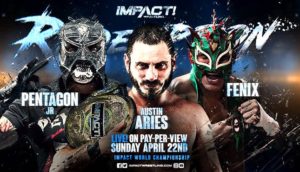 It's main event time! #Redemption18 pic.twitter.com/dDHhSg3ixz

— IMPACT (@IMPACTWRESTLING) April 23, 2018
Pentagon Jr. makes his way to the ring for the main event.
Zero fear. @PENTAELZEROM #Redemption18 pic.twitter.com/cDQWP4CqRj

— IMPACT (@IMPACTWRESTLING) April 23, 2018
Fenix makes his way to the ring second. The belt collector, the world champion Austin Aries makes his way to the ring last. McKenzie Mitchell makes formal introductions. The bell rings and Pentagon soaks in the crowd. A little bit mind games between the three then the match gets underway.
.@AustinAries had the double superkick scouted this time. #Redemption18 pic.twitter.com/IG6RzVBq5C

— IMPACT (@IMPACTWRESTLING) April 23, 2018
Aries knocks down both men and boxes both of their ears. Aries then scouts the move they used in New Orleans to knock him out of the ring last time and slides out of the ring to dodge it. The match picks up speed and Aries eventually locks in the last chancery but Fenix breaks it up by launching himself onto both men and Pentagon rolls out of the ring. Fenix stays on aries but Austin fights back and hits in elbow on Fenix for a two count. Pentagon gets back in the ring but gets blocked by Aries.
.@ReyFenixMx with an incredible swanton bomb! #Redemption18 pic.twitter.com/qt8iKTOicw

— IMPACT (@IMPACTWRESTLING) April 23, 2018
Fenix is knocked down and allowsfor Aries to lock in the last chancery again on Pentagon but Fenix rolls over Aries to break it up.
Incredible counter by @AustinAries. #Redemption18 pic.twitter.com/MNk4VmWQy1

— IMPACT (@IMPACTWRESTLING) April 23, 2018
Aries boxes Pentagon's ears and knocks him out ofthe ring Fenix tosse Aries out of the ring but Aries counters and hits a hurricanrana on Pentagon. Fenix hits a springboard triple axel to take out both men. The match is so fast and quick Pentagon finds himself with the opportunity of both men being down and goes for covers and gets a two count on both men. Pentagon then ends up on the outside leaving Aries and Fenix in the ring. Aries hits a big elbow then tosses Fenix over his head turning him inside out. Aries goes for a 450 but Pentagon breaks it upand knocks Aries to the floor. Pentagon then hits thelung lower. Fenix suckers Pentagon in and goes ont he hunt. With Pentagon on the top rope Fenix hits a spinning musclebuster for a two count. Pentagon comes back to life and hits the Pentagon driver but Aries breaks it up. The match eventually  spills to the outside and tosses Pentagon into the crowd. Both menget back in the ring and Aries hits the 450 on both men for a double pin but only for a two count. Down the stretch Pentagon hits a gory special and package piledriver on both Fenix and Aries. Pentagon then hits the Pentagon driver on Aries for the win.
AND NEW IMPACT World Champion – Pentagon Jr! #Redemption18 pic.twitter.com/Yx8XObefgd

— IMPACT (@IMPACTWRESTLING) April 23, 2018
Post match Pentagon Jr. and Fenix hug it out.
Respect between brothers. And respect for a new World Champion. #Redemption18 pic.twitter.com/UrLC4Ld28q

— IMPACT (@IMPACTWRESTLING) April 23, 2018
Winner: NEW Impact Wrestling World Champion Pentagon Jr.
My opinion this was an amazing show from top to bottom. I enjoyed every single match and got some shocking results as I thought we would get more new champions. Where does Impact go from here? Find out this Thursday on Pop TV for all the fallout. Welcome to the era of Zero Fear!
My Score: 8/10
Mitchell's WWE Monday Night Raw Results & Report! (2/18/19)
Celebrate the new WWE Women's Tag Team Champions, Bayley & Sasha Banks!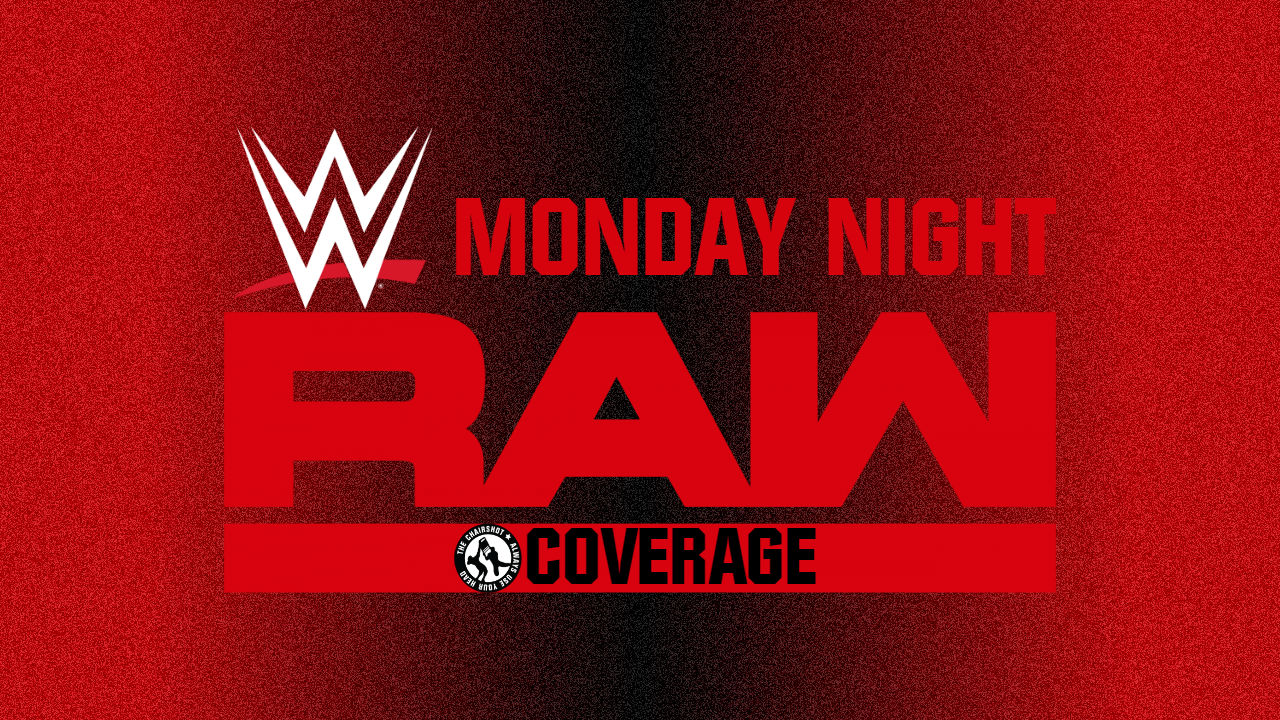 The Boss & Hug Connection bring the WWE Women's Tag Team Championships to Raw! Who will be the first team to challenge Bayley & Sasha Banks for the belts?
OFFICIAL RESULTS
Tables Match: Baron Corbin VS Braun Strowman; Strowman wins.
Ricochet & Finn Balor VS Bobby Lashley & Lio Rush; Ricochet & Finn win.
Lucha House Party VS Curt Hawkins & Zack Ryder; Lucha House Party wins.
The Revival VS Tommaso Ciampa & Johnny Gargano; Ciampa & Gargano win.
Drew McIntyre VS Dean Ambrose; McIntyre wins.
Elias VS Aleister Black; Black wins.
Raw Women's Championship: Ronda Rousey VS Ruby Riott w/ The Riott Squad; Rousey wins and retains the Raw Women's Championship.
PLAY BY PLAY
WWE honors the memory of Pedro Morales.
Triple H is in the ring!
The Game wants the Cajundome to "feel it in the air." The electricity can be cut with a knife as we grow ever closer to Wrestlemania. Elimination Chamber was proof enough when history was made. Sasha Banks and Bayley won the WWE Women's Tag Team Championships! Finn Balor won the WWE Intercontinental Championship in a Handicap match! Kofi Kingston went the distance and captured the world's hearts coming so close to winning the WWE Championship. Becky Lynch showed up and showed everyone that not even a suspension and a bad leg will stop her from getting at Charlotte Flair and Ronda Rousey. As a businessman, HHH has to warn Becky not to do that again or she'll be arrested. But as a former wrestler, "that was pretty damn cool."
And speaking of pretty cool things, ESPN let this loose this morning. The WWE Hall of Fame class 2019 starts with none other than Degeneration X! HHH, HBK, X-Pac, Road Dogg, Billy Gunn, and yes, the Ninth Wonder of the World, CHYNA! But if that isn't enough that it's Wrestlemania season, HHH pours gas on the fire. HHH isn't just an authority figure on Raw and SmackDown, he oversees WWE's third global touring brand, NXT! Fans love NXT, so it is HHH's pleasure to introduce us to some debuting NXT superstars, who will all be in action! And that starts with a man that has redefined aerial combat: The One and Only, Ricochet! For those unfamiliar, a highlight reel of Ricochet plays, including his time as NXT North American Champion.
But not only Ricochet, it will be the Embodiment of the End, the Dutch Destroyer, Aleister Black! A former NXT Champion and a prolific striker, Aleister will look to make his opponent #FadeToBlack! Then there will be Johnny Wrestling, the current NXT North American Champion, Johnny Gargano! Gargano has gone back and forth but has never lacked in match quality. Gargano was also in this year's Men's Royal Rumble match, but now he looks to make an impact on the main roster. And last but not least, the Psycho Killer, the Black Heart, Tommaso Ciampa! The current NXT Champion looks to make his mark on Raw tonight! HHH says the future is now, the future is tonight.
But all Hell is about to break loose, because it's time for a Tables Match! It will be Baron Corbin VS Braun Strowman! The Monster Among Men wants retribution, will he get back at Corbin for Elimination Chamber's assault?
Tables Match: Baron Corbin VS Braun Strowman!
Strowman and Corbin make their entrances, but Corbin makes sure to grab steel steps first. The Monster glares at Corbin while we go to break.
Raw returns with the bell and fans chant "Get These Hands!" Corbin runs but Strowman catches him! But those bad ribs keep Strowman from doing anything. Corbin grins but then Strowman shoves him out of the ring! Strowman throws uppercuts then throws Corbin into barriers! Strowman hurries and pulls a table out from under the ring, but Corbin clobbers him from behind! Now Corbin puts Strowman into barriers, ribs first. Corbin puts the table back under the ring, but Strowman rocks him with an uppercut! Corbin rams Strowman into barriers and again. Fans rally for Strowman while Corbin brings him around the corner. Corbin rams Strowman into barriers yet again! Corbin whips but Strowman reverses and Corbin hits barriers even harder!
Strowman drags Corbin up for a headbutt then throws uppercuts. Strowman fetches the table again and puts it in the ring. Corbin slides in from the other side while Strowman's ribs slow him down. Corbin kicks Strowman on reentry and then clubs away on his back. He stomps and stomps Strowman then tears off the shirt. Corbin goes at the taped up ribs with hammering hands! Fans boo as Corbin mocks Strowman's pain. Corbin kicks the table out of the ring while Strowman bails out the other side. Corbin follows Strowman and throws hands right on the ribs. And then he stands on Strowman's side! Fans boo while Corbin gloats. Corbin rams Strowman into the apron! Corbin grins as he drags Strowman over and punches him in front of the fans.
Strowman denies Corbin's suplex, to then suplex Corbin onto the ramp! Now Corbin writhes in pain, clutching his back. Strowman hobbles over and drags Corbin up. He shoves Corbin to the stage and then throws him into the LED wall! Strowman drags one table over, but he clears off the announce desk! Strowman fetches Corbin again and brings him over to the desk! Corbin slips out and throws Strowman into the desk, ribs first! Strowman and the desk fall over! Strowman's in trouble while we go to break.
Raw returns and Corbin hits a corner splash on Strowman! He tries again but Strowman turns it around to splash him! Strowman runs in but misses, getting post! Corbin goes to throw Strowman at the table, but Strowman denies him. Strowman clubs Corbin down with one hand! Fans fire up and Strowman drags Corbin up. Strowman scoops but Corbin slips out. Corbin runs, slides past the table, and slides back in to clobber Strowman! Corbin rains down rights, then takes a moment to gloat. Strowman rolls to ropes but Corbin goes out after him. Corbin punches the ribs and bumps Strowman off the barriers. Corbin fetches a kendo stick, flashback to last night! He sits Strowman up to SMACK the bad ribs!
Corbin drags Strowman around to bounce him off the steel steps. Corbin gloats from the apron, then runs over, only for Strowman to ram him with steel steps! Strowman jams Corbin again! And again! Corbin staggers and Strowman dumps the steps. Strowman throws Corbin into more barriers! Strowman puts Corbin in the ring as fans fire up again. Corbin boots Strowman away then throws a big right hand. Strowman staggers but dodges Corbin. Corbin slides out and in, but is caught, MONSTER SLAM through the table!! Strowman wins!
Winner: Braun Strowman
The Monster Among Men gets revenge! Strowman toughs it out through bad ribs but now Corbin will be feeling sore. Will Strowman be able to recover those ribs and make a big run towards a title at Wrestlemania?
Strowman heads up the ramp and encounters Paul Heyman. The Advocate "congratulates" Strowman on the win, but Strowman grabs him by the shoulder! Heyman begs for mercy but fans want another table destroyed. Strowman shows Heyman mercy and leaves. Heyman composes himself and clears his throat. But it's a bit tricky to get his usual introduction out, so we go to break.
Raw returns to Heyman in the ring.
"I can't say that I'm surprised by Braun Strowman's actions." Everyone should be jealous of Heyman's client. His client is the most dominant champion in WWE and MMA history. That is why, at Heyman's own expense, he has put together an "educational" video to teach us about the "reigning, defending, undisputed Universal Heavyweight Champion and the main event, BROCK! LESNAR!" Footage rolls with Heyman introducing "the story of a real life Beast." Lesnar prepares to defend his title at Wrestlemania 35. Why is this year different? The hero, Seth Rollins, has no hope of winning. That's not a knock on Rollins but a plus for Lesnar. Lesnar was made strong by his life on the farm and he became NCAA Champion. The WWE came knocking and Lesnar defeated The Rock to become the youngest world champion ever.
Lesnar dominated the entire roster in under two years, so he moved on to a new field: UFC. He would dominate Randy Couture to become the UFC Heavyweight Champion. But then Lesnar even grew bored of UFC. The WWE field had regrown, so Lesnar went after The Streak. He was the 1 in 21-1, but that was only the beginning. The video ends and Heyman reminds everyone that Lesnar defeated Undertaker at Wrestlemania 30. Fans don't like it, but there's not a thing anyone can do about it. Heyman takes a survey: How many fans actually believe that Seth Rollins will win at Wrestlemania and become Universal Champion? Everyone does! But Heyman says there's not enough fire to burn Suplex City down. But wait, out comes Finn Balor! The NEW Intercontinental Champion heads to the ring but we go to break!
Raw returns and Finn has the ring alone.
"It's been awhile since I've held one of these championships. And boy does it feel good!" Finn remembers watching Razor Ramon, Shawn Michaels, Ric Flair, so it's been a dream to hold the Intercontinental Championship. And he is proud to carry on that legacy! Finn plans on defending- Wait, here comes Lio Rush! But without Bobby Lashley, given how Lashley body slammed Lio after their loss. "You don't deserve to be the Intercontinental Champion." Lashley deserves that title. And Lashley attacks from behind! Seems they aren't as broken up as we thought! Lashley stomps Finn out in a corner, then Lio comes in to add on. Lio stomps a mudhole into Finn and then Lashley hauls Finn up. Lashley scoop slams Finn and tells Lio to finish this. Lio climbs up, Final Hour splash! But wait, it's Ricochet!
The King of Flight dodges Lio and goes right at Lashley! Then asai moonsault onto Lio! Ricochet springboards to dropkick Lashley out! Ricochet and Finn stand together, ready for both Lio and Lashley! We go to break as things sort themselves out.
Ricochet & Finn Balor VS Bobby Lashley & Lio Rush!
Holla holla! The King of Flight joins forces with the Extraordinary Man to shut up and shut down the Rocky Mountain Machine and Man of the Hour! Will this impromptu dream team be successful in Ricochet's Raw debut?
The teams sort out and Lio starts against Ricochet. Ricochet circles with Lio as fans rally up. Lio shoves but Ricochet shoves back. Lio grabs Ricochet in a headlock but Ricochet rolls him off. Ricochet gets a headlock and grinds Lio down. Lio fights back and powers out, and things speed up. Lio redirects himself then again, but Ricochet dodges him. Springboard huricanrana but Ricochet handsprings through! Lio is shocked but he kicks. Ricochet flips him, but Lio dodges and ducks. Ricochet rolls off Lio's back to handspring huricanrana and dropkick Lio down! Lio scrambles to his corner and Lashley looks disappointed. Lashley tags in and now he circles with Ricochet.
Ricochet and Lashley tie up and Ricochet gets a waistlock. He shifts to a headlock but Lashley throws him down! Lashley looms over Ricochet and drags him up. Lashley wrenches the arm and shouts at Lio, "You see that?!" He yanks Ricochet's arm and twists to make a point to Lio. Fans rally up and Ricochet gets up. Ricochet rolls and handsprings and back flips to break free and hit back. Ricochet throws more forearms, then whips. Lashley blocks and whips Ricochet to a corner. Ricochet enziguris Lashley back! Somersault dropkick! Lashley tumbles out, Ricochet builds speed, but Ricochet fakes Lashley out tot he superhero landing! Fans fire up while Lio regroups with Lashley. Lio wants Lashley to keep clam and focus while Ricochet smiles.
Lashley returns to the ring and Lio wants back in. Lashley tags Lio and he says he's done with Ricochet. Lio wants Finn. Fans want Finn so Ricochet obliges and tags out. Finn and Lio circle and tie up. Finn puts Lio in a corner, but Lio dodges the haymakers. Lio and Finn circle again but Lio keeps his distance. He tags out to Lashley and fans boo. Lashley clobbers Finn and puts him in a corner. Lashley stomps and suplexes Finn! Cover, TWO! Lashley drags Finn into a chinlock, but fans rally as Finn endures. Finn feeds off the energy but Lashley drags him back down. Lashley grinds Finn but fans rally up again. Finn stands and pries his way out. He throws forearms but into a complete shot! Lashley covers, TWO! Lio wants back in, so Lashley tags.
Lio stalks Finn at the ropes and stomps him down. He chokes Finn but lets up at 4. Lio flexes but fans boo and jeer. Lio waits for Finn to stand before hitting him more. He whips but Finn reverses. Lio sunset flips but Finn rolls through for a dropkick! Both men are down but Finn stands first. Finn stalks Lio now but Lio crawls for Lashley. Finn toys with Lio before yanking him away. He puts Lio in the corner then trips him up to stomp away! Finn lets up at 4 then stares Lashley down. He drags Lio up again for a CHOP in the corner! Fans like the sound of that, so Finn whips corner to corner for another CHOP! Finn gives the fans what they want, a third CHOP on Lio! Finn whips again for yet another CHOP! Then the slingblade!
Fans fire up as Finn aims, shotgun dropkick blasts Lio into buckles! Lio is down in the drop zone and Finn climbs. But Lashley comes over, so Finn kicks him down. Lio chop blocks Finn on the apron! Finn tumbles down as he clutches his leg, Lashley tags in and throws Finn into barriers! Lashley talks trash to Ricochet before going back for more. Lashley puts Finn in the ring to clobber him. Cover, TWO! Lashley keeps on Finn with another chinlock. He shifts to a cobra clutch while fans rally up. Finn fights his way up but Lashley keeps him from Ricochet! Lashley throws Finn to the apron, but Finn shoulders back. Finn hits Lio, then slingshot sunset flips. Lashley holds on and stomps Finn! Lashley scoops and slams Finn hard! Cover, TWO! Finn lives and we go to break.
Raw returns and Lashley grabs Finn for another cobra clutch. Fans rally up as Finn endures again. Finn powers up and reaches for Ricochet! Finn throws forearms but Lashley whips him into the corner. Lashley runs into boots! Finn hits Lio but runs into Lashley's lift! Lashley powers Finn to an open corner and rocks him with a right! Tag to Lio, and Lio goes after Finn with a facelock. Lio SLAPS Finn then dares him to get up. He slaps Finn more but Finn gets angry. Finn ducks the next slap for the elbow drop DDT! Both men are down and fans fire up! Finn crawls, as does Lio. Lio clobbers Finn to stop the tag! Lio rolls Finn all the way to the corner, tag to Lashley.
Lashley says this is for Ricochet as he hauls Finn up. Powerbomb lift, but Finn fights out! Finn trips Lashley, double stomps! Fans fire up all over again as Finn crawls for his corner! Hot tags to Lio and Ricochet! Ricochet rallies, rebound neckbreaker! Shoulder tackle in the corner, then a springboard missile dropkick! Triangle dropkick for Lashley! Ricochet takes aim, builds speed, and FLIES onto Lio! He puts Lio in but Lashley comes storming over. Ricochet dodges Lashley with a back flip to send him into barriers, and then Finn shotgun dropkicks to take Lashley down! Ricochet springboard back elbows Lio to take him down, then climbs up high! 630!! Cover, Ricochet and Finn win!
Winners: Ricochet and Finn Balor, Ricochet pinning
An incredible Raw debut for the NXT superstar! Is Ricochet going to revolutionize the Red Brand from here on out?
Natalya talks with Triple H backstage.
But Drew McIntyre interrupts. McIntyre couldn't help but notice HHH rolling out the red carpet for NXT superstars. McIntyre said he'd do whatever it takes to prove himself. He wants Seth Rollins and main event Wrestlemania! But Dean Ambrose comes along instead. Ambrose isn't busy, what about him? And he SLAPS McIntyre! HHH wonders if McIntyre still wants Rollins. "Change the damn match." The Scottish Terminator and the Lunatic Fringe look to settle things on the Road to Wrestlemania!
Lucha House Party VS Curt Hawkins & Zack Ryder!
The reunited Major Brothers want to finally get back on a winning track, but Hawkins feels like he's cursed. Will a miracle happen in the Cajundome?
Teams sort out and Hawkins starts against Gran Metalik. They tie up and Hawkins shifts from headlock to hammerlock and back again. Hawkins gets a headlock takeover but Metalik headscissors. They both kip up and things speed up. Hawkins dodges the handspring and runs Metalik over! Cover, ONE! Hawkins keeps on Metalik and brings him over. Tag to Ryder, and they Russian Leg Sweep STO combo! Cover, TWO! Ryder drags Metalik up and bumps him off buckles. Ryder whips but Metalik reverses. Metalik runs into knees, and Ryder dropkicks Lince Dorado down! Metalik SUPERKICKS Ryder out, then tags Lince. The Golden Lynx huricanranas Ryder into barriers! Lince puts Ryder in to cover, TWO! Lince keeps on Ryder with a half camel clutch.
Fans rally up for Ryder. Lince powers him to the corner and tags in Metalik. Ryder fights back but is isolated. Lince and Metalik double CHOP and double mule kick, then double dropkick! Metalik covers, TWO! Tag to Lince and they drag Ryder up for a double suplex. Ryder slips through for double neckbreakers! Ryder crawls for the corner, hot tag to Hawkins! Hawkins rallies, rocking Metalik with a right! He throws rights on Lince then whips. Lince reverses but Hawkins runs him over! Hawkins dropkicks both luchadores and fires up! Lince swings into Hawkins' backslide! TWO, and Lince kicks back. Lince suplexes, but Hawkins cradles! TWO, and Hawkins scoops Lince for a Michinoku Driver! Cover, but Metalik breaks it!
Ryder clotheslines Metalik out! Lince dropkicks Ryder out, but Hawkins Peles Lince! Hawkins gets to a corner and takes aim. Hawkins clobbers Metalik but Lince huricanranas to a cover! The Lucha House Party wins!
Winners: Lucha House Party, Lince Dorado pinning
The fiesta continues, as does Hawkins' losing streak. Ryder and Hawkins regroup, but can they break that bad streak?
Heavy Machinery is here!
Charli Caruso interviews Tucker Knight & Otis Dozovic on stage, and notes how they've competed on both Raw and SmackDown. What can fans expect from them? They're #BlueCollarSolid and get the job done. They aren't afraid to work hard, work out even harder, and then eat up a big plate of red meat. #SteaksAndWeights, baybay! As the Raw Tag Team Division heats up, which team are they after first? They've got each other's backs, nothing more than that. But wait, Lacey Evans walks out! The Model Soldier classes things up as she heads down the ramp, strutting her stuff. But then Tucker & Otis do the same! And with a belly bump! Lacey isn't impressed by their marching, but she is amused. Which brand will Lacey finally choose as her main roster home?
Tommaso Ciampa and Johnny Gargano talk backstage.
Each of them clutches their respective championship belt as they prepare to show the world what NXT is all about. But then Bobby Roode and Chad Gable come by! They congratulate their NXT compatriots, but are a little confused as to why Ciampa and Gargano are the ones facing The Revival and not them. It's great to see fresh talent, and Gable remembers DIY being great. Gable won't bring up that Gable's old team beat them in the past, that was then and this is now. Raw gives everyone a fresh start, where you work from the bottom up. But again, a little confusing that they're getting another match when it should be Roode & Gable. Well considering Gargano & Ciampa have ran NXT for the last two years, they're here to take over.
The Revival comes by and show off their Raw Tag Team Championships. Oh how great is it to see Gargnao and Ciampa again. Yeah, they had classic matches in NXT. But they're not here for respect, they're here to make an impression at the Top Guys' expense. But good luck out there. Dash & Dawson don't need luck, they're The Revival. See you out there.
The Revival VS Tommaso Ciampa & Johnny Gargano!
Scott Dawson & Dash Wilder finally have the Raw Tag Team Championships after finally defeating Roode & Gable fair and square. But now they'll be tested already against some familiar NXT foes. Will the reunited DIY prove they can still get it done as a tag team? Or has it been too long since they've been apart?
The teams sort out and Dash starts against Johnny Wrestling! They tie up and Dash wrenches the arm. Dash brings Gargano to the mat but Gargano fights his way up. Gargano rolls and reverses with a drop toehold. He gets a facelock and holds on as Dash rolls around. Gargano rolls Dash to a cover, TWO! Gargano drags Dash over and tags Ciampa. Ciampa gets the hand-off and snapmares Dash to a chinlock. Ciampa rams elbows in then gets Dash in a facelock. Roode and Gable watch backstage while Dash chops Ciampa. Ciampa CHOPS back then tags in Gargano. Ciampa feeds Dash to Gargano's boots. Gargano grabs Dash but Dash scoops and rams Gargano into the Revival's corner! Dash tags Dawson and Dawson bumps Gargano off buckles!
Dawson clobbers Gargano in the corner then stomps and CHOPS him. The referee counts and Dawosn backs off, but Gargano turns it around to CHOP Dawson. Dawson CHOPS Gargano, then whips him corner to corner. Gargano goes up and over but Dawson runs him over. Things speed up and Gargano huricanranas Dawson out. Dash runs in but gets an enziguri. Gargano builds speed and DIVES onto Dawson! Dash runs into Ciampa's haymaker! Gargano SUPERKICKS Dash and Ciampa throws Dash into steel steps! Ciampa pats himself on the back while we go to break.
Raw returns as Dash grinds Gargano in a chinlock. Gargano fights his way up and out, but Dash shoves and rams a shoulder into Gargano. Tag to Dawson and Dawson fireman's carry. Dawson helps Dash suplex but Gargano slips out! Gargano enziguris Dawson while giving Dash the tornado DDT! Gargano and The Revival are down but Gargano heads for the corner. Fans rally up, hot tag to Ciampa! Ciampa rallies on Dawson and whips, but Dawson whips back. Ciampa kicks him away, then hits a German Suplex! He holds on for another German! Dash runs in but is flapjack'd onto the ropes! Ciampa finishes the hat trick on Dawson! Ciampa runs, Psycho Knee! Cover, TWO!! Dawson survives but Ciampa keeps focus.
Ciampa drags Dawson up but Dash saves Dawson from another German. Dawson tags Dash and they combine, flying European Uppercut German Suplex! Dash jackknife covers, TWO! Ciampa escapes and The Revival grows frustrated. Fans rally up for Ciampa as Dash tags Dawson back in. Dawson drags Ciampa up but Ciampa throws forearms. Ciampa chops, chops, and CHOPS, but spins into a right hand! Tag to Dash and the Revival double whip. Gargano SUPERKICKS the Shatter Machine apart! Ciampa jackknifes, TWO! Ciampa hip tosses Dash to the buckles! Tag to Gargano, slingshot DDT! Cover, TWO!! Dash lives and DIY can't believe it! Dawson trips up Ciampa and throws him into barriers! Gargano rolls Dawson for the school boy kick! Dash back suplexes but Gargano crossbodies, TWO!
Dash scoops but Gargano cradles, TWO! Gargano runs but is put on the apron. Slingshot Spear gets a knee! Dawson tags in and The Revival coordinate, bulldog doomsday device! Cover, but Ciampa breaks it in time! All four men are down but the teams regroup. Dash goes after Ciampa but gets thrown out. Dawson clubs Ciampa out and goes back to Gargano. Dawson drags Gargano up and suplexes, but Gargano lands on the apron. Gargano swing kicks Dawson, SUPERKICKS Dash, but Dawson rocks Gargano! Dawson runs but into the slingshot spear! Tag to Ciampa! They aim at Dawson, DIY VICE!! Cover, DIY wins!!
Winners: Tommaso Ciampa & Johnny Gargano, Ciampa pinning
They pin the Raw Tag Team Champions on their debuts! Ciampa and Gargano run NXT, will they be running Raw soon enough?
Backstage interview with Finn Balor and Ricochet.
Finn just won the Intercontinental Championship and then kept Lashley and Lio at bay with the help of his new friend. Finn had a great night last night, but tonight was about The One and Only. He officially welcomes Ricochet to Raw, and Ricochet says that "you can envision how you arrive to your dreams", but it's never exactly how you plan. But once you live the dream, it'll feel better than anything you could ever imagine! Ricochet could go on forever, but he will say this: you've only seen the beginning for the One and Only. When and where will we see Ricochet in a Raw ring again?
Kevin Owens speaks.
"Just a few more weeks' time before my return, so I figured it was time for another update." Nothing much has changed, but Kevin almost drops his phone. Kevin's still rehabbing, training, relaxing with family, watching the shows every week. He knows what he needs to do, and he's never been hungrier. Speaking of, he has some popcorn with Owen. Where's the soda? No idea. But Kevin gave him a $20… Well, that aside, Kevin has new perspective. He was reminded why he fights. And he's ready to fight again.
Sasha Banks & Bayley head to the ring!
The inaugural Women's Tag Team Champions are here and ready to celebrate! The Cajundome lets them know "You Deserve It!" Bayley and Sasha thank the fans for that, and are still feeling the emotions from last night. They still can't quite believe they're in this moment. Because it means they are the first ever WWE Women's Tag Team Champions!
This feels like a dream, but it's real. They did this! The fans did this! We all did this! It's so crazy to think how far they've come. From NXT's history making matches to the history-making matches on Raw. They've had matches against each other, with each other, hating to loving, and everything else in between. It's because they have the same dream, the same vision, and they can't imagine doing this without anyone else. They were legit born to do this. And it took them going to war with each other to finally realize that together, they can change the world.
Fans can trust them that this is just the beginning! They plan on being champs for a very long time. They've put their hearts and souls into the Women's Tag Division, and plan on defending against anyone past, present or future, Raw or SmackDown, or even NXT! Because most importantly, Bayley and Sasha recognize and respect how important the Women's Tag titles are to everyone! "Trust us when I say that when I say there is no stronger connection than the Boss & Hug Connection!" #BankOnThat! But in saying that, here comes the Samoan Dynasty!
Nia Jax and Tamina are sick of all this. No one wants to sit in the love fest. Nia does congratulate Bayley and Banks for being the first, and it's all cute being matching and stuff. But Nia doesn't get it. She won't ruin the celebration, because this is the only one they'll get. But everyone knows Sasha is all about Sasha. And history proves that any time Sasha has a title, she loses it the first time out. Tamina wants them to face it: they got lucky. The luck runs out tonight. Nia and Tamina rush the ring but get dropkick'd right back out! Nia tries again but ends up in a Bank Statement! Tamina saves Nia, and the champs stand tall! Will the first challengers to the #LegitHuggable champions be the powerhouses of the Women's Division?
Drew McIntyre VS Dean Ambrose!
The Scottish Terminator called out The Architect, but it was the Lunatic Fringe that responded. Ambrose is either bored, or he's actually standing up for his Shield brother again. Whatever the reason, McIntyre's in for a fight! Will he run through Ambrose or be sidetracked from his real target completely?
The bell rings and Ambrose goes right at McIntyre! He forearms McIntyre to a corner but McIntyre shoves him away. Ambrose comes back for more but gets the Glasgow Kiss! McIntyre rains down rights on Ambrose then finishes with one big one. He drags Ambrose up for a CHOP! Ambrose drops to his knees, so McIntyre kneels to CHOP him again! McIntyre eggs Ambrose on and slaps him for the slap earlier. Ambrose CHOPS back, but then runs into McIntyre's arms. McIntyre shifts and suplexes Ambrose but Ambrose lands on his feet. Ambrose elbows from a corner, then dumps McIntyre out. Ambrose boots McIntyre back down, then DIVES! Direct hit sends McIntyre into barriers! Ambrose puts McIntyre in, dodges, and hits a neckbreaker! Ambrose hurries up top quick, but has to leap over McIntyre. CLAYMORE!
But McIntyre doesn't cover, he wants to hit Ambrose again. He aims from the corner as Ambrose stands, a second CLAYMORE! Cover, McIntyre wins!
Winner: Drew McIntyre, by pinfall
The Celtic Colossus makes Ambrose pay for getting in his way. Will McIntyre move on towards Seth Rollins and Wrestlemania?
Paul Heyman's Brock Lesnar documentary continues.
The Beast decided to own the title. Lesnar took John Cena to Suplex City and conquered him to become the WWE World Heavyweight Champion. "The harvest had begun." From Randy Orton to AJ Styles to Daniel Bryan, Finn Balor, Samoa Joe, Goldberg, Braun Strowman, Dean Ambrose, Roman Reigns… And now "Seth Freakin' Rollins." Things come full circle.
Rollins claims he'll get up every time, even though he's in pain, smashed, and dominated. Rollins is willing to lose it all to win it once, which will make him the most dangerous opponent for Lesnar. Lesnar will have to think back to when he was in the same position as a young man. Lesnar won't just have to knock Rollins down, he'll have to put him down. And this is not a prediction, this isn't even a spoiler. "It's the end of the story of a man named Seth Rollins."
Backstage interview with Seth Rollins.
After seeing Heyman's videos, are there any regrets? Heyman is a lot of things, but he's telling the truth about Lesnar. But Rollins doesn't have a death wish, he's accepting his fate. Lesnar needs to accept his fate. Wrestlemania ends it for The Beast. The reign of terror is done. And Rollins' fate, whether walking out on his own or carried out on a stretcher, he leaves the Universal Champion. Dean Ambrose comes by all sore from fighting McIntyre. Where was Rollins out there, man? What? Has Ambrose completely lost his mind? Or maybe just his memory…? Ambrose shrugs and leaves again. Ambrose's confusing behavior aside, is Rollins ready to write his own destiny?
Ladies and Gentlemen: Elias.
The Drifter is in the Cajundome, and he won't play his guitar? He is fed up with the way he is treated. Elias is the most talented, most charismatic and most important superstar in a long, long time. Elias is certainly the most hygienic person to be in the "swamp land" of Lafayette. ANd yet he is constantly disrespected and interrupted! He is a musical genius! You are blessed to be in his presence! Fans are excited about all the new stars, but that won't change the Living Truth. Elias makes magic with his music, so he'll sing his song. It's not for the fans, it is a song for himself. Elias hopes he can meditate so deep, he forgets the fans even exist. But first, silence cell phones, hold applause, and shut your mouths! But here comes Aleister Black!
The Embodiment of the End rises from the shadows and heads to the ring! Elias gets out of the way as Aleister slingshots in. Aleister paces, and he takes up the mic. "If silence and deep sleep is what you seek, then allow me to help you. For tonight, you will Fade to Black!" A referee joins them in the ring, and we have a match!
Elias VS Aleister Black!
The bell rings and they tie up. Elias knees low and chops Aleister, then throws forearms. Elias throws Aleister to ropes but Aleister rebounds easily! Aleister sends Elias out then fakes him out! Aleister sits down again and stares Elias down while we go to break.
Raw returns and Elias yanks Aleister into the ropes! Aleister gasps to a corner but Elias is on him with hammering hands! The ref backs Elias off but he comes back to stomp Aleister down! Elias throws more forearms but Aleister hits back. Elias whips and runs Aleister over. Cover, TWO! Elias keeps his cool as he looms over Aleister. He drags Aleister up and wraps on a chinlock. Aleister endures and fans rally up. Aleister arm-drags Elias but Elias holds onto Aleister's hair! Elias drags Aleister into the chinlock again and grinds him down. Elias puts his weight on Aleister then hooks the nose! The ref reprimands Elias and Aleister powers up. Aleister fights with body shots but Elias knees low. Elias throws hands but Aleister counter punches!
Elias shoves Aleister but Aleister comes back with knees and forearms. Aleister runs and runs Elias over! He blocks a kick to sweep the legs! Then drives in a knee! Aleister fires up, springboard quebrada! Cover, TWO! Aleister keeps his focus as he fires up again. He runs in but Elias puts him into buckles. Aleister rocks Elias but Elias rocks Aleister. Aleister boots Elias, then leaps, into Elias' knee! Cover, TWO! Elias grows frustrated but Aleister was former NXT Champion, after all. Elias shouts at the "Cajun yokels," then drags Aleister up. He reels Aleister in but Aleister spins through, BLACK MASS! Cover, Aleister wins!
Winner: Aleister Black, by pinfall
Aleister practically won by knockout! Elias fades out and the Embodiment of the End has made his mark. Will Aleister stay on Raw? Will he move to SmackDown? And who will he make #FadetoBlack next?
Raw Women's Championship: Ronda Rousey VS Ruby Riott w/ The Riott Squad!
The Squad failed to be golden on Elimination Chamber night, but the Squad Leader has a second chance. Rowdy Ronda loves defending her belt the Raw after a Pay-Per-View, so will Ruby take advantage of having her friends ringside this time?
Introductions are made, the belt is raised, and we begin! Ruby goes at Ronda but Ronda throws her right down! Ronda throws her again, and throws hands. Ronda toys with Ruby even as she swipes then backs off. Ruby bails out and regroups with Liv and Sarah. Ronda waits despite being angry over what Becky Lynch did to her last night. Ruby returns and gets Ronda's ponytail, but Ronda throws knees. Ruby still STO's Ronda down! Cover, ONE! Ruby kicks Ronda while she's down, then goes after the back. Ronda resists so Ruby hammers away. Ruby kicks Ronda again and the Squad mocks Ronda's pain. Ruby stands Ronda up for double knuckle locks. Fans rally up but Ruby monkey flips Ronda. Ronda catches Ruby's roll into a triangle! Ruby makes it a cover, TWO! Ronda glares at Ruby while we go to break.
Raw returns once more, and Ruby has Ronda's bad arm in a wrench. Fans rally up for Ronda as she endures. Ronda fights her way up, but Ruby rocks her with forearms. But then Ronda scoops and tosses Ruby with an Exploder! Ruby bails out but Ronda pursues. Ronda puts her in the ring, but Ruby SPEARS Ronda! Cover, TWO! Ronda survives but Ruby puts her in a headlock. They roll around but Ruby holds on. Ronda throws Ruby off and throws hands. Ronda rocks Ruby with an uppercut, then fires up! Fans fire up with her as she throws Ruby around! Ruby flounders to a corner and Ronda hits a forearm smash! Ronda runs back in, but into a buckle shot! Ruby hops up, stage-dive senton! Cover, TWO!! Ronda survives again but Ruby keeps on her.
Ruby drags Ronda up, toys with her, but Ronda grabs the foot to spin Ruby around. Ruby dodges, but runs into the fireman's carry! She slips out, headbutts, RIOTT KICK! Cover, TWO!! Ronda survives Ruby's best! Liv and Sarah are just as shocked as Ruby is, but they trust Ruby can do this. Ruby fish hooks Ronda's mouth as she trash talks her. Ruby drags Ronda back up, for a big knee! She wants another spear but Ronda catches it! Gut wrench suplex! Ronda drags Ruby over to a corner and climbs up. Sarah distracts but Ronda swipes at her. Liv does the same, and Ruby kicks Ronda down! SUPER Riott Kick! Cover, TWO!! Ruby is almost in tears as Ronda survives again.
Ruby pushes Ronda to a drop zone and climbs up again. Fans rally for Ronda while Sarah and Liv cheer Ruby on. Ruby leaps, SUPER SENTON into the armbar!! But the Squad saves their leader! So Ronda climbs up top, and LEAPS onto them all! Ruby gets clear and hurries into the ring. Ronda pursues, but runs into headscissors. She denies Nightshade, to Alabama Slam Ruby into buckles! Then leaping armbar takedown! Ruby taps, Ronda wins!
Winner: Ronda Rousey, by submission; still Raw Women's Champion
The Baddest Woman on the Planet wins again, but then she has to fight off Liv and Sarah! Piper's Pit for Liv, judo throw for Sarah! Ronda stands tall, will she run through Charlotte Flair at Wrestlemania?
---
My Thoughts:
A good Raw tonight, but Lafayette sure was tired for some reason. I expected better reactions for all four surprise NXT stars appearing. It seemed like the fans didn't know what to make of Gargano and Ciampa, they probably thought it was going to be Velveteen Dream joining Aleister and Ricochet. But the fans aside, each of the NXT superstars had great matches tonight.
I didn't expect Ricochet to help out Finn, but I'm hoping that means Ricochet will challenge for the Intercontinental Championship if he's not going to challenge for the NXT North American Championship at TakeOver. Finn and Ricochet worked well together, so I bet they'd have an amazing match against each other. Aleister's was definitely just filler to annoy Elias, but DIY did great against The Revival. I would love if their first thing on Raw was to truly revive their rivalry with Dash & Dawson from NXT, the Raw Tag Division needs some instant classics to compete with what SmackDown was doing with The Usos and New Day.
We did not need more Baron Corbin VS Braun Strowman. It was great for Strowman to win and Corbin to not have his pack help him, but this didn't need to happen 24 hours after the No Disqualification match. Corbin can gloat, talk some trash, and Strowman could show up to scare him, and then we save their rematch for later. Heyman's tributes to Brock Lesnar were well-produced, and Rollins' response was great. Ambrose was also great for being inconsistent as a character, because that's how a Lunatic should be. McIntyre VS Ambrose was good, and McIntyre wins to stay strong towards whatever his Mania goal is. He wants Rollins, but I don't think he'll get him. McIntyre should go after Cena again and they have a match at Mania.
Ryder & Hawkins got a match tonight, but also another loss. Their story is slowly building, but ironically, Hawkins finally winning can't be a Wrestlemania moment. He and Ryder need to win to even come close to that match card, and that win would have to happen before that, like at Fastlane. Heavy Machinery and Lacey Evans both have a filler moment just for laughs as they strut on the ramp. Again, I'm thinking Lacey should go to SmackDown to freshen things up and get a title match with Asuka. Honestly, she should've just been Ronda's opponent tonight. Ronda already buried the Riott Squad, tonight was just piling on. Granted, Ruby looked better tonight, but Ronda was just made stronger because she survived two forms of Ruby's finisher.
Of course, the Riott Squad aren't getting to challenge Sasha and Bayley first, Nia and Tamina are. I know there was the stretch where it seemed like Sasha and Bayley were only ever facing the Riott Squad, but it's not like there isn't a lot of matches where Sasha and Bayley also faced Nia or Tamina. Sasha and Bayley saying they'll go to all brands, including NXT, I guess that means the way these belts work is that they'll be multi-branded. Hopefully that means a SmackDown team will challenge them at Fastlane instead for something fresh. That or the Sky Pirates of NXT, Io Shirai and Kairi Sane. Though, I wouldn't want Sane & Shirai challenging until they were guaranteed to get those belts. Bayley and Sasha are sure to retain all the way to Wrestlemania for something really big.
My Score: 8/10
AAA Review & Results (2/16/2019)
Triple A coverage, brought to you by our Lucha genie Joe Dinan!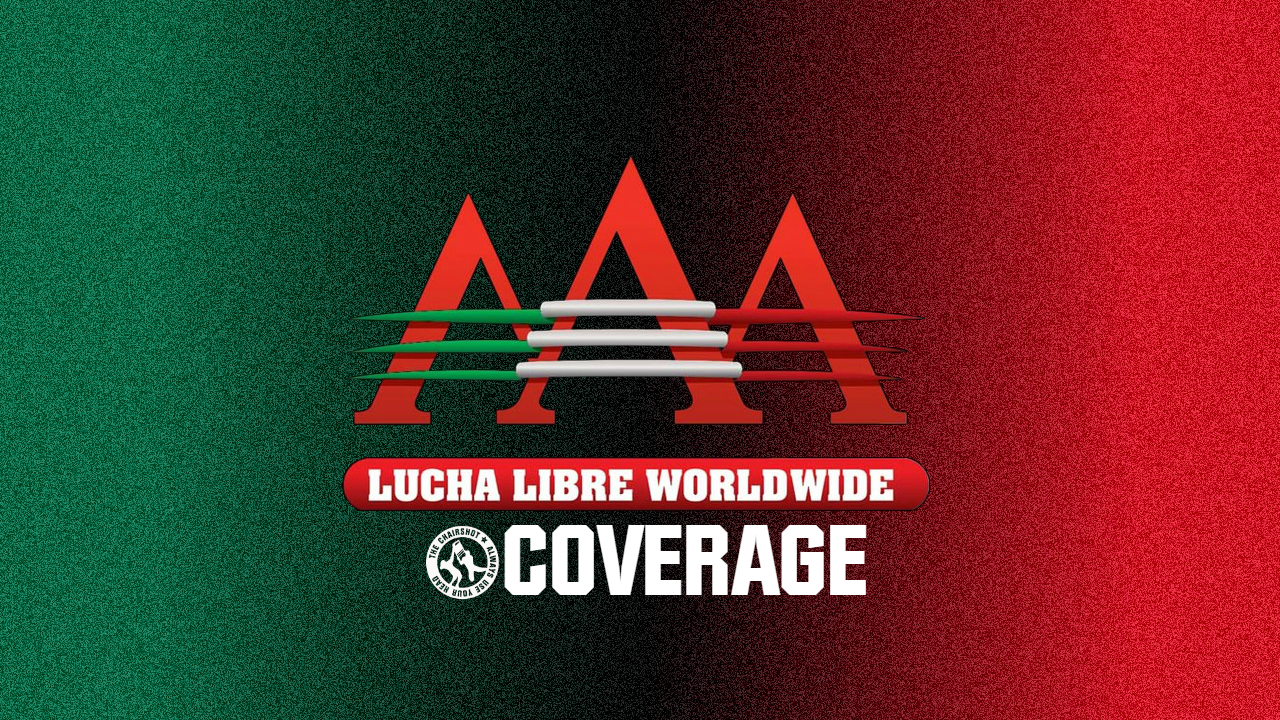 AAA coverage, brought to you by our Lucha genie Joe Dinan!
Live on Twitch 2/16
Dinastia (Draztik Boy), Dragon Bane, and La Parkita vs Mini Murder Clown, Mini Monster Clown, and Latigo
I don't usually like reviews minis matches from AAA because they don't do stories for them. CMLL does for the midgets even if they are dry stories. It's still something, but I'd like to make note that La Parkita nearly killed himself cracking his skull on the ground doing a swanton bomb. Later in the show they revealed he was okay.
Winners: Draztik Boy, Dragon Bane and La Parkita
Super Porky or Brazo de Plata comes out to cut a promo. Mascara confronts him and Psycho Clown then confronts him. Porky has a walker. :/
Nino Hamburguesa, Lady Shani (Golden Magic), and Starfire vs Villano III Jr, Keyra, and Lady Maravilla
Magic and Villano start out with some acrobatic spots. Maravilla and Starfire come in and trade spots. Hamburguesa then comes in with Keyra and shoulder blocks her to oblivion. Villano hits a missile drop kick on Hamburguesa. Maravilla holds Nino in place and Keyra kicks him. Golden Magic gets drop kicked in the corner by Keyra. Starfire is getting teamed on now. Villano drops Starfire on Maravilla's knee. Keyra hits a moonsault. Keyra prevents Nino from getting in then throws Maravilla to the corner. Starfire drop kicks Keyra into the corner and Nino runs into all of them. He then does a flipping senton. Nino then does it again. Magic gets in with Maravilla and super kicks her. Maravilla then trips him on the apron, drop kicks him to the outside then hits a splash off of the top. Keyra and Starfire trade pinning combinations. Starfire hits knees to Keyra's back then hits a flip dive off the apron. Villano hits a code breaker on Nino then poses. Villano goes for a moonsault and he moves. Nino goes to the top and hits a guillotine leg drop. He goes back to the top. Maravilla tries to distract him. She succeeds and Keyra hits a sunset flip on Starfire and then a german suplex for the win. Keyra pins Starfire with a german suplex.
Winners: VIllano III Jr, Keyra, and Lady Maravilla
(Cruiserweight Championship) Laredo Kid vs Sammy Guevara (Champ)
Guevara fakes out Kid to pose in the beginning. They actually do acrobatic flips until Laredo just drop kicks him. Laredo Kid flips out of the ring, Sammy does the same and then Kid gets back in the ring and hits a middle rope missile head butt basically. Kid then hits an asai moonsault. He got impressive air. Kid goes to the ground then Sammy pretends he's hurt. He pushes the ref into the ropes to crotch Laredo. He goes to the top and throws Kid up from a fireman's position and he falls on the turnbuckle for a two count. Kid runs at Sammy and gets power slammed. Sammy then misses a moonsault, lands on feet, misses standing moonsault, lands on feet, then hits a standing shooting star. Sammy hits a standing spanish fly and Laredo no sells it and hits a flipping DDT. Kid kicks Sammy to the outside and hits a 450 off the apron onto the floor. Laredo misses a corkscrew tornado dive and Sammy hits a reverse GTS for a two count. Villano III attacks Laredo from behind when he was setting up the Laredo Fly. Sammy then kicks Laredo to the outside and hits a corkscrew dive over the top rope. Sammy goes to the top and hits a big shooting star press but Laredo kicks out. Everyone is surprised. Villano grabs Laredo by the head and La Parka pulls him down and attacks him on the apron. Sammy goes for a slam but Kid flips out of it and super kicks him. Sammy leaps up to the ropes and jumps but Kid catches him with a cutter. Laredo goes to the top and Sammy leaps to the top rope and hits a Spanish fly for a close two. Sammy goes to the top and Laredo leaps up and kicks him and goes up and hits the Laredo Fly for the win. And naturally he gets beat down by the Mercenaries afterwards. Vikingo and Myzteziz come to his rescue. Laredo Kid wins with a Laredo Fly.
Winner: Laredo Kid
Taya (Lady Shani), Aerostar (Dinastia), and Myzteziz Jr vs Faby Apache, Jack Evans (Super Fly), and Sammy Guevara (La Parka Negra)
This match got picked apart. Dinastia drop kicks Negra and he no sells it. Dinastia hits a head scissors then springboard splash. Super Fly comes in to work with Shani. Faby comes in and kicks Shani. Parka beats on Myzteziz on the outside. Shani gets teamed on in the ring. The technicos try to stop the teaming up but can't just yet. Faby and the heel ref push each other. Faby kicks Shani and Negra kicks her butt. Myzteziz bounces on the ropes and hits a hurricanrana on Negra. Shani back breakers Faby and Dinastia takes out Super Fly. Apache and Shani meet in the ring now and Faby attacks her butt. Shani kicks Faby and then Super Fly beats on Shani. Shani hits an arm drag then a DDT on Super Fly. Negra runs over Myzteziz. Negra throws Myzteziz in the air but he gets caught for a hurricanrana. Myzteziz back drops Super Fly to the outside. Shani then dives to the outside on Super Fly. Myzteziz then dives over the top on Negra. Dinastia flips Faby in the ring then super kicks her. Faby hits a face buster and the ref counts slow so Dinastia kicks out. Faby then hit a Tiger suplex after dodges Dinastia and this time the ref counts but Faby is still upset with him. Faby Apache pins Dinastia with a tiger suplex.
Winners: Faby Apache, Super Fly, and La Parka Negra
Maximo, Mamba, and Pimpinela Escarlata vs La Mascara, Taurus, and Chessman
Maximo starts out against Mascara and goes for a dive off the apron but misses and Mascara beats on him. Escarlata and Mamba get taken out and they team on Maximo. Escarlata gets kicked in the groin but since he/she is playing a girl. No dq. Escaralata goes for a cross body and turns it into an arm drag on Taurus. Mamba hits an apron dive on Mascara and Maximo on Chessman. Escarlata tries to choke Taurus but he shrugs her off. Escarlata puts her butt in Mascara's face to his disgust. Escarlata hits a double arm drag on Chessman and Taurus. She tries to kiss Mascara but he moves his head. She hits an arm drag then finally kisses him. She must be poison ivy. Mamba twerks a little bit in the ring with Chessman but then he slaps her ass and flips her over. Mamba hits a hurricanrana then an arm drags followed by the kiss of death twice. He falls out of the ring and she twerks. Maximo gets in with Mascara and Mascara leaves the ring. Maximo hits hurricanrana's on Chessman and Taurus, then Mamba hits a flip dive through the flip rope. Maximo walks the ropes and hits a flip dive to the outside. Mascara goes to the top with Escarlata but Maximo goes up and kisses him. Escarlata school boys him for the win. Pimpinela Escarlata school boys Mascara for the win.
Winners: Maximo, Mamba, and Pimpinela Escarlata
Drago, Laredo Kid (Aerostar), and Hijo Del Vikingo vs Mocho Cota Jr, Carta Brava Jr, and Tito Santana
Porde de Norte drop kicks everyone to start to get the advantage. Vikingo hits a drop kick to change momentum. He chops Tito Santana's chest. Afterwards Porde de Norte continues to work over everyone. Not much detail to say, just constant triple teaming. Drago hits a head scissors on Santana then launches Vikingo into the others for a drop kick. Aerostar then does a dive through the middle rope where he goes flying into the crowd. Vikingo does an asai imploder 450. In the ring Cota hits a belly to belly on Drago for a two count. Aerostar comes in and hits a running cutter on him. Brava crotches Aerostar on the ropes and does the double foot stomp off of the top. Vikingo catches Carta for a swinging slam that Santana breaks up. Santana jumps into a brutal Canadian destroyer and Drago breaks it up. Drago rolls into a code breaker and Brava breaks it up. Aerostar and Vikingo hit drop kicks on Brava and Santana. Aerostar hits a moonsault, Vikingo a 450 and Drago gets a pinning combination all for a two count. Drago then hits a dive through the middle rope on Cota. Vikingo drop kicks Santana then hits a dive through the middle rope on Santana and Cota. Aerostar dumps Brava to the outside and does a cannon ball splash on Brava and Cota. In the ring Drago sprays mist in Santana's eyes and Vikingo hits an imploder 450 for the win. Hijo Del Vikingo pins Tito Santana with an imploder 450.
Winners: Drago, Aerostar, and El Hijo Del Vikingo
Psycho Clown, Dr. Wagner Jr, and Pagano vs Jeff Jarrett, Rey Escorpion, and Texano Jr
Escorpion attacks Clown with a chair. Texano ties his rope around Pagano's neck. Jarrett works over Wagner. Texano then chokes Wagner, and Rey continues to beat on Psycho Clown. Clown gets Rey to the outside and hits a dive over the top. Pagano then hits a dive through the middle rope. Wagner hits a cutter on Jarrett then dragon screw leg whips Texano. Psycho Clown grabs the rope and hits Texano with it. Clown breaks a broom over Escorpion's back. They hit multiple clotheslines in the corner on Jeff Jarrett. Clown works with Rey and Rey hits a power slam for a two count. Clown hits a head scissors followed by a sunset flip for a two count. Rey hits a draping DDT with Clown caught in the ropes for a two count. Rey postures on the top rope and Clown drop kicks him off. He goes on the turnbuckle post and leaps off onto Esocrpion. Wagner gets distracted by the ref and Jarrett breaks a guitar over his head. Pagano hits a leg drop to stop the count. Pagano hits a cutter on Texano and sets up a table. Pagano head butts a chair into Texano then smacks himself with said chair. Pagano goes to the top with the chair but Texano hits a crucifix power bomb through the table on him for the win. Texano Jr pins Pagano with a crucifix power bomb off the top. 
They continue to beat on the technicos post match. They steal Psycho Clown's mask, yet again as they do every taping.
Winners: Jeff Jarrett, Rey Escorpion, and Texano Jr