MLW Fusion Ratings & Review: 4/27/18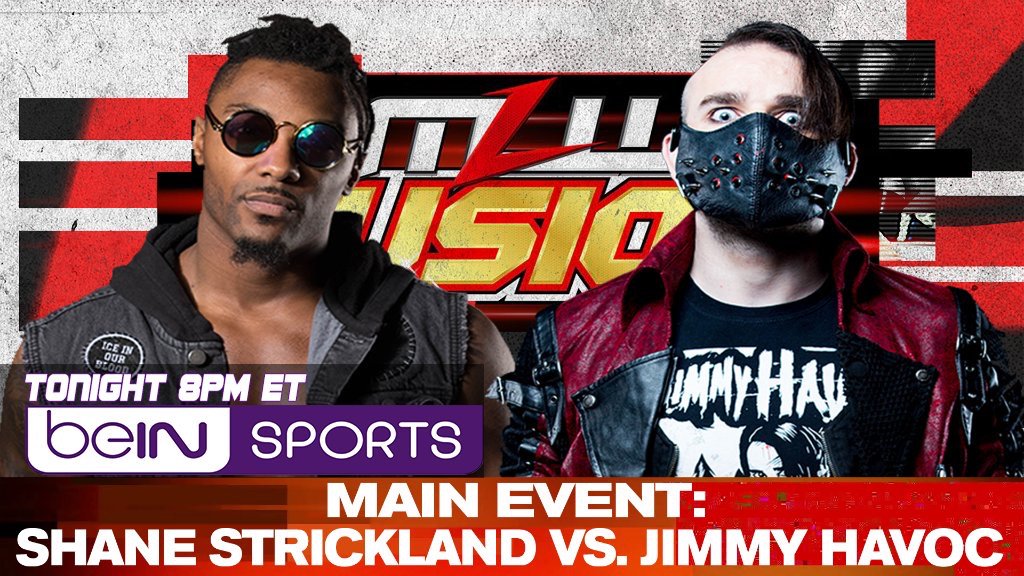 Greetings and Salutations. Episode 2 of Major League Wrestling is in the books! And While there is certainly room for improvement, the product has an unique look and feel to it, as well as access to some of the best wrestlers in the world not associated with the "E".
Congratulations to @CourtBauer and @MLW. The premiere episode of their new weekly TV series "Major League Wrestling: Fusion" airs TONIGHT at 8:00pm ET on @beINSPORTSUSA network. For a list of providers and more #MLWFusion info, go to https://t.co/b8VHM2Hc44 pic.twitter.com/YqzEYXRzSH

— Ted DiBiase (@MDMTedDiBiase) April 20, 2018
Week 2 begins with video hyping tonight's main event between current Heavyweight Champion Shane "Swerve" Strickland and Jimmy Havoc. Then, it's cuts to Rich Bocchini and a rejuvenated sounding Tony Schiavone to prepare us for tonight's action.
The Dirty Blondes(W/ Col Robert Parker) vs. Jimmy Yuta & Jason Cade
Pretty basic, old school tag match designed to establish the Blondes as a force to be reckoned with. Certainly, fellow WCW heads will feel a twinge of nostalgia seeing the good Colonial back on our airwaves. The Blondes have a possibility to be a player as MLW looks to establish their tag division. Meanwhile, Yuta and Cade could play the role sympathetic babyfaces(think Rock N Roll Express) well if given more time to display their offense. The finish comes with assistance from the Colonial to give The Dirty Blondes the win.
Winners: The Dirty Blondes
#MLWFusion @salinadelarenta just wanted a closer look at the mask of Ultimo Ninja, I'm sure. pic.twitter.com/JVM2Dk2emC

— JJ Williams (@JJWilliamsWON) April 28, 2018
Garza Jr.(W/Salina de la Renta) vs. Ultimo Ninja
Easily the match of the night. Fast paced, lucha style action. Plenty of big moves that eventually won over a crowd that was somewhat lethargic when the competitors first came out. The announcers did a good job of putting over De la Renta, whose unmasking of Ninja led to Garza's victory. It's clear there are big plans for her stable, which includes Pentagon Jr. who will face champion Shane Strickland at the company's Intimidation Games ppv on Thursday.
Winner: Garza Jr. (w/Salina de la Renta)
See @FilthyTomLawlor on #MLWFusion only on @beINSPORTSUSA Friday nights at 8pm ET. New episode tonight! pic.twitter.com/0HaQoLKF6m

— Court Bauer (@courtbauer) April 27, 2018
Vignettes air which featured Filthy Tom Lawlor, The Dirty Blondes, and MVP. These will be key as MLW looks to establish it's characters and their motivations.
Shane "Swerve" Strickland vs. Jimmy Havoc
#MLWFusion Swerve Stomp! @StricklandShane pic.twitter.com/yNXXRXyp7B

— JJ Williams (@JJWilliamsWON) April 28, 2018
Havoc has an unique look and sells like a champ. Strickland is the current cornerstone of the MLW product. He oozes charisma and was over with the Orlando Crowd. Throughout the evening, vignettes aired hyping the tonight's main event. The story being told was that Swerve had never defeated Havoc, and had to exercise that demon. The match itself was good, but not great. These two have had better matches and I feel the time restraints factored into what they could do. However, they did a good job of telling the story they were looking to tell. Strickland picked up the victory after a double foot stomp from the top rope.
Winner: Shane "Swerve" Strickland via pinfall with the double stomp
Overall, while not as good as the inaugural episode, it was an entertaining hour of wrestling. MLW is still in its honeymoon stage, trying to establish characters and their motivations. The presentation of the product is very sports like, which should appeal to the average fan. Production wise, they are light years ahead most of the other promotions(not named WWE) and present an easily digestible and entertaining hour of television. They have a nice mix of recognizable and new faces that both attract the casual viewer and keep them engaged. And of course, its pretty damn cool to have Tony Schiavone's voice back on our television.
I'm out of time, but the tape machines are running!