MLW Fusion Ratings & Review: 4/27/18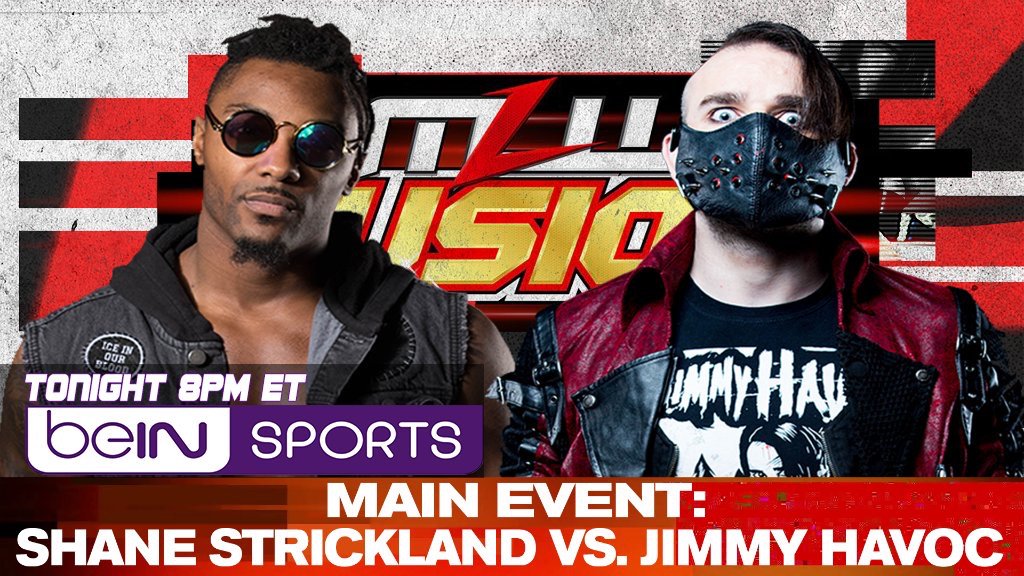 Greetings and Salutations. Episode 2 of Major League Wrestling is in the books! And While there is certainly room for improvement, the product has an unique look and feel to it, as well as access to some of the best wrestlers in the world not associated with the "E".
Congratulations to @CourtBauer and @MLW. The premiere episode of their new weekly TV series "Major League Wrestling: Fusion" airs TONIGHT at 8:00pm ET on @beINSPORTSUSA network. For a list of providers and more #MLWFusion info, go to https://t.co/b8VHM2Hc44 pic.twitter.com/YqzEYXRzSH

— Ted DiBiase (@MDMTedDiBiase) April 20, 2018
Week 2 begins with video hyping tonight's main event between current Heavyweight Champion Shane "Swerve" Strickland and Jimmy Havoc. Then, it's cuts to Rich Bocchini and a rejuvenated sounding Tony Schiavone to prepare us for tonight's action.
The Dirty Blondes(W/ Col Robert Parker) vs. Jimmy Yuta & Jason Cade
Pretty basic, old school tag match designed to establish the Blondes as a force to be reckoned with. Certainly, fellow WCW heads will feel a twinge of nostalgia seeing the good Colonial back on our airwaves. The Blondes have a possibility to be a player as MLW looks to establish their tag division. Meanwhile, Yuta and Cade could play the role sympathetic babyfaces(think Rock N Roll Express) well if given more time to display their offense. The finish comes with assistance from the Colonial to give The Dirty Blondes the win.
Winners: The Dirty Blondes
#MLWFusion @salinadelarenta just wanted a closer look at the mask of Ultimo Ninja, I'm sure. pic.twitter.com/JVM2Dk2emC

— JJ Williams (@JJWilliamsWON) April 28, 2018
Garza Jr.(W/Salina de la Renta) vs. Ultimo Ninja
Easily the match of the night. Fast paced, lucha style action. Plenty of big moves that eventually won over a crowd that was somewhat lethargic when the competitors first came out. The announcers did a good job of putting over De la Renta, whose unmasking of Ninja led to Garza's victory. It's clear there are big plans for her stable, which includes Pentagon Jr. who will face champion Shane Strickland at the company's Intimidation Games ppv on Thursday.
Winner: Garza Jr. (w/Salina de la Renta)
See @FilthyTomLawlor on #MLWFusion only on @beINSPORTSUSA Friday nights at 8pm ET. New episode tonight! pic.twitter.com/0HaQoLKF6m

— Court Bauer (@courtbauer) April 27, 2018
Vignettes air which featured Filthy Tom Lawlor, The Dirty Blondes, and MVP. These will be key as MLW looks to establish it's characters and their motivations.
Shane "Swerve" Strickland vs. Jimmy Havoc
#MLWFusion Swerve Stomp! @StricklandShane pic.twitter.com/yNXXRXyp7B

— JJ Williams (@JJWilliamsWON) April 28, 2018
Havoc has an unique look and sells like a champ. Strickland is the current cornerstone of the MLW product. He oozes charisma and was over with the Orlando Crowd. Throughout the evening, vignettes aired hyping the tonight's main event. The story being told was that Swerve had never defeated Havoc, and had to exercise that demon. The match itself was good, but not great. These two have had better matches and I feel the time restraints factored into what they could do. However, they did a good job of telling the story they were looking to tell. Strickland picked up the victory after a double foot stomp from the top rope.
Winner: Shane "Swerve" Strickland via pinfall with the double stomp
Overall, while not as good as the inaugural episode, it was an entertaining hour of wrestling. MLW is still in its honeymoon stage, trying to establish characters and their motivations. The presentation of the product is very sports like, which should appeal to the average fan. Production wise, they are light years ahead most of the other promotions(not named WWE) and present an easily digestible and entertaining hour of television. They have a nice mix of recognizable and new faces that both attract the casual viewer and keep them engaged. And of course, its pretty damn cool to have Tony Schiavone's voice back on our television.
I'm out of time, but the tape machines are running!
---
Always Use Your Head and visit the official Pro Wrestling Tees store for The Chairshot All t-shirt proceeds help support the advancement of your favorite hard-hitting wrestling website, The Chairshot!

---
Sonoran Championship Wrestling BATTLE|LINES Results (9/21/18)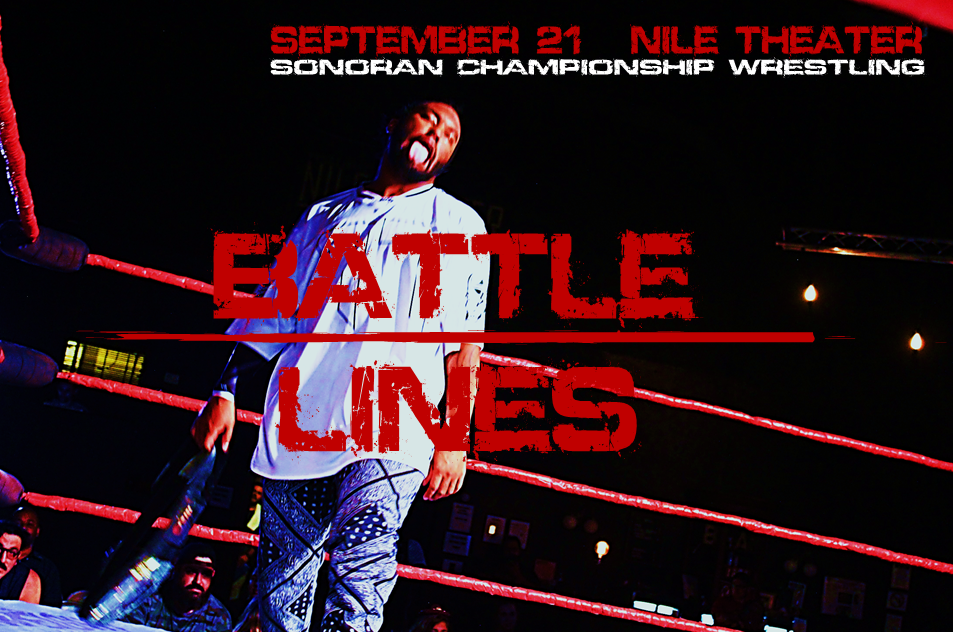 SCW (Sonoran Championship Wrestling) returned to The World Famous Nile Theater on Friday night, September 21, for BATTLE|LINES! Tensions were high all night, and the rowdy crowd in attendance were treated so some amazing action.
By the end of the night we had a new (but reluctant) tag team, fans begging for more EJ-Calder, one pissed off challenger, and the revelation of perhaps the strongest force ever to hit SCW…
Full results:
Navajo Warrior pinned Alex Salyers
Salyers reminded everyone of the reasons he asked for "the biggest, baddest, and most respected man in Arizona," and then promptly punched him in the face. The legendary competitor proved too much in the end.
SBR & Cole Wright (with Travis Lee) beat Awesome Andy & Aguila
Two brand new teams in SCW brought the action early and never stopped, bringing the fans to their feet on multiple occasions. In the end, Travis sprayed Andy with Body Spray, leading his team to victory. After the match it was obvious that SBR & Cole had no clue what Travis was up to.
The Heat Seat with Pete The Heat and special guest Sergio Vega
Pete The Heat welcomed Sergio Vega, who explained that he was attacked at the border on his way to August's Big Trouble In Little Mesa. He didn't see the attacker, but did notice that Jay Garland was wearing a Sergio Vega shirt when he left the building with Thugnificent that night. The Hawaiian Lion entered the ring to remind Sergio to focus on their match later in the evening, and that the Arizona legend fully intended on ending the year-plus reign of the champion.
SOS (with June Jackson) pinned Morgan (with Adrenalyn) in a No Disqualification Match
June Jackson announced that she would not be participating in the match, but "supervising" as her best friend, SOS, battled Morgan instead. Morgan didn't come alone, bringing back-up on the form of Adrenalyn! All four women battled throughout The Nile, but in the end a (legal) chairshot from SOS allowed her to score the pin after June blasted Adrenalyn with a tire iron.
EJ Sparks and Calder McColl battled to a time limit draw
In another first time ever encounter, EJ and Calder brought the fight in a big way, neither letting up for the duration of the match. Calder connected with an Air Raid Crash, but EJ kicked out of the pinfall attempt right before time expired. Calder was frustrated, but the two men embraced to end a match that fans are already asking to see again.
Toom E Guci addressed the crowd
SCW co-owner and general manager Toom E Guci announced that on October 19, we will celebrate two years of Sonoran Championship Wrestling  at Run The Gauntlet. Competitors will compete in the biggest Gauntlet ever, spanning the entire evening, and the winner will have the ability to make any match they choose. Toom revealed that the first match of Run The Gauntlet.
SCW Tag Team Champions Jay Garland & The MITH and Impulse Champion Thugnificent fought The Brothers Of Wrestling (Evan Daniels & R-Three) and LJ Ramos to a no-contest
Toom E Guci got the answers he was seeking when these six men jumped into action. LJ Ramos was (seemingly) injured during the match, and was rendered unable to continue and helped to the back. The 3-on-2 advantage proved to be too much for the BOW, and when all hope was lost LJ returned to the ring! Once LJ was tagged in, he stood face-to-face with The Man In The Hood, but turned around and attacked Evan Daniels! Garland, Thugnificent, MITH, and Ramos maintained a 4-on-2 advantage until EJ Sparks ran to confront the four men. Before EJ could do anything, June Jackson snuck in and hit EJ with a low blow, leading to a 5-on-1 attack on the fan favorite. Jay Garland took the mic and revealed that Genesys was reformed, much to the dismay of Toom E Guci.
SCW Heavyweight Champion Sergio Vega pinned The Hawaiian Lion to retain his championship
After defeating Ricky Mandel to earn this championship opportunity, The Hawaiian Lion took the fight to the champion, but there was no backing down for Sergio Vega. Lion connected with an Axe Bomber late in the match, but was slow to cover. Sergio kicked out, but Lion immediately latched onto a Coquina Clutch. Sergio got to the ropes multiple times, and referee Scott Johnson had to pull Lion off of Sergio. Lion protested, but that gave Sergio the opening he needed to score the victor. Lion snapped after the match, taking out his frustrations on the champion and refusing to release the Clutch. The Navajo Warrior hit the ring to finally break Lion from the hold, restraining him before he could do more damage to the champion, the official, and potentially his own career.
Sonoran Championship Wrestling returns to The Nile Theater on Friday, October 19, 2018 for Run The Gauntlet! Don't miss this night of non-stop action as the SCW roster attempts to Run The Gauntlet from start to finish.
Credit: https://scwwrestlingaz.com/
---
Always Use Your Head and visit the official Pro Wrestling Tees store for The Chairshot All t-shirt proceeds help support the advancement of your favorite hard-hitting wrestling website, The Chairshot!

---
James' Ring Warriors Results & Review (9/16/18)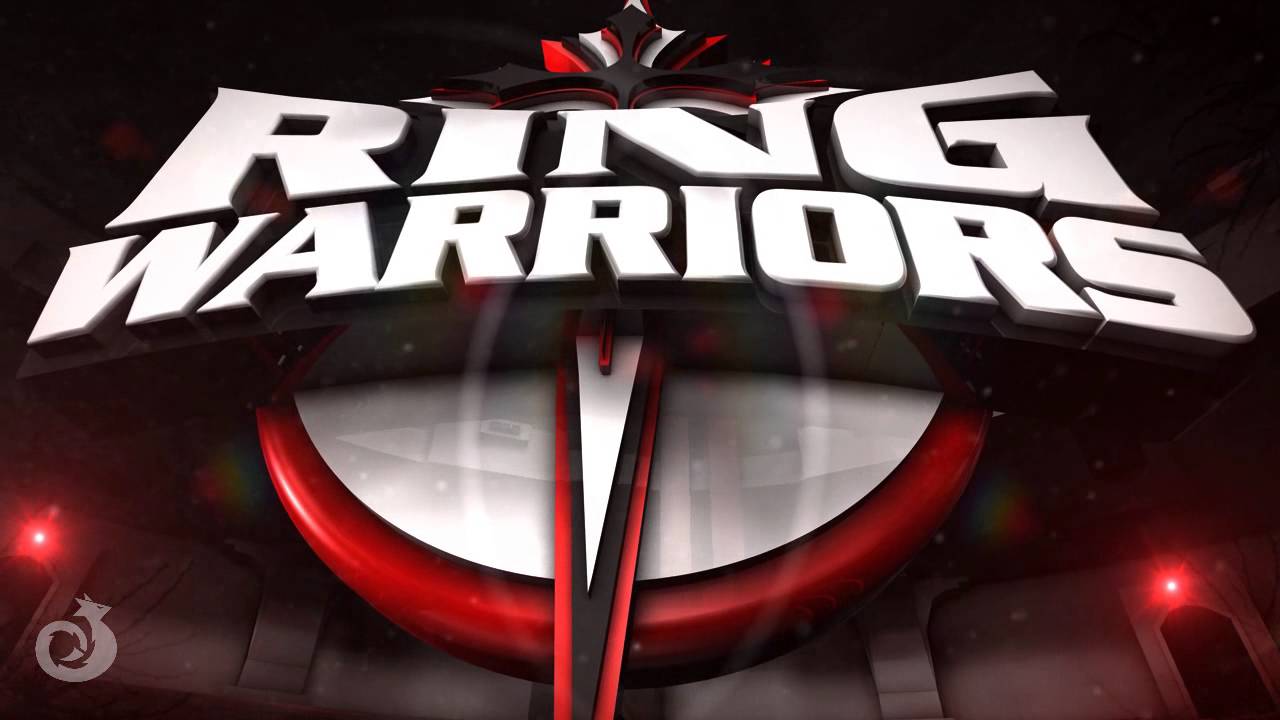 Rolling out of bed at 6:45 on a Saturday morning for no reason is far from my idea of a good time. But this morning is different, today is the first episode of Howard Brody's Ring Warriors TV show on WGN America. Words cannot begin to describe how happy I am when I see a new promotion getting a national TV deal. So that being said the good folks right here at The Chairshot and myself will be bringing you a weekly review.
Austin Aries is the first face we see as he tells us the belt collector and a taping with some names I immediately recognize including Kahagas, Desi Derata, Jeff Cobb, Kahagas, even stars from the original Ring Warrior show such as Alex Chamberlain and Chance Prophets. Blake Chadwick and Larry Brannon welcome us but are quickly interrupted by the title collecting, banana eating, Austin Aries.
Austin Aries seemingly cut his usual babyface promo before leaning heel the goes beyond this saying he was pulling out of the Ring Warriors Grand Championship tournament and he was part owner of Ring Warrior. My favorite part was the scrolling breaking news update across the bottom of the screen confirming that he, in fact, had become a partner of Ring Warriors. He then makes his first executive decision and joins the commentary team at the Sam's Town Casino tapings.
Damian Drake vs Martin Casus
Our first match sees a guy I'm a huge fan of and think highly of Martin Casaus, Lucha Underground's Marty the Moth, taking on a guy I'd never heard of. Austin Aries compares Martin to a "jacked Jack Black" in typical fashion. It was a classic big man little man story with Martin Casaus throwing Damian Drake around. Drake reminds me of Will Ospreay not just in appearance but in what little offense we saw. It didn't take long for Casaus to hit Lights Out and pick up the win.
Winner: Martin Casaus
Desi Derata vs Santana Garrett
We get a promo from Santana Garrett mentioning that her first match was with Ring Warriors and she won the Ring Warriors Ladies Championship. Desi Derata I've had the pleasure of working with many times with the Imperial Wrestling Revolution, now the World Class Revolution. Desi has a solid 5-6 inch height advantage so she gets the majority of the middle offense before being cut off by Santana Garrett. Garrett lands a beautiful side Russian leg sweep and floats over into a pin attempt. Santana Garrett attempts a handspring only to have her hair pulled allowing Desi to hit the North Wind. Oddly the referee stopped counting the pinfall. Austin Aries refers to the referee as Mr. Lahey, which being a Trailer Park Boys fan popped me.
Winner: Desi Derata
We now get a promo from Wes Brisco, son of WWE Hall of Famer Gerald Brisco. Wes says he is here to prove to people that the black cloud that followed him is gone and he is here to win the Ring Warriors Grand Championship. He says he's never going to quit, he is going to remember the bad times to make sure he solidifies his name in the history books.
Luke Hawx vs Chris Bey
Luke Hawx looks as jacked as ever and the "Southern Stomper" looks ready to go. Luke Hawx interrupts Chris Bey's entrance and demands to be announced first. The 19-year veteran of the business is quickly taken down by the high flying, fast paced offense of Chris Bey. Hawx turned it around and slowed it down landing a series of chops, the first of which almost sent Bey over the ropes. Chris Bey jumps on Luke Hawk's back before jumping up and stomping the back of his head. Luke Hawx catches Bey in mid-air and puts him away after a series of backbreakers. Luke then proceeds to help Bey up after the match raises his hand and even does the head rub like you would give a kid who just lost.
Winner: Luke Hawx
Kahagas vs Alex Chamberlain
Ken Resnick gets us some comments from The Tokyo Monster and his manager Dante Brown. Alex Chamberlain has definitely put on some muscle and looks older which makes him look more like a wrestler and less like a kid. Austin Aries teases an Impact Wrestling title match in Ring Warriors next week. Kahagas and Chamberlain go back and forth trading blows and brawling in and out of the ring. After a few meetings with the barricade, Chamberlain is seemingly out of this match. A Stan Hansen like lariat out of the corner almost ended Kahagas' reign of punches on Chamberlain. After a series of sneaky pinfall attempts an inside cradle puts The Tokyo Monster away.
Winner: Alex Chamberlain
Words cannot begin to describe how impressed I was with this show they're truly blending old and new school wrestling. Having homegrown talent that's had time to mature and hone their craft as well as some of the up and coming names on the independent scene vs trying to us former major company names to draw in fans is a smart move in my opinion. Seeing Ken Resnick made me smile as I remembered ever post Mean Gene AWA show I had watched. The staging was simple but effective. The video production including David Marquez of the United Wrestling Network and his own promotion Championship Wrestling from Hollywood, was phenomenal. The in-ring action can only really be shot one way but the cinematic shots of the commentators, the matches themselves during the pre-break segments, and the drone shots of Las Vegas were gorgeous. I must say Howard Brody and the Ring Warriors crew might have just made me a morning person.
Wrestling with the Revolution from the Desk of James Southard
---
Always Use Your Head and visit the official Pro Wrestling Tees store for The Chairshot All t-shirt proceeds help support the advancement of your favorite hard-hitting wrestling website, The Chairshot!

---
Andrew's ALL IN Ratings & Review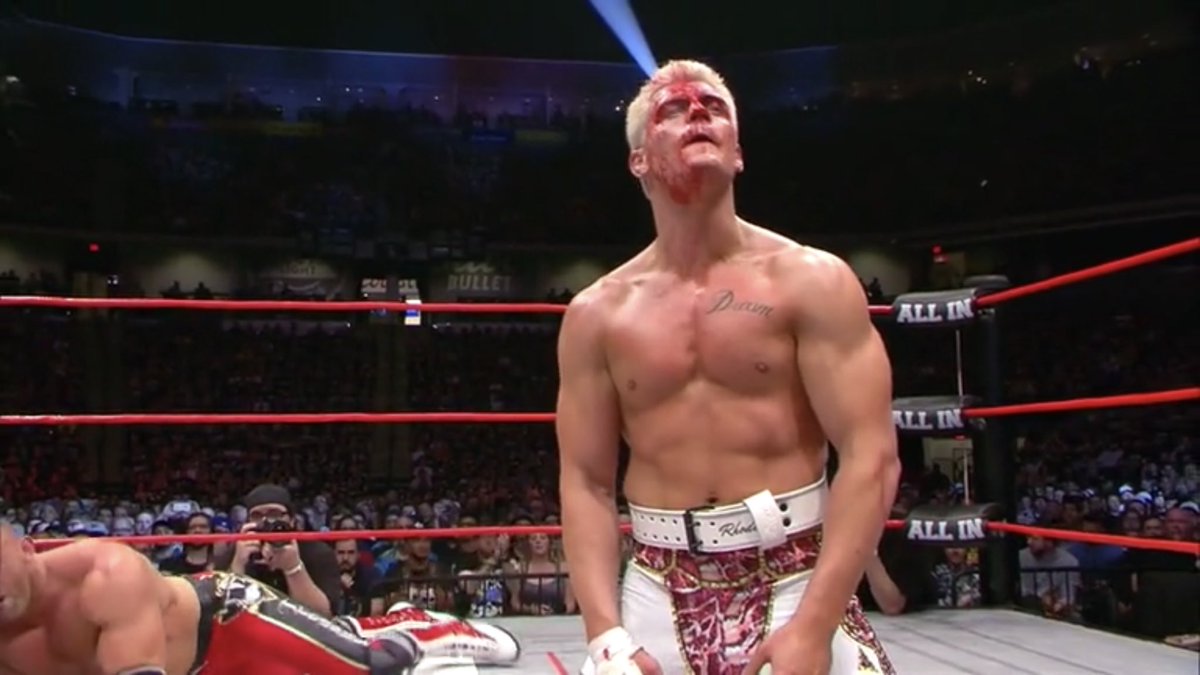 So this has been the hot topic of the wrestling world for the last few months. Everyone knows what ALL IN is, and if you don't, where the hell have you been?
Like seriously, were you banned from the internet? Do you live in Alaska? I really have to know.
Regardless, we've got the Zero Hour on WGN America, followed by the main show on a plethora of streaming services. So I guess we should get to it.
Frankie Kazarian & Scorpio Sky vs The Briscoe Brothers
This is the worst town Scorpio and Kaz have ever been in. There, I referenced the gimmick, now on to the match.
Coming out looking like Rocky Balboa and Austin Creed, SCU were easily the babyfaces in this one. The Briscoes started off early trying to cut Kaz off from Scorpio, but Scorpio got in fairly quickly. However, Briscoes kept control over Scorpio for a few minutes before the Kaz hot tag really ramped up the tempo of the match.
Inside Out Frankensteiner from Kaz, Tope con Hilo from Sky and that was just the start. SCU then hit a double Cutters and transition into dual Dragon Sleepers before the Briscoes eventually break the holds. At some point Mark hits a Block Buster from the apron to the floor and The Briscoes look about ready to take the win. Jay Driller/Froggy Elbow combination gets broken up by Scorpio just in time.
Before SCU can mount any offense, they dump Scorpio out and go for the Doomsday Device on Frankie. Somehow, Frankie catches Mark into a Snap Power Slam off Jay's shoulders and Scorpio slides in and connects a big Bicycle Knee to prevent any pin break up. So SCU beat the reigning ROH Tag Team Champions.
A few awkward spots, but an overall solid and fun curtain jerker.
Winner: Kaz via Avalanche Snap Power Slam
Rating: *** 1/2
Over the Budget Battle Royal
Intergender Battle Royal for a shot at the ROH Heavyweight Championship. Not a lot else to extrapolate from. At the very least, this should be fun.
Bully Ray immediately goes after Chico to put him through a table. Chico tries to fight through cause he never jobs, but Bully's power gets it done. Billy Gunn and Tommy Dreamer do dive fake outs and just do Double Axe Handles from the apron. Everyone catches Moose, but he only goes to the apron, before a dropkick from Marco Stunt  eliminates him.
Brandon Cutler gets eliminated by Ethan Page, Marco Stunt gets eliminated by Bully Ray. Rocky saves the Best Friends since they're all CHAOS buddies, then the Best Friends hug gets a big pop…before Punishment Martinez ruins the fun. Forever Lariats from Rocky Romero before Brian Cage cuts him off with a Discus Clothesline and wipes out Rocky.
Cheeseburger tries and Cage says no, then Punishment and Cage square off. Cage counters the Chokeslam, pushes him into Hurricane Helms, and Hurricane goes on a Chokeslam spree of his own. Ethan Page and Hurricane both fight on the apron after being tossed over the top, so Page eliminates Helms before Colt Cabana hits a hip attack sending Page off. Dreamer with the Dusty Rhodes Bionic Elbow on Punishment before Bully Ray eliminates him.
Apparently Marco wasn't eliminated and tries to go after Bully before Billy Gunn helps him out. Jimmy Jacobs does a 5 Knuckle Shuffle on Austin Gunn, but Billy makes a save again and eliminates the Zombie Princess. Austin Gunn then eliminates Punishment, before Bully takes out Austin. Billy hits a FameAsser for vengeance and then stares down Brian Cage.
Cage Gorilla Presses Billy Gunn out, Marco Stunt hits a Satellite Codebreaker before Bully Ray tells him to get out. Jordynne Grace and Cage square off, and Grace eliminates Cage. Bully tries to take out Grace, puts her on the top turnbuckle, Cabana helps her out and they WASSUP Bully Ray. Bully then reverses the whip and eliminates Jordynne, so it's Cabana versus Bully.
Bully eliminates Cabana, thinks he won, but Chico slides in, hits a Superkick and reveals himself to be Flip Gordon. Flip wins the Battle Royal to face Jay Lethal.
It was entertaining, a lot of nice nostalgia moments, most people got their stuff in, but as we know, Battle Royals lack too many elements of a real wrestling match, so I only give out 3 if it was good and 2 or 1 if it was awful. This one was mostly good.
Winner: Chico El Flip Gordon 
Rating: ***
MJF vs Matt Cross
Oh great, I forgot Dollar Store EC3 was on this card. The most cookie cutter uninteresting character in wrestling…hooraay. Go Matt Cross.
Cross pulls off a gorgeous Sasuke Special early in the match, but MJF does have the advantage through most of this match. A rope assisted Piledriver and typical old school style heel tactics, so nothing flashy or special. Honestly, the match was very basic/typical from both men.
MJF gets frustrated, goes for a middle rope Moonsault, misses and tweaks his knee. Cross hits the Rebound Cutter, following up quickly with the Shooting Star Press, for the pinfall victory.
Winner: Matt Cross via Shooting Star Press
Rating: ** 3/4
Christopher Daniels vs Stephen Amell
'The New Ref'n Show' Jerry Lynn is refereeing this match. Curious if Amell stays undefeated through this, or Daniels puts an end to the streak.
The story coming into this helped drive the offense. Christopher Daniels even does a little reference back to his old Curry Man gimmick. And when push comes to shove, this match was better than I expected but still not surprising. Amell hits a Falcon Arrow and Coast to Coast but totally wipes out when he tries to put Daniels through the table.
Jerry Lynn goes out of his way to decide not to do a Double Countout, and grab both men and throw them back in the ring. This frustrates Daniels, so Jerry and Daniels square off a little as Amell tries to go for the School Boy to win fast, but Daniels kicks out. Angel's Wings into a Best Moonsault Ever, gives Daniels the deserved win.
The match was sloppy, Amell was nearly emotionless and it made much of the match hard to swallow. Given the fact that Amell is an actor and not a fully trained wrestler, it's not surprising the match was painful at times. He did what he could, Daniels tried to save moments, and it was good enough for the fans in attendance.
Winner: Christopher Daniels via Best Moonsault Ever
Rating: * 3/4
Chelsea Green vs Britt Baker vs Tessa Blanchard vs Madison Rayne
Britt Baker comes out to Adam Cole's old ROH music. Tessa comes out with Tully and Magnum T.A. there to embrace her.
Ugh…I'm kinda sad honestly. This match was really good up until Britt Baker did a trifecta of Sling Blades, poorly. Then we get a sloppy top turnbuckle Bulldog thing from Madison Rayne, most of what Chelsea Green did looked bad…I just…come on. Numerous false finishes with sloppy moments, a lack of selling and just an illogical pile of bodies but somehow people can't make a pin break up.
The most egregious no sell moment is Madison hits Tessa with a Cutter or something, and Tessa has to pop up, effectively no selling to eat a Missile Dropkick. Who thought that was a good idea? Like damn. Plus I swear if everyone hugs or shakes hands after every match with 27,000 false finishes and 800 moves, I'm gonna have a stroke.
This match had a lot of potential too, and just fell apart. Really disappointed. But Tessa won, so that's nice.
Winner: Tessa via Hammerlock DDT
Rating: **
NWA World's Heavyweight Championship Match: Cody Rhodes vs Nick Aldis (c)
Both men had their own teams accompany them to the ring, and we all know the story with Cody's lineage and Nick Aldis reviving a dead brand. Let's see how the match plays out, Dealer versus Nightmare.
Well this is what wrestling was and why we all watch. It's not for flips and false finishes, it's for a story being told like this. The best way I can describe this match is, it was a love letter from Cody to Dusty. If you don't enjoy the old 70s/80s style of wrestling, you'll feel that I'm way off base. But given the 70th anniversary of the NWA, the involvement of a Rhodes and how much we know Dusty meant to Cody, this was a deeply layered match.
We had the old school blade job moment, where we got to pop for Diamond Dallas Page hitting a Diamond Cutter on Shawn Daivari. We even saw a sweet moment between Brandi begging Cody that he didn't have to continue and then throwing herself on top of him to absorb the Elbow Drop.
Let's not undersell how good Aldis looked in this match also, especially when he accidentally hit Brandi, to prove he's not a bad guy. Then he kicks out of the Crossroads, and the match hits that point where you're not sure who will win. Aldis goes for a Sunset Flip, but Cody sits down and sinks in the Double Leg Cradle, and gets the pinfall victory to become the first ever second generation NWA Heavyweight Champion!
Can't be upset with the match or the story. Could it have been crisper or could there have been a quicker pace, sure, but a faster pace would've hurt the story of the match. Just a tremendous story driven match, watch it, it's hard to really convey the poignancy of this match.
Winner: Cody via Double Leg Cradle
Rating: **** 1/2
Chicago Street Fight: Hangman Page vs Joey Janela
Well…this match was every stereotypical indie match ever. Spots for the sake of spots, including a Donkey Kong barrel roll spot. Numerous tables, a terrible running down the ramp lariat and just…why.
The highlights of this match were basically everything Penelope Ford did because not only is she easy on the eyes, she seems pretty solid in the ring too. The nods to Being the Elite were amusing for people that follow them. Page's cowboy boots that speak to him and the telephone he used to murder Joey Ryan all play a part into the finishing spot.
Finish being a Rite of Passage from the ladder through the table after hitting Janela with the phone a few times. I'm anticipating the ending getting sent to Jim Cornette because then people dressed as giant penises show up and Joey Ryan shows up alive. So ya…Dick Flip and an army of fallacies, I'm gonna look forward to Cornette's reaction.
Winner: Hangman via Rite of Passage through Table
Rating: * 1/2
ROH World Championship Match: Jay Lethal (c) vs Flip Gordon
So Flip came out with Brandi and Lethal came out as Black Machismo with Lanny Poffo. So as we all know, if someone slaps Lethal's left shoulder it switches him between personalities. So it should be interesting how that plays into the match.
It starts off a little goofy with Lethal thinking Brandi is Miss Elizabeth, so he keeps trying to keep her on one spot. Brandi eventually gets annoyed and slaps Jay's shoulder, forcing him back to the Jay Lethal persona.
The match is actually okay but kinda uneventful for a while. Flip does his Kip Up dodges, Lethal gets one Lethal Injection countered and kicks out of Flip's Falcon Arrow. It's not until Lanny calls for the Macho Man Elbow and hits Jay's shoulder to turn him back to Machismo. Three big Elbow drops only get a 2 count, as Flip does his best Hulk Hogan impression, hulking up, pointing, Big Boot and Leg Drop, only for 2.
Flip then pulls off most of his signature moves, Star Spangled Stunner, 450 Splash, quite flurry, but Lethal still kicks out. Jay then catches him and hits the Lethal Injection for the pinfall victory.
It definitely got a little too gimmicky at points, but it wasn't a bad match at all.
Winner: Lethal via Lethal Injection
Rating: *** 1/2
Penta El Zero M vs Kenny Omega
This was the first "work rate" match of the night. It came off a little clunky early with Pentagon slowing down a bit before an exchange and just an overall odd pace.
Pentagon played some mind games more often than actually going for confident finishes. Pentagon Driver, Fear Factor, they were both hit, but the cocky covers may have cost him. Biggest spots being the Springboard Cross Body from Omega to the outside and Pentagon hitting a Fear Factor on the apron.
Oddly though, Penta countered the One Winged Angel a few times, even breaking Kenny's arm. But Omega alters how he delivers the One Winged Angel to use his other arm to pick up the victory. It's a good match, but overall a little underwhelming.
Thankfully though, the lights go out, when they come back on, Kenny forgets to sell the broken arm and gets attacked by Pentagon. Or…is it? Codebreaker?! It's Jericho! Face paint and stealing luchadors outfits, Chris has come full circle.
Winner: Omega via One Winged Angel
Rating: **** 1/4
Kazuchika Okada vs Marty Scurll
This was just a story of no one giving Scurll a shot since he's a Junior Heavyweight and Okada is…well…Okada. So will Okada send Marty to 205 Live, or will Scurll step it up?
Well now we get the best worked match of the night, and yes I'll say that before the last match since 6 Man Matches usually always have a ceiling. Scurll had something to prove and he really did continue to bring it to Okada.
The Rainmaker was cocky early, under estimating Scurll, but he had a ton of close calls and good moves. The whole crowd popped for a Kawada style Powerbomb from Scurll which gave the first real false finish. We get a ref bump to set up a spot I haven't seen in a while, with Marty getting the umbrella and then opening it up to stop Okada mid Rainmaker. Usage of the foreign object follows, but only a 2 count.
Scurll goes for the Chicken Wing a couple times, and looks to be close to getting Okada to tap out, before Okada does the Okada thing and fights through. An amusing reference to the 2-0-5 joke from BTE gives Marty a small glimmer of hope, but the adrenaline rush wears off, Rolling Rainmaker into proper Rainmaker and Okada wins.
Marty did prove he can hang with a heavyweight, and even though people tend to get on Scurll's case about being a bad worker – this was a great match.
Winner: Okada via Rainmaker
Rating: **** 1/2
Fenix, Bandido & Rey Mysterio vs The Young Bucks & Kota Ibushi
My first take away is that Fenix brought his newly acquired AAA Mega Championship to the ring. Go figure, a champion, not in a championship match, bringing the belt to the ring! *glares at Kenny Omega*
Aside from that, this was a weird match, and I don't just mean Mysterio dressed as Wolverine. After each person got in the ring once, we hear a very audible "Time to go home", which puts this frantic sense of urgency on the match. After a few big dives from the luchador team, Mysterio can be seen going to each of them to prolly tell them to cut stuff and speed to the finish.
The moves were fun, and nothing seemed terribly off…but one moment really annoyed me. We see Fenix hit a Rolling DDT, Bandido land a high impact move, Fenix then kicks Matt Jackson, Mysterio hits the 619, Fenix and Bandido both do dives to take out the rest of the Golden Elite, which leaves Mysterio and Matt alone. Mysterio lands a Frog Splash from the top, most likely an homage to Eddie Guerrero since everyone was picking from the past, and Matt kicks out at 2. HOW DO YOU KICK OUT OF 2 THERE IN A TIME CRUNCH?! Yes I can see it's cause the Bucks were supposed to win, but why go through all that, all of those signature moves/finishers, just to discredit them and kick out.
This then leads to what I can only expect to be a miscommunication. Golden Elite hit a modified More Bang for Your Buck and look to get the win over Bandido, but Fenix breaks up the pin. Quickly the Bucks hit a Meltzer Driver, and this time, Fenix realizes it's the finish.
I say there was probably a miscommunication cause as soon as the match ends, music hits and Ian Riccoboni doesn't even get through the entire sign off before the stream cuts. So it was fun, just extremely evident it was rushed, not counting the 3 or 4 times we can hear "go home".
Winner: Bucks via Meltzer Driver
Rating: *** 1/2
Thoughts:
Well talk about a mixed bag right? We had some kinda awful things, a few good things and two great moments with Jericho and Cody. I'm fully aware All In was a huge success, and a milestone for wrestling, but it's not without glaring flaws.
Let's not excuse this as a first show for Cody and the Bucks, when ROH's finger prints were all over it, Callis is an executive with Impact and Billy Corgan has done TV before. The rushed second half of the show (literally, as soon as a match ended, the next one had music starting), on top of a few hiccups and sound issues, should've been ironed out. The announce team was not very good honestly. Callis' bran of brash sarcasm didn't really work with Riccoboni and Excalibur, especially when Excalibur doesn't know what a Block Buster is and was just stepping all over the commentary in the most painful way. Anyone that complains about Michael Cole, couldn't have enjoyed this without just being heavily anti-WWE. Those are just a couple of the things that came to mind immediately.
All of that being said, the show was still entertaining on a whole. Not perfect, not Elite and not even better than SummerSlam, but not bad. If I were to rate it, I'd probably say 6.5/10. The thing I found most commendable was that the Bucks trimmed their own match instead of the boys. Not sure if that's why they were the main event, but the fact that what could've been a 25 minute match was probably more like 15, is good on them.
This show did give us a moment that most of us will never forget, and transcend wrestling and sports in general. Hard to understate how great it is to see Cody hold the same belt his father did.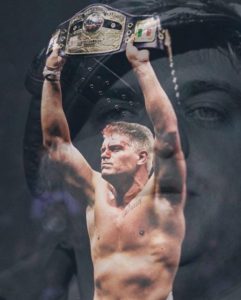 ---
Always Use Your Head and visit the official Pro Wrestling Tees store for The Chairshot All t-shirt proceeds help support the advancement of your favorite hard-hitting wrestling website, The Chairshot!

---