MLW Fusion Ratings & Review: 4/27/18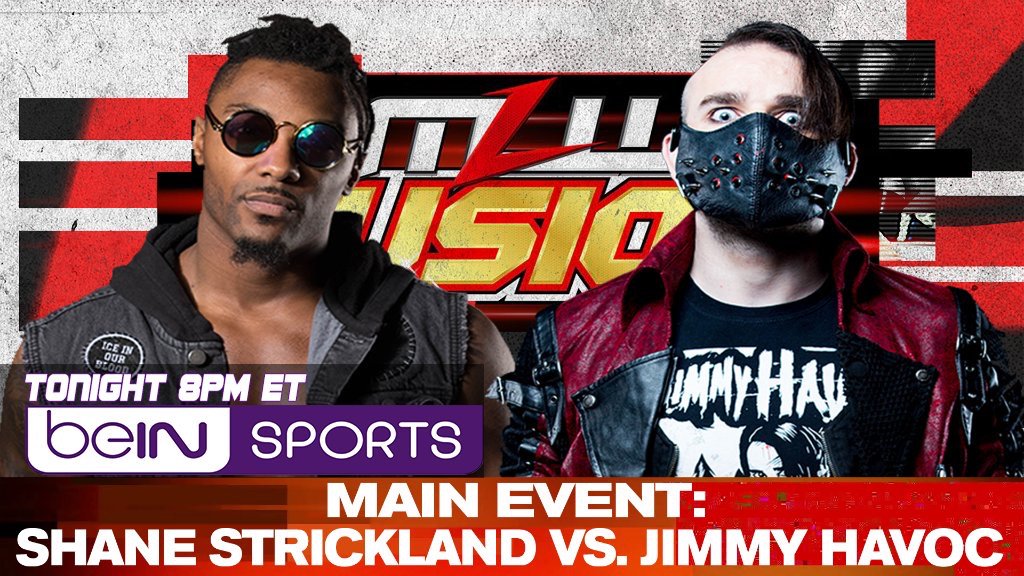 Greetings and Salutations. Episode 2 of Major League Wrestling is in the books! And While there is certainly room for improvement, the product has an unique look and feel to it, as well as access to some of the best wrestlers in the world not associated with the "E".
Congratulations to @CourtBauer and @MLW. The premiere episode of their new weekly TV series "Major League Wrestling: Fusion" airs TONIGHT at 8:00pm ET on @beINSPORTSUSA network. For a list of providers and more #MLWFusion info, go to https://t.co/b8VHM2Hc44 pic.twitter.com/YqzEYXRzSH

— Ted DiBiase (@MDMTedDiBiase) April 20, 2018
Week 2 begins with video hyping tonight's main event between current Heavyweight Champion Shane "Swerve" Strickland and Jimmy Havoc. Then, it's cuts to Rich Bocchini and a rejuvenated sounding Tony Schiavone to prepare us for tonight's action.
The Dirty Blondes(W/ Col Robert Parker) vs. Jimmy Yuta & Jason Cade
Pretty basic, old school tag match designed to establish the Blondes as a force to be reckoned with. Certainly, fellow WCW heads will feel a twinge of nostalgia seeing the good Colonial back on our airwaves. The Blondes have a possibility to be a player as MLW looks to establish their tag division. Meanwhile, Yuta and Cade could play the role sympathetic babyfaces(think Rock N Roll Express) well if given more time to display their offense. The finish comes with assistance from the Colonial to give The Dirty Blondes the win.
Winners: The Dirty Blondes
#MLWFusion @salinadelarenta just wanted a closer look at the mask of Ultimo Ninja, I'm sure. pic.twitter.com/JVM2Dk2emC

— JJ Williams (@JJWilliamsWON) April 28, 2018
Garza Jr.(W/Salina de la Renta) vs. Ultimo Ninja
Easily the match of the night. Fast paced, lucha style action. Plenty of big moves that eventually won over a crowd that was somewhat lethargic when the competitors first came out. The announcers did a good job of putting over De la Renta, whose unmasking of Ninja led to Garza's victory. It's clear there are big plans for her stable, which includes Pentagon Jr. who will face champion Shane Strickland at the company's Intimidation Games ppv on Thursday.
Winner: Garza Jr. (w/Salina de la Renta)
See @FilthyTomLawlor on #MLWFusion only on @beINSPORTSUSA Friday nights at 8pm ET. New episode tonight! pic.twitter.com/0HaQoLKF6m

— Court Bauer (@courtbauer) April 27, 2018
Vignettes air which featured Filthy Tom Lawlor, The Dirty Blondes, and MVP. These will be key as MLW looks to establish it's characters and their motivations.
Shane "Swerve" Strickland vs. Jimmy Havoc
#MLWFusion Swerve Stomp! @StricklandShane pic.twitter.com/yNXXRXyp7B

— JJ Williams (@JJWilliamsWON) April 28, 2018
Havoc has an unique look and sells like a champ. Strickland is the current cornerstone of the MLW product. He oozes charisma and was over with the Orlando Crowd. Throughout the evening, vignettes aired hyping the tonight's main event. The story being told was that Swerve had never defeated Havoc, and had to exercise that demon. The match itself was good, but not great. These two have had better matches and I feel the time restraints factored into what they could do. However, they did a good job of telling the story they were looking to tell. Strickland picked up the victory after a double foot stomp from the top rope.
Winner: Shane "Swerve" Strickland via pinfall with the double stomp
Overall, while not as good as the inaugural episode, it was an entertaining hour of wrestling. MLW is still in its honeymoon stage, trying to establish characters and their motivations. The presentation of the product is very sports like, which should appeal to the average fan. Production wise, they are light years ahead most of the other promotions(not named WWE) and present an easily digestible and entertaining hour of television. They have a nice mix of recognizable and new faces that both attract the casual viewer and keep them engaged. And of course, its pretty damn cool to have Tony Schiavone's voice back on our television.
I'm out of time, but the tape machines are running!
Ring Warriors: Episode 3 Review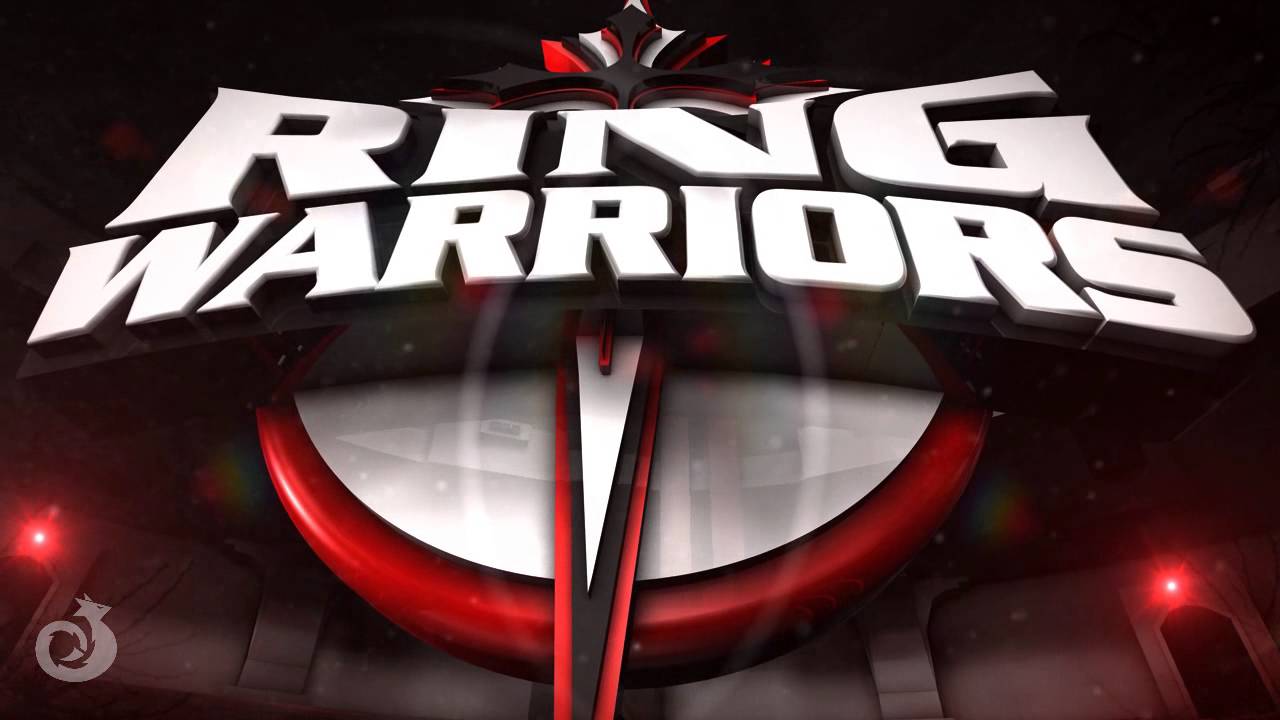 As I prepared for a drive to Guthrie, Oklahoma for a show I sit down for a cup of coffee and new episode of Ring Warriors. We open the show with a promotion of the Grand Championship tournament and get promised two quarterfinal matches in this hour. Our commentary team includes Austin Aries again this week. Ken Resnik finally gets introduced before he speaks with Dante Brown and Michael Tarver. Michael Tarver is still jacked to the gills and he can cut a promo. A cheesy promo, but a promo. Same goes for Wes Brisco but he doesn't sound quite as confident.
Quarter Final Match: Michael Tarver w/Dante Brown vs Wes Brisco
Wes Brisco comes out like a white-hot babyface. I really hate that Wes wears his tights over his boots. Tarver wearing MMA gloves doesn't make sense at all. If you're legitimately trying to hurt someone like the character you play, why would you wear gloves the insulate your punches and stop landing a knuckle on a cheekbone or chin? I'm not sure how stiff Tarver really is but his kicks look brutal. They've been going back and forth all match. I don't remember Tarver being this decent of a worker. I popped for Aries's line about rather having Bronco Lubich as the referee. We go to a nice cinematic shot of the announce team as Wes Brisco wins by an Indian Death Lock he calls the Brisco Lock.
Winner: Wes Brisco
The Hotshots (Cassidy Riley & Chase Stevens) vs The Demi-God of Death and Dark Child
I will say The Hotshots have the build I like to see in wrestling, they don't look like bodybuilders but they look powerful. Reverend Joseph Nelson apparently a southern preacher gimmicked manager sends Funnybone known now as The Demi-God of Death and Dark Child fka as Chance Prophet. Not much has changed with Dark Child's looks since my first review of Ring Warriors. This match is an all-out brawl. Cassidy Riley sets up for a tag team move and Chase Stevens has to wait for Dark Child to get in position to pick his ankle which looked kind of clunky. They set up the move after the disqualification by Dark Child pushing the referee. Then Stevens misses the neckbreaker when they finally get to hit the move.
Winners: The Hotshots
We now get a pre-tape on the Slambino family. They come to apparently extort Joe's New York Pizza in Las Vegas. The owner seemingly convinces them to make a pizza instead of taking the money from the register. One of the Slambino's presumably the boss puts cheese on the pizza before the sauce causing the whole family to go off on him. They all leave and he leaves taking the uncooked pizza with him saying "I'll cook it at home!" This whole scene took any honest heel heat a mob family gimmick could get out from under them.
Quarter Finals Match: Jeff Cobb vs Luke Hawx
We start off with an interview with Jeff Cobb. I popped when Jeff said that Luke Hawk "Ain't no altar boy." then how convenient as the interviewer mentions Luke being a big dude here comes Luke towering over Jeff Cobb. Just like that, it's time for the main event. Classic Jeff Cobb once we go through a series of tie-ups he lands a wrestling takedown as you'd expect from a 2004 Olympic Wrestler from Guam. Luke Hawx got major air on the dropkick. Most dropkicks land somewhere near the chest, Luke has his feet on either side of Cobb's head. Both men threw many variations of the suplex. Jeff Cobb shows his athleticism with a standing moonsault. Luke Hawx stands on the outside of the second rope then moonsaults into the ring onto Cobb in a anything you can do I can do better moment. Luke Hawx shows his ring generalship by grabbing the rope instead of kicking out this late in the match. Cobb hits a standing dropkick which hits Hawx in the chest while he's sitting on the top rope. Another pop when Aries mentions giving Luke Hawx "Option C" to allow him to win the title. While on the outside Austin Aries starts distracting Luke Hawx allowing Jeff Cobb to slide in before the count out. This was hands down my favorite match so far in both episodes I have seen.
Winner: Jeff Cobb
This felt very much like an old-school Southern wrestling show. Wes Brisco, The Hotshots, and Luke Hawx are definitely Southern style workers and the people they worked with worked with that very well. Again the cinematic views before and after each break, whether they were shot from drone or helicopter, are stunning. Ring Warriors is quickly becoming one of my favorite wrestling promotions on TV today.
Wrestling with the Revolution from the desk of James Southard
Sonoran Championship Wrestling BATTLE|LINES Results (9/21/18)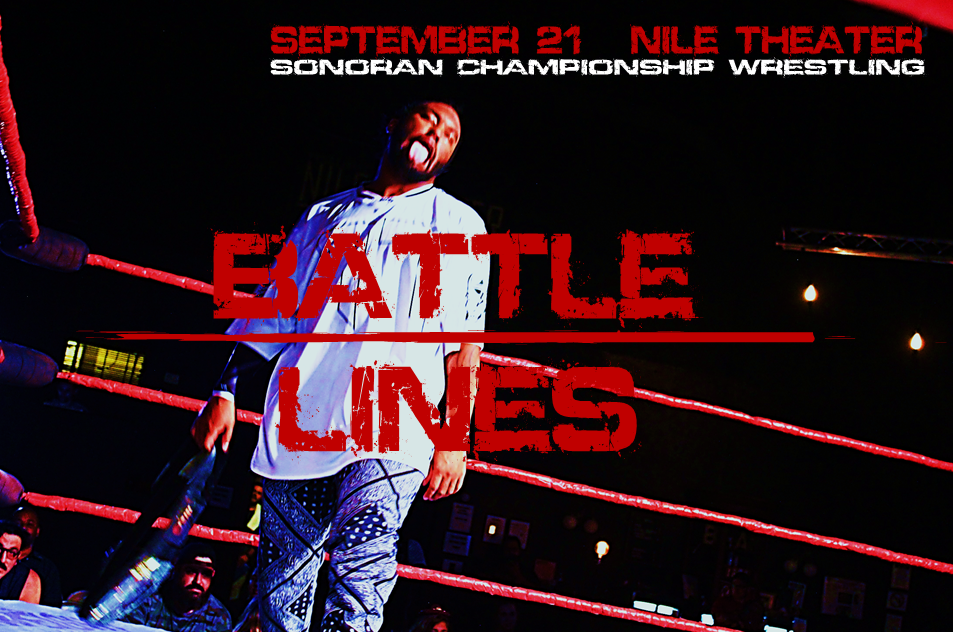 SCW (Sonoran Championship Wrestling) returned to The World Famous Nile Theater on Friday night, September 21, for BATTLE|LINES! Tensions were high all night, and the rowdy crowd in attendance were treated so some amazing action.
By the end of the night we had a new (but reluctant) tag team, fans begging for more EJ-Calder, one pissed off challenger, and the revelation of perhaps the strongest force ever to hit SCW…
Full results:
Navajo Warrior pinned Alex Salyers
Salyers reminded everyone of the reasons he asked for "the biggest, baddest, and most respected man in Arizona," and then promptly punched him in the face. The legendary competitor proved too much in the end.
SBR & Cole Wright (with Travis Lee) beat Awesome Andy & Aguila
Two brand new teams in SCW brought the action early and never stopped, bringing the fans to their feet on multiple occasions. In the end, Travis sprayed Andy with Body Spray, leading his team to victory. After the match it was obvious that SBR & Cole had no clue what Travis was up to.
The Heat Seat with Pete The Heat and special guest Sergio Vega
Pete The Heat welcomed Sergio Vega, who explained that he was attacked at the border on his way to August's Big Trouble In Little Mesa. He didn't see the attacker, but did notice that Jay Garland was wearing a Sergio Vega shirt when he left the building with Thugnificent that night. The Hawaiian Lion entered the ring to remind Sergio to focus on their match later in the evening, and that the Arizona legend fully intended on ending the year-plus reign of the champion.
SOS (with June Jackson) pinned Morgan (with Adrenalyn) in a No Disqualification Match
June Jackson announced that she would not be participating in the match, but "supervising" as her best friend, SOS, battled Morgan instead. Morgan didn't come alone, bringing back-up on the form of Adrenalyn! All four women battled throughout The Nile, but in the end a (legal) chairshot from SOS allowed her to score the pin after June blasted Adrenalyn with a tire iron.
EJ Sparks and Calder McColl battled to a time limit draw
In another first time ever encounter, EJ and Calder brought the fight in a big way, neither letting up for the duration of the match. Calder connected with an Air Raid Crash, but EJ kicked out of the pinfall attempt right before time expired. Calder was frustrated, but the two men embraced to end a match that fans are already asking to see again.
Toom E Guci addressed the crowd
SCW co-owner and general manager Toom E Guci announced that on October 19, we will celebrate two years of Sonoran Championship Wrestling  at Run The Gauntlet. Competitors will compete in the biggest Gauntlet ever, spanning the entire evening, and the winner will have the ability to make any match they choose. Toom revealed that the first match of Run The Gauntlet.
SCW Tag Team Champions Jay Garland & The MITH and Impulse Champion Thugnificent fought The Brothers Of Wrestling (Evan Daniels & R-Three) and LJ Ramos to a no-contest
Toom E Guci got the answers he was seeking when these six men jumped into action. LJ Ramos was (seemingly) injured during the match, and was rendered unable to continue and helped to the back. The 3-on-2 advantage proved to be too much for the BOW, and when all hope was lost LJ returned to the ring! Once LJ was tagged in, he stood face-to-face with The Man In The Hood, but turned around and attacked Evan Daniels! Garland, Thugnificent, MITH, and Ramos maintained a 4-on-2 advantage until EJ Sparks ran to confront the four men. Before EJ could do anything, June Jackson snuck in and hit EJ with a low blow, leading to a 5-on-1 attack on the fan favorite. Jay Garland took the mic and revealed that Genesys was reformed, much to the dismay of Toom E Guci.
SCW Heavyweight Champion Sergio Vega pinned The Hawaiian Lion to retain his championship
After defeating Ricky Mandel to earn this championship opportunity, The Hawaiian Lion took the fight to the champion, but there was no backing down for Sergio Vega. Lion connected with an Axe Bomber late in the match, but was slow to cover. Sergio kicked out, but Lion immediately latched onto a Coquina Clutch. Sergio got to the ropes multiple times, and referee Scott Johnson had to pull Lion off of Sergio. Lion protested, but that gave Sergio the opening he needed to score the victor. Lion snapped after the match, taking out his frustrations on the champion and refusing to release the Clutch. The Navajo Warrior hit the ring to finally break Lion from the hold, restraining him before he could do more damage to the champion, the official, and potentially his own career.
Sonoran Championship Wrestling returns to The Nile Theater on Friday, October 19, 2018 for Run The Gauntlet! Don't miss this night of non-stop action as the SCW roster attempts to Run The Gauntlet from start to finish.
Credit: https://scwwrestlingaz.com/