The Greatest Of All Time? Making A Case For The Undertaker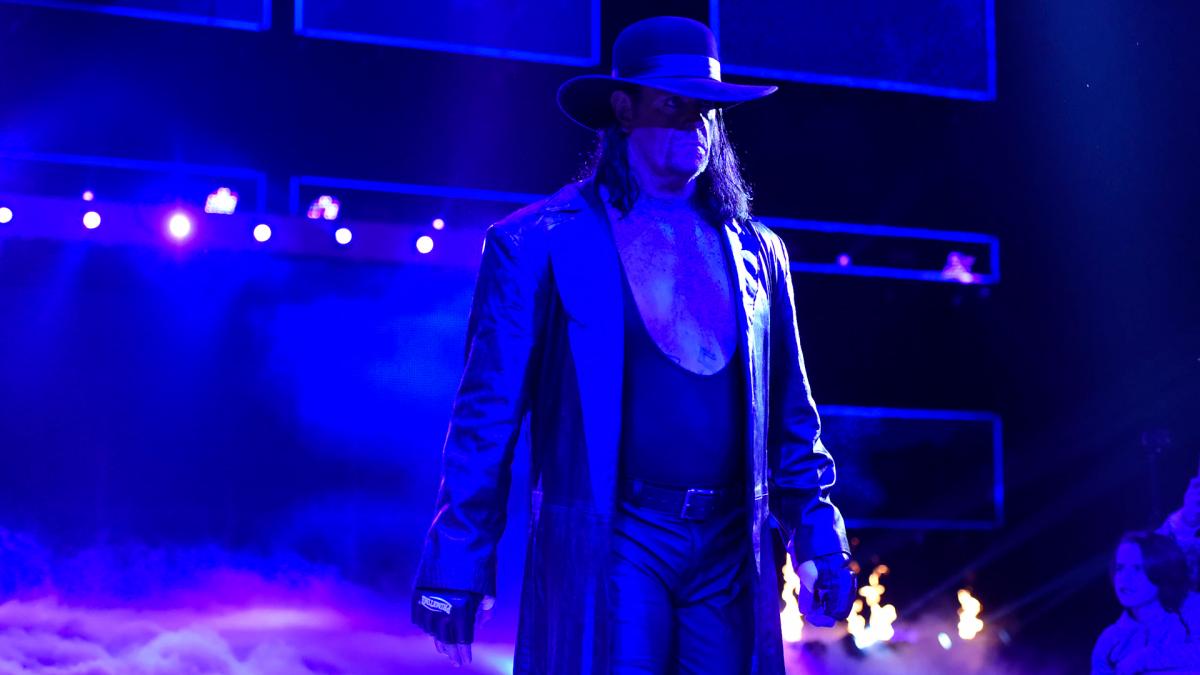 When it comes to the debate of who the greatest professional wrestler/WWE Superstar of all-time is, it's very likely you could poll upwards of fifty people and get a multitude of different answers. The most common names to the question would undoubtedly be Shawn Michaels, 'Stone Cold' Steve Austin, Hulk Hogan, Ric Flair, The Rock, Bret Hart, John Cena, Triple H, Chris Jericho, with the likelihood of a modern-day "super-mark" throwing out a name like Roman Reigns (he may be in the conversation one day, but let's be honest…not yet).
I can't quite argue against any of the aforementioned Superstars, but there is one man that has a very strong case for being the best to ever lace-up a pair of boots. Of course, some will answer with his name, however I feel as if he's often overlooked in this category. Why? In my opinion, I think the fact that he's near seven-feet tall and over three-hundred pounds gets held against him, among other reasons. Today, I'm going to tell you why he not only deserves to be in that grouping, but why he very well could be at the top of the heap. Of course, I'm talking about none other than 'The Demon of Death Valley', 'The Phenom', 'Big Evil', 'The Deadman' himself, The Undertaker.
Longevity
Outside of 'Nature Boy' Ric Flair, there's not anyone who has performed at such a high level for this long of a time and as much as I'm a big fan of 'Naitch', he had lost a step a good ten years (at least) before he finally retired in 2008 (from WWE). Leaving Undertaker's brief run with World Class Championship Wresling and World Championship Wrestling out of the conversation, his full-time run with the WWE spanned from late-1990 until late-2010 before becoming exclusively part-time in 2011. While some will complain that he should have walked away at that point, you can't deny that his return for WrestleMania after WrestleMania has not only brought excitement to the WWE Universe, but has given us some classic matches against Triple H (WrestleMania 27 and 28), CM Punk (WrestleMania 29) and Brock Lesnar (WrestleMania XXX).
He's seen many people and generations come-and-go from his start during the tail-end of the dawn of sports-entertainment, through the New Generation years, the Attitude Era, the Ruthless Aggression Era, the PG Era and into today. There's not another man who can lay claim to that. He also had the ability to do something that many talents cannot do and that's reinvent his character with the ever-changing times. He basically started as a zombie that never spoke a word, evolved slightly into the mid-90's, tweaked himself even more when longtime manager Paul Bearer left his side, turned into 'The Lord Of Darkness' for the Attitude Era, returned from a hiatus as 'The American Bad Ass', then came back full circle as 'The Demon of Death Valley'. That is something that is surely to be marveled at.
Respect
In all of my years following wrestling, there's not any man who has garnered more respect than 'Big Evil'. Not that I've heard anyways. I can't ever recall a single person having a bad thing to say about The Undertaker. A man who started as just another one of "the boys" in 1990 ended up becoming the locker room leader through all the different eras his career has spanned. He's always been a guy that veterans and rookies alike not only have respect for, but view as the clear spiritual leader who just leaves the example, the guy who always knew exactly what to say and was willing to help whoever approached him for an opinion.
Whether it's taping a flak-jacket to his torso to perform with broken ribs, stepping into the squared circle with a Phantom Of The Opera-esque mask because of a broken eye socket or getting knocked near cold because of a bad floor bump in the Superdome, there's no questioning his heart or commitment to the business, which has earned him that respect along the way. When others jumped to WCW for more money during the Monday Night Wars, Undertaker stayed loyal to the company that gave him a chance, something that many others can't say and certainly only adds to the amount of admiration he has earned.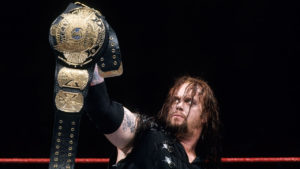 Quality Of Work Inside The Ring
Early on in his WWE career, 'The Deadman' was often saddled with monstrous opponents who's level of skill was far inferior to his (minus WWE Hall Of Famer Yokozuna). I think I can say with confidence that many men I previously spoke of before on the greatest ever list would not have put up with that for as long as Undertaker did. Facing guys like Giant Gonzalez, King Kong Bundy, Brian Lee (Fake Undertaker – SummerSlam '94) had to be frustrating. Hell, he even dealt with it later in his career against men such as The Great Khali and Heidenreich. It's forgotten that the reason these matches are even bearable is because of the skill of Undertaker himself. The list of guys who could pull that off with opponents like that is very, very short, if not exclusive to only 'The Phenom'.
Later on, he battled more skilled giants like Sycho Sid and Diesel, then really got to show off his technical abilities against Bret Hart and Shawn Michaels. Also, don't forget the fact that this near seven-footer could leave a crowd in awe with his agility and high-flying by soaring off or even over the top rope with Old School or a suicide dive. No man his size has ever taken to the air with the same kind of grace.
We've gotten many classics from 'Big Evil' over the course of his career and some could point to the quality of his opponent (Shawn Michaels at WrestleMania twice comes to mind). He's also been able to elevate others to give high-quality performances like he did at WrestleMania 23 against Batista. Also, don't forget his very underrated bout against Edge at WrestleMania 24, a match I witnessed first-hand and is often forgotten about in WWE lure.
Gimmick/Character
To me, it's a no-brainer that The Undertaker is by-far the best gimmick/character in the history of professional wrestling. If you were to approach anybody else with the idea for that character he will forever be synonymous with, I can almost guarantee you that it certainly wouldn't have had the longevity and very likely would not have worked at all. While there definitely is a part of him that relates to the character in order to make it work, you could also argue that he may have pulled off any gimmick that Vince McMahon gave him purely based off commitment and love for the business.
Some may find this to be a stretch, but if you told Mark Calaway he was going to be Doink The Clown, I think we'd probably be talking about Doink as a certainty for the Hall Of Fame. I have the utmost confidence he would have found a way to make it work. Mind you, the depth of The Undertaker character was so good that not only will he be in the WWE Hall Of Fame someday, but it also put Paul Bearer there and without question gave a career to another big man who will be in the Hall, 'The Big Red Monster' Kane.
The Kane character very easily could have been a major flop and while Glenn Jacobs is absolutely a talented performer, the association of his gimmick with The Undertaker is what made his career. Let's be honest here folks, Mr. Jacobs won't be going into the Hall Of Fame for his role as Fake Diesel or Isaac Yankem, D.D.S. Plus, would Mankind have been so successful or even become a multi-time WWE Champion had it not been for his initial feud with 'The Phenom'? Mick Foley clearly is no poster boy for the perfect body, but Undertaker legitimized him to the WWE audience and even Mick himself would be the first to tell you so. Then of course, there are the multiple gimmick matches that we likely may have never seen like Hell In A Cell, Buried Alive, the Inferno and Casket matches. These worked and made sense because of the nature of The Undertaker character.
Statistics
Personally, statistics like title reigns don't mean as much to me, but I know that a lot of people will point to title reigns in number and length to make an argument for or against a given Superstar. We all know that Ric Flair and John Cena are 16-time champions (although it's technically more than that), but how do Undertaker's numbers stack up? First and foremost, his WrestleMania streak may have been broken in 2014, but we can say with absolution that nothing will ever come close to it…ever, which already gives him a step on some of the competition.
'The Demon of Death Valley' is a 7-time WWE World Champion, more times than Shawn Michaels, Bret Hart, 'Stone Cold' Steve Austin, Hulk Hogan (excluding his WCW Title reigns) and Chris Jericho. He's also a multi-time Tag Team Champion alongside Austin, Rock, Kane and Big Show. Mind you, this is a man who like 'Rowdy' Roddy Piper didn't really need a title. Just being 'The Deadman' was a title unto itself.
In closing, I don't think there's any denying that Mark Calaway will go down as one of the best to ever do it. Is he THE greatest ever? Quite frankly, it depends on your criteria, but you've got to put him in the coversation. The prosecution now rests.