Top 5: Kids In Pro Wrestling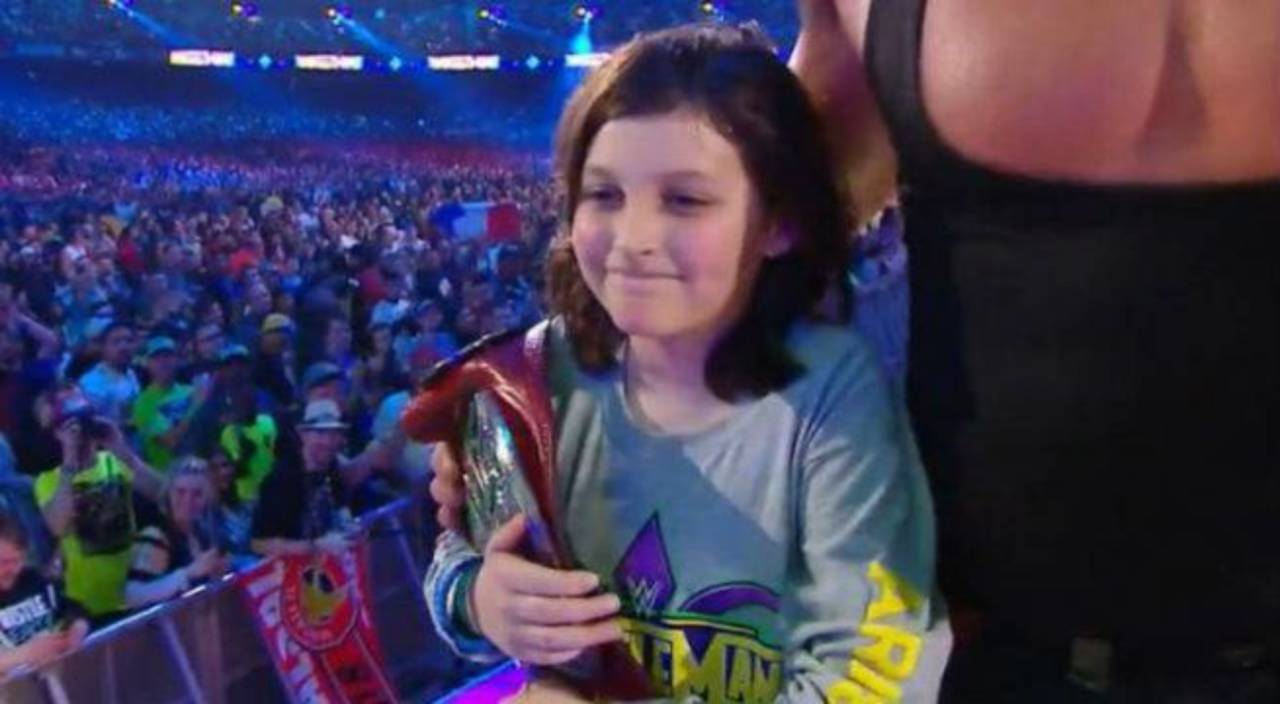 One of the most divisive matches of WrestleMania 34 involved the Raw Tag Team Championship. Braun Strowman was forced by Kurt Angle to have a tag team partner in his match against Sheamus & Cesaro for the championships. Braun, apparently a fan of procrastination, waited until the last minute until finding one in the Superdome crowd.
Some felt that Braun teaming with Nicholas was a travesty of justice & a mockery of Sheamus, Cesaro & the Raw Tag Team Championship. Some thought it was awesome, and were disappointed when Nicholas had to forfeit the title the next evening on Raw. I thought it was funny, but it seemed like one of those things where they had no idea where they were going when they started.
"We need to have Braun on the WM card. People like him."
"True. We don't have many people for him to wrestle though. Half the mid-card is in the IC title match."
"What about Elias? They've done some stuff on Raw & people seem to dig it."
"We need Elias to get squashed by Cena to set up Taker."
"What about The Bar?"
"OK. Who's Braun's partner?"
"I dunno, we'll find somebody before WM."
"Cool."
I imagine they spent the next few weeks thinking of people & making phone calls, and everything fell through until somebody suggested John Cone's kid. Which, to be honest, ruined the gimmick for me. They could have had a Make A Wish kid get to be Tag Team Champion, and instead they give an employee's kid the rub. Lame.
To be honest, the best way for a kid to get into wrestling is to be the son (or daughter, though it's mostly sons) of a wrestler. Easier to get around child labor laws that way. Nicholas's recent success made me wonder who the most talented kids to take part in pro wrestling were.
Here are the Top 5 Kids In Pro Wrestling.
5. Colby Corino
Colby is the son of the King of Old School Steve Corino, and is currently an indy wrestler of some note. He was invited to train in the New Japan Dojo until he got arrested on drug charges. He's still bouncing around the indies & looking to make his name. He reportedly started wrestling around the age of 13, but he was taking bumps in England's 1PW somewhere around the age of 9.
The fans' response of chanting "ohhhhhh Abyss" didn't show much concern for the welfare of young Colby.
4. Owen Steen
Six-month old Owen is the youngest competitor to hold a victory in Pro Wrestling Guerrilla. His father Kevin was going back & forth with Excalibur when the Commissioner of Food & Beverage decided it was a good idea to mock Owen's appearance.
After a couple of Package Piledrivers, Kevin got Owen from the crowd & placed him on top of Excalibur for the three count. This wouldn't be Owen's last wrestling-related appearance, as an online video of him reacting to his father's debut on Raw got quite the fan response.
3. Tyler Fullington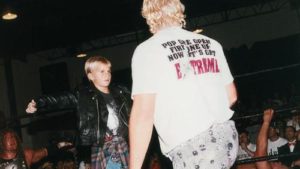 People weren't sure that The Sandman had feelings. After all, he usually drank to the point where he couldn't feel feelings. Raven did his best to get to Sandman by joining up with his ex-wife. When that didn't work, Raven raised the bar by turning Sandman's seven year old son against him.
When people talk about great ECW storylines that couldn't be replicated today, this was one of them. Could you imagine WWE going here with one of Shane or Stephanie's young kids? Absolutely not. Tyler has done some indy wrestling over the years, but from what I can tell on Twitter he spends most of his time watching Philadelphia sports teams. They have a lot of teams so I can see how that keeps one busy.
2. Haruka
Before Kenny Omega was known as The Cleaner & one of the best wrestlers in the world, he was largely known for wrestling a blow up doll & a nine year old girl. We'll talk about the girl here.
Haruka was a youngster that was in a beginners' class at a shoot boxing academy. She was sad because older girls were getting lured away from the academy to get into pro wrestling, & she was the biggest wrestling fan out of any of them. So DDT Pro-Wrestling signed her & enlisted Omega to train her. She had a run of matches in 2011, including one with Omega that became an online sensation.
Kenny did good work training her. Unfortunately she retired not long afterwards to pursue something resembling life.
(Tie) 1. King Maxel Hardy
Owen Steen may hold the record for youngest wrestler to win a match, but King Maxel is the youngest to do so on worldwide television. He made his in-ring debut at Total Nonstop Deletion on December 15, 2016 in Cameron, North Carolina. With some help from Senor Benjamin, Maxel scored the victory over Rockstar Spud.
You can't deny that Maxel inherited the charisma gene from his parents. The lovable tyke has over 33,000 Twitter followers & stands to inherit the Hardy Compound & whatever gold his father Matt & Bray Wyatt end up collecting during their expedition. Indeed, his future appears to be…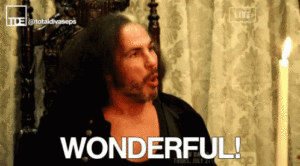 (Tie) 1. President Ramu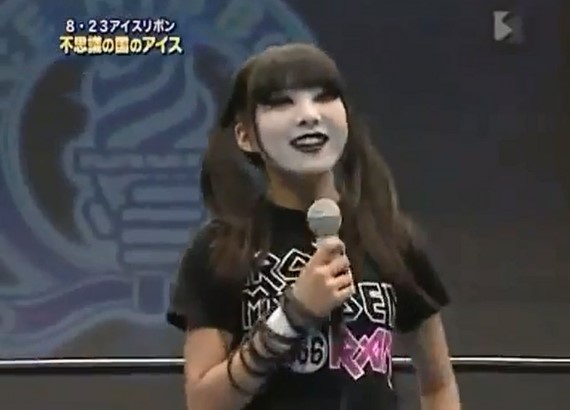 [Editor's Note: You didn't think we'd leave out President Ramu, did you? Hell no!]
President Ramu, also of Japan fame, spent most of her time in Japanese promotion 666, but is also one of the approximately 500,000 people to fold the DDT Ironman Heavymetalweight Championship.
Originally dubbed La Hija Del Undertaker, after her original gimmick, she had a four year career before retiring in 2009, wrestling her final match against Tajiri.
---
Always Use Your Head and visit the official Pro Wrestling Tees store for The Chairshot All t-shirt proceeds help support the advancement of your favorite hard-hitting wrestling website, The Chairshot!

---
For Those About To Rock: Top 5 WWE Legit Entrance Songs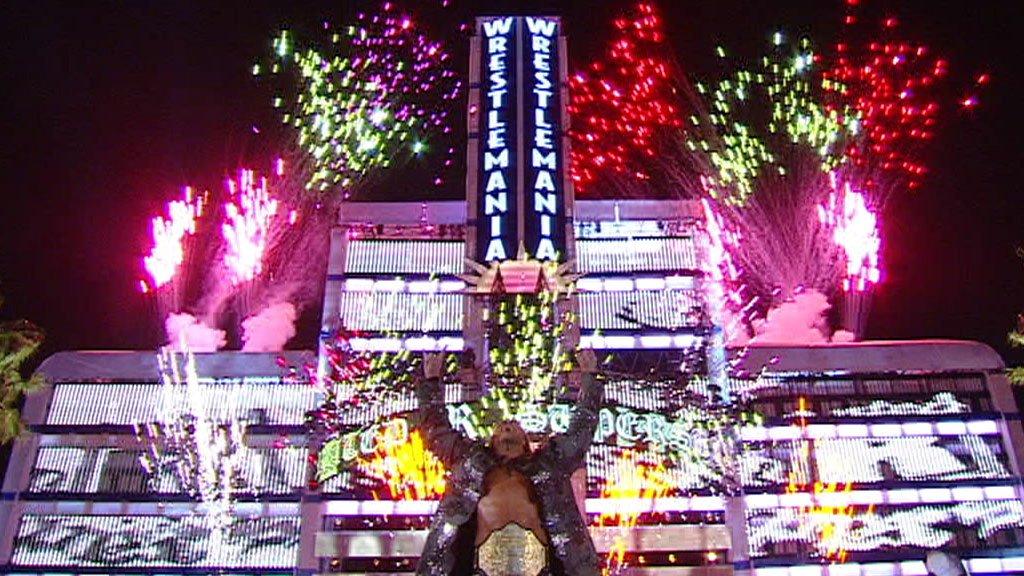 If you're a long-time WWE fan then it's no revelation to you when I say that having a great entrance is a very crucial part of being a top Superstar and in some cases, it can actually push a performer on the brink of the main event over the top. When I was younger, I was a heavy rap and hip-hop fanatic, but nowadays I find that the entire scene outside of say, J.Cole, is pretty bleak at-best. For various reasons I have also accrued a pretty solid collection of entrance songs from the WWE because let's face it, some of them kick some serious ass.
When I'm in my car I got the tunes turned up and I'm rocking out and have since compiled a list of my favorites. While guys like Kevin Owens and Seth Rollins have songs that can really get the blood flowing, there are no words and I've found you can catch a strange look from other drivers. This got me to thinking, "What are the best entrance songs that are ACTUALLY songs?". Meaning, no instrumentals, made by a band that legitimately has made some kind of name for themselves and doesn't just relentlessly repeat the same lyrics over-and-over again? Keep in mind my rules for this list so that you're not asking yourself, "How can the DX music be excluded?" or "What about Chris Jericho?". I'm looking for lyrics, a chorus, a bridge and at least a couple of verses, not looped tracks. So here we go….
Honorable Mention
Mark Henry
Three 6 Mafia – 'Some Bodies Gonna Get It'
Nothing like having an Academy Award winner lead you to the ring. I leave this one just outside my top five and perhaps you will disagree with me, but hey, this is my list and as I stated previously, I have fallen out of hip-hop quite a bit. I have to give credit where it's due though and Three 6 Mafia really gave 'The World's Strongest Man' Mark Henry a signature sound to let everyone know that a new member would soon be entering the 'Hall Of Pain'. It fit perfectly with the ultra-aggressive powerhouse and helped to finally shed the leftover stench of his 'Sexual Chocolate' gimmick. I think this is a perfect example of a song pushing a man over-the-top, plus it is some certified trunk music.
#5

The Nexus
12 Stones – 'We Are One'
Some may find this choice to be odd simply because 12 Stones is a Christian rock band, but I certainly have never heard any kind of Christian music that sounds like this. As is the case with all of these, the WWE cut is very different than the actual version, but either way it's not hard to be caught by the screaming guitar solo along with a chorus that completely described the gimmick of The Nexus by singing; "We are one, we are one, we are one, we will stand together, number one, number one, number one, the chosen ones…". While The Nexus never attained the status they should have (Thanks, John Cena!), I could never forget this track and I'm sure I can't be alone on this…can I?
#4

Edge
Rob Zombie – 'Never Gonna Stop'
This song…I mean, come on people. It's Rob-freakin-Zombie. I shouldn't need to explain any more than that and I was never even a fan of Rob Zombie, but this one being paired with Edge who was embarking on a singles career after his split from Christian was magnificent. The music Edge had been using (which was the same music for when he teamed with Christian) no longer fit, so a change was needed for both men. While Christian was given something resembling a night at the opera with a grunge-like guitar background, Edge's was able to raise the hair on the arms of fans in any arena it played and was just right to match his energy. I'd recommend checking out his return from a year-plus layoff to RAW in 2004 and just tell me the music did not make it a more special moment. Funny thing is, you'll defintely see something from Edge on my list again.
#3

Hollywood Hulk Hogan
Jimi Hendrix – 'Voodoo Child'
The Hendrix family is very particular with who is allowed to use the late-great Jimi's recordings and often asks a steep price for any kind of distribution, so unfortunately it's highly likely all of Hollywood Hulk Hogan's entrances with this theme will always be dubbed over with a different track on the WWE Network. That still doesn't change its importance however, as it really gave him a signature sound after shedding his red and yellow colors for the New World Order, becoming synonymous with his heel run in World Championship Wrestling. Not only that, but it was a very well-established song long before Hogan ever thought to use it, so I don't know how I could make a list without it. The WWF would pay for the rights to use it in 2002-2003, but I'm assuming they were not willing to meet the cost it would be to use it on the Network.
#2

CM Punk
Living Colour – 'Cult Of Personality'
I struggled leaving 'The Straightedge Superstar' with his original theme music entirely off of this list or even my honorable mention with 'This Fire Burns' because quite honestly, I think there's an argument to be made for it. This one to me is a no-brainer though, Living Colour reaching #13 on the Billboard Hot 100 in 1990, also winning a Grammy for Best Hard Rock Performance and multiple MTV Video Music Awards for the group. When Punk would "leave the company" for two weeks following his WWE Championship victory in 2011, his re-introduction kicked off with this song playing over the speakers to the confusion of many. That was of course until he re-emerged and set the course for a new beginning with the company, even getting the rare live performance of the song for his entrance at WrestleMania 29 against The Undertaker.
#1

Edge
Alter Bridge – 'Metalingus'
Personally, I feel as if this is the most kick-ass entrance music ever, regardless of how you are judging. Throw all my standards for this list out the window and I put this at the top of the pile, every single time. Similarly to Edge's Rob Zombie theme, this one also matched his energy, but also marked a tremendous character change for the new-moniker of 'The Rated-R Superstar'. Edge was breaking the WWE's proverbial glass ceiling as a massive heel, losing his babyface ways after becoming frustrated with attempt-after-attempt to make it into the main event scene. I wonder how many times I've been caught rocking out to this one in my car?
Agree? Disagree? Let me know in the comments section!
---
Always Use Your Head and visit the official Pro Wrestling Tees store for The Chairshot All t-shirt proceeds help support the advancement of your favorite hard-hitting wrestling website, The Chairshot!

---
AJPW Champion Carnival B Block Ratings & Results: Part 5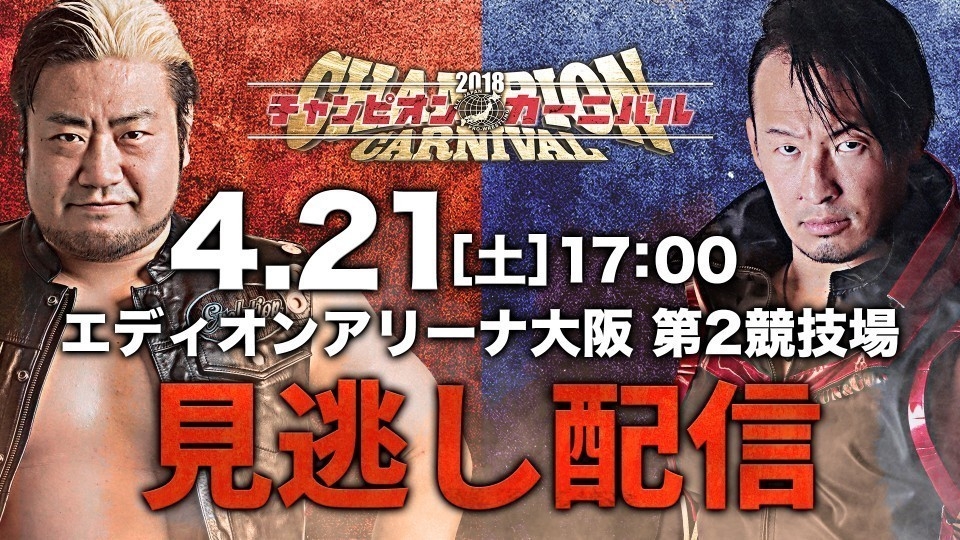 As the Champion Carnival is starting to come to an end, Part 5 brings us to the point in time where everyone in B Block only has one match left.
Even though our picks article was a less than expert opinion on the product, we weren't too far off. Suwama and Marufuji are towards the top of B Block while Shingo and Joe aren't out of the picture in the A Block. We could still end up being way off, but I can live with being in the ballpark going into the last two days.
4/20
Zeus vs Naomichi Marufuji
Zeus needs this victory to stay alive in the Carnival, and Marufuji has been riding an undefeated wave.
Zeus comes out with long pants and a rally towel, which isn't his normal attire, so I'm not sure if there's a story there. But the match itself was exactly what you expect from two high tier wrestlers.
They feel each other out by a test of power, trading chops and just generally seeing what the others' pain threshold is. Zeus dominates most of this match, even though Marufuji gets in everything from the Kawada kicks to his corner blitz. Both men get their finishers countered or slowed down a few times, so you are sucked in since either man has the prowess to win this.
Just when Marufuji gets some momentum, and looks to end it with the Shiranui, Zeus counters it with his signature Jackhammer and gets back on the winning track. Personally, this is my favorite match of the Carnival so far.
Winner: Zeus via Shiranui countered into Jackhammer
Rating: **** 1/4
4/21
Suwama vs Naomichi Marufuji
We've got a battle of NOAH's Ace and the former Ace of All Japan, so most people had this marked off as a feature match.
For the most part, this match lived up to the hype. However, it started off fairly slow, and took it's sweet time picking up. The match goes over 19 minutes, and feels long. The ending flourish helps to reignite the crowd and bring the match into the Four Snowflake territory, but it might have benefitted from being the final match of the day.
Everyone seems to be scouting Marufuji's knee lift, and catching him mid move. This was no different, where Suwama lariats him out of his shoes and picks him up for the Last Ride.
Winner: Suwama via Last Ride Powerbomb
Rating: **** 1/4
Zeus vs Jun Akiyama
Even though Suwama has sole possession of first place currently, these two are very close. The winner will have some nice momentum going into the last few days.
Akiyama is a machine at his age (48). When he's facing the top talent, he puts on a show stealing match. Zeus has really hit a nice stride after falling victim to two losses against lesser opponents.
This went back and forth, with Akiyama having the more impressive lengths of offense. He used his veteran cunning early on, stayed on top of Zeus with a flurry of knee strikes, but Zeus was resilient. After a criss-cross spot that ended with Zeus hitting a huge lariat, Akiyama fell to an emphatic Jackhammer.
B Block has a log jam towards the top, but it's puts a huge weight of importance on these last couple matches.
Winner: Zeus via Jackhammer
Rating: **** 1/2
4/22
Naomichi Marufuji vs KAI
Marufuji is completely behind the 8 ball now. He needs to win his last two matches and hope Zeus and Suwama lose/draw out, since he lost the head to head matches. KAI seems like nothing more than a road bump, but he's put in good work this Carnival, so he could play spoiler.
With all this said, it seems like Marufuji knew his plight, cause he came out serious. There was some nice back and forth, but the match did fall a bit flat since even the live crowd didn't really buy into KAI. Even though he had a couple moments, the crowd was firmly behind Marufuji and that never changed.
The math works out, and Marufuji puts KAI away with his Shiranui, even though it was a much closer fight than most would've expected.
Winner: Marufuji via Shiranui
Rating: *** 1/4
Suwama vs Yoshitatsu
On paper, this seems unbalanced, but there's history. They each have one win on each other in tag team action, so there's a precedent for either to win.
Going through the match, this was solid from start to finish. Yoshitatsu started quickly, but Suwama eventually got the upper hand through most of this match. At some points, it even looked like he took Yoshi lightly, but Yoshi would fight back.
Using his speed to gain small advantages over Suwama, we end up getting a much better match than I know I was expecting. Yoshitatsu trying to prove himself, tries to etch his name in this Carnival, through Suwama.
Surprisingly, Yoshitatsu gets Suwama to tap out to his Koji Clutch. Suwama was one win away from locking himself into the Finals, but falls victim to a trap match.
Winner: Yoshitatsu via Koji Clutch

Rating: ****
Current B-Block Standings:
Suwama: 4-2 (8 Points)
Zeus: 4-2 (8 Points)
Jun Akiyama: 4-2 (8 Points)
Naomichi Marufuji: 4-2 (8 Points)
Yoshitatsu: 3-3 (6 Points)
KAI: 2-4 (4 Points)
Dylan James: 2-4 (4 Points)
Yutaka Yoshie: 1-5 (2 Points)
---
Always Use Your Head and visit the official Pro Wrestling Tees store for The Chairshot All t-shirt proceeds help support the advancement of your favorite hard-hitting wrestling website, The Chairshot!

---
Should Roman Reigns Fail, Then This Is Drew McIntyre's WWE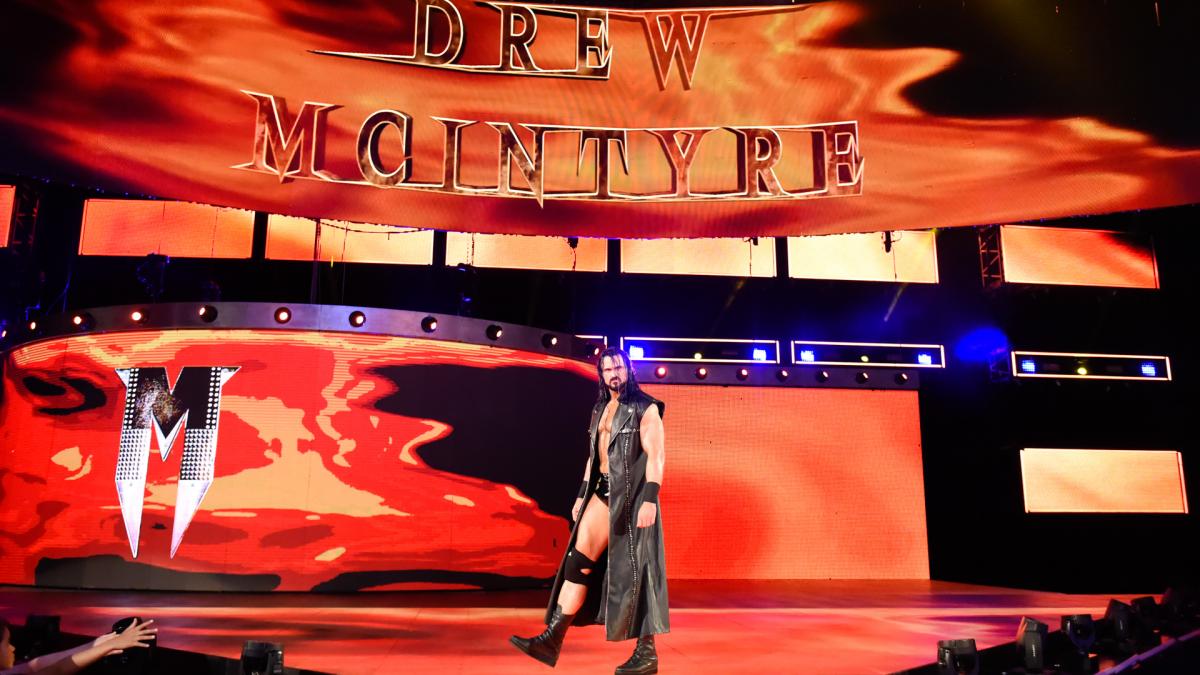 A few days ago, our own David Levin wrote about Roman Reigns and wondered when his seemingly endless push to the top of the WWE would end (which you can read here). His determination is the one that most hardcore fans accept as reality: "It's a relationship that will continue to remain toxic as long as Reigns is pushed down fans' throats."
The WWE has tried everything to get "The Big Dog" over, going so far as to seemingly plant fake Reigns fans in the crowd to begin positive chants during the most recent edition of Monday Night Raw. Things that have earned other superstars respect in the past hasn't made a dent in the boos that rain down on Reigns every time he steps between the ropes, and eventually, Vince McMahon will have to accept that a spade is a spade.
And that Roman Reigns is in danger of never getting over and becoming the face of the company. We're not wishing that upon him. If anything, he's a victim of his own circumstance. Yet wrestling is a fickle business, and the WWE has refused to be flexible while waiting for the perfect moment to crown him as the new John Cena.
Should that never happen — and should McMahon actually accept that — then he'll have a former chosen one waiting in the wings in Drew McIntyre.
The former 3MB member did something this past Monday that Reigns has never managed to do: he captured the crowd with a from-the-heart promo that immediately resonated with fans. Anyone who wasn't sure about who McIntyre was after his main roster debut last week was immediately filled in.
"And trust me when I tell you that times are changing. I'm not what WWE wants. I am the wakeup call and reality check that this place so desperately needs," he passionately barked into the microphone, his eyes ablaze as he gazed out into the crowd. At that moment, it was his crowd and he knew it.
His words rang true with the audience because McIntyre has one trait that all the creative in the world can't bestow on Reigns.
He's genuine.
He's not a wanna' be bad ass character with the machine of one of the most powerful media companies in existence chugging along behind him, creating so much smog fans can't tell what's real and what is fake. McIntyre has already been the chosen one once, and you can tell that it eats him up inside that he didn't capitalize before.
One gets the feeling that he's not going to miss out on that opportunity again. And this time, it's an opportunity that he's worked for. The evidence of his hustle is all over YouTube and available online, and in today's wrestling, that matters.
Now he's the prodigal son, and it appears that the WWE isn't going to force him into some gimmick or schtick. They aren't going to force him to downplay his previous accomplishments, like we've seen with the likes of Finn Balor and, to a lesser degree, AJ Styles. He's not a caricature of himself.
The man we saw in the ring on Raw was Drew Galloway, through and through. His magnetism was undeniable, and WWE fans learned what indie supporters have known for years now: that when McIntyre speaks, people listen.
It wasn't an Austin 3:16 moment — those kinds of promos are once in a generation — but we did see a flash of what is to come for the 32-year-old journeyman turned champion-in-waiting.
Unlike numerous other superstars who have been plucked from the independent circuit, McIntrye is actually built like a prototypical McMahon guy. The announce team on Raw couldn't stop talking about how great he looks in the ring, and he appears even bigger standing next to the somewhat undersized Dolph Ziggler.
Reigns is also 32, but the mantle of the next face of the WWE is very much up for grabs. If McIntyre stays healthy and performs up to his own lofty standards, then he'll belong in the ring with the likes of Reigns and Brock Lesnar within a year or two.
If Monday night was any indication, he'll have the support of the people along the way as well. People have been fed up with Reigns for years now, and they seem to be souring on Lesnar as the ludicrous details of his new WWE contract emerge. Six percent of all merch sales? More than $600,00 per match? That's supposed to the working people's guy? Someone who tugs at our heartstrings?
Please. Deliver us Drew McIntyre. A man who was accepted, pushed, rejected and then had to work his way back to the top wrestling promotion on Earth.
Do people seriously want a 3MB reunion?

Listen to that promo, Drew McIntyre is a main eventer. Anything less would be an insult to what he's done since coming back. #RAW #WWE

— The Golden Maharaja™ (@KingNj90) April 24, 2018
Drew McIntyre was a charisma vacuum ten years ago. His promo on Raw last night was fantastic. I have no doubt he'll be world champion within a year.

— Thomas Broome-Jones (@TBroomey) April 24, 2018
What happens when a former hand-picked McMahon guy clashes with a so-called Big Dog who has had five-plus years to win crowds over? And what happens when it's McIntyre, and not Reigns, who is getting the hero's welcome? It's tough to imagine WWE ever putting someone like Balor or even Elias over on Lesnar.
But McIntrye? He's the best of both worlds. An indie darling with a sharp wit, great in-ring skills and the look to match. Imagine where Styles could be if he'd arrived in the WWE before his 35th birthday. That's the kind of scenario we have on our hands right now.
The road to the top of the mountain is incredibly long. And once you reach that peak, that's when the real work begins. One promo doesn't make a championship-caliber career, but McIntyre took a booming step forward on Raw this week.
And we can't wait to see what he's going to do for an encore next Monday.
---
Always Use Your Head and visit the official Pro Wrestling Tees store for The Chairshot All t-shirt proceeds help support the advancement of your favorite hard-hitting wrestling website, The Chairshot!

---