WrestleMania 26: Demolition Derby in the Desert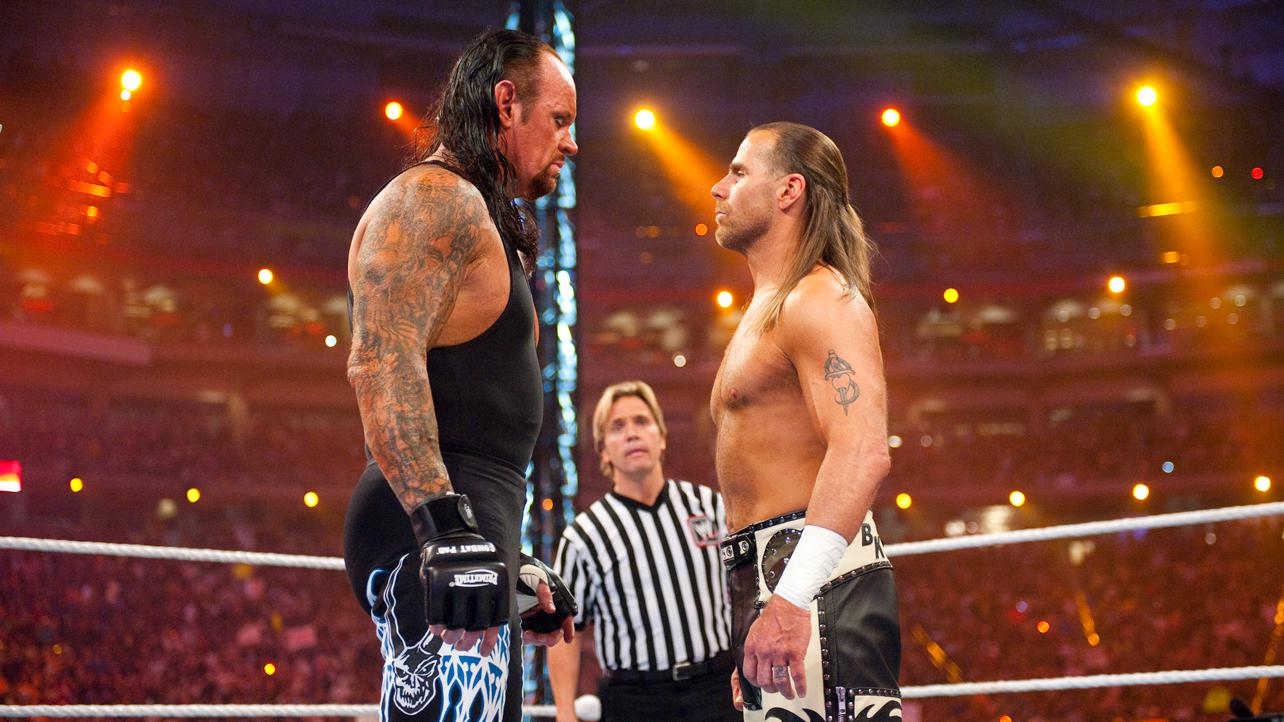 WrestleMania 26 comes to us from the University of Phoenix stadium and boasts a pretty interesting sounding card, including the sequel to Undertaker/Michaels, but much like WrestleMania, it has received mixed to negative reviews from the wrestling press. Is this warranted, given the card's potential? Let's find out!
Opener
We start off with a flyover of the stadium by the Blue Angels, judging by the planes. Fantasia sings 'America, the Beautiful'.
We get a montage/promo about WrestleMania and the big matches, along with what has happened in a year.
Unified WWE Tag Team Match: ShoMiz vs John Morrison and R-Truth
R-Truth and Morrison are out to a good pop. ShoMiz's music doesn't blend well, but they get a decent pop. This was a short, but very good match.
Winner: Big Show gets the pin on Morrison after a knockout punch.
Highlights: Big Show's athleticism.
Comments: That's a good opener for WrestleMania
We get video about Axxess and WrestleMania week.
Triple Threat Match: Randy Orton vs Cody Rhodes vs Ted DiBiase
Ted DiBiase gets a minimal pop, as does Cody Rhodes. Orton gets a huge pop. This is a good match, but I hate Triple Threat matches that aren't for a title. I'm a little lost about who I'm supposed to be cheering for here.
Winner: Randy Orton by pinfall on Ted DiBiase
Highlights: Rhodes/DiBiase turning on each other. Double rope-assisted DDT.
Comments: I'm a little confused by who was supposed to be the face(s) or the heel(s) in this match because the audience reaction indicated that Orton was the face, but the commentary indicated he was the heel.
Money in the Bank Ladder Match: Jack Swagger vs Christian vs Dolph Ziggler vs Drew McIntyre vs Evan Bourne vs Kane vs Kofi Kingston vs Matt Hardy vs MVP vs Shelton Benjamin
Just about everyone gets a decent pop, except for Jack Swagger, Dolph Ziggler, and Drew McIntyre.
This was a really good match, a good case could've been made for anyone to win, but Swagger was a surprise, at least to me.
Winner: Jack Swagger
Comments: This would be the last time MitB would be contested at WrestleMania, it would get its own PPV later this year.
We get the Hall of Fame reveal. Our inductees are: Mad Dog Vachon, Wendi Richter, Stu Hart, Gorgeous George, Antonio Inoki, Bob Uecker, and Ted DiBiase.
Triple H vs Sheamus
Sheamus is out to a round of boos. Triple H comes out to a huge pop. This was a really good match. Sheamus and Triple H really worked well together and really put on a sleeper gem.
This was the match that really got Sheamus over as a performer, even though he lost, he hung with the Game and shined very brightly. Having Trips win due to veteran experience than overwhelming skill protected Sheamus.
Winner: Triple H by pinfall.
Comments: It's weird to see Triple H this low on the card, maybe they were planning a run-in during Taker/Michaels.
Rey Mysterio vs CM Punk (with Luke Gallows and Serena)
Punk and company are out to a mixed reaction. Punk runs his mouth and the crowd hates it. Rey Mysterio gets a good reaction, according to Michael Cole, his outfit is based on Avatar. This a really good match, Punk and Mysterio work really well together. The whole storyline really bothered me, but it worked well in the match, especially with Rey being the eternal underdog.
Winners: Rey Mysterio by pinfall
Comments: I can't stand Punk, but that was a good match. It's funny to see Luke Gallows before The Club.
No Holds Barred Lumberjack Match: Bret Hart vs Vince McMahon. Special Guest Ref: Bruce Hart
Bret gets a great pop, though why he's not in wrestling gear escapes me. Vince comes out to boos and announces that he wants to give Bret Hart a WrestleMania sized screwing and says he paid off the Hart family to turn on Bret. Bret calls out his family and makes sure they all got paid before dropping a bomb: He already knew about the payoff because the family told him and that there's nothing sweeter than a good double-cross.
Of all the 'Vince irons out issues with employee' matches, this was the most boring. Even with the Hart family as part of it, this wasn't very exciting. I don't know if it was because of Bret's health or what, but the fact that Vince got in almost no offense, is odd and really hurt the match.
Winner: Bret Hart by submission. The Hart Family celebrates together.
Highlights: The Harts getting some of Vince. The Harts double-crossing Vince.
Comments: I wanted to enjoy this match but there was just nothing exciting about it.
World Heavyweight Championship Match: Chris Jericho vs Edge
Jericho is out first to a round of boos. Edge gets a huge pop.
This is a great match. These two worked really well together and the story was pretty good. Edge not winning really bothered me because it seemed like the most logical thing to do given the storyline.
Winner: Chris Jericho by pinfall. Afterwards, Jericho tries to attack Edge's bad knee but is kicked into the announce tables by the enraged Rated-R Superstar who puts Jericho on the announce table and spears him into the timekeeper's area.
Comments: Edge is one of only nine superstars to have lost at WrestleMania after winning that year's Royal Rumble since the beginning of the 'Winner gets a title shot at WrestleMania' stipulation was added in 1993*.
*Triple H won the Royal Rumble in 2016 and won the WWE World Heavyweight Championship as a consequence and lost it to Roman Reigns at WrestleMania 32. Vince McMahon won the 1999 Royal Rumble but lost the opportunity in a cage match with Austin. Austin's 1997 victory was vacated due to him actually being eliminated by Bret Hart.
We get a look at the precursor of the Andre the Giant battle royal, which Yoshi Tatsu won.
10 Diva Tag Match: Alicia Fox, Maryse, Layla, Michelle McCool, and Vickie Guerrero (heels) vs Beth Phoenix, Eve Torres, Gail Kim, Kelly Kelly, and Mickie James (faces)
The heel divas are out first to a decent pop. The face divas get a really good pop. This was not the worst match I've ever seen, but it was the biggest mess. Vickie had no business being in the ring.
Winner: Vickie Guerrero gets the pin for her team.
Comments: I really wish the WWE had done the Women's Revolution earlier, there were a lot of women in the Divas era that deserve more respect for their talent that get overlooked.
WWE Championship Match: Batista vs John Cena
Batista comes out to a mixed reaction. The US Air Force Honor Guard Drill Team (Thank you, Wikipedia) brings Cena to the ring to a mixed reaction. This match was weird. The fans didn't seem to be behind either Batista or Cena and this match just didn't seem to mesh, which is odd because I remember loving their match at SummerSlam 2008, so I'm not sure what was going on here.
Winner: Cena by submission, wins the WWE Championship.
Comments: This would be Batista's last WrestleMania for a few years. He would leave shortly after WrestleMania and return in 2014 for a few months before leaving again.
The Streak: Undertaker vs Shawn Michaels –  No Disqualification Streak vs Career
HBK comes out to a great pop. Like last year, there are a lot of signs indicating that a good chunk of the fans believe HBK will end the Streak. The Deadman Cometh. Undertaker rises from the floor in a robe reminiscent of his Lord of Darkness gimmick.
This match wasn't quite as good as the one at WrestleMania 25, but it was still the best match on the card by a mile or more.
Winner: Undertaker by pinfall. The Streak is 18-0
Highlights: HBK and Taker's handshake, Taker letting HBK have the ring to say goodbye.
Comments: This is the one time that I wanted Taker to lose. Thank you for twenty years of memories and for being my hero since I was nine years old, Shawn. Godspeed, Heartbreak Kid.
Overall Comments
So, does WrestleMania 26 deserve its mixed reactions? In my opinion, not really. Several matches didn't live up to the potential, but the card was still pretty good, save for a couple of matches that just didn't work.
Snoozers: Bret Hart vs Vince McMahon.
Stinkers: Divas match. It was a waste of a lot of talent.
Match of the Night: Undertaker vs Shawn Michaels.
Final Thoughts: I really enjoyed this show.