WWE Smackdown Tag Division Thrives With The Usos vs Bludgeon Brothers Feud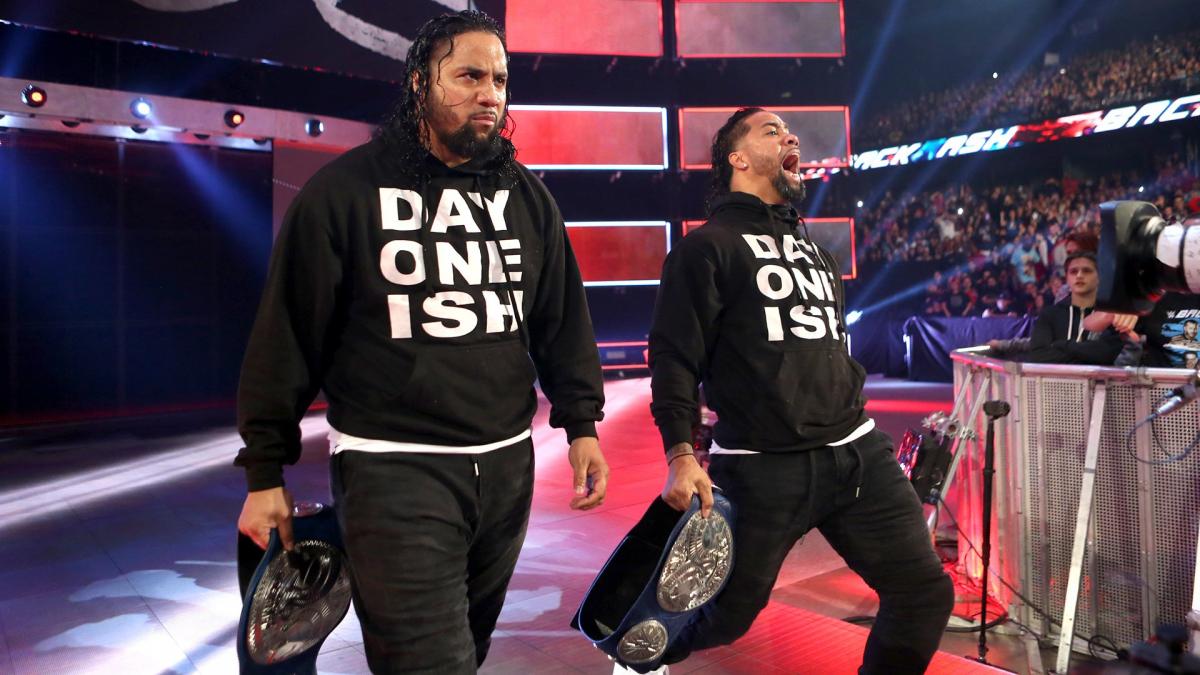 WrestleMania saw the Samoan twin brothers unseated as the WWE Smackdown Tag Team Champions courtesy of the Bludgeon Brothers.  Prior to their loss, The Usos were enjoying their best days in the company as a heel duo.  Last summer, they engaged in a war with The New Day that saw the teams battle at Hell in a Cell.  In addition to reigning supreme The Usos passionately laid down the hard facts every time they grabbed the microphone.  They were ready to take what was rightfully theirs, which was the spotlight in the Tag Team Division.
It is safe to say that The Usos are no longer sidelined when it comes to tag teams.  Seeing the brothers featured on the main WrestleMania card was satisfying for the "day one ish" fans that have been waiting to see them flourish for so long.  The stakes continue to grow as The Usos transition into a feud with the Bludgeon Brothers.  The fans are on their side this time around.
The Bludgeon Brothers have been terrorizing the Smackdown Tag Team Division for some time now.  The repackaged Luke Harper and Erick Rowan have been refreshing.  A new attitude, new gear and the dark music has been working wonders for the team.  They had already proven their potential to dominate while in the Wyatt Family, and its proven useful for the new characters they portray.  Their dominance has been consistent and rewarded with Tag Team gold.  This is what Harper and Rowan was meant to be – a legit badass tag team that's to be feared.
With the story centered around Naomi's concern for her husband's well-being, it gives fans something to look forward to.  While I prefer for Naomi to follow up with her WrestleMania Women's Battle Royal win, I am certainly not against her role in this feud with The Usos and Bludgeon Brothers.  Many women can relate to Naomi in wanting to protect her partner from further harm.  Given the fearsome reputation of the Bludgeon Brothers, Naomi's willingness to take risks adds more depth to the story.  This also sees a different side to The Usos since their character change.  Some fans have seen a glimpse of the relationship with Jimmy Uso and Naomi on Total Divas, however with it being a focal point on Smackdown it's entirely different.
Being able to successfully distract the Bludgeon Brothers this past Tuesday gives The Usos some advantage heading into the Greatest Royal Rumble event taking place Friday evening.  The feud doesn't look to be over anytime soon, perhaps continuing on into Backlash.  Considering the build thus far, things look pretty good for both teams and Naomi.  The fan in me has so many hopes for this feud to grow into something amazing.  However the fate of it all doesn't lie in my hands.
The beautiful thing in this is that it is almost like both teams have been given another chance to prove themselves since the brand split.  The Usos rose to the occasion with a successful Championship reign while the Bludgeon Brothers have found something that clicks and works for their team.  Giving them a feud that is consistent and holds substance will help tremendously.  Neither team is a fluke, because fans know what all men are capable of.  There is no start and stop this time around for both teams.  They are the primary focus on the Tag Team Division – something that fans didn't think would happen at one point.
Maybe patience is a virtue in this case for The Usos and the Bludgeon Brothers.  However with the past success, the company must do these teams right for them to follow through with great, rewarding feuds.  While Naomi's involvement does give The Usos a slight advantage, how far does that go?  At the forefront, there must be a payoff.  The tools are all there to keep fans interested and tuned in to see what happens next.  After the Superstar Shakeup, the Tag Team Division looks extremely promising on Smackdown.  The feud between the Usos and The Bludgeon Brothers are a great start to get the ball rolling.
Mcleod: Will We Ever Get The Lee vs. Dijakovic Rematch?
Will we ever see the anticipated rematch?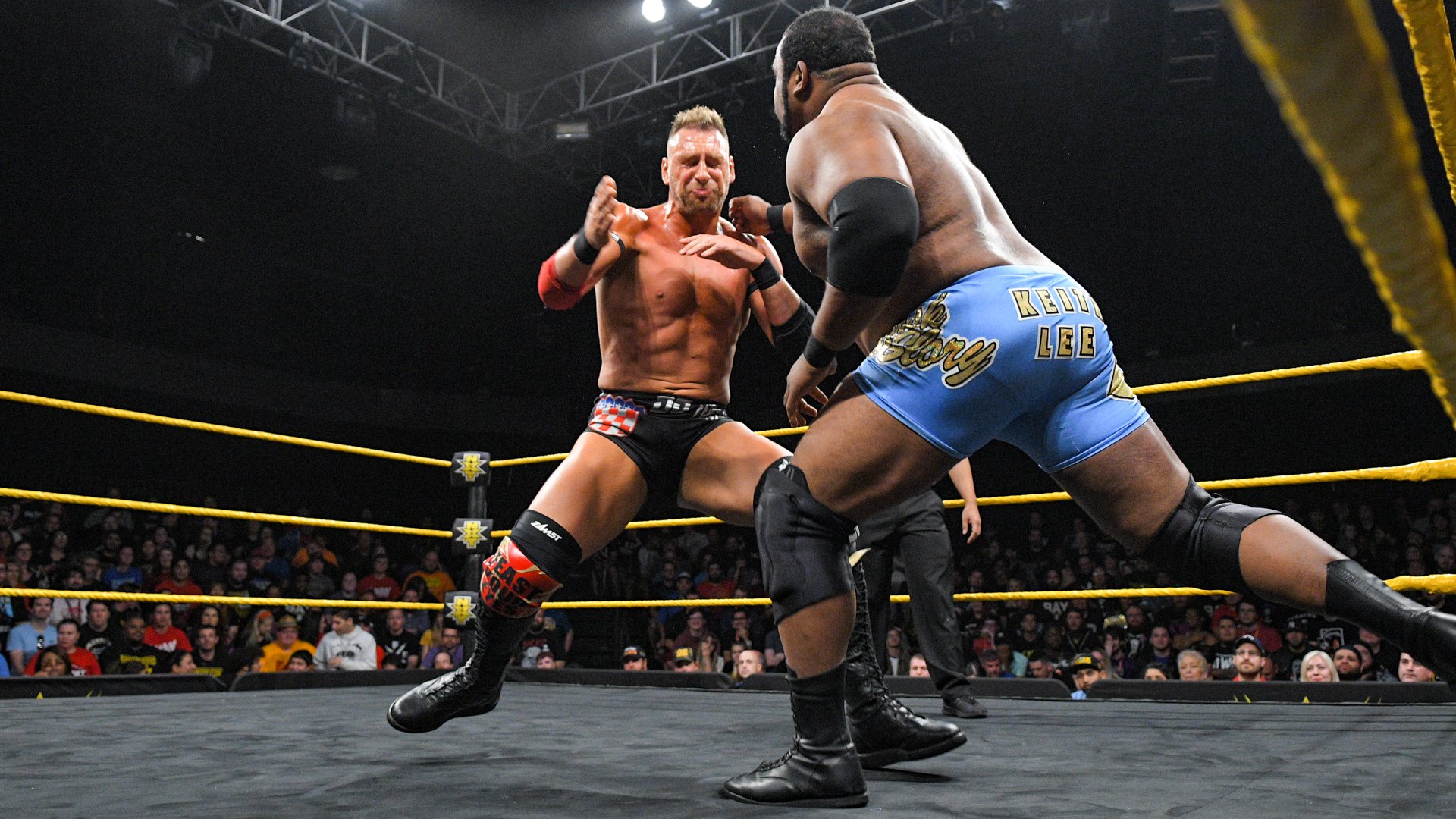 Keith Lee and Dominik Dijakovic tore the house down in their first WWE NXT encounter, and Scott Mcleod is eagerly awaiting the rematch–just like the rest of us!
Cast your minds back several weeks when we saw a short but physically impressive match between Keith Lee & Dominik Dijakovic. We saw Lee get monkey flipped only to land on his feet and Dijakovic hit a corkscrew plancha to the outside. The match unfortunately ended in a double count out but we were lead to believe this wasn't over as they continue to brawl while refs try to pull them apart.
They were scheduled to face off on the episode where the 5 way to face Gargano took place and that was the focus of that episode. A week or so later Lee said they would settle their differences in two weeks time.Two weeks should have this week but Lee was nowhere to be seen. Dijakovic came out and beat an enhancement in record time before declaring his intentions to challenge for the North American Championship. Judging from this week it looks like they're feud is done which is just a shame.
They teased us with what could be with that match several weeks ago. Two guys who have the size but can pull out incredible displays of athleticism. Put that on a takeover give them around 10 minutes between two title matches and they would tear the house down. It would be a shame to not see this match at least one more time in NXT. If a few weeks ago didn't convince you then check out their match from the PWG Battle of Los Angeles 2017 which was rated 5 stars.
It would be something different to everything else on the card. If Dijakovic is set to challenge Velveteen Dream can we not not add Lee and make it a triple threat. Think of how good Dijakovic vs Lee was and add the Dream. Don't tell me you don't want to see that on a Takeover. They could have a good build as well. You have the charisma of Lee & Dream along with the intensity of Dijakovic. I need to see that now.
Did Sasha Banks Overreact to Her WWE 'WrestleMania 35' Loss, or is The Boss on Point?
Is Sasha Banks on the right side of this? Or is she making a mistake?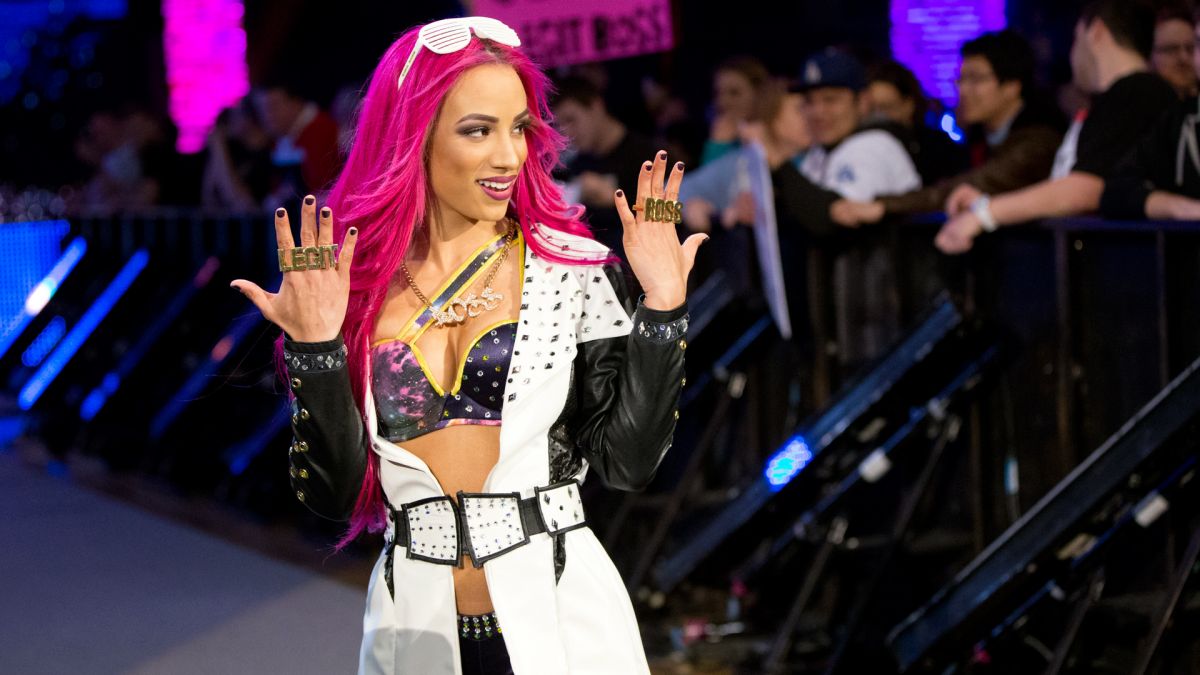 The pro wrestling world is buzzing over the Sasha Banks situation. "The Boss" went from being a loyal WWE Superstar to evidently being one very disgruntled employee. The change seemed to happen overnight, though there's no way to truly know that. The fact is that this situation may have been unfolding for much longer than just a weekend.
Speculation online suggests that Sasha and Bayley were promised a match at WWE's next big event in Saudi Arabia. The duo was to defend their WWE Women's Tag Team Championships against Natalya and Beth Phoenix in what would have been a very historic bout. 
WWE has received its fair share of criticism over the past year for running events in Saudi Arabia, mostly because of the way that women are treated in that country. Fans made their voices heard while WWE kept insisting that it was all leading somewhere. Evidently that was true.
WWE is not confirming the story so as of now, it's only a rumor. But it does bring up an interesting set of talking points that fans must consider. Perhaps Sasha Banks has every reason to be upset and maybe the fans should be upset for her. Maybe the world was too quick to rally against her after all. 
Why did a great number of fans turn on her after she disappeared? Was it simply because she was not there to entertain them? Banks' last WWE appearance was WrestleMania but for many, that's plenty long enough. 
Banks' critics felt that she should have just taken the loss and gotten over it. After all, it's just pro wrestling and at the end of the day, wins and losses don't really matter. Right? But therein lays one of the problems with this story.
Fans can believe what they want about Sasha, or any other WWE Superstar. But each man and woman has his and her own unique perspective on the business. To assemble a room full of WWE Superstars is to assemble a room full of people that have their own personal motivations for doing what they do.
Some are inspired by their heroes that came before them. Others are inspired by the promise of greatness that only WWE can bring. But even more see the possibility of major success on an elite level and that is just too much to pass up. But most importantly, many of these men and women simply just want to wrestle.
So why would any WWE fan, or any pro wrestling fan for that matter, presume to know what's in a talent's mind and heart? Being famous and traveling the world is an added benefit of working for Vince McMahon but is that truly the endgame for the bulk of the roster? If it is, does that mean those men and women should be vilified for their desire to be celebrities in the business they love?
When fans look at Sasha Banks, what do they see? Do they see a hardworking WWE Superstar that's living her dream? Or do they see a superficial talent that intends to use WWE as a springboard to her next show business career? Is either possibility right or wrong and if so, who is the ultimate judge of that?
But after nearly seven days of receiving criticism for walking away and supposedly threatening to quit WWE, everything is now changing for Sasha. That's because of the Saudi Arabia story, which if it's indeed true, puts a whole new spin on everything.
Why would WWE give Banks and Bayley its plan to book them at Saudi Arabia, only to change that booking later? This is not the typical last minute booking change at Monday Night Raw. Fans have come to expect that and at this point, the Superstars themselves must certainly expect that as well.
But if Sasha and Bayley were told that they were to be included in the first ever WWE women's match in Saudi Arabia, then that's exactly what should have happened. There should have been no changing of plans, no last minute storyline tweaking. The bout should have been booked and happen as advertised.
It's one thing to make history in a WWE ring stateside and every woman in the company was surely happy to be part of that history. Of course Vince McMahon's company could have pulled the trigger on booking women in top spots long before now. But at least WWE is on the right track. At least it's actually happening. 
But to take those history making moments to a country that has traditionally treated women as secondary citizens, is massive. There's really no way to overstate the importance of such a moment. WWE must have known that this was a possibility from the moment the company first ran Saudi Arabia in 2018. Patience was the key and now it may pay off. 
If anyone in WWE deserves to get that spot, it's The Four Horsewomen. WWE constructed this modern women's division around Sasha, Bayley, Becky Lynch and Charlotte Flair. Without that nucleus of stars at the center of it all, the Women's Evolution may never have gotten off the ground. Any fan that believes the quartet hasn't earned the right to make history in Saudi Arabia is perhaps missing the big picture. The company has committed to them, just as they have committed to the company. 
But if the Saudi Arabia story is true, then that dynamic is turning upside down. Yes, it's WWE's show and the company can book it however Vince McMahon wants. It's his call and that's likely not changing any time soon. But just as WWE can change course, so too can Sasha Banks. It's impossible to know what will happen next. But with any luck, there will be a resolution to this situation sooner rather than later.