Top 5 Matches: Week Ending 5/27/2018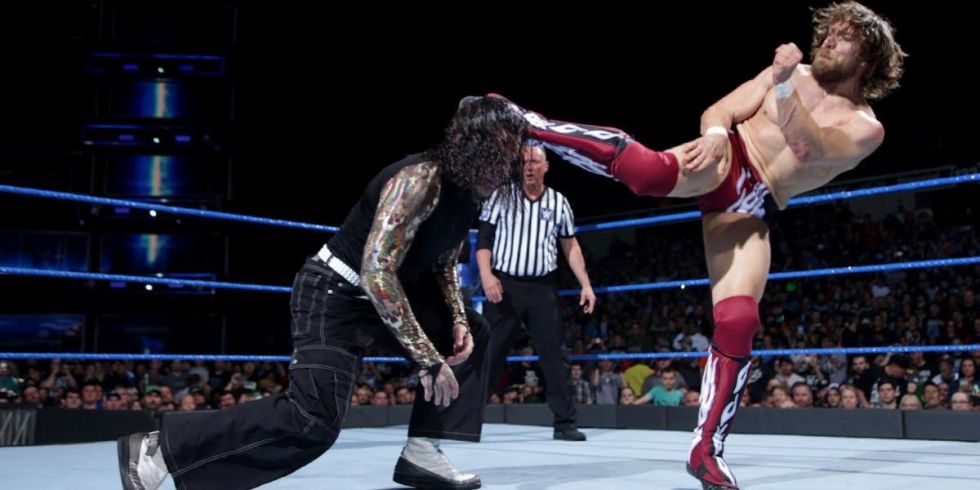 So anyone that may have been upset with the lack of WWE product in the Top 5 last week, should be happier.
Also, thanks to holiday barb-e-ques and other personal engagements, I wasn't able to catch up with everything this weekend. But we still have nice variety, that I'm pretty comfortable with. Last week was a close vote, but, Will Ospreay vs Taiji Ishimori BOSJ 25, managed to pull out the win.
This will be the last vote for the May pool, so let's see what we can add to monthly vote next week.
5. MLW Fusion MLW Heavyweight Championship: Shane Strickland (c) vs Pentagon Jr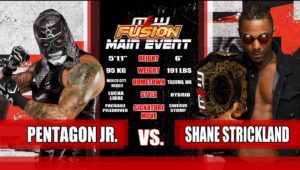 Holy Christ, Salina has a Mariachi band enter the ring before Shane's entrance to play the Mexican national anthem.The crowd looks a combination of amused and confused…but it's definitely unique.
There's a couple nice spots i the match I'll go over since it was actually a fairly long match for TV. Pentagon ties Swerve up with the camera cables on the apron, hitting a variety of knife edge and Kobashi style chops. The referee is giving both men a lot of leeway throughout the match, so it's nice to see the implication that it will end in the ring.
A big Mexican Destroyer on the apron is what we're greeted with after the second commercial break and the match starts to pick up there. Swerve kicks out of a Pentagon Driver and Feat Factor, but the back half of the match was mostly dominated by Pentagon. Out of frustration, Salina gives Pentagon a chair and it seems like the referee will let it play. It looked like Pentagon was going for a Superplex into the opened chair, but Swerve blocked him and knocked Pentagon down.
They tease the spot that ended their Wrestle Circus match of a Swerve Stomp onto a seated Pentagon, but Pentagon counters it with a Powerbomb. Salina's usual stoicism finally breaks and she jumps on the apron after Strickland kicks out again. This leads to the "Oops" moment for heels, and Pentagon hits Salina with the Red Mist when Shane moves out of the way, giving Strickland the opening to steal a win.
Rating: *** 1/2
4. SmackDown Live: Jeff Hardy vs Daniel Bryan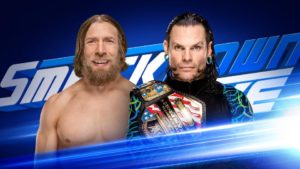 A first time ever match, that for TV and even a middle of the card PPV match, was pretty damn good.
The one commercial break didn't hurt too much, the Tree of Woe spot into the Whisper in the Wind was a nice sequence. Hell, the ending was really good also and even protects Jeff Hardy to a degree. He's been nursing an leg issue for weeks, so the idea of Daniel Bryan winning by Knee Bar submission plays into the established injury.
Next SmackDown we're going to be getting a Samoa Joe vs Daniel Bryan match…which should be good, but since it's a TV match, who knows if it will be quality or used to move along a storyline.
Rating: *** 1/2
3. NXT Handicap Match: Ricochet & Velveteen Dream vs Lars Sullivan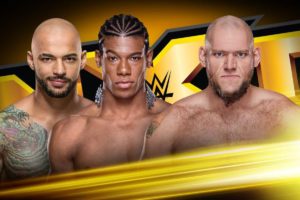 Lars interfering in Ricochet and Dream's match last week, allowed for this to come to fruition and make sense.
Now it's hard to make a handicap match believable since it usually sways one way or the other, but this was actually really well done. Ricochet and Dream showed a lot of cohesion by utilizing numerous quick tags, impact moves and speed attacks against the muscle bound freak.
Lars however showed amazing resilience by kicking out and maintaining enough power late in the match to throw both men off of him.
The swerve in the match came from Velveteen Dream tagging in, but Ricochet immediately tagging back in to hit a Springboard 450. This annoyed Dream, so he hit Ricochet with his Cartwheel Death Valley Driver and left him for shark food.
Sullivan stares down Dream a little, but hit's the Freak Accident on Ricochet and picks up the win, whilst keeping the wheels of this feud moving nicely.
Rating: ****
Honorable Mentions:
NJPW BOSJ 25: Sho vs Chris Sabin
Rating *** 1/4
NXT: Lacey Evans vs Kairi Sane
Rating: *** 1/4
Raw: Elias vs Bobby Roode
Rating: ***
Dragon Gate King of Gate: Masato Yoshino vs Kagetora
Rating: ** 1/2
2. NJPW BOSJ 25: El Desperado vs Hiromu Takahashi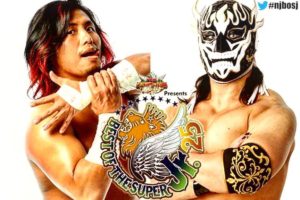 Now Despy and Hiromu have a little bit of heat from the last few months being involved in the Junior Tag scene, and Hiromu came out angry.
Hiromu jumped on him quickly and started tearing at Despy's mask. Desperado eventually got some space and the match became a very hard hitting back and forth. Hiromu being a fan favorite helped to keep the crowd invested the entire time also.
Desperado teased a few of his finishers, even kicked out of a Time Bomb. After Hiromu got out of an El Es Claro, he went to try for one more Time Bomb, but got caught in Pinche Loco. And surprisingly, Despy picks up the win over everyone's favorite psycho, Hiromu.
Rating: **** 1/4
1. AJPW Triple Crown Championship: Kento Miyahara (c) vs Naomichi Marufuji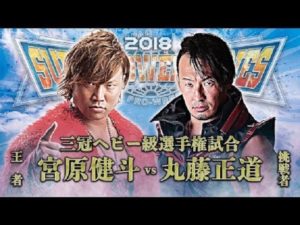 The rematch that Marufuji didn't really want, but who's gonna so no to a title shot? All of this was predicated on the fact Marufuji won the Champion Carnival, so that grants him an opportunity. Just makes it spicier that he won the Carnival by beating the champion, so we got ourselves more layers.
To be honest, the match felt very similar to their Carnival outing. However, the passion that we saw in the Carnival as NOAH vs AJPW and a sense of betrayal, was replaced more with anger and general pride.
Miyahara was embarrassed he lost the Carnival and thus making AJPW look inferior to NOAH. So he came out angry, took the match to the outside and used the ring and the barricade to an early advantage. Marufuji applied some veteran cunning catch Miyahara with a crescent kick around the ring post and then pulling him into it.
After that, we saw many of the same spots from last month. Marufuji hit a springboard shotgun kick as opposed to the curb stomp, but it had the same appeal, the apron piledriver was utilized and even the dueling knee strikes.
We did see distinct growth from Kento since he seemed to know to expect certain moves, whereas Marufuji was kind of going to the old reliable stuff. Kento kicks out of Ko-Oh, two Shiranuis and then Marufuji teases a Flowsion, but Kento gets away.
At that point, Kento punished Marufuji with numerous knee strikes and then eventually pulls out the win with his Shutdown German Suplex Hold. Not quite as good as the Carnival Final, but still very good and a possible excuse to have a rubber match. Maybe Champion vs Champion if Marufuji can get the GHC off of Takashi Sugiura?
Rating: **** 3/4
Mainly since I know they can put on better matches, I can't follow my ratings for who I vote for. Honestly, NXT Handicap Match: Lars Sullivan vs Ricochet & Velveteen Dream, impressed me the most because of how hard it is to make handicap matches believable.
So see, I do vote for non-Japanese matches. Now keep calm, and let us know what you think and which match would be your Match of the Week.
Always Use Your Head