Mediocre is Money for Vince McMahon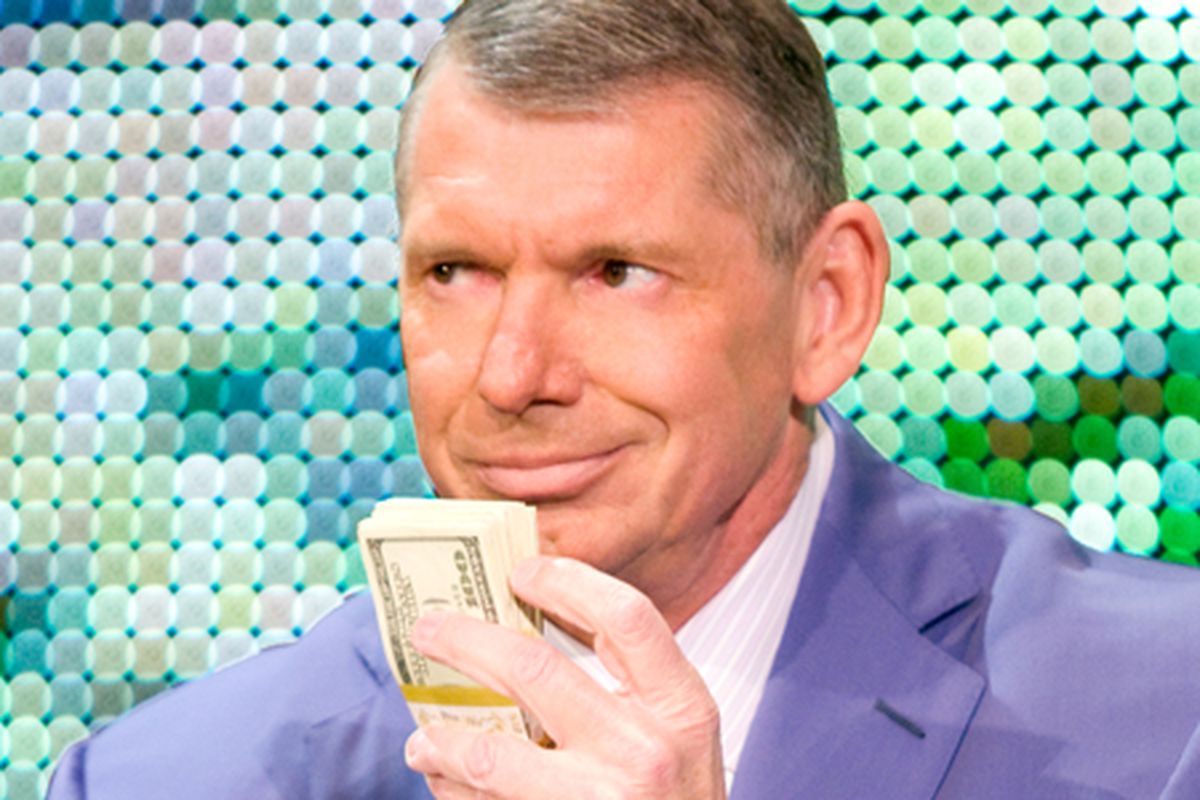 In May of 1998, Monday Night Raw's highest TV rating for the month of May was a 5.5, and never dropped lower than a 4.2 during the month. A year later in May of 1999, Raw scored their highest show rating ever with an episode hitting 8.1.
Fast forward twenty years and Raw's average rating this month has been hovering in 2.0's. This past week's show scored a dismal .90 rating among the 18-49 year olds- arguably WWE's core demographic.
If you wanted to discuss the reasons for this downturn and all of the things wrong with the current product, there are numerous articles and podcasts you could find that tackle that issue. (Spoiler: it's probably Roman Reigns' fault). But we can all agree that one thing is for sure- the WWE is terrible right now and is dying a slow death.
Right?
Vince McMahon would beg to differ. Actually, Vince McMahon and the FOX network would beg to differ.
FOX just paid the WWE two billion dollars for the rights to air Smackdown Live starting in October of 2019. Yes, that's billion with a "B." And yes, that is for the rights to SMACKDOWN! Not Raw, but Smackdown Live. Two billion dollars for a show that gets even lower TV ratings than Raw does.
What does this all mean? The WWE brand is alive and well. And it means the wrestling business belongs to the investors, TV networks, and advertisers. And the business plan going forward for the WWE is simply "Stay the course. Play it safe. Keep the networks happy"
When I first heard the news of Smackdown potentially moving to a different network, I thought it might be the best thing to happen if fans wanted to really see some changes in the product. Having two different shows on two different networks might create true competition from within, as each brand would be under pressure to garner ratings and keep their respective networks happy. Not quite the Monday Night Wars, but maybe the closest we would ever get in today's landscape. However, reality then struck me that the WWE has no reason to change anything.
While NBCU may have been willing to let Smackdown Live go, FOX was more than willing to pay out the ears for the rights to the "B" show. They didn't bid for New Japan. They didn't bid for "ALL IN." They wanted the WWE. Assuming ratings will, at best, stay steady in October of 2019, you have to assume that FOX would not buy the program unless they would deem getting those same ratings for themselves a success. There is a line of thinking that might suggest that Smackdown will attract more viewers being on a network like FOX instead of cable, but FOX also knows they aren't going to pulling in 8.0's every Friday night. And yet still, with ratings at times not even breaking 2.0, they jumped at the chance to make the program theirs. That is the power of the WWE brand. And it makes everything else- the storylines, the fans, even the wrestlers themselves- secondary.
For us fans that have been critical of the current product, it simply means we are in for more of the same for the foreseeable future. And simply put, the WWE has no motivation to change anything they are doing, anyway. Fans aren't going to stop watching completely (you know you won't, don't @ me). If they don't watch it on TV, they will check out clips on wwe.com or YouTube or social media, all of which generates revenue for WWE and their advertisers. And quite frankly, the hardcore "wrestling fan" is not as important to the business model of WWE as they once were. WWE is above all an entertainment business, and by the most important indicator- revenue- business is good.
Vince and the WWE have always been at their best when challenged. The MO has always been that Vince doesn't change course or make aggressive changes (or admit he is wrong somehow) unless he feels pressured to do so. In the 80's, Vince was on the warpath to buy out territories, take his company national and stake his claim in the sports entertainment business. In the Attitude Era, change was necessary because, for the first time, the WWE/F was met with real competition from WCW and TV ratings became king. In 2018, those sources of motivation are obsolete.
WWE is now a publicly traded company.
There is no other competition for TV ratings or for the eyes of the casual wrestling fan.
There's simply no reason for Vince McMahon or the company to take aggressive actions like in the 80s or to make any risky changes in direction or content like they did in the late 90s. We are in the "Just Enough" era. The company can coast on autopilot, and there's no imminent threat to cause them to change course. And honestly (and perhaps, unfortunately), given the news of the FOX deal, why would they?
The days of the WWE relying on "the fan" for its revenue and success is and has been, long gone. Just look at house show attendance and gate numbers for proof of that. This is the age of the advertisers.
The internet will keep complaining, but more importantly, won't stop watching, and Vince McMahon will keep laughing all the way to the bank.
Greg DeMarco's YouTube Performance Report: WWE Raw (4/22/19)
You shouldn't be surprised at the video that topped Raw on YouTube this week.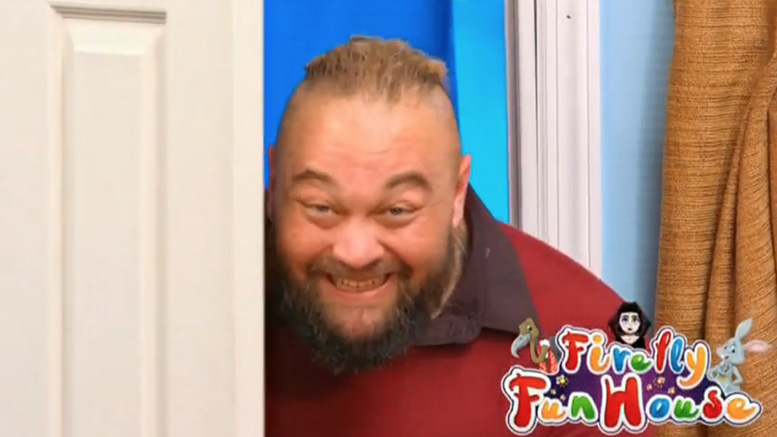 A look at the YouTube performance for the April 22nd edition of WWE RAW!
As we all know, social media and other outlets have become a huge means of drawing in interaction and viewers for WWE. Most people will point to television ratings like they did during the Monday Night Wars in the late 1990's, however that can be skewed with so many various means of watching today that do not include cable television. As such, YouTube has joined social media as a metric as important to WWE as television ratings (if not more).
As you've become accustomed to, here is this week's RAW YouTube Report, compiled Wednesday morning, for the 4/22/19 edition of WWE Raw:
Bray Wyatt's Firefly Fun House – 2 million views
Seth Rollins' challengers emerge – 1.58m views
AJ Styles vs. Baron Corbin – 904k views
The Miz vs. Drew McIntyre vs. Baron Corbin – 815k views
AJ Styles vs. Rey Mysterio vs. Samoa Joe – 775k views
Becky Lynch & Lacey Evans promo – 450k views
Robert Roode vs. Ricochet – 440k views
Becky Lynch vs. Alicia Fox – 395k views
Naomi vs. Billie Kay – 332k views
Cedric Alexander vs. Cesaro – 325k views
The Revival and The Usos Backstage – 292k views
Sami Zayn runs down the WWE Universe – 282k views
The Viking Raiders decimate The Lucha House Party – 225k views
Zack Ryder & Curt Hawkins discuss The Viking Raiders – 126k views
Ratings analysis appears after the ad – buy a shirt!
---
Elisa looks great in her Chairshot gear.
You can, too!
Be like Elisa and get yours at:
https://www.prowrestlingtees.com/related/thechairshot.html
---
Greg DeMarco's WWE Raw YouTube Ratings Analysis
It should be no surprise that Bray Wyatt's Firefly Funhouse comes in at #1 for the week, surpassing 2 million views. We are in the post-Easter week, so numbers are down overall (only 2 videos over 1 million views), but this one definitely has people talking. It's also the #18 trend on all of YouTube.
Seth Rollins also topped a 1.5 million, as we had the show opening multi-man promo scheme designed to set up the matches for later. The set-up and those matches were the major focus on Raw on YouTube this week, ranking #2-#5 in terms of views.
Becky Lynch didn't deliver this week, as she might be suffering from a bit of overexposure. The Raw women's division continues to rebuild, making me wonder why they broke up The Riott Squad. The division occupied spots #6, #8, and #9, and cumulatively they barely broke a million views. But let's be honest, the less people that see Becky Lynch vs. Alicia Fox, the better.
Also bad news for the tag team division, as they occupied 3 of the four bottom videos.
My favorite video…the Robert Roode pornstache!
What did the YouTube results for this week tell you?
Andrew's WWE Raw and SmackDown Live Ratings & Analysis (4/22 + 4/23/2019)
More changes after the Shakeup! It's like we get an extended draft before the NFL Draft! How did WWE's main roster shows pan out?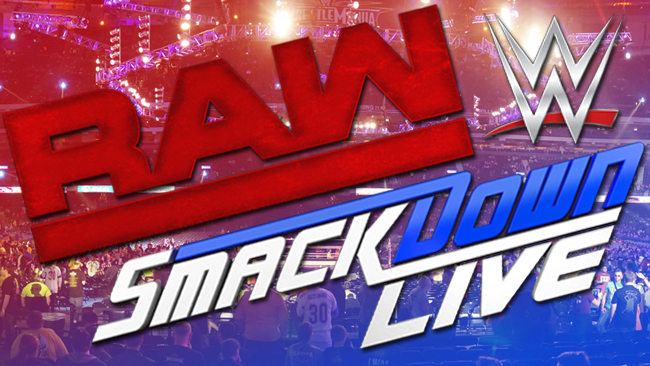 More changes after the Shakeup! It's like we get an extended draft before the NFL Draft! How did WWE's main roster shows pan out?
Shortly before Raw went live, there were reports of some Superstars being moved again even though the Shakeup was last week. We also heard some rumblings that our favorite Experience was getting a different name.
So were we happy with the shows? Were they just a mess? Let's find out!
Raw Ratings:
Samoa Joe vs Rey Mysterio vs AJ Styles: Styles wins via Styles Clash – *** ¼
Billie Kay vs Naomi: Naomi wins via Roll-Up – N/A
The Miz vs Baron Corbin vs Drew McIntyre: Corbin wins via Claymore – *** ½
Cesaro vs Cedric Alexander: Cesaro wins via Swiss Death Uppercut – ***
Alicia Fox vs Becky Lynch: Lynch wins via DisArm-Her – * ½
Ricochet vs Robert Roode: Roode wins via Glorious DDT – ** ½
AJ Styles vs Baron Corbin: Styles wins via Phenomenal Forearm – *** ¼
Analysis:
So this opening segment was generally worthless. Triple H was added to the proceedings purely because…well…he can be? Seth is a travesty on the microphone and the others march out like we weren't just told there was going to be 2 Triple Threats. So it was just messy. Unless this is the first hint towards Seth rejoining with Hunter, this dynamic was almost as worthless as the word salad they threw at ass.
Our first Triple Threat is the work rate match. There's really no story here aside from both Rey and AJ have had issues with Samoa Joe, but it wasn't conveyed in the match well. Joe's Avalanche Double Mountain Bomb was a spot, but really just took too long to set up and looked too cooperative. This match is fine, but I doubt it stopped anyone who still flips through channels at 8:30 est looking for something to watch.
Now I love the IIconics, and I know the corny/cringe worthy promos are part of their gimmick…but can we stop? The crowd didn't react to anything and came off forced and trying waaaay too hard, like Mauro Ranallo's pop culture references. Billie got made a fool of in this match, and then the promo the IIconics had in the back was much better than their walking down the ramp crap. Do more of the backstage dynamic and less of the really bad comedy.
Most people might right off this second Triple Threat, but hey, this was the better pro wrestling match. We saw an easy to follow storyline for people who have watched somewhat recently, we saw progression when Baron took cheap shots on McIntyre and Miz was a wonderful babyface in peril. I really enjoyed everything about this, including Corbin taking advantage of McIntyre laying out Miz with the Claymore, dumping Drew to the outside and stealing the pinfall. Great story telling.
Sami Sami Sami. I have to admit, I like this concept of running down the IWC and it seems like he genuinely enjoys cutting the promos, or his a great actor. I'm still not 100% on board with this, since it can fall apart at any moment given WWE's track record. But for now, it's fun, it's smarmy and I like it.
Ahh now here we get a paradox. Both Cesaro and Cedric are making their official post Shakeup returns/debuts, so someone has to lose. This was a nice match in the regard that it proved Cedric can go toe to toe with someone the pedigree of Cesaro. Cedric will need time adjusting to the size difference since he was one of the bigger Cruiserweights, now he's a little below average. As long as this is an actual building block and not just a throw away match, this could go somewhere for Cedric. OH! Cesaro picked up the win! Weird…right?
Usos backstage, Jey takes a small jab at Jimmy and then start going through the tag team roster. The Revival show up to try and check the Uce Troop, but the brothers pretend to fall asleep and just clown The Revival. It was good stuff and that should be a great match whenever it happens.
Oh God no! Lucha House Party against the Viking Exp…wait…Viking Raiders? So will Asuka and Kairi be known as the Steeler Buccaneers? Anyway, we all know my rule, if the Lucha House Party are on I drop the show score a half point. Oh-WAIT! The Vikings destroy all three, the match doesn't begin and they just beat the hell out of the Mexican Masked Geeks? I retract my statement about dropping a half point. Hell this might raise it. Though I'm not a fan of Thor's Hammer being renamed The Viking Experience, but I guess Vince just wanted it in there somewhere.
Lacey is wonderful. I love the character, I love her look…just…ahh. Okay that's bad English, especially when written out, but did you expect me to talk about the match? At this point I'm not sure if Alicia is a bad wrestler or if she's just told to go be a spazz on purpose. However Lacey getting in two Woman's Rights, was nice. Again…Lacey Evans.
Ricochet fights his dad! Erm, I mean Robert Roode. I really do like him going back to the full name. It sounds more like an adult since, what 40 year old man is known as Bobby?  The match was okay, but honestly you have a theme song with a porn stache facing a superball with no personality. So…don't expect anyone to care, but Robert gets a win!
It's been a pretty okay show so far, but since Corbin closes out the show, it's gonna end with a wet fart right?
WAIT- FIREFLY FUN HOUSE?
*blinks*
This is…pure genius! I loved every second of this demented dark comedic children's show. I want Bo Dallas to show up as a Mailman or Curtis Axel as a Cowboy (Cowboy Curtis reference). I literally can't stop snickering from how random, but beautiful this vignette was. Just…I think a tear is coming to my eye.
MORE STORYTELLING IN THE RING!! YAY! Styles tweaked something in his Triple Threat and it effects how he throws his offense. Corbin tries to take every advantage possible, but Styles' resolve is proving troublesome. Styles tries for a Styles Clash, but can't do it, Corbin looks like he's going to win, but AJ Styles is Phenomenal after all. Fights through everything and hits the Forearm for the surprise pinfall. I say surprise mainly because it's a pretty big angle, fairly quick. But with MITB and then Saudi Arabia, Styles could always be slated for both of them. That carries immensely more star power than anything involving Corbin.
Overall Score: 8/10
Great show! Extra points for Lucha House Party destruction, Firefly Fun House being fantastic, not knowing if Alicia Fox does that on purpose and…Corbin, being involved in the best story matches of the night.
The show started off questionably, but yeah I can't be mad. I was entertained for most of the show and even the down points were partially expected, so it didn't leave the lingering taste of disappointment in my mouth. It's gonna be hard for SmackDown to top Raw!
What did I just say? I blame Bray.
SmackDown Live Ratings:
Andrade vs Finn Balor: Balor wins via Coup de Grace – *** ¼
Kairi Sane vs Peyton Royce: Kairi wins via Insane Elbow – N/A
Charlotte Flair vs Bayley: Flair wins via Spear – ** ½
Kofi Kingston vs Shinsuke Nakamura: Kofi wins via DQ – ** ¾
Analysis:
Shane opens up the show to address Reigns and the actions against Vince last week. He takes the obviously hypocritical stance of "who puts hands on someone's father", and it gets a decent reaction of boos from the crowd. Roman comes out to a good pop, confronts Shane, doesn't speak and just throws the mic down. THIS is the Roman most people love. No talking, just ass beatings.
To Shane's credit, he squares up, but Elias blind sides Roman and the two on one begins. Elias coming out of two weeks where he was in the same segments with John Cena and The Undertaker, now he's chosen by Vince and positioned with Roman and Shane…this is all great for Elias. I don't exactly know where the whole thing plays out to, but starting with a Money in the Bank match, Elias could have a bit of a rocket.
Big O, Xavier and Kofi in the back, have an entertaining mini-interview. This is a very fun grouping.
So WWE validates Andrade and Zelina coming back to SmackDown Live with the fact that Finn ran after he lost to Andrade. So Andrade wasn't going to let him off the hook. I don't hate it, it makes enough sense. And much like last week, the match is good, but the problem is they already had Zelina cost Andrade this match. I'm not sure why they would do that unless they're moving towards breaking them up soon. Andrade is talking more, but he still very definitely needs a manager. Maybe they will position the couples together, that could be the direction. But Zelina and Andrade are so good as a duo, I'd like to see them accomplish something on main roster before splitting apart.
So Paige's ex-stablemates are jealous of her new friends. So even though Kairi got a very one sided win over Peyton, we may be seeing Fire & Desire face the Pirates of Tomorrow. Could be a fun first feud for Asuka and Kairi to work on some team synergy. Plus Fire & Desire have issues with Asuka as well as Paige, so it all makes enough sense.
Aleister Black saying nothing. But he said it ominously. The last person to speak hollow words now has a Fun House. Just…be mindful.
Jinder Mahal is moved to SmackDown! Chad Gable comes down for a match, but Lar Sullivan wipes him out, goes after Jinder, but plays Fling the Singh instead! Surprisingly, R-Truth's music hits and he tries to stand up to Lars, but Lars eats him for lunch. I still don't care, but they're trying.
Charlotte starts complaining even though she knew the rules to the previous Winner Take All match. Becky says she wants new challengers and puts over a few women in the back. Bayley comes out to much better reception than last week. She thanks Becky for noticing her, and then when Charlotte tries to dismiss her, Bayley snaps back and shows some attitude.
This match was like a lot of Charlotte's matches, sloppy at different points. Also, Bayley needs to stop the attempted sliding kick through the bottom turnbuckle. It looks awful. Leave those moves to Sami Zayn.  Charlotte misses a Moonsault and falls on Bayley, and it's just weird. I get they haven't locked up in a while, but there were numerous moments this was a little rough. Sadly, Charlotte wins even though no one wants it. But it could be for the same reason that AJ won on Raw. Saudi Arabia could be driving a few stop gap angles before we get back to normal PPV pacing.
FIREFLY FUN HOUSE!
Dammit, it's a rerun. Still made me snicker, and I like the fact they're capitalizing on the viral aspect by showing anyone who may just watch SmackDown or somehow missed it Monday and on the entire internet.
Kofi and Nakamura, I wait with baited breath that we see a small glimmer of 2015 Nakamura and not the last couple years. Honestly, Shinsuke did seem a little more like his old self. Stiff kicks, animated head games, big brothering Kofi with some antagonistic kicks, all classic Shinsuke. Rusev interferes for the DQ, but that's not the catch!
Kevin and Xavier were on the pancake desk doing alternate commentary, and they were actually pretty good together. But after only 1 week Big O turned into the Big Uh-Oh. Owens turns on Kofi, beats him down a beat and lays his claim to the being the next contender.
We all knew babyface Kevin Owens had a short shelf life. Right?
Overall Score: 7.5/10
Really good show! Very consistent show. Nothing was painfully offensive, but there were no really big highs like on Raw. Plus the fact that Firefly Fun House was a rerun, I have to rank this lower than Raw just because we literally saw a segment yesterday.
Main roster shows pulled off some good stuff. Yes, since we're all jaded and cynical, I'm fully aware this could all tail spin and explode in no time flat. But for now, I'm taking what's presented at face value, and it's all solid entertainment and pretty decent in-ring work too boot.
Good job WWE!