Mediocre is Money for Vince McMahon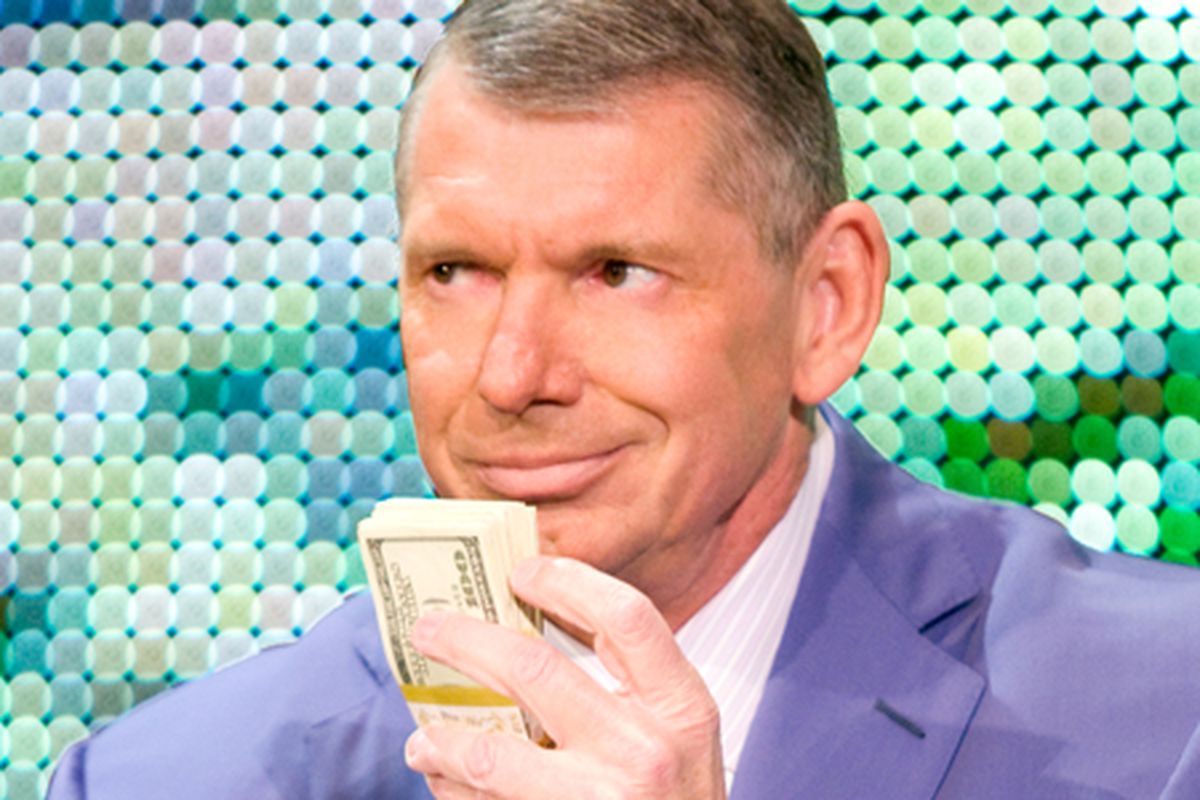 In May of 1998, Monday Night Raw's highest TV rating for the month of May was a 5.5, and never dropped lower than a 4.2 during the month. A year later in May of 1999, Raw scored their highest show rating ever with an episode hitting 8.1.
Fast forward twenty years and Raw's average rating this month has been hovering in 2.0's. This past week's show scored a dismal .90 rating among the 18-49 year olds- arguably WWE's core demographic.
If you wanted to discuss the reasons for this downturn and all of the things wrong with the current product, there are numerous articles and podcasts you could find that tackle that issue. (Spoiler: it's probably Roman Reigns' fault). But we can all agree that one thing is for sure- the WWE is terrible right now and is dying a slow death.
Right?
Vince McMahon would beg to differ. Actually, Vince McMahon and the FOX network would beg to differ.
FOX just paid the WWE two billion dollars for the rights to air Smackdown Live starting in October of 2019. Yes, that's billion with a "B." And yes, that is for the rights to SMACKDOWN! Not Raw, but Smackdown Live. Two billion dollars for a show that gets even lower TV ratings than Raw does.
What does this all mean? The WWE brand is alive and well. And it means the wrestling business belongs to the investors, TV networks, and advertisers. And the business plan going forward for the WWE is simply "Stay the course. Play it safe. Keep the networks happy"
When I first heard the news of Smackdown potentially moving to a different network, I thought it might be the best thing to happen if fans wanted to really see some changes in the product. Having two different shows on two different networks might create true competition from within, as each brand would be under pressure to garner ratings and keep their respective networks happy. Not quite the Monday Night Wars, but maybe the closest we would ever get in today's landscape. However, reality then struck me that the WWE has no reason to change anything.
While NBCU may have been willing to let Smackdown Live go, FOX was more than willing to pay out the ears for the rights to the "B" show. They didn't bid for New Japan. They didn't bid for "ALL IN." They wanted the WWE. Assuming ratings will, at best, stay steady in October of 2019, you have to assume that FOX would not buy the program unless they would deem getting those same ratings for themselves a success. There is a line of thinking that might suggest that Smackdown will attract more viewers being on a network like FOX instead of cable, but FOX also knows they aren't going to pulling in 8.0's every Friday night. And yet still, with ratings at times not even breaking 2.0, they jumped at the chance to make the program theirs. That is the power of the WWE brand. And it makes everything else- the storylines, the fans, even the wrestlers themselves- secondary.
For us fans that have been critical of the current product, it simply means we are in for more of the same for the foreseeable future. And simply put, the WWE has no motivation to change anything they are doing, anyway. Fans aren't going to stop watching completely (you know you won't, don't @ me). If they don't watch it on TV, they will check out clips on wwe.com or YouTube or social media, all of which generates revenue for WWE and their advertisers. And quite frankly, the hardcore "wrestling fan" is not as important to the business model of WWE as they once were. WWE is above all an entertainment business, and by the most important indicator- revenue- business is good.
Vince and the WWE have always been at their best when challenged. The MO has always been that Vince doesn't change course or make aggressive changes (or admit he is wrong somehow) unless he feels pressured to do so. In the 80's, Vince was on the warpath to buy out territories, take his company national and stake his claim in the sports entertainment business. In the Attitude Era, change was necessary because, for the first time, the WWE/F was met with real competition from WCW and TV ratings became king. In 2018, those sources of motivation are obsolete.
WWE is now a publicly traded company.
There is no other competition for TV ratings or for the eyes of the casual wrestling fan.
There's simply no reason for Vince McMahon or the company to take aggressive actions like in the 80s or to make any risky changes in direction or content like they did in the late 90s. We are in the "Just Enough" era. The company can coast on autopilot, and there's no imminent threat to cause them to change course. And honestly (and perhaps, unfortunately), given the news of the FOX deal, why would they?
The days of the WWE relying on "the fan" for its revenue and success is and has been, long gone. Just look at house show attendance and gate numbers for proof of that. This is the age of the advertisers.
The internet will keep complaining, but more importantly, won't stop watching, and Vince McMahon will keep laughing all the way to the bank.