Reciprocity: The Value Of Trust In Wrestling
What has happened to the trust between fans and wrestling? Why is there no reciprocity?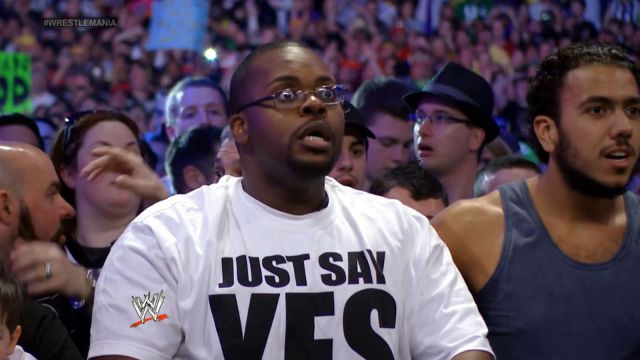 Reciprocity – the practice of exchanging things with others for mutual benefit, especially privileges granted by one country or organization to another
Wrestling has a symbiotic relationship with it's fans.  Both the company (and it's performers) have to work in concert with the audience to effectively tell a story.  It's the simplest part of the process – wrestlers wrestle and fans are entertained. So why does that relationship feel so strained between fans in 2018 and wrestling?
It's no secret now that we're in the age of information.  Never has there been a time in human history where it's easier to find out something you really want to find out, and that could be good or bad for the record.  When it comes to wrestling, not only is information readily available for us through wrestling news sites like the Observer, the Figure Four Weekly, or even this one (cheap plug!), but WWE themselves has opened up the door to introspection.  And the business is in the best place it's ever been. Independent companies are doing business they've never been able to do, wrestlers are making more money than ever, and interest in the business is the best it's been in over a decade. But there's still an issue with that reciprocity.  Why?
I'm a pretty aware person, and I try my best to really be objective.  So, I try to really observe the fan interaction between companies, wrestlers, and fans.  There's a clear disconnect at times. And if I'm honest, it's at times when trust is given and then lost. Let me give you an example.
Chris Jericho is one of the most successful professional wrestlers in the world.  Not only is he great in the ring, but he's also been known to be great with fans. He's got the rare ability to consistently work fans from a wrestling perspective, yet when someone asks him his genuine opinion on something, he's shown himself to be brutally honest.  However, when he claimed that he believes that some fans boo Roman Reigns at shows because it's the "in" thing to do (in a non WWE interview, by the way), fans lost their minds. People claimed that Jericho was regurgitating Vince McMahon's rhetoric even though he wasn't working for WWE at the time, and many claimed that Jericho had lost all their respect.  All of this because he said something he believed, and the fans in turn don't. Fast forward to now, and Jericho has reignited his feud with Tetsuya Naito, attacking him in a brutal and bloody manner at a New Japan show. Once again, the trust is back and we all love Jericho again.
Another example is the feud between AJ Styles and Shinsuke Nakamura.  Ever since Nakamura signed with WWE, the hopes were that we'd see him and Styles have their rematch from the instant classic at Wrestle Kingdom 10 in the Tokyo Dome.  They built to the match slowly, with Nakamura winning the Royal Rumble, and finally had the "dream match" at WrestleMania 34 for the WWE Championship. The match was good, although slow and devoid of genuine crowd reaction, and led to a much needed Shinsuke heel turn.  So, even though the match didn't reach our expectations, Nakamura was now a heel and the feud could grow to the heights we all expected. Unfortunately, that hasn't happened. While the build on TV has been tremendous, the two major Pay-Per-View encounters they've had since WrestleMania (The Greatest Royal Rumble and last night's Backlash) have been fun but ended in deflating false finishes.  The goal is clear: build to a final, major encounter at Money In The Bank in Chicago, the major wrestling hotbed of the US. The problem, however, is that with each false finish, interest in the next match and trust that the feud and the matches will deliver is dwindling. The match in Chicago, which isn't booked but is inevitable, will probably be tremendous but we have no reason to believe that based on what's happened so far.
So, the question is why is that trust lost?  Better yet, why is it even questioned? In Jericho's situation, the fans HATE Roman Reigns so much, they don't want anyone to tell them something they don't want to believe, much less someone they believe in.  And the second he did something they believed in again, attacking Naito in this case, he earned it back again. While Nakamura and Styles aren't the victims of our ire; WWE is. Which I feel is more indicative of the real problem.
WWE has seemed to have lost their trust with the diehard, internet fanbase.  While it's the biggest and most successful wrestling company in the world, the type of wrestling that the fans are into currently isn't being given by WWE.  It's being given by other companies like New Japan, Ring of Honor, and numerous Indy promotions. So, this is a two fold problem. WWE has never lied about the product they put out; the goal is, has, and always been entertainment.  And the fans, desperate for something new and different, are clamoring for a more in ring based product. And both are right. But, fans feel that WWE isn't listening to them, and WWE most likely has a negative connotation of internet fans.  Where's the reciprocity?
What can we do to fix it?  How is the trust rebuilt? Or, can it ever be like it was, or how it should be?  These are questions none of us know, because if we did, it would be happening. I do thing, however, that the true answer is in following your heart.  I love WWE and I'll never stop watching. I still enjoy the product. Many of you reading have moved to New Japan Pro Wrestling, and they have a tremendous product.  As I stated earlier, there's never been a better time for wrestling like it is now. So, find something to enjoy, as there's enough out there to like. Just remember, the trust that you might not have for the other side?  They might not have it for you either.
FIN