Stardom Cinderella Tournament 2018 Final Results & Review (4/30/2018)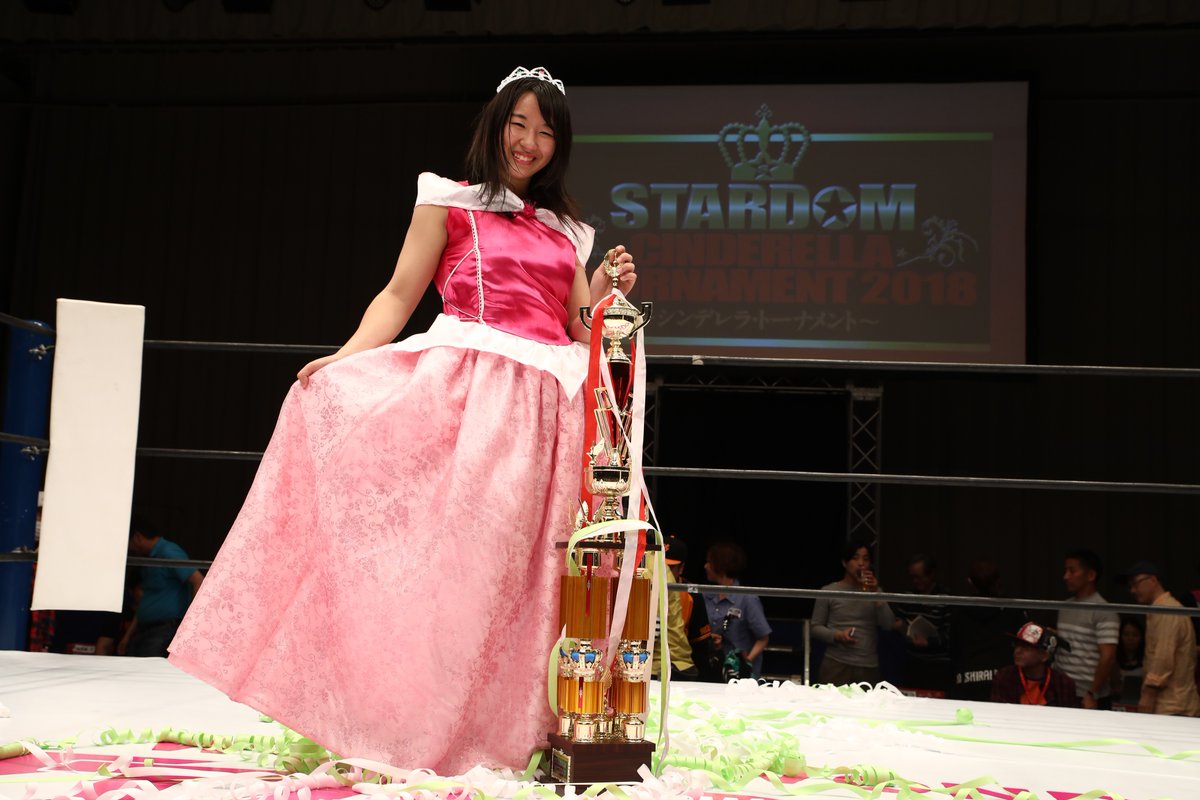 Welcome to the second part of the Stardom Cinderella Tournament! If you missed part one, Cinderella Part 1. Our final eight are Hazuki, Jungle Kyona, Io Shirai, Bea Preiestley, Brandi Rhodes, Mayu Iwatani, Saki Kashima, and Momo Watanabe. Who will get their wish granted?
Well, let's find out and…dive right in.
Cinderella Tournament 2018 Quarter Final Match
Hazuki vs. Bea Priestley
Review: In the first round we have Bea defeat Martina in…what I think was a match and then we had Hazuki defeat Hana Kimura in an actual good match and one of the best in the first round next to Mayu/Tam. Hazuki would come out in her Oedo Tai outfit for the first time and all of the members have their own entrance robes and masks now while even doing the dance despite it being kinda lazy, still amazing to see.
Okay…where the hell has this Bea been since I've been watching her? She was actually doing really well in his match and even connected a lot in more of her strikes, this is probably her best singles match in the company since I've been watching her, I want more of that and she would be fine. Hazuki still did great as always and had Oedo Tai try to help her out once Bea hit the Tree of Woe and would hit her Atomic Bombs Away to go for the pin, but Konami made the save to keep her alive. Bea would hit a stiff kick and a Curb Stomp to advance to the semi-finals where she will fight either Jungle or Momo.
▪️2018年4月30日(祝)
後楽園ホール
◆シンデレラ・トーナメント2018 2回戦
葉月 vs ビー・プレストリィ

大江戸隊のメンバーとして揃いのハッピを着て、すっかり一員となった葉月。スターダムの新最強外国人を目指すビーも負けられない。

会員登録は https://t.co/lZc15hAPwd pic.twitter.com/zZTpmW5NZb

— スターダム/STARDOM (@wwr_stardom) May 10, 2018
Recommended: Yes actually, her best match here so far in my opinion.
Cinderella Tournament 2018 Quarter Final Match
Saki Kashima vs. Mayu Iwatani
Review: In their first round matches, Saki Kashima defeated Candy Floss to advance and Mayu defeated Tam Nakano and now the two STARS members will fight each other to advance to the next round. Saki I think is slowly becoming one of my top favorites in the promotion and these singles matches have proved that to me, I definitely think she'll be a Wonder of Stardom Champion at least if she sticks around more, she's very good at what she's been doing so far and even added more submissions into the mix.
The match was very solid with back and forth action between both of these women and Mayu still proving why she's still one of the best there. Match was around five minutes and gave them plenty of time to showcase their work with Mayu hitting her Dragon Suplex hold to advance as she now fights either Brandi or Io.
Recommended: Another solid match, I like to think it's worth a watch.
Cinderella Tournament 2018 Quarter Final Match
Io Shirai vs. Brandi Rhodes
Review: In their first round matches, Io Shirai defeated Chardonnay while Brani Rhodes defeated Natsu Sumire to advance into the next round as Brandi is the only surviving Oedo Tai member left in the tournament, but she would need to defeat Io first if she wants to fight Mayu and advance.
This one is probably the weaker of the quarter final rounds and not saying that it's bad or anything, but just compared to the previous two, this one was just average. Brandi still has a lot of growing to do in the ring and that's perfectly fine too, and luckily Io was fighting her to help her out in the ring too and still gave a solid performance. Brandi would even hit a rather nice Cross Rhodes on Io that only Cody would be proud of, but wasn't enough to put her away. Io would hit her Moonsault Press and advance to the semi-finals where she will fight..Mayu Iwatani and let me tell you, I am already excited and I will explain as to why when I get to them shortly, but strap yourselves in.
スターダム動画配信本日の配信です。

▪️2018年4月30日(祝)
後楽園ホール
◆シンデレラ・トーナメント2018 2回戦
紫雷イオ vs ブランディ・ローデス

初来日で話題のブランディは、世界の逸女に対しクロス・ローズを決めた…だがイオは難なく2回戦突破!

会員登録は https://t.co/lZc15hSqUN pic.twitter.com/O7ZjSMT9V3

— スターダム/STARDOM (@wwr_stardom) May 11, 2018
Recommended: This is all up to you, but may as well if you watched the rest.
Cinderella Tournament 2018 Quarter Final Match
Momo Watanabe vs. Jungle Kyona
Review: In their first round matches, Momo Watanabe defeated Konami while Jungle Kyona defeated Kagek- I mean Kagetsu to advance to the next round with Queen's Quest fighting Team Jungle where the winner will advance to fight Bea Priestley in the next round.
This one might be my favorite in the quarter final with two of their underrated talent fighting each other in the ring and started exploding soon as the bell ring, playing out their strengths to get the best out of each other here and it just worked out nicely. Momo is just fantastic in the ring and it's one of those moments where you go how was she not been a champion yet? Both would be over the top rope and onto the apron as they would each try to knock each other off since ring outs are still a rule in the tournament, Jungle would try to hit her Powerbomb, but Momo would counter it with a cradle back to belly piledriver on Kyona, and then kicks her lifeless body to the ground for an over the top win. Momo will now fight fellow Queen's Quest member, Bea Priestley.
Recommended: Solid match, check it out
Cinderella Tournament 2018 Semi Final Match
Mayu Iwatani vs. Io Shirai
Review: Now let me tell you about these two right here, this is pretty much the female variant of Tanahashi/Okada when it comes to one ace holding the top spot while the other trying to take her down. Mayu and Io have been on my MOTY list for three years in a row now and they never disappointed me with their storytelling and match quality in the ring every time that they fight. I didn't expect them to have a one on one match here, but I will gladly take this one for right now.
For those that are subscribed to the service, I highly recommend that you check out their outings together because it is some of the best that this company will ever produce.
These women would deliver once again and I'm glad they did here with Io doing the smart thing and working on her injured elbow while Mayu selling the injury. One thing Mayu is really good at is how she sells in her matches and it just enhances the stories to her matches while not being over the top with it like how Dolph Ziggler is with his selling. Io controls the majority of the match by outsmarting her every time Mayu would try to do something and it even frustrates her each time they're in the ring, making it seem like she still can't get one over on her at a constant basis. Eventually Mayu would get her opening by working on her back when she did a Double Stomp to her back while they were both on the top turnbuckle and that was awesome. Mayu would keep working on her back for a little bit until Io made her little comeback on her and went for the Moonsault Press, but Mayu moved out of the way just in time so she could start delivering stiff kicks on her head, seeing the frustration on her face. However, once Mayu applies her Dragon Suplex Hold and delivers it, the bell would ring leading to a no contest due to time limit before Mayu could get the actual win.
Both women are eliminated as the match between Momo and Bea is now the final round. One thing that this match tells me is that they're definitely going to fight again and I feel like that we will get that at 5★Star GP which is later on this year and I'm very excited for it.
スターダム動画配信本日の配信です。

▪️2018年4月30日(祝)
後楽園ホール
◆シンデレラ・トーナメント2018 準決勝
紫雷イオ vs 岩谷麻優

スターダム屈指の黄金カードが準決勝で実現!知り尽くされた必殺技の応酬に10分間は短過ぎた…

会員登録は https://t.co/lZc15hAPwd pic.twitter.com/FTnKp1SPQA

— スターダム/STARDOM (@wwr_stardom) May 11, 2018
Recommended: Fantastic match by both of them and definitely my favorite in the whole tournament
.
Cinderella Tournament 2018 Final Match
Bea Priestley vs. Momo Watanabe
Review: Since both Mayu and Io are eliminated, these two will now meet off in the finals to see who will win the tournament with Queen's Quest pretty much taking the win to their team since they're both in the same unit.
The match starts off pretty quick with plenty of kicks between both of them, making them stiff enough to try and daze them long enough to get the early advantage over the other, but none of them would succeed that time. Momo would try to eliminate Bea by having another ring out like her previous match and even hit her Avalanche, but Bea found a way to avoid getting tossed out and the match would still continue. Around seven minutes, Momo would hit a Half Nelson Suplex and finally win the Cinderella Tournament. I'm glad they went with this route since Stardom needed to establish new stars in the company and this was the best way to do it without involving Mayu and Io in the final since both of them couldn't afford a loss at this time. Momo has definitely came a long way from Stardom and has improved tremendously and having her win here was the right call.
▪️2018年4月30日(祝)
後楽園ホール
◆シンデレラ・トーナメント2018 準決勝
渡辺桃 vs ビー・プレストリィ

事実上の優勝戦となった未来のエース対決。蹴り合い、斬れ味の良いビーの荒技を耐えた渡辺がとっておきのテクニックで快勝!シンデレラに輝いた!

会員登録は https://t.co/lZc15hAPwd pic.twitter.com/5lLZnVNSwo

— スターダム/STARDOM (@wwr_stardom) May 12, 2018
After the match, Stardom would present Momo with her Cinderella dress and it looks gorgeous by the way. She would cut a promo about how this was the biggest win in her career and rightfully so, but before she would fully celebrate, she has made her request to fight Io Shirai for the Wonder of Stardom Championship once more.
Io would come out and would tell her that while she's frustrated that she still didn't get to wear that dress, she still congratulates her for the victory and accepts her challenge for the match. Kagetsu would come out after the challenge was made and finds it funny that Io thinks she'll even make it to that match since Io's next defense is against Kagetsu at May 5th where Io will either break the record for title defenses with that belt or Kagetsu will get what she wanted and get Io out of the picture, and Kagetsu stated that she will challenge Momo instead once she takes the belt away from Io, so Momo will get her title match regardless of who wins this match. Queen's Quest will be in the ring for a photo shoot and they celebrate to close the show.
Recommended: It was a solid final and the right person won the whole thing as Momo has earned this big time.
Overall: The whole tournament was a success with some up's and down's sure, but definitely some matches that picked up as we had some great performances from certain people like Saki for one and very proud of her since it felt like she hasn't left. I'm looking forward to next year and the next show coming up with Io and Kagetsu.
Favorite Match: Mayu Iwatani vs. Io Shirai
Least Favorite Match: Io Shirai vs. Brandi Rhodes
Score: 7.5/10
(NOAH) WEEKLY NEWSLETTER VOL.44 ~ 21ST JULY 2019
The Global Junior League is wrapping up, and Marine Day is celebrated by all! Hisame gives the overview on the NOAH course of action!

The Global Junior League is wrapping up, and Marine Day is celebrated by all! Hisame gives the overview on the NOAH course of action!
CURRENT TOUR RECAP
NOAH started the long trek to the finals (and the GHC Heavyweight Tag match championship) at Korakuen Hall on 15th July on Japan's "Marine Day" National Holiday. By the 16th they had moved up to Japan's North to the Shin Yuri Twenty-One Hall, with the dreaded "Demon Staircase from Hell". 19th July in Morioka, 20th in Akita and the 21st in Aomori.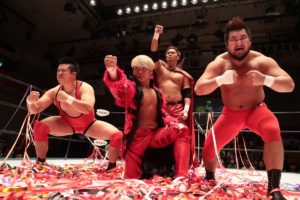 Kenoh debuted his new ring wear (its all red) and Kongoh got their first win over The Sugiura Army (who all came out wearing the "Company Dog T-shirts")
Kenoh has vowed to enter the N-1, win it, win the GHC Heavyweight at Sumo Hall, and then return to the provinces with the belt.
Naomichi Marufuji also debuted new ring wear. He said he changed it from red as red was Kongoh's colors, and he has gone with a black and metallic silver. Black and silver are LIDET'S colors, but Kenoh seems not to have picked up on that yet.
RATELS continued with their periodic squabble (which happens in leagues, and when one of them has a belt which another one challenges for) in a match that one fan termed "speed vs power" with Tadasuke taking on YO-HEY, and defeating him within ten minutes. Elsewhere for RATELS that evening, Daisuke Harada was bloodied by Yoshinari Ogawa, who in turn was bloodied by Harada when he threw him into a table. As YO-HEY said about the match (which he watched on the monitor), that Harada is known for bleeding, but for Ogawa, its very rare.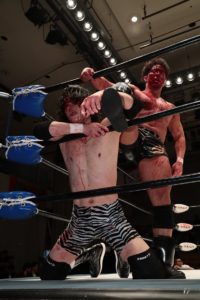 There was blood everywhere by the end of the match, all over the mat, the mats outside (in pools), and senior Referee Nishinaga's shirt was smeared with it. Yoshinari Ogawa won with a sneak roll up (see "Rat Boy" in dictionary), and Harada threw one of his famous tantrums and had to be pulled off Ogawa. Ogawa said afterwards that if you think what he did to Harada was bad then he was going to do worse to YO-HEY (who is "not on Harada's level"). YO-HEY gave a nonsensical confused and rambling promo (please DO NOT GET ME STARTED on it) about hitting Ogawa's nose on the right side. However, in the event of things, neither bled and it was YO-HEY who took the victory.
The bloodshed resolved nothing between Harada & Ogawa as on the 16th when Harada came out to second RATELS, friction once again rose between them, with a fight breaking out at the end of the match as Harada got into the ring to attack Ogawa.
In the main event at Korakuen when AXIZ clashed with the challengers to their GHC Heavyweight tag titles, Kaito Kiyomiya aimed a missile dropkick to Go Shiozaki's knee (despite promising that he wouldn't as he felt that a champion should be "emphatic" at times). Also in the match sparks flew between Chris Ridgeway and Naomichi Marufuji, who had a kick\chop war. After the match they both made the "single match" signal to each other, which is something that fans very much want to see.
After the match (and Go Shiozaki tapping out to Taniguchi), NOAH announced that Shiozaki would be missing time due to a shoulder dislocation. During this time, which was a time of worry for fans and Nakajima, Nakajima came out holding both the tag belts and to AXIZ theme music. Taniguchi made him tap out on the 16th to his modified camel clutch.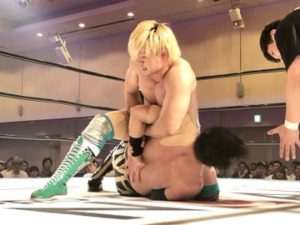 Kaito Kiyomiya has now turned 23 (17th July) and fans have started detecting a change of vibe him in, he seemingly has gone from the nice young (slightly naive) boy of 22, to more steely and less sympathetic person. This was seen when talking about Shiozaki's injury he said something to the effect of, "yeah, we all get injured, and while I sympathize, we are trying to have a title match here", and in the title match he attacked Shiozaki's damaged neck and shoulder. In Morioka, he was seen to have slight smirk on his lips (as opposed to his usual worried expression) when he held the belt up to Kenoh at the end of the main event, and Kenoh stalked off.
Go Shiozaki returned to action on the 20th July. He doesn't seem to have had any further problems, and he says he is fine, but fans think that he is probably a lot worse than he is making it out to be.
The afternoon at Korakuen belonged to the juniors with HAYATA vs Kotaro Suzuki putting on a stellar match, with HAYATA wearing Kotaro Suzuki down by letting him wear himself out. HAYATA wouldn't quit, he took everything that Suzuki threw at him, and likewise with Suzuki taking everything that HAYATA threw at him. The audience were firmly on the side of HAYATA (as opposed to NOAH's first born son), and just as Suzuki hit the Tiger Driver, the time ran out.
Hajime Ohara, it must be said, was not in a good way during the closing stages of Global Junior League as the problem with his neck and shoulder flared up again (it had plagued him during Global Tag League 2018 too), so while fans wanted to see him win, it was probably better that he didn't, especially as he is responsible pretty much for the planning of NOAH's Kawasaki event. During the match on the 16th, the referee was concerned and asked him if he was fit to continue.
The semi final night of Global Junior League 2019 and the GHC Heavyweight title match came on the 21st July 2019 in the Mutsu Grand Hotel in Aomori. It is a small venue, a hotel, which NOAH created a "big match" atmosphere at.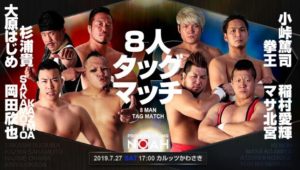 Takashi Sugiura & NOSAWA Rongai teamed up to take on Minoru Tanaka & Kinya Okada. After the match, which Sugiura naturally won, he said that he wanted Kinya Okada to enter The Sugiura Army. Kinya Okada did (and how could he refuse after being commanded by Takashi Sugiura), and he will have his first match as one of them on the 27th July at Kawasaki when they fight Kongoh. His joining The Sugiura Army is a good move as not only does it mean that he has the chance to be mentored by Takashi Sugiura, it also brings him into conflict with Yoshiki Inamura, who is in Kongoh, and calls him "my rival".
Global Junior League 2019 came down to HAYATA vs Tadasuke, following their wins over Hajime Ohara & Kotaro Suzuki (HAYATA, who was seconded by YO-HEY) and Tadasuke (who defeated Daisuke Harada earlier in the evening). When they met in the ring later, Tadasuke gave HAYATA the finger.
Daisuke Harada commented, "RATEL'S showdown in the final, I have nothing but jealousy."
AXIZ defended the GHC Heavyweight tag titles successfully against Kaito Kiyomiya & Shuhei Taniguchi, with Go Shiozaki getting the win with the lariat on Shuhei Taniguchi. They were challenged for the titles by The Return of The Dark Agents (Akitoshi Saito & Masao Inoue).
Title match will take place at NOAH's anniversary show on the 4th August.
EVENT RECAPS
Korakuen Hall, 15th July 2019 
Post match interviews
Shin Yuri Twenty-One Hall, 16th July 2019
Post match interviews
Morioka Gymnasium, 19th July 2019
Post match interviews
Serion Plaza, 20th July 2019
Post match interviews (AXIZ only)
Mutsu Grand Hotel, Aomori, 21st July 2019
NEWS
All Japan announced this week that the memorial for Atsushi Aoki will take place on the 11th August at Korakuen Hall. NOAH wrestlers have been announced to be participating in the event (although he was an All Japan wrestler, Aoki was NOAH  born) with Naomichi Marufuji, Takashi Sugiura, Shuhei Taniguchi and Hitoshi Kumano in attendance.

The main event will see Naomichi Marufuji team with Kento Miyahara and Yuma Aoyogi against Shuji Ishikawa, Shuhei Taniguchi and Suwama. Suwama has wanted a singles match with Marufuji since the Tokyo Sports Award in January, and says that he doesn't care about the other opponents, he wants Marufuji.
In the semi, Jun Akiyama will tag with Takashi Sugiura against Naoya Nomura and Hitoshu Kumano.
CURRENT CHAMPIONS
TOUR TIDBITS


~ NOAH have released a Sugiura Army "Company Dog" towel, which features both of Takashi Sugiura's dogs with his little toy poodle at one end and his beloved Shiba Inu at the other, both barking "Yip! Yip!"
~ HAYATA gave Kotaro Suzuki a slight black eye
~ Kenoh has said that HE will enter the N-1, and if LIDET don't let him, he will go ahead and do it anyway.
~ Yoshiki Inamura turned on Junta Miyawaki when Miyawaki came in to try and help him after the match in Morioka
~ Minoru Tanaka stole Rocky Kawamura's apples and ate one in the ring, and posted that the other one was for his lunch. When asked how they were by Rocky, he said they were tasty.
~ Kenoh's latest bout of paranoia is to claim that LIDET turned the microphone down on him during a promo.
~ Naomichi Marufuji scooped up the white and black feathers left in the ring from Kaito Kiyomiya and AXIZ'S jackets, and putting them in the palm of his hand, blew them into the crowd.
~ Mohammed Yone and Atsushi Kotoge did the Disco Fever vs Revolutionary Pose stand off. This hasn't happened for a while.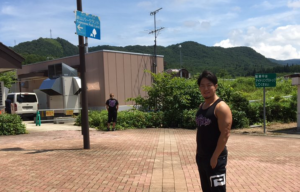 ~ RATELS went on a wander while in Akita, and came across a fenced off area because Bears were in the forest. YO-HEY joked that it was Hitoshi Kumano (who's surname means "Bear", and also incorporates bears into his persona\merchandise), doing a private autograph session. In one picture, in the background, HAYATA had his back to the camera while he stood by some bushes…
~ Minoru Suzuki vs Naomichi Marufuji will be their first match since the Suzuki Gun invasion of NOAH in summer 2016, although the match at TAKAYAMANIA 2 when this takes place, will not be a singles match.
~ Kaito Kiyomiya turned 23 on the 17th July
~ "The Tadasuke Women" were seen again in force at the Shin-Yuri Twenty One Hall. These middle aged to elderly women I believe are family and friends of Mohammed Yone, but they were given the name "The Tadasuke Women" after he played up to them last year. Minoru Tanaka, who sprained his ankle during the match, said that he had been distracted by them, hence the reason for his injury. Tadasuke behaved himself this year.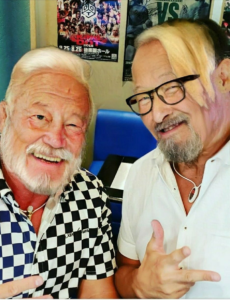 ~ Masao Inoue suffered the usual sneak videos from Naomichi Marufuji on NOAH's long bus journey (they have a twelve hour trip on the 22nd back to Tokyo), and then Marufuji bought out his new toy, "FaceApp" and made him into a woman (who looked a little like Betty Boop) and an old man. Marufuji also made himself into an old man, and then into woman. A photograph of himself and Takashi Sugiura as old grey men (looking like they where hosts of a daytime or direct to video art series) made Sugiura remark that they should challenge for the tag titles.
~ Referee Ben, who was kneeling at ringside, was knocked over by a dueling Chris Ridgeway and Tadasuke
BROADCASTS
NOAH's big Kawasaki Kultz event (and the GHC Heavyweight title, plus the final night of Global Junior League 2019) will air on the 2nd August on G+ at 8.30PM JST
NOAH will be broadcast live on Sunday 4th August at 11.30am JST on G+
LINKS
"Devil Form" Taniguchi – Onslaught on Shiozaki's Weak Point
PICTURE CREDITS: Noah.co.jp, Daisuke Harada, Naomichi Marufuji, Battle Sports
Andrew's G1 Climax 29 Ratings & Analysis: Night 4 B Block
Second night for the B Block! Jay White and Tetsuya Naito need to get on the scoreboard. Did it happen?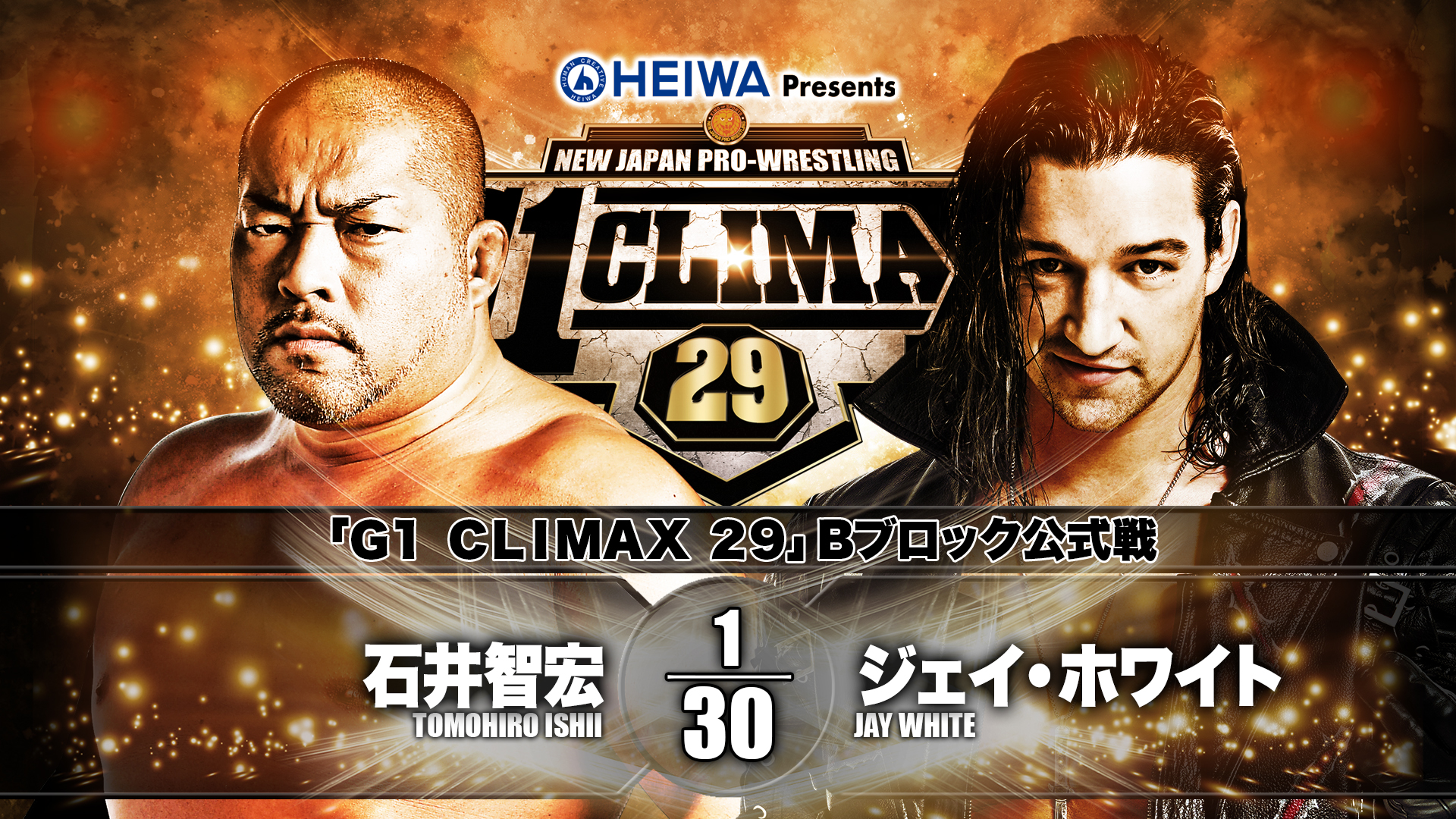 Second night for the B Block! Jay White and Tetsuya Naito need to get on the scoreboard. Did it happen?
Sapporo is a fun city for the main event, with a lot of general history.
Will Ospreay having a neck injury means he's not working the undercard tonight.
Those are probably the two points that matter the most. So I guess let's get to the show!
Ratings:
Jyushin Thunder Liger & Kota Ibushi vs Yota Tsuji & Shota Umino: Ibushi wins via Half Boston Crab @8:20 – **
Toa Henare, Ren Narita & Tomoaki Honma vs EVIL, BUSHI & SANADA: BUSHI wins via MX @7:20 – ** 1/2
Minoru Suzuki, Yoshinobu Kanemaru, Zack Sabre Jr & Lance Archer vs KENTA, Clark Connors, Karl Fredricks & Hiroshi Tanahashi: Kanemaru wins via Deep Impact @11:30 – ***
Chase Owens & Bad Luck Fale vs Kazuchika Okada & YOSHI-HASHI: Okada wins via Rainmaker @8:45 – ** 1/4
Block B: Shingo Takagi vs Toru Yano: Shingo wins via Pumping Bomber @6:15 – ** 3/4
Block B: Juice Robinson vs Hirooki Goto: Juice wins via Pulp Friction @12:20 – *** 1/2
Block B: Jon Moxley vs Jeff Cobb: Moxley wins via Draping Deathrider @8:55 – *** 1/4
Block B: Tomohiro Ishii vs Jay White: Ishii wins via Vertical Drop Brainbuster @19:15 – **** 1/2
Block B: Taichi vs Tetsuya Naito: Taichi wins via Last Ride @21:00 – *** 3/4
Analysis:
Liger and Ibushi take on Young Lions because Will Ospreay is nursing an injury. So this was unexpected, but who's gonna argue with some Liger? Bare bones basic Young Lion match, but Liger and Ibushi kept the interest high.
EVIL and SANADA are facing one another on Thursday, but they were on the same team tonight. Part of this story was BUSHI remaining to look strong since the end of the BOSJ, while EVIL and SANADA had the tension building up. Instead of the LIJ fist bump after the win, EVIL tries to cheap shot SANADA, SANADA counters and then they have a stand off.
This Suzuki-Gun match was beautiful. It was just a gang fight, with each member of Suzuki-Gun taking someone off and Lance Archer even joined commentary at some point. House show quality match was a good way to describe this, but it was still fun and got across the point for future matches and just great character work.
It might be a little mean to say, but YOSHI-HASHI is in this match, so who cares? Chase Owens does prove why he's the glue that holds Bullet Club together. He's a great tag team player and this year he's looked a lot better than he has in the past. So we've got an alright match, Okada wasn't gonna eat a pin, but I guess they wanted to protect YOSHI a little, so Chase ate the Rainmaker.
Shingo proved he watched the Naito match by trying to get Yano to take off his shirt. Anyone who saw Shingo in Dragon Gate knows he's got some comedy chops being a former…wait…the current, Open the Owarai Gate champion (Owarai means comedy). Shirt, wrist tape and turnbuckle shenanigans ensue, but the right person won. Shingo gets on the board and doesn't suffer the shame of getting bamboozled.
This tends to be an issue with Goto and Juice a lot of the time. By this, I mean boredom. Goto and Juice have bumped heads a few times and they both try very hard, but they aren't exciting together. Juice being a quirky but not overly animated just means you get a snarky line and one move that may be entertaining (usually Left Hand of God) and then the action stalls. So both did good work, it was a tough match, but it wasn't really anything crazy. Solid enough match though.
Moxley focused on Cobb's left shoulder, so the story was to take out Cobb's power and try to figure out how to end the match. We saw another solid match, and Moxley gets across more of his character. He does borderline heel tactics and then apologizes to the referee. So this brawling, unstable babyface is an old school gimmick in Japan, but not often seen in New Japan. It's nice to watch, and Moxley taking advantage of Cobb's positioning to hit the Draping Dirty Deathriding Paradigm DDT.
Jay White starts off against two of the heavier hitters from Chaos, his former stable. After taking Goto lightly, Ishii comes into this match after a big win over Jeff Cobb. White came into the match less relaxed, but still playing up his smarmy character. Ishii laid into Jay the whole match, where Jay tried to outsmart the Stone Pitbull, but Jay isn't as clever as he thinks he is. A great match with well placed false finishes and a lot of tension. Fantastic back and forth, plus Ishii picking up the win is something special.
There were so many story threads going on here. Sapporo is the place of their Intercontinental Championship match earlier in the year where Taichi had Takashi Iizuka interfere. Iizuka left the Iron Fingers for Taichi, but he hasn't used them in the 6 months he's had them. This was a great struggle of wrestlers who were once rivals, but Naito has since eclipsed Taichi. Hell, Taichi even hit a Ganso Bomb, shades of his mentor Toshiaki Kawada. References, call backs and a solid match from a story telling perspective.  Work rate might not have been fantastic, but that's the beauty of professional wrestling being more than the moves in the ring. Plus part of the fun of Taichi matches is watch Miho Abe react, since she's such a lovely devoted valet.
Overall Score: 6.75/10
A lot of this show was driven by the stories and the historical threads between participants, opposed to the in-ring action. I appreciate the mixture of angles that New Japan shows attack with. Many newer fans just know NJPW for great hard hitting work rate, but the beauty of puroresu in general is how deep the stories go.
Sometimes the wrestlers reference things from their mentors/trainers, sometimes it's just a story line from the isolationist politics that each puro company has dabbled with or sometimes it goes all the way back to when someone was a Young Boy in a dojo. The layers are there for those who wish to know, so part of the fun in nights like this, are what personally floats your boat.
The show was the weakest so far, but there were plenty of satisfying moments outside of ring work.
B Block Standings:
Tomohiro Ishii – 2-0 (4 Points)
Jon Moxley – 2-0 (4 Points)
Juice Robinson – 2-0 (4 Points)
Toru Yano – 1-1 (2 Points)
Hirooki Goto – 1-1 (2 Points)
Shingo Takagi – 1-1 (2 Points)
Taichi – 1-1 (2 Points)
Jay White – 0-2 (0 Points)
Jeff Cobb – 0-2 (0 Points)
Tetsuya Naito – 0-2 (0 Points)