Stardom Cinderella Tournament 2018 Final Results & Review (4/30/2018)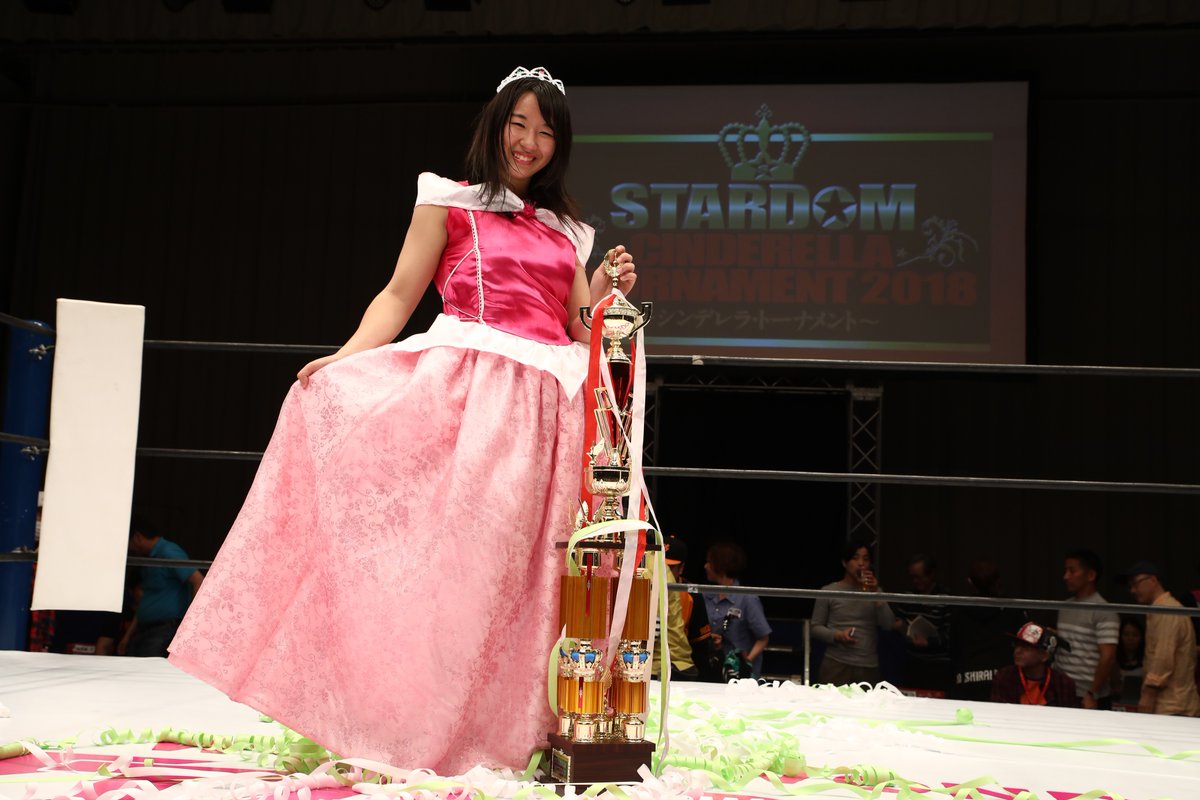 Welcome to the second part of the Stardom Cinderella Tournament! If you missed part one, Cinderella Part 1. Our final eight are Hazuki, Jungle Kyona, Io Shirai, Bea Preiestley, Brandi Rhodes, Mayu Iwatani, Saki Kashima, and Momo Watanabe. Who will get their wish granted?
Well, let's find out and…dive right in.
Cinderella Tournament 2018 Quarter Final Match
Hazuki vs. Bea Priestley
Review: In the first round we have Bea defeat Martina in…what I think was a match and then we had Hazuki defeat Hana Kimura in an actual good match and one of the best in the first round next to Mayu/Tam. Hazuki would come out in her Oedo Tai outfit for the first time and all of the members have their own entrance robes and masks now while even doing the dance despite it being kinda lazy, still amazing to see.
Okay…where the hell has this Bea been since I've been watching her? She was actually doing really well in his match and even connected a lot in more of her strikes, this is probably her best singles match in the company since I've been watching her, I want more of that and she would be fine. Hazuki still did great as always and had Oedo Tai try to help her out once Bea hit the Tree of Woe and would hit her Atomic Bombs Away to go for the pin, but Konami made the save to keep her alive. Bea would hit a stiff kick and a Curb Stomp to advance to the semi-finals where she will fight either Jungle or Momo.
▪️2018年4月30日(祝)
後楽園ホール
◆シンデレラ・トーナメント2018 2回戦
葉月 vs ビー・プレストリィ

大江戸隊のメンバーとして揃いのハッピを着て、すっかり一員となった葉月。スターダムの新最強外国人を目指すビーも負けられない。

会員登録は https://t.co/lZc15hAPwd pic.twitter.com/zZTpmW5NZb

— スターダム/STARDOM (@wwr_stardom) May 10, 2018
Recommended: Yes actually, her best match here so far in my opinion.
Cinderella Tournament 2018 Quarter Final Match
Saki Kashima vs. Mayu Iwatani
Review: In their first round matches, Saki Kashima defeated Candy Floss to advance and Mayu defeated Tam Nakano and now the two STARS members will fight each other to advance to the next round. Saki I think is slowly becoming one of my top favorites in the promotion and these singles matches have proved that to me, I definitely think she'll be a Wonder of Stardom Champion at least if she sticks around more, she's very good at what she's been doing so far and even added more submissions into the mix.
The match was very solid with back and forth action between both of these women and Mayu still proving why she's still one of the best there. Match was around five minutes and gave them plenty of time to showcase their work with Mayu hitting her Dragon Suplex hold to advance as she now fights either Brandi or Io.
Recommended: Another solid match, I like to think it's worth a watch.
Cinderella Tournament 2018 Quarter Final Match
Io Shirai vs. Brandi Rhodes
Review: In their first round matches, Io Shirai defeated Chardonnay while Brani Rhodes defeated Natsu Sumire to advance into the next round as Brandi is the only surviving Oedo Tai member left in the tournament, but she would need to defeat Io first if she wants to fight Mayu and advance.
This one is probably the weaker of the quarter final rounds and not saying that it's bad or anything, but just compared to the previous two, this one was just average. Brandi still has a lot of growing to do in the ring and that's perfectly fine too, and luckily Io was fighting her to help her out in the ring too and still gave a solid performance. Brandi would even hit a rather nice Cross Rhodes on Io that only Cody would be proud of, but wasn't enough to put her away. Io would hit her Moonsault Press and advance to the semi-finals where she will fight..Mayu Iwatani and let me tell you, I am already excited and I will explain as to why when I get to them shortly, but strap yourselves in.
スターダム動画配信本日の配信です。

▪️2018年4月30日(祝)
後楽園ホール
◆シンデレラ・トーナメント2018 2回戦
紫雷イオ vs ブランディ・ローデス

初来日で話題のブランディは、世界の逸女に対しクロス・ローズを決めた…だがイオは難なく2回戦突破!

会員登録は https://t.co/lZc15hSqUN pic.twitter.com/O7ZjSMT9V3

— スターダム/STARDOM (@wwr_stardom) May 11, 2018
Recommended: This is all up to you, but may as well if you watched the rest.
Cinderella Tournament 2018 Quarter Final Match
Momo Watanabe vs. Jungle Kyona
Review: In their first round matches, Momo Watanabe defeated Konami while Jungle Kyona defeated Kagek- I mean Kagetsu to advance to the next round with Queen's Quest fighting Team Jungle where the winner will advance to fight Bea Priestley in the next round.
This one might be my favorite in the quarter final with two of their underrated talent fighting each other in the ring and started exploding soon as the bell ring, playing out their strengths to get the best out of each other here and it just worked out nicely. Momo is just fantastic in the ring and it's one of those moments where you go how was she not been a champion yet? Both would be over the top rope and onto the apron as they would each try to knock each other off since ring outs are still a rule in the tournament, Jungle would try to hit her Powerbomb, but Momo would counter it with a cradle back to belly piledriver on Kyona, and then kicks her lifeless body to the ground for an over the top win. Momo will now fight fellow Queen's Quest member, Bea Priestley.
Recommended: Solid match, check it out
Cinderella Tournament 2018 Semi Final Match
Mayu Iwatani vs. Io Shirai
Review: Now let me tell you about these two right here, this is pretty much the female variant of Tanahashi/Okada when it comes to one ace holding the top spot while the other trying to take her down. Mayu and Io have been on my MOTY list for three years in a row now and they never disappointed me with their storytelling and match quality in the ring every time that they fight. I didn't expect them to have a one on one match here, but I will gladly take this one for right now.
For those that are subscribed to the service, I highly recommend that you check out their outings together because it is some of the best that this company will ever produce.
These women would deliver once again and I'm glad they did here with Io doing the smart thing and working on her injured elbow while Mayu selling the injury. One thing Mayu is really good at is how she sells in her matches and it just enhances the stories to her matches while not being over the top with it like how Dolph Ziggler is with his selling. Io controls the majority of the match by outsmarting her every time Mayu would try to do something and it even frustrates her each time they're in the ring, making it seem like she still can't get one over on her at a constant basis. Eventually Mayu would get her opening by working on her back when she did a Double Stomp to her back while they were both on the top turnbuckle and that was awesome. Mayu would keep working on her back for a little bit until Io made her little comeback on her and went for the Moonsault Press, but Mayu moved out of the way just in time so she could start delivering stiff kicks on her head, seeing the frustration on her face. However, once Mayu applies her Dragon Suplex Hold and delivers it, the bell would ring leading to a no contest due to time limit before Mayu could get the actual win.
Both women are eliminated as the match between Momo and Bea is now the final round. One thing that this match tells me is that they're definitely going to fight again and I feel like that we will get that at 5★Star GP which is later on this year and I'm very excited for it.
スターダム動画配信本日の配信です。

▪️2018年4月30日(祝)
後楽園ホール
◆シンデレラ・トーナメント2018 準決勝
紫雷イオ vs 岩谷麻優

スターダム屈指の黄金カードが準決勝で実現!知り尽くされた必殺技の応酬に10分間は短過ぎた…

会員登録は https://t.co/lZc15hAPwd pic.twitter.com/FTnKp1SPQA

— スターダム/STARDOM (@wwr_stardom) May 11, 2018
Recommended: Fantastic match by both of them and definitely my favorite in the whole tournament
.
Cinderella Tournament 2018 Final Match
Bea Priestley vs. Momo Watanabe
Review: Since both Mayu and Io are eliminated, these two will now meet off in the finals to see who will win the tournament with Queen's Quest pretty much taking the win to their team since they're both in the same unit.
The match starts off pretty quick with plenty of kicks between both of them, making them stiff enough to try and daze them long enough to get the early advantage over the other, but none of them would succeed that time. Momo would try to eliminate Bea by having another ring out like her previous match and even hit her Avalanche, but Bea found a way to avoid getting tossed out and the match would still continue. Around seven minutes, Momo would hit a Half Nelson Suplex and finally win the Cinderella Tournament. I'm glad they went with this route since Stardom needed to establish new stars in the company and this was the best way to do it without involving Mayu and Io in the final since both of them couldn't afford a loss at this time. Momo has definitely came a long way from Stardom and has improved tremendously and having her win here was the right call.
▪️2018年4月30日(祝)
後楽園ホール
◆シンデレラ・トーナメント2018 準決勝
渡辺桃 vs ビー・プレストリィ

事実上の優勝戦となった未来のエース対決。蹴り合い、斬れ味の良いビーの荒技を耐えた渡辺がとっておきのテクニックで快勝!シンデレラに輝いた!

会員登録は https://t.co/lZc15hAPwd pic.twitter.com/5lLZnVNSwo

— スターダム/STARDOM (@wwr_stardom) May 12, 2018
After the match, Stardom would present Momo with her Cinderella dress and it looks gorgeous by the way. She would cut a promo about how this was the biggest win in her career and rightfully so, but before she would fully celebrate, she has made her request to fight Io Shirai for the Wonder of Stardom Championship once more.
Io would come out and would tell her that while she's frustrated that she still didn't get to wear that dress, she still congratulates her for the victory and accepts her challenge for the match. Kagetsu would come out after the challenge was made and finds it funny that Io thinks she'll even make it to that match since Io's next defense is against Kagetsu at May 5th where Io will either break the record for title defenses with that belt or Kagetsu will get what she wanted and get Io out of the picture, and Kagetsu stated that she will challenge Momo instead once she takes the belt away from Io, so Momo will get her title match regardless of who wins this match. Queen's Quest will be in the ring for a photo shoot and they celebrate to close the show.
Recommended: It was a solid final and the right person won the whole thing as Momo has earned this big time.
Overall: The whole tournament was a success with some up's and down's sure, but definitely some matches that picked up as we had some great performances from certain people like Saki for one and very proud of her since it felt like she hasn't left. I'm looking forward to next year and the next show coming up with Io and Kagetsu.
Favorite Match: Mayu Iwatani vs. Io Shirai
Least Favorite Match: Io Shirai vs. Brandi Rhodes
Score: 7.5/10
---
Always Use Your Head and visit the official Pro Wrestling Tees store for The Chairshot All t-shirt proceeds help support the advancement of your favorite hard-hitting wrestling website, The Chairshot!

---
Stardom's 5 Star Grand Prix Preview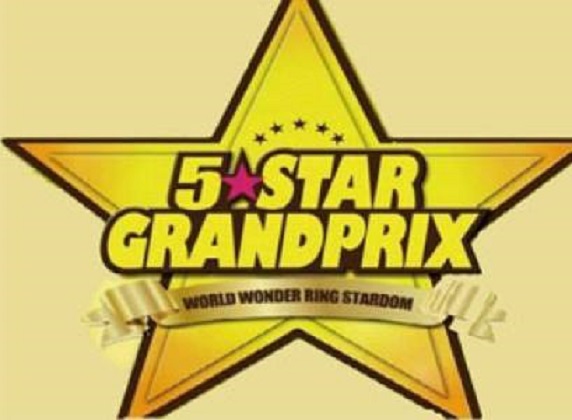 You liked how I and Andrew covered the Champion Carnival, King of Gate, and the G1 Climax? Well, guess what? We're teaming up once again and this time we'll be covering Stardom's tournament, the Five Star Grand Prix!
This year marks the seventh annual tournament and just like the other ones we cover, the winner will be getting the World Championship match against the current champion, Kagetsu. In 2012, Yuzuki Aikawa defeated Kyoko Kimura to win the first Grand Prix and other people have won it such as Nanae Takahashi, Io Shirai, Kairi Sane (Hojo), Yoko Bito, and Toni Storm who won it last year and won the title due to Mayu being injured during the match.
The rules are pretty much similar to the other tournaments, but we'll still go down the list for those that don't know.
 There is a fifteen-minute time limit
 A win equals two points
 A loss gives you no points
 A draw will give both competitors one point
Instead of just calling them A and B Block, they just call the blocks Red Star and Blue Star just to fit with the theme of the promotion with stars. Andrew will be covering the Red Star and I'll be covering the Blue Star. Down below are the list of participants and we'll be picking our top three winners from our respective blocks.
Red Star: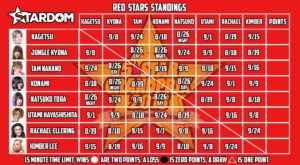 Kagetsu (World of Stardom Champion)
Jungle Kyona (Artist (Trios) of Stardom Champion)
Tam Nakano
Konami
Natsuko Tora (Artist (Trios) of Stardom Champion)
Utami Hayashishita
Rachel Ellering
Kimber Lee
Blue Star: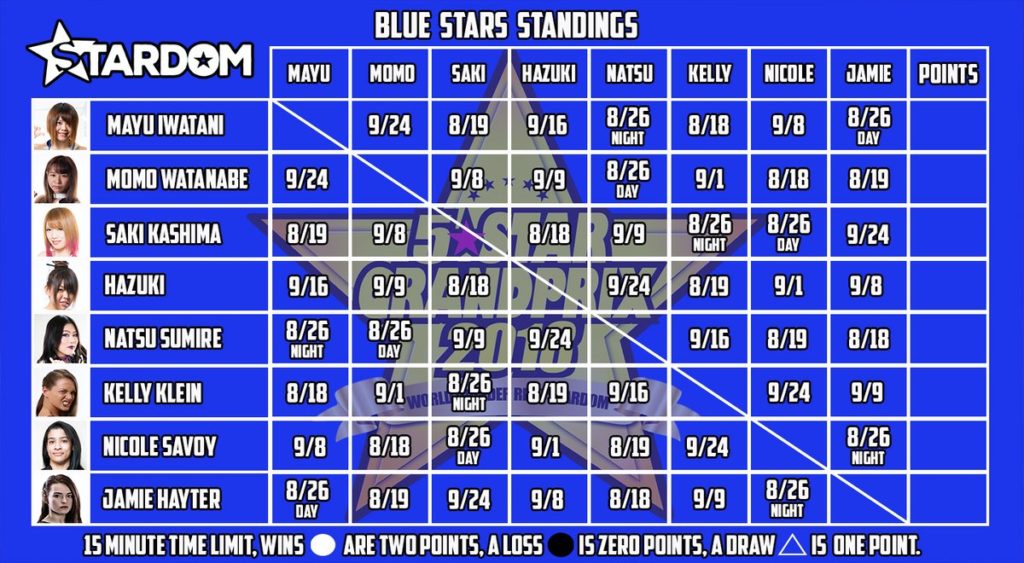 Mayu Iwatani (Goddess of Stardom Champion)
Momo Watanabe (Wonder of Stardom Champion)
Saki Kashima (Goddess of Stardom Champion)
Hazuki
Natsu Sumire
Kelly Klein
Nicole Savoy (SHIMMER Champion)
Jamie Hayter (Rev Pro Women's Champion)
Blue Star Predictions:
3. Kelly Klein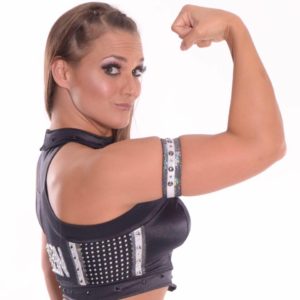 – It's no secret that the Stardom President, Rossy Ogawa is a big fan of bringing Gaijins in his promotion and likes to push them quite a lot and unfortunately, we lost quite a few good ones like Toni Storm and Deonna Purrazzo, and now it just felt like the company was given the scraps for the regular tours. However, we got quite the solid line up of talented female wrestlers from around the world and Kelly Klein is no stranger to the company as she won their Goddesses of Stardom Tag League with Bea Priestly last year, so this could be a good time to elevate her to that next step. It may be unlikely, but again, Rossy loves to push the Gaijins in Stardom and feels like Kelly could fit the bill unless they want one of the champions from the other companies like Nicole Savoy and Jamie Hayter to get the win, but feels like that might be predictable.
2. Hazuki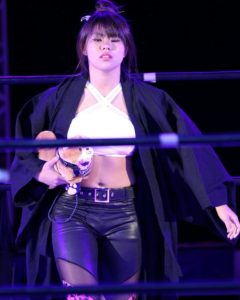 – This one seems very unlikely, but I feel like she could be a dark horse of the Blue Star Block if they really wanna go with the Oedo Tai vs. Oedo Tai route for her against Kagetsu. Hazuki has made some dramatic changes ever since she got drafted from Queen's Quest to Oedo Tai and just changed her look, her style, and just her outlook while showing great character progression. She recently came off a big loss from Momo Watanabe for the Wonder of Stardom Championship, but she has a second chance at her due to them being on the same block and hopes to beat her there this time. If she does somehow win the tournament, I wonder how Kagetsu will take it, will she be accepting of it like how Naito is and fight to strengthen their bonds or will Hazuki betray the faction that took her in and treated her like one of their own.
1. Mayu Iwatani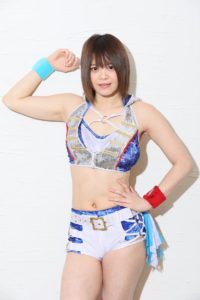 – This one is more of favoritism than anything since it does feel like the more obvious choices to win the tournaments have actually lost them near the end. She recently fought Kagetsu for the World of Stardom Championship on August 12th and she once again failed to capture the red belt, so they could either do this as a redemption story for her to win it this time around or to help build someone else up to delay her chase for the title. Both seem very well likely scenario's as she has been building herself up since her return almost a year ago to reclaim the belt she never fully lost and this might be the time to cash in on it.
Red Star Predictions (Andrew coming in with the Edit Powers):
3. Tam Nakano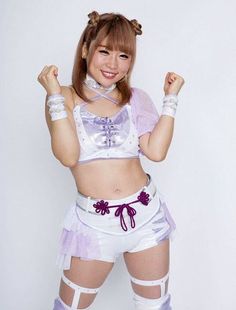 – This one is purely personal preference. She's only been professionally wrestling for 2 years, but her character work makes her cute and she's been gradually getting better. She seems to be developing some chemistry with Starlight Kid and a few others, as well as picking up a few wins since he Exploding Barbed Wire Death Match. She even won the mini Dream Come True tournament that Stardom and RISE held. She's a long shot definitely, but I'm curious to see how hard they push her.
2. Kagetsu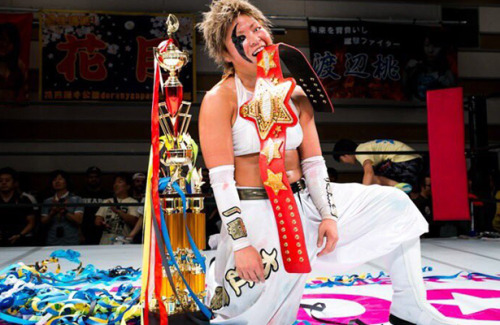 – It's hard to think the champion will have a bad showing. Now I'm aware this tournament doesn't have the same history as the G1 or Champion Carnival, but I'm still not sold on a champion winning the tournament. There's always a chance, and Kagetsu has been being billed well since Io Shirai left, even avenging her Tag Title loss by successfully defending against Mayu Iwatani. Plus she's the Prime Minister, so most champions can't say that…maybe that will make her special.
1.  Konami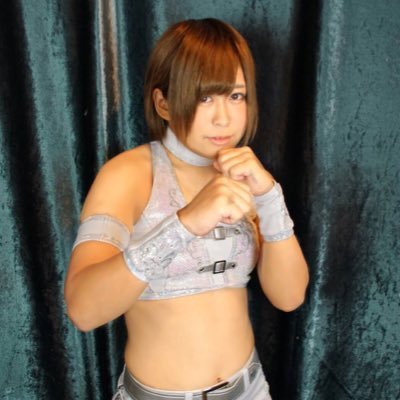 – Up, up, down, down, left, right – wait…what? Konami code makes all things easier, so she's gotta be good right? Well I mean, she is a technical wrestler and part of Queen's Quest. So being that she's up and coming, as well as having a connection to Io, that could be what's necessary to give her the rub. Another notable point for Konami is her being trained by Kana (WWE Asuka). So since Stardom needs to reestablish their main event, Konami could be a good catalyst.
As you know, my block record has been pretty bad since even though I got most of the actual winners right in these, they would come from Andrew's Blocks, making me 0-3 on my blocks winning the whole thing, but I kinda feel lucky on this one…hopefully. Anyway, here are both me and Andrew's predictions for block winners and final winner.
To be totally fair, Mathew is the King of Joshi around here, so if my block wins, that's just plain dumb luck. – Andrew
Mathew's pick: Mayu Iwatani vs. Konami Winner: Mayu Iwatani
Andrew's pick: Kelly Klein vs Konami  Winner: Konami
If you wanna check out the tournament, it starts on August 18th and it ends September 24th and subscribe to Stardom at http://www.stardom-world.com/ and subscription is really cheap since it's only 6.50 a month and even has English subtitles for their promos so it would be easier for you to follow.
Unfortunately, the bad news is that it's not like the other streaming services where they would upload the whole show once it's over and likes to do it in loops meaning the full show wouldn't fully be loaded between a week or two after it happened. But we do promise that once we have enough content to write our articles in parts, we'll have it to you ASAP. I hope you do check us out on this one and we feel like it's a good idea to showcase the women for this tournament due to them deserving more exposure, especially around the time of the Mae Young Classic and WWE Evolution happening right around the corner from it.
Hope you all enjoy it as we do this next journey together!
---
Always Use Your Head and visit the official Pro Wrestling Tees store for The Chairshot All t-shirt proceeds help support the advancement of your favorite hard-hitting wrestling website, The Chairshot!

---
AJPW Summer Action Series Results & Review (7/29/2018)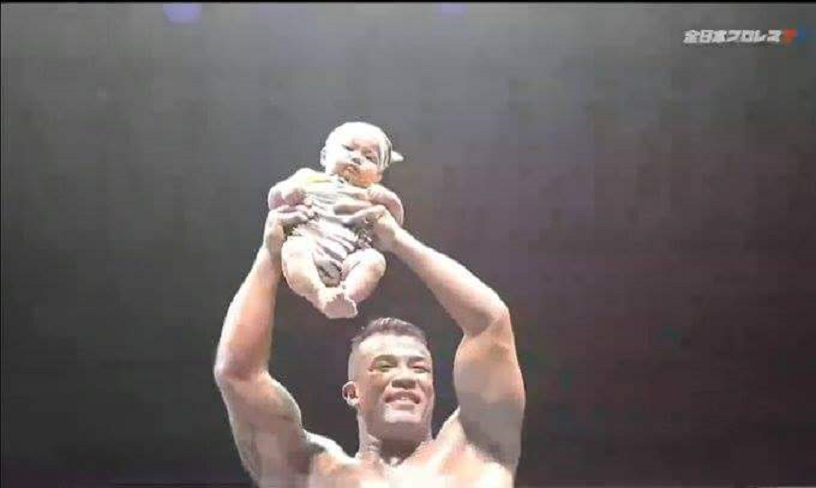 Now that the G1 Climax is over and done with, time to return to the promotions that I cover as we return to All Japan Pro Wrestling.
I believe the last time I covered them was when Kento Miyahara retained the title against Dylan James and Zeus would become the next challenger for the Triple Crown Championship, and luckily for you that this is the show we'll be looking at today. I just realized that I still don't have a rating system yet and after talking to Andrew, figured out which one I could do that doesn't involve stars or those snowflakes. I am going to be ranking them by regular wrestling podcast people or whoever Conrad Thompson partnered with also, and each person will be a 'star', here is who will be who.
5 Stars: Jim Cornette
4 Stars: Bruce Prichard
3 Stars: Eric Bischoff
2 Stars: Tony Schiavone
1 Star: Vince Russo
0 Stars: Dave Meltzer
Anyway, why don't we just…dive right in?
Eight Man Tag Team Match
Atsushi Maruyama, Shoichi Uchida, Takao Omori & TORU vs. Carbell Ito, Hiroaki Moriya, Ultimo Dragon & Yoshitatsu
Review: Our opening bout appears to be a regular old exhibition tag match with some people thrown together as we got Yoshitatsu and Ultimo Dragon in a team and we got Shoichi Uchida from DOVE making an appearance here tonight as well. I also loved how Carbell Ito was the only one that came out to music and it also appears that the wrestlers are giving out bags of snacks to the audience, that's nice of them actually.
Nothing really special to write about it since it was as basic as you can get with this match and what they do with all eight of these men getting an equal amount of time with the ten minutes or so they did together. Think Atsushi had more time out of the rest and had some pretty decent offense in with Yoshitatsu and hit a pretty neat Full Nelson Slam onto him. Yoshitatsu picked up the win by hitting the Codebreaker of Jericho on Atsushi…I still can't believe he still calls it that. God damnit, Yoshi…
Rating: Tony Schiavone
Eight Man Tag Team Match
Atsushi Aoki, Hikaru Sato, Masaaki Mochizuki & Shun Skywalker vs. Black Tiger, Koji Iwamoto, TAJIRI & Yohei Nakajima
Review: Up next, we got another eight-man tag match and this is involving people who are involved in the Junior Tag Battle of Glory tournament and we got some nice surprises here like Masaaki Mochizuki and Shun Skywalker from Dragon Gate being apart of this match to hype up the league due to them being apart of it. I've been very critical of the junior division in All Japan since it's the weakest division in the company right now and I'm hoping it could shed some light on potential contenders for Atsushi Aoki since he has no challengers right now for his title.
Oh, snap, Shun rocking some new gear and not wearing that full body suit anymore, good because that was pretty ugly on him and like this new look much better. I don't know what's going on with Black Tiger abusing Yohei Nakajima like this since that's his own partner, but I'm just gonna roll with it. Shun and Masaaki were the saving graces for this match just by how good they are and especially Shun from how far he's come and felt like they would fit right in if Dragon Gate didn't need them still. Still didn't expect Massaki to be considered junior since he was Dragon Gate's top champion a couple months ago and then again the majority of the Dragon Gate roster is pretty small like a junior heavyweight, so it makes sense. I wouldn't mind some of Dragon Gate going over to help out the junior division since a lot of them fit that weight class and are incredibly athletic as well, can definitely shed some new life to that division.
Anyway, the match was slightly average except for Masaaki and Shun along with Tiger abusing his own partner. Koji would apply the Katagatame on Atsushi to make the champion tap out as Koji won it for his team. After the match, Koji Iwamoto claimed that he was going to win the Junior Tag League and once he does, he wants a match against him for the Junior Championship.
Rating: Eric Bischoff
Singles Match
Gianni Valletta vs. Joe Doering
Review: We got our first singles match for the night as former Triple Crown Champion, Joe Doering is set to take on Gianni Valletta who has been starting his tour here early on in July when TAJIRI brought him over to go for the Tag Team Championships which they also lost. I can't wait to see how he does against the former champ. Can Gianni get a big win over Doering or will Joe squash him like the rest of his opponents?
I really felt like Joe wasn't full trying in this match and it just came off incredibly slow and stale which threw the match off quite a bit in my opinion. Gianni is someone that is pretty average as well, but he did show some promise since he has a pretty good look and had signs of growth he could do since he's only been wrestling for a few years. I wouldn't say it was a complete squash match, but still had an average amount of time together in the ring with seven minutes as Gianni would try to use his heel tactics to grab his chain to try and hit Joe with it, but he was caught with a Diving Body Press and a Revolution Bomb to get another easy win for Joe Doering.
Rating: Tony Schiavone and a half.
Six Man Tag Team Match
Billy Ken Kid, Shuji Ishikawa & Suwama vs. Dylan James, Jake Lee & Keiichi Sato
Review: We got our current World Tag Team Champions, The Violent Giants teaming up with Billy Ken Kid as they take on former Tag Champion, Dylan James and his partners, Keiichi Sato and future star, Jake Lee. Dylan looking to get a victory over the Violent Giants so he could get a rematch for those titles and maybe with a new partnership with one of his fellow teammates if they do somehow win tonight.
Dylan looks to be slowly finding his stride after his match with Kento Miyahara a couple of months ago and it's a good thing to see this progression of his ability and if he keeps it up, he could be much better in the ring. This tag match was very solid with Violent Giants proving why they're one of the best tag teams in Japan right now and the growth of Jake Lee, who I still considered the future of AJPW next to Kento Miyahara. Plenty of high impact between both of these teams with Shuji showing why he's one of the best there, plus the interactions with him and Dylan weren't too shabby either while Jake was mostly focused on Suwama and it feels like it could be a big seller if done right since you have Suwama who was the former ace of the company and a guy on the rise, so it would be a neat passing of the torch if they wanted to go that route.
Near the ending of the match, Shuji and Dylan were in the ring as Shuji hits Dylan with the Dragon Suplex and then a Running Knee while Suwama held Jake down with a Sleeper Hold to prevent him from interfering as Shuji hits the Fire Thunder to win the match. After the match, Yoshitatsu would come out to make a challenge to both Shuji and Suwama for the titles and said his partner would be Kento Miyahara again. For those that don't know, Kento's goal was to be Triple Crown Champion and Tag Team Champion at the same time to make it so he would be the first to hold five titles since the tag team is considered two per belt but he would always hold onto one or the other, not fulfilling his goal and wants to accomplish it soon.
Rating: Eric Bischoff
All Asia Heavyweight Title Match
Ryouji Sai (c) vs. The Bodyguard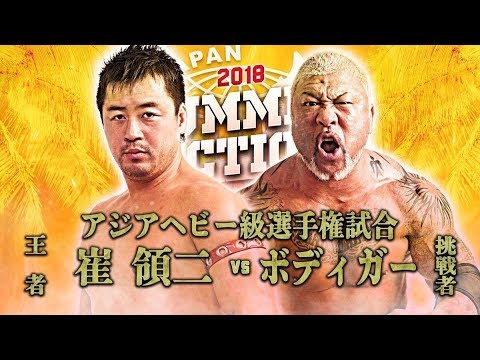 Review: We get an All Asia Heavyweight Championship match with Ryouji Sai defending the title against The Bodyguard. The All Asia Heavyweight Championship has been inactive since 1995 and it came back in January of this year where Ryouji would defeat Bodyguard in the finals to win the title. In the Champion Carnival, Bodyguard scored a victory over him to set up this title match here due to them having a win over each other and would be time to settle it here. Can Bodyguard win the title or will Ryouji retain it once again?
What could I say about this match? Well, let's start with the beginning and it started off really strong since it was mostly brute force with each other to try and beat each other down and it worked for Bodyguard when he kicked Ryouji to the outside and started mauling him down to the point where Ryouji looked like he was kinda knocked out for a bit there. This was where they started to tell more of their story with Ryouji being unable to get up most of the time, even when Bodyguard went for an Irish Whip and Sai just collapsed just from the beating he took.
After that the match starts falling apart, soon as Bodyguard would hit his first Spear the match would begin to get really slow and sloppy and it's a shame too because I was actually really enjoying it. The Bodyguard would start to hit his power moves over to try and get the victory like his Elbow Drop off the top rope but Ryouji would start kicking out of it all. The Bodyguard went up to the top rope again only for Ryouji to get back up quick enough to hit a superplex for a two count. The Bodyguard would start to hit a second sloppy Spear for another two count and goes for his Bounce move and he completely messed that up big time to win the All Asia Heavyweight Championship.
I would've rated this a little bit higher if it wasn't for the fact that the poorly paced and sloppy second half took away from the match. The Bodyguard is the new champion and got his revenge over Ryouji at the end of it all and I don't know where this run is going to go but should be at least interesting. The Bodyguard is like Joe Doering, he can go when they show it and are highly motivated but it's so far in between that there's hardly any consistency with their quality of matches and it just hurts them.
Rating: Eric Bischoff and a half.
All Asia Tag Team Title Match
Jun Akiyama & Yuji Nagata (c) vs. Naoya Nomura & Yuma Aoyagi
Review: We first had the All Asia Heavyweight Championship match and now we got the All Asia Tag Team Championships on the line with a rematch from the June 12th show where Jun Akiyama and Yuji Nagata defend the titles against Naoya Nomura and Yuma Aoyagi. The last time they both fought, they had a great tag team match and they would be able to retain the titles, but NEXTREAM said they would want a rematch for the belts soon and we're getting that tonight. Can they get that big win over these two legends or will they make lightning strike twice on them and still come out on top?
There is a small little story here between Yuma and Jun where Yuma was never able to pin him directly and would always come up short when they're in the same ring together, but he is looking to change that today during the match and from the looks of it, he's going to need a lot of luck. Jun and Yuji are just too tough for our two rookies here as they just have the power, the experience, and just better than them overall, but Naoya and Yuma have that determination to never give up and make sure they will win this time, and that story is what sells for this match since you know how important it is to them to prove themselves against some of Japan's best in this match. I loved the interactions between Uncle Jun and Yuma since I mentioned just a while ago about how Yuma never defeated him and you can see the intensity in their interactions together and it's mostly them in the match together to sell the story between the two much better. I loved their first bout together better since it showed great action and storytelling, but this was more focused on the story of the match and that part was told better here than the first match, but I would give the first match the better overall. Jun would go back and forth with Yuma with the knees and Jun catches him with an Exploding Suplex for Naoya to break it up before getting tossed out by Yuji, so Jun tries to do it again and he hits another Exploding Suplex but for him to kick out of it this time! Yuma is all fired up now and hits a knee on Jun to daze him as he hits the Rock Star Buster on him to go for the pin and we have new champions!
Yuma was finally able to get the direct win over Jun Akiyama in this match and just seeing them fight together gave me a little bit of doubt, but it was the right time for them to drop the belts to the younger generation. Congrats to NEXTREAM on winning the belts, they worked really hard and are only going to get better from here.
Rating: Bruce Prichard
Triple Crown Title Match
Kento Miyahara (c) vs. Zeus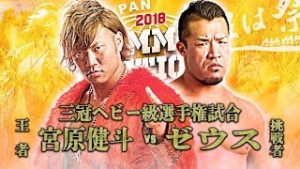 Review: It is now time for our main event with a highly anticipated match as we have Kento Miyahara defending his Triple Crown Championship against Zeus. Sometime in March before the Champion Carnival happened, Zeus would get the direct win over Kento and said he had plans on winning the Carnival and to take the championship, but Zeus would fail to win the tournament and had to wait a little bit to build himself back up until he was ready. In June after Kento retained against Dylan James, Zeus came back out to say he was now ready to fight him for the title since he still did have that clean win over him and wanted to get mentally prepared for this match. Can Zeus win the belt in his hometown of Osaka or will Kento knock him down once again?
Normally the crowd would mostly back up Kento but with the combination of being in Zeus' hometown and how over he's been with the fans lately, they were more supportive of him over Kento. The two start off a little bit explosive with some back and forth action with Zeus showing his strength and athletic ability while Kento just showed his intelligence in the ring to try and outmaneuver Zeus whenever he can. Zeus would hit a Diving Shoulder Tackle and then kips up and takes him outside to do a little bit more damage to him, but Kento would throw him over the guardrail and attempts a kick until Zeus caught his leg and slams it on the edge of the guardrail to hurt his leg a little bit.
Zeus then had him by the entrance ramp to go for a Lariat but gets caught with a kick to the midsection and hits a DDT onto the ramp to do some damage to his head and that doesn't stop there as he hits some Headbutts to knock him down nearly dazed, and tops it off with putting his head on the turnbuckle post to hold him there while he laughs in front of the camera until the referee pulled his hair to take him off. Zeus would start selling his head more and get dizzy for the majority of it while Kento finds an opening to try and take care of him and attempts a German Suplex onto the ring apron but Zeus fights him off to get some breathing room, but it doesn't last long as Kento ran up to him to hit a Brainbuster to the outside. Kento would hit another Blackout and does for just a regular German Suplex Hold as Zeus kicks out of that one and starts to get a small little comeback with some stiff Lariats to turn him nearly inside out, then hits a Chokeslam before going for the Jackhammer and he hits it but Kento kicks out of it!
Match has been incredible and loving the back and forth action and the crowd being behind it as well makes it all the more exciting since you can't tell who was gonna win the match and it could go either way. Kento would hit him with a few more Blackouts on his head to get him down as he goes for the Shutdown German Suplex Hold, but Zeus would break out of it once again by kicking out his bad leg, but gets caught with more Blackouts on his head. Kento would get all fired up to hit him with one more Blackout once Zeus got to his knees and Zeus would still kick out at two! Kento would charge at him one more time but Zeus catches him with not one but two Lariats and Kento would kick out at two, but Zeus quickly picked him up to hit the Jackhammer and we have a new Triple Crown Champion!
Zeus has finally done it, he has won the belt that has alluded him for years and it happened in his hometown of Osaka, Japan. Zeus has been with the company since 2014 and has been making a name for himself there in his eleven-year career. Zeus would get emotional after the match and rightfully so as he thanked everyone is Osaka for their endless support and he hopes to be a good champion. Zeus would end the show by having a kid in the ring and would carry him over his head to show that he was the champion of the people. Congrats to Zeus for finally winning the big belt, he's definitely earned it and I'm excited to see where his reign would go.
Rating: Jim Cornette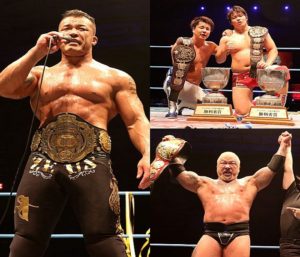 Overall: The undercard was rather weak, but the last two matches were the best part of the show despite an anti-climatic Asia Heavyweight title match also. We got an emotional main event with Zeus getting the big belt finally. We found out that Zeus's first title defense would be against Shuji Ishikawa and I can't wait to see how that one turns out.
Favorite Match: Kento Miyahara vs. Zeus
Least Favorite Match: Atsushi Maruyama, Shoichi Uchida, Takao Omori & TORU vs. Carbell Ito, Hiroaki Moriya, Ultimo Dragon & Yoshitatsu
Score: 7.5/10
---
Always Use Your Head and visit the official Pro Wrestling Tees store for The Chairshot All t-shirt proceeds help support the advancement of your favorite hard-hitting wrestling website, The Chairshot!

---
(NOAH) POST MATCH INTERVIEWS – 31ST JULY 2018, YOKOHAMA RADIANT HALL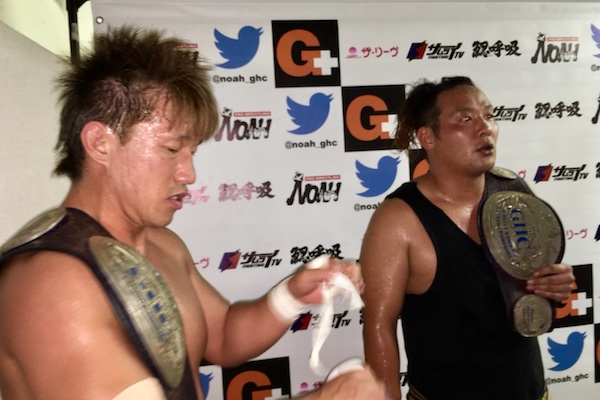 MINORU TANAKA & HI69
TANAKA: We are the 34th GHC Junior Tag Champions and that equals the strongest NOAH junior tag team, that said, the league has ended inconclusively. But everyone, the story will end in Korakuen in three days time. We saw it earlier. I don't know exactly who will be the winner, but we will watch it on the monitor like fans. I am looking forward to it, defending the belt against them.
HI69: I think that is true, I thought that getting the win would be natural, so I am disapointed with the results, but the team who wins the league will aim for the belt, that is true of all of us…we will show the GHC Heavyweight fight to all the NOAH fans.
TANAKA: The story of the worthless champions is over now. It is a story that belongs to the past, and it doesn't matter. Understand?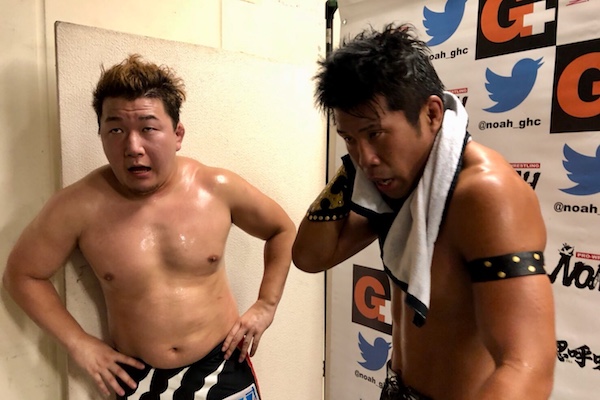 THE BACKBREAKERS (HITOSHI KUMANO AND HAJIME OHARA)
Q: You have taken a big step towards the finals?
KUMANO: We have aimed to win since the beginning. Ohara has tried hard in spite of the injury, and today we took it. The final will be taken by The Backbreakers. If anyone can win, it will be us.
OHARA: So far I've been disappointed, as I have lost a lot. I will not give up, and will take the big step towards winning the title at Korakuen. Kawasaki! Kawasaki will be the title match! I have big ambitions. This year it will be for the Backbreakers, so Mui Bien today too!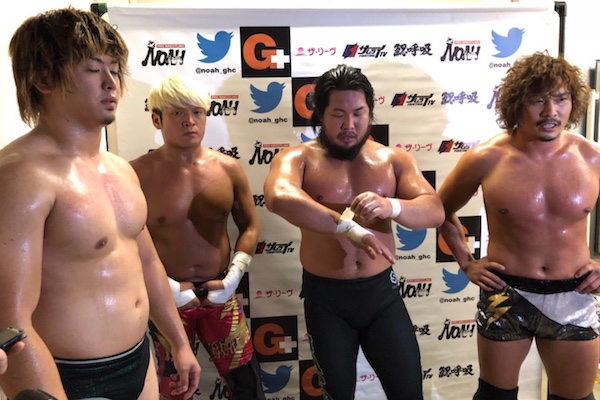 SUPER NEW GENERATION ARMY (KAITO KIYOMIYA, KENOH, MASA KITAMIYA, KATSUHIKO NAKAJIMA)
Q: A victory today, but still nothing to say?
Go Shiozaki silently touches the reporters chest and leaves.
KITAMIYA: Losing the belt does not change what you do. There is always someone in front of you, the belt is a target, people will keep biting at it…putting the belt on does not change.
NAKAJIMA: Although the belt might have been taken over there, we have just started, don't forget…we are the ones who take the iniative.
KITAMIYA: If you are a champion, then be strong like a champion. Do you think you have unarmed us without the belt? It is not enough.
Q: Kenoh, Kiyomiya, what your thoughts on the generation struggle so far?
KENOH: I think its funny that those old men have three belts. Like Nakajima said, this has only just begun and I will take back the belt and end this generation struggle.
KIYOMIYA basically says that you have nothing to fear when a team rides on momentum.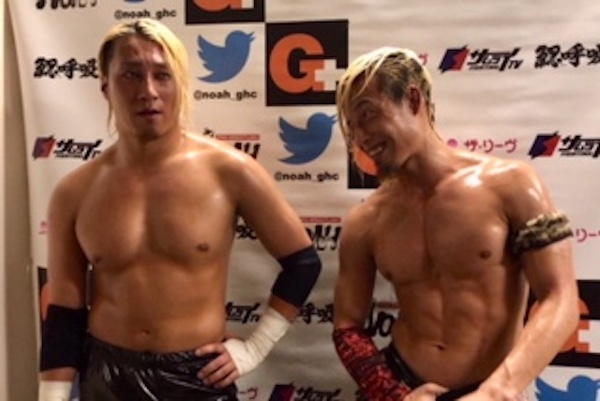 YO-HEY & HAYATA
YO-HEY: Finally! Finally! We got our ticket to the finals! But! Frankly 10%, 20%….no, I'm glad about 747%. However, YO-HEY will be in tune for the final match at Korakuen Hall. We will knock the Backbreaking people down with twisting bodies. We will raise the atmosphere, and get a ticket for our second consecutive title! We are satisfied with such a team for the final! This team will go into the final and defeat the opponents! HAYATA & YO-HEY will win two consecutive times…our….I want to eat pumpkin.
HAYATA decides he is leaving. YO-HEY won't let him
YO-HEY: I want to eat pumpkin…one word…bride…I was impressed by the two moonsaults…
HAYATA walking off as YO-HEY clings to him: Same!
YO-HEY: Same!
---
Always Use Your Head and visit the official Pro Wrestling Tees store for The Chairshot All t-shirt proceeds help support the advancement of your favorite hard-hitting wrestling website, The Chairshot!

---