Stardom Cinderella Tournament 2018 Final Results & Review (4/30/2018)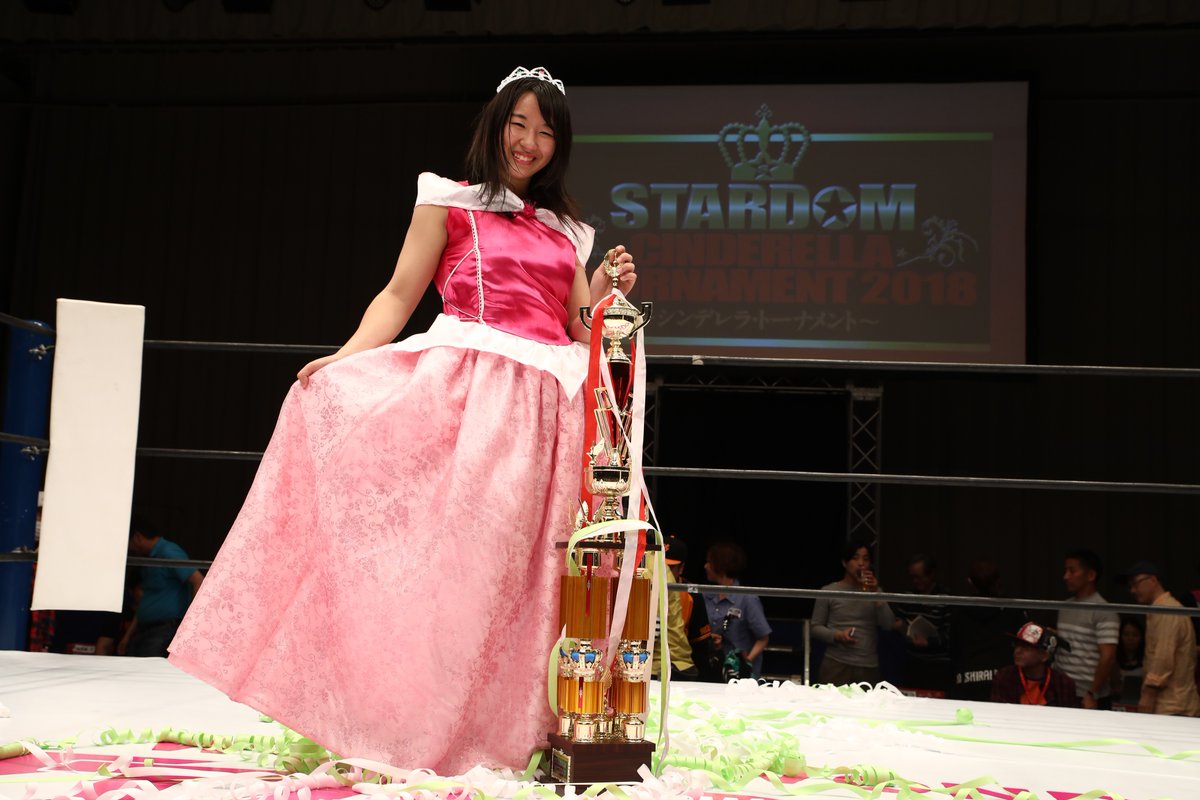 Welcome to the second part of the Stardom Cinderella Tournament! If you missed part one, Cinderella Part 1. Our final eight are Hazuki, Jungle Kyona, Io Shirai, Bea Preiestley, Brandi Rhodes, Mayu Iwatani, Saki Kashima, and Momo Watanabe. Who will get their wish granted?
Well, let's find out and…dive right in.
Cinderella Tournament 2018 Quarter Final Match
Hazuki vs. Bea Priestley
Review: In the first round we have Bea defeat Martina in…what I think was a match and then we had Hazuki defeat Hana Kimura in an actual good match and one of the best in the first round next to Mayu/Tam. Hazuki would come out in her Oedo Tai outfit for the first time and all of the members have their own entrance robes and masks now while even doing the dance despite it being kinda lazy, still amazing to see.
Okay…where the hell has this Bea been since I've been watching her? She was actually doing really well in his match and even connected a lot in more of her strikes, this is probably her best singles match in the company since I've been watching her, I want more of that and she would be fine. Hazuki still did great as always and had Oedo Tai try to help her out once Bea hit the Tree of Woe and would hit her Atomic Bombs Away to go for the pin, but Konami made the save to keep her alive. Bea would hit a stiff kick and a Curb Stomp to advance to the semi-finals where she will fight either Jungle or Momo.
▪️2018年4月30日(祝)
後楽園ホール
◆シンデレラ・トーナメント2018 2回戦
葉月 vs ビー・プレストリィ

大江戸隊のメンバーとして揃いのハッピを着て、すっかり一員となった葉月。スターダムの新最強外国人を目指すビーも負けられない。

会員登録は https://t.co/lZc15hAPwd pic.twitter.com/zZTpmW5NZb

— スターダム/STARDOM (@wwr_stardom) May 10, 2018
Recommended: Yes actually, her best match here so far in my opinion.
Cinderella Tournament 2018 Quarter Final Match
Saki Kashima vs. Mayu Iwatani
Review: In their first round matches, Saki Kashima defeated Candy Floss to advance and Mayu defeated Tam Nakano and now the two STARS members will fight each other to advance to the next round. Saki I think is slowly becoming one of my top favorites in the promotion and these singles matches have proved that to me, I definitely think she'll be a Wonder of Stardom Champion at least if she sticks around more, she's very good at what she's been doing so far and even added more submissions into the mix.
The match was very solid with back and forth action between both of these women and Mayu still proving why she's still one of the best there. Match was around five minutes and gave them plenty of time to showcase their work with Mayu hitting her Dragon Suplex hold to advance as she now fights either Brandi or Io.
Recommended: Another solid match, I like to think it's worth a watch.
Cinderella Tournament 2018 Quarter Final Match
Io Shirai vs. Brandi Rhodes
Review: In their first round matches, Io Shirai defeated Chardonnay while Brani Rhodes defeated Natsu Sumire to advance into the next round as Brandi is the only surviving Oedo Tai member left in the tournament, but she would need to defeat Io first if she wants to fight Mayu and advance.
This one is probably the weaker of the quarter final rounds and not saying that it's bad or anything, but just compared to the previous two, this one was just average. Brandi still has a lot of growing to do in the ring and that's perfectly fine too, and luckily Io was fighting her to help her out in the ring too and still gave a solid performance. Brandi would even hit a rather nice Cross Rhodes on Io that only Cody would be proud of, but wasn't enough to put her away. Io would hit her Moonsault Press and advance to the semi-finals where she will fight..Mayu Iwatani and let me tell you, I am already excited and I will explain as to why when I get to them shortly, but strap yourselves in.
スターダム動画配信本日の配信です。

▪️2018年4月30日(祝)
後楽園ホール
◆シンデレラ・トーナメント2018 2回戦
紫雷イオ vs ブランディ・ローデス

初来日で話題のブランディは、世界の逸女に対しクロス・ローズを決めた…だがイオは難なく2回戦突破!

会員登録は https://t.co/lZc15hSqUN pic.twitter.com/O7ZjSMT9V3

— スターダム/STARDOM (@wwr_stardom) May 11, 2018
Recommended: This is all up to you, but may as well if you watched the rest.
Cinderella Tournament 2018 Quarter Final Match
Momo Watanabe vs. Jungle Kyona
Review: In their first round matches, Momo Watanabe defeated Konami while Jungle Kyona defeated Kagek- I mean Kagetsu to advance to the next round with Queen's Quest fighting Team Jungle where the winner will advance to fight Bea Priestley in the next round.
This one might be my favorite in the quarter final with two of their underrated talent fighting each other in the ring and started exploding soon as the bell ring, playing out their strengths to get the best out of each other here and it just worked out nicely. Momo is just fantastic in the ring and it's one of those moments where you go how was she not been a champion yet? Both would be over the top rope and onto the apron as they would each try to knock each other off since ring outs are still a rule in the tournament, Jungle would try to hit her Powerbomb, but Momo would counter it with a cradle back to belly piledriver on Kyona, and then kicks her lifeless body to the ground for an over the top win. Momo will now fight fellow Queen's Quest member, Bea Priestley.
Recommended: Solid match, check it out
Cinderella Tournament 2018 Semi Final Match
Mayu Iwatani vs. Io Shirai
Review: Now let me tell you about these two right here, this is pretty much the female variant of Tanahashi/Okada when it comes to one ace holding the top spot while the other trying to take her down. Mayu and Io have been on my MOTY list for three years in a row now and they never disappointed me with their storytelling and match quality in the ring every time that they fight. I didn't expect them to have a one on one match here, but I will gladly take this one for right now.
For those that are subscribed to the service, I highly recommend that you check out their outings together because it is some of the best that this company will ever produce.
These women would deliver once again and I'm glad they did here with Io doing the smart thing and working on her injured elbow while Mayu selling the injury. One thing Mayu is really good at is how she sells in her matches and it just enhances the stories to her matches while not being over the top with it like how Dolph Ziggler is with his selling. Io controls the majority of the match by outsmarting her every time Mayu would try to do something and it even frustrates her each time they're in the ring, making it seem like she still can't get one over on her at a constant basis. Eventually Mayu would get her opening by working on her back when she did a Double Stomp to her back while they were both on the top turnbuckle and that was awesome. Mayu would keep working on her back for a little bit until Io made her little comeback on her and went for the Moonsault Press, but Mayu moved out of the way just in time so she could start delivering stiff kicks on her head, seeing the frustration on her face. However, once Mayu applies her Dragon Suplex Hold and delivers it, the bell would ring leading to a no contest due to time limit before Mayu could get the actual win.
Both women are eliminated as the match between Momo and Bea is now the final round. One thing that this match tells me is that they're definitely going to fight again and I feel like that we will get that at 5★Star GP which is later on this year and I'm very excited for it.
スターダム動画配信本日の配信です。

▪️2018年4月30日(祝)
後楽園ホール
◆シンデレラ・トーナメント2018 準決勝
紫雷イオ vs 岩谷麻優

スターダム屈指の黄金カードが準決勝で実現!知り尽くされた必殺技の応酬に10分間は短過ぎた…

会員登録は https://t.co/lZc15hAPwd pic.twitter.com/FTnKp1SPQA

— スターダム/STARDOM (@wwr_stardom) May 11, 2018
Recommended: Fantastic match by both of them and definitely my favorite in the whole tournament
.
Cinderella Tournament 2018 Final Match
Bea Priestley vs. Momo Watanabe
Review: Since both Mayu and Io are eliminated, these two will now meet off in the finals to see who will win the tournament with Queen's Quest pretty much taking the win to their team since they're both in the same unit.
The match starts off pretty quick with plenty of kicks between both of them, making them stiff enough to try and daze them long enough to get the early advantage over the other, but none of them would succeed that time. Momo would try to eliminate Bea by having another ring out like her previous match and even hit her Avalanche, but Bea found a way to avoid getting tossed out and the match would still continue. Around seven minutes, Momo would hit a Half Nelson Suplex and finally win the Cinderella Tournament. I'm glad they went with this route since Stardom needed to establish new stars in the company and this was the best way to do it without involving Mayu and Io in the final since both of them couldn't afford a loss at this time. Momo has definitely came a long way from Stardom and has improved tremendously and having her win here was the right call.
▪️2018年4月30日(祝)
後楽園ホール
◆シンデレラ・トーナメント2018 準決勝
渡辺桃 vs ビー・プレストリィ

事実上の優勝戦となった未来のエース対決。蹴り合い、斬れ味の良いビーの荒技を耐えた渡辺がとっておきのテクニックで快勝!シンデレラに輝いた!

会員登録は https://t.co/lZc15hAPwd pic.twitter.com/5lLZnVNSwo

— スターダム/STARDOM (@wwr_stardom) May 12, 2018
After the match, Stardom would present Momo with her Cinderella dress and it looks gorgeous by the way. She would cut a promo about how this was the biggest win in her career and rightfully so, but before she would fully celebrate, she has made her request to fight Io Shirai for the Wonder of Stardom Championship once more.
Io would come out and would tell her that while she's frustrated that she still didn't get to wear that dress, she still congratulates her for the victory and accepts her challenge for the match. Kagetsu would come out after the challenge was made and finds it funny that Io thinks she'll even make it to that match since Io's next defense is against Kagetsu at May 5th where Io will either break the record for title defenses with that belt or Kagetsu will get what she wanted and get Io out of the picture, and Kagetsu stated that she will challenge Momo instead once she takes the belt away from Io, so Momo will get her title match regardless of who wins this match. Queen's Quest will be in the ring for a photo shoot and they celebrate to close the show.
Recommended: It was a solid final and the right person won the whole thing as Momo has earned this big time.
Overall: The whole tournament was a success with some up's and down's sure, but definitely some matches that picked up as we had some great performances from certain people like Saki for one and very proud of her since it felt like she hasn't left. I'm looking forward to next year and the next show coming up with Io and Kagetsu.
Favorite Match: Mayu Iwatani vs. Io Shirai
Least Favorite Match: Io Shirai vs. Brandi Rhodes
Score: 7.5/10