Top 5: Matches of the Week Ending 5/13/2018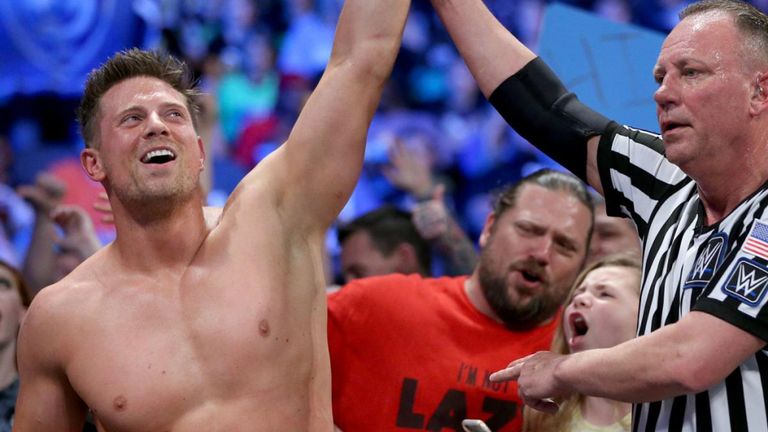 Well another month in the books, so that means we are one step closer to filling out the Match of the Year pool. The vote for April went mostly how I expected, so, NXT Takeover NXT Championship Match: Andrade Almas (c) vs Aleister Black, won the match vote. So here's what the Match of the Year Pool looks like so far:
January – Johnny Gargano vs Andrade Almas
February – Kazuchika Okada vs SANADA
March – Golden Lovers vs Young Bucks
April – Andrade Almas vs Aleister Black
Now since we had a weekly vote also, let's find out which match won that. WWE Backlash Intercontinental Championship: Seth Rollins (c) vs The Miz, managed to shine through the week as brightly as it did on Backlash. Now let's get to the offerings this week.
5. WWE SmackDown MITB Qualifier: Jeff Hardy vs The Miz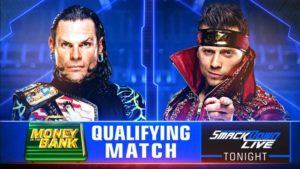 This match was surprising for all of the right reasons. Miz has been doing a lot of good work lately, but with nothing to really show for the effort.
Both men got in most of their signature moves. Jeff Hardy dominated a good portion of the match, and it was all done fairly well. The ending was surprising also in the respect that Hardy hits his Swanton Bomb, but Miz manages to roll the pin into a crucifix pin of his own, for the surprising victory.
So The Miz finally gets a win, after showing that he can do good ring work the last few months. Should be interesting to see how he fairs in the Money in the Bank.
Rating: *** 1/4
4. ROH War of the Wolds: Jushin Liger vs Cody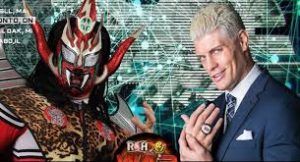 This entire tour has had some level of drama, Dalton Castle not being able to perform because of injury, Jay Lethal getting injured later in the night of this show, but Bullet Club is fine.
Liger always impresses on the different types of matches he can pull off. We saw this match become more of a 90s style match with a few fun spots, some outside interference and great character work. Which honestly, these have all become hallmarks of the American Nightmare gimmick, so it's hard to find a bad match.
Also kind of amusing to point out, that the last few matches I've seen where he tries to introduce weapons after a ref bump…those always go wrong for Cody. Cody was able to pull off the win after Burnard distracted Liger which set up a nice Crossroads. Nothing flashy, nothing overly special, but Cody has put in a lot of good work lately.
Rating: *** 1/4
3. Dragon Gate King of Gate Tournament: Shingo Takagi vs Masato Yoshino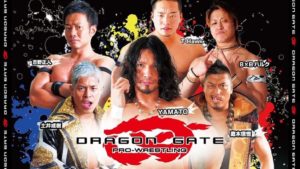 This was a very hard hitting match, that saw the ANTIAS stable facing the MaxiMum stable in first matches for their respective blocks.
While I'm admittedly not well versed in the history between these two, since there aren't as many competitors in each block for King of Gate, every match matters. With only 5 men, in 4 different blocks, that means each match is 25% of your tournament hopes if you want to move forward.
After coming off a slightly disappointing, but still impressive run in the AJPW Champion Carnival, Shingo has a little bit to prove. This match went back and forth the entire times, trading strikes, chops and big moves. Also we saw ANTIAS work a little bit like LIJ from New Japan where they helped out Shingo on the outside by piling up chairs or causing distractions, but not being outright in the way.
Shingo had to throw literally everything at Masato, where after 2 Last Falconry attempts, Yoshino still kicked out. So Takagi laid him out with one more Pumping Bomber lariat, and finally picked up the pinfall victory.
Rating: **** 1/4
Honorable Mention:
MLW Fusion: ACH vs Tom Lawlor
Rating: *** 1/4
Dragon Gate King of Gate Tournament: Naruki Doi vs Eita
Rating: *** 1/4
ROH War of the Worlds: Jay Lethal, Kenny King & Colt Cabana vs SANADA, EVIL & Hiromu Takahashi
Rating: *** 1/4
WWE RAW Intercontinental Title: Seth Rollins (c) vs Mojo Rawley
Rating: ***
MLW Fusion Bogus Adventure Match: Jimmy Havoc vs Joey Janela
Rating: ***
2. 205 Live: Buddy Murphy vs Mustafa Ali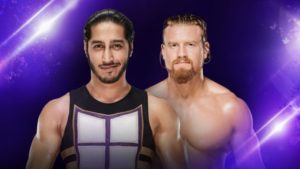 Murphy wanted this match to avenge his only loss in 205 Live so far, and Ali is trying to keep himself in the conversation for another championship opportunity.
This match was extremely well wrestled. A lot of jaw jacking and call backs to last week when Murphy won his match by knock out and also their last match when Ali tried to do a 450 onto Murphy's left arm again.
Murphy dialed up the violence, and Ali tried to hang in there, but once Ali missed the 450 to the arm, Murphy just had his way with the match. Driving Ali's head into the post, followed up by his Murphy's Law finish. So with that loss avenged, you have to figure that as long as he makes weight, he should have a title shot in the future.
Rating: **** 1/4
1. Dragon Gate King of Gate Tournament: YAMATO vs Kzy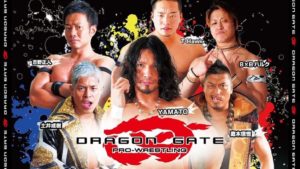 These two have a decent bit of history. Kzy recently left YAMATO's stable Tribe Vanguard to create his own group, Natural Vibes. So there's not necessarily bad blood, but Kzy had something to prove.
The pace was pretty high this entire time, and we saw a lot of back and forth. Nearly a 20 minute match, it had everything you could expect. Locomotion cradle attempts from both men, trading a few submission attempts and Kzy going for broke with a few top rope maneuvers.
There were plenty of times it looked like either could win, but YAMATO showed he's still got something left and won with Ragnarok. After the match YAMATO brought up that he felt something special from Kzy and referred to him possibly by his real name of Kazuki Sawada, and put over the old guard of Dragon Gate. The veterans of Dragon Gate got referenced since they have recently gone through a change in executives and are losing some of the Over Generation wrestlers to the Shanghai division of Dragon Gate.
Rating: **** 3/4
Now even though the King of Gate tournament started off electric, my vote for this week will actually go to, Buddy Murphy vs Mustafa Ali. The match told a good story, had nice callbacks, as well as showing more aggression from Murphy. So since his character is evolving, basically to use his size advantage, it was the match with the most actual progress for the participants.
Remember to let your opinion be heard and you could influence how our Match of the Year pool.
---
Always Use Your Head and visit the official Pro Wrestling Tees store for The Chairshot All t-shirt proceeds help support the advancement of your favorite hard-hitting wrestling website, The Chairshot!

---
Roman Reigns Isn't Going Anywhere (And Neither Are You)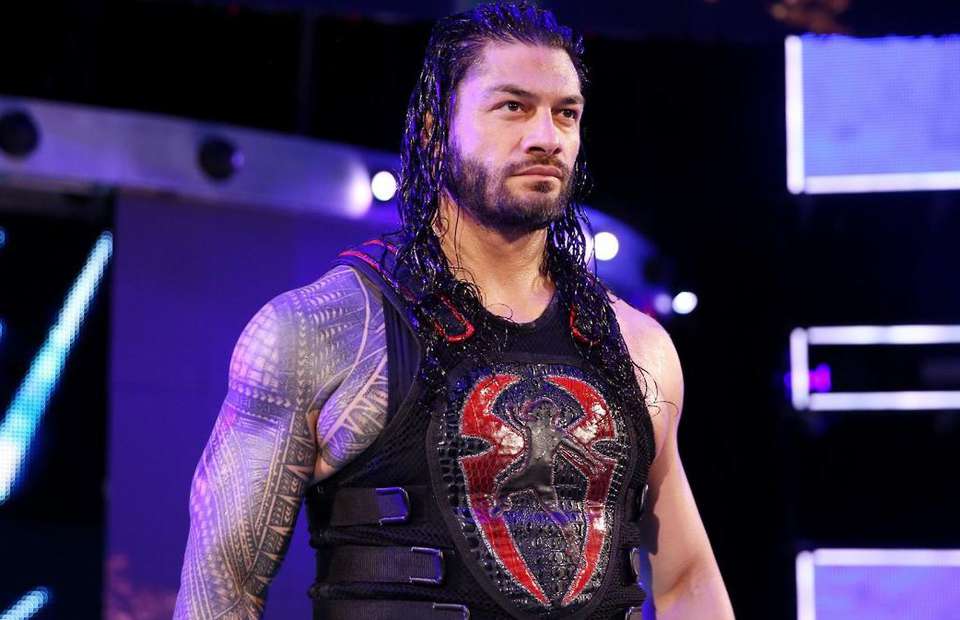 Roman Reigns isn't a new thing. WWE, dating all the way back to the WWWF days, has always been known as a promotion built on a strong supporting cast with a "Superman-like" babyface atop the heap. So, why the hate for "The Big Dog"?
Vince has history on his side
Vincent J. McMahon loved superhero babyfaces. He built the WWWF off a relatively simple concept: push an "all-american", unstoppable babyface capable of carrying the company on his back with class and legitimacy. For close to 15 years, whether he was wearing the WWWF Title or not, Bruno Sammartino was that man, owning the Northeast to the tune of untold sold out arenas and countless ecstatic fans.
The next "hood ornament" babyface to come around for Vince Sr. was Bob Backlund, a walking, talking embodiment of the phrase "aw shucks" if there ever was one. But Bob was also a Division II NCAA wrestling champion, as well as an All-American in both wrestling and football, meaning when the time came to step into the squared circle, what he lacked in charisma, he more than made up for by being a great athlete. Backlund was world champion for close to six years.
The formula was perfected with Hulk Hogan
By 1983, it was Hulk Hogan's turn to be "the man". In Hulk, Vincent K. McMahon found the perfect "Superman" to take what was once a local family owned territory, and rebrand it for the mainstream, ultimately making the WWF synonymous with professional wrestling. People who don't know the first thing about pro wrestling still know Hulk Hogan, and after he won the WWF Title from The Iron Sheik in 1984, he carried the belt (and the wrestling world) for most of the next seven years, forever transforming the way we view the genre. With all due respect to "Stone Cold" Steve Austin, Hulk Hogan is the most influential wrestler the industry has ever produced.
Speaking of Steve Austin, he owned the late 90s and early 2000s and did so whether he was wearing a championship or not. He crossed over into pop culture in a way only bested by Hulk Hogan, taking the WWF to unseen heights in revenue.
John Cena picked up the load of being "the man" in 2005 and carried it for a decade. No babyface has ever been more vilified by fans, but through it all, Cena remained the face of not only the WWE, but the industry as a whole.
Roman Reigns is "your guy" because Roman Reigns is "Vince's guy"
Whether you like it or not, it's Roman Reigns' turn. He is, quite simply, the guy Vince McMahon has decided is his most marketable face. Vince doesn't care about 5-star matches, workrate, and catering to the anti-Roman Twitter army (most of whom likely harbor a double secret crush on "The Big Dog". Vince wants someone he can market to middle America, to little kids, to your grandmother. He wants another Hulk Hogan. He wants another John Cena.
Would Reigns, from a creative standpoint, be better off with a heel turn? Maybe, depending on what Creative had for him. That's the thing about a turn: doing it just to do it doesn't work. Look at the hundred times Big Show had done it for no reason. How about Randy Orton's 94 turns? I can name two that were memorable.
The dislike for Roman is likely rooted more in overexposure than anything else, which is much the same thing that hurt Cena (from an Internet fan standpoint, at least). With Bruno and Backlund, fans almost always had to go to the arena to see them. Hulk and Austin were merchandise juggernauts, but we still only saw them on TV once a week. Neither had to worry about the level of overexposure Cena and Roman have been saddled with working through.
Yes, Vince has had his "misses". Anyone making as many decisions as he's made is gonna have plenty of them, but in Reigns, I guarantee he sees someone he can count on. Dependability and work ethic go a long way with guys like Vince McMahon. Plus, Vince knows you're not gonna turn the channel.
Vince plays it safe because he knows he already has you
"The Big Dog" isn't going anywhere. Why, because you've proven to Vince you're not going anywhere either. You'll whine and moan about Roman (or Cena before him) but you'll be right back in front of your television every Monday and Tuesday, ready to get mad all over again. Just accept that Vince has you and stop taking it all so seriously.
---
Always Use Your Head and visit the official Pro Wrestling Tees store for The Chairshot All t-shirt proceeds help support the advancement of your favorite hard-hitting wrestling website, The Chairshot!

---
The Book Club: Why Kenny Omega Should Win at Dominion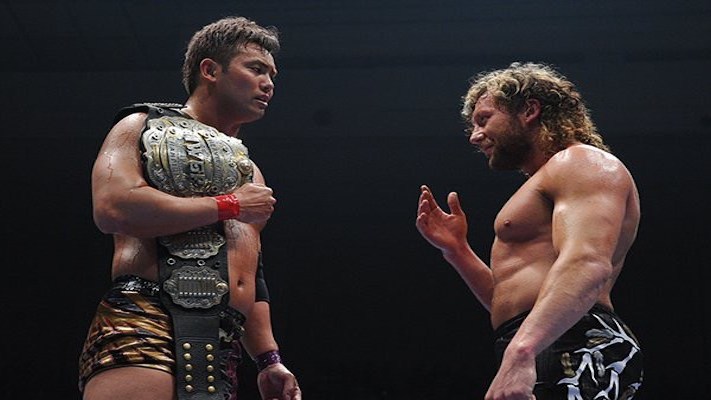 At the end of New Japan Pro Wrestling's Wrestling Dontaku show earlier this month, a match was announced that quickly made its way through the wrestling world over the next day.  On June 9, Kenny Omega will challenge IWGP Heavyweight Champion, Kazuchika Okada to headline Dominion, NJPW's next big pay-per-view.  It will be Omega's third shot at the title and his fourth encounter with Okada overall.  The two are currently deadlocked at 1-1-1.  Okada fended off Omega in their first encounter at Wrestle Kingdom 11, a 60 minute time limit decided their rematch at last year's Dominion, and Omega pinned Okada during their non-title G1 bout.
Fast forward to Okada standing in the middle of the ring following his match at Dontaku.  Okada had just beaten the record for most IWGP Heavyweight title defenses by defeating the previous record-holder, Hiroshi Tanahashi.  He openly addressed how nobody was coming out to challenge him and even listed off all his past opponents.  Okada then invited Kenny Omega out to the ring for a match that would finally settle the score, but this time with no time limits.  Kenny one-ups Okada's challenge by adding a 2-out-of-3 falls stipulation.  You know how the Big Bang Theory states that there was once nothing then a giant explosion created the universe?  That's basically what this match is for me.
Let's Book It
In short, I think it's finally time to put the strap on Kenny.  At Wrestle Kingdom 12 earlier this year, I was genuinely deflated after Tetsuya Naito took the pin from Okada in the main event.  I was anything but Tranquilo.  He was white hot and I was incredibly invested in him – maybe more than anyone in the world at the time.  I am aware that Naito has held the big belt before but that reign came and went, plus he didn't have as much momentum as he did in January.  I had a similar thought to Okada at the end of Dontaku: who else is left?  Los Ingobernables merch was flying off the shelves but they still refused to allow Naito to be the usurper.  They found some worthy opponents to roll out since then but Sanada, Zack Sabre Jr., and Tanahashi all fell to a flurry of Rainmakers just as the victims before them.  At this point, I can't imagine a more suitable challenger than Kenny Omega.  He has been Okada's most worthy adversary and one could even argue that Kenny has played a big part in getting more international eyes on the New Japan product.  The only other person I can envision being on Okada's level from an in-ring and marketing standpoint would be Kota Ibushi.
This brings me to my next point…
Imagine: Kenny dethrones Okada.  Kota Ibushi wins the G1 Climax this summer.  Now you have the Golden Lovers forced to put their relationship aside for the sake of their careers in the main event of Wrestle Kingdom.  We already saw how friends jostling for the spotlight can make for an instant classic.  Just look at the Golden Lovers vs Young Bucks match from Long Beach.  Sure everyone loves a good blood feud but there's just something deeper when you're forced to knee the one you love in the face.  We haven't really had an "I'm sorry, I love you" type of moment since Shawn and Ric made us all weep at WrestleMania.  Now is the opportunity.
My only issue with this plan is keeping Kazuchika Okada out of the main event.  Is just feels wrong, doesn't it?  He is the Rainmaker for goodness sake.  However, once the Naito-Jericho feud has boiled over it would be interesting to see Okada as Chris Jericho's next (and possibly final) target.  He even mentioned on his podcast, "Talk is Jericho" that his match with Kenny was originally supposed to be a technical classic before the storyline grew violent.  If you're looking to have a technical showcase, Okada is just the sparring partner for you! Plus, I don't think anybody would complain about an Omega v Ibushi & Okada v Jericho double main event at Wrestle Kingdom 13.
---
Always Use Your Head and visit the official Pro Wrestling Tees store for The Chairshot All t-shirt proceeds help support the advancement of your favorite hard-hitting wrestling website, The Chairshot!

---
MLW Fusion Results & Review 5/18/2018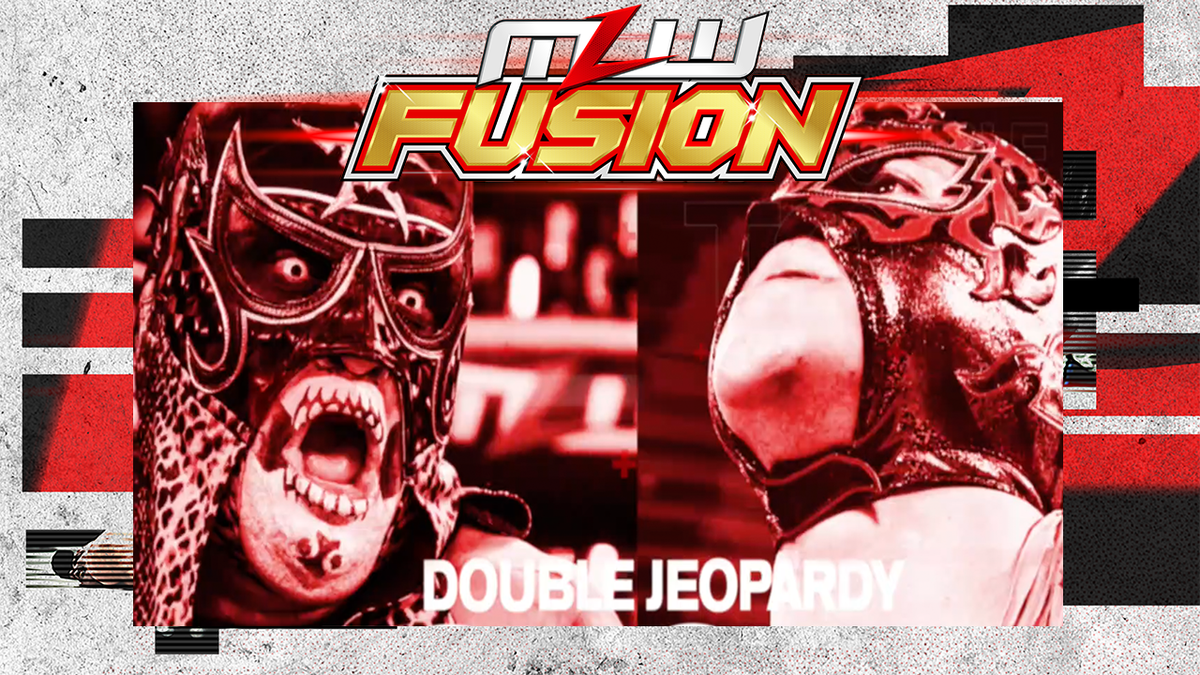 MLW FUSION RESULTS/REVIEW
5/18/2018
This week's MLW Fusion beings with a recap of Pentagon Jr's attack on Shane Strickland in which he sprayed mist in Swerve's eyes. As a result, Pentagon was forced to defend his #1 contender-ship in a match against his brother Rey Felix this week. Per usual, MLW does a really good job of hyping the main event for the evenings show. It gives the matches added significance and helps to give the audience a reason to stick around.
Next, we cut to Tony Schiavone and Rich Bocchini hyping the evenings festivities. I'm not sold on the announce team. Having Schiavone and Bocchini feels redundant as they both serve the exact same purpose. MLW is trying to present itself as a legitimate sport. In legitimate sports, you typically have a play by play announcer and a color commentator(someone who either played or coach in said sport). With MVP winding down his in ring career, I feel him and Tony would complement each other well, with Mr. Porter being able to provide the viewer with an insider's prospective while the allowing the veteran Schiavone an opportunity to do what he does best. While there's obviously still time for the duo to establish chemistry, I feel a traditional announce team would best serve the product.
Kotta Brazil Vs. Trae Miguel
The "Fresh Prince of Mid-Air" Trey Miguel just lived up to his name …

WOW!

High-flying action here in our opening match tonight!#MLWFusion pic.twitter.com/ZKiHcb5oAW

— #MLWFusion on BeIN Sports Fridays (@MLW) May 19, 2018
The opening bout pits Kotta Brazil(who looks like a bootleg Rich Swann) verses Trae Miguel(a bootleg Ricochet). The two put on a highly athletic bout with action you would see on a typical episode of 205 Live. While Trae was more over with the crowd, Brazil delivered an excellent performance as well. In the end, Miguel escaped with the victory after a double knee maneuver from the top rope.
Winner: Trae Miguel
Our own @RichBocchini got a chance to catch up with @salinadelarenta at her home in Puerto Rico earlier this week.

Rich made a splash …

And then Salina made a huge splash, announcing she will now be representing both @PENTAELZEROM and @ReyFenixMx! #MLWFusion pic.twitter.com/3QjPnu2zoc

— #MLWFusion on BeIN Sports Fridays (@MLW) May 19, 2018
Up next we get a hype video for tonight's main event followed by an interview with Salina de la Renta at her home. She establishes herself as the plug to MLW's influx of Hispanic talent. The segment ends with her push Mr. Bochinni into her pool. MLW is clearly all in (pun intended) with the de la Renta character and it's a smart choice. Regardless of genre, the hot, bitchy shot caller character has always played well on television. And while her promo work does leave much to be desired, she's one of the few established characters in the MLW universe. The more comfortable she becomes in her role, the more MLW will improve as Ms. de la Renta is one of MLW's tent-pole characters.
We then get a recap of last week's match-up of Jimmy Havoc vs. Joey Janella, with the post match beat down of Havoc by Tom Lawlor and Simon Gotch. WWE fans will remember Gotch as one half of the Vaudvillians. Lawlor and Gotch cut a somewhat weird promo in a hotel pool.
The Dirty Blondes (W/Colonel Parker) Vs. Team TBD (Yuta and Cade) In An Elimination Match
Col. Parker interfering?

Double-team by a man who had been eliminated?

Classic @DirtyBlondesTag tactics … but they get the 'W" tonight on #MLWFusion! pic.twitter.com/SN6SGY6G2v

— #MLWFusion on BeIN Sports Fridays (@MLW) May 19, 2018
We get a prematch tease of tension between Yuta and Cade. The match itself was nothing special. The Blondes are clearly the premier team in MLW. They're an old school, throwback of a team who rely on a tried and true gimmick in the wrestling business. By far the weakest match of the night. In the end, the Blondes pick up the with a little help from the good Colonel.
Winners: The Dirty Blondes
After the match we get a glimpse of more tension between Yuta and Cade. We're clearly heading towards a match between the two.
Right before the main event, we get a tale of the tape between the two combatants. Again, we're going for a legitimate sport feel here, and this was a nice touch.
Main Event: Pentagon Jr. Vs. Rey Fenix
Penta driver on the apron … you know, that's the hardest part of the ring!

Have we mentioned these guys are brothers? Yikes!#MLWFusion pic.twitter.com/412gbbOGhO

— #MLWFusion on BeIN Sports Fridays (@MLW) May 19, 2018
The crowd was hype for this one and they weren't disappointed. I frankly don't think it's possible for these two to have a bad match with each other. If you've read the spoilers, you know how this one ended. However, it was solid back and forth Lucha action, with enough near falls to keep the crowd invested. In the end, Pentagon picks up the win with the Pentagon Driver to go on to meet Shane Strickland next week for the MLW Heavyweight Title.
Winner: Pentagon Jr
Overall, another solid effort out for the MLW banner. While the tag match left something to be desired, the opening bout and main event certainly delivered. The jury is still out on MLW. I like the diverse cast of characters which are representative of the changing demographics of our society. In the ring, the action is always solid at worst. However, they still seem to lack that one dynamic personality which will ingratiate the audience with the product. Overall, the it's still a highly digestible hour of wrestling every week and I still look forward to see where they go from here.
---
Always Use Your Head and visit the official Pro Wrestling Tees store for The Chairshot All t-shirt proceeds help support the advancement of your favorite hard-hitting wrestling website, The Chairshot!

---