Top 5: Matches of the Week Ending 5/6/2018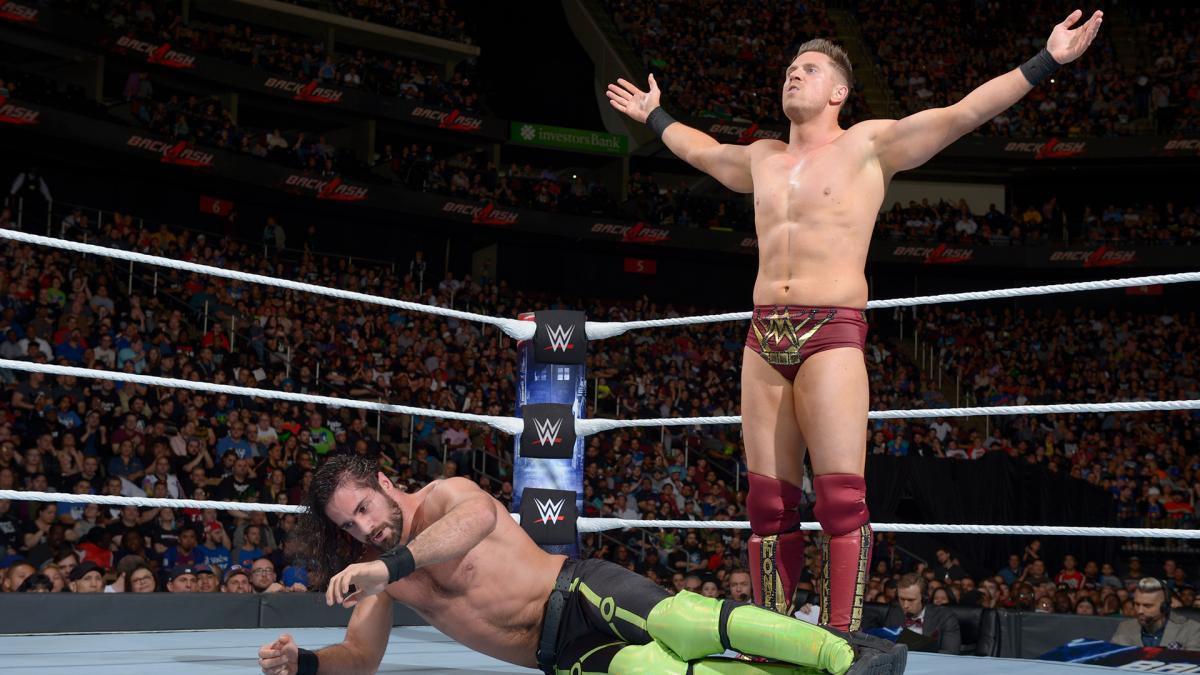 Thanks to the reception of Hisame's fantastic Four Days in April article, as well as a good level of interest in All Japan, we had yet another decision get decided thanks to reader interaction. Naomichi Marufuji vs Jun Akiyama, the match of betrayal and resentment, managed to edge out the competition last week. So let's look at the April matches that we get to vote on also.
April Pool
NXT: Andrade Almas (c) vs Aleister Black
AJPW: Shingo Takagi vs Yuji Hino
Impact: Pentagon Jr vs Austin Aries (c) vs Fenix
AJPW: Naomichi Marufuji vs Jun Akiyama
So we see two Champion Carnival matches made it into the April pool, which shows nice growth in interest and a potential fanbase for All Japan, as they try and rebuild. Because of the years of build up, and the pure passion you could feel resonate off of every move, Marufuji vs Akiyama gets my vote for the month. It's not every day, you get to see a match with so much historical significance, in a wrestling ring.
5. WWE Backlash WWE Championship NoDQ Match: AJ Styles (c) vs Shinsuke Nakamura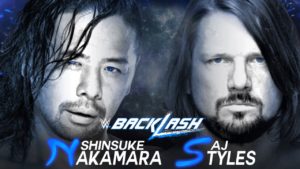 The stipulation got added, thanks to Nakamura's propensity to hit low blows. This was the best match they've had to date in WWE, but sadly the ending wasn't fantastic.
We saw a lot of nice back and forth on top of both men playing their characters very well. AJ got slowly frustrated and Shinsuke had his old fun flavor with the stiff cruelty of his Japanese days. Sadly, I have to give Corey credit for being right, when he talked about this heel version of Shinsuke, being what we all knew and loved.
A big highlight spot was Styles throwing the chair into Shinsuke's knee and having it ricochet off of his face. Then that got followed up with Nakamura placing the chair nicely to hit his Reverse Power Slam onto the chair.
Sufficed to say, this match was building beautifully, we finally got both guys hitting low blows which helped to validate the NoDQ stipulation…and then…the ending happened. WHY, WHY is it another no contest? Stipulation like this are supposed to indicate a blow off, not drawing things out to pop a rating on SmackDown or milk it for another PPV.
Rating: *** 3/4
4. NJPW Wrestling Dontaku IWGP Junior Heavyweight Championship: Kushida vs Will Ospreay (c)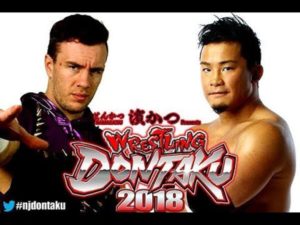 Will Ospreay was on this quest for validation since he wanted to beat each man from the Wrestle Kingdom Four Way, individually.
We all know Ospreay had a big neck injury after his match with Marty Scurll at Sakura Genesis, and yet he still unveils his Stormbreaker move in the tag team match before this event, and ya, made no sense. So we move to the match itself, where even though both men apparently have bad necks, Kushida focuses on the arm since the Hoverboard Lock is all that makes sense to him I suppose.
The match had a lot of big spots, but awkward movement between them. Ospreay also sold his arm for a portion of the match, but still pulled off the super human shtick to land a multitude of high flying moves. Plus with Ospreay winning via his newly unveiled Stormbreaker maneuver, it just felt forced.
Long and short, not their best work, and a lot of spots that were done purely for flash and not because they made sense or helped the match. Still a good match, but they both have done significantly better in previous matches.
Rating: ****
3. WWE Backlash Intercontinental Championship: Seth Rollins (c) vs The Miz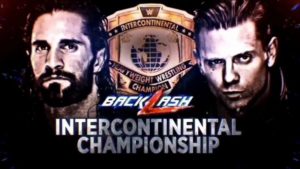 So the opening matches lately have been extremely solid, and this one was no exception.
It starts off a little slow, but picks up with some nice big spots, a big miss on the Ripcord Knee on the apron, and Seth Rollins kicking out of two Skull Crushing Finales. Since WrestleMania, The Miz has proven he can put on some pretty fantastic matches without needing outside interference. Yes, he hasn't been able to manage a victory, but they could be building something.
Not really sure how the Intercontinental scene shakes out after this match, but my guess would be Finn Balor breaking out the Demon…since they haven't really put much effort into anyone else yet.
Rating: **** 1/4
Honorable Mention
WWE Backlash: Roman Reigns vs Samoa Joe
Rating: *** 1/2
2. NJPW Wrestling Dontaku IWGP Heavyweight Championship: Hiroshi Tanahashi vs Kazuchika Okada (c)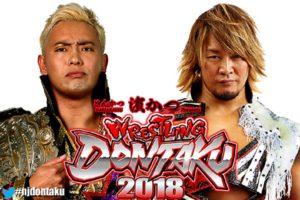 There's been a common thread in the marquee matches in Japan, with involving a good amount of history.
This match showed a lot of call backs, a lot of both men knowing the others moves and of course, being a nice bookend to the rivalry. Okada approached Tanahashi as someone who was too hurt and broken to be a real threat, in the same vein that Tanahashi didn't see a young returning Okada as a threat back in 2012.
The match wasn't flashy, and there weren't a ton of surprising moments, but you could see the years of familiarity in the pacing and sequencing of moves. Ring psychology, the crowd being completely into the match and Okada showing more of his arrogance, just kept adding layers to both characters and the storyline.
Honestly, the most surprising aspect to this match was that it took only 1 Rainmaker to finish Tanahashi, when a few years ago, he was the first man to kick out of one.
Rating: *****
1. AJPW Champion Carnival Finals: Naomichi Marufuji (B Block Winner) vs Kento Miyahara (A Block Winner)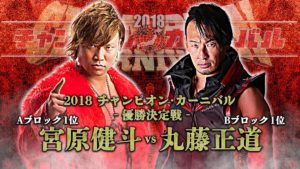 With all the emotion and history that went into Marufuji's match with Akiyama, one had to wonder, exactly what he had left in the tank.
Marufuji came out with a little extra pop in his step, and you could see he wanted this. Highlights of the match being a big Springboard Curb Stomp, the Crescent Kick around the post, Piledriver on the apron as well as a collision of knees, Marufuji's Bicycle Knee met Kent's Blackout and both men went down for a few moments.
Both men kicked out of the other's signature moves, so Marufuji decided to bring out the homage to his friend, his trainer, nearly an adoptive father to him, Misawa's Flowsion. After landing the Flowsion, Marufuji picks up the pinfall and the NOAH banner waves in victory at AJPW Champion Carnival.
Rating: ***** 1/4
So we see that Backlash has brought a decent amount of matches to compete with the other larger events. My personal vote will go with what I ranked number 1 since I was covering the entire Carnival so I got to see the build, and of course know some of the back story. I don't expect people who go into that match cold to see it the same way, I'm just stating why I'm going with, Naomichi Marufuji vs Kento Miyahara.
We've got two votes this article, and the last few weeks continue to prove that your opinion matters. So comment, email, tweet or scream. Just make sure to say your piece and Always Use Your Head.
Joe's Lucha Libre Weekly: News & Analysis (4/22/19)
The world of Lucha Libre can be insane and overwhelming–but you have Joe Dinan here to help you make sense of it all!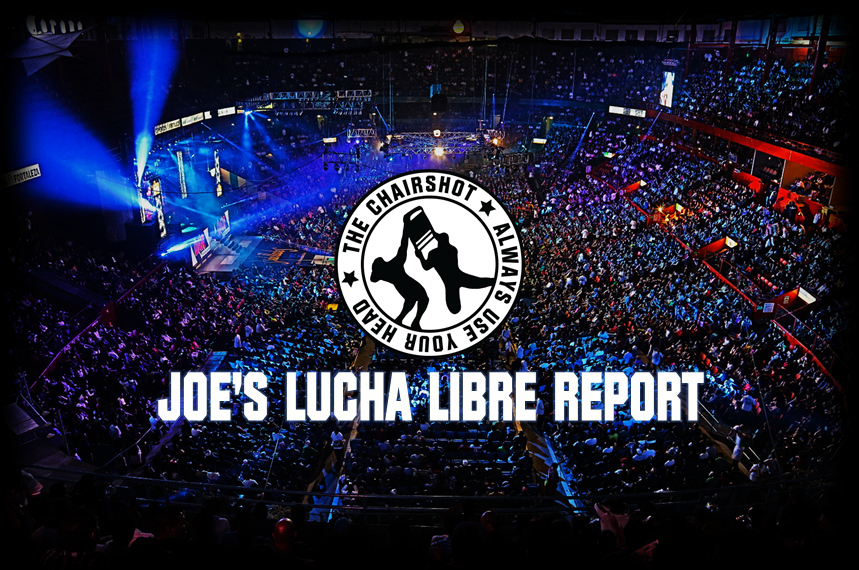 The world of Lucha Libre can be insane and overwhelming–but you have Joe Dinan here to help you make sense of it all!
CMLL
Arena Puebla and Arena Mexico Tuesday
I did not watch either of these shows, truth be told on weeks that I'm too busy I'll probably skip Tuesday at least. Not that I plan on always skipping them but sometimes duty calls in life and Friday is really the only televised show CMLL cares about. CMLL current has what I call WWE syndrome, in the sense that they have a comfortable business right now. They were struggling a little last year until LA Park and the Lucha Brothers came in for a summer tour basically. Cibernetico, El Zorro, and Charley Manson coming in helped to an extent too but not the same. So ever since then CMLL has enjoyed very nice attendance so they don't feel the need to put in a desperate effort. Which is what happens sometimes. Wrestling companies all go through that period once in a while so I'm sure they'll eventually be back to high quality things. But right now it's AAA giving high quality. So on the Monday Puebla show they set up a Police Man vs King Jaguar hair vs hair match which will be this Monday. I can't imagine most are interested but these guys probably wanna do something. And nothing of significance happened on Tuesday. Nothing usually ever does.
Arena Mexico Friday
Volador and Ultimo Guerrero successfully won Block B and will face Titan and Cavernario next week. Or this week. Depends when this drops. It will be a good match. Block B was definitely a step down from Block A as far as quality wrestling goes. There was a lot of brawling and similar finishes here in Block B. That's really all that's going on.
AAA
So some of this AAA news involves MLW and Impact so I'm going to put it all here because there's no point of typing it twice.
AAA has two shows this week, one on 4/26 and 4/28. I won't be watching the one on 4/26 live because Avengers Endgame is calling. But the line ups look like this for 4/26, Psycho Clown, La Parka, and Puma King vs Rey Escorpion, Texano jr, and Chessman. Laredo Kid and Brian Cage vs Taurus and Daga. Poder de Norte vs Sammy Guevara, Jack Evans, and Australian Suicide. 4 way match with Golden Magic vs Hijo Del Vikingo vs Villano III Jr vs Flamita. Taya and Faby Apache vs Chik Tormenta and Luchadora surprise. Lady Maravilla and Black Danger vs Big Mami and Nino Hamburguesa.
For the 4/28 show it looks like, Psycho Clown, Laredo Kid, and Puma King v Rey Escorpion, Texano Jr, and Taurus. La Parka, Golden Magic, and Nino Hamburguesa vs Chessman, Averno, and Dave the Clown. Hijo Del Vikingo, Flamita, and Villano III Jr vs Poder de Norte. Sammy Guevara vs Jack Evans vs Australian Suicide. Faby Apache and La Hiedra vs Lady Maravilla and Chik Tormenta.
So AAA also has shows coming up on May 3rd and May 5th, Cinco de Mayo. But they also have some joint show which I'm not sure if it's going to be on just TV Azteca or on Twitch too. There's no way of knowing until the day approaches cause it's AAA but it's some tournament gimmick between 5 "companies". I use quotes because Konnan is quite literally on creative for all the companies. One company isn't technically even a company anymore. Lucha Libre Elite is a defunct company propped up by AAA to do invasion angles. The other is Aro Lucha which isn't even like, it's own company. The Harris brothers run it with Konnan and they basically use AAA talent and Mexican independent talent. So it's again, basically AAA. Then we have AAA proper, whatever that entails. Then we have Impact and MLW. So at least in theory those two will use their own talent. It's some tournament format supposed to happen on May 2nd. I'll see if I have more information next week before it all happens. Maybe Konnan will reveal more on Keeping it 100 this week.
Greg DeMarco's Three Stars Of The Night: WWE Raw (4/22/19)
In a good edition of Raw, who stood out at the top Three Stars?
The first WWE Raw after 2019 WWE Superstar Shake-Up saw a #1 contender established for Seth Rollins. But who stood out to Greg DeMarco?
Judging by Twitter, the world seems to agree with Big Daddy DeMarco that this was a good edition of Raw. We may not have Bobby Fernandes at our disposal right now, but I dare say he'd also find it Good. That said, there are talents who rose above the rest. Who were they? Let's have a look!
The Third Star: Cedric Alexander and Cesaro
Two new members of the Raw roster went to battle here. One was revealed last week (Cedric Alexander), and the other was revealed earlier today in some additional roster swapping (Cesaro). I loved seeing Cedric hold his own against a much larger opponent. That is something he hasn't had to do in recent years, but he didn't miss a beat. Cedric the underdog (a role Ricochet seems to be inheriting as well) can work. As for Cesaro? He delivered in a big way here, looking great in the process. The right guy won, but both looked great coming out of this match.
---
Elisa looks great in her Chairshot gear.
You can, too!
Be like Elisa and get yours at:
https://www.prowrestlingtees.com/related/thechairshot.html
---
The Second Star: Lacey Evans
I gotta call a spade a spade: this wasn't a good night for Becky Lynch. Yes, Alicia Fox has her faults, but those miscues seemed to be equal parts Becky and equal parts Alicia. Enter Lacey Evans to save the segment! Lacey knows her character…Lacey IS her character. She might be the strongest character in WWE today, and she deserves every opportunity coming her way. At this point I am rooting for Becky to lose to Lacey, because seeing The Lady of WWE holding the Raw Women's Championship just feels right.
Honorable Mention: Sami Zayn, Robert Roode, AJ Styles, Baron Corbin, Samoa Joe, Rey Mysterio, The Miz, Drew McIntyre
---
Must read: Tiffany's Takes for WWE Raw (4/22/19)
---
The First Star: Bray Wyatt
We've been waiting for Bray Wyatt to make his return, and when we are made to wait too long things don't usually pan out. I am happy to return: this panned out! Bray Wyatt has taken hold of his character's new direction, and delivered a segment that quickly became the #1 trend, and has people wanting more. That is the goal, and Bray nailed the goal in his first segment back. Yowey-wowey I can't wait to see what's next!
---
Who are your Three Stars of WWE Raw?
Comment on social media @ChairshotGreg, @theCHAIRSHOTcom,
and use the hashtag #UseYourHead!
---
In hockey, a game's "Three Stars Of The Night" represent the top three performers of the night. For more clarification, I defer to this Pittsburgh Gazette explanation:
"The tradition dates to the 1936-37 season, when Imperial Oil became the principal sponsor of Hockey Night in Canada radio broadcasts and was seeking a way to promote one of its products, Three Star gasoline. The idea of doing so by selecting the top three performers in a particular game purportedly came from a Canadian advertising agency.
Many clubs do recognize the player with the most three-star selections with an award or trophy, usually in conjunction with a corporate sponsorship, at the end of the season (or sometimes, each month). All six Canadian franchises, for example, have an affiliation with a well-known brewery.
The NHL keeps track of its own Three Stars Of The Night selections, but that is done on a league-wide basis. The league employs a system that awards 30 points to a first star, 20 to a second star and 10 to a third – a running total can be found on the league's website – but it does not present an award based on them."
In hockey tradition, the first star represents the best of the three, but all three are considered to be receiving a high honor.