Top 5: Matches of the Week Ending 5/6/2018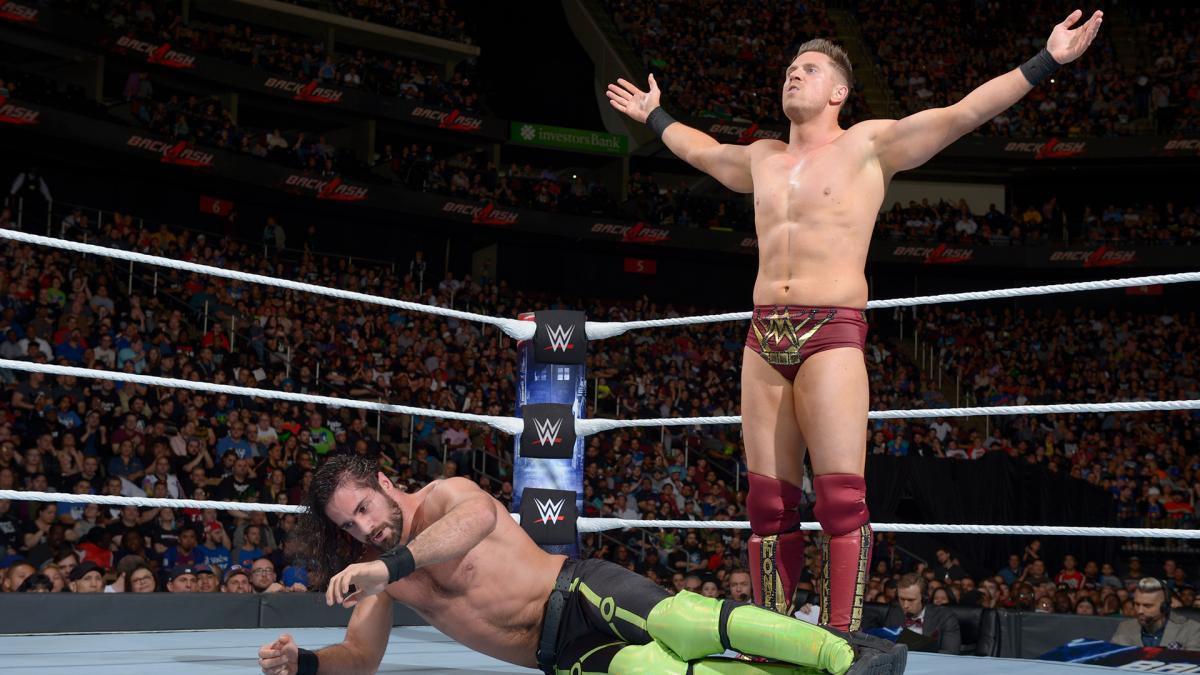 Thanks to the reception of Hisame's fantastic Four Days in April article, as well as a good level of interest in All Japan, we had yet another decision get decided thanks to reader interaction. Naomichi Marufuji vs Jun Akiyama, the match of betrayal and resentment, managed to edge out the competition last week. So let's look at the April matches that we get to vote on also.
April Pool
NXT: Andrade Almas (c) vs Aleister Black
AJPW: Shingo Takagi vs Yuji Hino
Impact: Pentagon Jr vs Austin Aries (c) vs Fenix
AJPW: Naomichi Marufuji vs Jun Akiyama
So we see two Champion Carnival matches made it into the April pool, which shows nice growth in interest and a potential fanbase for All Japan, as they try and rebuild. Because of the years of build up, and the pure passion you could feel resonate off of every move, Marufuji vs Akiyama gets my vote for the month. It's not every day, you get to see a match with so much historical significance, in a wrestling ring.
5. WWE Backlash WWE Championship NoDQ Match: AJ Styles (c) vs Shinsuke Nakamura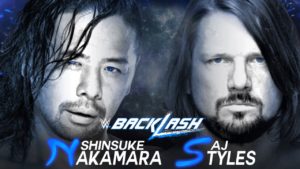 The stipulation got added, thanks to Nakamura's propensity to hit low blows. This was the best match they've had to date in WWE, but sadly the ending wasn't fantastic.
We saw a lot of nice back and forth on top of both men playing their characters very well. AJ got slowly frustrated and Shinsuke had his old fun flavor with the stiff cruelty of his Japanese days. Sadly, I have to give Corey credit for being right, when he talked about this heel version of Shinsuke, being what we all knew and loved.
A big highlight spot was Styles throwing the chair into Shinsuke's knee and having it ricochet off of his face. Then that got followed up with Nakamura placing the chair nicely to hit his Reverse Power Slam onto the chair.
Sufficed to say, this match was building beautifully, we finally got both guys hitting low blows which helped to validate the NoDQ stipulation…and then…the ending happened. WHY, WHY is it another no contest? Stipulation like this are supposed to indicate a blow off, not drawing things out to pop a rating on SmackDown or milk it for another PPV.
Rating: *** 3/4
4. NJPW Wrestling Dontaku IWGP Junior Heavyweight Championship: Kushida vs Will Ospreay (c)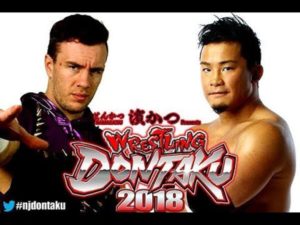 Will Ospreay was on this quest for validation since he wanted to beat each man from the Wrestle Kingdom Four Way, individually.
We all know Ospreay had a big neck injury after his match with Marty Scurll at Sakura Genesis, and yet he still unveils his Stormbreaker move in the tag team match before this event, and ya, made no sense. So we move to the match itself, where even though both men apparently have bad necks, Kushida focuses on the arm since the Hoverboard Lock is all that makes sense to him I suppose.
The match had a lot of big spots, but awkward movement between them. Ospreay also sold his arm for a portion of the match, but still pulled off the super human shtick to land a multitude of high flying moves. Plus with Ospreay winning via his newly unveiled Stormbreaker maneuver, it just felt forced.
Long and short, not their best work, and a lot of spots that were done purely for flash and not because they made sense or helped the match. Still a good match, but they both have done significantly better in previous matches.
Rating: ****
3. WWE Backlash Intercontinental Championship: Seth Rollins (c) vs The Miz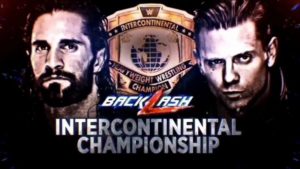 So the opening matches lately have been extremely solid, and this one was no exception.
It starts off a little slow, but picks up with some nice big spots, a big miss on the Ripcord Knee on the apron, and Seth Rollins kicking out of two Skull Crushing Finales. Since WrestleMania, The Miz has proven he can put on some pretty fantastic matches without needing outside interference. Yes, he hasn't been able to manage a victory, but they could be building something.
Not really sure how the Intercontinental scene shakes out after this match, but my guess would be Finn Balor breaking out the Demon…since they haven't really put much effort into anyone else yet.
Rating: **** 1/4
Honorable Mention
WWE Backlash: Roman Reigns vs Samoa Joe
Rating: *** 1/2
2. NJPW Wrestling Dontaku IWGP Heavyweight Championship: Hiroshi Tanahashi vs Kazuchika Okada (c)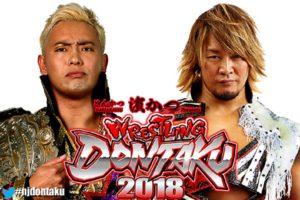 There's been a common thread in the marquee matches in Japan, with involving a good amount of history.
This match showed a lot of call backs, a lot of both men knowing the others moves and of course, being a nice bookend to the rivalry. Okada approached Tanahashi as someone who was too hurt and broken to be a real threat, in the same vein that Tanahashi didn't see a young returning Okada as a threat back in 2012.
The match wasn't flashy, and there weren't a ton of surprising moments, but you could see the years of familiarity in the pacing and sequencing of moves. Ring psychology, the crowd being completely into the match and Okada showing more of his arrogance, just kept adding layers to both characters and the storyline.
Honestly, the most surprising aspect to this match was that it took only 1 Rainmaker to finish Tanahashi, when a few years ago, he was the first man to kick out of one.
Rating: *****
1. AJPW Champion Carnival Finals: Naomichi Marufuji (B Block Winner) vs Kento Miyahara (A Block Winner)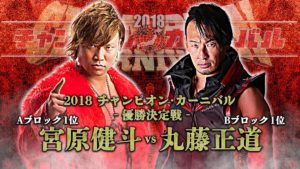 With all the emotion and history that went into Marufuji's match with Akiyama, one had to wonder, exactly what he had left in the tank.
Marufuji came out with a little extra pop in his step, and you could see he wanted this. Highlights of the match being a big Springboard Curb Stomp, the Crescent Kick around the post, Piledriver on the apron as well as a collision of knees, Marufuji's Bicycle Knee met Kent's Blackout and both men went down for a few moments.
Both men kicked out of the other's signature moves, so Marufuji decided to bring out the homage to his friend, his trainer, nearly an adoptive father to him, Misawa's Flowsion. After landing the Flowsion, Marufuji picks up the pinfall and the NOAH banner waves in victory at AJPW Champion Carnival.
Rating: ***** 1/4
So we see that Backlash has brought a decent amount of matches to compete with the other larger events. My personal vote will go with what I ranked number 1 since I was covering the entire Carnival so I got to see the build, and of course know some of the back story. I don't expect people who go into that match cold to see it the same way, I'm just stating why I'm going with, Naomichi Marufuji vs Kento Miyahara.
We've got two votes this article, and the last few weeks continue to prove that your opinion matters. So comment, email, tweet or scream. Just make sure to say your piece and Always Use Your Head.
King's WrestleMania Rewind: Charlotte Flair vs. Asuka from WrestleMania 34
Chris king is back with one of the most underrated matches in WrestleMania history–Charlotte Flair vs. Asuka!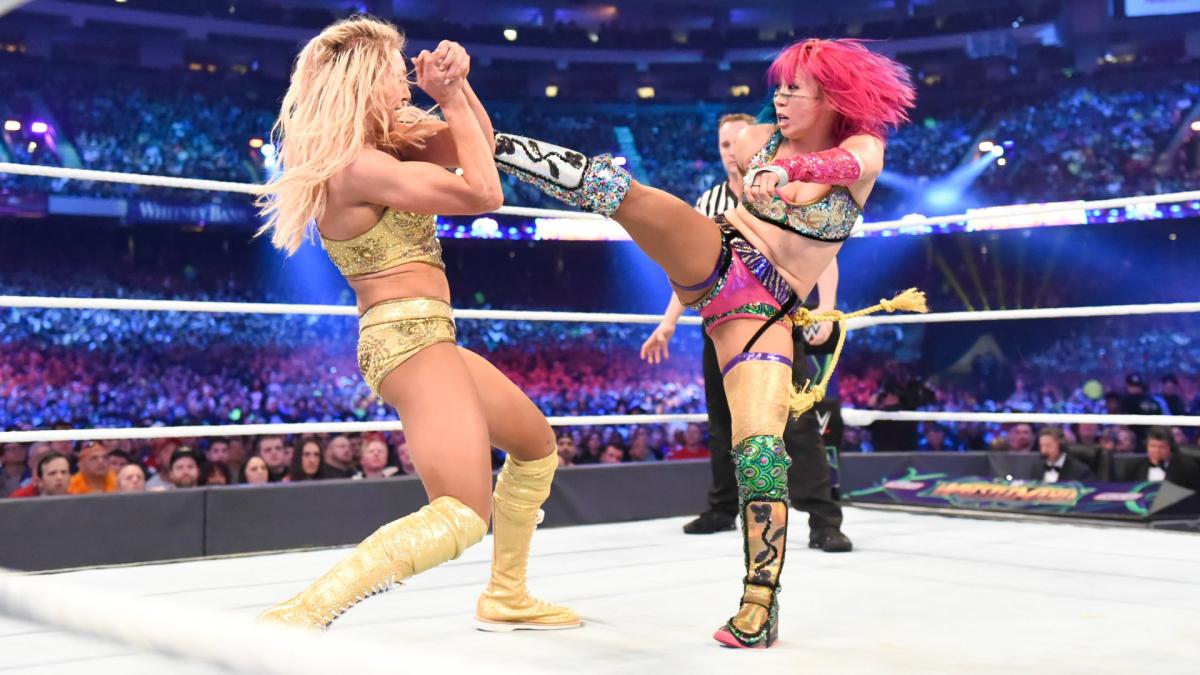 Chris king is back with one of the most underrated matches in WrestleMania history–Charlotte Flair vs. Asuka!
We look back at Charlotte Flair vs. Asuka at WWE WrestleMania 34. 'The Empress of Tomorrow' put her unprecedented and historic undefeated streak of 914 days on the line against 'The Queen's' SmackDown Women's Championship.
For years, this was considered a dream match while Asuka dominated the roster in NXT, while Flair won numerous championships on the main roster on both Raw and SmackDown. The Empress made her long-awaited debut on the September 11th episode of Raw and began to tear through the competition.
Asuka outlasted all twenty-nine other women in the historic first-ever Women's Royal Rumble match to challenge for the title of her choosing. At Fastlane, she made her choice.
The WWE Universe was so excited for this match myself included. Both superstars delivered a fantastic performance on the Grandest Stage of Them All executing counter after counter. Asuka showed off some nasty-looking kicks to her opponent, and Flair hit a thunderous Spanish Fly off the top rope. Flair was seconds away from defeat at the hands of The Empress but she locked in Figure Eight and Asuka was forced to tap out.
I can't even begin to explain how shocked I was at this outcome, as nearly everyone expected The Empress to continue her undefeated streak and walk away with the women's title. This controversial decision was the downfall of Asuka's momentum. She would ultimately win the SmackDown Women's Championship at the 2018 TLC pay-per-view in the triple-threat ladder match.
Fast forward to this year when Asuka has recently returned with her Japanese-inspired persona Kana. Kana is dangerous and ruthless and is heading into a championship with Bianca Belair at WrestleMania 39. The Empress has regained all her momentum and is highly favored to walk away with the Raw Women's Championship. Let's hope that Asuka and Belair can tear the house down and deliver an A+ grade match both women are fully capable of.
King: Dominik Mysterio Needs To Do This At WrestleMania
Chris King is here with what WWE should do with Dominik Mysterio at WrestleMania in his long-awaited match against his father Rey Mysterio Jr.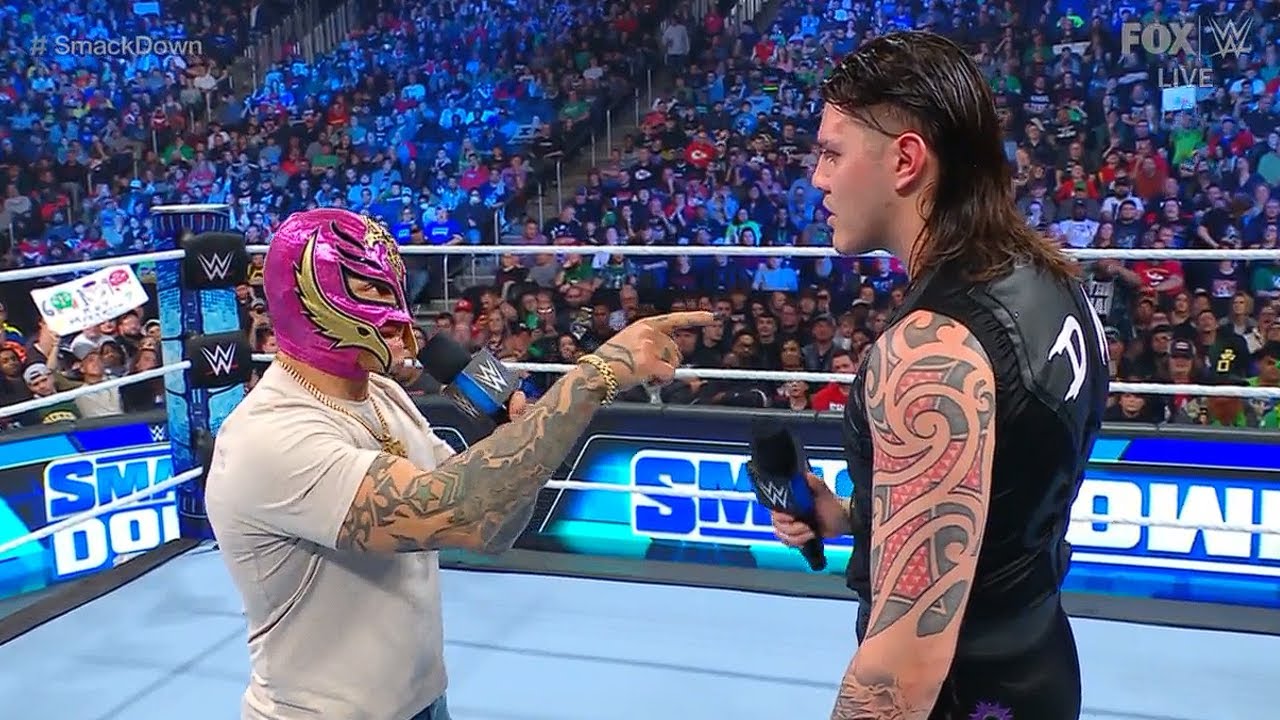 Chris King is here with what WWE should do with Dominik Mysterio at WrestleMania in his long-awaited match against his father Rey Mysterio Jr. 
On this week's episode of Friday Night SmackDown, Rey Mysterio finally snapped and beat some sense into his disrespectful punk-ass kid Dominik. The member of the Judgement Day came out to push his father again for a match on the Grandest Stage of Them All, this time with his mother and sister at ringside. The ungrateful punk told his mom to "Shut Up," as a father even I wanted to jump through the screen and whoop his ass.
Back in October of last year, Mysterio made the emotional decision to possibly quit the company but, instead, Triple H persuaded the Lucha libre superstar to move over to SmackDown to avoid his son. This came after Dominik shockingly turned on his father at Clash at the Castle. Mysterio did everything he could to refuse his despicable son's challenge for Mania but, a man can only be pushed so far. Mysterio will be inducted into the 2023 WWE Hall of Fame and I expect Dominik to embarrass his father during his speech to further this personal feud.
Yes, the WWE Universe hates Dominik and wants to see him get the ever-loving crap kicked out of him but, this feud is missing a special ingredient to capitalize on the biggest heat possible. Throughout this feud, Dominik has made mention of the legendary Eddie Guerrero on several occasions going back to the "iconic" 2005 feud.
I know WWE might not want to go this route but, Dominik MUST come out to Eddie Guerrero's theme at Mania. The disrespectful punk needs to come out in a lowrider to garner nuclear heat. It doesn't matter if The Judgement Day comes out and causes interference for Dominik to get the win, all that matters is that both superstars get the biggest payoff of this nearly year-long feud. Just imagine the Roman Reigns heat after he defeated The Undertaker and multiply that by ten. Dominik portrays the perfect heel and he truly is the missing ingredient that The Judgement Day needed to grow and evolve into a top faction.