Could WWE United Kingdom Division Talent Fit on 205 Live?
This week, with the United Kingdom division talent participating on 205 Live, I thought it would be great to run down what these men would have to offer on 205 Live each week. Unfortunately, we had a fatal four way and a six man tag match, so it didn't give real good looks into the competitors. Had each one been featured more, we'd have a more complete picture for each.
---
Kenny Williams
Kenny isn't just quick in the ring, he's sudden. Despite this, he seems to be a bit more technically oriented as opposed to the high flying style. He seems to prefer back elbow strikes which, while basic, is a fun change of pace. His tilt-a-whirl DDT finish is stylish enough to pass as strong. I'd like to see some more of Williams on 205 Live, the technical, but not submission based style is not represented well at all right now.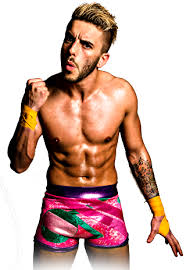 ---
Tyler Bate
What else needs to be said? Tyler Bate is 21 years old, the inaugural UK Champion and loaded with talent. He possesses amazing strength and some serious ring savvy. His charisma seems solid, and barring any backstage issues(if they are legit), he could be the future. He's a solid ring worker, with a diverse moveset that matches well against any type of opponent. He also has built in beef with TJP.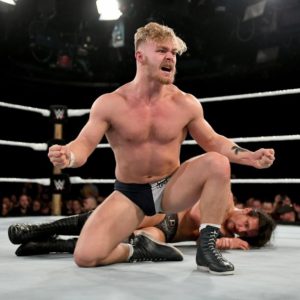 ---
Flash Morgan Webster
Webster is a flashy guy and has a very unique look. He seems to ooze charisma but it doesn't overshadow his character. He seems to be a perfect underdog babyface, and took a lot of punishment. He has above average facial expressions that draw the fans in and give them something to care about. He hit what looked like an inverted standing swanton which was very unique, plus he transitioned a tilt-a whirl into an inverted DDT which was awesome visually.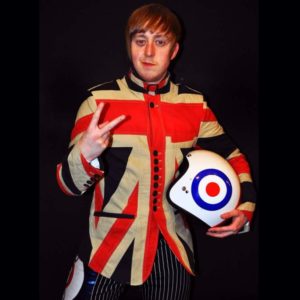 ---
James Drake
James had some solid basic heel work that gave him legitimacy. He didn't contribute much as far as offense goes, but he did produce a BIG forearm strike that looked great. He sports a good look and average speed as well.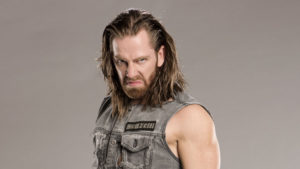 ---
Joseph Connors
Connors was aggressive and deliberate in his actions which led to good heel work in the ring. He was moving decently and has a good look. He hit a nice Flatliner variation that was very visually appealing. Besides that, his offense was pretty basic heel stuff, but it all looked crisp.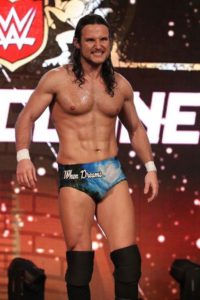 ---
Just these guys alone represent what could be the future influx of talent that 205 Live may very well need. If a Cruiserweight Tag Team Championship is to be introduced, Drake Maverick needs more competitors (which I've covered on The Chairshot before). This is an option, especially those participating in the UK Tournament in June that fit the 205 pound mold. Hopefully we continue to see these talents utilized like we have Mark Andrews on 205 Live.
---
Always Use Your Head and visit the official Pro Wrestling Tees store for The Chairshot All t-shirt proceeds help support the advancement of your favorite hard-hitting wrestling website, The Chairshot!

---
Is Samoa Joe Headed for a Babyface Turn in WWE?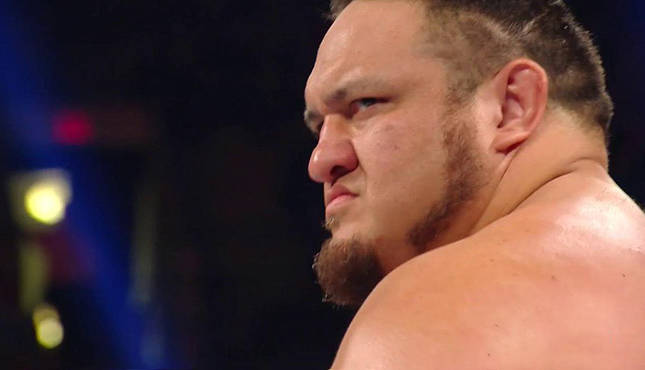 Samoa Joe's recent promo on Big Colin Cassady has everyone talking. That's because Joe once again took advantage of the mic time afforded him to cut his opponent in half. Both men may be heels but Joe's words were that of a babyface, which has many asking if a character turn is on the horizon.
The Samoan Submission Specialist is booked to face Big Cass in a Money in the Bank Qualifying Match on the May 22 edition of SmackDown Live. The two men have a reason to sound off on each other. Joe was simply generating heat and nothing more may come of this scathing promo. But what if it does?
What if this propels Samoa Joe to a whole new level? Fans already love to cheer for him despite how vicious he is. Samoa Joe could do just about anything to anyone on SmackDown and still pop the crowd. There's just something about him that makes the fans want to stand up and shout.
Joe is a man's man. He's a legitimate tough guy and everyone knows it. His gaze is ice cold and his intentions are purely evil. Every time he opens his mouth, his words cut like a knife. Just as there is no wasted movement in his matches, there are also no wasted words when he speaks. Samoa Joe is deliberate and that is what makes him different.
Pro wrestling fans gravitate to this kind of personality. It's precisely what first turned The Road Warriors babyface during the mid-80's. The same was true of Jake the Snake Roberts in 1987. Stone Cold Steve Austin was supposed to be a heel as well but like Hawk, Animal and Roberts, Austin turned face because of the crowd.
The WWE faithful wanted Steve because he was the real deal. He wasn't flashy, he wasn't loud and he wasn't a caricature. He was the baddest man in WWE and every fan in the crowd respected that. They loved him for it. This is Samoa Joe.
It's not to suggest that Joe could suddenly explode in terms of popularity the way Austin did but it's obvious that Joe has that unique quality about him. He's Charles Bronson tough but with a Clint Eastwood intensity that's always simmering just below the surface. Samoa Joe looks as though he could take down half the locker room with little to no effort. What's not to love about that?
Losses don't hurt him. Time off doesn't hurt him. Samoa Joe is the same piece of steel today as he was yesterday. His gimmick does not age and his persona is timeless. It's hard for any man in the crowd to hate a guy with that much fire, especially when that guy is matched against a lesser talent.
Enter Big Cass, who has a world of potential in his corner. But he doesn't have a real direction just yet and he also doesn't have any real credibility. Cass is a big guy that could be a big star but right now he's just talking a big fight. He was dismantled by Daniel Bryan and it took three guys to pull Daniel off of him. Cass is seven-foot, 285lbs. Bryan is 5'10," 210lbs.
Big Cass is already at a disadvantage going into his match with Joe and the fans know it. They will surely remind him of it and when Joe's music hits, they will surely erupt. The fans want Joe to turn face. They love him as a heel and they love what he does but if he were on their side? Samoa Joe could become the hottest protagonist in WWE.
But the main problem with any sort of character change for Joe is WWE itself. The company doesn't exactly have a great track record when it comes to turning guys from one side to the other. Fans have demanded a Roman Reigns heel turn for two years and it's not happened yet. They've also wanted a Rusev face turn but that's not happened yet either. What makes anyone believe Joe will be any different?
The fact is that so much is possible with Samoa Joe if he does make the turn. He can immediately be positioned against any heel in the company and he would automatically get over with the crowd. He would be one of the most popular babyfaces on the blue brand and very few would be able to match his pop. But is this really the best move for him right now?
Joe is working on a program that features AJ Styles, Daniel Bryan, Jeff Hardy and Randy Orton. These are four top faces that consistently get the biggest reactions on SmackDown Live. Does WWE really want to add another face to that group? Is there even room for Samoa Joe as a top babyface on Tuesday nights?
What makes him a great heel is ultimately the same thing that keeps him a great heel. He's much too valuable in his current role to try anything new. Joe is just too good at being bad. Why would WWE want to change that now?
But when it comes to the fans, anything is possible. If the crowds continue to react positively to Joe and if he keeps getting cheers even when he's doing something wrong, then everything could change. Samoa Joe is the kind of destroyer that fans want on their side. He's just so cool and he's just too tough to hate. He may remain right where he is but Samoa Joe is ready for anything. He always has been.
---
Always Use Your Head and visit the official Pro Wrestling Tees store for The Chairshot All t-shirt proceeds help support the advancement of your favorite hard-hitting wrestling website, The Chairshot!

---
Is Jeff Hardy Too Old for This?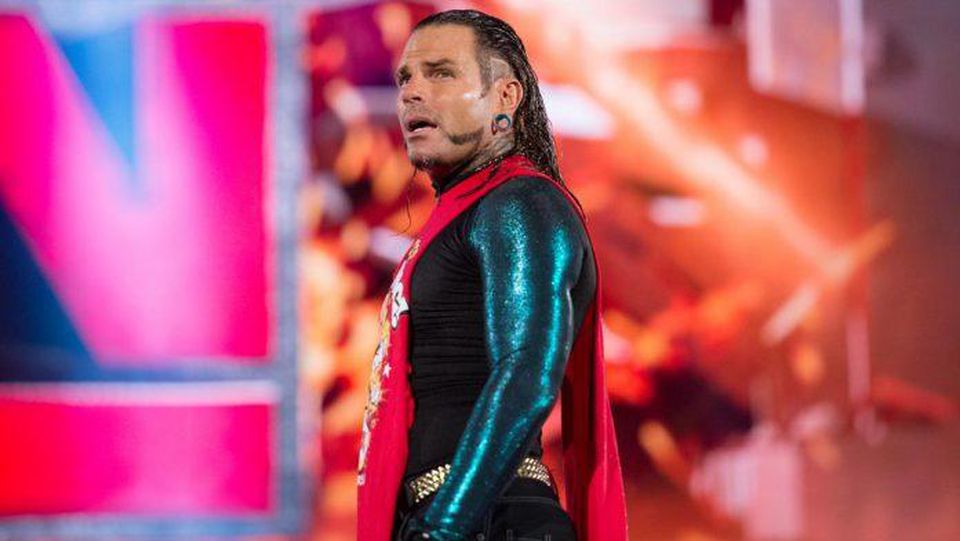 It has yet to be 100% confirmed, but Jeff Hardy may have suffered an injury during his entrance for this past week's SmackDown dark match in London. Jeff Hardy returned to WWE alongside his brother Matt at WrestleMania 33 in 2017 and has spent most of that time sidelined with injury. As Jeff returns to singles competition, one has to imagine that his body is catching up with him.
Return (Again)
Jeff's post WrestleMania 34 return was hot. The crowd blew up, the spots were big and there seemed to be a bright future in Jeff's singles aspirations as Matt was and is still teamed up with Bray Wyatt. After Jeff's return, he quickly won the US title from Jinder Mahal on an episode of Raw. Throughout the match though, Jeff was noticeably slower than he used to be. Sure, I don't exactly expect the Jeff Hardy of 2008 to magically return, but it almost felt like every move Hardy did hurt him and slowed him down throughout the match.
With a move to SmackDown away from his brother and a win over Randy Orton at Backlash in the books, Jeff Hardy's return looks really good on paper. However, since his return from rotator cuff surgery, we're now able to see more of his issues. The excitement has been palpable to see Jeff Hardy, but his singles matches really have not been anything of note.
Last year when he was tagging with Matt, he didn't have to do 100% of the legwork because he always had an option to tag out. Now that he's (rightfully so) on a singles run, he has to last out for full matches, which is looking more and more difficult for him match after match.
Hardy vs. Hardy
As opposed to Matt, Jeff's style over the years has been a lot more risky and death defying, which is probably one of the reasons that Jeff seems a little worse off than his brother at the moment. It is also one of the reasons that Jeff has historically been more over than Matt in the WWE- that daredevil style draws in fans, and Jeff was a deserving recipient of that notoriety.
Matt Hardy though seems to be dealing with less significant issues as his style is much more grounded and leverages a strong character to excite the fans. Jeff Hardy is very capable in exciting the fans, but years of jumping off tall objects and aerially throwing himself at his opponents has to have done a number on his body.
The Verdict
Although it is tough for me to say: Is Jeff Hardy just too old to compete on a full WWE schedule? Is his body too weathered for one last long singles run? I sure hope not, but it really does look like the younger Hardy is experiencing some troubles in executing his move set without slowing down. Matt Hardy has a bit more longevity of the two in his wrestling style, but to lose Jeff right now would be incredibly unfortunate as he has the potential to really be a face of the SmackDown brand.
Let's hope this is not a serious injury and that Jeff can entertain the fans for many more years to come. I just hope his body can hold up. A slow Jeff Hardy though is better than no Jeff Hardy, and as long as he's not at extensive risk, his current limitations will just have to do.
---
Always Use Your Head and visit the official Pro Wrestling Tees store for The Chairshot All t-shirt proceeds help support the advancement of your favorite hard-hitting wrestling website, The Chairshot!

---
Roman Reigns Isn't Going Anywhere (And Neither Are You)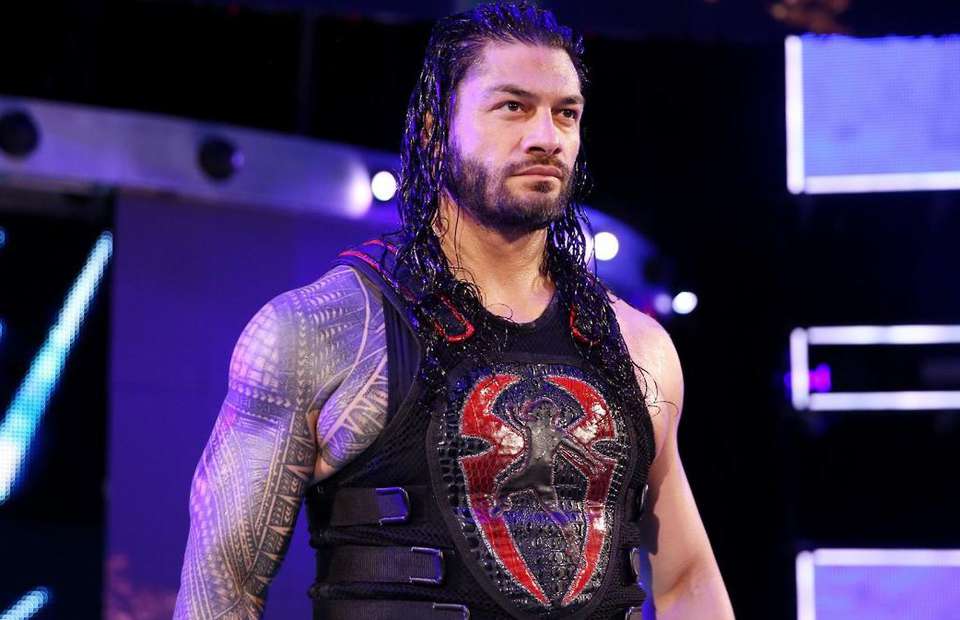 Roman Reigns isn't a new thing. WWE, dating all the way back to the WWWF days, has always been known as a promotion built on a strong supporting cast with a "Superman-like" babyface atop the heap. So, why the hate for "The Big Dog"?
Vince has history on his side
Vincent J. McMahon loved superhero babyfaces. He built the WWWF off a relatively simple concept: push an "all-american", unstoppable babyface capable of carrying the company on his back with class and legitimacy. For close to 15 years, whether he was wearing the WWWF Title or not, Bruno Sammartino was that man, owning the Northeast to the tune of untold sold out arenas and countless ecstatic fans.
The next "hood ornament" babyface to come around for Vince Sr. was Bob Backlund, a walking, talking embodiment of the phrase "aw shucks" if there ever was one. But Bob was also a Division II NCAA wrestling champion, as well as an All-American in both wrestling and football, meaning when the time came to step into the squared circle, what he lacked in charisma, he more than made up for by being a great athlete. Backlund was world champion for close to six years.
The formula was perfected with Hulk Hogan
By 1983, it was Hulk Hogan's turn to be "the man". In Hulk, Vincent K. McMahon found the perfect "Superman" to take what was once a local family owned territory, and rebrand it for the mainstream, ultimately making the WWF synonymous with professional wrestling. People who don't know the first thing about pro wrestling still know Hulk Hogan, and after he won the WWF Title from The Iron Sheik in 1984, he carried the belt (and the wrestling world) for most of the next seven years, forever transforming the way we view the genre. With all due respect to "Stone Cold" Steve Austin, Hulk Hogan is the most influential wrestler the industry has ever produced.
Speaking of Steve Austin, he owned the late 90s and early 2000s and did so whether he was wearing a championship or not. He crossed over into pop culture in a way only bested by Hulk Hogan, taking the WWF to unseen heights in revenue.
John Cena picked up the load of being "the man" in 2005 and carried it for a decade. No babyface has ever been more vilified by fans, but through it all, Cena remained the face of not only the WWE, but the industry as a whole.
Roman Reigns is "your guy" because Roman Reigns is "Vince's guy"
Whether you like it or not, it's Roman Reigns' turn. He is, quite simply, the guy Vince McMahon has decided is his most marketable face. Vince doesn't care about 5-star matches, workrate, and catering to the anti-Roman Twitter army (most of whom likely harbor a double secret crush on "The Big Dog". Vince wants someone he can market to middle America, to little kids, to your grandmother. He wants another Hulk Hogan. He wants another John Cena.
Would Reigns, from a creative standpoint, be better off with a heel turn? Maybe, depending on what Creative had for him. That's the thing about a turn: doing it just to do it doesn't work. Look at the hundred times Big Show had done it for no reason. How about Randy Orton's 94 turns? I can name two that were memorable.
The dislike for Roman is likely rooted more in overexposure than anything else, which is much the same thing that hurt Cena (from an Internet fan standpoint, at least). With Bruno and Backlund, fans almost always had to go to the arena to see them. Hulk and Austin were merchandise juggernauts, but we still only saw them on TV once a week. Neither had to worry about the level of overexposure Cena and Roman have been saddled with working through.
Yes, Vince has had his "misses". Anyone making as many decisions as he's made is gonna have plenty of them, but in Reigns, I guarantee he sees someone he can count on. Dependability and work ethic go a long way with guys like Vince McMahon. Plus, Vince knows you're not gonna turn the channel.
Vince plays it safe because he knows he already has you
"The Big Dog" isn't going anywhere. Why, because you've proven to Vince you're not going anywhere either. You'll whine and moan about Roman (or Cena before him) but you'll be right back in front of your television every Monday and Tuesday, ready to get mad all over again. Just accept that Vince has you and stop taking it all so seriously.
---
Always Use Your Head and visit the official Pro Wrestling Tees store for The Chairshot All t-shirt proceeds help support the advancement of your favorite hard-hitting wrestling website, The Chairshot!

---