Andrew's Ratings & Review: WWE Money in the Bank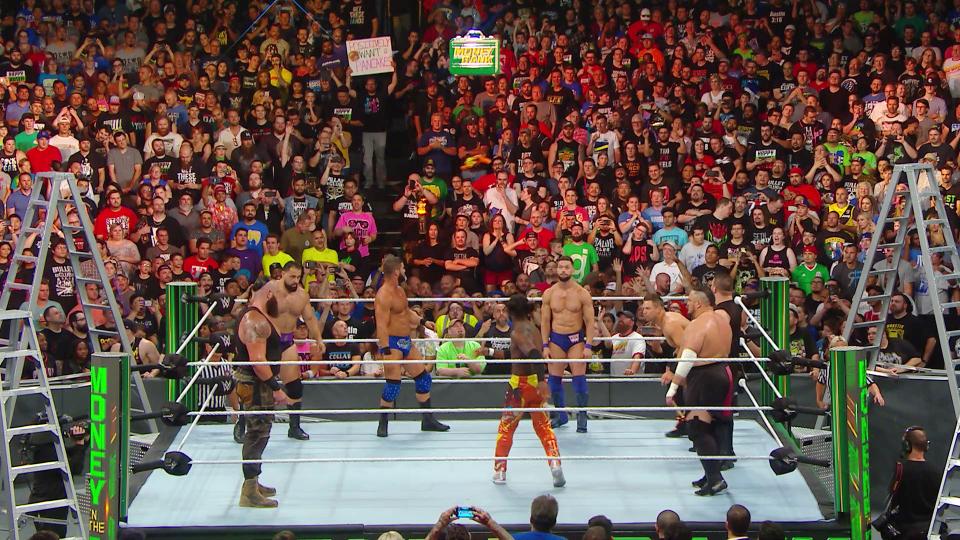 Money in the Bank is the unofficial, fifth largest PPV in the WWE Big 4. We're guaranteed at least two somewhat entertaining spectacles of matches, so the insurance of having at least two decent matches is nice.
Will this underwhelm like many of the 2018 PPVs have, or will we finally get some good payoffs coupled with solid matches? Let's find out.
Bludgeon Brothers vs Gallows & Anderson
Starts off with Gallows unleashing a flurry of strikes, then Harper gets hung up in the ropes as the action spills outside.Bludgeon brothers slowly get the advantage dropping Gallows onto the ramp and Anderson across the apron, as they roll back in the ring, and head to commercial.
Coming back from the break the Bludgeon Brothers are still in control, working Karl Anderson over. Gallows is still down on the outside and Anderson keeps trying to mount a comeback, but is immediately stopped by either member of the Bludgeons in the ring. An Irish Whip into the corner goes awry for the Bludgeons. Anderson catches Harper with a Spinebuster and finally Gallows gets to the apron for the hot tag. A few nice kicks and a Pumphandle Slam on Harper give the Good Brothers a distinct advantage for the first time all match.
Harper connects with a Big Boot as Rowen distracts them, Gallows and Anderson gofor Magic Killer, Rowen breaks it up, and they hit their assisted Powerbomb finisher. Bludgeon Brothers retain in a fairly, by the numbers and uninspired match.
Winner: Bludgeon Brothers via Tandem Powerbomb
Rating: **
Big Cass vs Daniel Bryan
D-Bry pushes Cass into the corner and tries to bring him down with strikes, but Cass throws him off. The beginning is very much Bryan trying to chop down the tree.But he gets caught going over the turnbuckle and thrown into the barricade.
Bryan slowly gets back in the ring, but Cass maintains most of the control. Big Boots, hip attacks, splashes in the corner. But Daniel catches him with a Drop Toehold into the middle turnbuckle and keeps trying to chop down Cass with Round Kicks and Dragon Screw Leg Whips. Since Daniel has the control, he's showing more aggression and repeatedly throws Cass' injured left leg into the ring post. Bryan sells out for a big dive, driving Cass into the barricade, but on the way back in, Cass starts to put some offense together.
Avalanche Fall Away Slam from Cass for a 2 count. Cass follows up with a Torture Rack, into a big slam for another near fall. Then Cass misses a Big Boot, getting hung up in the ropes. Chop Block from Daniel, and then he goes for his Yes Kicks. Bryan lands the Buzzsaw Kick, goes for a running kick, but gets caught with a Pop-Up Big Boot, for yet another 2 count. Torture Rack number two from Cass, but Bryan lands on his feet, hits that signature Running Knee and gets caught in the Heel Hook. Cass tries to get to the ropes, but taps.
Meh, this match was what you expected it to be. Nothing special, but not totally awful.
Winner: Daniel Bryan via Heel Hook
Rating: ** 1/4
Sami Zayn vs Bobby Lashley
Zayn plays keep away for a while, Lashley chases him but Sami takes a few short cuts to get the early advantage on the outside.
Sami attempted to get a count out victory twice, but Bobby isn't even close to being beat enough. Sami keeps laying in right hands, until Lashley catches the fist and hits a big Running Lariat. Zayn goes for a Crossbody, but Lashley catches him into a Fallaway Slam. Then we get multiple spots in the corner with Lashley hitting some running shoulder blocks and lariats. Huge Spinebuster off the ropes, into the Stalling Vertical Suplex, but Bobby doesn't go for a cover.
Lashley goes for a Backbreaker variation, another Vertical Suplex, still no cover. Finally after doing it again, Backbreaker into Suplex, he picks up the pinfall victory.
This match was worthless.
Winner: Bobby Lashley via Stalling Vertical Suplex
Rating: *
Intercontinental Championship Match: Seth Rollins (c) vs Elias
Starts off slow with Rollins hitting a Hammerlock Takedown, and they do the whole slow 'working hold' way to build the match. Elias gets out of it and lands a few strikes, Rollins eventually catches him with a Dropkick, causing Elias to powder out, but Seth goes for the Plancha to the outside.
Heading back into the ring, Rollins hits a Springboard Lariat and keeps working Elias over, little by little. Elias catches Rollins with a big Lariat on the apron, then rams his head into the apron and works over the neck. Snap DDT, and a 2 count for Elias. Elias sinks in a Cobra Clutch, slowly wearing down Rollins, and cleverly staying on the neck area. A little more back and forth once Seth breaks out, then hits a Suicide Dive. Second rope Blockbuster from Rollins for the near fall. Rollins' knee buckles mid leap frog, and Elias hits a kneestrike for only 2. Electric Chair attempt from Elias, as Seth slips out but sells the knee, as Elias rolls him up for 2 again.
Seth hits a combination of strikes, slowly building momentum, Elias tries to counter it, but Seth manages to hit his Thrust Kick as Elias is recovering from a rollup .Frog Splash attempt from Seth, but only hits Elias' knees and then a counter cradle into a 2 count. Elias goes to the top rope, most likely for his Macho Man Elbow, but Seth cuts him off. Superplex into Falcon Arrow from Seth for a very close 2 count.
Blackout attempt, Elias moves, catches Rollins' Suicide Dive attempt, rams him into the barricade, post and stairs. Finally hitting the Macho Man Elbow, for a near fall. Seth is basically dead weight, laying him on the top turnbuckle, but Rollins goes for Sunset Power Bomb, Elias goes for Drift Away, an exchange of rollups, Rollins gets the cradle with a handful of tights.
So Elias pushed Rollins to the point of cheating. Should be an interesting story device.
Winner: Seth Rollins via Cradle
Rating: *** 3/4
Women's Money in the Bank Match
Hoo-Hoo-Hulla-Baloo! People get dumped left and right, Becky kicks a ladder into Charlotte's face, but gets caught by Ember Moon before the ladder gets in the ring. Ember than rams Natty into the steps.
Sasha stops a Drop Toehold into the ladder, but Ember hits a nice Springboard Crossbody, sending Sasha crashing into the ladder. Ember keeps a lot of early momentum until Lana hits an X Factor on Ember, into the corner of the ladder. Natty comes in, nearly gets the ladder dropped on her, takes out Lana, drops Naomi on the ladder, split first and dropkicks her out of the ring. Charlotte comes in, hits an Exploder Suplex on Natalya and goes for the ladder, but Becky shows up to stop her.
Tug of War with the ladder, Naomi jumps off the ladder onto Natty, then kicks the ladder into both Becky and Charlotte. Bliss tries to pull the ladder out, but Naomi hits a Plancha to get rid of Bliss, and then a Blockbuster from the apron to the floor, as the action pauses.
Naomi dropkicks the ladder into Becky Lynch, as Ember and her then square off. Naomi goes to try and Monkey Flip Ember into the ladder, but Ember flips out, and then Hip Tosses Naomi into the ladder. Sasha enters, stacks Ember and Lana on top of a ladder propped in the corner and hits double knees, on the stacked up opponents. Charlotte cuts off Sasha before she can climb the ladder. After a brief trash talk spot, they both try to run up the same side of the ladder, goofy spot, which turns into them knocking each other off, then Charlotte hits a Neckbreaker on Sasha for the advantage.
Sasha counters a Razor's Edge by landing on the ladder, Natty pulls off Charlotte, Becky shakes Sasha down as she falls into Natty, Bliss pulls down Becky, Banks pulls off Bliss, as they then both slowly climb. Becky takes Alexa off, and the strikes on the ladder start. Lana sets up a taller ladder as Bliss keeps attacking Lynch. Six women on two ladders, let's see how this ends. Natty Slingshot Powerbomb on Sasha into the ladder and knock the ladder over. Charlotte Powerbombs Ember into a Ladder leaning in the corner. Charlotte takes out Lana, and then goes after Bliss, but Bliss hits a Code Red on Charlotte.
Bliss and Lana are the only two up right now. Bliss is the best wrestler standing at the moment, go figure. Lana kicks the taste out of Alexa's mouth and then locks in the Accolade. Naomi springboards onto the ladder, Naomi has the briefcase, but can't take it down, as Becky Lynch takes Naomi down.
Becky has a shot, but Charlotte sprints up the ladder. Small stare down, and then Bliss topples the ladder. Charlotte takes out Alexa with a spear, Sasha hits a Backstabber on Charlotte, Naomi rams Sasha's head into the ladder, Lana pulls Naomi off face first. Natty Electric Chair Drops Lana, Ember Superkicks Natty off, Charlotte Spears Ember into the ladder. Becky Becks-sploders Charlotte and readjusts the ladder.
Becky had it, but Alexa tips the ladder and Becky goes crashing. Little Miss Bliss, is Ms. Money in the Bank. The match was a little clunky, but still quite entertaining.
Winner: Alexa Bliss
Rating: *** 3/4
Roman Reigns vs Jinder Mahal
Roman blocks Mahal's first punch and starts man handling Jinder. A Back Elbow, bouncing his face off each turnbuckle and a big Samoan Drop. Roman misses the Driveby and Sunil Singh gets up out of his wheelchair to slam Roman into the post. Jinder takes control and rolls Roman back into the ring. Knees and forearms, Jinder gets a 2 count. The obnoxious crowd chants started immediately, and they aren't taking away from the match, just continuing to prove 'smart' crowds, as mostly brain dead.
A few more near falls, and then we get Jinder dropping repeated knees and choking Roman with his shin. Front Facelock, as Roman slowly struggles through it, back to his feet, just to get dropped back down. Jinder yells at the crowd and then misses a knee drop. Roman gets his feet up and starts his comeback. Huge Uppercut from Roman, as he goes for his corner lariat spot while the crowd does the Wave. Jinder catches Roman with a Running Knee Lift, for 2.
Jinder goes for the Khallas, Roman counters and tries a Samoan Drop, Jinder slips out but gets caught by a Big Boot for another near fall. Superman Punch, countered by Jinder into his Double Knees Gutbuster, for 2. Khallas number two, snapmare counter from Roman as he hits a desperation Superman Punch. OOOHH AHHH, Spear attempt, and Jinder kicks him straight in the face and throws him into the ring post shoulder first.
Roman on the apron, as they both start throwing hands. Roman catches him with a knee to the chest, then a Guillotine Leg Drop, into a successful Driveby. Sunil Singh tries to interfere again, but Roman braces himself and then Superman Punches Sunil and Jinder. Instead of playing Fling the Singh like Randy Orton does, he Speared Sunil, Jinder almost picks up the win with the Small Package. Reigns ducks under a Lariat and hits a Spear, for the pinfall.
Not a bad match at all, if you mute the audio.
Winner: Roman Reigns via Spear
Rating: *** 1/4
SmackDown women's Championship: Carmella (c) vs Asuka
Moonwalking and trash talking, as she barely avoids two Spinning Backfists from Asuka, and goes to the ropes for sanctuary. Carmella slaps Asuka, more trash talk and Asuka hits multiple Hip Attacks followed by Draping Headkicks and a Hip Attack that sends Carmella reeling.
Sliding Kick from the apron as Carmella tries to run away with the title. Asuka tries to stay on her, but Carmella grabs Asuka's arm and pulls her face first into the ring post. Rolls her in for a 2 count, and then rubs her face in the mat. Carmella lays on Asuka with a Double Chicken Wing variation, as Asuka turns it into a pin, Backfist attempt, Carmella dodges, hits two quick Thrust Kicks for a near fall. Then Carmella goes back to a submission attempt, some Front Chancery kind of move, to wear down the Empress. Asuka fights back up to a vertical base, but Mella drives the knee into Asuka stomach.
Asuka misses a dropkick, catches Carmella's foot and goes for a quick Kneebar, but Mella gets to the ropes. A few slaps from Carmella, pisses off Asuka and she lays in a bunch of strikes, kicks and hip attacks for 2. The anger gets the best of Asuka as Carmella baits her towards the ropes and Asuka flies to the outside. As she tries to get back up, Carmella kicks her and she lands hard on the outside. Mella with the Suicide Dive, rolls Asuka back in for 3 2 counts in a row.
Asuka finally hits a couple Spinning Backfists, a big kick in the face and then someone stands on the apron in Asuka's mask and outfit. James Ellsworth unmasks himself, and Carmella hits a Superkick for the pinfall.
The surprised, Ellsworth reveal/interference last too long, but it was a fun swerve and a better match in general that most probably expected.
Winner: Carmella via Superkick
Rating: ***
WWE Championship: AJ Styles (c) vs Shinsuke Nakamura
Styles takes an early advantage, landing a nice crisp Dropkick for the first attempted 10 count. Nakamura stays on the receiving end of a lot of offense, including a very quick Phenomenal Forearm to the outside. Nakamura has already been down 4 times, triggering the referee to start a count.
Finally, Shinsuke drives Styles into the barricade and snaps off a suplex for his first advantage. Nakamura drapes Styles across the apron and hits a Running Knee and then jumps off the stairs as he lands a Curbstomp style maneuver before rolling AJ back into the ring. Nakamura big brother's Styles a bit, kicking him in the head, followed by numerous Round Kicks to the chest and abdomen. Keeping Styles in the corner, he chokes him with his foot, than finally goes for the Vibration Kick, but Styles fights through. Nakamura lands a Feint Kick when AJ starts getting something going, but gets up by 5. Shinsuke drapes AJ across the turnbuckle, and Nakamura drives his knee into the mid section. AJ tries to walk away from Shinsuke, as they trade punches and then Nakamura wedges Styles' face into the steps and gives him the Vibration Kick.
Going from that spot, Nakamura throws AJ into over the barricade and they start brawling in the crowd. AJ finally gets in a few kicks of his own, sends Nakamura back over the barricade. AJ jumps on the barricade, and Shinsuke kicks the legs out from under him, but AJ is back up by 7.
Styles continues to be on the receiving end of the small insulting taps to the head. Reverse Powerslam attempt, countered by an Enzuigiri. Dropkick mid air from AJ, sending both men down, to get up by 7. Phenomenal Blitz catches Nakamura, and then Styles does that Wheelbarrow Faceplant move for a count of 6. Shinsuke goes for the low blow, Styles dodged, Shinsuke caught his foot and then lands the Reverse Powerslam. Knishasa attempt number one, gets met by a forearm from Styles. Both men down, but Nakamura is up by 7, Styles lands an Ushigoroshi. Count gets up to 8, as Styles goes for another Phenomenal Forearm, but an Enzuigiri sends AJ falling to the outside.
We may see our first announce table spot. Nakamura cleans on off, drops Styles onto it and then clears the top off of all of them. Runs across all announce tables and lands the Kinshasa. Styles rolls off the table at 9, so Nakamura drives his face into the ring post. Shinsuke goes to get out a table before the crowd chants for it, for a change. Shinsuke kicks Styles in the knee and Styles goes face first into the table legs before it's correctly set up. Table is set up, AJ is propped on the top turnbuckle, Styles slips through and tries to Powerbomb him, Nakamura fights out, table gets knocked over and Shinsuke drops AJ on the edge of the table.
He then leans the table in the corner, and throws AJ styles through it. Table breaks clean and Styles lays there, but manages to get up by 9 to Nakamura's astonishment. Knee lift, Axe Kick, but Nakamura misses the Draping Knee and his knee goes into the exposed turnbuckle.
Styles works on Shinsuke's injured knee, and they both slowly get back up. Styles keeps stomping on Nakamura's knee, but eventually stops so the ref can count. Shinsuke gets up by 6, and goes for the Calf Crusher. Nakamura visibly taps out,but that doesn't matter in this type of match.
Shinsuke gets back at 8, as AJ keeps methodically kicking at the left leg. So the tables turned, as Shinsuke was the methodical predator early, but now AJ is just trying to cripple Nakamura. Even going to get a chair and ramming it into the knee,then multiple Chairshots. The pleading of Nakamura goes unanswered, but it was all bait for a perfectly placed Low Blow, Styles is up by 9. Shinsuke with a desperation Kinsasha on a damaged knee, but back up at 9 again. Styles refuses to stay down.
Nakamura goes for Landslide on the table, Styles pushes him off and hits a Phenomenal Forearm, followed by a Styles Clash from the stairs to the floor, Nakamura is up at 9. "Come on" from Nakamura, and Styles just kicks him in the balls. Goes back into the ring, and lands a Phenomenal Forearm through the table.
Match had a few hiccups, but told a good story, had callbacks from the entire feud,both men looked very resilient. Styles wanted it, just a little bit more.
Winner: AJ Styles via Phenomenal Forearm
Rating: **** 1/2
WWE Raw Women's Championship: Nia Jax (c) vs Ronda Rousey
Jax immediately drives Ronda into the corner, and then tosses her from corner to corner. Ronda tries to fight back with strikes, but a big headbutt from Jax, slows down Ronda's offense. Corner Splash, into a Samoan Drop attempt but Rousey counters with a Kimura, into a Triangle Armbar as Nia tries to power out of it. One Armed Sitout Powerbomb breaks the Triangle Armbar. Ronda tries to get up, but falls through the ropes to the outside. Jax throws her into the barricade, rolls her back in, but Ronda kicks out at 2. Rousey tries to fight back, but Jax ignores a few strikes and lands a Gorilla Press, for 2.
Given a couple seconds, Ronda goes for a desperation Guillotine, then a Sunset Flip, but Jax just ragdolls Ronda into the mat. Bear Hug from Nia, slowly seems to be wearing out Ronda. A few forearm shots break the hold, but a Samoan Drop from off the ropes leads to a near fall.
Nia goes for the Leg Drop, and misses big. Nia misses a move into the corner, and then Ronda sinks in the Armbar over the rope, Ronda breaks by 5. Ronda tries to figure out what to do, so she goes to the top rope for a Crossbody and a 2 count. Combination punches, big knee strike into a Judo Throw for 2. Ronda tries the Armbar, but Nia rolls her up for 2. Rousey hits another big side slam, and slowly pries Nia's arms apart, but Bliss hits her with the briefcase.
Alexa takes out both women, but seems more focused on beating down Ronda, instead of cashing in on Nia.
Winner: Ronda Rousey via DQ
Rating: ** 3/4
WWE Raw Women's Championship: Nia Jax (c) vs Alexa Bliss
Money in the Bank cash in, Bliss DDT and goes after the injured arm. Hits Twisted Bliss, for the pinfall.
Winner: Alexa Bliss via Twisted Bliss
Rating: N/A
Men's Money in the Bank Ladder Match
Kofi is revealed as the New Day member, but everyone tries to gang up on Braun. He powers through, they all go to the outside, and then each man starts beating him with ladders and burying him.  Miz tries to take advantage of the distraction to sneak the briefcase, but Joe stops him. Joe and Miz play tug of war, Miz loses, Joe gets a Trouble in Paradise from Kofi, as we see Owens and Balor enter and start mixing it up.
Owens hits Balor with a ladder and then leans it in between the ropes. Owens goes to drive Balor into the ladder, Balor counters, they go to the outside, but Owens keeps the advantage and Superkicks Balor onto the announce table. Kevin looks to climb outside, but Rusev goes for the briefcase and distracts Owens. Rusev sends Owens into the ladder via Fall Away Slam. Samoa Joe comes in and takes out Rusev, but Kofi takes out Joe for the time being, and tries to set up the ladder. Miz stops Kofi, Kofi dispatches him and then Stage Dives onto the others. The group catches him, but Balor comes over the top with a Tope con Hilo and then goes to the pile of ladders on Strowman. Now is the time when Braun starts working through people.
Flying Forearm from Joe, Superkick from Owens, Machka Kick from Rusev and Braun falls down momentarily. Rusev stays on Braun, as Owens tries to set up a big spot with putting Braun through a table. Braun fights back, but Joe has him in the Coquina Clutch, Owens Superkicks Braun, and then goes to the big ladder as Rusev
and Joe hold down Braun.
Strowman fight out and Owens is trapped on the ladder. Braun catches him and then tosses him through the table from the top of the ladder. Strowman then makes his way through Joe and Rusev. Trips while taking out Kofi. Braun goes through a ladder that Balor and Roode had, Miz pees his pants and gets tossed out.
Joe uses another ladder to slow down Braun, so now Joe gets a shot to climb the ladder as Balor Shotgun Dropkicks Braun over the barricade. Samoa Joe dispatches of Finn and Bobby Roode, but Rusev gets Joe out of the ring. Rusev then runs over Roode and Kofi, and does a stacked Accolade on Kofi and Bobby Roode. Miz tries to sneak a Skull Crushing Finale, but it gets turned into a three person Accolade. Samoa Joe appears with a Coquina Clutch to stop the Accolade. Miz stops Joe from climbing, but Kofi stops him as he has his hands on the briefcase. Bobby Roode puts an end to Miz and Kofi playing at the top of the ladder. Balor with a Slingbalde on Roode. Balor sends Kofi and Miz to the outside, as he and Roode keep fighting inside.
Balor climbs a ladder from the outside, and hits the Coup de Grace from the outside in, on Bobby Roode. But Braun is back to ruin Finn's day. Miz keeps trying to sneak up the ladder, but Braun keeps eating everyone. Kofi jumps on Strowman's back as he climbs up, so Balor, Kofi and Braun fight at the top. Braun knocks down Balor, flips Kofi off of his back and grabs the briefcase. Like many Strowman matches, it was a lot of, everyone gangs up on him, but he still wins anyway. Nothing super surprising, but the match was okay. More just a bunch of spots instead of any real storytelling though.
Winner: Braun Strowman
Rating: *** 1/4
Thoughts:
Fairly solid wrestling from most of the matches. Ronda again proved she's a natural in her match, as well as, AJ versus Shinsuke finally putting toether a match at the
level people expected. A surprising cash in, sending the fans home happy with the men's ladder match, at least the perception ends up being a happy one.
Since people will bring it up, Takeover wasn't hands down better than Money in the Bank, I feel like they were about even. An average Takeover and an average main roster event that ended with a fan favorite going over, will make it hard tocompletely hate on the show.
All in all, good weekend from WWE.
---
Always Use Your Head and visit the official Pro Wrestling Tees store for The Chairshot All t-shirt proceeds help support the advancement of your favorite hard-hitting wrestling website, The Chairshot!

---
Mitchell's WWE Monday Night Raw Results & Report! (9/24/18)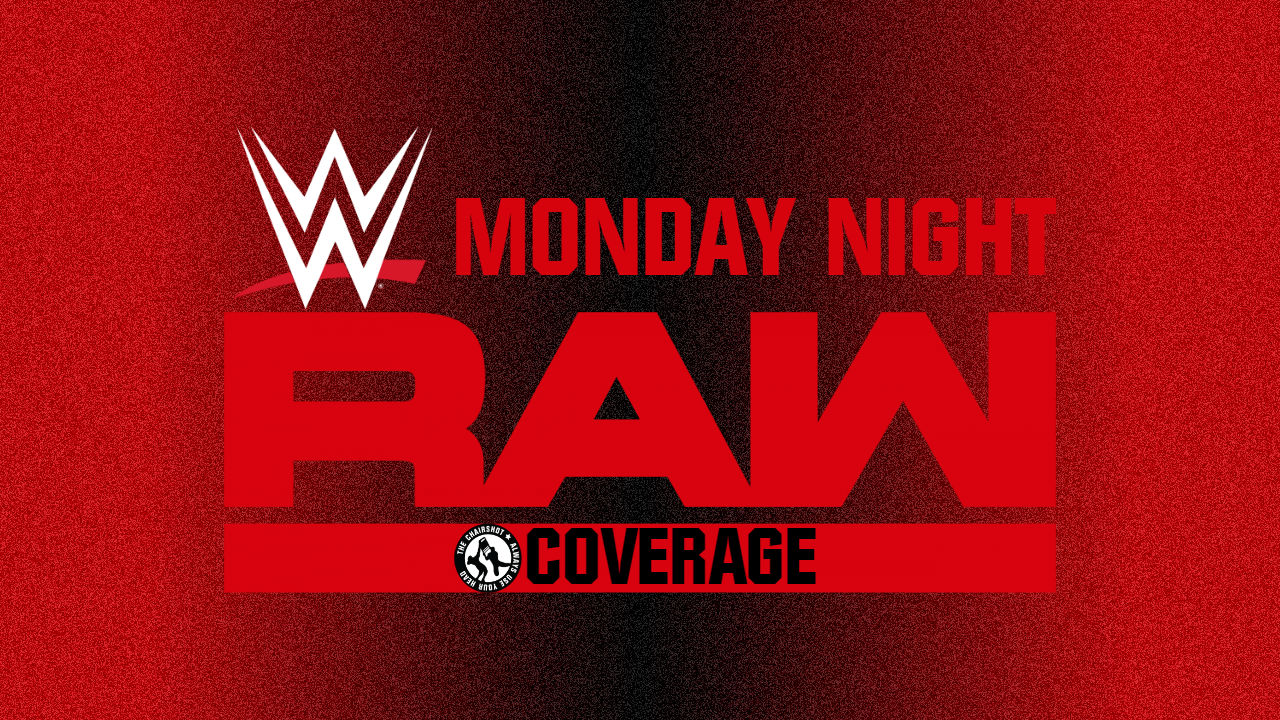 After being ambushed and screwed out of a championship match, The Revival returns to get revenge and the Raw Tag Team titles from McIntyre & Ziggler!
OFFICIAL RESULTS
Finn Balor w/ Bayley VS Jinder Mahal w/ Alicia Fox; Finn wins.
Six Woman Tag: The Bellas & Natayla VS The Riott Squad; The Riott Squad wins.
Chad Gable w/ Bobby Roode VS Konnor w/ Viktor; Konnor wins.
Raw Tag Team Championships: Drew McIntyre & Dolph Ziggler VS The Revival; McIntyre & Ziggler win, and retain the Raw Tag Team Championships.
Bobby Lashley w/ Lio Rush VS Elias w/ Kevin Owens; Lashley wins, by disqualification.
Nia Jax w/ Ember Moon VS Alicia Fox w/ Mickie James & Alexa Bliss; Nia Jax wins.
Six Man Tag: The Shield VS Baron Corbin & ???; The Shield wins.
PLAY BY PLAY
Baron Corbin greets the returning Raw Commissioner, Stephanie McMahon!
And it's her birthday! Corbin begins singing for her, but then Triple H exits the limousine, too. Corbin promises everything is set up for her in her office and offers to lead the way. Stephanie tells Corbin that whatever she has to say to and about Corbin, she can say in front of everyone in the WWE Universe. HHH says this must be awkward for Corbin, so he'll just leave. Stephanie says she thought Corbin could do the job Kurt Angle couldn't. Corbin tries to make excuses but she cuts him off by saying she expected him to make good decisions, the right decisions. Was Corbin putting himself in a match for the WWE Universal Championship a good decision?
Corbin admits that was too much, but The Shield keep provoking him. They're running wild. So then he admits he has no control over the show? Mistakes can be tolerated, but excuses aren't. If Corbin wants to get the Shield in line, grab two tag partners and settle this in the ring. Otherwise, Angle might be back from "vacation" sooner than anticipated. What is the Lone Wolf to do about the Hounds of Justice? Speaking of…
The Shield heads to the ring!
Dean Ambrose, Seth Rollins and Roman Reigns are going to be back in action as the full trio here in tonight's main event! But that means there's a couple hours for Constable Corbin to find compatriots to fight one, if not THE, most dominant trio in WWE History. At the same time, it will be quite the chance for The Shield to warm-up before Super Show Down's showdown with The Pack. But as for right this moment, The Shield hears Denver out on their ovation before speaking.
"What you are looking at are the three workhorses of WWE." Ambrose knows they've lost battles here and there, but they've never lost the war, because they're still standing. Roman says their resumes would take all day to read. But the fact is, they can lift up two title belts. The championships are the keys to the kingdom, and everyone should want them. It's why Brock Lesnar came back, it's why Baron Corbin put himself in title matches, because the titles will change your life. But the only men that deserve championships are the ones in this ring right now. Rollins says that Raw is and will always be about being the best. That's what The Shield are. Braun Strowman wanted power so bad, he's recruited a "pack of jackasses".
As for Corbin, "the world's largest substitute teacher", he has a problem with The Shield. He's to get a couple of partners to show everyone who's the boss. Well The Shield is here now, they can show how big of a problem they are right NOW! Baron Corbin appears and does his best to laugh it all off. Corbin lets everyone know that tonight is Stephanie's birthday. And he's not going to let Raw erupt into madness like it has these last few weeks. Corbin puts his foot down tonight. Because he and his partners are going to rag doll The Shield while impressing Stephanie. Corbin and his partners will expose the Shield as "a bunch of selfish individuals." No one likes The Shield, and that includes The Pack! Braun Strowman, Dolph Ziggler & Drew McIntyre all walk out, microphones in hands.
Fans still chant "Get These Hands!" for the Monster Among Men as he stares at The Shield. Strowman hopes Roman shines that belt up real nice, because he wont' be wearing it for much longer. As for the entire Shield, there are cracks already forming, and then they'll implode all over again. Super Show Down will be two against four, and it's not about Corbin. Rollins points out the bad math, maybe they need to brainstorm together on this. Strowman wants them to check the mat with Ambrose, because perhaps Ambrose sees the light. The Shield needs Ambrose but he doesn't need The Shield. Two years ago, on SmackDown, Ziggler was there when Ambrose was WWE World Champion all by himself. Ambrose had fire in his eyes, but now his brothers have everything and he has nothing.
Rollins and Roman shrug this off, but McIntyre uses his brutal honesty to point something out. Ambrose pushed Mcintyre to his absolute limit, that was a close match. McIntyre wants Ambrose to look him in the eyes. The Shield does not appreciate Ambrose, and Ambrose deserves more. Ziggler wants "Disposable Dean" to realize something. Rollins asked Ambrose to help him in order to fight Ziggler. And then Roman needed Ambrose to stop the Monster in the Bank's cash-in. What has Ambrose gotten in return for any of that? Nothing. Rollins: champion. Roman: champion. Ambrose: chump. Ziggler even uses Rollins' interruption as a reason Ambrose isn't needed. Ambrose goes down and how long does Rollins wait to replace him with Jason Jordan? And did they even communicate while Ambrose was out?
Ziggler points out another thing. Ziggler & McIntyre are Raw Tag Team Champions. Strowman can beat Roman for the Universal Championship. So maybe Ambrose becomes Intercontinental Champion with them? Think about it, because it's all true. But Roman tells Ziggler to shut up with all this already. The fans aren't here to watch people talk. They're here to watch The Shield whoop The Pack's ass. Strowman leads the charge but Corbin keeps the peace. This is not happening like this. Fans chant "YES! YES!" but Corbin stands firm. The tag team champions have their match but Corbin and his partners will "spoil your little reunion before it even begins." The matches have been set, but will The Shield stay unified? Or will Ambrose give in to the mind games?
Finn Balor w/ Bayley VS Jinder Mahal w/ Alicia Fox!
Raw plugs the Mixed Match Challenge as the Extraordinary Man goes 1v1 with the Modern Day Maharaja while their partners are in their corners. Can Finn score points for Team B 'n' B before tomorrow night's MMC? Or will Alicia's #InnerCrazy rub off on the man of peace?
The bell rings and fans chant "Too Sweet! Woop Woop!" Mahal puts Finn in a corner then throws heavy hands and stomps. Mahal scoops and slams Finn, then grins as he looms over the inaugural Universal Champion. He puts on a chinlock and Finn endures as Bayley and the fans rally. Mahal drives his knees into Finn, then grinds on a headlock. He gets the headlock takeover, but Finn works against it. They stand up and Finn powers out, only for Mahal to run Finn over. Mahal wraps the chinlock back on, but fans still rally with Bayley. Finn stands and powers out again. This time, Finn ducks and dropkicks Mahal! Finn clotheslines Mahal out, then builds speed to FLY! Direct hit! Finn flexes while we go to break.
Raw returns and Finn fights out of a waistlock. Mahal knees low then whips to then kick Finn down. Fans chant "Jinder Sucks!" but Mahal tunes it out as he chokes Finn against the ropes. Mahal drops springboard knees then grinds a knee into Finn's ribs. He drags Finn up for a standing abdominal stretch. Finn endures while fans rally again. Mahal drives in elbows, then pulls on Finn more. Finn works against the hold and pops out, only to get a knee to the ribs. Mahal throws a haymakers, then sunset flips, but Finn rolls through to dropkick Mahal down! Both men get to opposite ends, and Finn boots Mahal away. Finn dodges Mahal to hit him down with forearms. Finn gets the takedown then the double stomps!
Fans fire up with Finn as he runs into the corner for the chop! He whips but Mahal reverses. Finn goes up and over but get a kick! Mahal hops up but Finn swing kicks him down! Finn climbs up and aims at the drop zone. Mahal springs up but Finn jumps over him to come back with a slingblade! Finn takes aim, but Sunil Singh trips him up! Mahal rolls Finn up, TWO! Mahal kicks low, then elbows Finn down. He runs but Bayley trips Mahal up now! Alicia protests but fans are on Bayley's side. Foxy and the Huggable One come face to face. Alicia swings but Bayley counter punches! Sunil looks to defend Alicia's honor but gets a Bayley2Belly! Finn rolls Mahal, Finn wins!
Winner: Finn Balor, by pinfall
The Extraordinary Man takes the win and helps his team gain ground for the Mixed Match Challenge. Will this be a preview of the future? Or will #Mahalicia turn things around? One thing is for sure, Mahal takes his frustrations out on Sunil. They go into the ring, and with Alicia cheering him on, Mahal roughs Sunil up more. Mahal calms himself, and forces Sunil to go along. They chant "Shanti~", but will this partnership be anything but stable?
Six Woman Tag: The Bellas & Natayla VS The Riott Squad!
After Ruby, Sarah & Liv ruined the Queen of Harts answering Ronda Rousey's open challenge, these three former Diva's Champions team up to show the new generation how it's done! Can Natty, Nikki & Brie win before the Squad #StartaRiott?
Raw returns and the Juvenile Delinquent, Liv Morgan, starts against "Fearless" Nikki. They tie up and Nikki throws Liv. Liv comes back with a Thesz Press and then fast hands. Liv kicks Nikki then runs, but Nikki follows to run her over with a shoulder. Nikki drags Liv up for a hammerlock backbreaker. Cover, ONE, but Nikki keeps on Liv by grabbing some hair. Tag to Brie and the Bellas work together to double leg sling Liv. Cover, TWO, but Nikki drags Liv up. Brie gives Liv some Yes Kicks for the Squad. Fans chant "YES! YES!" with every kick, then Brie covers Liv. TWO, but barely. Brie drags Liv up and around, but Liv powers Brie to the Squad's corner. Tag to Ruby and Sarah helps Liv get out. Ruby stomps a mudhole into Brie, then drags her up into a headlock.
Ruby throws Brie with a headlock takeover but fans chant "Brie Mode!" Brie endures and then makes the hold a cover. Sarah distracts so the ref is late to the count. ONE and Ruby maintains the lock. They stand up as fans rally again. Brie fights back with body shots, but Ruby reverses a whip. Ruby runs into an elbow, Brie hops up to hit the missile dropkick! Ruby gets to ropes, but Brie Mode knee takes her out! Cover, TWO, but Brie keeps on Ruby. She suplexes but Sarah helps Ruby. Nikki comes in but so does Liv, so Natty comes in. It's a TRIPLE suplex in favor of Natty & The Bellas! The Squad regroups while fans cheer on the veterans. But Brie goes out to fetch Ruby. She puts Ruby in but gets blasted back out. The Squad takes control while we go to break.
Raw returns and Sarah slams Brie down in a cobra clutch. Fans rally for Brie and she works her way up against the hold. Brie arm-drags out but Sarah rocks her down with a forearm. Sarah then drags Brie over to tag Ruby in. Sarah catapults Brie into Ruby but Brie hits back! Ruby comes in to kick Brie, then puts on a cravat. Brie stands up but Ruby wrenches harder. Brie powers her way towards her corner but Ruby throws in a knee. Ruby hits Nikki but then comes back for double facebusters! Both women are down and fans rally up. Natty reaches, as does Sarah. Hot tag for Sarah and she runs at Natty. Natty hits her first, then Brie gets the tag!
Natty rallies on Sarah with lariats, then she hits Ruby for good measure. German Suplex throws Sarah, then the discus lariat takes her down. Cover, but Ruby breaks it! Ruby sees Nikki return and they tie up. Ruby knees Nikki back out, but Natty rolls Sarah. TWO, and Sarah kicks low. Ruby returns but Natty whips Sarah. Tag, Natty goes after Sarah, but Ruby is legal! Ruby SUPERKICKS Natty, then gets her up for the RIOTT Kick! Cover, The Squad wins!
Winners: The Riott Squad, Ruby pinning
Even with Liv going down, the Squad makes their teamwork count! Can the Bellas recover from this loss in time to team with Ronda in Melbourne? Or will Super Show Down #StartARiott too?
The Raw superstars are on stage for a special Connor's Cure announcement.
Stephanie McMahon and HHH are also in the ring for their part in this moment. September is Pediatric Cancer Awareness Month, and the WWE is proud to play their part in honoring Connor Michalek. "Together, we have raised over two and a half million dollars" and helped over 200 families with everything they need during these trying times. This campaign is all about the stars of tomorrow and the fight of their lives. The WWE superstars have all had the honor and privilege of meeting these stars, such as The Super Destroyer, Diva Supreme and Lele the Unstoppable. These children have the passion and determination that defines being a superstar. In this fight, everyone gets stronger together, so WWE gladly introduces their new tag team partner in this fight.
Hyundai's Hope on Wheels campaign commemorates the stories of these children with a special hand-print paint job. The superstars shared gifts and encouragement with those in the fight. WWE and Hyundai hope that together, we can end cancer. Please join the fight in anyway you can.
Stephanie and HHH introduce the Hope on Wheels ambassadors, who are not only surviving but thriving in this fight. Welcome Carter and Elizabeth to the stage! Denver gives a standing ovation to their own Connor's Cure superstars as they and Hyundai's Zafar Brooks join HHH and Stephanie in the ring. HHH knows not only are Carter and Elizabeth survivors, but they're also the coolest kids he's met. Elizabeth shows off her dance skills as HHH knows these two are champions. And champions need something to show for it, right? That means Carter and Elizabeth get their own Universal and Raw Women's Championships! Denver knows "You Deserve It!"
Chris and Elizabeth have their hands raised in victory, and Zafar thanks WWE for the great recognition of two great young heroes. Hyunda is so proud to partner with WWE and Connor's Cure in this fight to save lives. Because together, they will put the smackdown on pediatric cancer. But this work is hard and expensive, so Hyundai has something to give WWE. On behalf of Hyundai America and Hope on Wheels, Connor's Cure will receive a donation of… $200000! Big prizes, big money and big smiles all around in this noble cause!
Dolph Ziggler talks to Dean Ambrose.
Ambrose is almost ready to tear his head off, but Ziggler just wants to talk. Ziggler said the truth earlier. Where was The Shield when Ambrose almost died from his staph infection? Ziggler was there when Ambrose did it all, but The Shield doesn't care. But tonight, when going up against Corbin and his guys, Ambroes could just do nothing. Ambrose doesn't have to turn, he just has to give The Pack the signal. They'll do the rest. Will Ambrose listen to Ziggler?
Chad Gable w/ Bobby Roode VS Konnor w/ Viktor!
The Olympic medalist is ready to #WWBRD: What Would Bobby Roode Do? And that's to be… GLORIOUS! Konnor hoped Gable was going to walk away while he had the chance. But not even a mentor will save him from being run over in the street by this semi-truck from the Wasteland!
The bell rings and Konnor clubs away on Gable. He throws haymakers then whips Gable hard into buckles! Cover, TWO, but Konnor keeps on Gable with a chinlock. Konnor thrashes Gable around but Roode coaches Gable up. Gable gets up but gets brought back down. Konnor puts his weight on Gable but Gable still gets up. Gable hits back but is put in a corner. Konnor throws back elbows, then hoists Gable up top. Gable reels him into the hanging armbar! Gable lets go at 3, then climbs up again to missile dropkick Konnor's legs out. Konnor glares and gets up, but things speed up. Gable runs Konnor over with the leaping lariat! Then the rolling kick! Gable gets the German Suplex! Bridging cover, TWO!
Gable climbs up top now, for a moonsault! But he lands on his feet when Konnor evades. Things speed up again and Konnor runs Gable over with his full body! Konnor reels Gable up, Canadian backbreaker to the dominator slam! Cover, Konnor wins!!
Winner: Konnor, by pinfall
A rare victory for The Ascension comes through singles competition! Gable is left in the Wasteland, but are he and Roode still going to be strong as a tag team?
Backstage interview with Triple H.
While the Connor's Cure donation and belt presentation was great, what are The Game's thoughts on The Undertaker's announcement from last week? Stephanie wants him to ignore the question, but HHH says it's fine. What does HHH think about Taker accusing him of going corporate? If Taker's worried about a suit, then he's already lost. They're not fighting in suits or in a board room. And "taking my soul"? HHH sold his soul a long time ago. "Anybody that is honest with themselves can feel it in the air." When it comes to Taker, "the end is near." The Game gives his final word on this, but will the #LastTimeEver go his way?
Raw Tag Team Championships: Drew McIntyre & Dolph Ziggler VS The Revival!
The pair of wild dogs hold the belts because they defeated The B-Team, but also because they took out Scott Dawson & Dash Wilder to take their spot. Will the Show-Off and Scottish Psycho regret angering these two #TopGuys? Or will the Shatter Machine be shattered by a Claymore?
Raw returns as the belts are raised and the bell rings. Dawson starts against Ziggler and they circle. They tie up and Ziggler puts Dawson in a corner. Ziggler backs off but then gives a shove. Dawson chops Ziggler off his feet! Ziggler gets to his corner before circling with Dawson again. Dawson wrenches the arm and tags in Dash for the hand-off. but Ziggler powers Dash back and tags in McIntyre. McIntyre keeps Dash in the corner then bumps him off buckles. McIntyre chops Dash off his feet, then tags to Ziggler. Ziggler mugs Dash and has him in an open corner. Ziggler backs off to run in but misses. Dash back suplexes Ziggler down! Dash drags Ziggler over and tag to Dawson so they can stomp away on the arm.
Dawson wrenches Ziggler's harm, Hammerlock Northern Lights! TWO, but Dawson keeps his eyes on McIntyre. Tag to Dash and they whip Ziggler for the slingshot shoulder! Cover, TWO! The Revival are close, but they keep on Ziggler with chops! Dash whips Ziggler into a corner, but runs into a back elbow. Ziggler runs out but the satellite DDT is denied! Dash goes for a Rings of Saturn type, but Ziggler reaches for ropes with his legs. Ziggler endures while Dash wrenches back. Dash drags Ziggler back to the center but Ziggler counters to a cover, TWO! Ziggler holds ropes on the whip so Dash crossbodies out with him! Both men are down but Dawson and McIntyre keep each other at bay while checking on their partners. Dash stands and runs at Ziggler, but runs into steel steps! Both men are down again while Dawson and McIntyre cheer their teammates on.
Ziggler drags himself into the ring, followed by Dash. McIntyre tags in to stomp away on Dash. He then deadlift suplexes Dash up and over! Cover, TWO! The champions are in control while we go to break.
Raw returns and Dash jawbreakers out of Ziggler's sleeper hold. Dash crawls but Ziggler anchors him from the tag, but Dash still gets it! Dawson rallies with jabs and haymakers on Ziggler! He whips Ziggler but Ziggler dodges, only to get a calf kick! Dawson hits McIntyre for good measure before he chops Ziggler. He dropkicks McIntyre then whips. Ziggler reverses but Dawson counters back for a butterfly bomb! Cover, TWO!! Dawson drags Ziggler up and over to his corner to hoist him up top. Dawson chops then climbs up, and Dash tags in. SUPERPLEX, then FROG SPLASH! Cover, TWO as McIntyre narrowly breaks it. McIntyre chases Dash but misses, chopping the corner post! Then tornado DDT from Dash takes him down!
Fans fire up with the #TopGuys while Ambrose watches backstage. Ziggler packages Dash but TWO! Back slide from Dash, TWO! Ziggler kicks low but Dash counters the famouser by falling! Dash Electric Chairs and Dawson tags in, DOOMSDAY DEVICE! Cover, TWO!? How!? The Revival borrow a legendary finisher yet don't finish this?! Dawson stomps Ziggler while fans know "This is Awesome!" Tag to Dash and The Revival work together. They hoist Ziggler up but Ziggler slips out to tag McIntyre. McIntyre runs Dash over then hits Dawson. McIntyre goes after Dash on the top rope with a chop, then tosses Dawson back out. Dash jumps but is caught, Dawson dropkicks it over! Cover, TWO, and McIntyre headbutts Dash. McIntyre boots Dawson, then tags in Ziggler. The Pack work together, Claymore Zigzag! Cover, McIntyre & Ziggler win!
Winners: McIntyre & Ziggler, Ziggler pinning; still Raw Tag Team Champions
The strength and speed may not have been enough, but the aggression was, the champions are still part of The Pack. Will they and Braun Strowman break The Shield in Melbourne? Or will their mind games continue to fall on deaf ears?
Ladies and Gentlemen: Elias.
The Drifter is in Denver, as the "breath of life in an otherwise lifeless world." Elias speaks the truth, and the truth his, Denver doesn't deserve his performance. He passes things on to "a man I can have a conversation with", and his tag partner for Super Show Down. They will take on Bobby Lashley and 16-time champion who knows that WWE really stands for. Yes, it's John Cena. But right now, Elias introduces the host of the Kevin Owens Show, Kevin Owens himself! The Prizefighter heads to the ring and applauds his personal in-house band. Kevin thanks him for the introduction and admits he is Elias' biggest fan. Kevin is honored to team with Elias against the super team of Lashley–pictured being powebomb'd against the apron–and yes, the most decorated champion in the WWE today, the same man Kevin beat his first night on the main roster!
But that's at Super Show Down, let's talk about last week, with Lashley and Lio rush. Elias refuses to look let alone talk to Denver. Kevin will talk for them both. Lio Rush is now Lashley's hype man, but also talked trash on Kevin. Unprovoked! Kevin is generous, though, because he wants to know more about Lio. So Kevin offers Lio the grandest stage in the WWE, this show! The Man of the Hour appears, and sees Kevin and Elias. He thanks them for this invite, but Kevin wants Lio to join them in the ring. Lio doesn't even need to jump and flip and all that, just walk here. Lio says that he and Lashley made those two look like fools. Kevin is here wanting to make up for that embarrassment. Lio is the 23 year old piece of gold, he's young but not dumb. He'll stay right here.
Elias promises, they have the booster seat all set up. Lio "lvoes" the jokes, but Lio knows there's someone else who loves a good laugh. He is the Rocky Mountain Machine, who looks like money because he is money. The heavyweight that's back to dominate has a match with The Drifter, it's Denver's own Bobby Lashley! Will the Dominator make the Drifter #DriftAway in the Mile High city?
Bobby Lashley w/ Lio Rush VS Elias w/ Kevin Owens!
Raw returns and Lashley stares Elias down as we begin. They circle and fans are on Lashley's side. They tie up and Lashley shoves Elias to a corner. Elias composes himself while Lashley waits for him. They circle again and Lashley gets a waistlock and slam. Elias slithers away but Kevin coaches him up. Elias and Lashley tie up and Elias gets a waistlock. Lashley gets the standing switch then throws Elias down again. Lashley brings Elias up and bumps him off buckles. He throws hands then stomps, then climbs up for corner punches! Elias stops him at 2 and gets a headlock takeover. Lashley makes it a cover, ONE, and Elias holds on.
Fans rally and Lio coaches his client up. Lashley stands and fights out. He whips Elias but Elias knees him back. Elias runs but Lashley shows off his agility as he jumps over Elias. Lashley runs Elias over, then whips him corner to corner. Elias goes up and over then runs, but into Lashley's crossbody! Lashley runs in for the corner clothesline, then finishes off those corner punches. He gets all 10, then scoops Elias for the sidewalk slam. Cover, TWO! Elias crawls to a corner but Lashley keeps his eyes on him. Lashley runs in corner to corner but into boots. Elias hops up, but Lashley catches him! Then he hoists him up, only for Elias to slip out and chop block the leg! Elias leg-DDT's the foot into the mat, and Kevin coaches Elias up again.
Elias stalks Lashley and clobbers him at the ropes! He stomps away but backs off at 4. Kevin trash talks as Elias drops a big knee on Lashley. Elias drags Lashley over to a post and slings the leg against it! Lio coaches Lashley on but Elias slings the leg into the post again. Elias drags Lashley to a cover, ONE! Elias grows frustrated but he keeps on Lashley with stomps.  He drags Lashley out for a knee drop on the knee. Then Elias ties up the legs in the deathlock, and Lashley endures while Elias adds chops. Denver rallies for their hometown hero and Lashley fights back with haymakers. Lashley frees himself but Elias goes after him again. Elias stomps the bad leg, then yanks on it. He covers, TWO!
Elias keeps his cool and dares Lashley to stand. Lashley fights back with body shots, then back elbows. Lashley gets going with lariats, and he clotheslines Elias out. Kevin coaches Elias but Lashley comes out to pursue. Lashley bumps Elias off the barrier, then again. The ring count climbs but Lashley puts Elias in at 3. Elias runs and blasts Lashley in the leg! The Drifter has control while we go to break.
Raw returns and Elias has Lashley in the Half Crab. Lashley manages the ropebreak and Elias lets him go. Elias comes back to stomp the bad leg out, but only Kevin enjoys it. Elias drags Lashley back up but Lashley throws him out. Kevin coaches Elias back in but Lashley catches Elias into a complete shot! Both men are down but stirring. Denver rallies for Lashley as he and Elias stand. Elias and Lashley brawl with back and forth haymakers. Elias jabs but Lashley throws clubbing hands. Lashley kicks then runs to clobber Elias down. Fans fire up and Lashley suplexes Elias. Somehow that bad leg holds up for the stalling suplex! Lashley can't make the cover, but he stands first. Lashley runs and SPEARS Elias out of the ring! They hit the apron then the floor in that double-edged attack!
Kevin chases Lio! Lio is too quick for Kevin to catch, but then Kevin runs into Lashley! The referee sees that, and it costs Elias the match!
Winner: Bobby Lashley, by disqualification
Kevin is further upset with Lio now. Lio leads him on another chase, then uses the barriers to leap over him. Lio is trapped but slips into the ring to then run around. Elias still grabs Lio and yanks him in! But Lashley drags Elias out and gets in there to save Lio from Kevin's powerbomb. Lashley throws hands on Kevin and Kevin is in retreat. The Prizefigther and Drifter have time to regroup, but can they prepare for Lashley and Cena?
Drew McIntyre encounters Seth Rollins backstage.
The Architect brings up some truth for the Terminator. McIntyre is the one being used by Ziggler and Strowman. Strowman doesn't care about anyone but himself. And Ziggler is a weak link as it is, riding McINtyre's coattails since they both returned. Why is Ziggler getting the Intercontinental Championship opportunities and not McIntyre? McIntyre has literally carried Ziggler at times. But before pointing fingers at The Shield, you should really take a look in the mirror and think about who is being used by who in The Pack. Rollins leaves McIntyre with some things to think about. Yet McIntyre tells Ziggler not to worry. Is that the truth? Or will the truth set one man free from his team?
Nia Jax w/ Ember Moon VS Alicia Fox w/ Mickie James & Alexa Bliss!
The Irresistible Force and the Prophecy of Flame have become united against Raw's very own Mean Girls. Ember knew when The Goddess and crew dared her to find a partner, she had to get the Game Changer. Plus Nia loves getting under Alexa's skin. Ms. Crazy like a Fox has the Mixed Match Challenge to worry about tomorrow, but will she even make it there after facing Nia?
The bell rings and Alicia is wary of Nia. She circles Nia while staying close to the ropes. Nia waits for Alicia to come out, and grabs her around the throat. Alicia breaks free but then gets tossed to a corner! Nia gives her a corner splash then another toss! Alicia slips out to regroup with Alexa and Mickie, so Nia stays back. But then Ember cannonballs onto Mickie! Nia comes out to fetch Foxy and put her in the ring. Alicia kicks Nia as she returns, then hits a swinging neckbreaker. Cover, TWO! Alicia keeps on Nia but fans rally for Nia. Alicia puts on a sleeper hold but Nia stands up, only to get knees. Fans rally for Nia more and Nia stands all the way up! She backs Alicia into buckles and breaks free. Alicia boots Nia quick, then kicks her down. Cover, TWO!
Alicia keeps on Nia with forearms, then she trash talks. She runs but into the fireman's carry! Nia marches it out then hits the Samoan Drop! Cover, Nia wins!
Winner: Nia Jax, by pinfall
The Game Changer nominee won this one, will she win the award at the People's Choice Awards? Will Alicia snap back to face Mickie & Lashley tomorrow night?
McIntyre and Ambrose encounter each other.
Each man has been approached by the other's friend, but why? McIntyre has theories. Four Man Shield, the unstoppable force. Or perhaps he's scared that McIntyre said the truth. Maybe they should have checked up on Ambrose. Or maybe they need a replacement. Or maybe McIntyre is overreacting. It's not like Rollins has ever stabbed anyone in the back before. Oh wait. McIntyre leaves, and now the web of lies is truly tangled. Who will free themselves from the doubts and questions?
WWE and Raw look closer at the #LastTimeEver.
"Two of the all-time greats to ever step inside the ring" have one final rematch to settle the "unfinished business" left between them. They've battled for years, and we thought the era was over. But now, for Super Show Down in Melbourne, Australia, the majority of WWE legends and hall of famers bet on The Undertaker. However, Shawn Michaels chose his friend Triple H, and the Deadman claims it's out of a personal grudge. HBK promised he stayed retired out of respect, but Taker accuses him of being afraid. Taker promises to put HHH down again, and for good. But HHH responded, saying Taker lost his powers long before losing the streak. Those were Taker's last moments of greatness, and blames HHH & HBK for it. Both men are convinced the other is blinded by ego, but now they'll have back-up! Will this last time ever truly end it all?
Six Man Tag: The Shield VS Baron Corbin & ???
The Lunatic, the Architect and The Big Dog unite once again for a 3v3 match! They're confident they'll go through any three men, especially The Pack at Super Show Down. But who has Stephanie's personally appointed constable and interim GM found to be his partners? We'll find out after the break!
Raw returns and Corbin makes his entrance. He is still smugly confident, which must mean he got some good partners. He wants Denver to applaud The Shield and their Monday Night Raw reunion. But this might be the last time they're seen together. The break-up is coming, which is why half the roster was beating down the door to join Corbin. Corbin went with the cream of the crop, two men who have been decimating superstars since showing up. Yes, it is the Authors of Pain! Akam & Rezar, with Drake Maverick accompanying them, join the Lone Wolf and head down the ramp. Will the Book of Pain write the Last Chapter on The Shield?
But then Braun Strowman and The Pack come out to watch, just as they promised. They brought their own chairs, but just to be their ringside seats. Strowman, Ziggler & McIntyre become fans as the match begins. Corbin starts against Ambrose, and they circle and tie up. Ambrose gets a wristlock to hammerlock, and he brings Corbin tot he mat. He makes it a cover, ONE. Ambrose has a waistlock but Corbin reverses out to a headlock. Ambrose powers out  then drop toeholds! He has Corbin in the Queen Angelito leglock and then crossface punches him. Ambrose tags in Rollins and the two double suplex Corbin over. Cover, TWO, but Corbin gets away to his corner. He tags in Akam, and we have a first-time-ever encounter.
They tie up and Rollins gets a waistlock. He shifts to a headlock but Akam lifts him. Akam powers out and runs Rollins over with a shoulder! Akam trash talks before scooping. Rollins slips out and boots Akam away. Ambrose tags in but so does Rezar. The double whip leads to double shoulders on Akam, but Rezar runs them both over with his own shoulders! Rezar trash talks as he scoops Ambrose. Ambrose escapes and hot tags to Roman! We get another first-time-ever as The Big Dog and the Albanian Assassin stare down. Neither man backs down, and Rezar even seems to taunt Roman. Fans are thunderous as Roman throws uppercuts. Rezar shoves and they collide with shoulders. Rezar powers Roman to a corner for shoulders into the ribs!
The referee backs Rezar off at 4, but Rezar keeps on Roman with a fireman's carry. Roman fights out and uppercuts Rezar again. Roman lifts Rezar but that's a big man. Rezar escapes and shoves to swing. Roman dodges and comes back with the leaping lariat! Yet Rezar stands right back up! Roman is surprised by the younger star, and now all six men get face to face in the ring. The referee can't keep the peace, it's a brawl!
Ambrose sends Corbin out, Rollins sends Akam out and Roman takes care of Rezar. The Shield holds down the Yard, but The Pack feels the need to get a closer look. They pick up their chairs and head down the ring. But that's when Corbin and AoP pounce! They clobber The Shield and put Ambrose and Rollins into barriers. Roman is in the ring, Choke Slam Breaker from Corbin! Cover, TWO!! The Shield is in trouble while we go to break.
Raw returns once more, as Roman lifts Corbin for the Samoan Drop! Fans fire up as both men crawl for their corners. The Pack is right at the runway in their seats as both men hot tag! Akam and Rollins come in but Rollins rallies on both AoP. Rollins boots Akam then jumps over him to enziguri! He goes to suplex but Akam too strong. Akam suplexes but Rollins slips out. Rollins back elbows then hops up to blockbuster! Cover, TWO! Fans stay hot for Rollins as he stomps "Burn it Down!" Rollins aims at Akam but Maverick distracts! Corbin holds the ropes and Rollins tumbles out! Ambrose protests but Corbin tags in. Corbin drags Rollins up to put him into barriers! He then whips Rollins into more barriers, and lets AoP mug him! The Shield protest but the referee keeps them back.
Corbin fetches Rollins and puts him in the ring. He tags to Rezar, and he lets Rezar drags Rollins up for a neck wrench. Rollins endures as Rezar twists him. Fans want Dean to tag in and Rollins stands up. Rezar powers him to the corner and Akam tags in. Akam and Rezar combine for the sidewalk stomp slam! Cover, TWO! Akam chokes Rollins on the ropes, but backs off at 4. Corbin gets a cheap shot in before Akam wraps on a chinlock. Fans rally and hope Ambrose gets the tag. Rollins stands and jawbreakers out. Akam blasts him down with a back elbow! Tag to Corbin and he drags Rollins up to punch him back down. Corbin repeats and repeats the punch. Then he blasts Roman down. Ambrose comes in but the ref holds him back. Corbin taunts Ambrose, but Rollins slingblades him down!
Corbin and Rollins are down but Akam runs in. Rollins sends him out, but then Akam trips Ambrose! But then Roman goes after Akam! Rezar saves Akam by putting Roman into steel steps! Maverick likes what he sees from his behemoths as they give Roman the LAST CHAPTER! The Pack like that, too. Corbin lifts Rollins but Rollins sunset flips, TWO! DEEP SIX! Cover, TWO!! The Constable grows frustrated, he thought he ended this. But his team still has control with Rollins isolated in the ring. Corbin drags Rollins over to tag in Rezar. Rezar tags Akam and the AoP work together again. But Rollins headscissors Rezar out and then SUPERKICKS Akam out of the air! Rollins heads for his corner, and it's Ambrose waiting! Tag to Corbin, but Rollins slips out of the suplex. Tag to Ambrose!
Denver is thunderous as Ambrose fires off on Corbin. Corbin reverses the whip but Ambrose rallies with lariats. Ambrose whips and gives Corbin the kitchen sink knee. Ambrose keeps going for the corner forearm smash. Corbin pushes Ambrsoe away, Deep Six countered, small package! TWO! Ambrose dodges then clotheslines Corbin out! The AoP regroup with Corbin, but Ambrose wrecks them all with the dropkick! Maverick freaks out as Ambrose puts Corbin in. Ambrose climbs up top, but Akam trips him up! Ambrose still fights Corbin off, and then dodges. Corbin slides out, slide sin, but misses, jumping neckbreaker! Ambrose hurries up top again, for the lunatic elbow! cover, but BOTH AoP break it up!
The AoP coordinate on Ambrose, but Roman SUPERMAN PUNCHES Rezar! Akam kicks Roman out but then Rollins throws Akam out. Curb Stomp on Corbin! Then DIVE on Rezar! Ambrose kicks Akam out, and Rollins DIVES again! Ambrose gets Corbin with Dirty Deeds! He kicks Rezar out, tags to Roman and DIVES! Roman howls, SPEAR on Corbin! Cover, The Shield wins!!
Winners: The Shield, Roman Reigns pinning
It was truly a team effort for the House of Justice! The Pack are actually impressed, but it's not over yet. Rollins and Roman stand together but Ambrose is literally caught in the middle. Which side does he choose? Shield or Pack? Ambrose stands, and stands with his brothers! The Shield is not breaking, no matter what Strowman and his cronies say. Will they be able to stand tall again in Australia? Or will unity matter against the dogs of war standing against them?
---
My Thoughts:
Raw finally gets back on track after doing too much building for too many things. This episode was 95% focused on Super Show Down, with 5% on the Mixed Match Challenge. Finn VS Mahal gets to be the opener, which is good for both of them. And Finn wins, which is good for him. But I feel like this just points out how having the second Mixed Match Challenge now is too much for WWE to be doing for the Fall. I would've been much happier with this if they waited until they were past this log jam of Hell in a Cell to Super Show Down to Evolution to Crown Jewel. Mixed Match Challenge should be purely a Spring to Summer event.
That aside, the Super Show Down centered build was much better than anything Raw has done lately. Corbin kissing up to Stephanie for her to counter and scold him was good. The Pack trying to play on Ambrose's pride almost telegraphed the turn wasn't coming, but I liked that Rollins played it back, to tease a possible turn from the Heel side of things. It doesn't seem like a turn is coming, only because it'd be too obvious now, but sometimes WWE does stuff that's just too obvious. The main event with Corbin and Authors of Pain was great, and it finally got AoP away from destroying jobbers so that everyone can understand how good Akam & Rezar really are. I'm still hoping that once Shield VS Pack is done, AoP go after the tag titles regardless of who holds them.
The Raw Tag Title match tonight was great. For just a moment, I really thought The Revival had it. That would've been a great twist to compound onto Rollins saying McIntyre has been carrying Ziggler. As for The Revival, they're still a great team, but maybe going to SmackDown would help them get titles. The audible on the scheduled Brie VS Ruby match was actually rather welcomed, and I liked that The Squad won. There was some strange miscommunication as Liv Morgan was reportedly taken to the back, yet was clearly still ringside selling injury. Ronda VS Ruby is next week, that should be fun, but I'm surprised The Squad hasn't tried to turn Ronda against The Bellas in a way The Pack is working on Ambrose.
Konnor winning over Chad Gable was rather surprising, but I suppose it'd have to happen if they want to already make Roode-Gable a story of a strained tag team. I don't know why Roode and Gable were teamed together, Gable would've been better off as a singles guy maybe going to 205 Live. Roode and Lashley would've been better, even if their shared first name would've been odd. And while the story of Kevin, Elias, Lashley and Lio is pretty fun, I doubt it'll lead to Lio being a serious Raw competitor, possibly with Lashley as his tag partner. This feels like another thing WWE is doing that's too much at such a busy time in their calendar. If Cruiserweights aren't going to be properly integrated onto Raw, then don't bother.
Nia squashing Alicia was pretty fun, and I'm hoping this is further sign that WWE wants a Women's Tag something or other. Sasha Banks is hurt but that doesn't keep The Boss & Hug Connection from eventually being a tag team championship duo. If they're out of commission come whatever title opportunity we see at Evolution, perhaps it'll fall to Nia & Ember or the Riott Squad to be the inaugural champions, assuming Raw would get them first. Of course, Stephanie McMahon runs Raw and always seems to put herself over when it comes to WWE's women, so it just seems obvious one of her teams would get belts first.
My Score: 8.5/10
---
Always Use Your Head and visit the official Pro Wrestling Tees store for The Chairshot All t-shirt proceeds help support the advancement of your favorite hard-hitting wrestling website, The Chairshot!

---
Andrew's Stardom 5 Star Grand Prix Red Stars Ratings & Review: Day 7 & 8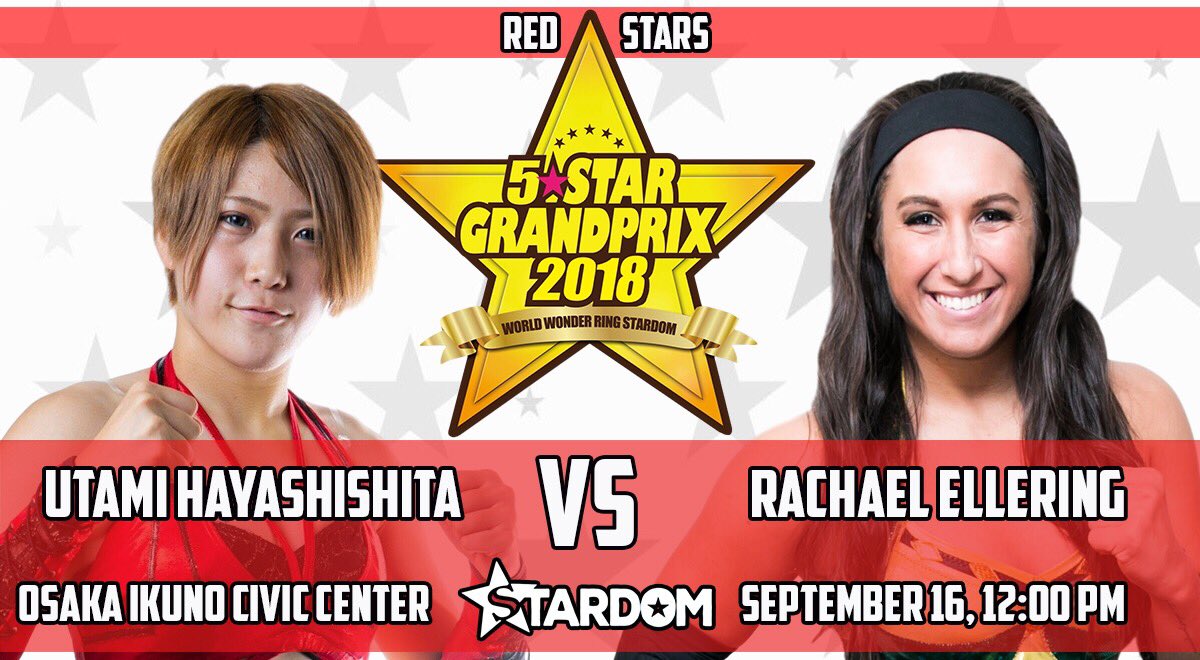 We get another combined article because of the way Stardom likes to stagger matches in this tournament.
Day 7 actually didn't have any Blue Star matches at all, so now the articles will be titled a little differently. I need that Rick and Morty clip about getting your shit together and direct it at Stardom booking. Oh wait, I can!
So with that established, I guess we should look at the matches to come. Tam is eliminated but still has 3 matches to go. So she can go from a measly 2 to a respectable 8 if she can put a few wins together. Utami and Rachael however are still very much in the thick of things, and even face one another on Day 8.
Let's find if anyone else gets eliminated, or if we continue to have the top half stay alive.
Day 7
Rachael Ellering vs Tam Nakano
Rachael's promo is fake and over enthusiastic, whereas Tam's was realistic and a little bubbleheaded. So it's really hard for me to ever connect to Ellering's promos, cause she's not convincing and her matches thus far have been…umm…shall we say, sub par. So sadly Tam seems to be in the plucky underdog role this year and always getting close with not much of a pay off. So let's she if she picks up a win to play spoiler, or continues to come up short.
I have no clue what it is about most of Rachael's matches, but they are hard to watch. Rachael's Pump Kick that she over uses never looks impactful, she doesn't take or sell offense well, and it's just a schlog. This match was no different.
Tam's kicks are usually crisp, but they hit awkwardly and slowly. Tam even went for a bottom rope assisted Back Body Drop, but Rachael's foot cause the middle rope and it just looked sloppy. Tam still sold her back, while Rachael focused it, so that was good.
We also see a decent barrage at the end of the match with some false finish rollups, Rachael's Bossman Slam and then Ellering finally finishes this with the Fallaway Powerbomb.
Winner: Ellering via Fallaway Powerbomb
Rating: * 1/2
Kagetsu vs Kimber Lee
Kimber always has this oddly endearing way of cutting a promo. She talks fairly slowly (the way people do when you're speaking a language people might not understand), which I find ridiculous, but she says all the correct babyface things. Kagetsu however has a skull mask on her head, pops up into frame and just starts talking casually about things. She just wants to end the match, eat some good food and head to Osaka. It's casually dismissive of Kimber, but not cruel, perfect tweener kind of temperature.
Kagetsu takes the early advantage and does the cocky heel thing by throwing Kimber to the outside. Hazuki and Sumire get in a few cheap shots before rolling her back in. Kagetsu takes a drink of water and then we get her water spit/mist spot. Which I'm still not sure why that isn't a disqualification, but I like it, so I'm not questioning it.
After the initial cockiness, Kimber takes advantage of Kagetsu taking her foot of the gas and puts together some offense. A few well placed kicks and suplexes lead to the Swanton Bomb attempt, but Kimber misses. After a little more struggle, Kagetsu eventually hits a Chokeslam and then enough of the Oedo Coaster to get the pinfall.
Not Kagetsu's best work, but it was a fairly short match and Kimber isn't positioned as a threat in this tournament.
Winner: Kagetsu via Oedo Coaster
Rating: *** 1/4
Day 8
Kimber Lee vs Tam Nakano
The opening promos are pretty low energy for both women. Kimber talks about being eliminated but fighting for herself and Tam tries her best to psych herself up. The lack of points is effecting both of these women. Who will get the ball moving to end on a high note?
Not a bad match, just fairly short. Given that all of the Grand Prix matches have a 15 minute time limit, even the longer ones are a little short. Both women utilize a fair amount of kicks and flexibility in their offense, so the mirror aspect was on full display.
Kimber does her split spot, Tam goes for a Buzzsaw Kick, but Kimber blocks it and tries to sweep the leg, but Tam does a split and they both start throwing forearms from the split position. Kimber hits a kick combination first, which drops Tam but only for two. In her opening promo Tam put some emphasis on not wanting to lose to kicks, since those are kinda her thing.
Maintaining advantage, Kimber goes to the top rope but Tam shows some fight. Eventually hitting the Avalanche Snapmare and going up for her Diving Idol Knee, for only a near fall. After a few more close calls, Kimber catches Tam coming off the ropes for a Brain Buster, pulls her to a corner and lands the Swanton Bomb for the pinfall.
Valiant efforts in all her matches, but Tam really can't catch a break.
Winner: Kimber via Swanton Bomb
Rating: ** 1/4
Rachael Ellering vs Utami Hayayshishita
Well, ya know I'm usually overly disinterested in whatever Rachael's been doing, but this match was a little different. She basically got to play the heel since she was being very tough on Utami and showing some personality while arguing with the referee. So when it comes down to Rachael's involvement, it wasn't the thing that brought the match down, for a change.
However, after the initial burst from Rachael and the playing up a few strikes on the outside, the match never kick it into another gear. It basically was treading water for the last half. Signature moves were hit, Utami landed her Sleeper Hold takeover into the Coquina Clutch, but Rachael got out of it. I'm guess the high point was supposed to be Rachael hitting a Superplex, but nothing felt important, desperate or impressive.
The match ends just as Utami cinches in an Inside Cradle, but the time expires. All of the draws in this tournament are a little off putting.
Winner: Time Limit Draw
Rating: ***
Red Stars Standings:
Kagetsu 4-1-1 (9 Points)
Rachael Ellering 4-1-1 (9 Points)
Jungle Kyona 3-1-2 (8 Points)
Utami Hayashishita 3-1-2 (8 Points)
Konami 3-3 (6 Points) – Eliminated
Kimber Lee 2-4 (4 Points) – Eliminated
Tam Nakano 1-5 (2 Points) – Eliminated
Natsuko Tora 1-5 (2 Points) – Eliminated
Thoughts:
You know Stardom, you know what happens when you make Tam look good but don't give her wins? Nothing happens, it's actually decent story telling and could set up for a big upset of Kagetsu on the Finals day. So as much as the fan in me hates watching Tam come up short (Naito fans around the world know that feel), her determination and the storyline wrinkles could pay off later.
As for the two days…meh? Nothing stood out and these really just felt like matches to set up for the final swerve. These kind of days happen in all tournaments, it just hit really hard in these four matches. I just really really hope Rachael doesn't win Red Stars.
---
Always Use Your Head and visit the official Pro Wrestling Tees store for The Chairshot All t-shirt proceeds help support the advancement of your favorite hard-hitting wrestling website, The Chairshot!

---
Mathew's Stardom 5 Star Grand Prix Blue Stars Results & Review: Day 8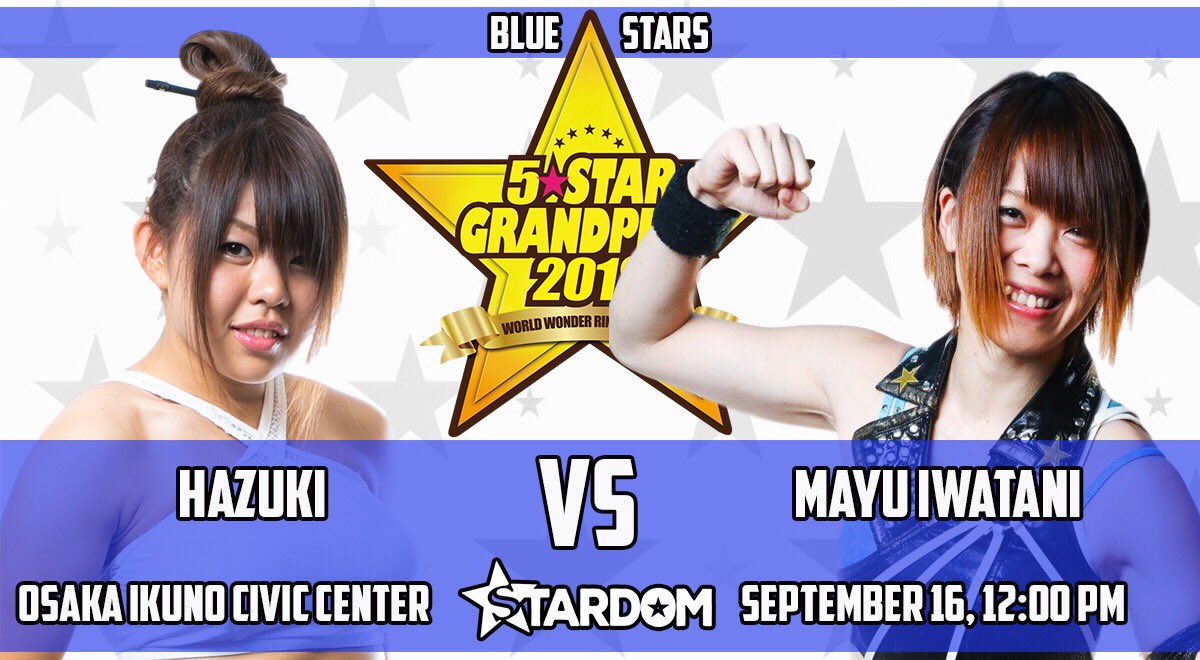 So tomorrow is the last day of the Five Star Grand Prix where we will have our final four matches and the final match on the same day but we got two matches left to cover before we go to the final day.
This show is for people that didn't have their six matches before the final day and we're using this to make sure they're all caught up to speed and we can see who has a chance to make it and who doesn't. I know it says day 8 in my headline but I had no matches on the seventh day, so I decided to just skip it and go where I have my actual matches. So who wins these two matches?
Let's find out and…dive right in.
Grand Prix Blue Stars Match
Kelly Klein vs. Natsu Sumire
Review: It's pretty clear that Sumire is pretty much eliminated and even if she does win this match and her last one, the fact that Mayu would hold the tiebreaker over her if she lost today and won tomorrow, but would still be out if Momo won on the final day since she'd have nine points while Sumire would still have eight if she won both and wouldn't matter, but she has been one of the highlights of this tournament due to her personality flourishing a lot more here and the fans loving her more and more. Sumire in her pre-match interview seems to be more focused on her bust size and even talked about the supplements she's been taking for a couple weeks now and is disappointed that there's been no change in her results just yet and hopes to provide progress updates. Kelly is her opponent tonight and if Kelly does win here, she'll be in the top spot of the standings and would have a strong chance of winning. Can Kelly win again or will Sumire ruin it for her?
Once again, Sumire made the match fun when it was needed due to it not being the best bout in the tournament here but they did work with what they got, even if it was as pretty standard as they come. Kelly did an okay job in the match as well and probably my least favorite outing of her in the Grand Prix and she just wanted to dominate Sumire. Sumire was mostly doing her antics that you would see in her matches with the false handshakes, cradling them up when they least expect it, and just whipping them. It looked like Kelly was going to go for the win here and when she ran the ropes, Kagetsu kicked her in the back to stun her long enough for Sumire to grab the Oedo Tai sign so she could hit Kelly with it, but Kelly moved out of the way causing the sign to bounce off the ropes and hit Sumire instead in which it gets turned around for Kelly to hit the Fireman's Carry Slam for the victory and she's now in first place.
Rating: Tony Schiavone
Grand Prix Blue Stars Match
Hazuki vs. Mayu Iwatani
Review: A win here is very crucial for Mayu Iwatani if she wants to tie it up with Kelly, otherwise she would be eliminated from the tournament and her opponent, Hazuki would take the top spot with nine points and potentially win the whole thing if things work out in her favor. The last time the both of them fought one on one was around February during the ROH Women of Honor tournament and Mayu would come out the winner of that match and Mayu wants to beat her again to show she's on a whole different level now. Who will take the top spot of the standings, Mayu or Hazuki?
Hazuki is in my top 5 wrestlers of Stardom right now and this match here with Mayu just solidified my statement for this claim. This whole tournament, she has been one of the most consistent wrestlers in her matches with her sequences being on point, her moves are crisp, and how to handle a match lately has been outstanding that she should be under peoples radar. Hazuki right away was being aggressive with Mayu before the bell even rang when she attacked her from behind and kept rolling her up which failed, but she kept on the attack by throwing her around into chairs on the outside and even destroyed Mayu's arm during the whole match and not holding back on her, I love this side of Hazuki.
This match is one of my favorites in my block next to Hazuki/Momo still being my favorite one, but this one was still pretty damn close with their chemistry in the ring together gave us a special match and it's not even their last one for their block. They told a great story in the ring, executed everything almost flawlessly, seeing a more aggressive side of Hazuki in her previous two matches, and Mayu selling it all to make it look more dangerous than it probably is, but they were just on point with everything together. Hazuki was pulling out all the stops with having her in the Crossface, working on her arm, stiff Dropkicks and a Codebreaker, but it still wasn't enough to take Mayu out as she hits the Dragon Suplex Hold and gets the victory to tie first place with Kelly Klein. After the match, she told the crowd that she was now in first place and hopes the crowd will still support her as she looks to win it all at the final.
Rating: Bruce Prichard
Overall: Can't really give it a fair assessment due to only having two matches with one being average and the other one being great, but the average of it was solid enough. I'm glad to see that all three of my picks are in the top 4 of potential winners and excited for the last day since it's stacked.
Favorite Match: Hazuki vs. Mayu Iwatani
Score: 6/10
Blue Stars Standings:
Mayu Iwatani: 4-2 (8 Points)
Kelly Klein: 4-2 (8 Points)
Momo Watanabe: 3-2-1 (7 Points)
Hazuki: 3-2-1 (7 Points)
Nicole Savoy: 3-3 (6 Points)
Jamie Hayter: 2-4 (4 Points)
Saki Kashima: 2-4 (2 Points)
Natsu Sumire: 2-4 (4 Points)
Now that we have our final standings before the final show tomorrow, we see that our top 4 people that could still win this are Mayu Iwatani, Kelly Klein, Momo Watanabe, and Hazuki. We're gonna break down the final card for tomorrow and see who has a real chance and how can it be done.
Mayu Iwatani vs. Momo Watanabe
Hazuki vs. Natsu Sumire
Kelly Klein vs. Nicole Savoy
Saki Kashima vs. Jamie Hayter
Here is how these four can win.
Mayu Iwatani: Defeat Momo Watanabe and Nicole Savoy defeats Kelly Klein.
Momo Watanabe: Defeat Mayu Iwatani and Nicole Savoy defeats Kelly Klein.
Kelly Klein: Defeat Nicole Savoy
Hazuki: Defeat Nicole Savoy, Momo Watanabe defeats Mayu Iwatani, and Nicole Savoy defeats Kelly Klein
If Momo and Hazuki do win their matches and Kelly loses, these two will be in a tie and it'll be interesting to see who gets the final spot since they did tie it up in their outing, interesting direction if that's the case.
---
Always Use Your Head and visit the official Pro Wrestling Tees store for The Chairshot All t-shirt proceeds help support the advancement of your favorite hard-hitting wrestling website, The Chairshot!

---