Chairshot Classics: InVasion [July 22 2001]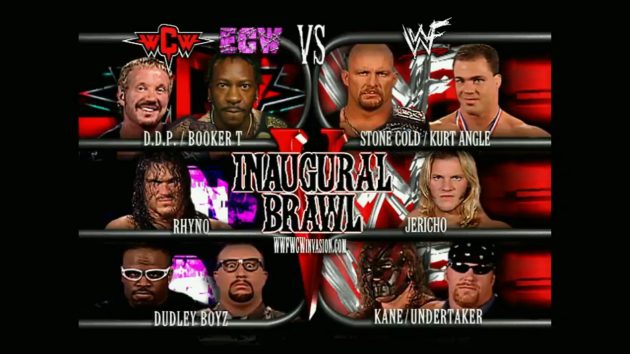 Hello all and welcome to a Chairshots Classic special to coincide with the 2MB Wrestling Podcast.
In 2001, the Monday Night War is over. ECW went bankrupt and out of business. WCW planned to sell to Eric Bischoff and a consortium of investors for somewhere between $10 Million and $!5 Million.
When an AOL Time Warner Executive named Jamie Kellner (the guy who really killed WCW) dropped WCW programming from the Turner Networks, the Bischoff deal fell through. With no TV to air WCW on, WCW was considered worthless and the backers backed out.
WWE and Vince McMahon stepped in. They had a TV deal of their own. They scooped up the WCW library, trademarks and the contracts of some WCW stars for a figure rumoured to be in theregion of just $3 million.
WWE had bought their competition and with that the Monday Night War was declared over on March 26 2001.
On TV, in a moment that aired simultaneously on the March 26th episode of WWE Raw (episode 409) AND the final episode of WCW Nitro (episode 288) it was announced that Shane McMahon's name was on the contract and he now owned WCW. As Spring turned to Summer, WCW wrestlers began interfering in WWE matches on Raw and Smackdown.
Then on the July 9th Raw, members of Team WWE, Chris Jericho and Kane took on WCW representatives, Lance Storm & Mike Awesome. During the match, Rob Van Dam and Tommy Dreamer came through the crowd and attacked Jericho and Kane. Bubba Ray Dudley, Justin Credible, D Von Dudley, Rhyno and Raven ran in to chase off the invading Van Dam and Dreamer only for them to join forces with Storm, Awesome, Dreamer and Van Dam to beat down Jericho and Kane. Paul Heyman would leave the commentary position and announce "This invasion has been taken to the Extreme!" as this group were representing ECW. Later in the show, the WCW and ECW teams would join forces forming The Alliance before announcing new ECW owner (on screen anyway) Stephanie McMahon.
The Invasion is on.
This all leads to…..
InVasion [July 22 2001]
Following an opening video package with stock footage of soldiers marching, bombs falling and a general theme of war, Michael Cole and JR welcome us to the show.
. Edge & Christian vs Lance Storm & Mike Awesome
Awesome starts with a kick and some right hands to Christian followed by shoulders in the corner. Awesome Irish Whips Christian into the corner but Christian avoids the charging Awesome and hits him with a Drop Toe Hold before tagging Edge. He hits Awesome with a couple of Right Hands before Awesome counters an Irish Whip and drops Edge with a Clothesline. Storm tags in and hits Edge with a kick to the ribs and a couple of Right Hands. An Irish Whip by Storm is countered by a Hurricanranna by Edge. Storm reverses an Irish Whip but Edge gets a boot up to stop the oncoming Storm before smacking him with a second rope Dropkick. From the apron, Awesome tries to Clothesline Edge but he ducks it and Dropkicks Awesome off the apron. Storm tries to take advantage of the distraction and charges at Edge who ducks him and Back Drops Storm over the top rope and he lands on Awesome. Christian then uses Edge as a springboard to help him Plancha onto the Alliance team at ringside. Edge drags Storm into the ring and gets a two count from a Backbreaker before tagging in Christian who gets a two from a double hiptoss.
Christian Irish Whips Storm but Storm catches a Monkey Flip attempt and tries to Superplex Christian only for Christian to push Storm off the top turnbuckle. Before Christian is able to mount an attack, Awesome pulls Christian's legs from underhim and he falls chest first onto the turnbuckle pad. As a wounded Christian stands on the apron, Storm clatters into him sending Christian into the ringside barrier. While Edge protests in the ring distracting the referee, Awesome rams Christian into the ring apron and then back into the ringside barrier. Back in the ring, Christian tries to fight back with Right Hands but Storm catches him with a knee to the gut before sending Christian gut first into the ringpost. Awesome tags in and gets a two from an Elbow Drop. A Clothesline knocks Christian down as does a Bodyslam before he gets a two count from a Big Splash. Awesome stomps on Christian's lower back before throwing him face first into Storm's waiting boot. Storm then tags in and gets a two count from a Forearm Smash which he follows with a Gutbuster and catches Christian with a knee to the gut following a whip off the ropes that gets another two.
Storm whips Christian off the ropes but Christian ducks a Clothesline and hits a Cross Body. Storm is able to tag Awesome who prevents Christian from doing the same before lifting him up and dropping Christian down on the top rope before an Alabama Slam gets Awesome a two when Edge has to break it up. After the referee gets Edge back out of the ring, Awesome gets yet another two count after a Flying Clothesline. Storm tags back in and lays into Christian with kicks and stomps and a Backbreaker before tagging out again. Awesome climbs the turnbuckles and launches at Christian with a Frog Splash for a two count. Awesome follows an Irish Whip into the corner with a Clothesline before attempting a top rope Awesome Bomb that Christian Back Drops his way out of. Much like Awesome tags Storm, Christian is able to tag Edge who lays out Storm with Right Hands and a Clothesline before lamping Awesome with a Spinning Heel Kick when he tried to get involved. Edge then catches Storm with a Backdrop and Awesome with a Dropkick before hitting an Edge O Matic to Storm that gets a two count. Edge attempts a Sunset Flip but Storm grabs Awesome's hands to prevent it. Christian gets on the apron and thumbs Awesome breaking his grip only for Storm to roll out of it but Edge rolls him up with an O'Connor Roll for another two count. Storm rolls up Edge with a Small Package but the referee is distracted by Awesome so Christian rolls both men over so Edge now has Storm rolled up, it gets a two count. Storm hits a Jawbreaker and tags Awesome, they go for a Double Side Suplex but Edge rolls out of it allowing Christian to hit Storm and Awesome with a top rope Clothesline. Edge runs at Storm for a Spear but he manages to leapfrog over Edge, Awesome doesn't and he gets hit by the Spear for a two count. Christian Irish Whips Storm but is caught by a back elbow from Storm who lines Christian up for a Superkick. Edge pushes Christian out of the way and he eats the Superkick. Christian dives at Storm and both men go sailing over the top rope while in the ring Awesome manages to cover the fallen Edge for a two count. Awesome lifts Edge for an Awesome Bomb but Christian runs in and Spears Awesome allowing Edge to make the cover and he gets three.
Winners: Edge & Christian
Backstage, Vince McMahon celebrates Edge & Christian's victory by attempting a five second pose. He is interupted by William Regal who says that Steve Austin and his wife Debra have arived at the arena. Vince tells Regal to give Austin some space and think about his own match with Raven later tonight. Vince says tosmear him into the ground like George Washington did to King George's red coats in the Revolutionarry War.
. Earl Hebner vs Nick Patrick
For all those that think 2018 wrestling is a little on the odd side, the referees are going to fight. To keep things even, MIck Foley is here to be the referee.
Earl starts by shoving Patrick but he slaps Earl and Earl looks like he's going to fall down. Earl kicks Patrick then shoves him into the opposite corner and procedesto unload on Patrick with more kicks. Earl grabs Patrick by the ankles and pulls him out of the corner and into the air getting a two count when Patrick lands. Earl attacks with punches but Patrick turns him over and gets in some punches of his own. Earl gets in some knees before Patrick pulls him out of the ring. As Earl slides back in the ring, Patrick stomps down on him but Earl gets to his feet punches Patrick into the corner and hits the 10 punches in the corner. Patrick hits Earl with a Low Blow before a Baseball Slide sends Earl out of the ring again. The WCW referees that accompanied Patrick to the ring attack Earl before the WWE referees chase them off and Mick Foley sends the WCW refs to the the back. In the ring, Patrick argues with Foley allowing Earl time to hit something vaguely resembling a Spear to get the pinfall victory. After the bell, Patrick argues with Foley and gets a mouth full of Socko for his troubles.
Winner: Earl Hebner
An ad airs for an upcoming episode of Tough Enough. I spotted Chris Nowinski and Maven in there. No idea who anyone else is to be honest.
Cole and JR hype the 5 on 5 main event tag match and we see footage from last Thursday's Smackdown when Diamond Dallas Page kidnapped Debra only for Steve Austin to car jack a limo and give chase.
Back in catering, Debra is still angry at being kidnapped by DDP and dumped on a street corner. The Undertaker's wife, Sara (who keeps calling him Mark) understands, she has had her problems with DDP before. Both women want to see DDP torn limb from limb.
. Faarooq & Bradshaw vs Chuck Palumbo & Sean O'Haire
Right, now there are two separate reasons for this match. First one is simple: WWE Tag Team Champions versus WCW Tag Team Champions. Other reason is that Faarooq and Bradshaw are the guardians of the gate defending against the inVading WCW. Fun fact: a WCW Tag Team Champions versus WWE Tag Team Champions match happened three times on Pay Per View over the InVasion period. Each time it was different teams, that is six separate teams competed in these champion vs champion matches. A lot of titles switched hands a lot of times in this five month period.
The match starts immediately with O'Haire and Faarooq brawling on the inside and Bradshaw and Palumbo on the inside. Bradshaw's punches seem to be winning and Faarooq, fresh from whipping O'Haire into the barriers, joins as they hit Palumbo with a Double Spinebuster. Eventually, the referee makes it one on one as he sends Faarooq to the corner. Bradshaw hits Palumbo with a Bodyslam and an Elbow Drop before lifting him for a Suplex that doesn't even get a one count as O'Haire immediately breaks it up. Bradshaw clubs O'Haire as he exits the ring but gets Clotheslined by Palumbo. O'Haire tags in and unloads on Bradshaw with Right Hands before Bradshaw fights back with a knee to the gut and some chops. Bradshaw whips O'Haire off the ropes but he ducks a Clothesline and hits Bradshaw with one of his own before he mounts Bradshaw and unloads on him with punches. Back to his feet and Bradshaw hits O'Haire with a Side Suplex which allows him to tag Faarooq.
Faarooq hits O'Haire with Right Hands and a Back Elbow for a two count. Farrooq Irish Whips O'Haire chest first into the corner and lifts him for a Side Suplex that O'Haire rolls out of and lands on his feet (kind of) before hitting Faarooq with an elbow to the gut and a knee to the face that gets him a two count. O'Haire tags Palumbo who peppers Faarooq with punches and stomps. He whips Faarooq off the ropes and Faarooq ducks a Clothesline before hitting Palumbo with a Shoulder Block before tagging Bradshaw who unloads on Palumbo with punches in the corner before ramming his head into the turnbuckle and hitting him with more right hands. Palumbo reverses an Irish Whip and runs at Bradshaw for an Avalanche but Bradshaw catches him and hits a Fallaway Slam. Bradshaw goes for a Powerbomb but O'Haire is in and he kicks Bradshaw in the head. Instead of removing O'Haire, the referee choses to deal with a protesting Faarooq and doesn't see O'Haire lift Bradshaw up for a Prophecy that, when the referee is paying attention, gets a two count. Palumbo whips Bradshaw off the ropes but Bradshaw clubs him in the back when he telegraphs a Back Drop before hitting a DDT allowing him to tag Faarooq.
Faarooq Irish Whips Palumbo who leaps over a charging Farrooq and catches him with a Waistlock that Faarooq reverses before Palumbo puls him into a Clothesline by O'Haire On the outside of the ring, O'Haire drags Faarooq out of the ring and whips him into the steel ringside steps before sliding him back into the ring where Palumbo covers him for a two count. Palumbo stomps Faarooq before tagging O'Haire and they whip Faarooq off the ropes and drop him with a double Back Elbow. O'Haire then whips Faarooq off the ropes again catching him with another elbow to the gut and a knee to the head that gets him a two count. O'Haire charges at Faarooq for something but it is countered into a huge Spinebuster.
Both men tag their partners and Bradshaw boots Palumbo in the face before whiping him off the ropes and catching Palumbo with a Back Elbow. Whipping Palumbo off the ropes a second time ends in a Powerslam that gets him a two count. A third whip off the ropes sees a Clothesline ducked before Palumbo throws himself at Bradshaw for a Cross Body that again is caught. Before he has a chance to hit another Fallaway Slam, O'Haire Superkicks Bradshaw causing Palumbo to land on Bradshaw for a one count which is broken up by Faarooq.O'Haire then lifts Bradshaw and Paulumbo Dropkicks him in the spine that sends Bradshaw into the turnbuckle in some kind of double Snake Eyes move. Palumbo Superkicks Bradshaw but this leaves him open for Bradshaw to hit a Clothesline From Hell that gets the three count
Winners: Faarooq & Bradshaw
Chris Jericho and Vince McMahon are backstage. Jericho says he's been in all companies. He says WCW never had a leader but ECW have a psychotic and lunatic leader in Paul Heyman (pitty he doesn't mention the WWE leader) Instead he fat shames Heyman. But he does warn that it's because of Heyman that WCW and ECW will be coming on strong, but WWE aren't going to get mad they are going to get Get GET even. Vince says The Alliance will never Eeeeever be the same again.
Shane McMahon, Stephanie McMahon and for some reason Billy Kidman are watching Vince and Jericho on a monitor backstage. Stephanie says she hates Jericho and Paul Heyman can be seen face-palming in the corner. Shane tells Billy Kidman that they need to turn the tide and that he needs to beat X Pac to do that (so that's why he's in this scene) Heyman is furious that The Alliance is losing everything from matches to momentum and tells Kidman that they are at the point of no return and that he NEEDS to beat X Pac.
. Billy Kidman vs X Pac
Yo, you dealling with the X Factor.
JR tells us that because of the inVasion and because X Pac is on team WWE, he will be getting cheers tonight instead of the usual jeers. X Pac gets immediate 'X Pac sucks' chants. X Pac turns a Collar and Elbow into an Arm Drag. X Pac turns another Collar and Elbow into a Headlock then a Hammerlock before pulling Kidman's ankles and sending him face first into the canvas. A third Collar and Elbow is turned into a Headlock again by X Pac but Kitman pushes him off sending X Pac off the ropes but the returning X Pac knocks Kidman down with a Shoulder Block. Both men counter each other's attempts at a Hip Toss before Kidman ducks a Spinning Kick and pulls on X Pac's ankles sending him face first into the canvas. Kidman takes X Pack down with a Drop Toe Hold which he turns into a Headlock. X Pac gets to hi feet and shoots Kidman off the ropes but the returning Kidman knocks X Pac down with a Shoulder Block. Kidman bounces off the ropes but X Pac catches him and throws him into the air (presumably for a Pop Up Powerbomb) but Kidman counters it with a Hurricanranna followed with an Enziguri that knocks X Pac out of the ring. What X Pac doesn't see is Kidman who slides under the ropes with a Baseball Slide Faceplant which gets a two count once Kidman rolls him back into the ring. X Pac whips KIdman off the ropes but he ducks a Clothesline and hits another Hurricanranna. Kidman then charges at X Pac who catches Kidman and throws him over the top rope to the outside. As Kidman gets to his feet, X Pac springboards off the second rope, over the top rope and down onto Kidman with a High Cross Body.
In the ring, Kidman kets knocked down by a Standing Spin Kick which gets a two count before X Pack locks in a Chinlock. Kidman fights out of it only to be caught in a Sleeper Hold. Kidman elbows his way out of it, shoots X Pac off the roes and catches him in a Sleeper Hold but X Pac quickly breaks it when he turns it into a Side Suplex. With Kidman down, X Pac climbs to the top turnbuckle and leaps with some kind of Swanton like manouver, but Kidman moves out of the way and X Pac hits nothing but canvas. Kidman hits X Pac with a Right Hand, an Elbow, a Dropkick and a Sky High (shades of D'Lo Brown) that gets him a two count. X Pac staggers into the corner where Kidman hits him with six out of Ten Punches before X Pac Powerbombs Kidman and, despie having his feet on the ropes for leverage, only gets a two count. X Pac lifts Kidma for a Powerbomb that Kidman counters into a Facebuster (or an X Factor if you want to get technical) for a two count. KIdman climbs to the top rope and launches at X Pac with a flying who knows as X Pac counters it with an X Factor of his own which, amazingly, only gets a two count. X Pac drapes Kidman over th e bottom turnbuckle and goes for a Bronco Buster but Kidman counters it by getting a foot up to block (Referee! That's a low Blow!). With X Pac down, Kidman climbs to the turnbuckle and hits the always impressive looking Shooting Star Press and gets the victory. WCW win something.
Winner: Billy Kidman
Backstage Shane, Stephanie and Heyman seem happier. Diamond Dallas Page is here (Page here) and is talking about when he kidnapped Debra on Smackdown. Shane tells him to forget Smackdown and focus on the likes of Undertaker and Steve Austin tonight
Stacy Kiebler and Torrie Wilson are shown. Torrie says it's a pitty that the audience is going to see Trish Stratus in her underwear and not Torrie's "big, voluptuous breasts". Stacy says no body looks better in panties than her. They say it's a pitty the audience won't see them in their underwear tonight so they plan on giving Matt and Jeff Hardy a private showing. Women's wrestling as come a long way since 2001, that's all I'm saying.
. Raven vs William Regal
A Collar and Elbow ends with Raven backing Regal into the corner and he goes for a Right Hand but Regal ducks it and unloads on Raven with a series of lefts. He whips Raven off the ropes but telegraphs a Back Drop and is kicked in the chest by Raven who takes too long working out his next move that he gets Clotheslined by Regal. He follows that up by grabbing Raven and hoisting him up with a Double Underhook Suplex. As Regal tries to apply an STF, Raven pulls away from Regal and scuttles out of the ring. Regal goes out after him and strikes with some left hands before throwing Raven back into the ring. In the ring, a Left Hand and an Uppercut get Regal the first two count of the match. Raven reverses a whip against the ropes and tries to Dropkick Regal as he rebounds back. Instead, Regal catches Raven by the ankles and slingshots him over the top rope and out of the ring. Regal follows and throws Raven just far enough back into the ring so he can slam Raven down, chest first, onto the ring apron. Back in the ring, Regal charges at Raven who grabs Reagal and thows him over the top rope to the floor where Raven hits Regal with a Baseball Slide.
Raven slips out of the ring to meet Regal and Russian Leg Sweeps Regal into the crowd barrier. In the ring and in the corner, Raven rams his shoulder into Regal's gut. Raven Irish Whips Regal chest first into the corner hits an awkward looking Clothesline to get a two count. Raven Snapmares Regal before applying a Chinlock. Regal is quickly out of it however and Suplexes Raven for a two count. Raven gets control back from a Shoulder to the gut before climbing to the second turnbuckle and clocking Regal with a flying Forearm Smash. A second one is stopped due to a Regal punch to the gut and it gives Regal room to hit a running knee to the side of the head but it's a Small Package from Raven that gets the two count. Regal pounds Raven with Left Hands before Raven reverses an Irish Whip and catches Regal in the corner with a Right Hand and a Bulldog out of the corner gets Raven a two count. Regal counters an attempted whip with a Full Nelson attempt but Raven counters it with a hip thrust and a Sunset Flip that Regal rolls into a pin attempt for a two count. Same for a different roll up. Regal gets another two count from a couple of knees to the skull and a Back Elbow. A DDT attempt by Raven is countered by Regal following a variation of a Northern Lights Suplex that gets another two. An attempted Regal Cutter is countered into an attempted DDT that regal stops by driving Raven into the turnbuckles. An Irish Whip is counterd by Raven but both men run into each other and this knocks Raven out of the ring. With the referee's atention on Raven, Tazz runs in and hits Regal with an Exploder Suplex. Raven then slides back into the ring and hits Regal with a DDT that gets the three count.
Winner: Raven
Vince McMahon, The Undertaker, Sara and Kane are backstage. Vince says WCW have won two in a row and WWE can't afford for WCW to win a third. Vince attempts to motivate Undertaker and Kane by reminding Kane how ECW beat him down when they first joined the inVasion. Vince mentions Diamond Dallas Page stalking Undertaker's wife, Sara and Undertaker grabs Vince by the throat and slams him against the wall. He says tonight we will see the best of The Undertaker. Vince smiles, happy his guy are motivated.
. Hugh Morrus, Shawn Stasiak & Kanyon vs Billy Gunn, The Big Show & Albert
Do not adjust your set, Albert really is wearing the Intercontinental Title and really held the title back then. To this day I have no idea why though.
The WCW lads attack Team WWE to start but WWE quickly fight back creating a cool visual where each man on WWE lifts an opponent for a Gorilla Press Slam. Gunn and Kanyon start with Kanyon ramming Gunn's head into the turnbuckles and unloading with punches and Shoulder Blocks. An Irish Whip is reversed by Gunn and Kanyon tries to leap over Gunn. Instead Gun catches him in a chicken fight/doomsday device position and falls backwards hitting Kanyon with an Electric Chair Drop. Gun charges at Kanyon who hits some kind of Back Drop into a modified Northern Lights Suplex that gets him a two count when Gunn pushes himself up before rolling Kanyon with a Backslide that gets Gunn a two. Gunn hits some Right Hands but is caught by a Stasiak Forearm as he shoots himself off the ropes allowing Kanyon to hit a Russian Leg Sweep that he rolls into a Stroke for a two before tagging Stasiak. He lays into Gunn in the corner with Right Hands and stomps. Stasiak Irish Whips Gunn but Gunn catches in incoming Stasiak with a Back Elbow and a Neckbreaker. Gunn tags Albert who hits Stasiak with a Clothesline, an Irish Whip and an Avalanche. All six men enter the ring but WWE quickly clear house. Back to one on one, Albert knocks Stasiak down with a Pump Kick and a Baldo Bomb that gets a two count. Behind the referees back, Morrus hits Albert with a DDT before legally tagging in. He runs straight into a Powerslam by Albert. Gunn tags back in and he hits Morrus with a Clothesline and a Fameasser but can't take advantaage as Kanyon is in the ring. With the referee distracted by Kanyon, Stasiak hits Gunn with a Reverse DDT (no matter who does it, I love this move) Morrus makes the cover and he gets the three count.
Winners: Hugh Morrus, Shawn Stasiak & Kanyon
Backstage Shane McMahon and Booker T are confident they are going to win tonight.
William Regal and Tajiri are in Regal's office. Regal tells Tajiri that since coming to the WWE, Tajiri has been loyal to WWE. Tonight is his shot. Tonight he wants Tajiri to take the "foul, miserable, torag little gobshite, Tazz" (which the subtitles on the WWE Network amusingly translate as "foul, miserable total reckless will go upside, Tazz") and pull him apart for Regal, for Vince McMahon and most of all the WWE. Regal tells Tajiri that he knows Tajiri can do it "So bloody well go and do it!" I love, Love, LOVE this segment.
. Tajiri vs Tazz
As Tajiri slides into the ring, Tazz kicks him in the head. Both men exchange Right Hands. Tazz wins the Battle of the Right Hands and whips Tajiri off the rope but he ducks a Clothesline and hits Tazz with a Spinning Heel Kick and a standing Moonsault that gets an early two count. Tajiri then rams Tazz into the corner and Chops him. An Irish Whip is countered by Tazz, Tajiri gets a boot up to counter a running Tazz but he then walks into a Capture Suplex. Tazz smashes Tajiri with Forearms to the shoulder blades. Tajiri counters a Suplex and unleashes a flurry of kicks and punches on Tazz but this time he runs into a Clothesline by Tazz. A Whip of the ropes into a Back Drop is scuppered by Tajiri who kicks Tazz in the chest but Tazz ducks a Spinning Kick before hitting a Snapmare and forearms to the face. Tazz chops and stomps Tajiri in the corner. Tajiri fights back with punches and kicks byt Tazz drops Tajiri to the mat with a UFC style takedown which results in a two count. Tazz locks in a Cross Armbreaker (oddly on the right arm, in wrestling it's normally the left) but Tajiri is close enough to get his foot on the bottom rope. Tazz Irish Whips Tajiri who tries to leap over Tazz but Tazz catches him and Alabama Slams Tajiri to the mat for a two count. Tazz whips Tajiri off the ropes but Tajiri turns it into a Handspring Elbow that knocks Tazz out of the ring. Tajiri stands on the ring apron and tries to kick Tazz but he just grabs Tajiri's ankle and yanks him off the apron and down onto the arena floor before throwing Tajiri into the ringside steps. Back in the ring, Tazz Irish Whips Tajiri but Tajiri manages to catch an oncoming Tazz in the Tarantula. Away from the corner, Tajiri hits Tazz with a running Dropkick that get him a two count. Tajiri rattles Tazz with two big Roundhouse Kicks to the chest but Tazz catches a third one and lobs Tajiri up and over with a Leg Arm Suplex. As Tazz attempt to lift Tajiri for his next attack, Tajiri spews green mist into Tazz's face. With his vision obsured, Tazz is defenceless, this allows Tajiri to crack Tazz on the side of the head with another Roundhouse Kick for the pinfall victory.
Winner: Tajiri
Backstage we see Matt and Jeff Hardy. Matt says he is worried about Jeff's match later tonight. He tells Jeff that the upcomming Hardcore Match is what Jeff's opponent, Rob Van Dam, built his reputation on and that Jeff needs to finish the match quickly. Rob Van Dam appears like a puff of smoke and smashes Matt in the back with a chair and tells Jeff "You're Next". Matt seems hurt and most likely won't be at ringside for Jeff's match (you could say his appearance has been DELETED!)
In the WWE's New York restaurant, Bob Holly is hapily signing autographs for fans. That is until one of them is wearing a WCW shirt. This angers Bob. He tears the shirt off the fan and threatens to kick his ass. (pretty sure the fan could sue here. Destruction of Property, maybe even Threatening with Intent but I digress)
. Rob Van Dam vs Jeff Hardy [Hardcore Title]
Jeff starts immediately with Right Hands. He shoots RVD off the ropes but it is reversed, RVD tries to duck under Jeff but Jeff tries to Legdrop RVD who moves and kicks Jeff in the face. Both men take turns at Legdropping each other but the other one moves out of the way. RVD tries to German Suplex Jeff but he reverses it and his attemt at a German Suplex on RVD is thwarded by a Back Elbow and an Arm Drag which Jeff gets out off with a Headscissors.
We have a stand off.
RVD chants can be heard around the arena and when RVD turns to acknowledge them he is Dropkicked from behind. Jeff Irish Whips RVD but RVD catches in incoming Jeff with a Back Elbow. RVD Irish Whips Jeff but Jeff leaps over RVD and Dropkicks him head firtst into the bottom turnbuckle for a two count. RVD sends Jeff off the ropes and tries to Monkey Flip Jeff as he rebounds back. Jeff sees it coming and catches RVD's ankles before compacting him for a two count. RVD hits Jeff with some forearm shots before Jeff hits RVD with an inverted Atomic Drop. RVD ducks a charging Jeff and hits a standing Moonsault on a fallen Jeff for a two count. RVD hits Jeff with a Double Underhook Lifting Facebuster and a Rollng Thunder for a two count. RVD hits Jeff with some rights and some kicks before an Irish Whip which is countered by Jeff. RVD leaps to the top rope but is pushed off by Jeff and RVD goes face first into the ringside barrier. As RVD tries to get back into the ring Jeff catches him in the face with a Baseball Slide. Jeff goes to the outside and uses the crowd barrier as a platform to throw himself at RVD but RVD has the move scouted and knocks Jeff off the barrier and and into the crowd. RVD goes into the crowd after him where Jeff reverses an Irish Whip and RVD goes back first into another barricade. Jeff charges at him and RVD boots Jeff in the face before jumping on to the barricade and Moonsaulting onto Jeff for a two count. At ringside, RVD lifts Jeff onto the ringside barrier so Jeff's laying with his chest on the barrier before leaping off the ring apron and striking Jeff with a spinning Legdrop for a two. RVD tosses Jeff back into the ring but again acknowledges the crowd. This allows Jeff to hit RVD with a Sunset Flip into a Powerbomb sending RVD from the apron back first to the ringside mats. Jeff drags a ladder from under the ring and sets it up at ringside.
Jeff climbs to the top of the ladder but RVD is back on his feet and pushes the ladder over sending Jeff crashing to the floor. RVD arms himself with a steel chair. Not even on his feet yet, Jeff smashes RVD in the face with the ladder. Jeff now has the chair and he gets revenge for Matt when he smashes RVD in the back with it. RVD is on his knees at the top of the isle begging Jeff not to hit him. Jeff takes a moment to think about it and that is all RVD needs as he leaps into the air and Van Daminators the chair into Jeff's face sending him off the entrance stage. Tossing Jeff back onto the stage, RVD hits Jeff with a spinning Legdrop in the middle of the isle way for a two count. RVD throws Jeff and the chair back into the ring before mounting Jeff and unloading with punches. RVD dumps Jeff into the corner and Dropkicks the chair right into Jeff's face but Jeff gets his knees up to counter a Split Legged Moonsault. Jeff DDT's RVD right ontop of his skull and somehow only gets a two. A German Suplex by Jeff also gets a two. Jeff hits RVD with a Jawbreaker before climbing to the top turnbuckle and launching at RVD with a Swanton but RVD narrowly avoids it, moving at the last second and Jeff lands hard on the canvas. RVD places the Hardcore Title onto Jeff's chest before climbing to the top turnbuckle himself and flying through the air and crashing down onto Jeff with a Frog Splash that gives him the victory and the title.
Winner: Rob Van Dam [NEW Hardcore Champion]
Backstage and Vince McMahon isn't looking as confident as he was earlier. Kurt Angle (with hair) is here. Vince says Kurt needs to be in the right frame of mind if they are going to beat The Alliance. Kurt says at the Olympics he kicked ass (with a broken freaking neck probably) and he'll do the same tonight. He's going to kick some serious behind for his country, his company and mostly for himself.
Speaking of serious behind (Michael Cole's words, not mine)
. Trish Stratus & Lita vs Stacy Kiebler & Torrie Wilson [Bra And Panties Match]
According to the video package that aired prior to this, this match is happening because Trish, Torrie and Stacy are all trying to seduce Matt and Jeff Hardy and Lita isn't happy about it. Plus that pesky WCW inVasion thing.
Oh look, Mick Foley is here. He's going to be the guest referee for this. Granted I'm not exactly sure HOW you referee one of these.
Trish and Lita start by mounting Torrie and Stacy and smother them with punches. Stacy escapes by rolling out of the ring while Torrie is now on top of Trish and is slamming her head againt the canvas. Foley sends Lita out of the ring so only two remain in the ring. Torrie kicks Trish in the gut and then Dropkicks her from behind and then stomps her in the corner before unleashing a fearsome Slap to the face. This angers Trish who Slaps Torrie who reverses an Irish Whip, but it does not do any good as Trish comes firing out of the corner and blasts Torrie with a Clothesline. Trish hits Torrie with a Suplex and then tries to remove Torrie's top but Stacy attacks Trish from behind. Stacy and Torrie try to Double Clothesline Trish but she ducks it and Clotheslines them before tagging in Lita. Torrie and Stacy fight over who is legal (it should be Torrie) before Lita pulls Stacy into the ring and pulls off her top. Lita whips Stacy off the ropes but Stacy manages to "High tail it" to the outside. Lita follow and chases Stacy around the ring before Stacy slides back into the ring. As Lita slides in after her Torrie stomps her spine and holds Lita down while Stacy rams Lita's head into the canvas and removes Lita's top. Foley for some reason lifts up Stacy and carries her away, odd he never tried this with Earl earlier. Lita wraps her top around Stacy's neck and uses it to Snapmare Stacy
"Is it a Snapmare because she's a female?"
Lita rams Stacy's head into the corner before grabbing Stacy by the hair and throwing Stacy across the ring. Lita climbs to the top turnbuckle and throws herself at Stacy but she ducks and Lita hits nothing but canvas. Trish and Torrie tag in and Trish knocks Torrie down with a series of Clotheslines. Torrie gets Irish Whipped but moves to avoid an incoming Trish before she grabs Trish by the hair and throws her across the ring. Torrie stands on Trish's hair and pulls Trish by the arms. Torrie then pulls Trish's top off but Trish rolls Torrie and pulls off Torrie's tights. Trish Irish Whips Torrie into the corner and Trish and Lita hit Torrie with a Poetry in Motion and remove Torrie's top. Trish hits a Bulldog on Stacy and Lita hits a Moonsault before they remove Stacy's tights.
Winners: Trish Stratus & Lita
Shane, Stephanie and Heyman are with The Alliance team for the main event. Stephanie says it's do or die. Heyman says they have a chance to create history, that they have a chance to show a winner from a loser. They could be failures or Gods. Shane says the time for talking is over.
Steve Austin and Debra are in Vince's office. Austin says he isn't here to sing, hug or play guitar. He says he's here to whip somebody's ass. Short and to the point I suppose.
. Diamond Dallas Page, Bubba Ray Dudley, D Von Dudley, Booker T & Rhyno vs Kurt Angle, Steve Austin, Chris Jericho, The Undertaker & Kane [10 Man Tag Match]
Undertaker goes to meet Page as he makes his entrance and this war is on. Austin lays into Rhyno with punches before throwing him into the steps. Austin turns his attentions to Booker T and Austin hits Booker with a Snake Eyes on the barricade. Austin throws Rhyno into the ring and the bell finally rings.
Austin kicks Rhyno a couple of times and kicks him low when the referee isn't looking. Rhyno stumbles backwards into the corner where Austin 'stomps a mudhole' in him before he punches Bubba and Page. Austin whips Rhyno off the ropes and knees him in the gut. Austin whips Rhyno off the ropes again and this time hits a Lou Thez Press and a series of Right Hands. Austin shoots himself off the ropes and drops an Elbow on Rhyno that gets a two count. Austin takes Rhyno and plonks him on the top turnbuckle and Chops away at Rhyno before bringing Rhyno down with a Superplex that gets a two count. Jericho tags in and Chops Rhyno before hitting a Flying Forearm. Jericho mounts Rhyno and unloads with a series of punches. Rhyno counters a whip off the ropes with a knee to the gut and a Clothesline and tagging in Booker who stomps Jericho in the corner. Booker then Chops Jericho against the rope before a Jumping Side Kick that Jericho ducks before applying Chops of his own. Jericho shoots Booker off the ropes and catches him with a couple of deep Arm Drags and a one handed Bulldog that gets a two count when Rhyno breaks the count but a springboard Dropkick sends him back out of the ring. A second rope Missile Dropkick gets another two count for Jericho. Kurt tags in and he lays in to Booker with right after right. Kurt whips Booker off the ropes and drops him with a Back Elbow. Booker reverses a second whip of the rops and he drops Kurt with a Spinning Kick. Booker tags D Von and he walks into Right Hands by Kurt. D Von reverses a whip off the ropes and he nails Kurt with a spinning Elbow. D Von Irish Whips Kurt but Kurt nails the oncoming D Von with a Back Elbow (seriously how many times has this same runing into the corner only to be either booted or Back Elbowed on this show alone?) and Kurt drops D Von with a Clothesline before tagging Kane.
Kane nails D Von with an Uppercut before throwing him into the corner. Kane then Irish Whips D Von and the oncoming Kane….. actually hits a Clothesline in the corner before Sidewalk Slamming D Von to the mat for a two count. D Von ducks a Clothesline by Kane but walks in to a Chokeslam that is only broken up when Bubba interferes. With Bubba gone after a Right Hand, Kane catches D Von with a Side Suplex. D Von taggs Bubba and Kane shoots D Von off the ropes but D Von ducks a Clothesline and hits a 3DB (a lift into a Neckbreaker as opposed to the 3D which is a lift into an Ace Crusher) which gets Bubba a two count. Bubba follows with a series of Elbow Drops for another two. Kane shoots Bubba off the ropes and Boots him in the face before climbing to the top turnbuckle and flying at Bubba with a Clothesline. Undertaker tags in un unloads with Right Hands, a Back Elbow and an Irish Whip. But a second Irish Whip is, oncoming, back elbow, we know. A Clothesline by Bubba gets a two count. Bubba shoots Undertaker off the ropes and he ducks a Clothesline by Bubba before catching Bubba with a Flying Clothesline and catches a day dreaming Page with a Right Hand that knocks him off the apron. Undertaker hits Bubba with a Legdrop that gets a two count. Undertaker grabs Bubba's arm and hits Old School before hitting Booker, D Von and Rhyno with Right Hands. He misses a Right Hand to Page who pulls Undertaker down on the ropes leaving him open for Bubba to hit a Suplex. before tagging Rhyno. He hits Undertaker with Punches into the corner and then a running Shoulder (which technically is a Gore) and stomps. Page demands to tag in and Rhyno obliges. Page knees, punches, elbows and stomps Undertaker before a Short Arm Clothesline that gets a two count. Undertaker hits some body shots and an Uppercut that sends Page off the ropes. Page tries to Boot Undertaker, he blocks it but Page is able to hit Undertaker with a Clothesline for a two count. Page shoot Undertaker off the ropes (lot of shooting off the ropes on this show too) but Undertaker ducks a Clothesline only to run into a Back Elbow and a DDT that gets another two count.
Booker tags in and hits some Right Hands before sending Undertaker off the ropes and hitting a Leg Lariat. Booker hits Undertaker with punches to the ribs but Undertaker hits Booker with a DDT for a two count. Undertaker tags Austin who wrenches on Booker's shoulder. Austin thumbs Booker in the eye before 'stomping a mudhole' in the corner. Booker Irish Whips Austin but he comes out of the corner and nails Booker with a Clothesline. Austin attemts a Stunner but Booker pushes him away. A knee to the gut by Austin sends Booker out of the ring. Outside the ring, Austin throws Booker over the barrier and Suplexes him back over onto the ringside mats before throwing him back into the ring. Austin tags Jericho who Irish Whips Booker and yep. Jericho tries to apply the Walls Of Jericho to Booker but Page is in the ring so Jericho tries to apply the Walls Of Jericho to him. Jericho knocks Booker down and attemps a Lionsault. Booker rolls out of the way and Jericho lands on his feet. Jericho tries a Hurricanranna but D Von grabs him and pulls him down onto the ropes and tags in. D Von stomps Jericho down before throwing him into the corner where he unloads on Jericho with Right Hands. Bubba tags in and hit punches and Elbows. Jericho tries to fight back but an Eye Rake stops that before Bubba tags D Von back in. They Irish Whip Jericho but he ducks a Clothesline from an incoming Bubba and hits D Von with a Forearm and a Spinning Heel Kick to Bubba. Angle tags in and he hits Right Hand to both Bubba and D Von. An Irish Whip to D Von is followed by Angle ducking a charging Bubba and sends him crashing into D Von. It's Overhead Belly To Belly Suplex City as Angle hits one to Bubba and one to D Von and a cover on D Von get a two count. A distraction by Page allows Bubba to hit Angle with a Bubba Bomb before he finally rolls out of the ring.
D Von hits Angle with a Stomp, a Bodyslam and a Legdrop for a two count. Rhyno tags in and he punches and stomps Angle in the corner before he hits Angle with a Belly To Belly Suplex for a two count. Bubba tags in and he and Angle exchange Right Hands before an Eye Rake by Bubba. D Von tags in and he stomps Angle in the corner before tagging Booker who hits Angle with a Scissors Kick. Page tags in and he Powerbombs Angle for a two count and gets the same result from a Clothesline. Bubba tags in and he and D Von hit Angle with a What's Up Headbutt that gets D Von a two count when he makes the cover. Page tags in and he hits Angle with a Sleeper into a Slam for a two count before applying a Front Facelock. Angle Back Drops his way out of it and tags Austin. The ref doesn't see the tag. Page hits Angle with a Diamond Cutter but Undertaker is in the ring punching at Page and pretty soon everybody is in the ring.
Rhyno accidentally Gores Booker. It soon comes down to four men: Angle who is still down, Booker likewise and Undertaker and Page who are still fighting. Undertaker hits a Sidewalk slam on Page and a Chokeslam. On thee outside of the ring, Booker pushes Austin into the steps while inside Undertaker hits WCW referee with a Last Ride. Austin is clutching his knee. Page makes an exit through the crowd and Undertaker follows. D Von throws Kane into the steps and sets up a table against the ringside barrier. Kane is back on his feet and Boots Bubba in the face before Chokeslamming D Von through the commentary table. Bubba clangs Kane on the head with a TV monitor. Bubba and Rhyno suplex Kane through the Mexican commentary table. Jericho, from the apron, throws himself at Rhyno and they go through the table at ringside. Bubba and Booker stomp Angle in the corner. Angle fights both men off with punches and hits a German Suplex to Booker followed by an Olympic Slam to Bubba. Booker tries to kick Angle but he grabs Booker's foot and applies an Angle Lock. Booker pushes his way out of it and knocks Angle into the referee who falls out of the ring. Angle charges at Booker who hits a Flapjack. Both men are down. At ringside Vince has the WWE Title in his hand. He slides it into Angle but Shane intercepts it. Vince gets in the ring and is clocked in the head by Shane with the title. Shane tries the same to Angle but he clotheslines Shane out of the ring and Back Drops Bubba too. Angle hits Booker with an Olympic Slam and applies the Angle Lock. Booker taps but there is no referee so Austin slides the referee back into the ring. Ausin gets into the ring and kicks Angle in the head and hits Angle with a Stunner. He throws Booker on top of Angle. The referee counts and thanks to Austin's defection, The Alliance win.
Winners: Diamond Dallas Page, Bubba Ray Dudley, D Von Dudley, Booker T & Rhyno
Austin celebrates his new team's victory by drinking beer with Shane, Stephanie and Heyman and we are done.
Post Show: I enjoyed this. It's easy to complain about this and point out the missing WCW stars like Sting, Ric Flair, Bill Goldberg and Hulk Hogan, but this is the first PPV of the inVasion. IF those stars are coming in, I'd expect to see them in later matches when there is a need for the 'Big guns'. Overall, WCW were made to look like a proper threat to WWE here and I enjoyed the show as a result.
Match Of The Night: Rob Van Dam vs Jeff Hardy. There was a few good ones here but this was a great one.
MVP: Steve Austin. Going in to the show everyone was talking about him, as the show ended people were still talking about him.
Rating: 8/10
That is me done too. I can be found on Twitter @Callaweasy2220 or I can be found here covering Monday Night Raw from 1993 as part of Chairshot Classics. #UseYourHead and ALWAYS have an Angle!
---
Always Use Your Head and visit the official Pro Wrestling Tees store for The Chairshot All t-shirt proceeds help support the advancement of your favorite hard-hitting wrestling website, The Chairshot!

---
Chairshot Classics: Raw #7 [March 1st 1993]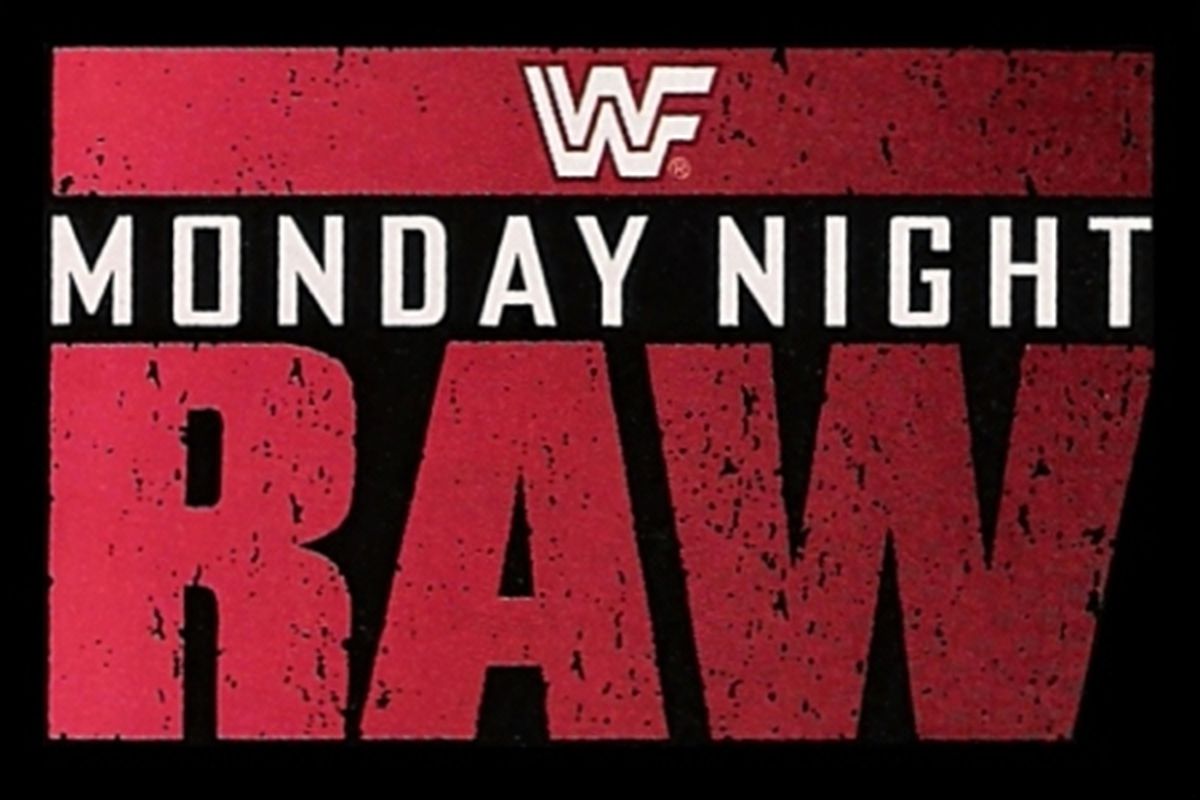 Hello from the Raw side where we chronologically wander through past episodes of WWE's Monday Night Raw episode by episode. Seven weeks in and it's time for a WWE Title match. To see who it was defended against and if it was defended at all (see what I did there?) lets head on to
Raw #7 [March 1 1993]
As soon as Raw opens, WWE Champion, Bret Hart is on his way down the isle for……
. Bret Hart vs Fatu [WWE Title]
Fatu pushes Bret out of a Collar and Elbow. Bret turns a second one into a Headlock but Fatu sends him off the ropes. Nobody moves as both men clash shoulders together in the centre of the ring. Bret charges at Fatu who catches Bret and Bodyslams him before an Elbow Drop that Bret rolls to avoid. Bret hits an Armdrag followed by knees to the shoulder before applying an Armbar. Fatu breaks it by throwing Bret into the turnbuckles. However, Bret avoids a charging Fatu and Armdrags him into another Armbar. Fatu breaks this one by sending Bret off the ropes. Again nobody moves when both men clash shoulders in the centre of the ring. Bret hits Fatu with another Shoulder Block and this time Fatu goes down. Bret runs the ropes and falls over Fatu (which Vince tries to pass off as a trip by Fatu's manager, Afa, despite Afa being nowhere near Bret) and clutches his knee. He's faking it. As Fatu celebrates his opponent's injury Bret runs at Fatu and rolls him up with a School Boy that gets him a two count.
Bret Arm Wringers his way back into the Armbar. Fatu tries to break it with a Bodyslam but Bret rolls through it still holding the Armbar. Fatu breaks it again by sending Bret off the ropes but Fatu telegraphs a Back Drop and Bret Faceplants Fatu into the canvas. Fatu is Samoan and apparently shots to the head (like a Faceplant) have no effect on him and he stands straight back up and Superkicks Bret for a two count. Fatu uses his hard Samoan head to hit Bret with a Headbutt. Fatu sends Bret off the ropes and tries to Hip Toss Bret. He counters it and, despite managing to Armdrag Fatu twice so far this match, can't Hip Toss Fatu because he's too heavy and gets Clotheslined by Fatu for another two count. Fatu applies a nerve grip to Bret's shoulder. Bret tries to fight his way out with Elbows to the gut but Fatu pulls Bret's hair and re-applies the nerve grip. It's eventually broken when Fatu gets hungry and bites Bret. Fatu catches Bret as he runs right into a Back Elbow and gets a two count. Samu walks down the isle. Bret ducks a Clothesline and hits a Cross Body for a two. Fatu kicks out hard enough to send Bret rolling out of the ring. Afa distracts the referee allowing Samu to Bodyslam Bret Hart onto the ringside mats followed by a series of Headbutts and finally Sam rams Bret into the ringside steps.
Back from the ads and Bret is still on the outside of the ring and not been counted out. (how short were the ads back in '93 and can we have those back?) Fatu is fanally bored waiting and hits Bret's head off the apron before rolling Bret back into the ring. Fatu Headbutts Bret and Irish Whips him hard into the corner. Fatu gets a two from a side Backbreaker. Fatu Irish Whips Bret again and drops with another Headbutt for another two count. Fatu gets another two count from a Piledriver. Fatu bites at Bret again and kicks him in one corner before Irish Whipping Bret chest first into another for yet another two count. Fatu gets another one from a Sidewalk Slam and a second rope Headbutt. Fatu climbs to the top turnbuckle but Bret stops him with a Right Hand and Superplexes Fatu for a two count as does a Bulldog. Bret hits a Side Backbreaker and a second rope Elbow Drop before applying the Sharpshooter. Afa distracts the referee while Samu Clotheslines Bret. Fatu rolls out of the ring and Samu gets a two count. Afa distracts again and Fatu is back in. Bret slips out of a Bodyslam attempt and pushes Fatu into Samu causing Samu to get tied up in the ropes. Bret hits Fatu with a Russian Leg Sweep and Dropkicks Afa to prevent him interfering. Bret locks Fatu in the Sharpshooter and this is over.
Winner: Bret Hart [still WWE Champion]
Time for a Wrestlemania Report. Mean Gene hypes the matches for Westlemania including Hogan & Beefcake vs DiBiase & IRS, Giant Gonzales vs The Undertaker, Shawn Michaels vs Tatanka, Lex Luger vs Mr Perfect and Bret Hart vs Yokozuna. Tickets are still available.
Via sattelite we link up with Crush. He demonstates his prediction for his Wrestlemania match by crushing a coconut.
. Doink vs Koko B Ware
Doink attacks Koko before the bell with a Running Knee and then stops on Koko before Elbow Dropping Koko's knee. He then stops Koko's knee. Doink applies a Half Crab that quickly becomes an STF. Doink kicks at Koko's hamstring. Doink hits Koko with a Neckbreaker. Doink applies the Stump Puller and this one is over. Night of Submissions this is.
Winner: Doink
"Elvis" or Rob Bartlet interviews Doink at ringside. Doink hands Bartlet a tiny cream pie. Bartlet shows it to the crowd and turns right into… Doink smushes a normal sized cream pie into Bartlet's face. I love Doink sometimes.
We get the Bret Hart IcoPro ad, the Savage Slim Jim ad and the action figure ad.
Vince McMahon is in the ring with Ted DiBiase & IRS. DiBiase says he thought Hogan had gone off into the sunset but "oh no, here he comes again". DiBiase says that insted of taking an asset, Hogan has taken an overpaid loss in Jimmy Hart. IRS says if they wanted they could have put Beefcake out of wrestling for good, but they didn't and calls their attack "a wake up call". DiBiase says not only will they put the titles on the line against Hogan and Beefcake, but they wll do so at Wrestlemania. He should watch Raw, Mean Gene told me about this match earlier in the show on the Wrestlemania Report.
The Wrestlemania ad airs. Slightly over a month away and tickets are STILL available.
. Lex Luger vs PJ Walker
Yes people it's Enhancement Time! This time it's PJ Walker. He will go on to become ECW alumni Justin Credible. We will see him turn up in about 2020 as masked jellyfish Aldo Montoya.
Luger starts with a Kick to the gut and an Elbow to the back of PJ's head. Luger then Irish Whips PJ hard into the corner twice. Luger then lifts PJ and drops his back across Luger's knee for a Backbreaker and then hits a Suplex. Luger then rams PJ head first into the corner twice and then catches PJ with a High Knee. Luger then lifts PJ for a Bodyslam but instead runs him into the corner (similar to an Oklahoma Stampede). With PJ hanging from the turnbuckles in a Tree Of Woe stylee, Luger kicks at PJ's gut. Down off the corner, Luger then Soccer Kicks PJ in the ribs. Luger then hits PJ with a running Forearm and pins him with his pinkie.
Winner: Lex Luger
. Rick Steiner & Scott Steiner vs Duane Gill & Barry Hardy
Yes people, it's another Enhancement Time! This match feel familiar to anyone? It should, this is basically the Executioners vs The Steiners from Raw #1 only the Executioners are maskless.
Scott and Barry start. Scott goes quickly from an Arm Wringer into a Double Leg Takedown but Barry quickly gets to the ropes. Scott turns a Collar and Elbow into a Headlock and Barry pushes him off the ropes. Scott hits him with a Shoulder Block as he rebounds which knocks Barry down. Scott goes off the ropes again, leapfrogs Barry and smashes a Forearm across his back. Scott grabs Barry and lauches him with an Overhead Belly To Belly Suplex. Scott hits a Snapmare and tags Rick who Clotheslines Barry over the top rope and out of the ring. Scott throws Barry back into the ring where Rick lifts him onto his shoulder and runs (similar to Luger's variation of the Oklahoma Stampede earlier) into the corner. Rick throws Barry into his own corner so he can tag Duane who runs straight into a Back Drop by Rick. Duane is then thrown off the ropes where Rick catches him with a Tilt-a-Whirl Backbreaker and an Elbow Drop. Scott tags in and hits Duane with a Pump Handle Slam. Scott sends Duane off the ropes and Dropkicks him. Rick tags in and briefly applies a Camel Clutch before tagging Scott back in. Scott hits a Double Underhook Suplex and a Frankensteiner. He covers Duane and to no surprise, this is over.
Winners: Rick Steiner & Scott Steiner
The ad for Mania airs again.
Commentary hype next weeks matches including Mr Perfect vs Rick Martel and Ted DiBiase & IRS vs El Matador & Virgil and we are done for another week.
Post Show: What can I say? Raw in 1993 is what it is and it will be that way for a couple of years yet.
Match Of The Night: Bret Hart vs Fatu. It was a WWE Championship match on TV and was at least given time for them to do something with. The rest was just filler.
MVP: Bret Hart AND Fatu. Fatu's offence plus Bret's selling made the match.
Rating: 6/10
With that I bid you farewell. I'll be back next week with Episode 8. In the meantime I can be found on Twitter @Callaweasy2220 where I live tweet Raw, Smackdown, NXT and (when there's one on like the other night with Extreme Rules) pay per view. I also talk Wrestling and post random pictures of what wrestling I am watching so feel free to pop over.
While you are here on TheChairshot.com we have news, views and reviews for you to amuse yourself with.
As I said, I'll be back next week so until then, #UseYourHead and ALWAYS have an Angle!
---
Always Use Your Head and visit the official Pro Wrestling Tees store for The Chairshot All t-shirt proceeds help support the advancement of your favorite hard-hitting wrestling website, The Chairshot!

---
Chairshot Classics: NWA-TNA Episode 3 "Tag Team Turmoil"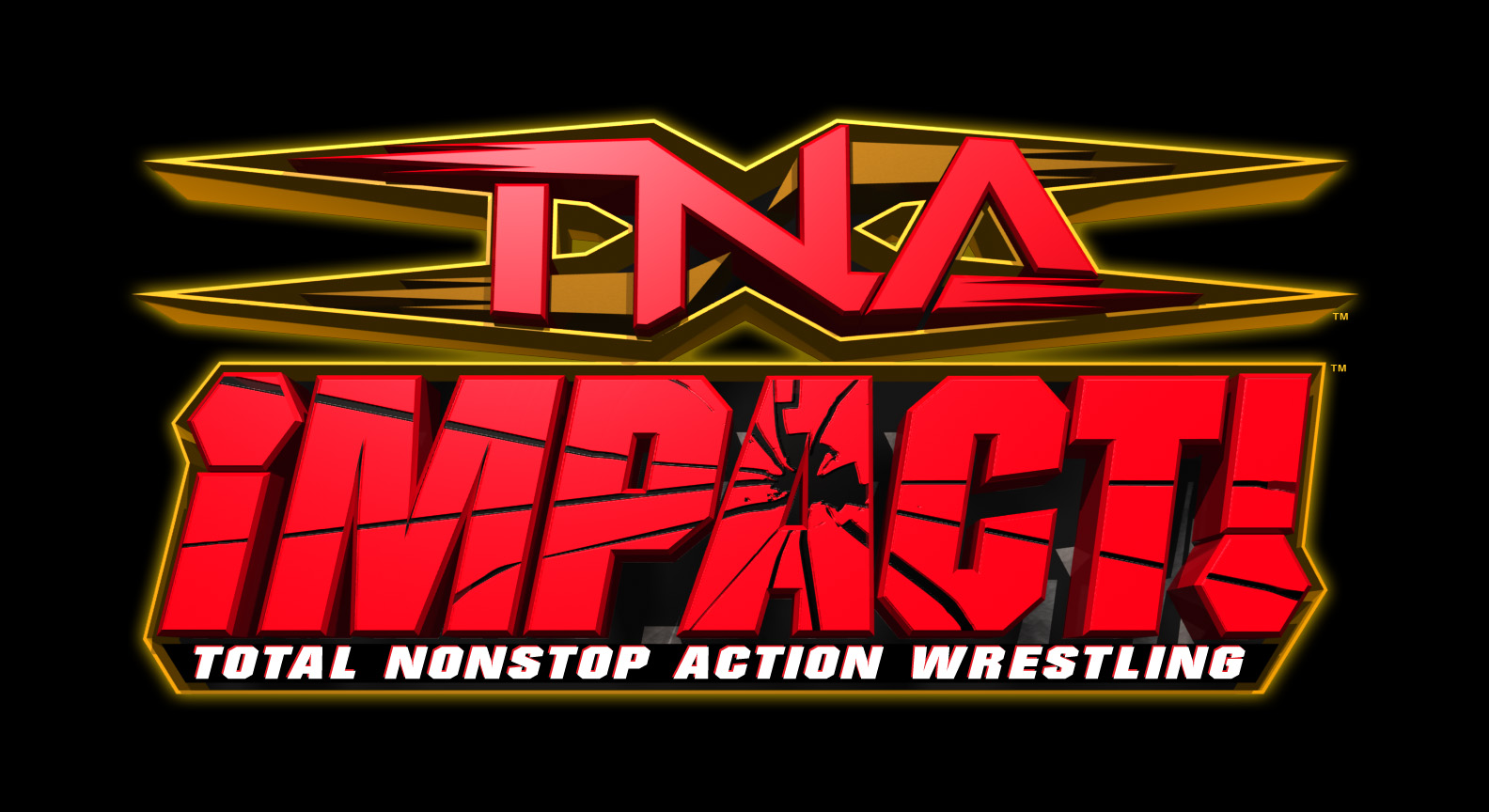 This week, TNA is building on two good shows, and this week is all about the Tag Team Division. We're getting a one-night tournament to crown the new NWA Tag Team champions, Ken Shamrock will be facing Malice (I guess the rest of Guns n Roses weren't available this week for Slash) and AJ Styles will defend his brand new X Division Championship against David Young. Let's see how they do!
Opening
TNA seems very pyro happy this week. There's a sign about the show needing 'Athena'. Don West is wearing an ugly red suit jacket with black pinstripes. We're told that Ken Shamrock and AJ Styles will be defending their titles against Malice and David Young, respectively, as well as crowning new Tag Team Champions and our Main Event is going to be Scott Hall and Brian Christopher vs Jeff Jarrett and K-Krush. Ferrara points out that Jarrett and K-Krush got screwed last week by the 'babyfaces'.
(Gotta agree with Ferrara on this one, that was BS.)
We're introduced to Jim Wilson, who is president of the NWA. Wilson apologizes for missing the first show, he was in Japan on a scouting mission (I think that's what he said). He says that there's a surprise but won't reveal the surprise just yet, but does give Tenay a trophy and welcomes TNA to the NWA.
(I thought they were already in the NWA.)
Tenay gives an awkward thanks for the trophy, clearly he thought they were already in the NWA too, but presses about the surprise. Wilson says that during his tour of Japan, he met a big, 280lb Japanese man and that next week, this gentleman, whose name is Omori will face the winner of the Shamrock/Malice match next week (sorry Guns-n-Roses).
Round 1 of the Tag Tournament: 'Cowboy' James Storm and Chris Harris vs The Johnsons (with Mortimer Plumtree)
Storm and Harris get a HUGE pop. If I remember correctly, this was the start of their run as 'America's Most Wanted'. Storm's got a pistol that's he's shooting off (blanks, I assume).
The Johnsons are back and not looking any better than they did two weeks ago, and Plumtree is every bit as obnoxious. I'm hoping this doesn't last long.
We start with Harris and Johnson #1. I think it's safe to say that the Johnsons are only going win this by dumb luck, because they stink.
This match is…not good. It's very awkward and both teams are trying to find their footing and the Johnsons just…ugh! Thankfully, this is a short one.
Winner: James Storm and Chris Harris by pinfall, they advance to the next round. Plumtree is berating the Johnsons and the Johnsons aren't happy and start to give Plumtree the worst looking chokeslam ever, but then settle on just pushing him down.
Comments: Thank god, that's over. This was awkward on both sides of the ring, but Storm and Harris, even with only being a week-old team, were a lot better than the Johnsons.
Scott Hall comes out, he's not dressed to wrestle, so I guess this is a promo segment. Hall looks like he's had a few cocktails, but before he can get past 'Hey, yo', Jarrett crashes the party. After a 'Hey, yo, my ass' that the crowd seems to like, Jarrett tells Hall that no one wants to see or hear him, which the crowd disagrees with. He tells Hall to take his ass exactly where he came from…bitch.
(Uh…okay, that sounded more awkward than it needed to sound)
Hall says that Jarrett hasn't changed at all. He still talks a lot of smack but he (Hall) doesn't think Jarrett can back it up. He then tells Jarrett 'Don't sing it, just bring it', which sounds like they ripped it right out of Rock's mouth, to be honest.
Jarrett is fine with that and heads for the ring, saying they don't have to wait until later. Unfortunately, Wilson, who seems to have drawn the 'Irritating Management Figure' straw this week. Wilson seems to have forgotten that the NWA stopped being a big deal to anyone about fifteen years ago and was definitely not a big deal eight years ago when Shane Douglas threw the belt down and cut his epic promo when Eastern Championship Wrestling went extreme, and says that Jarrett is not going to run roughshod over the NWA and that Jarrett is going to do what they say. Jarrett seems to find Wilson's delusions of power and authority amusing but backs off for now.
Wilson doesn't know when to shut up and actually seems to think that his word is law, but Jarrett plays nice and backs off. Jarrett's uncharacteristic retreat is quickly explained when K-Krush attacks Hall from behind.
(Okay, now that's how a heel acts.)
Hall quickly gets the upper hand and sends K-Krush out of the ring, but Jarrett's message was sent loud and clear: Hall doesn't only have Jarrett to worry about.
(Okay, is someone not paying the light bill here, because the lights in the building keep dimming).
We get sent back to the back, where Storm and Harris were apparently jumped in the locker room after beating the Johnsons. Storm is a bloody mess. The NWA VP throws everyone, including Goldilocks, out of the locker room with orders for someone to get the EMTs.
Anthony Ingraham vs Monty Brown
Back in the ring, we've got a filler match. Anthony Ingraham is already in the ring and Monty Brown is on his way out to a pretty good pop.
Brown cuts a promo that's a little hard to understand over the music, but from what I can hear is Brown saying that he's there for one reason and that is to beat Ken Shamrock and he's going to show everyone how he's  going to get what he wants.
Okay, maybe it's my eyes, but it looks like either Brown is really whiffing these punches, or Ingraham's timing is off.
This is a typical jobber match. Ingraham's just there to get beat up, but Brown's rough as a cob in spots.
I'm guessing, judging by the movements, Brown's setting Ingraham up for his finisher, which he hits and gets three.
Winner: Monty Brown by pinfall.
Comments: This was an okay match. Brown was pretty rough in spots and some of the spots weren't crisp, but it wasn't an awful match.
Goldilocks is looking for the NWA president, who I thought was Jim Wilson, but she's saying Jim Miller. Either way, she isn't having much luck when she's interrupted by the Psycho Dwarf. Psycho is mad that he wasn't allowed to wrestle two weeks ago and wants to 'Makes some midgets/bitches (can't really understand him) bleed.' He calls out Gary Coleman (Diffr'nt Strokes), Mini Me (Austin Powers), and the drunk midget from Howard Stern (don't know his name). Either way, he wants to see a midget bleed. Goldilocks looks weirded out (or she's trying not to laugh at him).
Back in the ring, it's time for our second Tag Team Tournament Match.
Round One of the Tag Team Tournament: The Rainbow Express (with Joel Gertner) vs Buff Bagwell and Apollo
Rainbow Express gets the reaction you'd expect them to get. I'm not sure who is more hated, Gertner or the Express, but at least we don't have to listen to Gertner talk.
Backstage, Goldilocks is interviewing the Rainbow Express' opponents: Buff Bagwell and Apollo.
(Oh dear)
Apparently, Buff and Apollo are surprise entries into this tournament, or they were to Goldilocks. Buff takes exception to being termed a 'surprise' and calls Goldilocks 'Goldilegs', much to her irritation, before reminding us that he's a six-time World Tag Team Champion.
Buff vows to become a seven-time tag champion and that's why he picked Apollo. Apollo's the biggest, baddest, the #2 man in the business (Buff apparently thinks he's the #1 guy, not, you know, the NWA Champion). Apollo's game, until the #2 comment.
Goldilocks looks bored and unimpressed.
Apollo vows victory, but apparently, Buff doesn't think people will be able to understand Apollo, because he interrupts and basically repeats what Apollo said.
(This is going to end badly.)
Goldilocks thanks them for a wonderful (yes, it was that dripping with sarcasm) interview and sends it back to the ring.
Bagwell gets a surprisingly good pop, as does Apollo. Ferrara, who is the HEEL commentator, is panning Bagwell's interview, but West defends him…kind of.
(Okay, who dropped out of this tournament for this team to be put together?)
Bagwell and Bruce start us out and we get a quick back and forth before Bruce gets the upper hand and kisses in Lenny.
Alicia comes out, wonder who she's going to be bothering this time, and apparently, it's Ferrara, who is more than happy to pay up, unlike Alicia's other…transactions.
Back in the ring, Apollo's been tagged in and is taking on both member of the Rainbow Express. Where Bagwell is, I have no idea.
When asked about the Alicia thing, Ferrara assures us that it's not what we think. (It's not, I researched it and I'm glad they scrapped it).
Apollo is doing a pretty good job, but Gertner's inserting himself in this thing.
Rainbow Express hit the Broken Arrow, the signature finisher of the World's Greatest Tag Team on Apollo, and think it was so nice, they had to do it twice, only it looks like Bruce botched it a little.
Lenny goes for pin, but Apollo doesn't want to cooperate.
Bruce and Buff are tagged in, no kissing this time, and Buff actually seems to be making some headway, but things get a little screwy and suddenly Apollo is taking on Bruce instead.
Apollo is about to end this thing when Lenny and Buff come back in. Buff  hits the Blockbuster, but eats a superkick by Lenny, who gets the pinfall.
Afterwards, Buff is upset and embarrassed. Apollo is giving him a lot of flack for the loss and leaves, leaving Buff in the ring.
Ferrara goes for an interview and asks if Buff wants a mic. A very sad looking Buff tells Ferrara to call him 'Marcus' (his real name) and not to call him 'Buff' anymore. Ferrara is surprised and asks him why. Marcus says that he's been 'Buff' his entire career and what has it gotten him: A broken neck that he came back from and no one gave a s**t (his words, not mine). He bemoans being a six-time tag champion and getting beat by two gay guys. He says he wants to be called Marcus forever and the other thing he wants is to go home.
Ferrara is stunned. Marcus says that 'Buff' has ruined his career and that his ass is going home and gives Ferrara his top hat.
Winner: Rainbow Express by pinfall.
Comment: Okay, that wasn't a total trainwreck. The promo at the end really broke my heart and I'm not a fan of Bagwell's.
Back to business, Ken Shamrock is coming out, but he's not dressed for wrestling.
Shamrock cuts a promo on Brown and pans Brown's comments about going for the NWA title. He reminds us that he went through nineteen guys to get the NWA title and Brown's only had one match. He also tells Brown to be careful what he wishes for because he could have a short career.
The crowd is doing the 'What?' chant and it's really irritating, thankfully, Shamrock seems amused by it.
Shamrock reminds us that he faces Malice this week and Omori next week. He also says that IF Brown is able to get a title shot by then, he'd be happy to beat him up and send him home with his head shoved up his ass.
(Charming)
The lights go out and James Mitchell is here and tells Shamrock not to concern himself with Monty Brown or Omori but that he DOES need to fear Malice.
When the lights come back up, Shamrock's been laid out and Malice is standing over him. Security and EMTs come in, putting the title match in doubt.
Backstage, Goldilocks is trying to get a word with NWA VIP Bill Berens over what is going on tonight. Apparently, Mr. Berens is trying to get an update on James Storm and Chris Harris. Jerry Lynn is also there and tells Berens that he can find a tag partner he can step in. Berens is being very uncooperative with Lynn and Goldilocks.
Up next is Puppet, aka Psycho Dwarf.
Puppet vs Todd Stone
 Puppet gets the mic and continues his rant from earlier tonight. Before he can get too far, his opponent comes out. Puppet isn't sure what to make of this guy, but here we go.
Puppet greets his opponent with several shots to the head with a kendo stick and a size appropriate trash can.
I have no idea what the heck is going on, but this is basically a hardcore match with little people and Stone seems to be the jobber. Puppet hits an F-5 (F-2.5?) on Stone for the win.
fterwards, Puppet celebrates by hitting the ref with the kendo stick before attacking Stone some more. He nails Don West when West wants a high five and basically is swinging his stick at anything moving.
Winner: Puppet by pinfall.
Comment: Uh, yeah, okay.
Goldilocks is with Shamrock, trying to figure out if Shamrock will be able to face Malice later on. The EMT tells her that they're trying to figure that out and they're going to do a further assessment. Shamrock tries to get up (not very hard, I might add) and the EMTs get him sat back down.
We get a recap of the Miss TNA match and what happened to Francine, including the creepiness that Ferrara pulled, and rightly got his butt kicked for. Apparently, we're getting a match.
Francine vs Taylor Vaughn
Francine gets a good pop, as does Taylor, whose music sounds like a little like Charlotte's.
Apparently, someone didn't tell Francine that ECW's rules (or lack thereof) don't apply in TNA, because she produces the belt from last week and starts whaling on Taylor with it.
Scott Armstrong gets the belt away from Francine and I guess this match has started. Vaughn gives Francine a taste of her own medicine, and even gives Armstrong a smack for interfering…which gets her disqualified.
Taylor and the crowd are furious because Francine got what she deserved. Ferrara apparently didn't learn his lesson from last week and goes to comfort Francine and raises her hand and that's when things get weird. Francine puts Ferrara's hand on her boobs. When Ferrara responds the way most men would to a woman putting his hand on her chest, Francine beckons him closer and then smacks him before nailing him with the belt.
Winner: Francine by DQ.
Comment: That happened.
Borash introduces Hervey Sadler…who apparently is not going away anytime soon. Apparently, Hervey is worried about K-Krush showing up because he's got some big security guys backing him up.
It's a good thing Sadler's success relies on his driving skills and not his promo skills because the promo was nothing to write home about, even if I could totally understand what he was saying.
Thankfully, K-Krush is back to save us from this monotony. He tells Sadler to shut up and reminds him and us of their on-going feud.
The promo goes about as well as it has for the last two weeks, until K-Krush shoves Sadler, who responds with a decent spear and begins punching K-Krush until security gets them separated.
K-Krush is furious and says that he doesn't have time for Sadler this week due to his main event match this week but that he's free next week, and challenges Sadler to a match, which Sadler accepts before security escorts him out.
(Why do I have a bad feeling about this?)
NWA Championship Match up next.
NWA World Heavyweight Championship: Ken Shamrock vs Malice (with James Mitchell)
 Mitchell and Malice are out to music that Paul Bearer would call cliched to a round of boos. Malice looks a little like Sycho Syd and JBL, which is an odd combination.
Shamrock comes out, to everyone's surprise and he's selling the pain of the beatdown like he's just stubbed his toe and is trying to walk it off.
Anyway, this match is all Malice at the start and he's rough as a cob, but he's doing a good job of looking like a credible threat.
Malice does a move where he climbs to the middle turnbuckle while having Shamrock in a headlock. It looks like it could be an impressive strength move if he can make it look a little smoother.
Shamrock starts showing some life and tries to get Malice in a submission hold, but he's too beat up and Malice gets away.
Malice throws Shamrock outside and Mitchell tries to distract the ref, who refuses to cooperate.
Malice throws Shamrock back in the ring, but gets caught when Shamrock gets him in a leg bar, but Malice gets to the ropes.
This match has been all Malice, Shamrock's only gotten in two offensive moves the whole time and it's starting to get boring.
Spoke too soon, Shamrock finally wakes up and starts acting like he's got a horse in this race. After one belly to belly suplex, he gets a pinfall.
Malice and Mitchell are furious and confused, and I don't really blame them.
Result: Ken Shamrock by pinfall.
Comment: That was not a great showing by either man. Malice is not quite ready for the spot he was in and hesitated several times before making a move. Shamrock was basically a punching bag and his sudden victory didn't really do either man any favors. Hope the match against Omori is better than this.
X-Division Championship: AJ Styles for David Young (with Bobcat)
 So, David Young and the ever classy Bobcat are back and Young has a title shot against Styles for some reason. Bobcat is loving the attention, but Young isn't happy. Styles gets a great pop. His music is a hokey country music sound, but it works for him.
Young gets the jump on Styles, but Styles quickly recovers. Young is very awkward, but he's doing an okay job out there.
There's a REALLY awkward spot where Styles looked to be going for a plancha but either misjudged did the spot wrong or Young was too close to do the spot correctly. They recover and Styles throws Young back in the ring for a two count.
Meanwhile, Bobcat has lost interest in Borash, much to Borash's relief, I'm sure, and is busy talking on her cellphone. Yes, kids, cellphones did exist in 2002 and there were obnoxious people on them even then.
Styles goes for a springboard move but Young knocks him off and back onto the floor, before hitting a surprisingly good springboard moonsault. Young seems a little irritated by Bobcat being on the phone, but it's not making an impact on the match. Young goes for a German Suplex, but Styles lands on his feet. There's another awkward spot that ends with Styles being suplexed into the corner. Young is showing some impressive moves, but this match is really awkward.
Bobcat puts down her phone long enough to wave to the camera before going back to her conversation. Young hits a really good powerslam but only gets two.
(Come on, guys, pick it up a little.)
Styles hits a superkick but only gets two. He hits what looked like it was supposed to be a springboard moonsault but it didn't go off and he transitioned it into a reverse DDT, but again, only got two. Young hits another powerslam that looked nasty, but Styles won't stay down.  He gets Styles into the corner and goes for a Frankensteiner, but Styles counters into a Styles Clash from the middle turnbuckle.
Bobcat either doesn't notice that Styles won or doesn't care because she gets in the ring and mugs for the crowd. Styles, quite ungentlemanly, shoves her out of the way, but she gets up and keeps going
Winner: AJ Styles by pinfall.
Comment: Another not great outing for a defending champion. There were a lot of awkward spots in this match and I can't say they were all Young's fault. I'm a little curious to see what they have planned for David Young and Bobcat.
Backstage, Goldilocks is with the Rainbow Express, who currently don't have an opponent for the Tag Team Tournament due to Storm and Harris being taken out earlier in the evening.
For whatever reason, Lenny decides to tell Goldilocks that while they aren't interested in her, she should be interested to know that they know a place where she can get her hair fixed.
Goldilocks isn't having it and tries to continue her interview but Gertner seems more interested in being a sexist creep, emphasis on CREEP, by hinting that he takes 'toys' with him to the airport. Goldilocks isn't having it and asks about the tag team tournament. Gertner replies that since every other team has either been beaten or beaten up, the Rainbow Express not only get the rest of the night off but will leave as NWA World Tag Team Champions. He then tells Goldilocks that he might just wrestle her. Goldilocks is disgusted. He then states that under NWA rules and regulations, if all the other teams have been beaten or can't compete, the last team standing (Rainbow Express in this case) wins by default.
(Guess we know who was behind Storm and Harris getting beat up).
Gertner then kisses Goldilocks and leads his team out of the locker room. Goldilocks laughs it off, but I'd be rushing to sanitize my face after that.
Up next is the final match of the Tag Team Tournament, but we only have one team.
Gertner comes out with the Express, all looking confident that they'll be handed the belts and leave since Storm and Harris were taken out.
Borash says that the NWA officials have said that the Rainbow Express must have opponents for the match. Gertner is audibly furious. Their opponents are…Jerry Lynn and AJ Styles.
Final Match For NWA Tag Team Tournament: The Rainbow Express (with Joel Gertner) vs Jerry Lynn and AJ Styles
Lynn and Styles get a great pop. Styles looks sore and tired from earlier. Rainbow Express get the jump on Styles and Lynn, but that quickly changes.
This quickly turns into a brawl outside the ring, but inside, Lenny and Lynn are facing off and Lynn is outclassing Lenny at every step.
Couple of funny/risqué moments. Lynn goes for the Bronco Buster, but changes his mind, getting a few kicks in before hitting a drop toe hold on Bruce, who was trying to get a cheap shot in, that sends Bruce head first into Lenny's Jesus Zipper, and then rams Bruce back into Lenny's crotch several more times.
Lynn seems to be in control, until Gertner grabs his leg to keep him from going to the top turnbuckle, allowing Lenny time to pull himself together and take control of the situation. Lenny kisses Bruce in and West's fairly homophobic ranting about it is a little nauseating. Bruce only gets a two count for his pin attempt.
Lynn manages to get back in control but only gets a two count after a guillotine leg drop. Styles is tagged in and manages a little offense before tagging Lynn back in. Gertner goes for the leg distraction again, but Lynn ignores it, while the ref is berating Gertner, Bruce gets a low blow in. Bruce tags Lenny in, but Lynn hits a jawbreaker.
Lenny goes for a Full Nelson, but Lynn slips away and hits an awkward Victory Roll but only gets a two count. Lynn misses a dropkick, giving Lenny an opening for his really bad looking Lion Tamer, but Styles makes a run-in and gives a stiff looking clothesline to break things up. While the ref is berating Styles about coming in without a tag, Bruce does exactly that, but the ref does nothing, of course.
Bruce kisses in Lenny, who gets Lynn up in a vertical suplex, but then seems to have forgotten what he was going to do with him, before finally hitting the suplex, but only gets a two count. Frustrated, Lenny takes a cheap shot at Styles and kisses in Bruce. Bruce shoots Lynn into the corner, but Lynn counters with another Victory Roll, but only gets another two count.
There's a very funny exchange where Bruce tries to go for a Sunset Flip and Lynn sits down on him for a pin and then realizes what he's doing. Bruce counters a headscissors takeover attempt with a faceplant, but only  gets a two count.
After an extended time in a head scissors submission, Bruce tries to get Lynn into a piledriving or powerbombing position, but Lynn blocks and gets clobbered for his effort. Bruce goes for a powerbomb, but Lynn counters and goes his piledriver, but Bruce counters, Lynn counters the counter and would've gotten three if Gertner hadn't distracted the ref for a few seconds.
Lynn hits a reverse DDT but can't capitalize on it and both men tag in (no kissing) their partners.
Styles seems to have finally gotten his wind back because he comes in like a house of fire. Styles gets two near falls, the last of which is broken by Bruce. Lynn comes in and we have chaos. Lenny hits a Full Nelson facebuster, but Lynn breaks up the pin and hits his piledriver on Lenny, giving Styles time to hit the corkscrew senton and we have new Tag Team Champions!
The crowd is ecstatic! Though, oddly, Styles is the only one celebrating at first, maybe because Lynn and Bruce were out of the ring and Lynn didn't realize what had happened. He gets in the ring and both men celebrate.
Winner: Jerry Lynn and AJ Styles
Comments: That was a really great match once Styles was able to get his wind back and take the pressure off of Lynn. It was still awkward in several places, but a very good match.
We go backstage and find President Wilson/Miller tied up backstage with FU written on his belly.
We get a recap of the issues between Jarrett/Hall/K-Krush/Christopher, including last week where the babyfaces screwed over the heels.
Jeff Jarrett and K-Krush vs Scott Hall and Brian Christopher
Krush gets a minimal reaction, as does Jarrett. It's implied that Jarrett might have had something to do with whatever happened to NWA President Whatshisname. Christopher gets a great pop as does Hall. Thankfully, Hall and Christopher came out without help.
We start off with a brawl that quickly heads to the floor.
This was a really great match, but it seems to be struggling to top the Tag team final match, which probably should've been the Main Event.
Jarrett and Krush are a really good team, but Hall/Christopher just seem like very odd ringfellows. Christopher's got a lot of talent, but he just doesn't fit in with Hall, Jarrett, and K-Krush. Jarrett is really making a case of being the guy to build the TNA brand around. Despite not being the biggest guy on the roster, he's easily one of the most talented and it's really showing in this match.
Christopher makes an error, by trying to stop a tag attempt by Jarrett to Krush by grabbing Krush at the other side of the ring, which takes him out of position for Hall to make the tag. What the heck?! Christopher acts like he wants Hall to tag him in, then yanks his hand away and punches Hall. In the exchange that follows, the ref gets knocked out and Hall is left fending for himself and takes out Christopher.
Okay, so Christopher has turned heel and helps Jarrett hit the Stroke. Christopher hits the leg drop and Jarrett and K-Krush get the win.
The heels are celebrating, and the crowd is livid.
Winner: Jeff Jarrett and K-Krush by pinfall.
Comment: That was better than I expected, the heel turn was a nice swerve, but it still felt a little flat after that Tag Team match.
Jarrett gets on the mic and says that he proved his point: Scott Hall isn't worth a s**t. He goes on to say he's beaten Hall in 1995, 1997, ran him out of WCW and WWF, and that he's going to run him out of the NWA. Jarrett then proceeds to beat up Hall some more.
Jarrett says that Hall is just like all the other legends in the NWA, he's not worth a damn. He then tells Tenay to take that to NWA President Jim Whatshisname, since apparently no one knows if his last name is Wilson or Miller, Harley Race, Dory Funk and all the other NWA legends. Jarrett seals the deal by cracking the NWA trophy over Hall's head. Apparently the NWA didn't skimp on the trophy because it takes Jarrett two tries to break the thing.
As the EMTs come out, Jarrett challenges everyone he can think of:  Toby Keith, Starling Marlin and vows to whip everyone's ass. He also says he'll run Scott Hall out of the NWA if it's the last thing he does.
Jarrett then drops an elbow on Hall for the sheer hell of it and then tells everyone to put it down in their books: He got screwed the first night of TNA (which is true), and he'll be damned if he'll ever let it happen again. Jarrett makes a comment about Toby Keith but I couldn't understand it over the commentators talking. He tells Scott Hall to never forget what happened and then attacks him again. Jarrett walks out still complaining about Episode #1 and him getting screwed by Fargo and the NWA.
Tenay reminds us that next week we're going to have a NWA title match between Shamrock and Omori, an X-Division match featuring the return of the Flying Elvises. Jarrett is back again and still attacking Hall. We end with Jarrett dropping the stretcher frame on Hall.
Overall Comments:
So, how was Episode #3? It was pretty good, it did a good job of moving the storylines forward now that we're past the first two episodes. The three titles for TNA have been introduced and have champions for them.
There is still a lot of awkwardness in the matches and a lot of guys who were put into spots they aren't ready for in terms of in ring skill. I saw several awkward spots in just about every single match tonight. A lot it is probably because TNA is just starting and are using what's available and what's available are…the guys WWF/E doesn't want or isn't interested in at the moment, or the guys who were in WCW or ECW and didn't want to work for WWE.
That said, it was a very good show.  The tag team tournament was really good, though the final match went a little long for my liking and was mostly all Jerry Lynn because Styles had JUST wrestled a fairly tough match not five minutes earlier.
Speaking of Styles, having seen how great he is in WWE, it was a surprise to me to see so many awkward spots in his match against David Young and I can't say that all of it was Young's fault. That said, Styles had only been in the business a few years and so some awkwardness is still going to happen.
The main event was really good, but it felt like someone was telling Jarrett to keep talking because the run time hadn't be reached, but it put Jarrett over as a top heel, which he was needing.
One of the tough things about watching TNA from 2002 is seeing all the sexism and homophobia that was out there for everyone to see. I found myself very uncomfortable with several segments simply because things have changed so much in the past fifteen years, that being reminded of how things were is a little disconcerting.
Stinkers: Oh, that's hard. I'd have to say that the Johnsons vs Storm and Harris was the worst.
Snoozers: Shamrock vs Malice. It was just very awkward and watching Shamrock, a legit badass, being tossed around was not entertaining.
Match of the Night: The Tag Team Final, even though it ran a little too long for my liking.
Final Thoughts: I really enjoyed this show and I'm intrigued to see what's next.
---
Always Use Your Head and visit the official Pro Wrestling Tees store for The Chairshot All t-shirt proceeds help support the advancement of your favorite hard-hitting wrestling website, The Chairshot!

---
Chairshot Classics: WWE SummerSlam 2007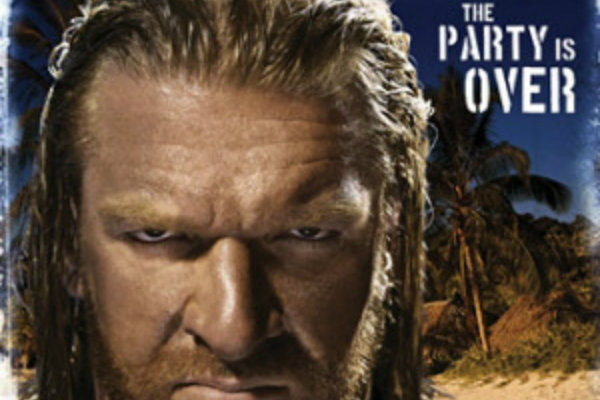 The Twentieth edition of SummerSlam is here and it features three World Titles. John Morrison will clash with CM Punk for the ECW Title. John Cena faces off with Randy Orton in their first singles match for the WWE Strap. Oh yeah, there's Batista/Khali too…
The Continental Airlines Arena in East Rutherford, New Jersey is jammed packed with a sold-out crowd of 17,441. The tickets for this SummerSlam went on sale December 30, 2016 and sold-out in forty minutes. This netted the WWE over a Million bucks in ticket sales alone. This number doesn't include the other 537,000 Pay-Per-View buys that were 30 bucks a pop, either. The theme song for the evening is "Whine Up" by Kat DeLuna Feat. Elephant Man. Lets get to it and head into the arena because apparently "The Party is Over".
The opening monologue is great and is the better we have had in a few years. It begins by highlighting the return of the Sultan of the 619, Rey Mysterio from injury. Next up is Batista challenging The Punjabi Nightmare and World Heavyweight Champion, The Great Khali. Next we see The Viper Randy Orton and his quest to take the WWE Title off of John Cena. Just as the narrator says "Get ready for the party of the summer" his voice is cut off and the screen burns up. Through the fire a video of Triple H being rebuilt like the Terminator begins. This is done to hype up the return of Triple H, who is also on his way back from Injury. It shows the build of his feud with the false king, King Booker. The Motorhead song, and Triple H's theme, "King of Kings" plays as the video rolls on. Like I said, great opening here folks.
Michael Cole welcomes us in to the sold-out arena and introduces his SmackDown announce partner, John "Bradshaw" Layfield. They then turn it over to the Raw announce team of Jim Ross and Jerry "The King" Lawler. They then send it over to the ECW crew of Tazz and Joey Styles. They then send it back to the SmackDown guys who introduce the competitor in the first match Kane. Kane enters and has the ribs taped up. This is from a previous attack at the hands of Finlay and his Shillelagh. The entrance stag here is cool and looks like a 90's Bash at the Beach set. His opponent is out next and Finlay wastes no time getting to the ring. This is a feud that was rushed together because Finlay spilled a cup of coffee on Kane. This is a common theme for this SummerSlam, as a lot of injuries occurred around this time.
Kane is quick with the first punch, an uppercut, and pounds Finlay into the corner. He whips Finlay into the ropes and drops him with a back elbow that he follows up with a dropped elbow. Kane scoopslams Finlay next and is already selling the rib injury. The momentum stays in Kane's favor and he works Finlay with a lot of rope chokes. Of course the ref is there to break these, and Kane is growing frustrated with the ref for this. Finlay finally does something and catches Kane with a big boot after he is whipped to the corner. Finlay takes to the second rope but Kane smokes him with a right hand and Finlay falls to the outside. The clap from this right hand is loud and really looked to have landed solid. Kane joins Finlay on the outside and flattens him with a big boot before returning him to the ring. For some reason Kane tries to take to the top rope, but Finlay chops his leg out. This sends Kane crashing into the turnbuckle, ribs first. Finlay starts to stomp the ribs of Kane and eventually splashes onto them. This leads to a cover for Finlay, but Kane kicks it out. Finlay puts Kane in a single leg crab and starts to stretch the big man. Kane turns him over after some time and out of nowhere Kane nails Finlay with an enziguri. This gets the first real pop of the night from the fans and me as well.
Both men are slow to rise to their feet but Kane gets there first. He nails Finlay with a pair of uppercuts before landing a big boot that lays Finlay on his back. Kane whips Finlay into the corner and charges with a clothesline. He then picks Finlay up with one arm and gives him a sidewalk slam. Kane goes for the cover but Finlay gets the shoulder up at two. Kane takes to the skies and comes off the top rope with a diving lariat. The ribs are really bothering Kane at this point and both men are slow to regain their footing. Kane charges Finlay, who is in the corner, but Finlay dodges him and Kane collides with the turnbuckle. Finlay then delivers a leg drop to the ribs of Kane and attempts a cover. This is only a two and Finlay does a good job of selling the shock here. Finlay then leaves the ring and checks under it. The crowd really pops when the Cruiserweight Champion, and resident leprechaun, appears. Hornswoggle joins Finlay in the ring but as soon as they do Kane sits up in his usual fashion. When Kane is on his feet Hornswoggle runs from the ring and Kane catches Finlay with the big boot. Kane then leaves the ring and grabs the leprechaun, who is trying to escape back under the ring. Kane throws him into the ring ad tries for the double chokeslam. The rib injury is cause for problem here and is struggling to left them up. This opens the window for Finlay to kick the ribs and escape the grasp of Kane. He kicks the ribs a few more times and then hits Kane with a kneeling DDT. Finlay goes for a cover and Kane is still able to get a shoulder up. Finlay is frustrated and removes the turnbuckle cover. The ref comes over a puts it back on, but the distraction allows Finlay to bring his Shillelagh into the ring. Kane stops the attack with an uppercut and is now staring at the weapon. The ref grabs it first and turns his back to remove it. This is when Finlay rolls from the ring and is handed another one from under the ring and strikes Kane in the ribs with it. He then tries to steal the win with a roll-up pin but Kane manages to kick it out. Kane nails the chokeslam next and the fans count along as the ref bangs the three count. Not a fan of this opening match and it surely can be skipped over. Match Time-8:54
We see Jonathon Coachmen and he is joined by Vince McMahon and some of his lackeys. They include SmackDown GM, Teddy Long, Steven Regal and Alejandro. The men look to be in a room that is set-up for a Tiki Party. Coachmen tells Vince "This is party central" to which Vince replies "Four men. How can you have Party Central with four men? Where are the women?" MVP eventually joins the party and issues a non-wrestling match challenge to Matt Hardy. This is because MVP is unable to wrestle because he was diagnosed with a rare heart condition, Wolf-Parkinsons-White Syndrome. It was easily treated, but MVP just had to take a break from the ring to do so. This whole segment is straight goofy. Next.
We are back in the arena and Mr. Kennedy is quick to make his way to the ring. We get JR and The King back for this Triple Threat bout that is for the Intercontinental Championship. Mr. Kennedy takes to the mic and re-introduces himself to the fans and they react positively to this. The next challenger out is Carlito. Carlito has a few words for Kennedy before the Champion is introduced. Umaga makes his way to the ring, and this is another match that was just thrown together after the original plans fell through. Originally it was scheduled to be Umaga Vs. The MTV Jackass Crew. They backed out at that last minute due to not wanting to be associated with all the recent controversy surrounding the Chris Benoit situation. This would have included a boxing match between Hornswoggle and Wee Man. What could of been. The next plan also had to be scrapped, as Jeff Hardy was going to face Umaga for the Strap here, but he was sent home four days prior for thirty days. The reason being "Unspecified Violation of Company Policy." Hmm…
Umaga makes quick work of the other two competitors with some big right hands. Kennedy rolls from the ring and Carlito is whipped to the corner. Carlito then rolls from the ring and starts to form a plan with Kennedy to take on Umaga together. Both men enter from opposite sides of the ring but this plan backfires and Umaga lays them both down with more right hands. Kennedy again rolls from the ring while Carlito is whipped to the corner. Kennedy grabs the foot of Umaga though and this allows Carlito to dropkick him out of the ring. Umaga falls to the floor and Kennedy uses a scissor kick to drive Umaga's shoulder into the steps. Kennedy returns to the ring but Carlito is quick to roll him up for the pin. It looks like Carlito may get the three but the ref notices him using the rope for leverage so he stops the count. Both men hit their feet and Kennedy hits Carlito with a clothesline. Soon after Kennedy attempts a second one but this one Carlito ducks and lands a springboard back elbow. Carlito covers but only gets a two.
Kennedy eventually gets some offense in, and after a inverted side Russian leg sweep, Umaga is starting to stir on the outside. This doesn't go unnoticed, and Kennedy attempts to baseball slide him. Umaga catches his foot and yanks him from the ring. After a quick beat down of Kennedy, Umaga returns to the ring and turns his attention on Carlito. He hits Carlito with a scoopslam and then comes off from the second turnbuckle with the diving headbutt. Carlito finds himself in the corner with Umaga charging him next. This backfires when Kennedy pulls Carlito from harms way and Umaga splashes into the turnbuckle. Kennedy then takes a monitor from the announce table and rams it into the top of Umaga's head. When Kennedy tries to return to the ring Carlito sends him flying off the apron with a forearm. Carlito goes for a cover but the Samoan Bulldozer kicks out. Kennedy returns to the ring and once again Carlito convinces him they need to work together on this one. The double suplex fails them and Umaga lifts them both up for a suplex of his own. Umaga makes quick work of the two, hitting Carlito with a Samoan drop and Kennedy with a swinging sidewalk slam. He covers Kennedy, but Carlito is there to break it up. For this, Carlito is rewarded with a superkick that sends him flying into the corner. Umaga rams his ass into the face of Carlito before he charges at Kennedy. This doesn't work out for Umaga, and Kennedy pulls the top rope down sending the big man crashing to the floor. He hits Carlito with the Green Bay Plunge and goes for a cover. Umaga re-enters the ring, though, and breaks it up. Umaga then hits Kennedy with the Samoan Spike and makes the cover. The ref counts the three and Umaga retains the IC Title. The match wasn't good at all and is definitely worth hitting fast forward on. Match Time-7:35
---
Always Use Your Head and visit the official Pro Wrestling Tees store for The Chairshot All t-shirt proceeds help support the advancement of your favorite hard-hitting wrestling website, The Chairshot!

---