Can We All Admit That CM Punk Stinks As An MMA Fighter Now?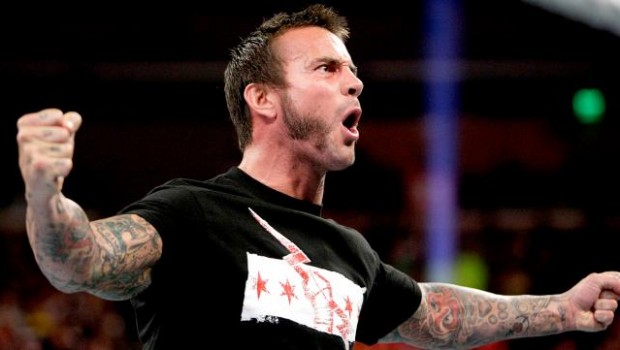 UFC 225 is in the books. CM Punk, fresh off of his judicial victory, got his clock cleaned, again, so I'll just come out and say it: CM Punk stinks as a MMA fighter.
Oh, I can hear what all the Punk fans and supporters are going to say: 'He gave so much heart', 'He kept fighting', or, my personal favorite, 'It takes a lot of balls to do what he did. He was brave. You try getting in that Octagon.'
Well, first of all, I'd like to think I have enough sense to realize that just being good at one thing doesn't mean being good at something else ,to know to quit while I'm ahead and when to stay in my lane. Being humiliated in one fight after over a year of training and delays would've been enough for me, never mind training for another two years and getting my ass kicked again.
One of the narratives I've heard since Saturday is how much Punk had improved in the two years since his last fight. True, he actually managed to last three rounds instead of getting choked out in the first one, but 'vast improvement' only applies if your bar of expectation is set extremely low.
Let's look at the stats between Punk's first fight and his second one:
Fight #1: The stats aren't pretty. Punk got one shot in and it wasn't a good one. His opponent, on the other hand, basically used him as a punching bag before choking Punk out.
Fight #2: Admittedly, Punk did do better than last time on the surface, but it doesn't take much digging or math skills to see big problems.
Striking:  This is the biggest, glaring problem. Punk got in 81 strikes, which doesn't sound bad compared to Jackson's 95, but of the 63 strikes to the head and upper torso, only 10 of them were power strikes, meaning they were hard hits. That's is an abysmal 15%.
He did a little better in shots to the torso: 7 out of 13 body strikes were power hits, about 53%. His strikes to the legs were 2 out of 5 or, roughly, 40%.
Grappling: There's no nice way to put this: For a man who used to make a good living as a wrestler, Punk's grappling leaves a lot to be desired. Of 9 takedown attempts, he only got 1, which amounts to 11.1%.
Now, let's compare that to his opponents.
Mickey Gall: Safe to say that Punk was basically Gall's punching bag for his first fight. Gall had 32 strikes and 20 of them, 62.5%, landed on CM Punk's noggin.
Mike Jackson: Mike Jackson, unfortunately for him, didn't put Punk away immediately, but his stats are pretty impressive. Of 95 strikes to the head, 54 were power strikes, which is about 56%. He landed 10 power strikes out of 12, or about 83% of his body strikes, but no power strikes to the legs. In grappling, Jackson only made one attempt to Punk's 9, but he was successful.
Scoring: Due to Punk being choked out, no scoring is available for his first fight, but the scoring for his second fight was actually quite close. Jackson got a score of 30 from three of the four judges, while Punk got 26 from the same three judges.
Not very good, is it? The second fight may have been seen as  a vast improvement because Punk lasted longer than two minutes, but it was a mediocre fight at best. Punk was out classed in every respect, just like last time
Now, lest the Punk defenders write this off as a hater throwing shade, I would like to point out that several sports sites that cover MMA have been even more critical than I am. ESPN (who just signed a deal with UFC), and Bleacher Reports referred to the bout as 'embarrassing' and Twitter's Trending Topics said Punk was 'Crushed' by Jackson.
I realize that the Punk supporters want to make this about chasing your dreams and taking chances, but that argument was ridiculous in 2016 and laughable now. Let's be honest with ourselves: Punk had no business being on a UFC card in 2016 or 2018. It's time to stop pretending otherwise.
---
Always Use Your Head and visit the official Pro Wrestling Tees store for The Chairshot All t-shirt proceeds help support the advancement of your favorite hard-hitting wrestling website, The Chairshot!

---
Chris Jericho Cements His Legacy as the Alpha of Pro Wrestling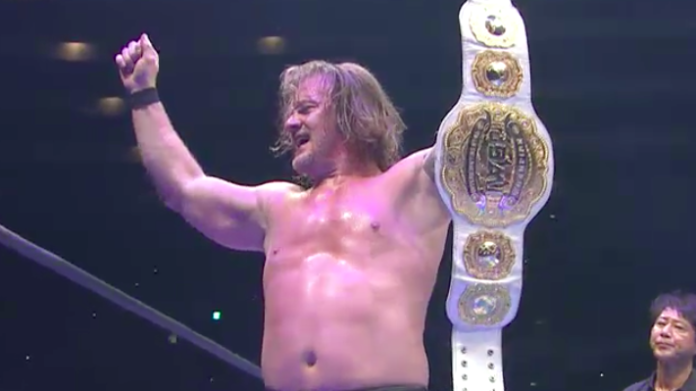 Let's talk about Chris Jericho and what he's been doing for pro wrestling in 2018.  In today's world of spoilers and social media, Jericho has found a way to transcend those odds.  From hosting a cruise that is guaranteed to be nothing short of epic, and his involvement with New Japan Pro Wrestling, 2018 has been great to the legend for so many reasons.  His surprise participation with Wrestle Kingdom brought in massive interest and promotion for NJPW, who houses some of today's biggest pro wrestling talent.  That's not to say that NJPW needed it considering their rich history – but he is Chris Jericho, and that's huge.  Getting involved with talent such as Kenny Omega and Tetsuya Naito is a very great matter, especially for someone of Jericho's reputation.
It has been over twenty five years since Jericho got his start in wrestling, and he shows no signs of slowing down.  A man of many talents, the jack of all trades, Jericho has gotten involved in writing, music, podcasting, and acting in addition to his wrestling career.  While Stone Cold Steve Austin and The Rock have gained massive success post-WWE, Jericho is the stealth man who has just as much success.  I mean, what do you expect from the same man who beat the two aforementioned men in the same night?
Tongue-in-cheek aside, one has to appreciate what Jericho has offered to pro wrestling as of late.  His roles have made pro wrestling fun and surprising once more.  The surprise factor has been missing on and off for some time, so his contribution with NJPW is fresh and keeps fans guessing.  And now that he has captured the IWGP Intercontinental Championship, he doesn't look to go anywhere anytime soon perhaps.  A ten-time Intercontinental Champion is a huge accomplishment for Jericho.  At forty-seven, he is at the top of his game while he works to change it for the better.
It's anyone's guess as to what his next move is outside of the cruise and New Japan, but that is the point of what he does.  If anyone knows Jericho's past surprise appearances, they know that he wants to keep everyone guessing, especially in this day and age, where spoilers and backstage news are just a click away.  Jericho's definitely got the advantage despite what his contracts and schedule are.  Considering his history, Jericho has earned that right to do whatever he wants, when he can.  I can't be mad at that and neither should anyone else be.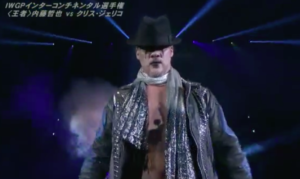 Jericho has said at times that it is necessary to evolve with the business.  His time with New Japan is proof of that.  While Jericho has done great work as a heel in the past, this time he has more reigns to take that heel character further.  Cursing, giving the finger, and being just straight brutal are things that his fans aren't used to seeing him do in the ring.  His match with Naito at Dominion showed a different side to Jericho, one that can be downright scary.  To me, it was like he was bloodthirsty to take Naito down.
Both men took each other to the limit, going pound for pound.  Blood was drawn, and destruction was evident of their hatred for each other.  While Jericho was unsuccessful in defeating Kenny Omega at Wrestle Kingdom, he made up for that with his victory over Naito.  He made it clear that playtime was over, and he was coming to make a statement.  Securing that victory and the Championship over Naito was just the start for Jericho.  One thing is for sure, is that he's started quite the war with Los Ingobernables.
---
Always Use Your Head and visit the official Pro Wrestling Tees store for The Chairshot All t-shirt proceeds help support the advancement of your favorite hard-hitting wrestling website, The Chairshot!

---
Rules of Wrestling: June 21, 2018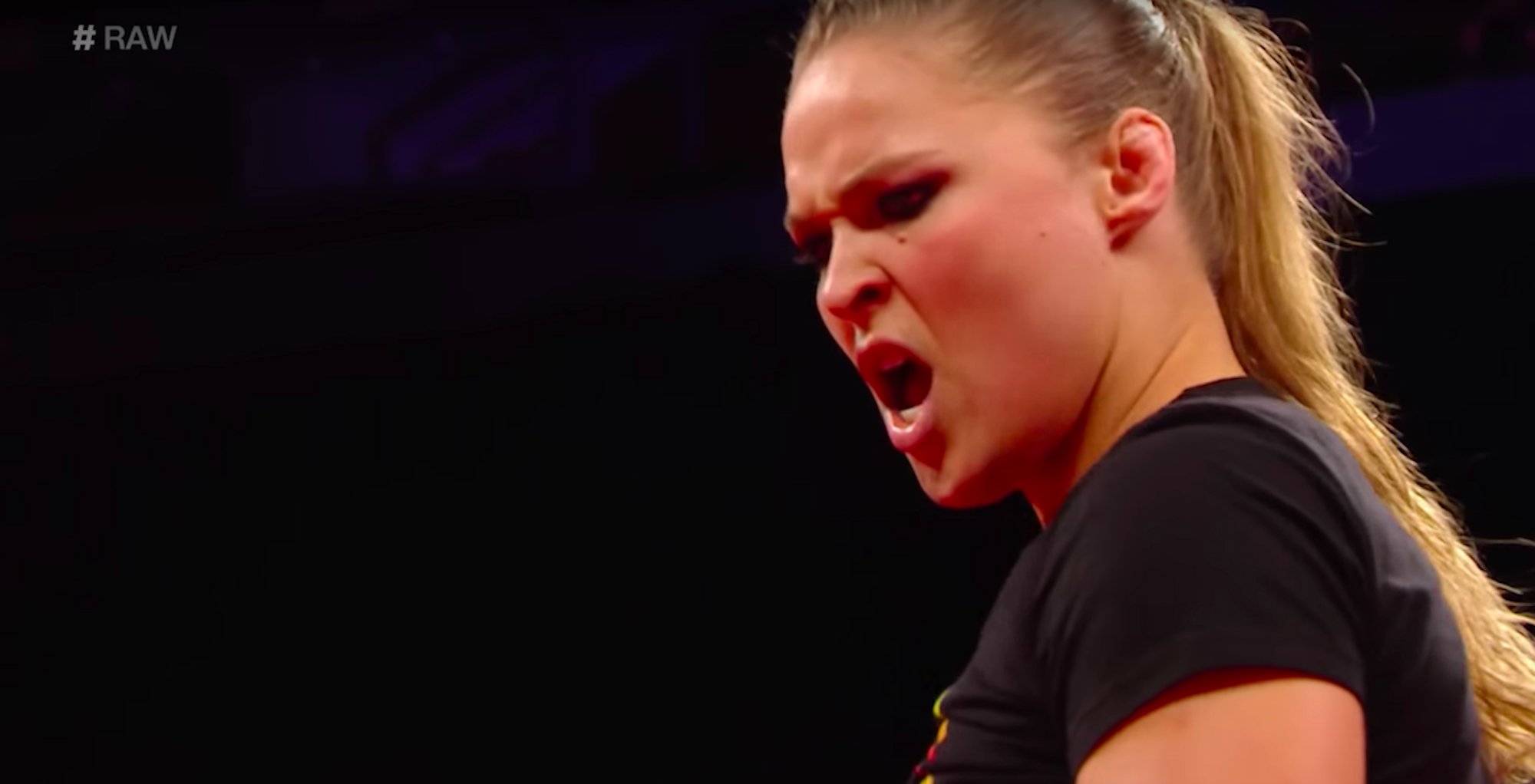 Wrestling isn't like any other industry. In the world of wrestling the business is ever active, ever progressing & ever changing as each day goes by, which other form of sport or entertainment provides its fans with that similar of an experience?
With an industry as active as this one however, we constantly lose track of what's happened within the span of even a week, sometimes a matter of 3 to 4 days could contain far too much news for one head to handle. A week in professional wrestling consists more than just matches, at times we get title changes, returns, injuries, call-ups, formation of new rivalries & countless other issues which are too long to list.
This revelation has brought me to starting this column, the 'Rules of Wrestling'.
Using the 'Rules of Wrestling' we're going to have a look over the week in wrestling, or at least the most prominent points in wrestling during a given week. Whether that be a pay-per-view event, Network special or even work from other organisations that aren't WWE-related. These rules won't just be ones that those of you who read this can follow but will solidify the most important elements of each week in wrestling.
Without wasting more time, let's get right to it!
Rule #1: Like it or not, 'The Dream' is the future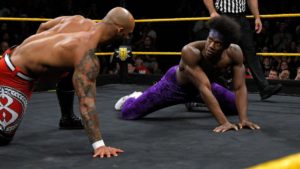 NXT was always known as the brand that will pave the way for the future of the WWE, it's the pet-project of Triple H itself and ever since the first TakeOver special back in 2015 it's been clear the brand wouldn't make it easy for their main roster counterparts to combat them from a quality standpoint. For a lot of us, NXT hasn't just given the main roster a run for their money but on most occasions have obliterated the efforts put forward by the more mainstream product.
It is stars like Velveteen Dream that are a prime example of how special the NXT product has become and what makes it stand out compared to the WWE's bigger, more extravagant events. Velveteen Dream is a reminder that storytelling in wrestling comes before the action in the ring, that without someone willing to pour their heart and soul into their craft, the passion from the audience won't always be the same. His match against the 'One & Only' Ricochet was extraordinary, delivering on every aspect but most importantly boasted a story that was embedded in the ring, a rare tactic that we don't see near enough of.
Both men throughout the match constantly tried to outdo one and other, trading signature moves and at points inflicting pain that seemed far too abnormal for the average human body to receive. But what beyond that made Velveteen Dream look like a Wrestlemania-sized star? The fact that even in defeat, 'The Dream' had won. He might have lost the battle against another new NXT upstart, but he continued to win over insane amounts of respect from the rabid NXT fanbase, receiving an ovation on par if not greater than the one received against current NXT Champion Alesteir Black.
The bottom line is we can focus on what the main roster has now, the likes of Roman Reigns & Braun Strowman are certainly the key focus for the company's next 'John Cena' but it's only a matter of time before Velveteen Dream shows up. A star at the level of performance that Velveteen Dreams is at is incredibly rare, his in-ring style might not be as 'flamboyant' in terms of skill but it's the simplicity behind it combined with the mans unbelievable storytelling prowess that, if booked correctly, could make him one of the best of the modern-era.
You can run, you can hide, but the Dream is coming.
Rule #2: Emergency Course Correction, Initiated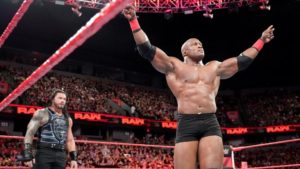 I'm not going to beat the dead horse over how actively terrible the majority of the Bobby Lashley vs Sami Zayn feud was, especially since it seems like WWE is doing the wise move and moving on from the feud as quickly as possible, with little call back for any fan to remember it by.
The evening after Sunday night on Monday Night RAW, we got the course correction the character of Bobby Lashley mercifully needed to save himself from the mess he was tossed into. It's not as if anyone at home or in the audience was let down by the decision, since it's clear the direction the company was taking this once beast of a character was ill-fated and completely misguided.
His swift defeated of Sami Zayn at Money in the Bank at least felt like it made sense, once again establishing Lashley as a legitimate threat and putting on the dominant performance we'd been waiting to see since the night after Wrestlemania (granted the match wasn't anything special due to the awful writing). The evening after Money in the Bank, Lashley was sent directly into the Universal Championship scene, potentially on a collision course with Brock Lesnar, a match we've all been hearing has been discussed prior to Lashley's WWE return.
It seems like WWE have finally crawled themselves & Lashley out of the hole they dug a few weeks ago and seem to have a direction, at least one with more clarity and potential behind it than hiring men to dress up as Lashley's 'sisters' or basing entire segments around Instagram quotes.
The real question here, is can WWE continue to build on the slight confidence they've instilled in fans with in the Lashley character as of this past Monday night?
Only time, or perhaps 7 days to next week's edition of RAW will tell.
Rule #3: The Summer of Ronda Rousey Is Upon Us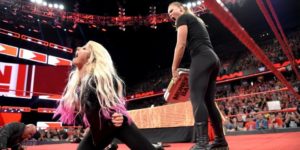 No matter who you are on the WWE roster, male or female, on SmackDown or RAW, you must succumb to one undeniable fact, that Ronda Rousey was the star of the week for the WWE.
If Rousey's impressive debut against Triple H & Stephanie McMahon at Wrestlemania 33 wasn't enough of a message to silence her already vocal critics, then Money in the Bank was the show & match that would have finally put a stop to those select critics. Rousey not only held her own against the gigantic Nia Jax but displayed that the level of effort & dedication she put into this sport was paying off in the best way possible. Managing to toss the massive body of Nia Jax over her own alone gave fans the confidence to say the Women's Championship was in good hands with the former UFC headliner.
Even in loss, Rousey looked like a warrior, one out for the blood of Alexa Bliss & out for the RAW Women's Championship. This carried over to Monday Night and gave us arguably the best women's segment the company has showcased in a very, very long time. More than just being a warrior in the ring, Monday night showed Rousey as something more, a malicious athlete who will not be walked over no matter who is in her way. Ringside Security? Took them out. GM Kurt Angle? Tossed him to the floor and pounded on him. RAW Women's Champion? Put through a table. Rousey gives off the aura that Brock Lesnar once did, that feeling of anxiety and unhinged nature approaching the ring and it's something I hope can be maintained.
Many people, myself included, feel a champion such as Brock Lesnar needs more TV presence to truly make his current reign & character more of a threat instead of a nuisance but with Ronda Rousey the limiting of her television exposure is actually a benefit. Instead of the traditional overexposure that comes with transitioning onto the main roster, every appearance she makes feels important, unpredictable & something pivotal that every fan wants to tune in and see first-hand. Am I and other fans admitting to a double standard? Sure, but at least we get more than an 8-minute repetition of the same championship match on every show.
To those of you who were worried about the use of Ronda Rousey in the WWE, I advise you to be scared of other things, like the state Alex Bliss will be in when she meets face-to-face with this beast of a competitor sometime in the very near future.
Rule #4: Have no fear, Rusev Day is finally here!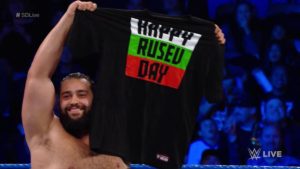 Comparing the current product that SmackDown puts out on a weekly basis as opposed to what was happening roughly a year ago is quite shocking when put into perspective. SmackDown today feels like a show layered with countless great characters, fantastic in-ring action & everything a wrestling fan could want out of a solid product. Last year the product was dwindling, and nobody received quite the beating from a credibility standpoint more than Rusev.
A year removed from one bad booking decision to the next, Rusev hasn't just surpassed any expectations fans had set for his time on the blue brand but has shattered them and is now next in line to challenge the WWE Champion AJ Styles in roughly 4 weeks. 365 days ago, Rusev could hardly last a full minute against the likes of Randy Orton and has since become not just one of the most popular acts on SmackDown, but the entire WWE in general.
Rusev has never looked more alive as an act. Every minute the man comes out to the ring, he seems more confident than ever before, more focussed and readier than ever to seize his moment in the spotlight. We can also attribute a relative level of his success to the presence of the insanely entertaining Aiden English, because if it wasn't for his musical talents, could never have gravitated the 'Rusev Day' chants towards the audience in the way they're latched onto today.
With Summerslam just around the corner and only one more stop on the road to the 'Biggest Party of the Summer', it remains to be seen how legitimate of a contender the 'Bulgarian Brute' is. Could he be no more than a placeholder challenger? One just put into this role to buy time for the champions true challenger a few weeks later? Or is this a genuine attempt by the creative team to bring Rusev back into the main event scene with the biggest swing possible?
In either scenario, WWE have a tremendous opportunity to not just deliver a phenomenal wrestling match over the company's most prestigious championship, there is a chance to make Rusev the star he deserves to be. We only have to wait 4 weeks, and I cannot wait.
Rule #5: The Times Are Changing & You Better Be Excited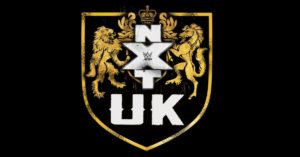 Over a year ago the initial rumours began to spread of the WWE expanding its programming overseas into foreign markets due to the expansion & popularity of their WWE Network. This international growth would begin with the WWE's 2nd most prominent market outside the United States, the United Kingdom and the emphasis on the United Kingdom Championship.
To introduce the world to their fresh new product, the company crowned its first-ever United Kingdom Champion Tyler Bate, who was later dethroned by Pete Dunne during the NXT TakeOver: Chicago special last year in my personal favourite match of 2017. The match between the two set the tone for how good the division could truly be if the time & effort shown then and there would remain a constant throughout their exposure, which thus far it absolutely has. Other stars such as Trent Seven, Wolfgang, Jordan Devlin, Mark Andrews & Danny Burch have also received exposure across the WWE's programming, both in appearances on NXT but also the company's 205 Live brand on multiple occasions.
The showcasing of this talent is essential due to the company being an international presence that is currently trying to tie a stronger knot with international territories and at the same time recruit talent from these regions to enhance and make their own down the line. But if you aren't from the UK, then why should you care? Is this even relevant.
Yes. It is more important than you will possibly ever understand.
International success within one region ultimately provides a domino effect for the industry which in turn opens new windows of opportunity for brands such as NXT & 205 Live, but also allows for the expansion for programming beyond the existing ones. While the UK is the central focus as of this post, who's to say a show or roster cannot be former out of Asian talents? Arab Talents? The WWE's overall stance on foreign brands for potential crossovers doesn't even seem entirely out of the question at this stage, could there be discussions with the likes of NJPW?
Who knows, but I wouldn't be in the least bit surprised should a move like that be put forward.
Obviously, the United States is the centre for the WWE and much of professional wrestling as a matter of fact, as wrestling fans however it should be our duty to encourage reaching out to every community to give fans the same experience we feel we receive on a daily, weekly or monthly basis. Times like these are to be excited over, excited for the possibilities, excited for the numbers of new talents coming into the world of WWE & excited for the quality of wrestling we are about to witness in the coming weeks & months.
NXT's expansion in the UK comes ever closer by the day, with their 2-day event airing on the WWE Network very soon (Spoilers are online, best find a way to avoid those) and is an opportunity for everyone to catch a glimpse of what is to come when the official UK show gets its official air date. Wrestling right now is as exciting as its ever been, and it's time for everyone to get as excited those rabid fans in the UK are going to be over the course of the TV tapings.
---
Always Use Your Head and visit the official Pro Wrestling Tees store for The Chairshot All t-shirt proceeds help support the advancement of your favorite hard-hitting wrestling website, The Chairshot!

---
PEDs In WWE: It's Okay To Hit The Gas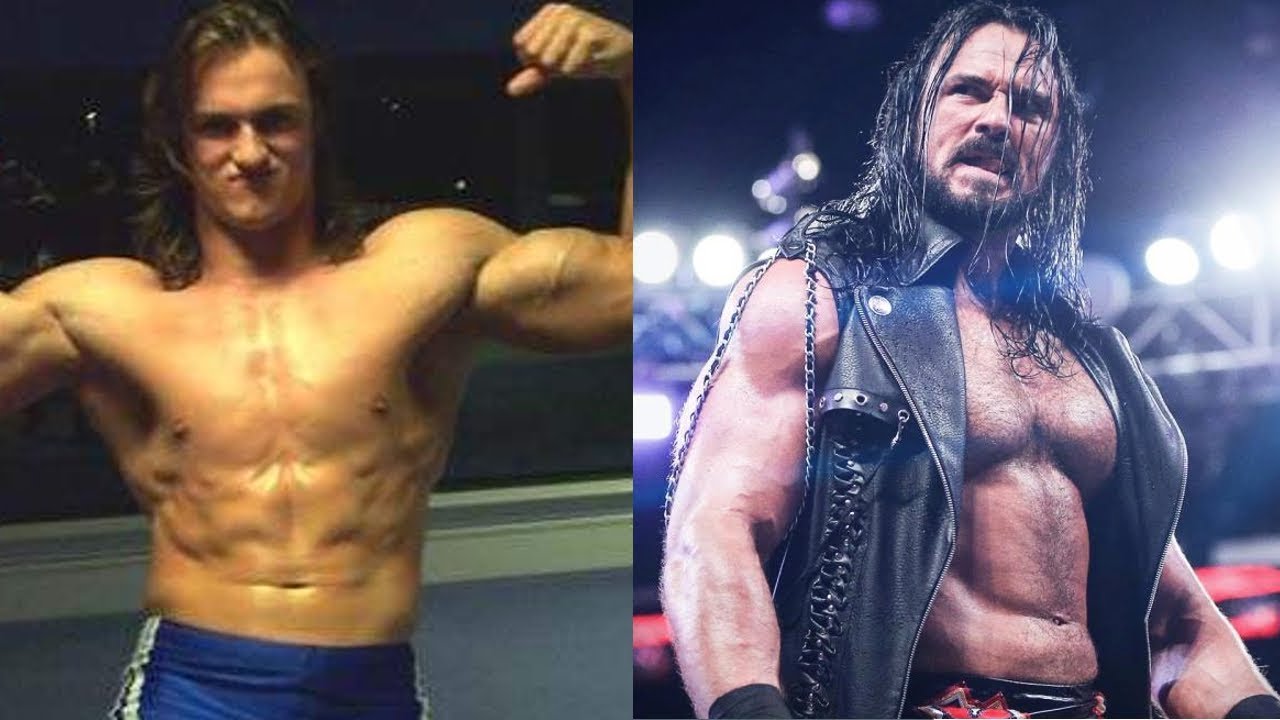 I was watching the collection of previous Money in the Bank matches to get ready for this year's show (which was a very good one if you ask me), and I noticed that one of the participants in I believe 2010 was none other than Drew McIntyre.  In his previous stint with WWE McIntyre was labeled The Chosen One because he was supposedly handpicked by Vince McMahon to be the next big star.  It didn't work out that way and before long Drew was in the comedy faction 3 Man Band alongside Heath Slater and Jinder Mahal, then eventually released along with Jinder.  Both men wen out onto the indie circuit and eventually worked their way back to WWE.  And if you notice looking at both men, they are considerably larger than they were then.  That lead me to tweet out last night during RAW that if you looked at Drew from his first run and look at him now you can see the difference, and that it's probably due to the gas.  If you're wondering what the gas is, it's basically PEDs.  Not necessarily steroids per se but maybe some kind of HGH or testosterone or something, something that's legal but would get you popped in a non worked athletic competition.
The reasons to do that kind of thing are because it makes you look better and helps you recover from workouts and working matches.  Some wrestling fans often delude themselves into thinking that workrate is the most important thing but in reality your look and the persona you can project based from that look are more important to the paying customers.  And yes, size does matter also.  Pro wrestling is for all intents and purposes somewhere between action movie fights and real live shoot fights a la boxing or UFC.
In movies looking the right way is number one and in boxing the heavyweights, when they are good, rule the roost.  Wrestling being a mix of two makes it pretty easy to see that having the right look, being the right size, or both will give you a leg up in the business.  So guys are going to be to be thinking about any way to get there if they already aren't.  And there's only so much that working out and styling can do for you so yeah, if being 220 pounds isn't working for you but 240 might then you're going to be tempted to get those 20 pounds.  Drew and Jinder's before and after pictures, and going from being in 3MB to having prominent roles on RAW, paint a pretty clear picture.
I'm not saying those two didn't work hard.  Both of them bust their asses to get back to the company that released them a few years ago, and they've earned the spots they now hold.  But I'm guessing their second chances may not have come if they still looked like they used to.  I'm also not demonizing them or any of the other guys with interesting before and after pictures for being on the gas if they indeed are.  They don't play a competitive sport, and as long as they aren't out in back alleys scoring the kind of unsafe stuff they use on livestock and shooting up with it then I'm not frowning on it.
I do not want any of the guys dropping dead in a hotel room at 50 years old with an enlarged heart and I don't want them in jail, so if they don't have a safer and legal outlet to get whatever they might be taking then they shouldn't do it.  But if they do, then the best thing would be for us, and ultimately Vince, to stop tip toeing around it and just embrace it.  Vince knows he prefers the guys to look a certain way and have a certain kind of build, and instead of hoping they don't get busted in such a way that he has take action just let them do it freely and safely.
If you think that's ridiculous, then I think you need to be honest with yourself.  Deep down inside you know you're not paying WrestleMania ticket and travel prices to watch a couple of 198 or even 225 pound dudes exchange holds for 25 minutes.  If you're in my generation you had your chance to do that kind of thing at WrestleMania XII and you probably passed.  You may not even pay local ticket prices to go to a second tier event like Backlash.  While the unwritten in regards to appearance that apply to the men aren't anywhere near as unfair as they are to the women, they do exist and you enforce them as much as everyone else.
So with that in mind it's time to stop pretending that you care how they guys get the type of build that makes you and I more likely to spend money to see them work, because you really don't (with the exception of the jerks who sit around hoping that guys they don't like get busted then fired or suspended).  And while we're at it we need to make the same admission about the women's division.  You don't care about weaves, boob jobs, or how much time they spend getting hair and makeup done to participate in a wrestling match, except for when you to bash someone you don't like, you only care that they look good for you when they head to the ring.
Don't lie to me, and more importantly don't lie to yourself.  If they can do PEDs safely and legally, then there's nothing wrong with hitting the gas.
---
Always Use Your Head and visit the official Pro Wrestling Tees store for The Chairshot All t-shirt proceeds help support the advancement of your favorite hard-hitting wrestling website, The Chairshot!

---