Dragon Gate King of Gate 2018 Semi-Finals Results & Review (6/1/2018)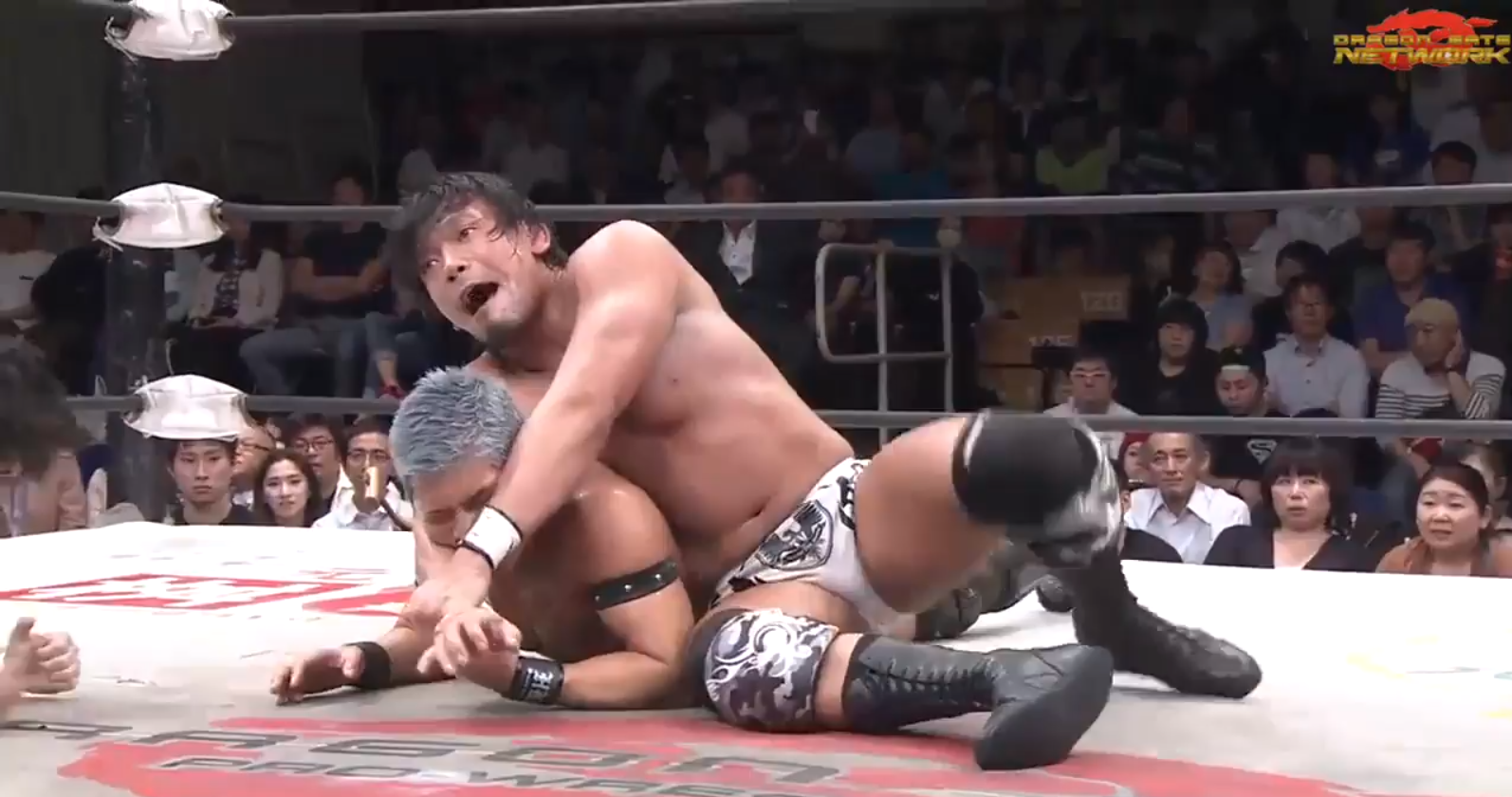 Welcome back to Dragon Gate coverage as we are now at the semi-finals of the King of Gate tournament where we have our four block winners where it's now just single elimination matches.
Our four finalists are YAMATO (A Block), Takashi Yoshida (B Block), Naruki Doi (C Block), and Masato Yoshino (D Block). Which of these four will move on to the final round and become one step closer of getting an Open the Dream Gate opportunity? Well let's find out as we…dive right in and cover this whole show.
Six Man Tag Team Match
Ben-K, Hyo Watanabe & Yuki Yoshioka vs. Genki Horiguchi, YASSHI & Shachihoko BOY
Review: We open our show up with a six man tag between Ben-K, Hyo, and Yuki as they take on two members of Natural Vibes and Shachihoko BOY with a nice little exhibition without all their units to give the fans something to enjoy. This match really wasn't about Ben, Genki, or YASSHI as this was about the other three mostly to showcase what they could do in the ring and I gotta say that those three really did impress me a lot in the match, think the one that stood out for me a bit more was Yuki Yoshioka. Yuki and BOY had a great back and forth near the end, but Yuki would roll him up with a very nice Gannosuke Clutch to pick up the win for him, Ben, and Hyo.
Recommended: Wasn't bad at all, good for a view.
Tag Team Match
Masaaki Mochizuki & Shun Skywalker vs. Tribe Vanguard (BxB Hulk & U-T)
Review: Shun Skywalker is now ready to team up with our current Open the Dream Gate Champion, Masaaki Mochizuki to take one two members of Tribe Vanguard. It looked like Shun changed his attire a little bit along with some colors, but still don't know how I feel about the full body suit.
Hulk and U-T would attack Shun before the bell rang, but it didn't last long as Shun and U-T get right into it. Mochizuki and Hulk would try to go back and forth with their kicks as Mochizuki would just dodge all of them and even kip up whenever he made himself fall to the ground as we appear to be in a stalemate and Mochizuki gives Hulk some props. There was a cool little spot where Shun would toss over both U-T and Hulk over the ropes and they both kicked Shun down while U-T jumps over the ropes to hit Shun with a Codebreaker and it looked awesome. Mochizuki delivering some stuff kicks and then Shun gets the win for his team as he hits the Ashura on U-T.
Recommended: Decent match with some nice spots. So up to you.
Tag Team Match
MaxiMuM (Big R Shimizu & Jason Lee) vs. Tribe Vanguard (Kagetora & Yosuke ♡ Santa Maria)
Review: Tribe Vanguard is up again, as they take on two members of MaxiMuM and all four of these men were in the King of Gate tournament.
Jason and Kagetora had a nice fast pace back and forth sequence with Jason getting the step ahead of him with his signature Arm Drag which lead to Yosuke coming in to feel up Jason's chest from behind when he wasn't looking and went to kiss him, but Jason avoided it to tag Big R in so he could scare Yosuke off. There would be a few times where Yosuke would try to knock Big R down the dropkicks and shoulder blocks, but those wouldn't work for a while til he went to kick his leg out to flip Big R over, now he looks to try and pick Big R up for a Scoop Slam only for Big R to fall on him. I liked both team ups here since they both had a nice combination of moves that just meshed off of their styles together to make some interesting moves happen in here. Kagetora got the hot tag as he starts coming in bursting with energy mostly on Big R and just does his best to get that needed momentum. Yosuke would go to the top rope and fall down to try and kiss Jason, but Jason pushed him up to make him fall down into a Cutter, then he would have Big R do his signature splash only for him to miss. Kagetora would take advantage of this and hits his Gurumakakami on Big R to get the win for Tribe Vanguard. With a clean win over one half of the Open the Twin Gate Champions, this could mean that Kagetora and Yoksuke could have a future title match coming up if they keep this up.
Recommended: Solid match, worth a view.
Six Man Tag Team Match
Natural Vibes (Kzy, Susumu Yokosuka & Punch Tominaga) vs. Don Fuji, Ryo Saito & K-ness
Review: We get Natural Vibes up next in another six man tag match as they take on Don, Saito, and K-ness and now we get Natural Vibes doing their entrance dance and still won't get tired of it because it just matches so well with the music that it's hard to not enjoy it.
Saito would get checked on by the referee and then it led to Don Fuji slapping him for some reason unless it was to help him focus, but it was funny and Kzy would have Punch and Susumu playfully do it to him as well and got the crowd laughing. The match is more of a comedy match it appears with Saito and Kzy starting it off with some rumor while trying to knock each other down with a shoulder tackle til eventually Kzy had the advantage. There was one spot in the match where Susumu would pin Saito and a water bottle gets thrown into the ring by Ruji and it accidentally hit Saito's leg and he just makes this weird face at him while Don looks down in disappointment, it's something that you need to see. The comedy would slow down for now as Natural Vibes would start doing some tag team maneuvers on Saito to keep working on him until he made the hot tag to Don Fuji, and he starts off strong til he'accidentally' hits Saito again and feel like it's on purpose for comedy purposes. Kzy would slingshot Punch into Saito for a Spear and that looked awesome. Susumu would knocked Don Fuji down and left Saito in the ring to hit a surprise Dragon Suplex to pick up the win for his team in an upset.
Recommended: I thought it was pretty entertaining and definitely give it a watch.
Six Man Tag Team Match
ANTIAS (Eita, Shingo Takagi & Yasushi Kanda) vs. Gamma, Mondai Ryu & Kaito Ishida
Review: ANTIAS has been pretty underwhelming aside from Shingo Takagi. Yasushi and Eita have had terrible performances and have been pulling a lot more Suzuki-Gun, where there would be too much interference in ties that it's not even needed at all and it's annoying when it's over done, it's a shame too since Eita is also a really good worker and just his tournament matches have been so bad.
The tag match started with a brawl to the outside and felt like I've seen one earlier in the show, so doing it again really doesn't do it for me since once is enough. The match was fairly decent since it had nice teamwork with the members of each one, few good spots, but still not a whole lot to really catch my attention. I thought for sure ANTIAS would get the obvious win here, but I'm glad I was wrong with Gamma would hit Eita with a kendo stick for Kaito to get an opening, hitting him with a Roundhouse Kick to get the win.
Recommended: This one was kinda skippable.
King Of Gate 2018 Semi Final Match
Masato Yoshino vs. Takashi Yoshida
Review: We are ready for the semi finals to begin as we start off with the winner of D Block, Masato Yoshino taking on the winner of B Block, Takashi Yoshida. I am fine with Masato making it this far, but I'm a bit disappointed that Takashi made it this far since his performance was pretty underwhelming in the entire block and felt like Jason Lee deserved to move up since he was the highlight of the weak block.
Takashi doing the smart thing at the beginning with using his strength to try and overpower Masato while Masato would try to outsmart him by working on his arm to wear him down, but doesn't last long since there's another outside spot with Takashi using chairs on Masato and threw him onto a pile of chairs placed on the ring apron by Shingo. Takashi would then choke Masato with part of his wrist band to weaken him a little to hit a rather nice Blackhole Slam, but only for a two count. Masato would finally get the upper hand as he went back to working his arms with a few La Misticas and would do his variation of a choke while holding his arms and his legs around his neck, but Takashi picked him up for a Powerbomb.
Takashi would then spit green mist into Masato's eyes to give him enough time to hit a Fire Thunder, but Masato would kick out once more! The last couple of minutes of the match start to get intense as Masato would go for a Tilt-a-Whirl which lead into rolling him up for the Speed Star and Masato gets the upset! Masato winning was the right call and definitely earned the right to get this far in the tournament as he now goes to the finals on June 9th against the winner of the main event.
Recommended: Much better than expected near the end, worth a view.
King Of Gate 2018 Semi Final Match
Naruki Doi vs. YAMATO
Review: Now that we have Masato Yoshino going to the final round, it is now time to see who will be joining him. On A Block, we have YAMATO who defeated Ben-K to make it this far and on C Block, we have Naruki Doi who was actually undefeated in his respected block and definitely enough momentum to carry over to his next match, but will it be enough?
One thing I wanna say about the match aside from it being the best match of the entire tournament so far is that I loved how nicely balanced it is. I'm not talking about just the story in the match, but how well paced it was with when to give that extra bit of excitement, when to slow it down, and when to kick it into high gear near the end of it, plus both YAMATO and Naruki getting both equal amount of offense in the match where they both have reversals for different moves and one gets the upper hand, but in a moment later, the other one would get the advantage this time.
YAMATO is arguably Dragon Gate's best worker aside from a few people like Mochizuki, Shingo, Ben, etc, but he has that nice overall balance of a wrestler and it's no secret why he was so successful in the company for so long. Naruki is someone I consider very underrated in the promotion since this was the best singles match I've seen him in for a while now and just shows you how good he is when you see him in one on one action outside of just tag matches. A lot of the stuff they did here just flowed beautifully with Naruki hitting a lot of desperation moves near the end of the bout since he kept getting so close to getting that victory that he could almost taste it.
Naruki started off his desperation with first hitting an Avalanche Leg Trap Fisherman's Buster off of the second rope to only get a two count as he now tries to do his combination with both moves the Noshigami and his Bakatare Sliding Kick to try and put YAMATO away, but it still wasn't good enough for him to get the win. With Naruki starting to get even more desperate, he would lose focus with YAMATO finally hitting the Gallaria for another near fall as both of these men won't quit. YAMATO would then call for the Ragnarok which he hits in the middle of the ring and would then punch his ticket to the finals with a victory or the valiant effort of Naruki Doi.
Both of these men deserve a round of applause for the performance that they both gave us, but the right man won even though I wouldn't be mad if either of them won the match. YAMATO has now punched his ticket to go to the finals on June 9th as he now fights MaxiMuM member, Masato Yoshino on June 9th. Both of these men have earned this spot in the finals, may the better man win, and I'm very excited to see how this match plays out.
Recommended: The best match of the tournament so far, definitely watch it.
Overall: Aside from two mediocre matches, the rest of the card was solid and I wish we had more quality matches from the rest of the tournament like we did with our final two matches on this show, the main event is definitely something people should find the time to sit down and watch from the beginning to the end. This made me excited from the finals despite the majority of the tournament being lackluster for various reasons.
Favorite Match: Naruki Doi vs. YAMATO
Least Favorite Match: ANTIAS (Eita, Shingo Takagi & Yasushi Kanda) vs. Gamma, Mondai Ryu & Kaito Ishida
Score: 7/10
See you all for the final round!
AJPW New Year Wars 2019 Results & Review (1/2-1/3/2019)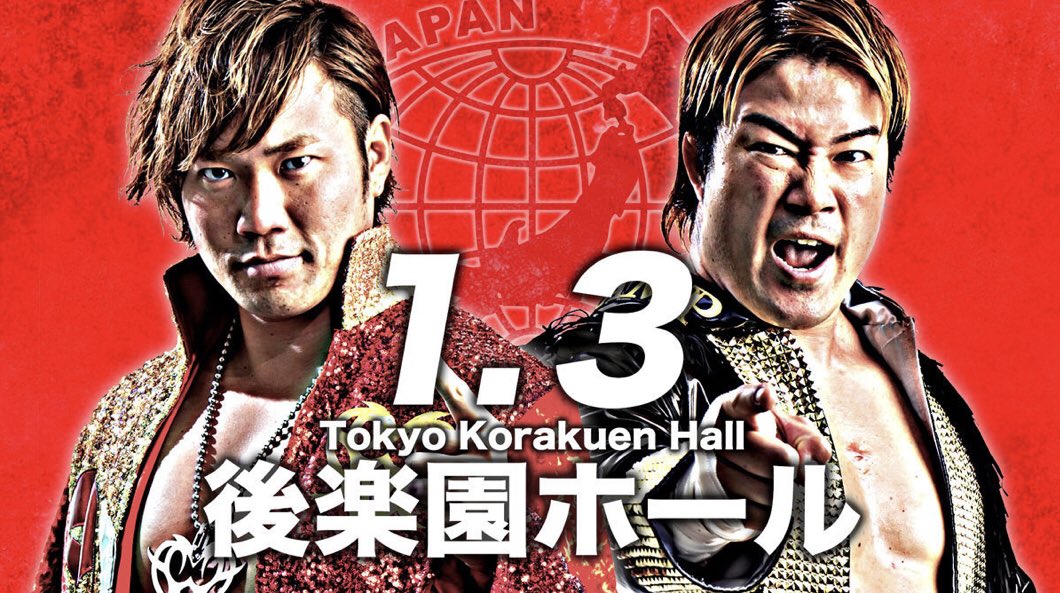 Well we told you Mathew was gonna cover it, and he had a small break from Stardom to add his expertise to the first two days of New Year Wars 2019. All Japan coverage time!
Welcome to our first All Japan Pro Wrestling show of the new year and last time I covered AJPW, I did the Real World Tag League where The Bomber won the whole thing and they'll be fighting Violent Giants in this show.
If you're reading the title right, it's showing two days on there and that's because I will be covering the two title matches that happened on the January 2nd show and then cover the whole January 3rd show.
We got a lot to cover and 2018 was a great year for AJPW but now let's see how 2019 will go for them. Let's find out as we…dive right in.
1/2/19
World Junior Heavyweight Title Match
Koji Iwamoto (c) vs. Yusuke Okada
Review: Our first title match for this show is for the World Junior Heavyweight Championship where Koji Iwamoto will defend his title against Yusuke. The junior division I'm not too crazy about in the company due to the lack of depth, so I didn't pay much attention to it during the last few months but gonna give it a shot instead of just covering one match on this show. Yusuke came back a couple of months ago and he looks to be back in the mix for a title opportunity as he fights Koji, who won it back from Shuji Kondo. Will Koji retain the title or Yusuke becomes the new champion?
Now that I've seen this match, I can say it's a step in the right direction for the division as a whole since you got Koji Iwamoto, who is a very talented individual that could very well be the one that would be a great leader to the division and then someone like Yusuke Okada to be a strong contender. Koji is someone I've always enjoyed when I see him wrestle in the ring but the lack of depth in the division made it hard for me to care about it as a whole that this was a very pleasant surprise to see. Okada came back better than ever since his return from injury and would show his progress in the ring.
Okada would start to destroy Koji with his Lariats to weaken him a little bit but Koji would still find a way to kick out of them. Okada attempts to finish him off with a Fisherman Buster but Koji would fight out of it and hits a quick STO before he would get him up for a Superplex and the competitors are down. Koji went to look to finish Okada off as Okada would struggle for a little bit until he got caught in a Dragon Suplex and a German Suplex Hold for a two count. Koji would finally hit the Koko no Geijutsu for the pinfall victory and I wish Ronda Rousey would use this throw as her finish instead, would look amazing. Okada puts up a good fight but not at that level where he needs to be just yet, so hard to make it a bit believable for him. Nobody else came out to challenge Koji as he celebrates his victory in a solid bout.
Rating: Bruce Prichard
World Tag Team Title Match
Violent Giants (Shuji Ishikawa & Suwama) (c) vs. The Bomber (Dylan James & Joe Doering)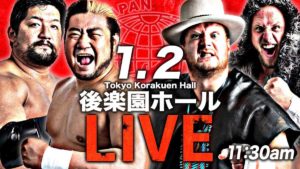 Review: Our main event of this show and final match is Violent Giants defending their titles against the Real World Tag League winners, The Bomber. The two teams would fight in the finals of the tournament when The Bomber was able to pick up the win to know how this match here. We also found out on this show that Shuji Ishikawa is no longer a Freelancer and is now apart of the AJPW roster full-time. Will Violent Giants get some revenge to retain the titles or will The Bomber make lightning strike twice and take the titles with them this time?
The match is pretty much what you would expect it would go between these two and if you liked their first encounter during the finals, then chances are you're going to like this one a lot better. The to would start off fairly evenly matched and the two teams would start to fight outside of the arena to the point where they would even fight up into the audience until they went back into the arena to get back to the fight. Dylan James keeps on improving and it's about time he starts finding his voice in All Japan instead of just being a bust like the first half of his year in 2018, so I guess him teaming up with Joe Doering turned out to be the best thing to happen to him at the end of things. Violent Giants are always on point when it comes to tag team wrestling and no surprise why they're Tokyo Sports Tag Team of the Year two years in a row.
Things start to get more intense in the ring once Suwama starts beating Doering down onto the mat before he tags in Shuji for the hot tag as him and Dylan start pummeling each other with strikes and slams. Shuji would deliver a Double Stomp onto the middle rope as he goes for a pin but Dylan kicks out at two as Joe helps his partner out by giving Shuji a Lariat and am Elbow Drop to top it off. Violent Giants start to go for a Double Powerbomb onto Dylan but Joe would break it up before he got tossed into the ropes as Joe catches them both with a Diving Body Press and the crowd goes nuts. The Bomber would look to go for their Double Piledriver onto Shuji as Suwama would fight Joe off before they could finish them off. Violent Giants start acting in sequence onto Dylan as they would hit him with a German Suplex, Backdrop Driver, and a Double Lariat to knock him down. Shuji would hit the Fire Thunder Driver but Joe breaks the count before being tossed back out again by Suwama. Shuji then has Dylan all by himself as he hits him with multiple knee strikes and does the Giant's Slam as the Violent Giants retain the titles! After the match, Daisuke Sekimoto and Yuji Okabayashi challenged them to a title match at the Big Japan Wrestling show on January 13th and it's sure to be a fun time. Great match and very hard-hitting, what more could you ask for?
Rating: Bruce Prichard and a half
1/3/19
Tag Team Match
Danji Tamura & Hokuto Omori vs. Atsuki Aoyagi & Yusuke Okada
Review: Our opening match is a regular tag team match with Yusuke Okada teaming up with Atsuki Aoyagi taking on the team of Danji Tamura and Hokuto Omori. Danji, Hokuto, and Atsuki are all new All Japan's young lions as they made their debut on the January 2nd show and now I get to see them for this one. Will the new guys win or does Yusuke guide Atsuki to victory?
So how did our new guys fair off in this tag match? Well, I think that all three of them have potential and I don't know who is who due to the music being cut out along with their names, but one of them had a really nice sequence with Yusuke. The match itself was an average tag match with the young lions getting showcased and all three of them had an equal chance to shine in this one. The match was about six minutes and Yusuke would have one of them in a Boston Crab to make them tap out for the victory.  I wish all three of these men luck on their journey in the world of professional wrestling.
Rating: Tony Schiavone and a half
Tag Team Match
Hikaru Sato & Osamu Nishimura vs. Masanobu Fuchi & Yoshitatsu
Review: Our next match is another tag team match with Hikaru Sato and Osamu Nishimura taking on Masanobu Fuchi and Yoshitatsu. It looks like another tag match with probably some humor involved due to Fuchi being apart of it. Which one of these teams will win?
Yoshi, dude, please get rid of that Hunter Club shit. What purpose does it provide for you now? Nothing, so why keep wearing anything related to it at all? Just get rid of anything related to it already. Anyway, not that I got that little vent out of my system, I thought the match was a little bit average. The pop Fuchi still gets is an incredible feeling with the fans showing their love and support to him in the ring and even has fans resent his opponents, like how Hikaru would just kick him down and the boos he gets, is one of the loudest I've seen for an undercard or most of the time in general, it's incredible. Fuchi would be in the match for pretty much the majority of it since Yoshi was only in for the beginning sequence before tagging in Fuchi. It would be Fuchi and Osamu in the ring and they would be cradled up to try and go for the pinfall as the two kick out to hold the position to pin the other but wait, Hikaru would push his partner to make him pin Fuchi and they steal the victory!
Rating: Tony Schiavone
Six Man Tag Team Match
Sweeper (Jake Lee, Koji Iwamoto & Ryouji Sai) vs. Atsushi Maruyama, Jun Akiyama & Zeus
Review: Our next match is a six-man tag match with our Sweeper members, Jake Lee, Koji Iwamoto, and Ryouji Sai taking on the team of Atsushi Maruyama, Jun Akiyama, and Zeus. I guess The Bodyguard is out with an injury since he's not booked on this show at all. It's always good to see Jake Lee in the ring and I feel like 2019 is going to be kind to him, but he needs to get a victory here to get some momentum. Can Sweeper sweep up the victory or will Uncle Jun and Daddy Zeus take it?
Ryouji and Zeus started the match off as the two would trade in some blows until Jake got tagged in as him and Zeus would have a little staredown before they got right into the action to fight each other. During the majority of this match was pretty much Zeus and Jun abusing Jake any chance they would get and I mean it since they just chop him down, stiff him, pretty much just beating the crap out of him and I feel like it's tough love for Jake at this point. Once Jake was done being abused during this match, Koji would get tagged in now as he's now in the ring with Atsushi for the remainder of the match and I wonder if he could be a potential contender for the Junior Championship? That question seems to be out of the question since Koji would just make quick work of him and hits the Koko no Geijutsu for the pinfall once Zeus was unable to break the pinfall in time. Decently paced match with more progression with Jake Lee and I wonder if he will encounter Zeus in singles action soon.
Rating: Eric Bischoff
Six Man Tag Team Match
The Bomber (Dylan James & Joe Doering) & Gianni Valletta vs. Evolution (Atsushi Aoki, Shuji Ishikawa & Suwama)
Review: We got ourselves another six-man tag match with The Bomber teaming up with Gianni Valletta since TAJIRI has a title match coming up tonight as they take on Evolution and no, not WWE's Evolution. Evolution has Violent Giants and Atsushi Aoki in it. Yesterday, Violent Giants defeated The Bomber to retain the World Tag Team Championships as it looks like they'll be fighting again in this match-up. Wonder if Bomber wins again they would get another rematch for the titles, only time will tell.
The Bomber would start the assault to Evolution to the outside of the ring once the bell would ring and they would start to get some of that heel heat in. Atsushi would now be the victim for the assault as he would just get chopped, slammed down, or just suffer a Lariat or two between the three men that are fighting him and Violent Giants. Suwama would help his partner out to get a little bit of offense in when he fights of Dylan a little bit, but Dylan would end his momentum with a few chops and a Lariat to the corner before hitting an Elbow Drop for a two count. Shuji would duck a Lariat for an STO and would tag in Suwama for a hot tag as he would start cleaning house for Evolution until Dylan tagged in Gianni for all three of them to try and gang up on Evolution, but Suwama would fight off Gianni and Joe for a little bit until Gianni was alone in the ring for Violent Giants to land their assault onto him. Suwama would pick Gianni up right away as he hits the Backdrop Driver for the victory as Evolution stands tall! Solid match and wonder who will Violent Giants defend the titles against next.
Rating: Eric Bischoff
GAORA TV Title Match
TAJIRI (c) vs. Minoru Fujita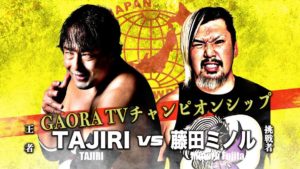 Review: Our first title match for this show is TAJIRI defending the Gaora TV Championship against Minoru Fujita. TAJIRI has been on quite a roll with this title run with four successful title defenses under his belt with his last one being against Super Crazy. This is Minoru's first match in AJPW during his entire career and he could very well take that title with him to Tokyo Gurentai. Can TAJIRI retain it again or will we have a new champion?
What can I really say about this match? I mean it wasn't horrible by any means but at the same time, it just felt like a regular match without a title on the line, like just a special singles match. We all know TAJIRI's glory days are long gone and he's pretty much just having a good time with a lighter schedule to do as much as he can before he decides to fully hang it up for good. I haven't really followed Minoru's career all that much but I will say that he was still pretty mobile and would hit the moves he wanted to do without a problem like his dive to the outside and such. Don't think were was anything really big that happened in the match except that Minoru would place a bag over TAJIRI's head to blind him a little and hits a Splash off the top rope for a two count. Minoru would go back to the top rope and TAJIRI takes the bag off to spit green mist into his eyes once he jumped off the rope and does a Small Package to retain the title. Again, not a terrible match but just really standard.
Rating: Tony Schiavone and three quarters
All Asia Tag Team Title Match
NEXTREAM (Naoya Nomura & Yuma Aoyagi) (c) vs. Black Menso-re & Takao Omori
Review: Our next title defense for this show is NEXTREAM defending their All Asia Tag Team Championships against Takao Omori and Black Menso-re. These two teams are no strangers to each other as the two fought on October 10th where NEXTREAM would retain the titles and it looks like they want a rematch this time around. NEXTREAM has retained their titles twice during this run and would like to add a third defense if they can beat their opponents. Can NEXTREAM retain or do they lose it in the revenge match?
If we're going to compare the two title matches these teams had against each other, I would say they were both equally as good but this one probably had a better flow throughout, so I think I would give the edge to this one at least for the time being, I don't really recall how the partnership between Menso and Takao happened but for some reason they would work pretty well together with their different styles of speed and impact to make them a pretty solid team. NEXTREAM would keep proving themselves as a tag team and rise up in the ranks to better themselves as partners and individuals as Naoya and Yuma are both very talented wrestlers. Black Menso-re really is a talented guy and I hope to see him as a contender for the Junior title in the future since he would have a great match with Koji.
NEXTREAM would start to double team Menso with elbows into the corner as Yuma throws him into Naoya to catch him for a Gutbuster, then Yuma does a German Suplex, and Naoya finishes the combo with a Spear and goes for a pin but Takao jumped in to break the pinfall. Nomura would try to elbow Menso would counter it with a roll-up and no matter how many times Naoya would try to break out of it, Menso would somehow get him back into the same position until he was able to finally kick out and let go. Takao gets into the ring now and hits a few Ax Bombers onto Naoya before he had him up for a Package Driver as Menso tops it off with a Double Stomp for Yuma to break the near fall. Yuma would help his partner out by giving Takao a German Suplex and then Naoya does a German Suplex hold for Menso to break up the pinfall. Naoya isn't done just yet as he would now hit a Splash off the top rope but Tako would kick out again as Naoya has enough and picks him up for the Death Valley Driver and NEXTREAM retains their titles!
Rating: Eric Bischoff and a half
Triple Crown Title Match
Kento Miyahara (c) vs. KAI
Review: Our main event for the night is Kento Miyahara defending his Triple Crown Championship for the first time in this reign against KAI. This match took place when KAI would pin Kento during the Real World Tag League and now he looks to be the one to dethrone the ace. Kento's goal once he won the title back from Zeus was to surpass the record for most title defenses, which is currently held by Toshiaki Kawada with ten defenses under his final reign. This will be Kento's first one so let's see if he can fulfill this goal. Can Kento succeed in his first title defense or will KAI ruin his plans?
Pretty explosive start right away as Kento would attempt to go for the Blackout a couple of times once the bell rang but KAI would move out of the way every time he does and they have a stare down as the crowd starts cheering for them. KAI would pretty much outsmart him for the beginning of the match and it got to the point where Kento would even be outraged and throw him into the turnbuckle post, which looked like an okay idea but it would backfire once he attempted a Blackout onto the post as KAI moved out of the way and hits a Dragon Screw on his injured leg between the post. The two would keep fighting outside of the ring for a little bit until Kento would drop him against a guardrail and the two would get back inside. I think this was KAI's best match that I've seen in quite some time as KAI is one of those wrestlers that can be a hit or miss depending on the opponent he fights and he was able to go toe to toe with Kento, even the crowd was supportive of KAI during the match at some point.
Kento starts to get a comeback in as he hits a German Suplex and then quickly gets up to hit not one but two Blackouts in the match to try and knock him out but KAI managed to kick out of it when he could. KAI would attempt to kick up Kento for a Powerbomb but he would struggle for a bit until KAI gathered enough strength to make it connect but Kento kicked out at two before KAI went to the top rope for a Frog Splash, only for Kento to put his knees up and risks hurting his leg a little bit more to get enough time to recover. KAI would deliver some kicks to the face and once he Irish Whipped him, Kento would duck and hit him with a Blackout and before he could hit one more, KAI would catch him to set up for a Fire Thunder Driver as he connected for a two count. KAI would have him up on his shoulders until Kento would get off to attempt a German, but KAI rolled out of it to get caught into a European Clutch for another two count. KAI attempts to go for his signature flash pin only for Kento to power out of it and catches him in a German Suplex Hold for a two count and he would eventually hit his Shutdown German Suplex Hold for the victory and his first successful defense in this reign.
So what was the big takeaway for this match? Well, it's really because of KAI and not knocking his performance here since he did great but it was more of he wasn't a very believable opponent for Kento and there was not one moment in the match where it seems like he had a chance to win the belt at all. If you have Kento make a claim to break a record, why would you have him lose in the first defense and against someone like KAI? So Kento retaining was the right call and a lot of people knew it would happen despite fans being behind KAI. No new challenger came out to fight Kento, so we'll see who they pick next. Great match and a great way to close the show.
Rating: Bruce Prichard and a quarter
Overall: I thought this was a pretty solid show with only two matches that were mediocre while the rest deliver us some solid matches for the most part. All the title matches except for the GAORA one were the highlights of these shows and it's showing us promise of what's to come in 2019.
Favorite Match: Shuji Ishikawa & Suwama vs. Dylan James & Joe Doering
Least Favorite Match: Hikaru Sato & Osamu Nishimura vs. Masanobu Fuchi & Yoshitatsu
Score: 8/10
(NOAH) WEEKLY NEWSLETTER VOL.18 ~ 12TH JANUARY 2019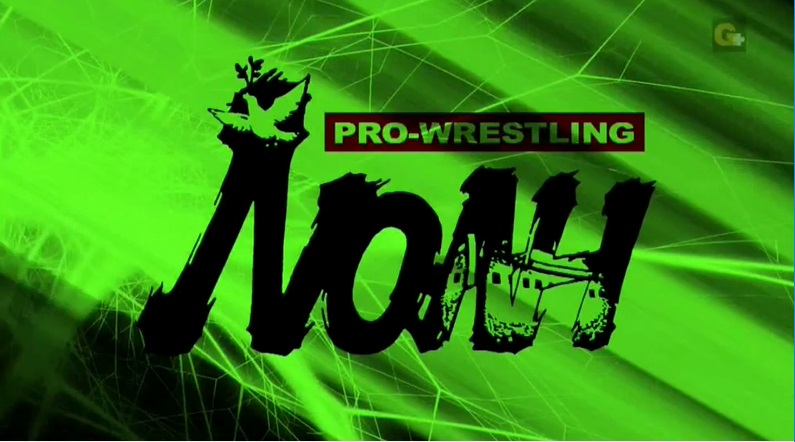 We got the important Day 1 review for Navigation for the Future last week from Andrew, but Hisame is the expert. She clarifies things from that first day, on top of events since January 6th.
NEWS
"NAVIGATION FOR THE FUTURE 2019" BEGINS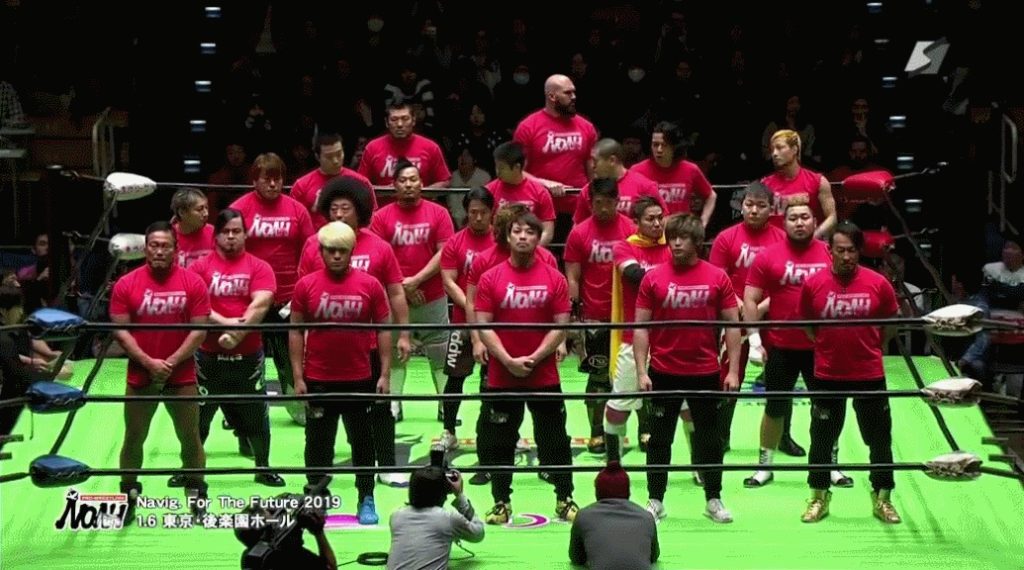 NOAH began their year in Korakuen Hall on the 6th January. The roster filed to the ring (this years color is red) and stood while Go Shiozaki made the traditional New Years speech (this is either done by himself as Chairman of the NOAH Wrestlers Association, President Uchida or Naomichi Marufuji, but usually by himself), and although naturally he wasn't competing, Marufuji was there.
Kinya Okada took on Masa Kitamiya, which ended with Kitamiya doing a massive spear on him which winded him.
Yoshiki Inamura took on his hero, Takashi Sugiura. Inamura put up a good fight, and like all the heavyweights, participated in the unofficial competition that they seem to have, which involves lifting Sugiura up and for as long as possible. He even once or twice managed to knock Sugiura down. However, the match finished as it only could, with the win by Sugiura via the infamous chokehold.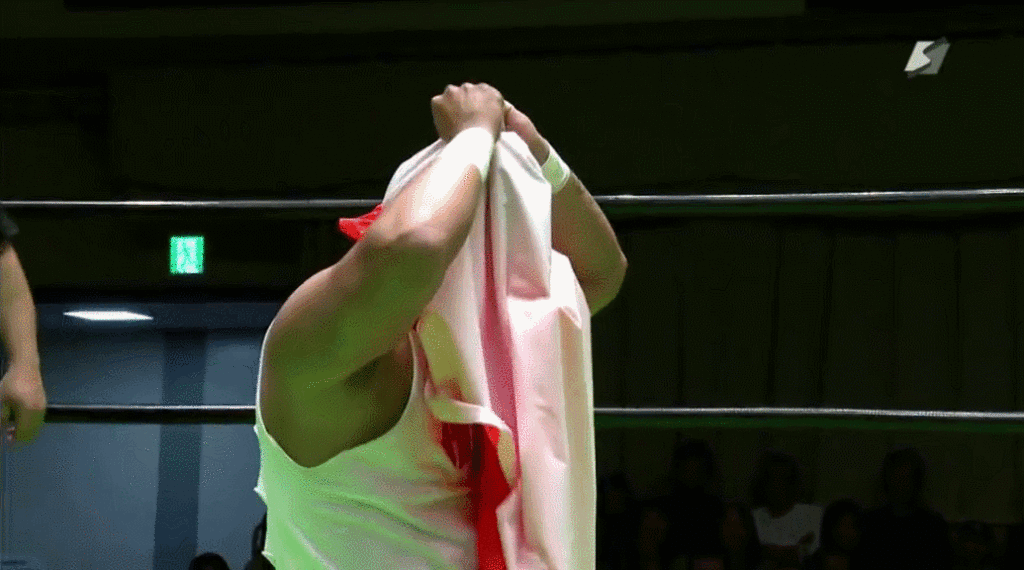 Atsushi Kotoge teamed with Masao Inoue against Hi69 and Minoru Tanaka.
The cape was the star of this match; Minoru Tanaka wore it on his head, Hi69 put it on to do the "Revolutionary Splash" and then got into a fight with it when he took it off over his head and it got kind of stuck.
Kotoge thought that they were going to join the "Revolutionary Army" (which so far has only one member, and no one wanting to join), when Tanaka sarcastically put the cape on at the end of the match and did the revolutionary fist when his arm was raised for the win.
They didn't want to become his junior corps however, and Kotoge found himself thrown out of the ring, and looked up to see Minoru Tanaka using the cape to wipe Hi69's ass…
The Backbreakers had their "assessment" match with Seiya Morohashi and Junta Miyawaki to see if they were eligible to challenge for the GHC Junior Tag Team titles. They weren't as they lost, but afterwards Ohara predicted great things for Miyawaki, and said that he had the potential to be putting on a belt in the spring.
In the meantime, The Backbreakers have been challenged by Keisuke Ishii and Kouki Iwasaki.
The Hooligans had their first match of the evening when Akitoshi Saito teamed with 50 Funky Powers against them (Mitsuya Nagai, KAZMA SAKAMOTO and Cody Hall).
Due to interference by The Hooligans, who shoved Referee Nishinaga down, the match was abandoned after five minutes. This was a taster of what was to come in the title match.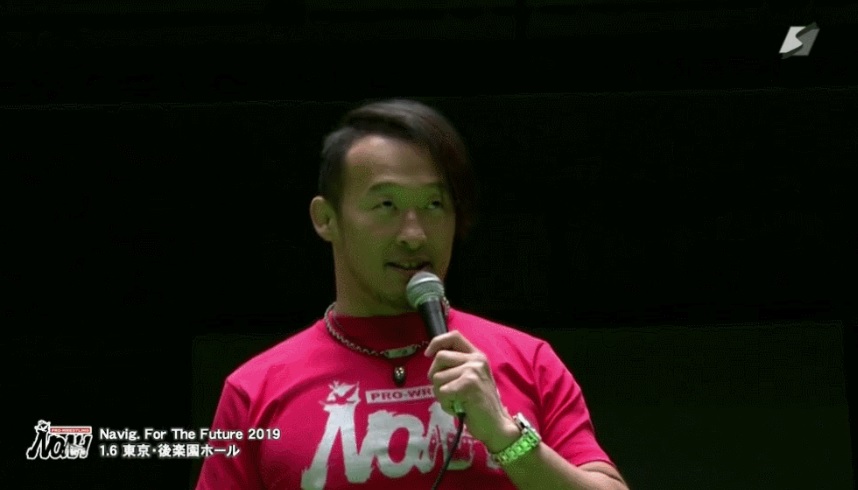 A much healthier, happier and relaxed looking Naomichi Marufuji announced that he would be returning to the ring on the 1st February. After that he remained on commentary for the rest of the event.
The three remaining RATELS took on YO-HEY and his new friends, Yoshinari Ogawa and Kotaro Suzuki. Harada was not wasting any time as he stamped across the ring while he was being announced, not even bothering to look away from YO-HEY or even remove his RATELS jacket as he attacked him. YO-HEY won against the man he used to call "The Boss".
After the match, HAYATA was bending over Harada, as YO-HEY looked on at Ogawa and Suzuki approaching them. HAYATA stood up, Ogawa said something to him, HAYATA put his hands on his hips and looked away, and the three of them left. HAYATA left soon after, leaving the seconds to help Harada out of the ring.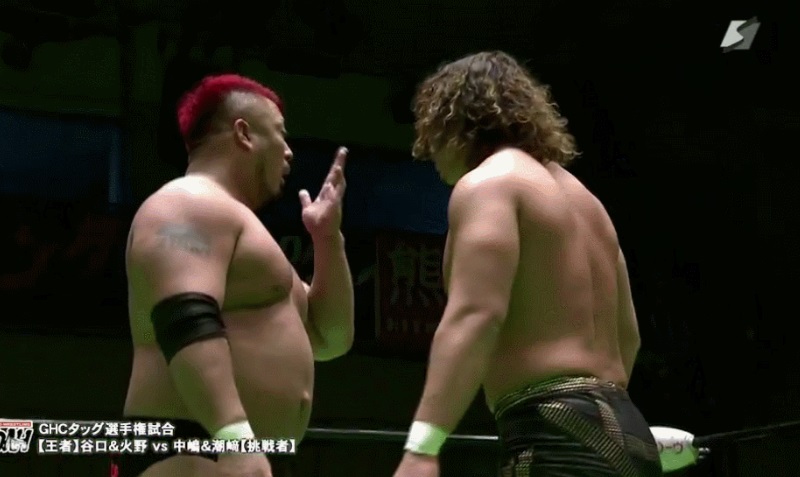 The Hooligans had their second match of the evening as Yuji Hino and Maybach Taniguchi defended the GHC Heavyweight Tag Team Championship against Go Shiozaki and Katsuhiko Nakajima, following the bloodbath in Yokohama at the end of the year.
The problem with this match was the stop start, stop start, Hooligan interference, which after a while got tiresome. The booking was in itself very Suzuki-Gun, which is not something people really want to be reminded of. When the match was allowed to flow, we got some good moments, especially the dynamic between Katsuhiko Nakajima and Yuji Hino when neither would sell each others moves; Nakajima's eyes filled black when Hino yawned in response to his kicks.
In the end (and beating up Atsushi Kotoge on the way who seems to have attached himself to Shiozaki and Nakajima, although no one has probably asked him to), The Hooligans retained.
Fifty Funky powers then challenged them for the titles with Quiet Storm telling them that everyone was sick of The Hooligans, and the way they fight, and they would finish them.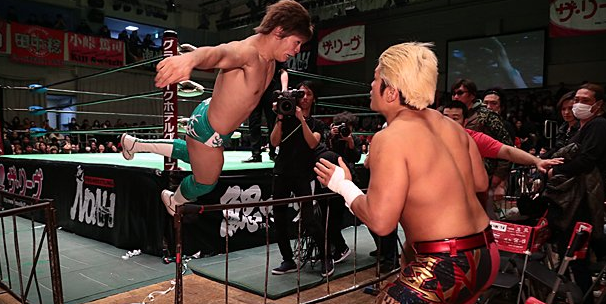 In the main event, Kaito Kiyomiya came full circle, and beat Kenoh to retain the GHC Heavyweight championship.
Kenoh entered with slicked back hair and the usual scowl (he hasn't debuted the hair since, probably because he was teased, or else he is saving it for big matches), and Kiyomiya entered with a Kobashi mannerism, where he pauses to look at the crowd as if he can't believe they are cheering for him. They had what will be probably the start of their epic battles. Kenoh had said that neither he and Kiyomiya were the same people they were in January 2018, but I don't think he really knew that Kiyomiya was not this young boy anymore, who he swung alternately between seeing as a younger brother, and an a potentially dangerous rival, who he had so easily kicked around in 2018. Sugiura had underestimated Kiyomiya during Global League, and Kenoh, while not making the same mistake, made the mistake as seeing Kiyomiya as still somewhat green and unprepared for his role as the GHC Heavyweight Champion.
Kiyomiya knew Kenoh well, he was able to dodge his moves, and he also knew when to play dead and come out of his daze. They had great chemistry together, and this match, already a match of the year to some, was hard fought all the way through, and a solid fight from the start.
At one point, seeing Marufuji on commentary, Kenoh paused to glare at his hated obsession.
After the match, Atsushi Kotoge (mercifully wearing a fresh new cape which hadn't been anywhere near Hi69's hindquarters, although lets face it, ALL those cloaks probably have a rude backstage story to tell on a Misawa level), came out to challenge Kaito Kiyomiya.
Kotoge proposed starting a revolution together, and fortunately for Kiyomiya, he was saved from this by Masa Kitamiya, who also challenged and said sensibly (and firmly) that "the GHC Heavyweight does not need a comedy wrestler".
Kiyomiya, as polite as ever, left the company to arrange the details and Kotoge and Kitamiya will face each other on January 20th to determine the number one contender, with the winner facing Kiyomiya on February 1st.
During the pre-matches, neither Kotoge or Kitamiya got the pin or had the pin given on them by Kiyomiya directly.
Kaito Kiyomiya says that he wants to be an approachable champion, one that talks to fans and makes people leave the event smiling. He was driven by Kenoh to become champion, and he is driven by the memories of the dark days of Suzuki-Gun and the vicious circle it created with the fans who felt the crisis in Noah, which was transmitted to the wrestlers, and when no one was happy. As well as being the youngest GHC Heavyweight Champion on history, he also wants to beat Takashi Sugiura's defensive record of fourteen people.

NOAH are currently approaching the end of their three day in a row event. Hi69 said that the attendances have not been good, and more people need to come, but for winter in the provinces, the attendances weren't bad; there was a long line to see Katsuhiko Nakajima, and according to Kaito Kiyomiya, a lot of new fans came to the events.
IPW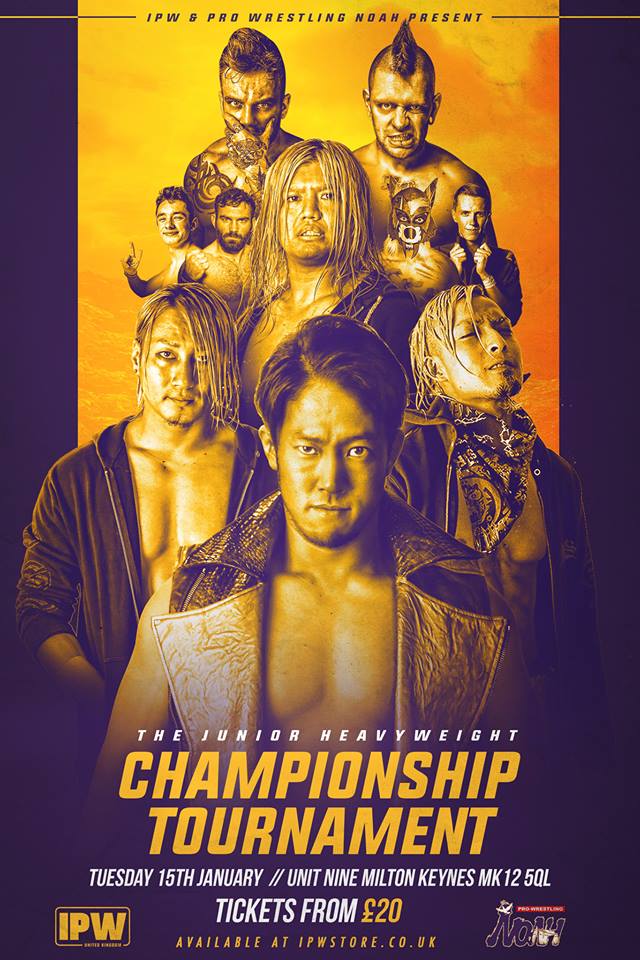 RATELS (including YO-HEY) are taking part in IPW'S Junior Tournament on the 15th January. Their opponents for the first round have been announced as:
Daisuke Harada vs Chris Ridgeway
HAYATA vs Kid Lykos
YO-HEY vs Ben Basden
Tadasuke vs James Basden
While Harada is yet to comment on his opponent (who seems to do the Sugiura mouth-guard thing), although he did say that this will be the first time he will ever have competed for a belt concurrently in another promotion, HAYATA doesn't use social media, YO-HEY said he wanted to meet Mr. Bean, Tadasuke has commented that he will "knock down" his opponent.
Tickets can be purchased here
DDT
Naomichi Marufuji and Go Shiozaki will be taking part in DDT'S 22nd anniversary event "Judgement 2019" on February 17th.
President Uchida represented Marufuji at the press conference (Marufuji has had to be very strict with his rehabilitation, and so cannot travel with NOAH to the events in the countryside, and sometimes has to miss things for treatment), and was met with Tetsuya Endo (who will be Marufuji's opponent), eating his lunch.
Endo basically said he respects Marufuji, but he doesn't care about the actual match, he's out to crush him, he also said that he didn't think that Marufuji would be physically or mentally ready for it either.
Fortunately, having had the experience of both Kenoh and Sugiura in his face and therefore being familiar with such behavior, President Uchida just ignored him.
CURRENT CHAMPIONS
TOUR TIDBITS
~ Hajime Ohara announced that NOAH will be returning to Kultz Kawasaki on the 27th July, and he will once again be involved in the booking of the show.
~ Yuji Hino said about Mohammed Yone, "The Afro is dead".
~ YO-HEY appears to have an invisible friend…
~ Atsushi Kotoge's cloak fell off when he attempted to do the "Revolutionary Cloak Splash"
~ HAYATA did not second Harada and Tadasuke in Hamamatsu
~ Takashi Sugiura bought home a little yellow hat for his puppy. He also said he realizes that his account should be used for photographing people, and not his dog, but he doesn't apologize; he is going to keep photographing his dog.
~ There seems to be friction developing between Kenoh and Katsuhiko Nakajima, and the fans want to see a single match.
~ Despite the manner in which he left NOAH, and where he is now, Taiji Ishimori appears to be on good terms with Marufuji. Marufuji congratulated him on winning the IWGP Junior in New Japan, and Ishimori thanked him and said he remembered the lessons and experience he had in NOAH. Even if he does return as a Freelancer, which he may well do one day, hopefully Ishimori will be back in the NOAH ring one day.
~ Two small kids ran to Kenoh (who was standing watching the ring action) and asked if they could shake his hand, he was very gentle with them in doing it.
~ Tadasuke turned 33 on the 13th January.
~ President Uchida hinted that a GHC Heavyweight Title defense could take place in Canada (or on IMPACT) as a thank you to Scott D'Amor who took care of him when he was overseas.
KING SHAMELESS CORNER
He's been good as he's got a new dog.
His good behavior won't last, especially when summer comes, or when he finds Masao Inoue at the urinal.
BROADCASTS
I am afraid that no broadcasts have been announced as of yet, although it is likely that the last day of tour (1st February which is the GHC Heavyweight title match and Marufuji's return) will be broadcast, and perhaps the 26th January in Osaka.
BOOK CORNER
The translation of Naomichi Marufuji's biography, "Heir to The Ark" continues.
In this chapter he dispels a lot of the myths surrounding himself and KENTA. Its a commonly held (and dearly held belief) that they were close, if anything, they were anything but. They rarely had any contact outside the ring, never socialized or had really had any significant contact out of tour, and Marufuji said he lent him a CD which he never returned.
LINKS
"No memory of the match" ~ Kaito Kiyomiya, the youngest champions first defense
Marufuji's enthusiastic return on the 1st February at Korakuen
The Hooligans do as they like
"Whichever comes, I will not lose" GHC Heavyweight Champion, Kaito Kiyomiya's confidence about Kotoge and Kitamiya
Kaito Kiyomiya's first defense and an ambition in Canada
The birth of the youngest GHC Heavyweight Champion ~ Kaito Kiyomiya's interview (1st defense)
Wrestling Grand Prix Fighting Spirit winner Kaito Kiyomiya, "My starting point for battle came from Fujinami and Choshu"
NOAH FROM THE VAULT
Kaito Kiyomiya's "My Turning Point" (translated by Purodino)
Photos & gifs – credit to Noah GHC, IPW, PDXD & Puroresu Weekly