Dragon Gate King of Gate 2018 Semi-Finals Results & Review (6/1/2018)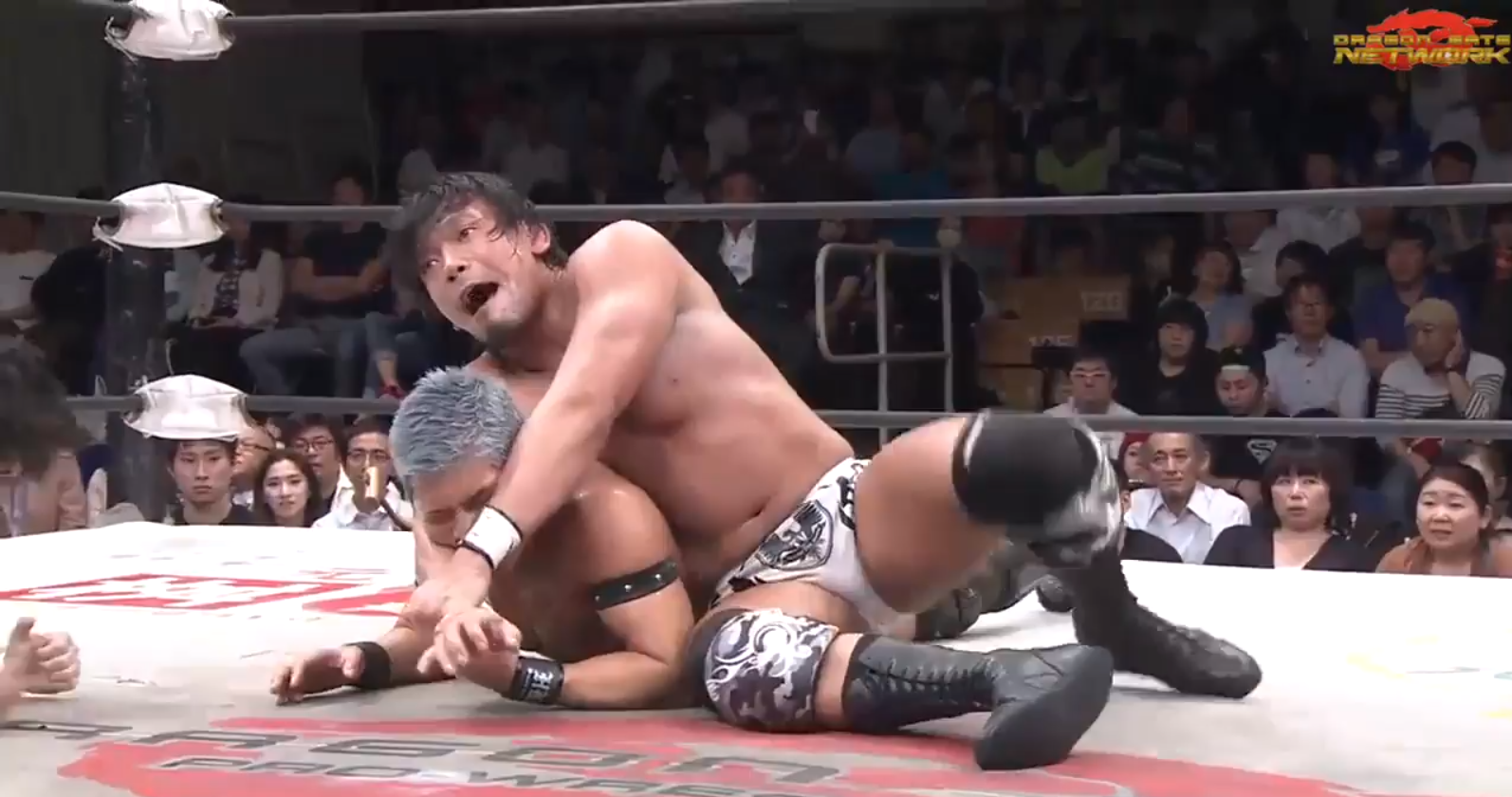 Welcome back to Dragon Gate coverage as we are now at the semi-finals of the King of Gate tournament where we have our four block winners where it's now just single elimination matches.
Our four finalists are YAMATO (A Block), Takashi Yoshida (B Block), Naruki Doi (C Block), and Masato Yoshino (D Block). Which of these four will move on to the final round and become one step closer of getting an Open the Dream Gate opportunity? Well let's find out as we…dive right in and cover this whole show.
Six Man Tag Team Match
Ben-K, Hyo Watanabe & Yuki Yoshioka vs. Genki Horiguchi, YASSHI & Shachihoko BOY
Review: We open our show up with a six man tag between Ben-K, Hyo, and Yuki as they take on two members of Natural Vibes and Shachihoko BOY with a nice little exhibition without all their units to give the fans something to enjoy. This match really wasn't about Ben, Genki, or YASSHI as this was about the other three mostly to showcase what they could do in the ring and I gotta say that those three really did impress me a lot in the match, think the one that stood out for me a bit more was Yuki Yoshioka. Yuki and BOY had a great back and forth near the end, but Yuki would roll him up with a very nice Gannosuke Clutch to pick up the win for him, Ben, and Hyo.
Recommended: Wasn't bad at all, good for a view.
Tag Team Match
Masaaki Mochizuki & Shun Skywalker vs. Tribe Vanguard (BxB Hulk & U-T)
Review: Shun Skywalker is now ready to team up with our current Open the Dream Gate Champion, Masaaki Mochizuki to take one two members of Tribe Vanguard. It looked like Shun changed his attire a little bit along with some colors, but still don't know how I feel about the full body suit.
Hulk and U-T would attack Shun before the bell rang, but it didn't last long as Shun and U-T get right into it. Mochizuki and Hulk would try to go back and forth with their kicks as Mochizuki would just dodge all of them and even kip up whenever he made himself fall to the ground as we appear to be in a stalemate and Mochizuki gives Hulk some props. There was a cool little spot where Shun would toss over both U-T and Hulk over the ropes and they both kicked Shun down while U-T jumps over the ropes to hit Shun with a Codebreaker and it looked awesome. Mochizuki delivering some stuff kicks and then Shun gets the win for his team as he hits the Ashura on U-T.
Recommended: Decent match with some nice spots. So up to you.
Tag Team Match
MaxiMuM (Big R Shimizu & Jason Lee) vs. Tribe Vanguard (Kagetora & Yosuke ♡ Santa Maria)
Review: Tribe Vanguard is up again, as they take on two members of MaxiMuM and all four of these men were in the King of Gate tournament.
Jason and Kagetora had a nice fast pace back and forth sequence with Jason getting the step ahead of him with his signature Arm Drag which lead to Yosuke coming in to feel up Jason's chest from behind when he wasn't looking and went to kiss him, but Jason avoided it to tag Big R in so he could scare Yosuke off. There would be a few times where Yosuke would try to knock Big R down the dropkicks and shoulder blocks, but those wouldn't work for a while til he went to kick his leg out to flip Big R over, now he looks to try and pick Big R up for a Scoop Slam only for Big R to fall on him. I liked both team ups here since they both had a nice combination of moves that just meshed off of their styles together to make some interesting moves happen in here. Kagetora got the hot tag as he starts coming in bursting with energy mostly on Big R and just does his best to get that needed momentum. Yosuke would go to the top rope and fall down to try and kiss Jason, but Jason pushed him up to make him fall down into a Cutter, then he would have Big R do his signature splash only for him to miss. Kagetora would take advantage of this and hits his Gurumakakami on Big R to get the win for Tribe Vanguard. With a clean win over one half of the Open the Twin Gate Champions, this could mean that Kagetora and Yoksuke could have a future title match coming up if they keep this up.
Recommended: Solid match, worth a view.
Six Man Tag Team Match
Natural Vibes (Kzy, Susumu Yokosuka & Punch Tominaga) vs. Don Fuji, Ryo Saito & K-ness
Review: We get Natural Vibes up next in another six man tag match as they take on Don, Saito, and K-ness and now we get Natural Vibes doing their entrance dance and still won't get tired of it because it just matches so well with the music that it's hard to not enjoy it.
Saito would get checked on by the referee and then it led to Don Fuji slapping him for some reason unless it was to help him focus, but it was funny and Kzy would have Punch and Susumu playfully do it to him as well and got the crowd laughing. The match is more of a comedy match it appears with Saito and Kzy starting it off with some rumor while trying to knock each other down with a shoulder tackle til eventually Kzy had the advantage. There was one spot in the match where Susumu would pin Saito and a water bottle gets thrown into the ring by Ruji and it accidentally hit Saito's leg and he just makes this weird face at him while Don looks down in disappointment, it's something that you need to see. The comedy would slow down for now as Natural Vibes would start doing some tag team maneuvers on Saito to keep working on him until he made the hot tag to Don Fuji, and he starts off strong til he'accidentally' hits Saito again and feel like it's on purpose for comedy purposes. Kzy would slingshot Punch into Saito for a Spear and that looked awesome. Susumu would knocked Don Fuji down and left Saito in the ring to hit a surprise Dragon Suplex to pick up the win for his team in an upset.
Recommended: I thought it was pretty entertaining and definitely give it a watch.
Six Man Tag Team Match
ANTIAS (Eita, Shingo Takagi & Yasushi Kanda) vs. Gamma, Mondai Ryu & Kaito Ishida
Review: ANTIAS has been pretty underwhelming aside from Shingo Takagi. Yasushi and Eita have had terrible performances and have been pulling a lot more Suzuki-Gun, where there would be too much interference in ties that it's not even needed at all and it's annoying when it's over done, it's a shame too since Eita is also a really good worker and just his tournament matches have been so bad.
The tag match started with a brawl to the outside and felt like I've seen one earlier in the show, so doing it again really doesn't do it for me since once is enough. The match was fairly decent since it had nice teamwork with the members of each one, few good spots, but still not a whole lot to really catch my attention. I thought for sure ANTIAS would get the obvious win here, but I'm glad I was wrong with Gamma would hit Eita with a kendo stick for Kaito to get an opening, hitting him with a Roundhouse Kick to get the win.
Recommended: This one was kinda skippable.
King Of Gate 2018 Semi Final Match
Masato Yoshino vs. Takashi Yoshida
Review: We are ready for the semi finals to begin as we start off with the winner of D Block, Masato Yoshino taking on the winner of B Block, Takashi Yoshida. I am fine with Masato making it this far, but I'm a bit disappointed that Takashi made it this far since his performance was pretty underwhelming in the entire block and felt like Jason Lee deserved to move up since he was the highlight of the weak block.
Takashi doing the smart thing at the beginning with using his strength to try and overpower Masato while Masato would try to outsmart him by working on his arm to wear him down, but doesn't last long since there's another outside spot with Takashi using chairs on Masato and threw him onto a pile of chairs placed on the ring apron by Shingo. Takashi would then choke Masato with part of his wrist band to weaken him a little to hit a rather nice Blackhole Slam, but only for a two count. Masato would finally get the upper hand as he went back to working his arms with a few La Misticas and would do his variation of a choke while holding his arms and his legs around his neck, but Takashi picked him up for a Powerbomb.
Takashi would then spit green mist into Masato's eyes to give him enough time to hit a Fire Thunder, but Masato would kick out once more! The last couple of minutes of the match start to get intense as Masato would go for a Tilt-a-Whirl which lead into rolling him up for the Speed Star and Masato gets the upset! Masato winning was the right call and definitely earned the right to get this far in the tournament as he now goes to the finals on June 9th against the winner of the main event.
Recommended: Much better than expected near the end, worth a view.
King Of Gate 2018 Semi Final Match
Naruki Doi vs. YAMATO
Review: Now that we have Masato Yoshino going to the final round, it is now time to see who will be joining him. On A Block, we have YAMATO who defeated Ben-K to make it this far and on C Block, we have Naruki Doi who was actually undefeated in his respected block and definitely enough momentum to carry over to his next match, but will it be enough?
One thing I wanna say about the match aside from it being the best match of the entire tournament so far is that I loved how nicely balanced it is. I'm not talking about just the story in the match, but how well paced it was with when to give that extra bit of excitement, when to slow it down, and when to kick it into high gear near the end of it, plus both YAMATO and Naruki getting both equal amount of offense in the match where they both have reversals for different moves and one gets the upper hand, but in a moment later, the other one would get the advantage this time.
YAMATO is arguably Dragon Gate's best worker aside from a few people like Mochizuki, Shingo, Ben, etc, but he has that nice overall balance of a wrestler and it's no secret why he was so successful in the company for so long. Naruki is someone I consider very underrated in the promotion since this was the best singles match I've seen him in for a while now and just shows you how good he is when you see him in one on one action outside of just tag matches. A lot of the stuff they did here just flowed beautifully with Naruki hitting a lot of desperation moves near the end of the bout since he kept getting so close to getting that victory that he could almost taste it.
Naruki started off his desperation with first hitting an Avalanche Leg Trap Fisherman's Buster off of the second rope to only get a two count as he now tries to do his combination with both moves the Noshigami and his Bakatare Sliding Kick to try and put YAMATO away, but it still wasn't good enough for him to get the win. With Naruki starting to get even more desperate, he would lose focus with YAMATO finally hitting the Gallaria for another near fall as both of these men won't quit. YAMATO would then call for the Ragnarok which he hits in the middle of the ring and would then punch his ticket to the finals with a victory or the valiant effort of Naruki Doi.
Both of these men deserve a round of applause for the performance that they both gave us, but the right man won even though I wouldn't be mad if either of them won the match. YAMATO has now punched his ticket to go to the finals on June 9th as he now fights MaxiMuM member, Masato Yoshino on June 9th. Both of these men have earned this spot in the finals, may the better man win, and I'm very excited to see how this match plays out.
Recommended: The best match of the tournament so far, definitely watch it.
Overall: Aside from two mediocre matches, the rest of the card was solid and I wish we had more quality matches from the rest of the tournament like we did with our final two matches on this show, the main event is definitely something people should find the time to sit down and watch from the beginning to the end. This made me excited from the finals despite the majority of the tournament being lackluster for various reasons.
Favorite Match: Naruki Doi vs. YAMATO
Least Favorite Match: ANTIAS (Eita, Shingo Takagi & Yasushi Kanda) vs. Gamma, Mondai Ryu & Kaito Ishida
Score: 7/10
See you all for the final round!