Stardom Sapporo Queen's Fes Results & Review (6/3/2018)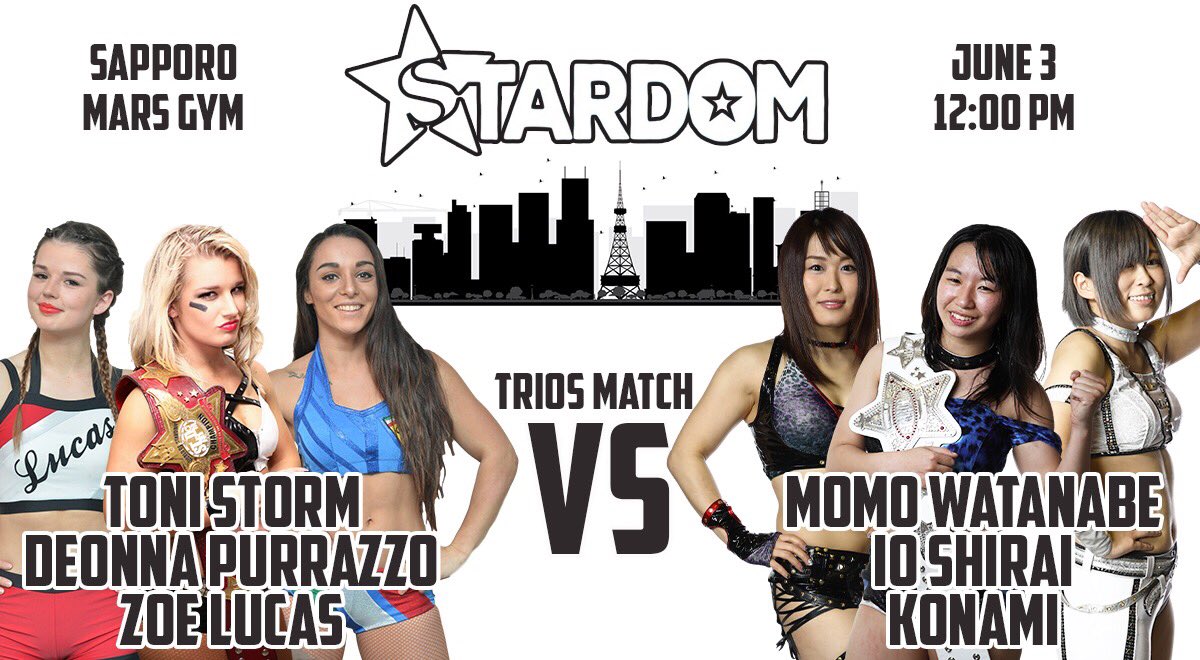 We're back with Stardom as Oedo Tai are set to defend their Goddesses of Stardom Championships and we also get the Future of Stardom Championship match as well in a highly anticipated match up. We have a rather stacked card for this show so it's sure to be a good one,.
So let us…dive right in.
Three Way Match
Leo Onozaki vs. Shiki Shibusawa vs. Tam Nakano
Review: Our show starts off with a three-way match between two STARS members, Tam Nakano and Shiki Shibusawa and JAN's Leo Onozaki. I wonder how many cutters Leo will do throughout the match, gonna take all bets for this one.
The match is incredibly short and uneventful and it's a shame because you actually can tell a great story in under ten minutes, but this was the exact opposite of that, unfortunately. Tam and Shiki would do a double Dropkick to Leo once she was on the mat, but it was just very poorly timed as was a lot of moves in the match. Leo would hit two cutters this time with one of them being a double cutter to the both of them and it's kinda progress except that she doesn't do much outside of that except for punches and a poorly executed Scoop Slam. In less than five minutes, Tam would pin Leo after hitting a Roundhouse Kick to her head to win the match.
Recommended: Skippable
Leo's Cutter Count: 2 (Yes, I'm actually adding this from now on.)
Future Of Stardom Title Match
Starlight Kid (c) vs. AZM
Review: We get out first title match early with Starlight Kid defending her championship against AZM in the highly anticipated rematch. The last time they fought was on April 1st where Starlight would get the win in about five minutes and since then AZM has been trying to get back into the title picture because she feels like that title belongs to her and not Starlight. We would always see them facing off in tag matches throughout the tours and both of them have been back and forth with the victories and have gotten better each time they paired off in the ring, so this one should have a better payoff.
Starlight would offer her hand to AZM for a sign of respect, but AZM would kick her hand away since she doesn't need her respect since she just wants her title. The match started off with the two of them slapping each other in the face til Starlight ducked one of them to slap her twice and they both would grab onto their heads until the referee told them to break it up. They would then do some chain wrestling with them reversing each other to show that they're evenly matched in the ring until AZM went to the outside to catch her breath as Starlight went to go look for her, but AZM would give her a sneak attack by Dropkicking her from behind to make her go out the ring. AZM would start to attack her outside and would try to throw her towards the turnbuckle post, but Starlight would reverse it to try and throw her into it, but they keep reeling each other in to reverse it to throw the other in their, but no like as Starlight breaks it up to punch her instead and then AZM Scoop Slams her down. Eventually, they would get back in the ring as Starlight Double Stomps her taped up back and does the Camel Clutch to work out on her back some more till she broke the hold and AZM would get revenge and beat her down and Dropkick her back by the ropes.
Starlight would attempt the 619 as she misses but would catch her with the second attempt through the bottom room despite one foot missing it and does a Standing Moonsault for good measure. Starlight would keep on working her back with submissions and strikes to make sure she would get her down for a three count to make her get weaker whenever she did more of her impact moves. The two would do a Dropkick to each other back and forth until Starlight was caught to catch her with a second one in time before AZM could do it back to her and she would catch her with her Rounding Frog Splash and it looks like this could be it, but AZM kicks out at two just in time. Getting frustrated, Starlight would do her variation of the Walls of Jericho until she could slip out of it and Starlight would attempt another Moonsault for her to miss as AZM gets enough energy to hit her Jumping Crossbody and once she hits it, the bell would ring meaning the fifteen minute time limit expired and the match is now a draw, and Starlight is still the Future of Stardom Champion. Will these two clash again? Most definitely.
The Future is now! We're in Sapporo and Starlight Kid defends the Future of Stardom title vs AZM, on https://t.co/q8dHnFmJUw! pic.twitter.com/7guwL3BACy

— We Are Stardom (@we_are_stardom) June 13, 2018
Recommended: Very good match, worth a viewing.
Tag Team Match
Jungle Kyona & Natsuko Tora vs. Hazuki & Natsu Sumire
Review: Oh hey, Nao Yamaguchi is back from her concussion and I see she is still Oedo Tai's adorable puppy. Hazuki and Sumire are talking about how they're gonna beat the fatties (Natsuko and Jungle) while they have so much fruit to spare as Nao keeps trying to take one, but she eventually gets fed by the two. Sumire and Hazuki don't care much about the match as they were seen sitting by their corner of the ring eating their pineapple while ignoring the referee until he decides to tell them no so the match could start.
We have Sumire and Kyona starting us off finally. Kyona would Shoulder Block her a couple of times until Sumire goes to the corner to eat her fruit again, but as Jungle rushes towards her, Sumire would duck and feed her a couple to distract her (sharing is caring) to attempt a roll-up, but Kyona kicks out. Nao would try to help them out by dragging Natsuko and Kyona outside of the ring when they got knocked down, but they would double team her and I believe this is animal abuse and they need to stop it. The match was entertaining since they had that good comedy bit, in the beginning, to get the people entertained and then the second half of the match delivered with some intensity from Kyona. Hazuki and Sumire would try to Double Suplex her and it would backfire causing Kyona to Suplex the both of them. Natsuko would then Spear Hazuki to try and get the win, but Hazuki weakly kicks out of it while Sumire and Jungle are outside of the ring fighting. Hazuki would hit the Falcon Arrow to knock her down and then hits the Atomic Bombs Away to pick up the win for Oedo Tai.
Recommended: For the return of Nao Yamaguchi and an entertaining match, yes.
Six Man Tag Team Match
Deonna Purrazzo, Toni Storm & Zoe Lucas vs. Io Shirai, Konami & Momo Watanabe
Review: Our next match is a six-man tag match with the return of our World of Stardom Champion, Toni Storm as she leads her team with Deonna Purrazzo and Zoe Lucas to take on Queen's Quest members, Io Shirai, Konami, and Wonder of Stardom Champion, Mono Watanabe. In the pre-match interview, Zoe would be excited saying Toni and Deonna would come back for her and they look at her confused as to why she's so hyper, but Zoe would do it again which makes the other two leave the area to do their match, why are Toni's pre-match interviews always so awkward? This is also the first match since she made her official announcement of departing from the company and she wants to show she'll still end up on top for the remainder of her time in the company.
We had Momo and Deonna starting it off as they went back and forth till they made the tag with Konami and Zoe this time and the same thing will happen until Toni and Io were in the ring together and it looked like Io was getting the advantage for a while until Toni sucker punched Io after a handshake to get the heat over her. Eventually Momo would be in for the hot tag as she was mostly working on Zoe Lucas for the duration of the tag and would go for the Tequila Sunrise which Zoe broke out of and would send Momo to the corner for her, Deonna, and Toni to all get a move in on her to try and knock her down, then they would try to do a Triple Suplex to their opponents which Queen's Quest tries to reverse out of, but Toni and the others would actually land the Suplex onto all three of them and not enough to put them away. Queen's Quest would get back some momentum with applying their submission holds onto all three of them to weaken them up with Toni and Deonna rolling to the outside and Konami hits a Roundhouse Kick on Zoe to knock her out for a moment. Io then would hit her Diving Moonsault Press onto Zoe for another good measure before giving Momo time by attacking Toni which Momo uses this opening to hit the Tequila Sunrise on Zoe to get the win for Queen's Quest.
The Io Shirai countdown continues, as Queen's Quest face Toni Storm, Deonna Purrazzo and Zoe Lucas in Sapporo! Only on https://t.co/q8dHnF58vW! pic.twitter.com/S2Nom2Bncm

— We Are Stardom (@we_are_stardom) June 15, 2018
Recommended: Solid six-man tag match, worth a viewing.
Goddesses Of Stardom Title Match
Hana Kimura & Kagetsu (c) vs. Mayu Iwatani & Saki Kashima
Review: A couple of weeks ago, STARS and Oedo Tai fought each other in a Two out of Three Falls Match and since Mayu and Saki were to get the pins and win for their team, we have this match here for the Goddesses of Stardom Championship against Kagetsu and Hana Kimura. Usually Oedo Tai would do or say something silly in their pre-match interviews, but this time Kagetsu and Hana didn't say a single word as they nodded to each other, shook hand, and hugged before going over to the ring and there actually is a reason for that which I will get to at the end of the match here.
Saki and Hana started it off with Hana pandering to the crowd and strutting her stuff while not taking this match fully seriously yet, the two locked up and Hana would have Saki by the ropes as it looked like she was gonna go for a punch but stopped to tease her and backed away. Mayu and Saki would knock Hana and Kagetsu down, they would run to the ropes to attempt a double team move, but the numbers game takes effect when Sumire and Nao pulled the two out as Oedo Tai attack the two outside of the ring, except for Kagetsu who is just hanging out in the ring while they do the work. They would eventually get back in the ring as Hana tags in Kagetsu now and spits water in Saki's face before attacking her more. Saki would desperately try and strike Kagetsu, but she's too weak to do enough damage to her as Kagetsu pushes her down and tags Hana back to try and finish it early, but Saki had enough strength to push her away and tag Mayu in for the hot tag as she goes to roll Hana for a two count and while Kagetsu tries to help Hana, Mayu would grab their arms for an arm drag after bouncing off the ropes to make Kagetau go back outside. The hot tag was short lived as Hana delivered a stiff Dropkick to Mayu and caused her to tag back in Saki despite not being fully healed as Hana then tags Kagetsu, but Saki would find the strength to apply the Black Widow on Kagetsu for a short period till it broke off. Saki tagged Mayu back in and would try to put Kagetsu Away, but she gets hit with the Michinoku Driver and she's not done as Kagetsu goes to the top rope with Hana handing Mayu to her for a Powerbomb and it gets reversed into a Frankensteiner. Hana now Dropkicks Mayu down and hits another kick to her head when she was hanging on the bottom ropes and Mayu made it look deadly with her selling here and she does it so well while not being over the top with it. Hana then tries her own variation of Black Widow onto Mayu to try and make her tap out which she almost does until her foot caught the bottom rope to break the hold. Mayu and Saki would attempt to Double Clothesline Hana, but she ducks and instead of running towards them, she would attack the referee so Oedo Tai could assault the two more, but they would fight them off and when Mayu gets thrown into the turnbuckle, she jumps to the top do to a splash onto all of them. Mayu would go for her Dragon Suplex as Hana fights it off and Kagetsu would attempt to spit the green mist into her eyes, but she hits Hana instead which gives Saki time to hit Kagetsu with the Killswitch and Mayu hits her Dragon Suplex Hold, but Hana kicked out of it! Mayu and Saki both kick her down and Saki would make sure Kagetsu doesn't go back into the ring while Mayu hits another Dragon Suplex Hold for the win and we have new champions!
After the match, Mayu and Saki would share an emotional moment in the ring as they both thank the fans for their support and said being back in Sapporo was a big deal for them since it's been a while since the last time they came here. Mayu said it's been a while since she closed a show and would say the future is shining bright for STARS. Saki Kashima has definitely earned this run since she's been so impressive ever since she made her return the company over two months ago and it's like she never lost a step, I hope it leads to more opportunities for her if she sticks around. As for Hana Kimura, this would be her last show with the company until September as she is going to Mexico for her excursion to better herself as a performer and while we'll all miss her, this could be good for her since she'll come back better than ever while Kagetsu can now focus on the World of Stardom Championship as she fights Toni Storm for the title on the June 9th show, don't wanna miss it.
The tag team title change is now on Stardom World! Oedo Tai vs Mayu Iwatani & Saki Kashima from Sapporo! Only on https://t.co/q8dHnF58vW! pic.twitter.com/hPUEqynDmz

— We Are Stardom (@we_are_stardom) June 15, 2018
Recommended: Great match, watch it.
Overall: Despite the opening bout being the only bad match, this was a great show as the other four matches delivered with quality wrestling and entertainment, now hopefully they can keep this up once Io is gone and I have a good feeling they will.
Favorite Match: Kagetsu & Hana Kimura vs. Mayu Iwatani & Saki Kashima
Least Favorite Match: Leo Onozaki vs. Shiki Shibusawa vs. Tam Nakano
Score: 8/10
(NOAH) WEEKLY NEWSLETTER VOL.43 ~ 14TH JULY 2019
Global Junior Tag League has started! Hisame let's us know what's going on in Pro Wrestling NOAH!

Global Junior Tag League has started! Hisame let's us know what's going on in Pro Wrestling NOAH!
CURRENT TOUR RECAP
After a long break in which it was thought that due to the silence coming from the roster, they had all gone on a short summer break, NOAH returned on the 12th July to hold a show in Tokorozawa.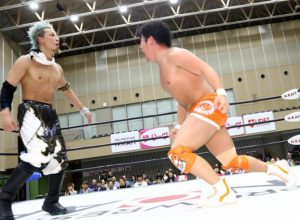 In Global Junior Tag League, YO-HEY defeated Junta Miyawaki (although he did praise him afterwards in a rambling promo), and Chris Ridgeway defeated fellow STINGER, Kotaro Suzuki by making him tap.
Minoru Tanaka vs Daisuke Harada for Global Junior League, was the main event of the evening, and what a match it was. They pulled everything out of every drawer they had, Tanaka worked on Harada's knee, while Harada worked on the neck. The match went to a thirty minute draw, and both spoke afterwards about it. Minoru Tanaka says that he won today, and he will win the league. He also mentioned that he wants to see more junior matches main event shows.
Daisuke Harada said that he would not let "that stranger" win, and he would challenge for the belt again, whether the fans liked it or not.
Takashi Sugiura and Hajime Ohara took on Masao Inoue and Kinya Okada, and there was the usual amusing Inoue\Sugiura interplay. Earlier in the evening, joining in with Marufuji not remembering Kenoh's name, and vice versa, Takashi Sugiura joined in, but changed it so that he couldn't remember Masao Inoue's name. Inoue is a sufferer of gout, and naturally Sugiura targeted his foot by keeping him in the ankle lock after Kinya Okada had tapped, and then when his arms were lifted in victory, he continued stamping on Inoue's foot.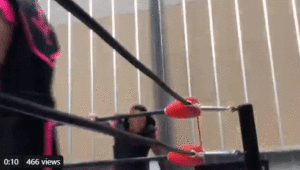 Speaking of Marufuji and Kenoh, Kenoh (when the team of Marufuji, Yoshinari Ogawa, Hiroshi Yamato and Keisuke Ishii took on Kongoh), timed it just right when Marufuji bounced into the ring, landed and turned so that he was there waiting for him, and they both got in each others face. Inamura was chopped to ribbons.
As Go Shiozaki was still absent (he will return to the ring on the 15th), Katsuhiko Nakajima came to the ring carrying both of the tag belts. As he said at the match signing which took place on the 13th June, he was preparing more for the GHC Heavyweight than the singles, and so he started the match off against Kaito Kiyomiya. However, it wasn't Nakajima who took the win, but Kaito Kiyomiya with the Tiger Suplex on Hi69.
EVENT RECAPS
Tokorozawa City Gymnasium, Sub Arena (12th July 2019)
Post match promos – 12th July 2019

Current Global Junior League Scores (as of July 14th 2019)
BLOCK A
Minoru Tanaka 5
Daisuke Harada 3
Yoshinari Ogawa 2
Tadasuke 2
YO-HEY 2
Junta Miyawaki 0
BLOCK B
HAYATA 4
Chris Ridgeway 4
Hajime Ohara 2
Hitoshi Kumano 2
Kotaro Suzuki 0
Hi69 0
NEWS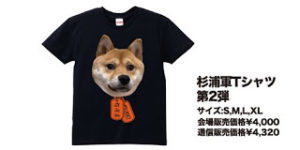 In keeping in the theme of using pets on merchandise (a silhouette of one of Hitoshi Kumano's little French Bulldog appeared on the back of one of his t-shirts, and Akitoshi Saito had a cat t-shirt) continued when NOAH put the head of Takashi Sugiura's beloved Shiba Inu on a t-shirt, complete with dog tags which read "company dog". Naturally, this was a shot at Kongoh (in specific Kenoh, as he is the only one who speaks), who are currently feuding with The Sugiura Army, and the use of the phrase "Company dog" (i.e. someone who does his masters bidding unquestionably, comes goes, fetches, wags tail etc).
The t-shirt will be released on the 15th July at Korakuen Hall, with mail order to follow (a white version is also available).
NAOMICHI MARUFUJI'S COMIC STRIP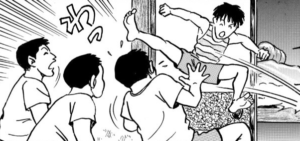 Naomichi Marufuji has started illustrating a comic for "Weekly Pro". The comic is a condensed version of his autobiography, "Heir To The Ark", and starts off with his childhood growing up in Saitama with three older brothers, and wrestling with them which inspired his love of the sport. The comic starts off with two of his brothers arguing about who they are going to be, then they tell little Marufuji that they feel sorry for him, as being the youngest and the smallest, he is going to get it from them (which he did in reality), and Marufuji fighting back by saying that Tiger Mask (Mitsuharu Misawa) is strong.
You can find an ongoing translation on my blog.
TAKAYAMANIA

The main event for TAKAYAMANIA EMPIRE 2 will be Hideki Suzuki and Minoru Suzuki vs Naomichi Marufuji and Masato Tanaka. Event will be held on Monday, August 26 2019 at Korakuen Hall.
Broadcast most likely will be through ABEMA (a Japanese PPV subscription channel, only available to those in Japan).
CURRENT CHAMPIONS
TOUR TIDBITS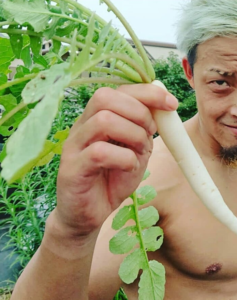 ~ HAYATA'S garden has produced Daikon. YO-HEY celebrated by putting it in his mouth.
~ NOAH held a joint fan birthday party for Kaito Kiyomiya and Junta Miyawaki. Miyawaki turned 22 in June, with Kiyomiya turning 23 this month.
~ Naomichi Marufuji says he has a new gown for Korakuen Hall on the 15th June
~ YO-HEY made a summer vacation to see his family in rural Yabu. One of his young nieces asked him if he was married to HAYATA.
BROADCASTS
NOAH's big Kawasaki Kultz event (and the GHC Heavyweight title, plus the final night of Global Junior League 2019) will air on the 2nd August on G+ at 12.30am JST
NOAH will be broadcast live on Sunday 4th August at 11.30am JST on G+
GIF OF THE WEEK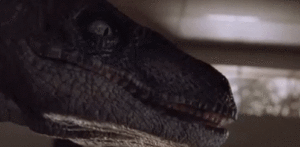 LINKS
GHC Heavyweight tag & single championship signing

Picture credit: Noah GHC, PKDK, YO-HEY
GIF credit: Noah GHC
Andrew's G1 Climax 29 Ratings & Analysis: Night 3 A Block
A Block second matches! Do Okada and KENTA keep momentum? Do Tanahashi or Ibushi get on the score board?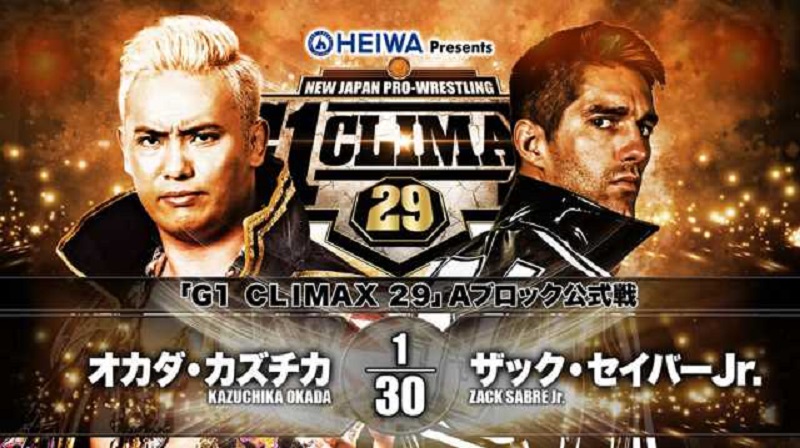 A Block second matches! Do Okada and KENTA keep momentum? Do Tanahashi or Ibushi get on the score board?
So we've got the irresistible force/immovable object match with Fale and Archer! Who is the dominant big man?
Plus there's of course the bigger names that have yet to get points, like, Ospreay, Tanahashi and Ibushi. It's early on, but still a few surprising early wrinkles.
Ratings:
Tomoaki Honma, Yuya Uemura & Hirooki Goto vs Yota Tsuji, Toa Henare & Juice Robinson: Toa Henare wins via Uranage @6:30 – **
Jeff Cobb & Ren Narita vs Jon Moxley & Shota Umino: Cobb wins via Tour of the Islands @4:55 – ** 1/4
Yujiro Takahashi, Chase Owens & Jay White vs YOSHI-HASHI, Tomohiro Ishii & Toru Yano: Yano wins via Brenda Roll Up @9:20 – ** 1/2
Yoshinobu Kanemaru, Minoru Suzuki & Taichi vs Tetsuya Naito, Shingo Takagi & BUSHI: Suzuki wins via Gotch Style Piledriver @8:35 – ***
Block A: Bad Luck Fale vs Lance Archer: Archer wins via EBD Claw Hold @10:10 – ***
Block A: SANADA vs Will Ospreay: Ospreay wins via Storm Breaker @17:10 – ****
Block A: Kazuchika Okada vs Zack Sabre Jr: Okada wins via Rainmaker @12:05 – **** 1/4
Block A: EVIL vs Kota Ibushi: EVIL wins via Everything is Evil @19:10 – *** 1/2
Block A: KENTA vs Hiroshi Tanahashi: KENTA wins via Go 2 Sleep @18:35 – *** 3/4
Analysis:
Basic undercard tag with not a ton going on with the competitors about to face each other in the next block night. The Young Lions started off hot trying to cut their teeth on one another, and then Uemura eats the pin as to protect everyone who's already established on the main roster.
This was quick, but Shota and Moxley have a little bit of tag team chemistry as the pulled off a Hart Attack, and generally looked to work well together. Moxley was relegated to taking out Narita and then getting tied up once Cobb took control of the match. Another very simple match, but not bad.
So White and Ishii had very good interactions, YOSHI took most of the beatings and Chase ate the pinfall. But generally speaking this was fun. It was also nice to see Yujiro since he's been M.I.A. due to injuries off and on the last few years. We need our Tokyo Pimp.
Naito and Taichi continued their feud through the better portion of this match. Taichi had Naito reeling at numerous moments but Naito eventually got enough space to start the LIJ tags. So the whole story of Suzuki-Gun versus LIJ, Naito versus Taichi, just a lot of stories continued to grow here. Nice story telling.
Lots of power moves and both men trying to position themselves as the Alpha. Fale had an early advantage especially thanks to Jado and Marty Asami not feeling like tossing out DQs like candy. Both men had a few close calls with signatures, but after countering the Bad Luck Fall Archer hits a Pounce and builds his momentum. A chokeslam and Everybody Dies Claw later, Archer gets his second win.
Well now, this went back and forth quite a bit. SANADA proved his athleticism, Ospreay proved that he can hang with heavyweights and it was close the whole time. The only really awful spot was Ospreay slipping out of the Paradise Lock. There's a gimmick there, and we don't need the allure of it to be cheapened for a dumb flip spot. Aside from that worthless moment, the match was really wrestled well and SANADA had a few attempts at victory. SANADA's constant desire to use the Moonsault still proves to be his downfall. He really needs a new move.
Okada has the amazing ability to wrestler his opponent's style of match. Sabre stretched him and tried to break him, but Okada fended off every attempt. We saw numerous counters, submissions and great wrestling. Okada's Rolling Rainmaker to set up the traditional Rainmaker is always a fun transition. Awesome match.
Well I guess this was the palate cleanser before the main event. This match was slow, plodding and EVIL did the worst Scorpion Deathlock I've ever seen. And I mean worse that 50+ year old Sting when he'd basically fall over. Like it was a Scorpion Hot Garbage Lock. But once Ibushi hit his second life bar, the match picked up a little, but it wasn't close to a great match. It was fine, but a major step down from the previous two matches.
This main event told a solid story of KENTA proving himself against the Ace and stepping into the place of Katsuyori Shibata. The match was deliberately paced but there were some noticeable hiccups. A match that basically took about a decade to happen because of how NOAH and NJPW were run, lived up to a first time meeting. If we saw this match before KENTA left for the WWE in 2014, I feel it would've been much harder hitting and more of a classic puroresu match. This wasn't bad by any regard, but it was carried by the story and hampered a little by the fact that both men are older and adjusting to injuries.
Overall Score: 7.5/10
The block matches were on average a little better than the first Block A night, but the energy felt down a little. Undercard served it's purpose well and all the matches that were expected to be bangers, delivered fairly well on the expectation. KENTA with the hot start is a little concerning for me though. Historically, freelancers have good showings but don't win the tournament.
Judging from early positioning it feels like either Okada or Goto are being positioned for the win, but with all the new faces…this is definitely harder to call. Adds to the fun, doesn't it?
Block A Standings:
Kazuchika Okada: 2-0 (4 Points)
Lance Archer: 2-0 (4 Points)
KENTA: 2-0 (4 Points)
SANADA: 1-1 (2 Points)
EVIL: 1-1 (2 Points)
Will Ospreay: 1-1 (2 Points)
Bad Luck Fale: 1-1 (2 Points)
Zack Sabre Jr: 0-2 (2 Points)
Hiroshi Tanahashi: 0-2 (0 Points)
Kota Ibushi: 0-2 (0 Points)