Stardom Shining Stars Day Show Results & Review (5/27/2018)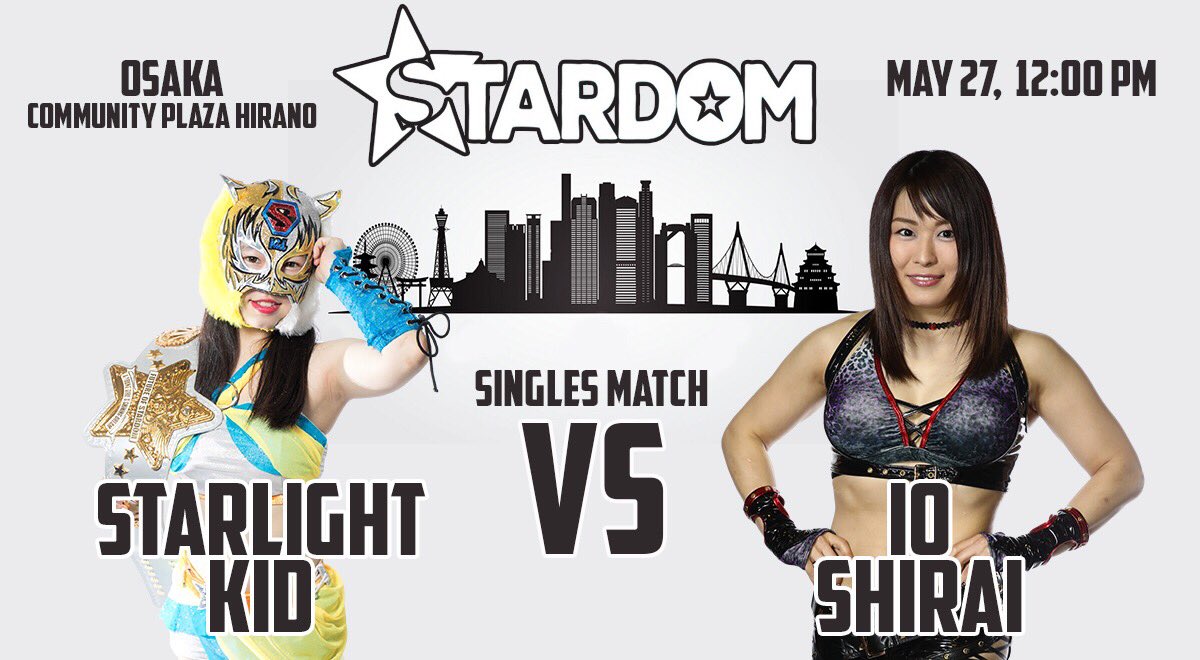 Welcome back to Stardom! The last time we covered them, Momo Watanabe won the Wonder of Stardom Championship and Io Shirai is set to leave the company on June 17th to finally go to the WWE.
For this show, they actually did two shows on the same day, but one in the morning and one at night. This show is focused on the Artists of Stardom Championships which got vacated due to Hazuki going over to Oedo Tai and Io leaving the company, so the morning show is to determine our new contenders and the night show will focus on getting new champions.
I decided to have it as two separate articles instead of one and will be covering the morning show first, so let's…dive right in.
Three Way Match
Candy Floss vs. Leo Onozaki vs. Zoe Lucas
Review: It looks like we get Zoe Lucas back here and I hope she impresses us this time due to her match against Martina being not so good, but she'll be fighting Candy Floss and Leo Onozaki this time, so should be good.
So Candy would attempt to hug Leo before the match starts and she doesn't want any of that, but she goes to hug Zoe instead and they hug it out until Leo rolled Candy up for a two count. So after seeing Zoe and there is one problem I am seeing with her and it's that her flow in the matches comes out either incredibly sloppy or weak with her executions and it just ruins the momentum of her matches for me since it seems like her opponents would slow down for it and doesn't come out good. Zoe, I get that you're getting better with your Cutters, but could you maybe do something else? She's been doing more of those in her matches than anything else and it's hard to see her progress as a wrestler. Anyway, the match is honestly sloppy due to the bad chemistry being seen here and it ended with Zoe hitting what looked like a botch Moonsault or Splash since it was a split legged thing and hits Leo with her Split Leg Drop shades of Matt Sydal for the win.
Recommended: Skippable.
Singles Match
Martina vs. Mayu Iwatani
Review: We got Mayu in singles action this time instead of a tag team as she fights a member of Oedo Tai, Martina and I'm not too sure how this one will go since I love Mayu and maybe she can give Martina a good match here.
My eyes must've deceived me for some unknown reason because this match was actually good. Martina has really good forearm strikes since she knows how to make that impactful sounds while knock giving them a concussion while Mayu would use her quick agility to try and roll Martina up a couple of times, but would only get a two count out of it. It looked like they were trying to protect Mayu's Dragon Suplex Hold since she would attempt it a couple of times but it wouldn't work and even in one of the times she attempted it, Martina would grab her beer to take a quick sip before reversing it to try and spit the beer in Mayu's face, but she would duck into a codebreaker as a distraction for only a two count. Mayu would eventually roll her up one more time to get the three count.
It's Session Moth Martina vs Mayu Iwatani, and it's on https://t.co/ldX5O03Y6e now! pic.twitter.com/KjDmMvUIsK

— We Are Stardom (@we_are_stardom) June 5, 2018
Recommended: Not a great match, but one of Martina's better ones. So watch it for Mayu or skip it.
Singles Match
Io Shirai vs. Starlight Kid
Review: I'm not too sure about this, but I do believe this is the first time that they're fighting each other in a one on one match and I am okay with that, we got Stardom's best going up against Stardom's rising star and current Future of Stardom Champion, so definitely good to see if the future is going to be bright for the company or not.
They started off with that lucha style sequence and Starlight actually got the one up on Io on this one when she ended it with a Headscissor and would then start to get the advantage for a moment until Io found an opening to take control of the match. Io would go for the 619 on Starlight and would miss giving Starlight a chance to go for a 619, but Io ducks to the bottom rope which Starlight caught her with another 619 and connects this time, this girl is getting clever and holding her on against her. Starlight would attempt a Frankensteiner only for Io to catch her into a Texas Cloverleaf to try and make Starlight tap out, but it wouldn't work as she escaped. Io started to get more aggressive with Starlight as she hits her double knees to the turnbuckle twice to try and end it there to get another two count. Starlight starts to make a comeback as she hits another 619 and then does an amazing Code Red to try and get the upset, but she fails to get the pin. Io had enough fooling around and hits her Diving Moonsault Press not once but twice to double tap it to get the victory.
Io would shake Starlight's hand after the match to show her respect and a small nod showing that the future would be in good hands with her gone. This match was great and I loved the chemistry between the two here and it showed from all those tag matches they had and paid off in this singles match. If this is gonna be their only match together then this was the best way to have it and the future is gonna look bright in the upcoming years with Starlight Kid.
The Future of Stardom champion takes on the Best in the World! It's Starlight Kid vs Io Shirai, and it's only on https://t.co/ldX5O0lyXM now! pic.twitter.com/rmdzlaccqv

— We Are Stardom (@we_are_stardom) June 6, 2018
Recommended: Great match, please watch it.
Artist Of Stardom Title Qualifying Match
Jungle Kyona, Kaori Yoneyama & Natsuko Tora vs. Saki Kashima, Shiki Shibusawa & Tam Nakano
Review: This is the first match of the two for the Artist of Stardom qualifying match to see who gets to be apart of the title match later tonight and even though we technically have three units, Jungle Assault Nation still wants to feel like they're not apart of STARS to do their own thing that's what it seems to be what they're doing as they take on three members of STARS to start off this qualifying match.
It looked like there was some tension between Tam and Natsuko by the way they stared each other down and got close to each other before the bell would ring, making Jungle and Shiki break the both of them up. The match started off a little bit slow as the triple combo STARS did to Jungle came off a little bit sloppy with how they landed on their knees on top of her, but they covered it up to get right to the next spot as both teams would try to triple Suplex each other, but only for them to break it off since none of them couldn't do it. Saki and Jungle going at it a bit made me wanna see a future one on one match between the two since I feel like it could be a really good match if given the time to do so and we need to see more of Saki in singles action anyway. Tam and Natsuko would share the ring together and you can see the intensity between the two and how stiff Tam's kicks were to Natsuko and I love her kicks more than anything aside from being super adorable at the same time. Saki would then hit a Double Stomp off the top rope while Tam follows it with a Diving Senton onto Natsuko which gave Shiki an opening to try and cover her, but Kaori breaks it up. Shiki would make more attempts to try and roll Natsuko up and even had Saki kick her back down when she tried to reverse it, but still kicking out of it. Jungle would make the save by giving both Tam and Saki a Lariat to knock them down to give Natsuko a chance to recover as she hits the Swinging Side Slam to give JAN the win.
Recommended: Solid six-man match, worth at least one view.
Artist Of Stardom Title Qualifying Match
Hana Kimura, Hazuki & Kagetsu vs. AZM, Konami & Momo Watanabe
Review: Now that we have JAN going for the titles later on tonight, we get to see who will join them next. Will it be Oedo Tai or will it be Queen's Quest to take back those titles with different members of the faction?
We get Momo and Hazuki starting us off here as they start doing some chain wrestling with Momo holding her down with a Headlock only for Hazuki to reverse it into the same, but Momo would reverse back into it as they go back and forth for a moment until Momo came up on top and tagged Konami into the match now. Konami would kick Hazuki a couple times and runs to the ropes for her to get dragged out by Hana and Oedo Tai starts the assault on Queen's Quest around the outside. They would eventually get Konami back into the ring to start beating her down for a while until she was able to make a tag to Momo, but it wouldn't do much as she also starts to get beaten down by Hana once she applied the Black Widow lock on her which wouldn't work. Hana would get Hazuki back into the ring only for Momo to start hitting her with stiff kicks and was actually enough to knock her down and for Momo to start running towards her with Dropkicks onto the corner of the turnbuckle. Konami and Kagetsu were in the ring now as Konami would start applying her submission to work on her arms to try and make her tap out any chance she would get and it wouldn't work with Kagetsu getting help from her teammates in the match and gave her an opening to deliver a kick to the head and a Michinoku Driver for a two count. The two would try to kick each other once more bt one would block the other and then vice versa until they both kicked each other down, giving Konami some time to tag AZM into the match as she would try to put her away, but it wouldn't last long as AZM gets knocked down for Kagetsu to hit her Oedo Coaster to give her team the win as we now have Oedo Tai vs. JAN for the Artist of Stardom Championships later on tonight.
Round 1 of the Artist of Stardom title tournament continues! Oedo Tai takes on Queen's Quest, whoever wins goes on to the finals in the night time show!
On https://t.co/q8dHnF58vW! pic.twitter.com/lGOXJj90yT

— We Are Stardom (@we_are_stardom) June 6, 2018
Recommended: It was an average match for what it was, but watch it once.
Overall: I thought this was a fun little show to start off for the morning to lead up to another show coming later on tonight and you gotta give the women credit for pulling a double duty here for the whole day.
Favorite Match: Io Shirai vs. Starlight Kid
Least Favorite Match: Candy Floss vs. Leo Onozaki vs. Zoe Lucas
Score: 6.5/10
When we come back, we'll find out who will be our new Artist of Stardom Champions!
(NOAH) WEEKLY NEWSLETTER VOL.23 ~ 16TH FEBRUARY 2019
In an odd twist of fate, Marufuji is placed in a familiar, yet flipped position going into his GHC title challenge next month. Hisame let's us know how the NOAH build is going!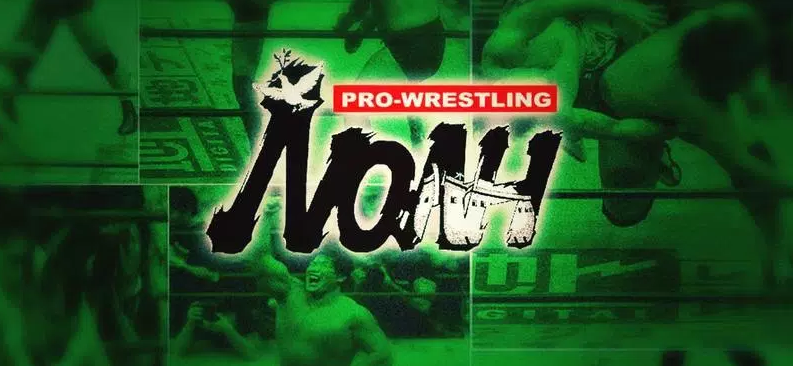 In an odd twist of fate, Marufuji is placed in a familiar, yet flipped position going into his GHC title challenge next month. Hisame let's us know how the NOAH build is going!
CURRENT TOUR RECAP
"Navigation for The Progress"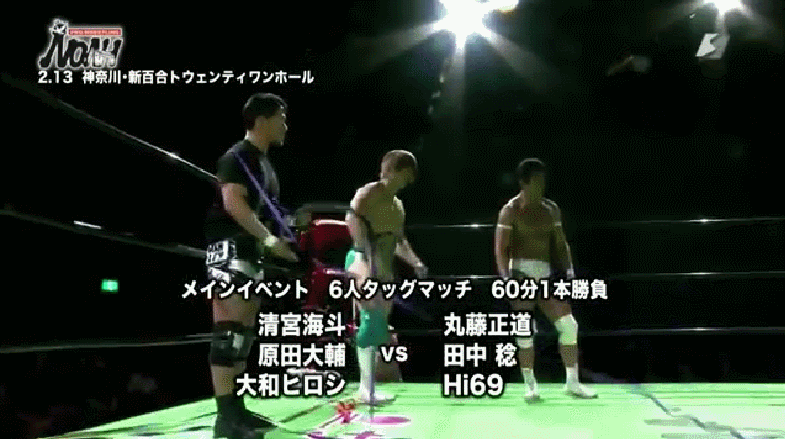 Kaito Kiyomiya and Naomichi Marufuji continued their feud over the GHC Heavyweight title. Kiyomiya managed to knock Marufuji out of the ring with a dropkick, but was left wondering as to whether Marufuji played it up deliberately. He also turned his back on him when Kiyomiya was in the ring and was announced.
Marufuji, now that he can't do aerial attacks (and finally realizing that his body is older than he thought), has turned to more vicious tactics, and decided to work on Kiyomiya's left arm. In Kiyomiya's post match promo, he told him that he was going to take him apart bit by bit, and next it would be his legs.
Kiyomiya has vowed that he will find "the Genius' weakness" before "my body breaks down". 
It has been pointed out to Marufuji that he is in the same position that Mitsuharu Misawa was when he himself was GHC Heavyweight Champion; the senior is challenging the junior.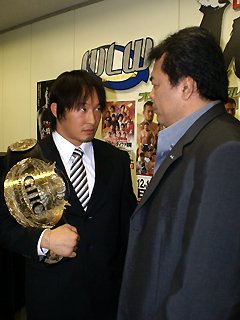 Atsushi Kotoge became injured at NOAH's show in Fukushima on the 11th February, which has put a spanner in the works of the GHC Heavyweight Tag title match with Eddie Edwards, taking on 50 Funky Powers.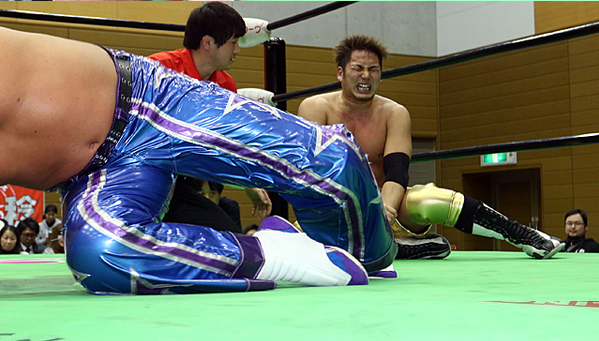 Kotoge had gone for the "Revolutionary Cloak Splash" from the top rope, but managed to damage his arm on landing. Fans noticed that he was in a lot of pain, and he was checked out in the ring. NOAH removed him from the subsequent show, and later announced that he had dislocated his elbow and suffered a further fracture to the arm.
Kotoge himself said that he had felt a shooting pain in his arm, and he couldn't move it at all.
With Kotoge's injury and subsequent card change, "The Mid Generation" (Go Shiozaki and Katsuhiko Nakajima),took on the champions. They obliterated them with Nakajima choking out Quiet Storm with a sleeper, and then laughing about it afterwards.
Although NOAH have not yet announced what will become of the title challenge, and whether Eddie Edwards will team with someone else or postpone his appearance until Kotoge is better (this may not be until the late summer, and Kotoge will most likely miss Global League 2019), but it may be likely that "The Mid Generation" will receive a title shot.
Katsuhiko Nakajima later posted ….

Three of the Dark Agents (Takashi Sugiura, Masao Inoue and Akitoshi Saito) have reunited to take down The Hooligans, however, they have not been very successful in their efforts with The Hooligans defeating them twice so far. Takashi Sugiura has already started making jokes about Masao Inoue, lumping him together with having experience akin to the rookies in the group, Kinya Okada and Yoshiki Inamura. Should Sugiura be unfortunate enough to join The Hooligans, his job will be as their lackey; KAZMA SAKAMOTO says he will have to carry Cody's bags, lick his boots, clean their toilets, do Nagai's laundry and wash Maybach Taniguchi's back.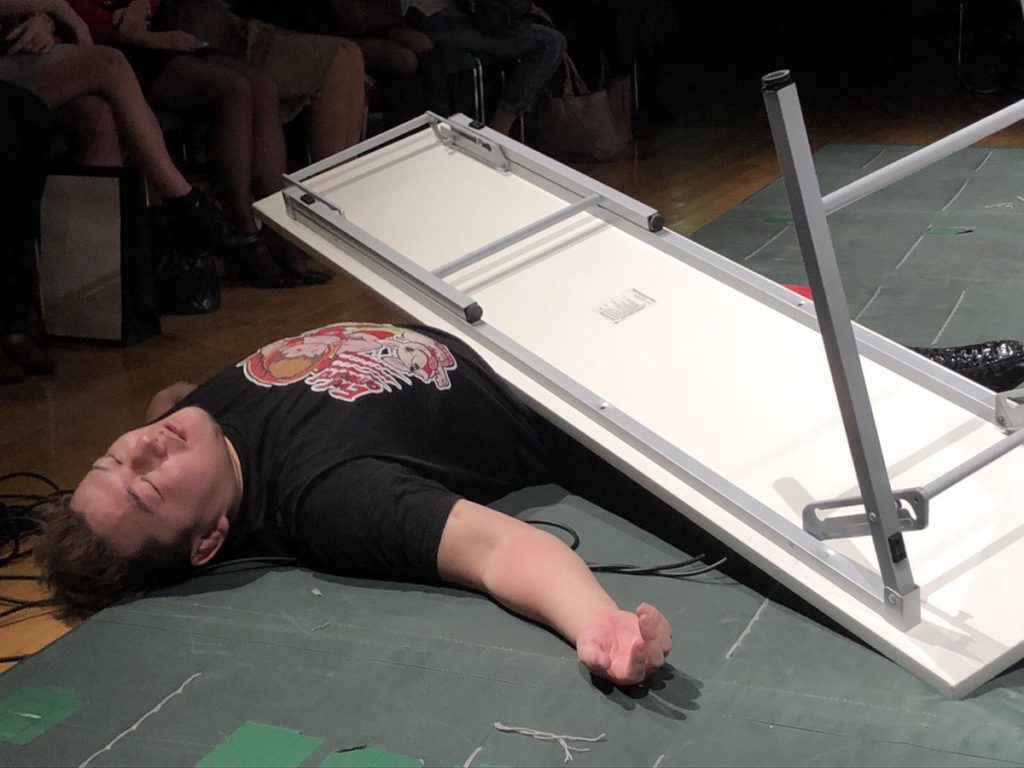 YO-HEY was said to be looking a lot happier at "the wife" (HAYATA) returning "home", and while really the only thing that has happened on this tour between himself and HAYATA and the former friends in RATELS, is Daisuke Harada and Tadasuke appearing in the ring and demanding to know what HAYATA thought he was doing.
Their new teammate, Yoshinari Ogawa (backed by YO-HEY & HAYATA, as Kotaro Suzuki is currently absent), continued the fight with The Backbreakers (Hajime Ohara and Hitoshi Kumano) over the current GHC Junior Heavyweight Tag titles. Ogawa (in a supreme Golden Era move) threw a table at Hitoshi Kumano, and the team of The Backbreakers and Yoshiki Inamura were wiped out completely, with Ogawa posing with the belts at the end.
Yoshiki Inamura continued his "Seven Match Series", this time against Masa Kitamiya.
NOAH have so far done very well this tour with both of their two opening dates being sold out.
NEWS

"COME AT ME YOU BASTARDS" (Kenoh's column in "Weekly Pro")
Kenoh visited the new NOAH offices and spoke of a variety of different things ranging from how nice the NOAH staff look now (even Mr. Okada looks smart now, despite "those fucking glasses"), the new company and how they should ask him for advice, the validation of his own opinion on "Leaving Misawa", and Marufuji vs Kiyomiya.
Continuing his concerned older brother theme when it comes to Kiyomiya, and his hope that Marufuji will beat Kiyomiya for the belt for two reasons; the first being Kenoh wants to challenge, and the second that he seems to intimate that the longer Kiyomiya has it, the worse damage it is doing him, and the more Kenoh of all people seems to worry.
Kenoh's other idea is that he will second Marufuji on the night (so to be first in line to challenge him), but I doubt that Marufuji is going to allow him to do that.
FAREWELL HAKATA STALENE
NOAH will return to the venue for the last time ever on March 17th, as the building is going to be torn down. Although the full card hasn't been announced, Naomichi Marufuji will take on Yoshinari Ogawa (this will be their first singles match in 14 years) and Go Shiozaki and Takashi Sugiura will put on a "Golden Era Match" (as they always do when they collide in big matches).
CURRENT CHAMPIONS
TOUR TIDBITS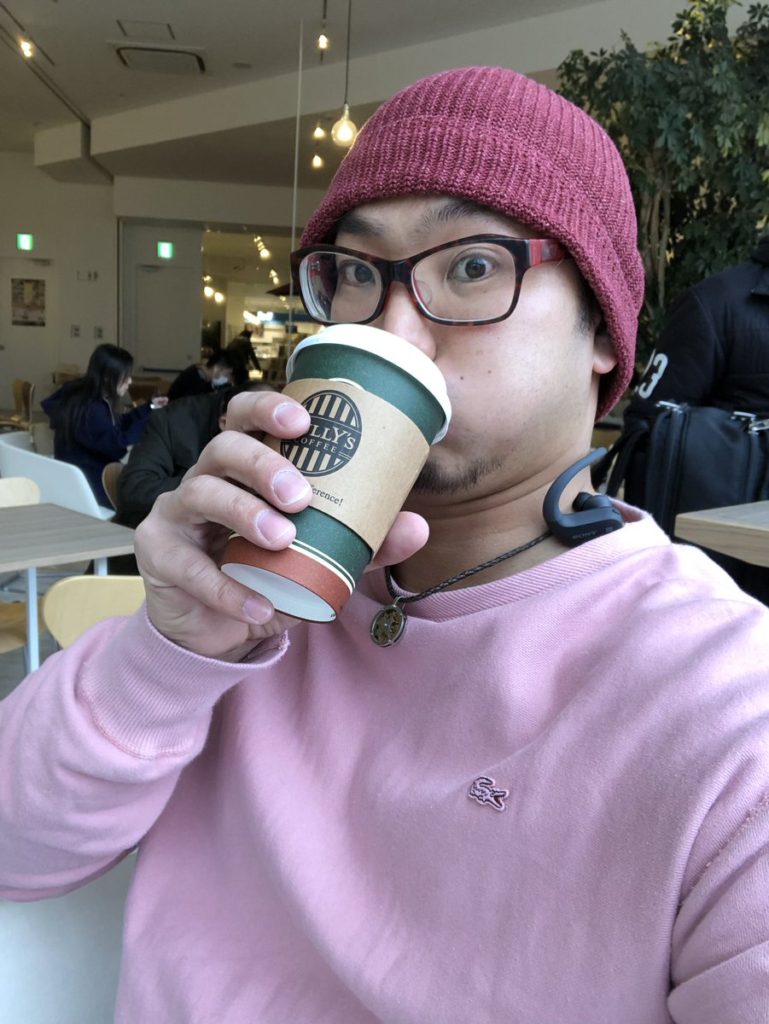 ~ Katsuhiko Nakajima decided to wind up Kenoh by sticking his leg in his fist when Kenoh entered the ring and knelt to do his ring introduction.
~ Yoshinari Ogawa denied ever being part of Special 4.
~ NOAH returned to Shinyousei Twenty-One Hall, which has the infamous staircase named "The Demon Staircase of Hell" due to the fact that it is two flights, and means that due to there being no underground parking at the venue for the truck, the equipment has to be carried up and down it, across a courtyard and through the lobby.
~ Minoru Tanaka says his first wish has been granted (i.e. for a title match at Yokohama), but his second one is still outstanding, he won't say what it is though.
~ Both Daisuke Harada and Tadasuke have hinted at possible moves to the heavyweight division. Tadasuke when he fought Kenoh and Masa Kitamiya and said something "sparked" in him, and Daisuke Harada pointing to the GHC Heavyweight and declaring it was his "final goal".
~ Mohammed Yone got beaten up in front of a group of old ladies (one was his mother) by Katsuhiko Nakajima.
~ Hitoshi Yamato did his usual singing entry, and incorporated the lyrics that Naomichi Marufuji couldn't have dried seaweed. Marufuji had a priceless look on his face. 
~ Cody Hall took a picture of Atsushi Kotoge who was sitting drinking coffee near a window; Kotoge came out as a big pink blob.
KING SHAMELESS CORNER
Takashi Sugiura has posted pictures of either what is coming out of his dog, or what his dog has left behind. On a pleasanter note, he was given gifts by fans after a small gathering at "Muscle Grill", and said that as he was carrying a big plushie, he probably looked like a "Weird old man" getting on the train.

BROADCASTS
NOAH's Korakuen Hall show of the 24th February will be broadcast on Samurai at 10pm (JST) on Samurai TV.

BOOK CORNER
The ongoing translation of Naomichi Marufuji's "Heir To The Ark" can be found here
LINKS
HAYATA (Costume Research)
"Come to Noah" ~ interview with Naomichi Marufuji
The Green Guide to Muscle Grill
Takashi Sugiura mini interview ahead of the match with The Hooligans
Battlemen Recap (Noah, Wednesday February 13th 2019)
Noah's Arkive Podcast (ITunes)
NOAH FROM THE VAULT (articles translated by Purodino)
YO-HEY "My turning point"
(NOAH) WEEKLY NEWSLETTER VOL.22 ~ 9TH FEBRUARY 2019
Hisame brings us the NOAH news leading up to the Navigation to The Progress tour and assorted NOAH information.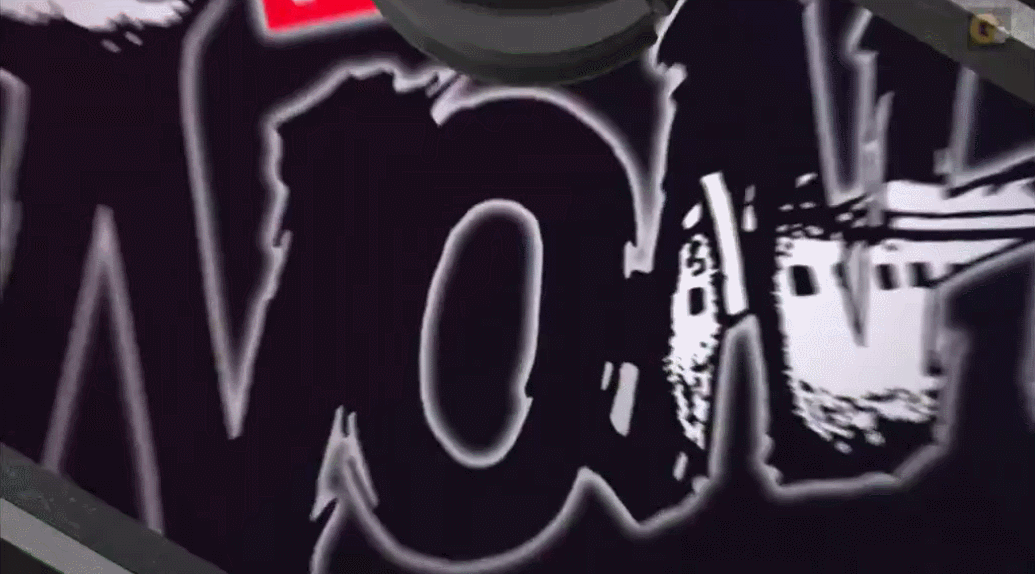 Hisame brings us the NOAH news leading up to the Navigation to The Progress tour and assorted NOAH information.
CURRENT TOUR RECAP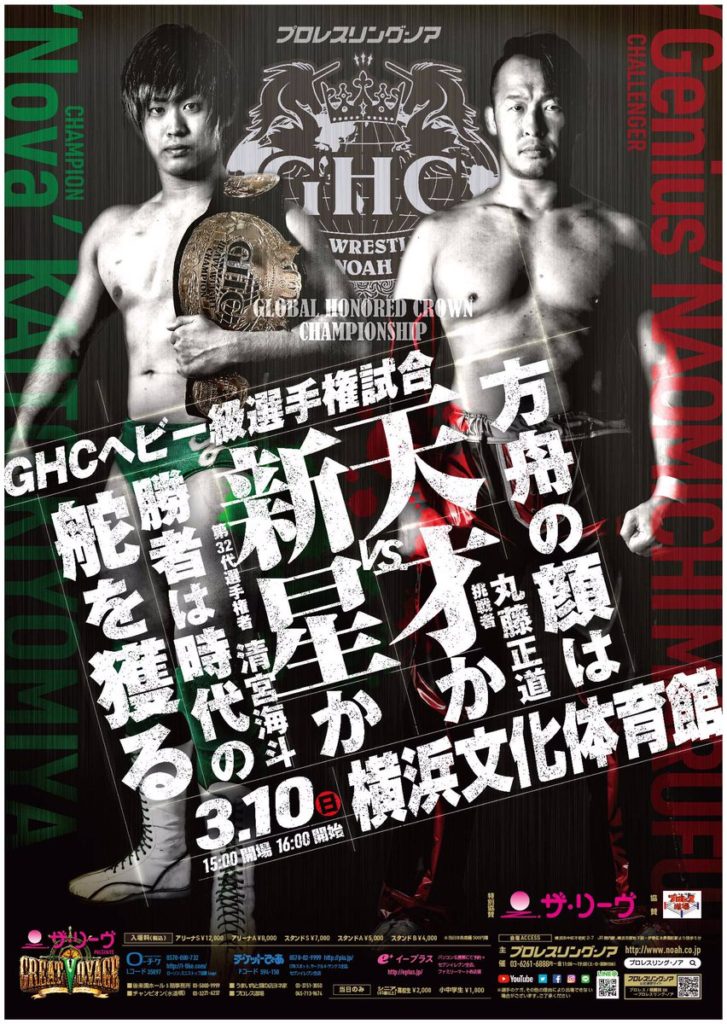 Since finishing up "Navigation For The Future 2019", NOAH will not be active until the 11th February when the next tour, "Navigation for The Progress" starts in Fukushima.
Yoshiki Inamura will continue with his "Seven Match Series" facing Masa Kitamiya.
Naomichi Marufuji and Kaito Kiyomiya will be building up to the GHC Heavyweight title defense on the 10th March in Yokohama, as will Daisuke Harada and Minoru Tanaka over the GHC Junior Heavyweight. This tour will also see a rare match (twice) which will put Marufuji and Harada facing each other in the ring.
Atsushi Kotoge and Eddie Edwards will challenge for the GHC Heavyweight tag tiles on the 24th March at Korakuen Hall. Edwards (due his schedule in IMPACT) will not be appearing in any earlier dates, and at the time of writing as NOAH have not announced the cards for the last two dates of tour (2nd or the 3rd March), so it is unknown as to whether he will be appearing on them.
The Hooligans will face Takashi Sugiura, Masao Inoue, Akitoshi Saito, Yoshiki Inamura and Kinya Okada on the 24th February. The match will be an elimination and comes with stipulations; should The Hooligans win, Sugiura enters and is their lackey, should The Hooligans lose, they have to disband.
The Backbreakers will defend the GHC Junior Heavyweight tag against Kotaro Suzuki (who gets a chance to team with his "older brother", Naomichi Marufuji, on the 22nd February) and Yoshinari Ogawa on the 24th February.
This will be NOAH's last tour using the iconic green mat outside of the Misawa memorial shows.
NEWS
DIFFER ARIAKE TORN DOWN
"Next to the venue is the former NOAH office and dojo. You go up the stairs where the commemorative photographs of the wrestlers were held at the inaugural meeting in 2000, you go through the office next to the Differ offices, and then to NOAH's office. There was once a dojo on this floor where the training equipment and ring was installed."
(Differ Ariake, "Holy Land of Noah", looking back in records and memories)
Masa Kitamiya recently retweeted a post a fan had sent him, of the empty lot where the venue, and once the "Holy Land of NOAH" once stood.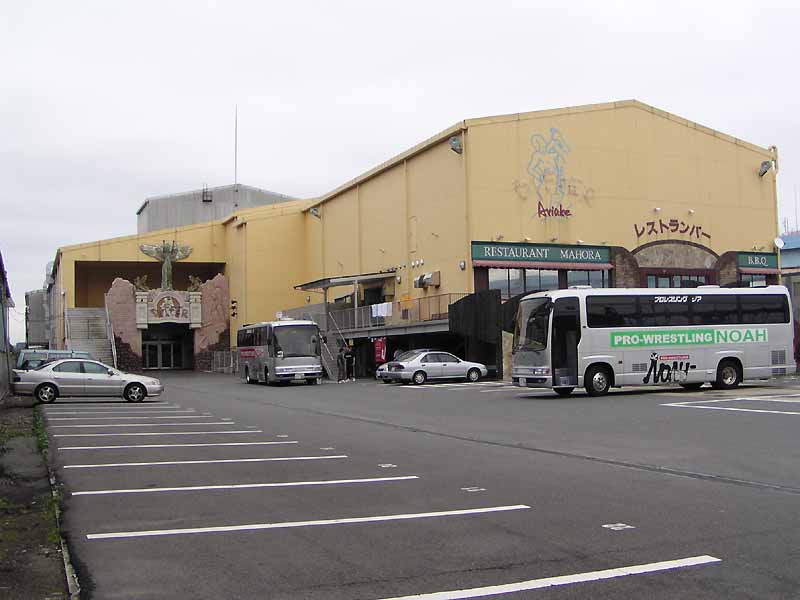 Differ Ariake started life in July 1988 not as NOAH's home or a sports venue, but as a venue for disco and other music related events, later foreign bands would play here, and it saw a boom during the "Bubble Era" of the 1980s and early 1990s before closing and reopening as a sports venue in 2000.
NOAH moved into the venue soon after Misawa led the exodus from All Japan, and set up their offices and dojo there (their home was not the main stadium, but rather the complex to the left of the picture, the famous staircase can be seen on the main building).
Three generations (arguably from Marufuji's to Kiyomiya's) would grow up here until 2016 when the venue changed hands, and NOAH moved out.
NOAH would return to the venue one final time in November 2017 for the last ever Differ Cup. After the event they walked sadly through a place that they once called home. Each corner, each room, each inch must have held some memory for all of them, whether good or bad.
It was here in 2000 that NOAH held their inauguration event, "Departure", which sold out in twenty minutes and for those fans who couldn't get tickets, monitors were set up in the parking lot. Round about 6pm that evening, Misawa came out to talk to the fans who were waiting in line.
It was here that NOAH had held SEM, and filmed all their Christmas (and otherwise) specials, and in June 2009 after the tragic death of Misawa, 25,000 came to pay their respects.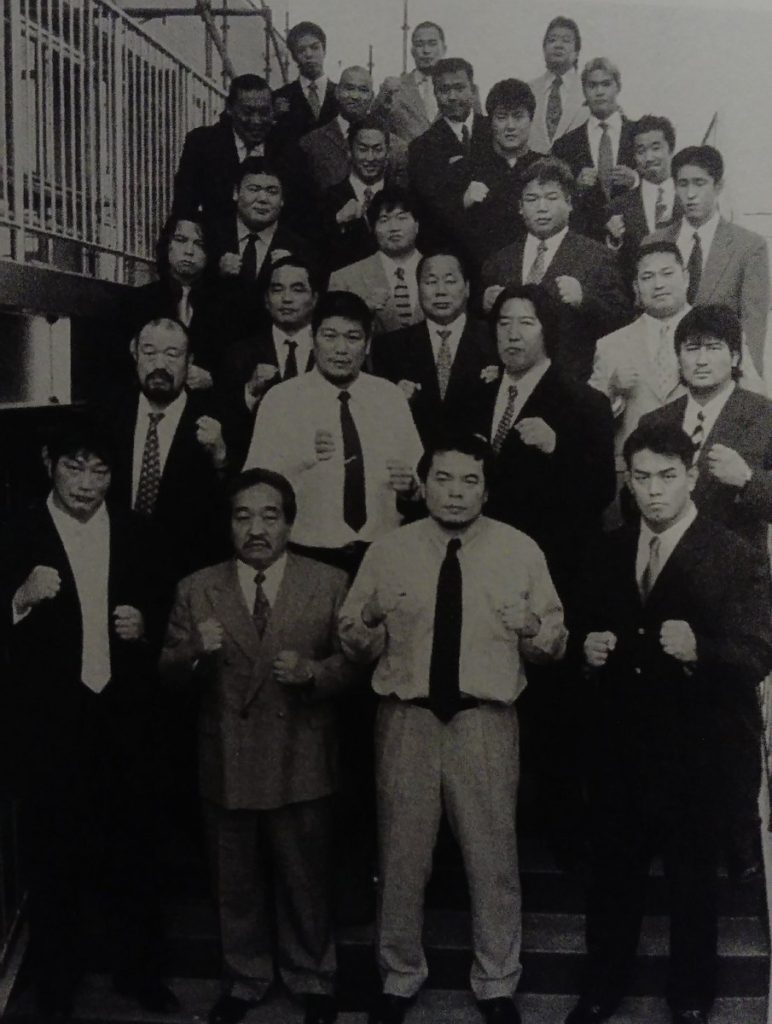 It is ironic that with NOAH's new owners changing the promotion and doing away with the iconic green, changing the new logo and laying the memory of Misawa to rest, that the home of NOAH should also disappear, like a final break with the past.
Differ may have now physically gone, NOAH may be changing and heading out to new and unknown waters out of Misawa's shadow, but the picture taken of a vanished era in NOAH standing on the steps of their new home, their faces young and full of hope for the future, no matter their individual fates and that of the promotion they all turned their faces towards, will always remain part of the landscape, no matter what fills the now vacant lot filled with so many memories, emotions and history.
HOLY WAR
Toshiaki Kawada held his 4th "Holy War" produce. This is the first time that he has not had a "Talk Battle" with a NOAH wrestler (the others being Naomichi Marufuji, Katsuhiko Nakajima and Akira Taue).
Results 
Hiroshi Yamato defeated Junta Miyawaki (7 minutes and 1 seconds)
Kazushi Miyamoto, Mitsuya Nagai & Shiro Koshinaka defeated Shunsuke Sayama, Tomoya Hirata & Yoshiki Inamura (13 minutes and 59 seconds)
Go Shiozaki & Shotaro Ashino defeated Masao Inoue & Tamon Honda (18 minutes and 19 seconds)
IPW
IPW have announced that Fight Network (SKY Channel 192) will start broadcasting an edited version of their shows. This a great way for NOAH fans to catch the roster members when they appear in the UK, especially (at the time of writing) Daisuke Harada, who is the current IPW Junior Heavyweight champion. You can watch the inaugural show (featuring Harada) here
COALITION
Yahoo Japan are hinting that there may be a coalition or an alliance between NOAH, All Japan and W-1. However, it looks as if NOAH's new owners will be instituting a policy of isolation at the present time and not entering into any partnerships with other promotions, besides the ones they all ready have. Naomichi Marufuji, however, has spoken of the importance of co-operation.
CURRENT CHAMPIONS
TOUR TIDBITS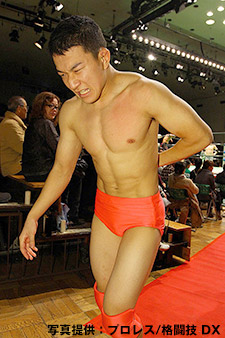 ~ Due to his injury, Naomichi Marufuji had to cancel his one day stint as the manager of "Yoneya" (Mohammed Yone's restaurant), the rescheduled date took place recently.
~ Hitoshi Kumano celebrated six years in wrestling on February 9th. Ge debuted at Korakuen Hall in 2013 against Atsushi Kotoge
~ Naomichi Marufuji did some clearing out, and found old phonecards with Takashi Rikio during his sumo days on them
~ Takashi Sugiura was given a chocolate gorilla for Valentine's Day
~ Because the NOAH dojo has no heating or air conditioning, Kiyomiya and Miyawaki trained in tracksuits (the picture Miyawaki took revealed the dojo to have a CD collection and remote controls for the player)
~ YO-HEY celebrated his 31st birthday on February 6th
~ Naomichi Marufuji commented that he doesn't know what KENTA'S plans are, but he wants him to go somewhere where he can be himself again. Takashi Sugiura came out and basically asked him what his plans were.
~ NOAH will be holding an event called "Navigation TO A NEW ERA" on May 2nd. Further details to be announced.
~ President Fuwa has started a Twitter account 
KING SHAMELESS CORNER
He's managed to behave himself this week, no pictures of Masao Inoue at the urinal or his dog defecating.
BROADCASTS
"Great Voyage in Yokohama" on the 10th March will be broadcast by G+ plus on the 16th March on G+ at 8.30pm (JST)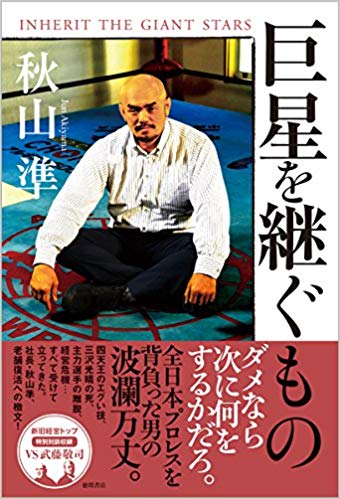 Jun Akiyama wrote a book called "Inheriting The Giant Stars" (thanks to GuyOnInternet for telling me about this); the book has been added to my shopping basket and will be purchased and then translated in due course.
If you do know of any NOAH\All Japan related books, by all means, do let me know. My ambition is to one day build up a digital library translated into English for Western fans.
LINKS
The "Green Guide to the History of Pro Wrestling Noah" has been updated 
Eddie Edwards Mini Interview 
Press conference: Naomichi Marufuji vs Tetsuya Endo 
The Last Showa Born Heel: Can Masa Kitamiya be the new era Masa Saito? 
Naomichi Marufuji to challenge Kiyomiya, defense plans after taking the championship