Stardom Shining Stars Day Show Results & Review (5/27/2018)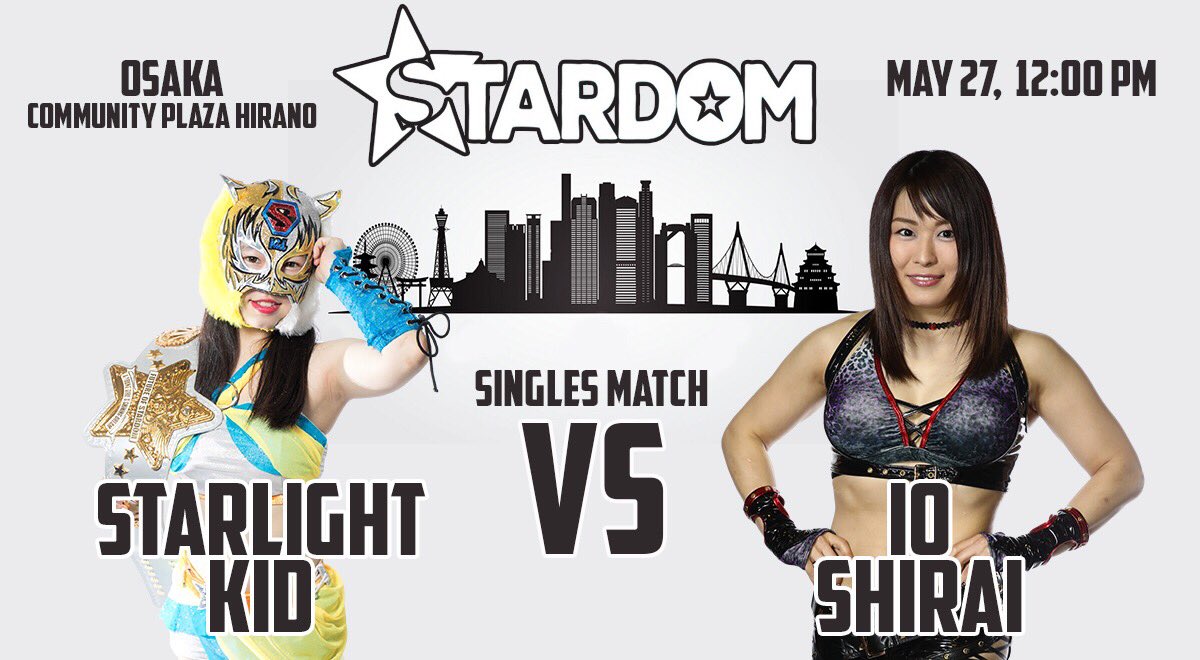 Welcome back to Stardom! The last time we covered them, Momo Watanabe won the Wonder of Stardom Championship and Io Shirai is set to leave the company on June 17th to finally go to the WWE.
For this show, they actually did two shows on the same day, but one in the morning and one at night. This show is focused on the Artists of Stardom Championships which got vacated due to Hazuki going over to Oedo Tai and Io leaving the company, so the morning show is to determine our new contenders and the night show will focus on getting new champions.
I decided to have it as two separate articles instead of one and will be covering the morning show first, so let's…dive right in.
Three Way Match
Candy Floss vs. Leo Onozaki vs. Zoe Lucas
Review: It looks like we get Zoe Lucas back here and I hope she impresses us this time due to her match against Martina being not so good, but she'll be fighting Candy Floss and Leo Onozaki this time, so should be good.
So Candy would attempt to hug Leo before the match starts and she doesn't want any of that, but she goes to hug Zoe instead and they hug it out until Leo rolled Candy up for a two count. So after seeing Zoe and there is one problem I am seeing with her and it's that her flow in the matches comes out either incredibly sloppy or weak with her executions and it just ruins the momentum of her matches for me since it seems like her opponents would slow down for it and doesn't come out good. Zoe, I get that you're getting better with your Cutters, but could you maybe do something else? She's been doing more of those in her matches than anything else and it's hard to see her progress as a wrestler. Anyway, the match is honestly sloppy due to the bad chemistry being seen here and it ended with Zoe hitting what looked like a botch Moonsault or Splash since it was a split legged thing and hits Leo with her Split Leg Drop shades of Matt Sydal for the win.
Recommended: Skippable.
Singles Match
Martina vs. Mayu Iwatani
Review: We got Mayu in singles action this time instead of a tag team as she fights a member of Oedo Tai, Martina and I'm not too sure how this one will go since I love Mayu and maybe she can give Martina a good match here.
My eyes must've deceived me for some unknown reason because this match was actually good. Martina has really good forearm strikes since she knows how to make that impactful sounds while knock giving them a concussion while Mayu would use her quick agility to try and roll Martina up a couple of times, but would only get a two count out of it. It looked like they were trying to protect Mayu's Dragon Suplex Hold since she would attempt it a couple of times but it wouldn't work and even in one of the times she attempted it, Martina would grab her beer to take a quick sip before reversing it to try and spit the beer in Mayu's face, but she would duck into a codebreaker as a distraction for only a two count. Mayu would eventually roll her up one more time to get the three count.
It's Session Moth Martina vs Mayu Iwatani, and it's on https://t.co/ldX5O03Y6e now! pic.twitter.com/KjDmMvUIsK

— We Are Stardom (@we_are_stardom) June 5, 2018
Recommended: Not a great match, but one of Martina's better ones. So watch it for Mayu or skip it.
Singles Match
Io Shirai vs. Starlight Kid
Review: I'm not too sure about this, but I do believe this is the first time that they're fighting each other in a one on one match and I am okay with that, we got Stardom's best going up against Stardom's rising star and current Future of Stardom Champion, so definitely good to see if the future is going to be bright for the company or not.
They started off with that lucha style sequence and Starlight actually got the one up on Io on this one when she ended it with a Headscissor and would then start to get the advantage for a moment until Io found an opening to take control of the match. Io would go for the 619 on Starlight and would miss giving Starlight a chance to go for a 619, but Io ducks to the bottom rope which Starlight caught her with another 619 and connects this time, this girl is getting clever and holding her on against her. Starlight would attempt a Frankensteiner only for Io to catch her into a Texas Cloverleaf to try and make Starlight tap out, but it wouldn't work as she escaped. Io started to get more aggressive with Starlight as she hits her double knees to the turnbuckle twice to try and end it there to get another two count. Starlight starts to make a comeback as she hits another 619 and then does an amazing Code Red to try and get the upset, but she fails to get the pin. Io had enough fooling around and hits her Diving Moonsault Press not once but twice to double tap it to get the victory.
Io would shake Starlight's hand after the match to show her respect and a small nod showing that the future would be in good hands with her gone. This match was great and I loved the chemistry between the two here and it showed from all those tag matches they had and paid off in this singles match. If this is gonna be their only match together then this was the best way to have it and the future is gonna look bright in the upcoming years with Starlight Kid.
The Future of Stardom champion takes on the Best in the World! It's Starlight Kid vs Io Shirai, and it's only on https://t.co/ldX5O0lyXM now! pic.twitter.com/rmdzlaccqv

— We Are Stardom (@we_are_stardom) June 6, 2018
Recommended: Great match, please watch it.
Artist Of Stardom Title Qualifying Match
Jungle Kyona, Kaori Yoneyama & Natsuko Tora vs. Saki Kashima, Shiki Shibusawa & Tam Nakano
Review: This is the first match of the two for the Artist of Stardom qualifying match to see who gets to be apart of the title match later tonight and even though we technically have three units, Jungle Assault Nation still wants to feel like they're not apart of STARS to do their own thing that's what it seems to be what they're doing as they take on three members of STARS to start off this qualifying match.
It looked like there was some tension between Tam and Natsuko by the way they stared each other down and got close to each other before the bell would ring, making Jungle and Shiki break the both of them up. The match started off a little bit slow as the triple combo STARS did to Jungle came off a little bit sloppy with how they landed on their knees on top of her, but they covered it up to get right to the next spot as both teams would try to triple Suplex each other, but only for them to break it off since none of them couldn't do it. Saki and Jungle going at it a bit made me wanna see a future one on one match between the two since I feel like it could be a really good match if given the time to do so and we need to see more of Saki in singles action anyway. Tam and Natsuko would share the ring together and you can see the intensity between the two and how stiff Tam's kicks were to Natsuko and I love her kicks more than anything aside from being super adorable at the same time. Saki would then hit a Double Stomp off the top rope while Tam follows it with a Diving Senton onto Natsuko which gave Shiki an opening to try and cover her, but Kaori breaks it up. Shiki would make more attempts to try and roll Natsuko up and even had Saki kick her back down when she tried to reverse it, but still kicking out of it. Jungle would make the save by giving both Tam and Saki a Lariat to knock them down to give Natsuko a chance to recover as she hits the Swinging Side Slam to give JAN the win.
Recommended: Solid six-man match, worth at least one view.
Artist Of Stardom Title Qualifying Match
Hana Kimura, Hazuki & Kagetsu vs. AZM, Konami & Momo Watanabe
Review: Now that we have JAN going for the titles later on tonight, we get to see who will join them next. Will it be Oedo Tai or will it be Queen's Quest to take back those titles with different members of the faction?
We get Momo and Hazuki starting us off here as they start doing some chain wrestling with Momo holding her down with a Headlock only for Hazuki to reverse it into the same, but Momo would reverse back into it as they go back and forth for a moment until Momo came up on top and tagged Konami into the match now. Konami would kick Hazuki a couple times and runs to the ropes for her to get dragged out by Hana and Oedo Tai starts the assault on Queen's Quest around the outside. They would eventually get Konami back into the ring to start beating her down for a while until she was able to make a tag to Momo, but it wouldn't do much as she also starts to get beaten down by Hana once she applied the Black Widow lock on her which wouldn't work. Hana would get Hazuki back into the ring only for Momo to start hitting her with stiff kicks and was actually enough to knock her down and for Momo to start running towards her with Dropkicks onto the corner of the turnbuckle. Konami and Kagetsu were in the ring now as Konami would start applying her submission to work on her arms to try and make her tap out any chance she would get and it wouldn't work with Kagetsu getting help from her teammates in the match and gave her an opening to deliver a kick to the head and a Michinoku Driver for a two count. The two would try to kick each other once more bt one would block the other and then vice versa until they both kicked each other down, giving Konami some time to tag AZM into the match as she would try to put her away, but it wouldn't last long as AZM gets knocked down for Kagetsu to hit her Oedo Coaster to give her team the win as we now have Oedo Tai vs. JAN for the Artist of Stardom Championships later on tonight.
Round 1 of the Artist of Stardom title tournament continues! Oedo Tai takes on Queen's Quest, whoever wins goes on to the finals in the night time show!
On https://t.co/q8dHnF58vW! pic.twitter.com/lGOXJj90yT

— We Are Stardom (@we_are_stardom) June 6, 2018
Recommended: It was an average match for what it was, but watch it once.
Overall: I thought this was a fun little show to start off for the morning to lead up to another show coming later on tonight and you gotta give the women credit for pulling a double duty here for the whole day.
Favorite Match: Io Shirai vs. Starlight Kid
Least Favorite Match: Candy Floss vs. Leo Onozaki vs. Zoe Lucas
Score: 6.5/10
When we come back, we'll find out who will be our new Artist of Stardom Champions!