The New Day's Positivity Leads to WWE Money in the Bank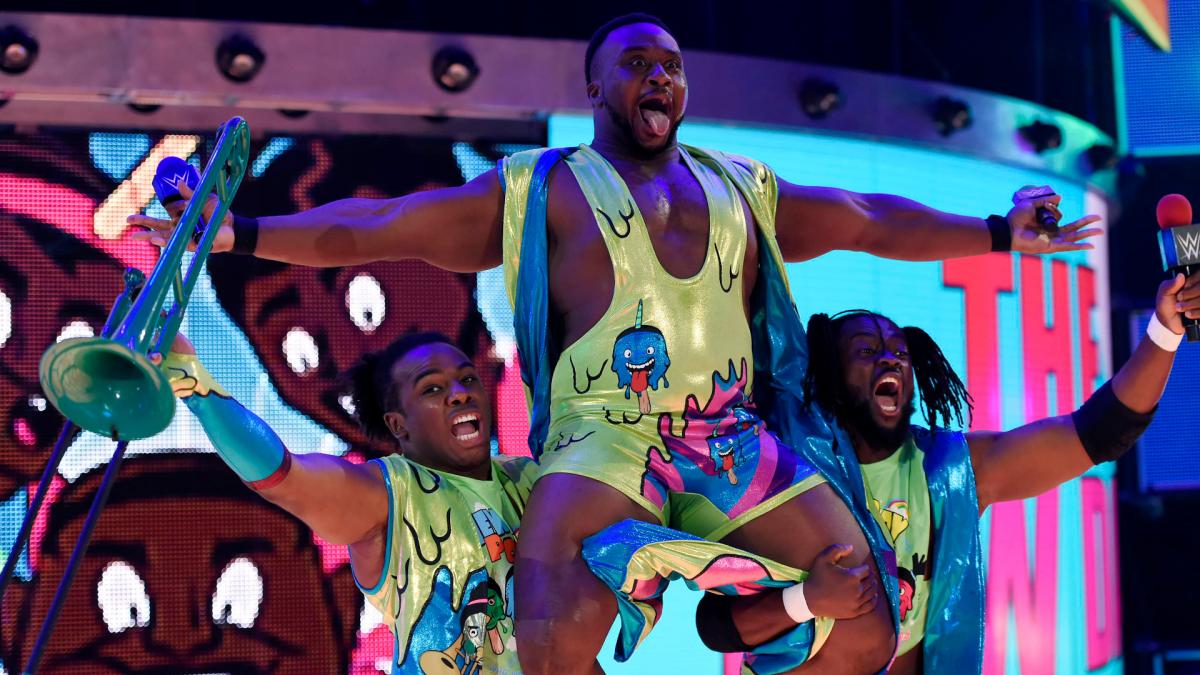 The New Day is on its way to WWE Money in the Bank on Sunday, June 17. One of the three will step into the ring with seven other men in an effort to win a guaranteed shot at the WWE Championship. The company has yet to announce which man will be chosen and that has speculation running rampant.
Much of that speculation has to do with what seems to be the inevitable dissolution of the team. From the moment Kofi Kingston, Xavier Woods and Big E came together, fans have been wondering when it will end.
Even after the trio first found success together and the gimmick exploded in popularity, the question was asked. How long will this last? It seems their imminent ending was more intriguing than their unlikely beginning. After all no one expected The New Day to get over and certainly no one expected them to last this long.
The New Day has been together as a unit for nearly four years. That's two years longer than The Shield during its first reign and one year longer than the first run of D-Generation X. Even The Four Horsemen's most lucrative ride only lasted for the first two years of its existence before the group began to deteriorate and was never the same afterward.
The New Day has defied all expectations and surprised critics from day one. Even when the group wasn't always warmly received, they kept working until it clicked. They're not always perfect and there have been moments when the comedy was a bit too much. But they have overcome all imperfections to become the top team in WWE.
But it's only natural that fans would wonder what the next move is. Like an underdog team after winning a championship, The New Day's parts are perhaps becoming more valuable than the sum. Kingston is a natural high flyer. Woods is more of a grounded showman. Big E is the powerhouse. They are great together but has the time come for them to separate and pursue their solo careers once again?
That is the point WWE has reached now. The New Day didn't have to be included in MITB. They could have competed in a six-man tag or a traditional tag team match. The New Day could have tended to New Day business and left the world title chase to the main event level guys.
However their inclusion in the match on June 17 seems to suggest that WWE is moving forward with a split in the near future. So if that is the case and The New Day is set to end, then which one of them will get the nod at Money in the Bank?
Kofi Kingston quite possibly has the most upside of the group. Kofi has already tasted success as a singles wrestler. He knows what that life is like and he would surely readapt when The New Day is over. He's a contender to any of the secondary championships. He would certainly have to be considered a contender to the WWE title.
Getting him to that point would require some work, if only to remind fans of just how capable he is on his own. It would take time to convince those fans that Kingston could believably become WWE champion. But once that work happens and the right amount of time passes, there's every reason to believe that Kingston could be a main event player.
Xavier Woods also had singles experience before forming The New Day. But he did not have the success that Kofi had prior to joining him. Woods never really got the opportunity to show what he could do on his own. But maybe that's not such a bad thing.
After all, Woods has really never looked better in his career than he did after he began working with The New Day. Now he is the glue that holds them together. If he did venture out alone, it would take more work on WWE's part to get him over. He's perhaps not as far along as Kofi is but with enough time, Xavier Woods could become a contender in the singles division.
Of course the consensus among WWE fans is that Big E will be the man to step out of The New Day and taste success first. He's got the size, he's got the power and he's got the look. Big E is everything WWE wants in a big man because he's quick, he's athletic and he's also highly entertaining.
Big E embodies the spirit of The New Day. He could take that spirit with him as an individual performer. He may or may not immediately jump ahead of everyone else on the roster but either way he would certainly be ready for the challenge. Like Kingston and Woods, Big E has already enjoyed a singles career. He knows what it takes to get over. But now he knows so much more than he did before. This could very well be Big E's time.
But there is just no way to know which Superstar will be the one to step into Money in the Bank. It could be that WWE will go a different route and allow all three of them to participate. If that happens, then problems could develop between them during the match itself. WWE has options here and fans can only sit back and guess.
However there is no doubt that Kofi Kingston, Xavier Woods and Big E have all done far better than anyone believed they ever would. They found each other and that led them to find themselves. Each man has improved and each man is worthy of attention outside of the group. Maybe the Money in the Bank winner is in The New Day. Maybe that winner will leave The New Day far behind.