WWE News: SmackDown Live Match Postponed Due To 'Injury' To Sin Cara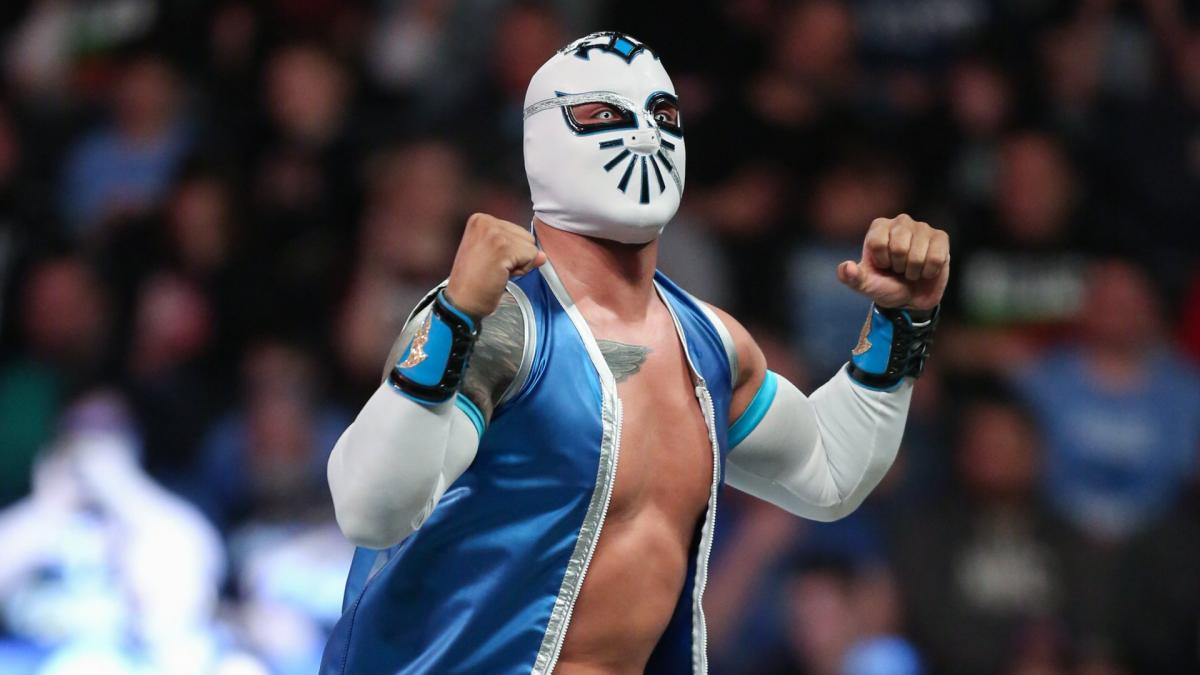 It was announced last week following a blindside attack that newcomer and former NXT Champion Andrade 'Cien' Almas would be facing Sin Cara tonight on SmackDown Live..
WWE has now announced via Twitter that due to the attack last week, Sin Cara has sustained a shoulder injury and is not cleared to compete tonight. You can check out the tweet below:
BREAKING: After suffering an injury at the hands of @AndradeCienWWE last week, @SinCaraWWE is not cleared for competition tonight on #SDLive. https://t.co/6sIeHpXbiE

— WWE (@WWE) June 12, 2018
Both Sin Cara and Almas have commented on the news, which you can check out below:
@Zelina_VegaWWE this is true??? https://t.co/hs3yedzysB

— Andrade Cien Almas (@AndradeCienWWE) June 12, 2018
This is not the end, @AndradeCienWWE . You have another Tuesday to smile as a coward.

Tienes otro martes para sonreír como un cobarde. pic.twitter.com/0ESsqfSTF3

— Sin Cara (@SinCaraWWE) June 12, 2018
Ja' Von's Take: I'm honestly not sure why they are delaying this match until next week, maybe due to time constraints. We can confirm that the shoulder injury is not legit due to the fact that he was wrestling on the most recent SmackDown Live Event (which you can check out the results of here). It's also worth noting that a fan replied to WWE's tweet announcing the injury saying he had spotted Sin Carain the gym. Additionally, he just recently appeared on Sheamus' Celtic Warrior Workouts video (you can watch that here). This feud has felt forced to me and has Alberto Del Rio/Rey Mysterio from 2010 written all over it. As an avid viewer of NXT, I'm a huge fan of Almas and was glad to hear he was coming to SmackDown Live, but for his first feud on the main roster, this is all they could come up with for him? Like, really?! Creative could have done so much better than this.
Please continue to follow us and share our articles. Checkout the podcasts and more. You can see all the latest content @theCHAIRSHOTcom. Follow @yorkjavon for Impact Wrestling news updates and opinions with an Impact. Remember when it comes to rumors…. Always Use Your Head!
MLW News: Final Card For Tonight's Never Say Never Fusion TV Tapings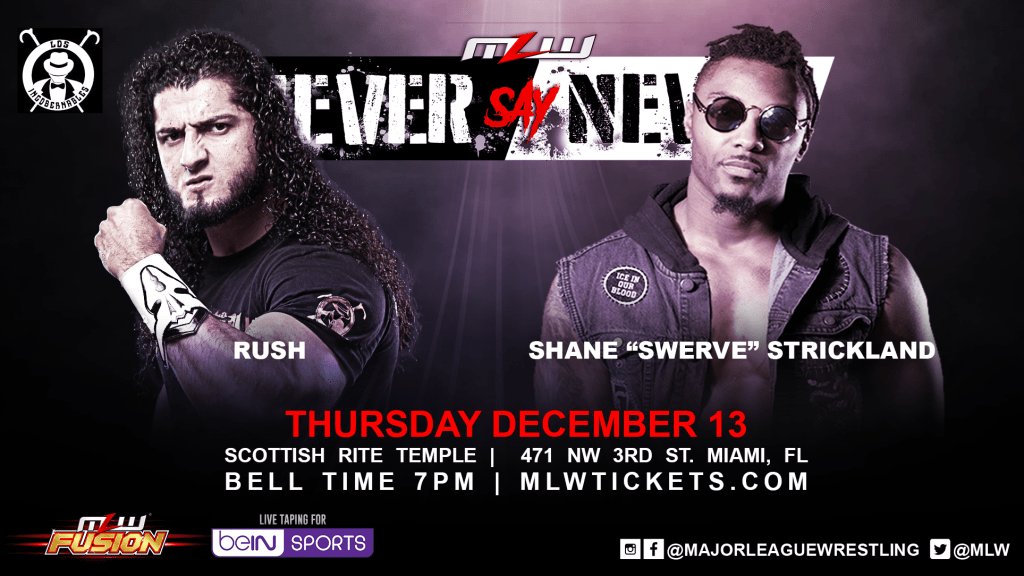 A look at the lineup for MLW's Never Say Never TV tapings!
A weekend loaded with tons of professional wrestling across the country will kick off beginning tonight, as one of the bigger company's here in the United States heads to Miami, Florida.
Major League Wrestling's back-to-back nights at the Scottish Rite Temple starts with Never Say Never this evening, which is being taped for Fusion on beIN Sports. After a few changes due to some injuries (including to the Never Say Never main event), things looks to be finalized with just hours remaining before bell time.
Here's a look at the final advertised lineup for tonight's show, which you will be able to watch in the coming weeks every Friday night at 8PM EST on beIN Sports:
Pentagon Jr. vs. Teddy Hart
Falls Count Anywhere
LA Park vs. Sami Callihan
No Holds Barred, No Ropes Fight
Tom Lawlor vs. Simon Gotch
Rich Swann vs. Dragon Lee
Rush vs. Shane Strickland
DJZ vs. Hijo de LA Park
Dezmond Xavier vs. Andrew Everett
Which matches are you looking forward to watching on beIN Sports? Let us know on social media @theCHAIRSHOTcom and always remember to use the hashtag #UseYourHead!
WWE News: John Cena Speaks On Not Being Able To Wrestle While Filming A Movie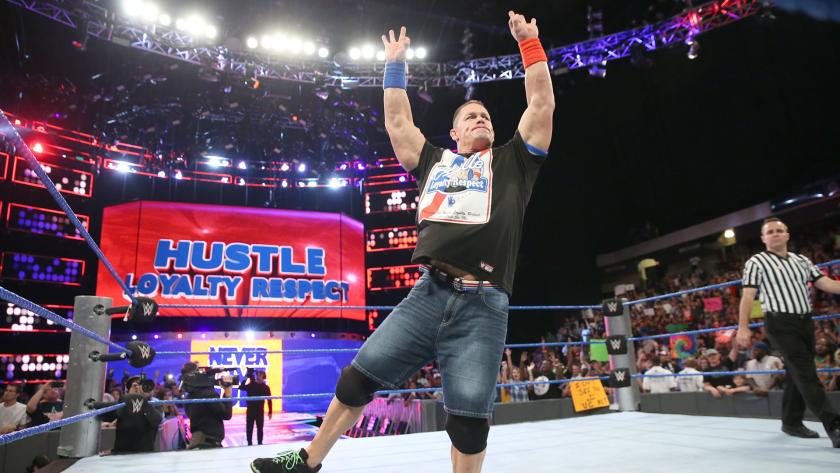 John Cena talks retirement, being told he can't wrestle while filming and more!
It's no secret that the man who has been the face of the WWE for over a decade, John Cena, is winding down his in-ring career as the past couple of years have seen the 16-time champion spend less time with the company and more on outside projects.
'The Leader of the Cenation' will be making his WWE return this month on December 26th (see his upcoming WWE schedule here) after last competing at Super Show-Down in October, while at the same time his newest film 'Bumblebee' will be hitting theaters this Christmas. He has already confirmed that he will be at WrestleMania 35, so it's expected he will be sticking around from his return until at least then.
Cena sat down with ESPN's Cari Champion recently to promote the release of 'Bumblebee' and spoke on a number of topics including retirement from the ring and why he can't compete inside the squared circle while he's shooting a movie. When asked if he ever thinks to himself, "This is it for wrestling", Cena responded:
"Well, that's like asking an athlete like, 'Hey, do you ever contemplate retirement?', and you can ask a professional rookie that. You have to because anything that you rely on your body for an end result, time is gonna catch up with you. So there is gonna come a point where I can no longer keep up with the pace. I made a promise to myself years ago, years before I ever found my passion for being on-screen, when I can't keep up with the pace I gotta walk away. I don't wanna take a buyer's money and have sit down and be like, 'Ah, he's just hanging on'. I don't ever want that feeling."
Cena would continue and speak about why he wants to wrestle while shooting movie and can't, as well as how he previously misjudged The Rock by not understanding what comes with shooting a movie:
"So I don't think that correlates with what I'm doing now. The biggest difficulty is trying to juggle stuff because I have learned and I'm trying to fight the system, but I'm losing, when you're in production for a movie they don't allow you to wrestle because I can't go to a WWE taping, have my nose put over here [in reference to his broken nose in a match against Seth Rollins]. Not only does it not look good, 'Man, you don't look right'. So then they shut the movie down and there's 150 people that are expecting a paycheck for that movie and I just screwed them out of their wage and it ups the budget of the movie, so I just put the movie behind the eight ball of possibly being a financial success.
So as much as I want to do everything, you can't and this is a GIANT misunderstanding I had with what Dwayne was doing, what The Rock was doing 'cause he does movie after movie after movie after movie and I know the feeling of wanting to go back and I'm going back as soon as I can, but I can't go back until I'm done with this. So I totally get it and I kinda called him out for it and that was me being an ass and I was totally wrong and ignorant and young and stupid and I've told him, 'I'm sorry', but it's something I think that our fans don't understand. If LeBron James was to take a break from basketball because he had the opportunity to film something, basketball fans would be like, 'What are you doing? Go back to basketball'. So I understand the resentment, but it's a tough balancing act and I'm bold enough to try."
If you use any of the above highlights, please credit The Chairshot for transcription.
Do you think John Cena can follow in The Rock's footsteps? Let us know on social media @theCHAIRSHOTcom and always remember to use the hashtag #UseYourHead!