Braun Strowman vs. Kevin Owens: What's Next After Extreme Rules?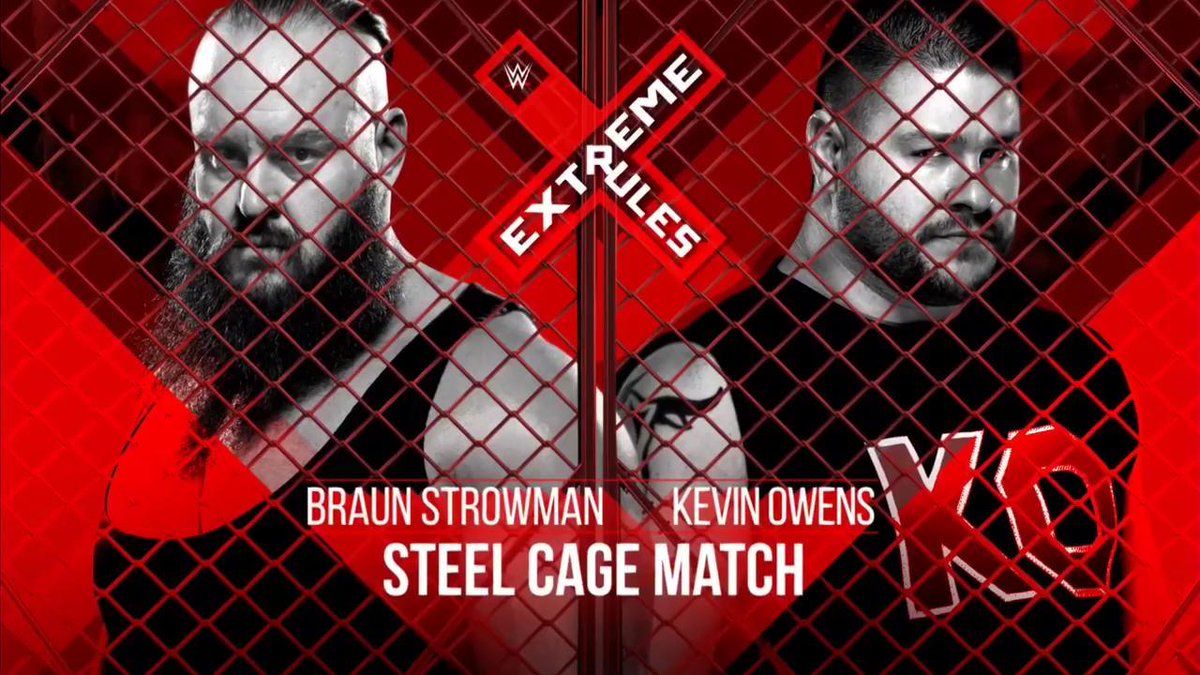 Braun Strowman and Kevin Owens will face off at WWE Extreme Rules on Sunday, July 15. KO has done everything in his power to evade Strowman but to no avail. The Monster Among Men has Owens right where he wants him because this match is inside a steel cage.
The only question is why? Where is this going? Even in this modern era of WWE, many fans continue to look for logical character growth and natural storyline progression though they know they won't always get it. Is that what's happening here?
It's not that the company is incapable of giving fans what they want in this area. But a combination of 50/50 booking and quick angles with no direction are the norm in WWE. There was a time when rivalries could last for a year or more and sometimes that does actually happen in Vince McMahon's company.
But more often than not, it seems as though WWE is content with getting a few matches out of two guys before moving on to the next thing. Sometimes there's just no chemistry. When that's the case, WWE can either give talents the time to work it out or the decision must be made to move on. Fans understand this and have seen the exact same scenario play out for years in WWE.
So what is the endgame for Strowman versus Owens? Some fans believe this is merely just a pit stop for Braun, who will eventually move on to bigger and better things. He is Mister Money in the Bank after all, which means he's carrying around a title opportunity guarantee. It could be exactly what he needs to finally break through and become a main event player.
But isn't he already there? Does Braun Strowman really need another title shot at Universal champion Brock Lesnar? More importantly, does Strowman even need Lesnar's Universal Championship? That belt has never lived up to its expectations and it may never be able to, thanks to WWE. Why would Braun want a title belt that's not worth the money it took to engrave the plates?
Braun Strowman surely understands what being a champion in WWE means. He must also be fully aware of how unimportant Brock's title really is. But Strowman also knows that perception is reality and when it comes to many fans, championship belts are absolutely vital to a guy's career.
Braun is a team player and that's evident in the way he carries himself. He obviously wants what is best for the show but he must also certainly want what's best for him. If he can continue to function at a high level in WWE and not be a top titleholder, then why not keep moving along on his current path? Why add the pressure of wearing the second most important title in WWE? Does he really need that?
Of course there is such a thing as pride in pro wrestling. If Braun Strowman does not want to be the best, then he is wasting his time. The same is true of every male and female Superstar in the company. Earning a living and making the audience happy is great. It's surely an amazing life and there's really nothing else like it in the world.
However earning that living while being considered among the elite of the industry is another matter altogether. It's not just how the fans see a guy. It's how WWE sees a guy. If being called the world champion means being at the top and reaping the benefits of a career's worth of hard work, then the championship definitely matters.
Then there's the fact that while the Universal Championship may be irrelevant because of Brock's absence, there's still plenty of time to save it. Who better to wear the gold and reign on Monday Night Raw than the biggest guy in the locker room? Braun can get red hot at a moment's notice and he is arguably the most popular guy on WWE's flagship program. Who else could bring the Universal title to prominence like he can?
That is the small space in which Kevin Owens lives right now. KO has everything it takes to get back on top in WWE. He is still one of the most entertaining Superstars in the company even though he's still one of the most devious heels in the locker room.
The fans love him though they should hate him. Owens is at a point right now where he also doesn't really need the Universal Championship to get over. He seems to be doing just fine without it. But unlike Braun, Kevin is swimming in a sea full of guys that can do the same things he can.
Seth Rollins, Finn Balor, Dolph Ziggler, Matt Hardy and Bray Wyatt are all in the same boat as Owens. All of them are main event talents that can rise to the occasion any time their numbers are called. They can team with each other, work each other and work hour long matches any night of the week. But it takes a lot to consider any WWE Superstar truly special.
Being good in the ring and on the mic isn't always good enough. Fans have a usual rotation of guys they look to when it comes to championship consideration and that goes for any title in the company. Like many of his peers, Kevin Owens can have a Hall of Fame career without ever being a top guy with a top championship. But fans will never quite look at it that way.
Owens is not seven foot tall with freakish strength and a massive personality that enters the room before he does. Kevin Owens is not Braun Strowman, which means merely being on the card may never be good enough. Owens needs and has earned, another championship run. Whether or not he gets it any time soon is anyone's guess.
But it could very well be that Strowman versus Owens is not leading to a title run for either guy. Maybe this feud is simply about having fun and entertaining the fans. That explanation may not be good enough for those fans. But then again, maybe it doesn't have to be.