Ranking Kane's Tag Team Partners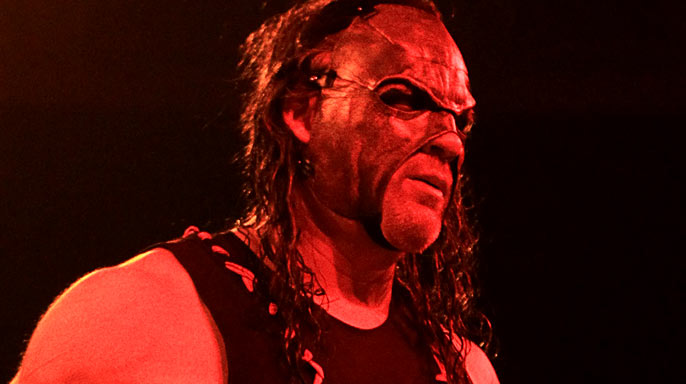 With the return of Team Hell No on SmackdownLive, now is as good a time as any to take a look back on Kane's tag team career. The Big Red Machine is pretty much the master of teaming up with random superstars over the years, and a lot of them are well remembered, and fondly so. With that being said, here is the ranking for all seven of Kane's tag team partners he has had over the years.
7. Mankind
A largely forgettable team comprised of two of the best the Attitude Era had to offer. While Kane is pretty much the king of make-shift tag teams, his first didn't bring anything to the table. Their biggest moment as a team was when they were scheduled to face Steve Austin and The Undertaker in a Hell in a Cell match on RAW. The match never even happened, and not many people know that Kane and Mankind were teaming at this point. Oddly enough, Steve Austin and The Undertaker were the ones to take the titles off them, which is a far more strange tag team now that I think about it.
6. Hurricane
This is the kind of team you put together in a video game. One would think that kind of random union would be more memorable. But this comedic team is overshadowed by the charisma of other smaller partners that will be touched on later in this list. That being said, there was some fun to be had here. Kane had some good comedic moments, Hurricane got off to a great start after recently debuting, and Kane singlehandedly defeated three teams in a wonderful TLC match. It just goes to the show the value of the other teams on this list.
5. X- Pac
A lot of people have fond memories of this pairing, despite the fact the team was short lived. While their second championship reign is most forgettable, their first was a nice payoff for a makeshift team. Kane has always worked well with smaller men, and this was what kicked it off. While nothing new, Kane and Pac were a great contrast of styles that made for some entertaining matches. Making Kane more human will always be a controversial topic, but putting that aside, this was a fun tag team.
4. Big Show
Kane and Big Show were two guys who won tag team gold with just about everyone they could possibly team up with. So it's no surprise to see that they made a good tag team together as well. Their first run near the end of the Ruthless Agression Era was a remarkable depiction of a monster tag team, the likes of which we rarely see today. And even though both men were nearing veteran status at the time, both characters felt fresh in this role. Their second run during the PG Era was less than stellar, bringing the team down to the fourth spot.
3. RVD
Kane is like a chameleon, able to adapt to his surroundings. One look at this gem of a tag team is all the prof that is needed. Like Edge and Christian, this team was the perfect mix of seriousness inside the ring and silliness backstage. The initial brand split made way for some creative choices, this being one of the best in terms of the tag team division. This is a case of a truly thrown together team reaching unexpected heights. But looking at Kane's tag team resume it isn't much of a shock.
2. Daniel Bryan
As Kane's partner in his longest tag team championship run, Daniel Bryan already surpasses most of the teams on this list. Add in the chemistry the two had and one can clearly see how memorable this team is. At a time where the Shield was all anyone could talk about, Team Hell No carved out a niche and ran with it. From their comedic antics with Dr. Shelby to the exciting matches they put on together, there will be a place in history for this odd duo. It brought Kane back into the spotlight, maybe for the final time. If so, it is a note worthy for such a legendary figure to go out on. Let's just hope they're reunion doesn't sour the fond memories we have of the duo.
1. Undertaker
Of course the Brothers of Destruction top the list. The Undertaker is such a large part of Kane's career that it would be a crime to put anyone else here. A common criticism is that Kane didn't contribute much to the team, as Undertaker was always depicted as the better of the two, which is unfortunate. How is anyone suppose to compare to the Deadman? Even so, Glenn Jacobs and Mark Calaway had, and still possess, a great chemistry together. But seeing as how both are two of the greatest big men of all time, that isn't a stretch. If any of the teams on this list make it to the Hall of Fame, it'll be this one, and to many, it will be well deserved.
---
Always Use Your Head and visit the official Pro Wrestling Tees store for The Chairshot All t-shirt proceeds help support the advancement of your favorite hard-hitting wrestling website, The Chairshot!

---
WWE Women's Tag Team Championships?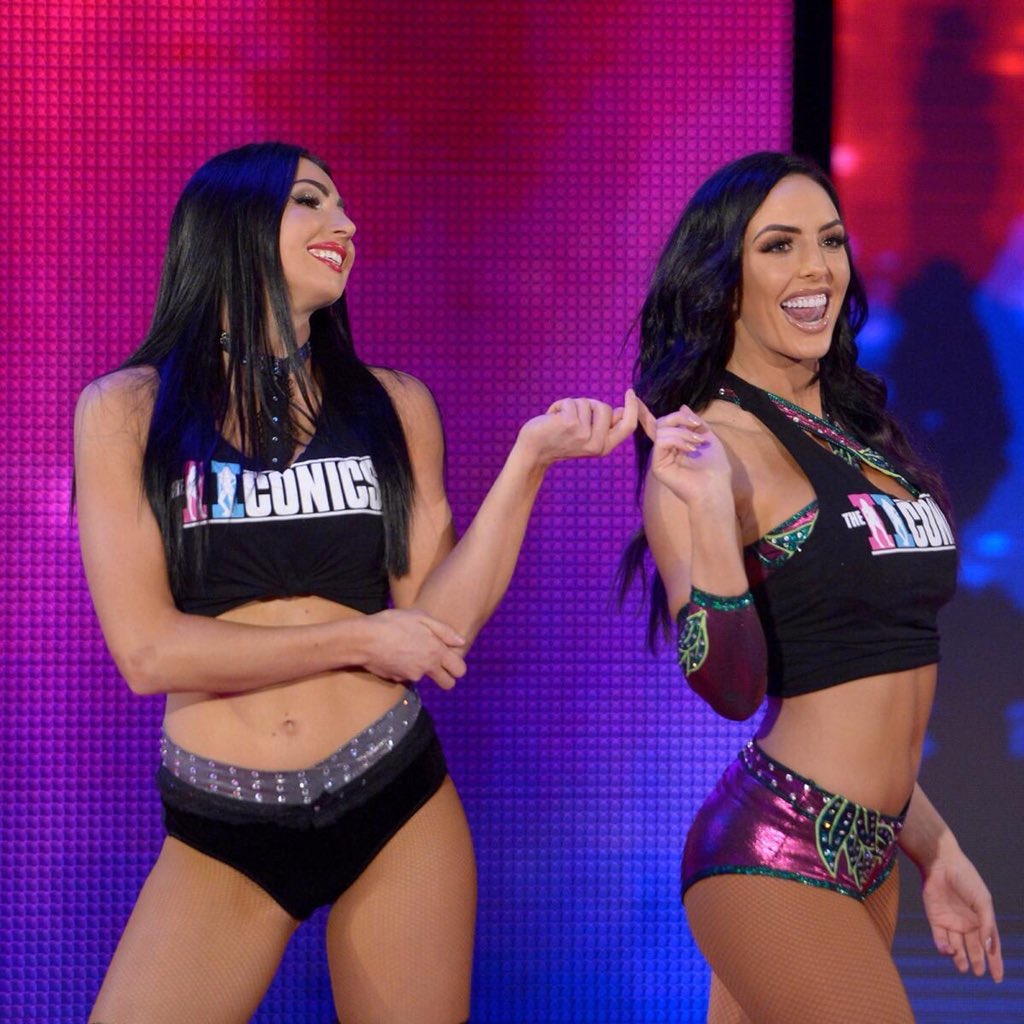 I don't want this title to be misleading. I'm not trying to break news or spread a rumor. This is just something I've noticed over the past several months.
As we all know, WWE's first all-female pay-per-view, Evolution, is set to take place in October.  In addition to the finals of the Mae Young Classic, an NXT Women's Championship match is supposed to take place. Alexa Bliss vs. Trish Stratus has also been announced.
We know a lot of talent is supposed to be present but we haven't heard much in terms of scheduled matches. This is one of the reasons I think we could see the debut of women's tag team titles.
Over the summer, WWE has been pairing up a lot of the women on their roster. Take Sasha Banks and Bayley for example. Many of us thought that was leading to a blood feud that was going to culminate at SummerSlam or Hell in a Cell.  But nothing happened. They made up and have been working tag matches together ever since. We've also seen the return of The Bella Twins who have been appearing on both Raw and SmackDown.
Teams like The IIconics and The Riott Squad were already present but let's look at the rest of the roster. When Paige left Absolution, Sonya Deville and Mandy Rose continued to make appearances as a team. Ronda Rousey and Natalya have been in each other's corner all summer. Alexa Bliss used to only be accompanied by Mickie James but now Alicia Fox has joined their stable. As previously stated, Alexa is supposed to wrestle with Trish so Mickie and Alicia can still partner together.
The same is occurring over on SmackDown Live. Naomi was feuding with both Peyton Royce and Billie Kay but Asuka has very recently joined forces with her. They even had a tag match against The IIconics on Tuesday.
On Raw the only women left without a team are Nia Jax, Ember Moon, and Dana Brooke. Carmella, Becky Lynch, and Charlotte are the only lone women on SmackDown Live. Zelina Vega and Lana are attached to their male associates so I don't expect them to be paired with another female talent in the near future. Carmella's partnership with R-Truth isn't as permanent and Tamina is still on the shelf with an injury. I wouldn't be surprised if we saw a mini Welcoming Committee reunion upon Tamina's return.
Again, this is all just personal speculation. I turn a blind eye to dirt sheets and leaked event cards so you may know more than I do on this subject. This is just something I've picked up on from watching the product. It may be my imagination but there were too many signs for me to ignore.
---
Always Use Your Head and visit the official Pro Wrestling Tees store for The Chairshot All t-shirt proceeds help support the advancement of your favorite hard-hitting wrestling website, The Chairshot!

---
Dear Smarks, The Saudi Arabia Show Has Nothing to Do With Evolution!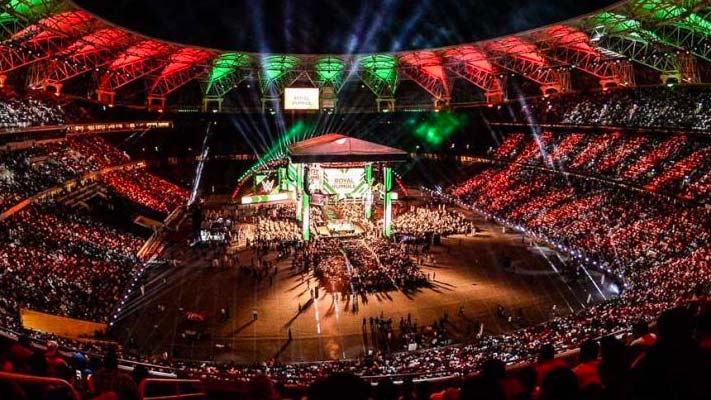 It's that time of year again. WWE is getting ready to go to the Kingdom of Saudi Arabia for a Network Special, and once again, the wrestling PC Police are up in arms about it. The rallying cry this time is about how AWFUL it is that WWE is doing a show in Saudi Arabia, where the Women's Division isn't allowed to compete, just days after the first all women's PPV. Obviously, this is a blatant attempt by WWE to undermine the Women's Evolution by doing this and that WWE should be ashamed to take 'blood money' from Saudi Arabia.
There's so much wrong with this argument, I'm not sure where to start. First of all, the scheduling of the Crown Jewel for November 2 would've happened if WWE had put No Mercy on instead of Evolution. The scheduling for both events was done long before either was formally announced.  Secondly, as I have stated before, WWE goes to the Middle East as part of their bi-annual overseas tour every year and have done so for decades, and every time, except for the match in Abu Dabai, the women have never gone on that leg of the tour because they weren't allowed to compete. This wasn't a secret, but no one cared until after the deal with Saudi Arabia was announced and Banks and Bliss had their history making match in Abu Dhabi.
Here's a question: How is doing TWO shows a year in Saudi Arabia undermining the Women's Division? Seriously. Do you HONESTLY, truly and honestly, think WWE is going to spend three years building the Women's Division, putting on two all-Women's tournaments, doing the first Women's Royal Rumble, Elimination Chamber, and WrestleMania Battle Royal, while secretly plotting to undermine it by doing two glorified house shows in a country where women are banned from participating in sports?
As for the 'blood money', oh where do I start? What brand of shoes do you have on? What brand of clothing are you wearing? Or your phone? Chances are pretty good that your clothes, shoes, and/or your phone, was made in an overseas factory by workers who get pay a very small amount and often work long hours in terrible conditions. Yet, companies stock these products and not a word is said about the business deals being 'blood money'.
Before anyone starts about Saudi Arabia's human rights violations, let me point out that Australia, site of the Super Show-Down and China, which will be getting it's own Network Special, BOTH  have their own recent histories of human rights violations. Australia has been HEAVILY criticized for its treatment of migrants and refugees, many of whom are from predominately Muslim countries, as well as the continued mistreatment of Aboriginal peoples. China's list of human rights violations is a pretty lengthy one, but they have also recent come under fire for its persecution of a Muslim minority, and yet, no one has complained about WWE doing shows there. No one has made nearly the same amount of noise about 'blood money'. So why is Saudi Arabia unacceptable while Australia and China are acceptable?
The bottom line is that WWE is a business, not the United States Government, or the United Nations. The deal with Saudi Arabia is a business deal that gives fans in the Middle East a chance to see a WWE show without having to stay up to the crack of dawn.
If the idea of WWE doing TWO shows a year without the women present bothers you that much, don't watch it and focus that energy on supporting women's wrestling and women's causes where you live. Cheer when the women's matches are on instead of going to the bathroom or changing the channel, watch the Mae Young Classic (it's great, I promise), plan to watch Evolution, buy merchandise to support the female superstars. The Women's Evolution is bigger than two house shows in Saudi Arabia, don't diminish it by making that the end all-be all.
---
Always Use Your Head and visit the official Pro Wrestling Tees store for The Chairshot All t-shirt proceeds help support the advancement of your favorite hard-hitting wrestling website, The Chairshot!

---
Joe's Lucha Libre Weekly: News & Opinions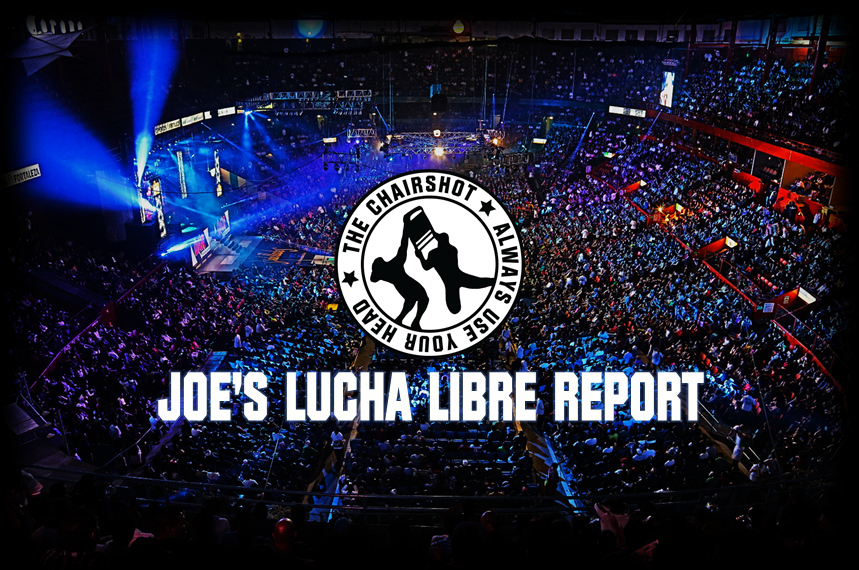 CMLL
CMLL Anniversary
We saw at the anniversary show, in predictable fashion, Rush and Cavernario defeat Volador and Matt Taven in the hair vs hair match. Everyone knew what the result would be which helped kill intrigue in the match because as discussed before, if CMLL was willing to hair Rush lose his hair it would be against LA Park and if he were to lose it against anybody else it wouldn't make sense. So Volador and Taven lost 2 falls to 1 and at the end of the match, as a way to weasel out of it Taven turned on Volador as if it was his plan all along but they weren't going to stand for it. I wonder how much Taven had his head shaved, I suppose we shall see on the next Ring of Honor live event. The show was pretty close to a sell out containing 16,000 fans.
The Co-main event saw Pentagon, Fenix, and Diamante Azul defeating LA Park, his son, and Caristico 2 falls to 1 in what was a very good match. LA Park, for a man who is very large in his older age can still put on some very good matches and held his own in their with the much young Fenix and Pentagon and the always entertaining Caristico. The match before that which was the Kaos Klan vs Los Guerrero's for the trios title. This wasn't in technical terms a very good match, but it had heat on it. One of the issues was the finish was a complete let down and out of nowhere. Not in a good way either, sometimes out of nowhere finishes are good if they're done during hot moments, but this one was just a standard pin with feet on the ropes.
CMLL Friday Show/Future
The top three matches for this show will feature a rematch with Kaos Klan and Los Guerrero's. This is the third time this match is happening in a short span so I wonder if they will have Los Guerrero's win here after potentially swerving the fans at the Anniversary show. It was a weak finish and wasn't a good match so I have to imagine that they're going to put forth a better performance this time. However, a lot of the men involved are much older and broken down so they need the pomp and circumstances more. We also have a lightning round match between Mistico and Negro Casas so that should be something. They must be going for a program with them.
In the main event we have, Atlantis, King Fenix, and Diamante Azul vs Rush, Cavernario, and El Terrible. I wonder if my theory about building a program with Rush and Atlantis for next year starts and if maybe they move towards Fenix and Cavernario. I can only imagine how good those singles matches would be. LA Park worked the Arena Puebla show with Rush in the match. This was a very good match, perhaps an anniversary show standard.
There was a lot of instances in the match where Park and Rush had a show down one on one in the ring. It was a very long match and very good. Rush won with a low blow and Park then cut a promo after the match challenging him hair vs mask again to which CMLL cut his mic. But it magically turned on when Rush got the mic. Park was upset and left. They are promoting LA Park and Hijo Del LA Park vs Rush and Cavernario next week for the Monday Puebla show. So it looks like they're going back to this well for financial purposes, who knows if the hair vs mask match will ever happen.
AAA
AAA has announced their big October Show, the Antonio Pena tribute show, and it has a pretty big card, with the main event being Jeff Jarrett vs Dr. Wagner Jr in a hair vs hair match. I'm almost positive Jarrett is losing that match especially if they're building towards Park vs Wagner at the next Triplemania. Wagner is gonna need to have more hair grown out to make it a viable match on paper. He doesn't have much hair so why would the fans buy his hair vs the value of Park's mask? I feel like there'd be so much more intrigue with Psycho Clown vs Park mask vs mask, but it all depends on when and who Park wants to lose to. Everyone seems to agree that it has to be to Rush whenever the time is.
Also on that card which we'll preview more in the coming weeks, Park will team with Psycho Clown against Murder Clown and Kevin Kross. So something is going to have to happen in the coming weeks that pairs Kross with Murder Clown because they were just attacking each other during the last encounter with Wagner and Jeff Jarrett. A three way tag match for the tag titles will happen and Bandido and Flamita will actually get their chance. There was rumblings wondering if AAA would remember the stipulation on the Triplemania show. There's also a four way match for the women's title. More info in the coming weeks as the card gets built on the TV tapings.
AAA on Twitch 9/21
We will have a women's match to start the show, which seems to be typical featuring, Keyra, Lady Maravilla, and Starfire vs Faby Apache, La Hiedra, and Lady Shani. We get a six man tag team match next which will be action packed featuring, Emperador Azteca, Demus, and Ciclon Ramierz vs Aerostar, Argenis, and Nino Hamburguesa. The next match is a three way tag match between Texano Jr and Escorpion vs Maximo and Mamba vs El Hijo De Dr. Wagner Jr and Golden Magic.
The co-main event is another six man tag between, Laredo Kid, Tayrys, and Hijo Del LA Park vs La Parka, Pagano, and Joe Lider. Any match with Joe Lider and Pagano is bound to be crazy. The main event sees LA Park teaming with Electro Shock vs Psycho Clown and El Hijo Del Fantasma. The theme of this show is Lucha Libre Elite vs AAA. They're playing up an invasion storyline. They have another show on September 30th but I will preview that one next week.
---
Always Use Your Head and visit the official Pro Wrestling Tees store for The Chairshot All t-shirt proceeds help support the advancement of your favorite hard-hitting wrestling website, The Chairshot!

---