Styles vs. Joe: Legacy on the Line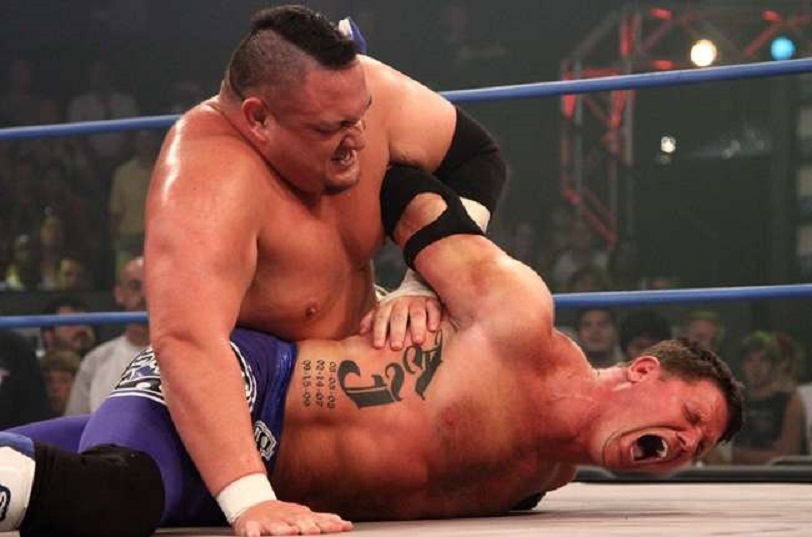 SummerSlam has had some tremendous championship matches over the past thirty years. This year's event promises to be no different, as the WWE & Universal Championships will be defended in matches featuring two of wrestling's greatest rivalries of the 21st century. We all know that Brock Lesnar will once again take on Roman Reigns for the Universal Championship because the fans just can't get enough of it. Perhaps The Big Dog will finally get his bone in front of an adoring Brooklyn crowd.
The WWE Championship match is pretty exciting to those of us that have followed wrestling outside of WWE over the past fifteen years. AJ Styles & Samoa Joe traveled very similar roads to get here. They met multiple times in Ring of Honor when Styles would make guest appearances while Joe was ROH Champion. Joe eventually left ROH & moved into Styles' neighborhood, TNA. He immediately became Styles' top competition for the X Division Championship & supremacy in the promotion.
Their rivalry continued off & on for the next eight years, often involving Christopher Daniels. They even had a five-star triple threat match back when that meant something. I saw Joe & Styles face off on a TNA house show at the Cincinnati Gardens in June 2008. Ten years later they'll meet in the Barclays Center, an arena that will be slightly more full than the Gardens was on that night.
It's a great story for people like me. How do people not like me feel?
There is one complaint I can see about this match being made for SummerSlam. Joe hasn't done a whole hell of a lot since moving to the blue brand. After coming up short in the Money in the Bank ladder match & a gauntlet to determine the #1 contender to the WWE Championship, Joe was off of SmackDown Live for the next month. He returned two weeks ago & has gained victories over Tye Dillinger & R-Truth. With all due respect to Dillinger & R-Truth, beating them doesn't carry much weight with the audience. Some will say it's not enough to establish Joe as a credible threat to be WWE Champion.
I would say that Samoa Joe is a credible threat to hold any championship in wrestling.
You know that we here at The Chairshot are all about wrestlers that are Men with a capital M. Samoa Joe is a Man. He carries himself like a dangerous human being. He looks like somebody you wouldn't want to meet in a dark alley. His offense is believable. He can choke out anybody standing across the ring from him and people would buy it. His track record against Styles is as good as anybody's. Joe was 7-2 in singles matches against Styles during their time in TNA. Overall, he's 9-4 against the Phenomenal One. He's had AJ's number for most of his career. Of course, the last time they met was over five years ago.
Styles has undeniably stepped his game up since leaving TNA. He's a more complete performer than he was during his rivalry with Joe. Being WWE Champion has solidified his legacy as one of the greatest wrestlers of his time. That's what Samoa Joe is going for at SummerSlam. Beating AJ Styles on that stage for that championship would solidify his legacy.
It'll be a lot easier said than done. But if anybody can do it, it's Samoa Joe.