EA's The Underrated Files: 2 Cold Scorpio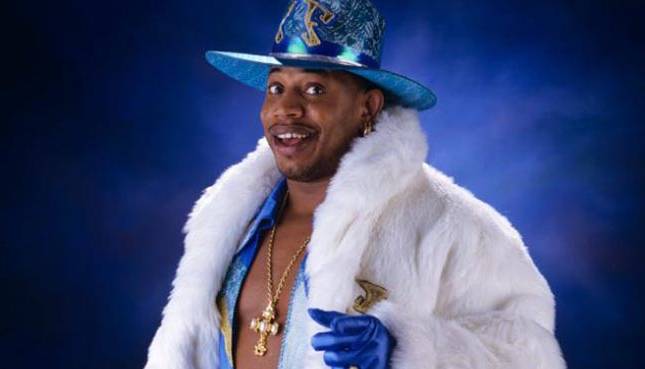 In the year 2018, high-flying aerial offense or top rope maneuvers seem to have lost their aura. The days of a 450 splash being innovative are long gone. A generation of new performers were influenced growing up watching stars like Billy Kidman, Rey Mysterio, Juventud Guerrera and a plethora of others taking to the skies during the Monday Night Wars, but years before that, there was one man that was breaking the mold in the early 90's here in America. While men like Owen Hart were giving us glimpses in the late 80's as The Blue Blazer, there was one guy that seemingly had no fear when it came to taking to the air. It seemed he had nerves of ice. Perhaps, he turned a "cold" shoulder to the typical styles of the time. You could even say, "2 Cold". That man was 2 Cold Scorpio.
Born in Denver, Colorado on October 25th, 1965, Charles Scaggs broke into the wrestling business in 1985, an era that was dominated by larger than life builds and characters who didn't have to do much in the ring to get themselves over. He adopted the name 2 Cold Scorpio and performed for various independent entities before making his way to New Japan Pro Wrestling and training at the famous NJPW Dojo following a recommendation from one of the biggest American stars to ever step foot in 'The Land Of The Rising Sun', the late, great Big Van Vader. This is where Scorpio really found himself as an in-ring performer, where you didn't need to have "24-inch pythons" to be successful, eventually working his way into Europe and Mexico as well.
In the early 1990's, a shift in the size of wrestlers was just formulating with World Championship Wrestling really leading the charge. Competitors such as 'Flyin' Brian Pillman were becoming very popular with fans and the company would open a working relationship with NJPW. At Clash Of The Champions XXI, Scorpio finally was seen by a much larger audience, making his WCW debut as Ron Simmons' mystery partner and awing spectators young and old with acrobatics that had never really been seen on such a large stage. While Pillman could perform some springboard maneuvers that were rarely seen in the States, nobody could do what Scorpio pulled off with his Scorpio Splash (450 Splash) and the even more impressive Tumbleweed, a corkscrew somersault leg drop. Speaking for myself only as a youngster, my jaw would drop.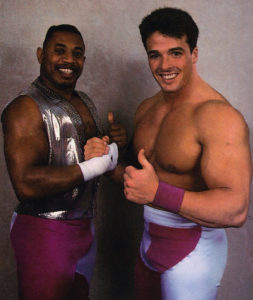 2 Cold Scorpio would quickly grow what you could call an "underground" following, always impressing even though he never made it past a mid-card status. He did however earn some gold after pairing up with a young Marcus Alexander Bagwell to win the WCW World Tag Team Championships. For reasons unknown (which can often be said about any decisions made by WCW), Scorpio was released in 1994. It wouldn't take long for his talents to be recognized by other organizations, quickly jumping on-board with a company that was very quickly growing in popularity, Extreme Championship Wrestling.
The ECW crowd is widely-known for its love of blood and guts, but it's often forgotten that their rabid fans greatly appreciated straight-up good wrestling and technical skills. People often forget that future industry Superstars Chris Jericho, Eddie Guerrero, Chris Benoit, Dean Malenko, Rey Mysterio and Psicosis all made names for themselves after being brought in by Paul Heyman. This is where Scorpio earned his biggest successes as a 4-time ECW World Television Champion (a title that was highly respected, unlike what was becoming of WCW's formerly prestigious TV Championship), in addition to a Tag Team Title reign with ECW icon, The Sandman. His feuds with Sabu, Taz and Shane Douglas will live forever in the minds of die-hard ECW fans. I'd highly recommend checking them out on the WWE Network.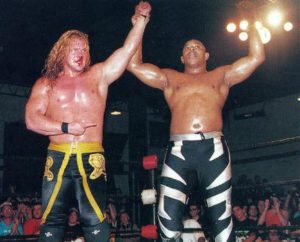 In 1996, 2 Cold Scorpio got his chance with the "big leagues" after signing with the WWF, undergoing a complete character change and taking on the name Flash Funk. Sporting a zoot-suit and flanked by his dancers The Funkettes, it was a gimmick that really fit his flashy style and tendency for busting the occasional move in the ring. The wrestling industry was in the midst of a complete overhaul however and despite impressing crowds with his pension for popping flashbulbs by defying gravity, the gimmick and weakness on the microphone made his run fairly forgettable. It was very hard to get behind Flash Funk with Superstars like The Undertaker, Mankind, Shawn Michaels, Bret Hart and of course, 'Stone Cold' Steve Austin leading the charge for the company. He would eventually drop the character and simply be called Scorpio, but the quintessential damage had been done and although he still was earning television time after starting to team-up with fellow ECW alum Terry Funk, the writing was on the wall. After requesting some time away in 1999 to deal with personal issues, the WWF instead decided to cut ties altogether and ultimately released him.
Since then, 2 Cold Scorpio has continued his ring work, making sporadic appearances for ECW before their demise in 2001 and then continuing to work on the independent scene to this day, even at the age of 52. Admittedly, it's very likely that what we saw from Scorpio was not even the best of him, as he's been very open about his time in ECW and the WWF being a stage when he struggled with hard drug use. A recipe for disaster if you're looking to become a top star in the business, but unfortunately not uncommon in eras past.
The next time you see Ricochet squash an opponent with a 630 Splash, Lince Dorado execute a Shooting Star Press or even current WWE Champion AJ Styles hit his springboard 450 Splash, maybe you will remember the name 2 Cold Scorpio. I highly recommend firing up the WWE Network and checking out his work, then remembering that everything you see today had to start somewhere. While he may be mostly forgotten or even unknown by younger fans, I pride myself on being a bit of a wrestling historian and will always remember the men who helped to usher in gravity-defying moves. You can call him "Funky" or even a "Flash" in the pan, but you cannot discount the innovations of one 2 Cold Scorpio.
King's WrestleMania Rewind: Charlotte Flair vs. Asuka from WrestleMania 34
Chris king is back with one of the most underrated matches in WrestleMania history–Charlotte Flair vs. Asuka!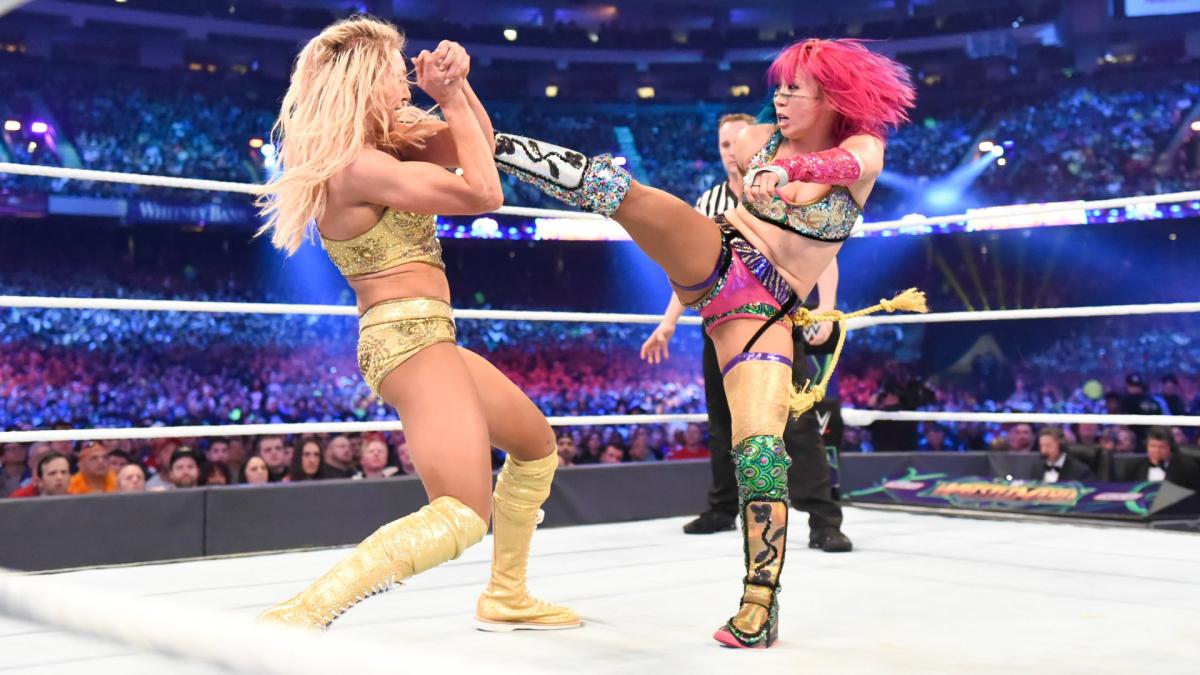 Chris king is back with one of the most underrated matches in WrestleMania history–Charlotte Flair vs. Asuka!
We look back at Charlotte Flair vs. Asuka at WWE WrestleMania 34. 'The Empress of Tomorrow' put her unprecedented and historic undefeated streak of 914 days on the line against 'The Queen's' SmackDown Women's Championship.
For years, this was considered a dream match while Asuka dominated the roster in NXT, while Flair won numerous championships on the main roster on both Raw and SmackDown. The Empress made her long-awaited debut on the September 11th episode of Raw and began to tear through the competition.
Asuka outlasted all twenty-nine other women in the historic first-ever Women's Royal Rumble match to challenge for the title of her choosing. At Fastlane, she made her choice.
The WWE Universe was so excited for this match myself included. Both superstars delivered a fantastic performance on the Grandest Stage of Them All executing counter after counter. Asuka showed off some nasty-looking kicks to her opponent, and Flair hit a thunderous Spanish Fly off the top rope. Flair was seconds away from defeat at the hands of The Empress but she locked in Figure Eight and Asuka was forced to tap out.
I can't even begin to explain how shocked I was at this outcome, as nearly everyone expected The Empress to continue her undefeated streak and walk away with the women's title. This controversial decision was the downfall of Asuka's momentum. She would ultimately win the SmackDown Women's Championship at the 2018 TLC pay-per-view in the triple-threat ladder match.
Fast forward to this year when Asuka has recently returned with her Japanese-inspired persona Kana. Kana is dangerous and ruthless and is heading into a championship with Bianca Belair at WrestleMania 39. The Empress has regained all her momentum and is highly favored to walk away with the Raw Women's Championship. Let's hope that Asuka and Belair can tear the house down and deliver an A+ grade match both women are fully capable of.
King: Dominik Mysterio Needs To Do This At WrestleMania
Chris King is here with what WWE should do with Dominik Mysterio at WrestleMania in his long-awaited match against his father Rey Mysterio Jr.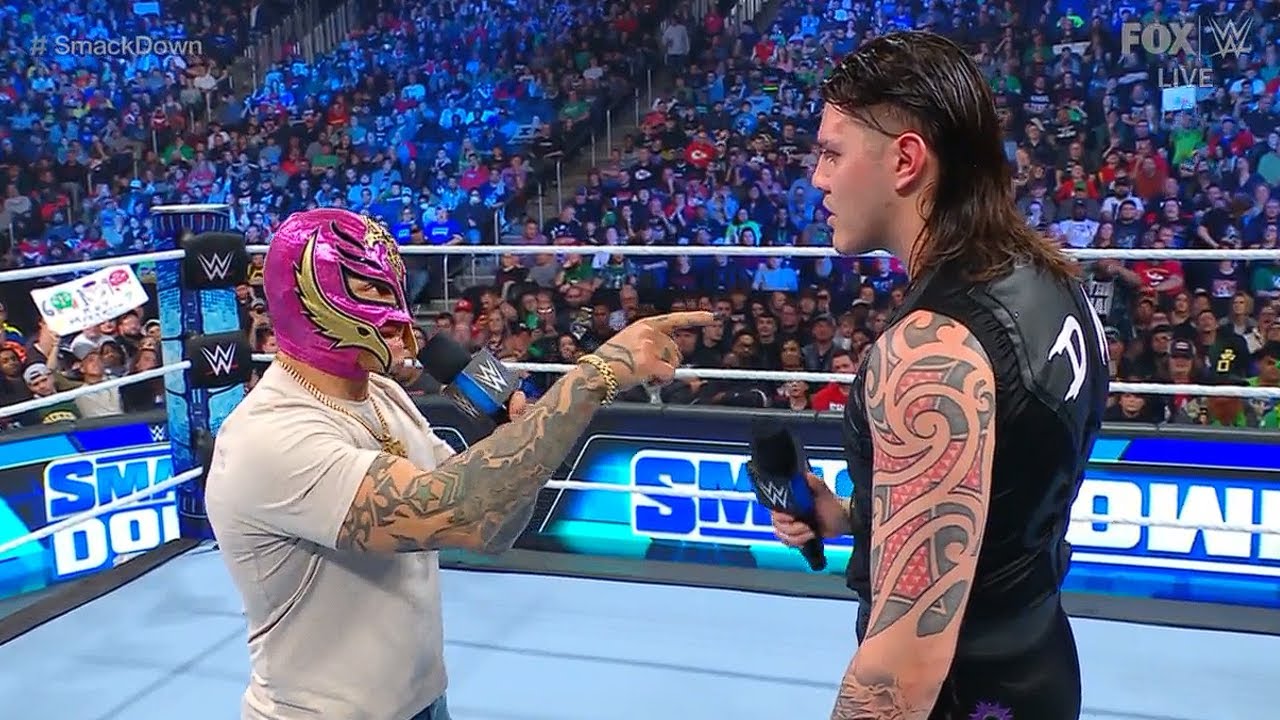 Chris King is here with what WWE should do with Dominik Mysterio at WrestleMania in his long-awaited match against his father Rey Mysterio Jr. 
On this week's episode of Friday Night SmackDown, Rey Mysterio finally snapped and beat some sense into his disrespectful punk-ass kid Dominik. The member of the Judgement Day came out to push his father again for a match on the Grandest Stage of Them All, this time with his mother and sister at ringside. The ungrateful punk told his mom to "Shut Up," as a father even I wanted to jump through the screen and whoop his ass.
Back in October of last year, Mysterio made the emotional decision to possibly quit the company but, instead, Triple H persuaded the Lucha libre superstar to move over to SmackDown to avoid his son. This came after Dominik shockingly turned on his father at Clash at the Castle. Mysterio did everything he could to refuse his despicable son's challenge for Mania but, a man can only be pushed so far. Mysterio will be inducted into the 2023 WWE Hall of Fame and I expect Dominik to embarrass his father during his speech to further this personal feud.
Yes, the WWE Universe hates Dominik and wants to see him get the ever-loving crap kicked out of him but, this feud is missing a special ingredient to capitalize on the biggest heat possible. Throughout this feud, Dominik has made mention of the legendary Eddie Guerrero on several occasions going back to the "iconic" 2005 feud.
I know WWE might not want to go this route but, Dominik MUST come out to Eddie Guerrero's theme at Mania. The disrespectful punk needs to come out in a lowrider to garner nuclear heat. It doesn't matter if The Judgement Day comes out and causes interference for Dominik to get the win, all that matters is that both superstars get the biggest payoff of this nearly year-long feud. Just imagine the Roman Reigns heat after he defeated The Undertaker and multiply that by ten. Dominik portrays the perfect heel and he truly is the missing ingredient that The Judgement Day needed to grow and evolve into a top faction.