Top 5: Soccer Players Turned Wrestlers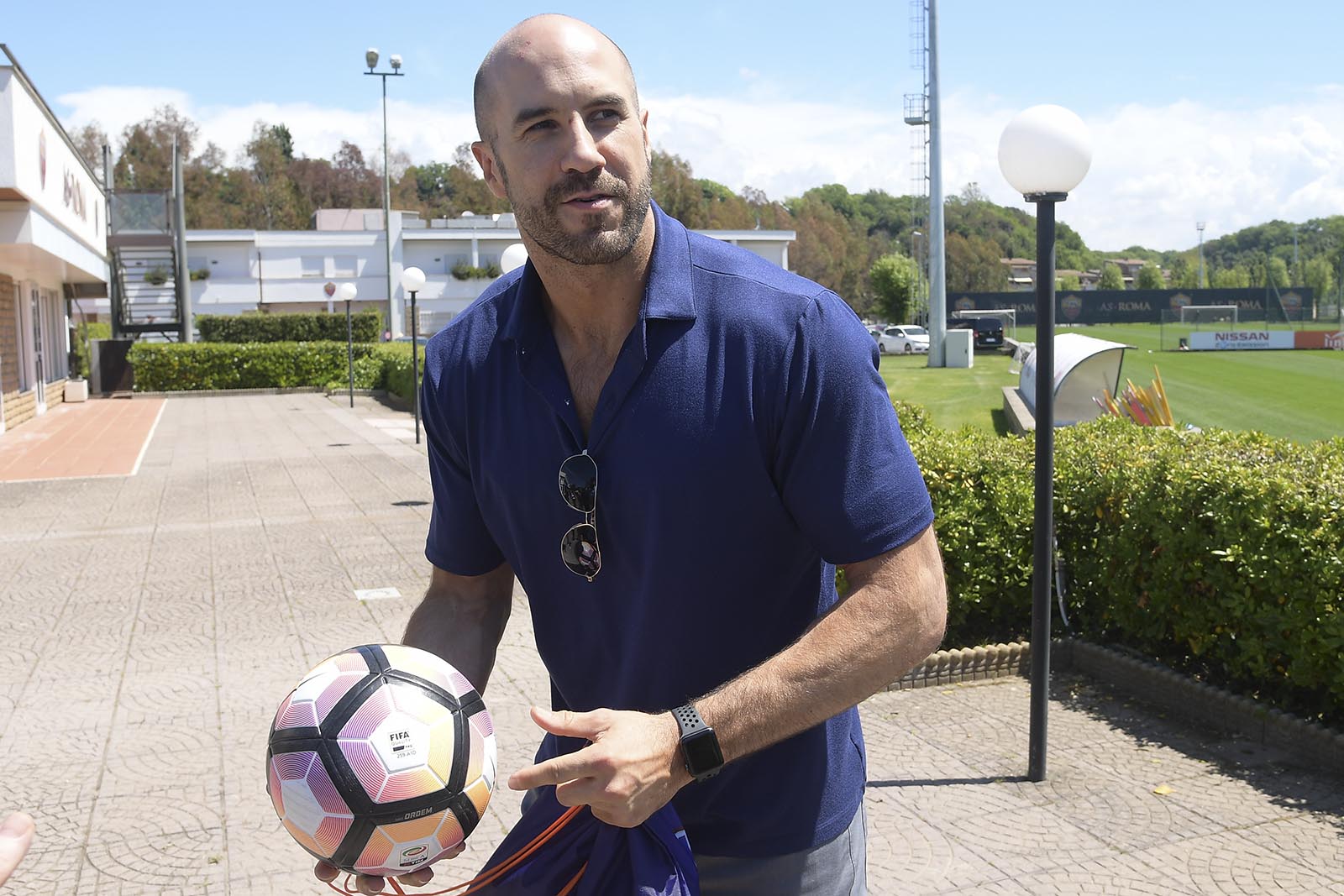 It's kind of a dead period in the American sports calendar. Baseball is about halfway through their season while football is getting ready to start theirs, and basketball & hockey are recovering from theirs. This is fine, as one can only take so much heartbreak in their life.
Everywhere else in the world though, people are all caught up in World Cup Fever! The US not qualifying has hampered the appeal here, but that sort of thing doesn't matter everywhere else in the world where the sport is king. Many of the world's greatest athletes have played soccer, including some of wrestling's best.
These are the Top 5 Soccer Players Turned Pro Wrestlers.
5. Mason Ryan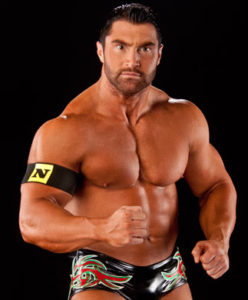 Barri Griffiths looked like a million bucks & seemed to have all the potential in the world to be a WWE Superstar when he made his way through FCW & joined the New Nexus in 2011. He never quite figured it out in the ring the way he had on pitch. Prior to his wrestling career & his stint on Gladiators, Griffiths was a successful Welsh soccer player. He was a centre-back for Porthmadog F.C. while they were in the Welsh Premier League, but a knee injury brought an end to his career.
4. Paul Diamond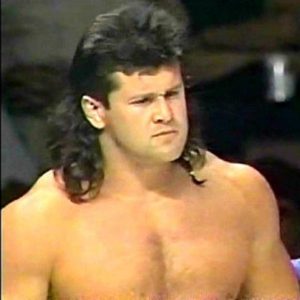 Our old school readers will remember this man as one-half of Badd Company with Pat Tanaka, or perhaps as Kato of the Orient Express. Or maybe you remember him as Max Moon! He came over to North America from Croatia while pursuing a professional soccer career. Tom Boric played for the NASL's Tampa Bay Rowdies from 1982 to 1984. Once the league folded, he stayed in Tampa, got his green card, trained with the Malenkos & the rest was history.
3. Antonino Rocca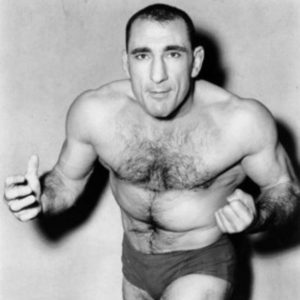 I don't know if we have any readers old school enough to remember Rocca in his prime. The Argentinian was one of Vincent J. McMahon's top draws for years, and he did big business across the United States during the 1940s, 50s & 60s. Like most kids in Argentina, Rocca began his sporting life on the pitch. Legend has it that he was very good, but injury led him into the wrestling business. He would often utilize his soccer technique in the ring, with led to an interesting style.
2. Eva Marie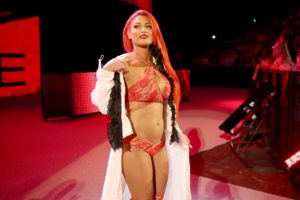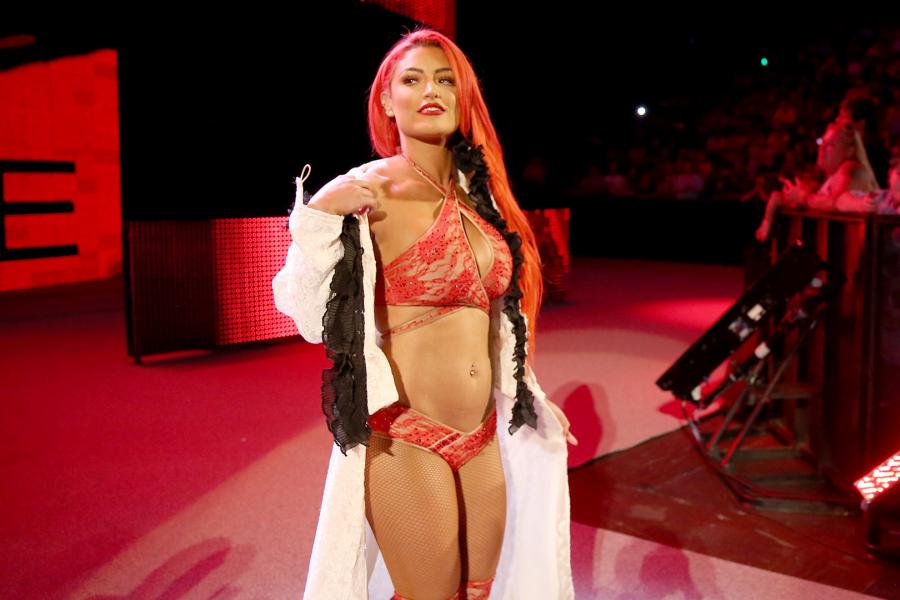 Long before our favorite underappreciated goddess was a WWE Superstar, her goal in life was to be a professional soccer player. She suffered an ankle injury in her senior year of high school & was told she'd never play again, but she recovered & became a Junior College All-American at Diablo Valley College. She transferred to Arizona State and wanted to play there, but a lack of self-confidence kept her from trying out. After she transferred to Cal State Fullerton, their soccer coach convinced her to play again…but that damn NCAA got in the way & declared that her eligibility had expired.
The NCAA ruins everything.
Honorable Mention: Andre the Giant
Andre reportedly played soccer during his childhood, but I couldn't find much more reference to it other than "Andre reportedly played soccer when he was a kid & had fun." There will be other reasons to talk about Andre.
Honorable Mention: Hugo Knox
Stuart Tomlinson played in the English league system as a goalkeeper before making the move to NXT. He appeared on some shows as Hugo Knox & was most known for having a ripped physique & wearing way too small tights. I'm not sure if they were going for a David Beckham gimmick or what, but Tomlinson never made it onto a televised event before getting released after almost three years.
Honorable Mention: Cesaro
Cesaro was quite active in soccer during his childhood. He pursued other things instead, but I'm including him here so we can take a look at him kicking the ball around with Brock Lesnar.
Brock Lesnar, Cesaro, Orton and Sunil Singh playing football. Amazing. pic.twitter.com/bbQwducwVJ

— The Clean Sheets (@cleansheetsPW) April 27, 2018
1. Trish Stratus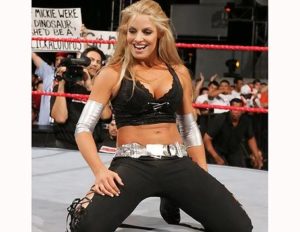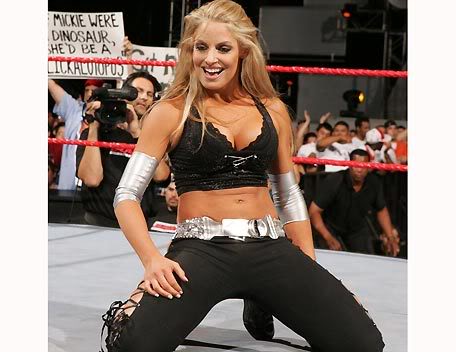 Trish had a pretty eclectic road to WWE stardom. When she went to York University she dabbled in a bit of everything. She studied biology & kinesiology & played field hockey & soccer. Soccer was obviously where she honed her Chick Kicks that would become a vital part of her offense. Trish grew up a wrestling fan though, so luckily for us her destiny was in the ring instead of on the pitch.
---
Always Use Your Head and visit the official Pro Wrestling Tees store for The Chairshot All t-shirt proceeds help support the advancement of your favorite hard-hitting wrestling website, The Chairshot!

---
Why Sasha vs Bayley Is A Bigger Deal Than The Women's Championship Situation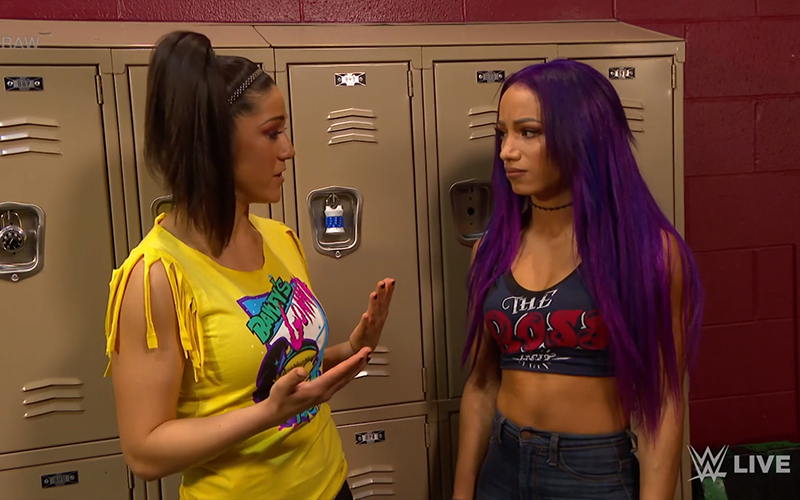 Okay, before you guys start shouting, hear me out. I love Ronda Rousey, I've been pleasantly surprised by how well she's adapted to wrestling, but the Sasha Bayley feud has bigger implications for the Women's Division in the the long run than whether or not Ronda Rousey gets a Women's Title run.
For years, the Women's Division has been limited to one major storyline per show, always involving the Women's Title and if there was a secondary storyline, it wasn't of much importance, it was usually just to keep a top face on TV. Sasha and Bayley is different, these are two top stars in RAW's Women's Division having a feud that easily could be for the Women's Title. It's a tale as old as time (no, not Beauty and the Beast): Two friends become bitter rivals, but unlike a lot of women's storylines, Sasha and Bayley are rivals over a guy, they've become rivals because both women want to be the best in the RAW Women's Division.
However, this story is even more important than just the Women's Division getting more than one important storyline. WWE allowing this storyline to happen without the title being involved means that they are treating the Women's Division as a valuable part of RAW and are invested in the division long-term.
Where could this go? I've long had a theory that eventually, RAW and SmackDown will basically be a storefront for the Network and that every division will have its own show, like 205 now. We'd have 205, a show for the Women's Division, Main Event for the low card, a show for the Tag Division, and maybe keep RAW and SD for the top tier and mid card.
Sounds like a pipedream, especially considering the huge TV deals that WWE's signed for RAW and Smackdown, but with cable cutting and sites like Hulu, Netflix, and Amazon developing more and more content, it's very likely that down the road, WWE decides to move more and more of their wrestling to the Network and just keep RAW and SmackDown on TV for the fans that don't subscribe to the Network.
Why would they do that? It's becoming more and more clear that while WWE struggles with time management, they also have a growing problem of having way too much talent and not enough time and titles to go around. Both Women's Divisions and the 205 division have a lot of talent and only one belt, which leaves a lot of talent wrestling in the doldrums. Having
Where does Sasha vs Bayley fit into this? Well, these are two top level talents having the makings of a great feud, if there were a secondary title involved, this would be the perfect feud for it. Sadly, that's not the case, but if this goes well, it makes a great case for women to get more non-title feuds and TV time on RAW and SmackDown and better stories than what they usually get, which seems to revolve around men and/or catty comments.
So, let's hope WWE does this feud justice and we'll get better stories and more TV time for the Women's Divison.
---
Always Use Your Head and visit the official Pro Wrestling Tees store for The Chairshot All t-shirt proceeds help support the advancement of your favorite hard-hitting wrestling website, The Chairshot!

---
The Rock: The 10 Defining Moments of The People's Champion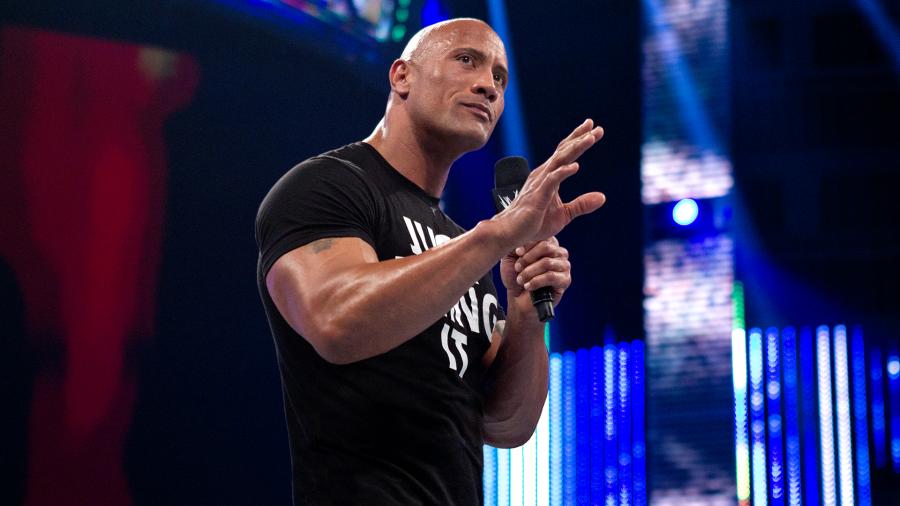 Has there ever been anyone who has be as if not more successful outside of the WWE as the were in WWE as the Rock? The Rock is one of the most charismatic people to ever step foot in WWE with countless quotable catchphrases. One of the best talkers of all time, a Hollywood megastar and by all accounts genuinely one of the nicest people.
He is without doubt the most electrifying man in Sports Entertainment history, but which moments were most electrifying? What moments truly defined the People's Champ? Let's find out today as we go through the Rock's career to find his 10 defining moments.
10. His Debut

This moment is significant not just because it was the first time we'd ever seen The Rock in the ring but how the debut was done. First off it was in Madison Square Garden so clearly, they had faith in him.  Then there was the way he was presented with commentary talking about his potential and his heritage being the first third generation superstar (He wasn't). JR even declared Rocky would be "the man".
They did everything they could do to present him as this fiery babyface even having him be the sole survivor. The problem was nobody bought it. He got a decent reaction but soon after that fans turned on Rocky Maivia chanting Die Rocky Die and Rocky sucks.
---
Always Use Your Head and visit the official Pro Wrestling Tees store for The Chairshot All t-shirt proceeds help support the advancement of your favorite hard-hitting wrestling website, The Chairshot!

---
It's Not As Easy as 'Change the Channel' or 'Find Another Wrestling Show'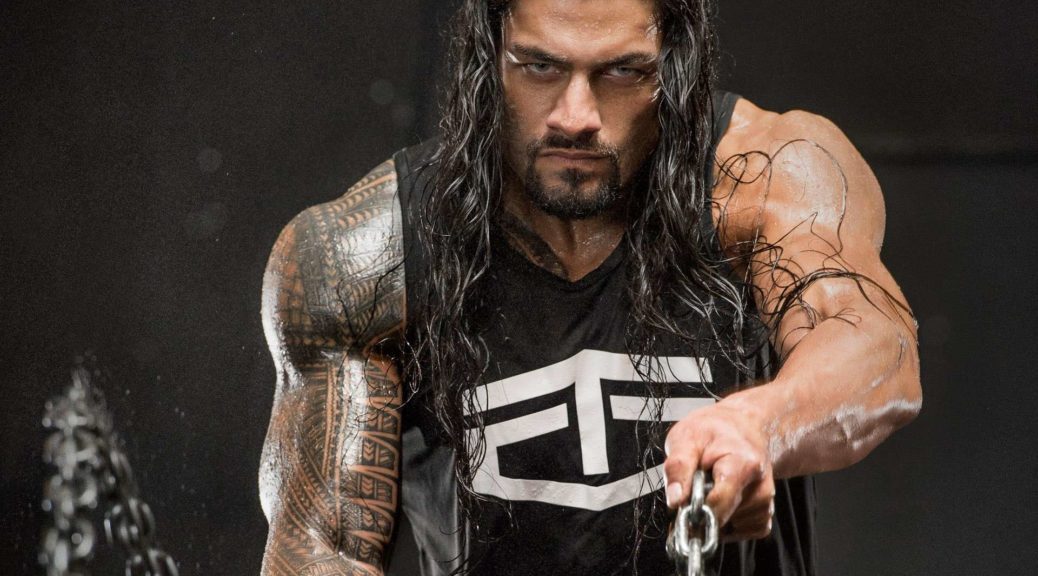 If you're someone who is happy with the product WWE is putting out these days, the wrestling world is a beautiful place. If you're not happy with the product, or just aren't thrilled with some of it, it can be a very aggravating and frustrating world. Your frustration probably isn't being relieved by the comments of well-meaning fans to your complaints: 'No one's making you watch it', 'Change the channel' 'Be happy that they're on the card', 'Be happy they go X, Y, or Z', 'There's tons of other promotions out there, find something you do like'. This advise sounds very fair and reasonable, and I know that most of the people saying it mean well, but basically telling someone to take their ball and go home when they aren't happy, rather than listening to what they're trying to say, comes across as condescending.
It's not as simple as changing the channel or finding something else. If you've loved a promotion all of your life and find yourself not happy with the current product, being told to change the channel or find another promotion to watch is like being told to change jobs because you're frustrated with management or finding another place to live because you don't like the landlord. It's not helpful and just adds to the frustration. Let's look at some of the most common things frustrated fans hear.
Change The Channel. This is the most common one I see and it's one of the most tone deaf. It assumes that you're going to find something else to watch and that's not always the case. If you can't afford to have hundreds of channels on your cable or satellite dish, or afford a streaming site, your choices are pretty limited.
Find Another Promotion: This one is the one I find most irritating, because it assumes that 1. You haven't checked out other promotions 2. That you can afford to pay to see smaller promotions or know that they're going to be in your area, and 3. That you can find a way to watch another promotion. I can't tell you how many times I see people asking where they can find a way to watch NJPW or some other non-WWE promotion. Overseas promotions are not always easy to get access to or fit into everyone's schedule.
Be Happy Your Fave Is on the Card/Just Be Happy They Got X, Y, or Z. I sort of get the logic behind this one, it doesn't make it any less insulting or make me any less furious. Yes, I realize that a promotion with a deep a talent pool as WWE doesn't have to give opportunities to everyone, but telling someone who is expressing frustration that someone they view as talented isn't being given a bigger opportunity, or didn't get the recognition for a big accomplishment when someone else did, that they should just be happy with what the person did get is very insulting and condescending.
---
Again, I realize that when fans say this to one another, they mean well…usually. Yes, some of the complaints do get tiring, like the ones about how Vince/Triple H/WWE/whomever is ruining the business/company/world, Roman Reigns is overrated/can't talk/can't wrestle/shouldn't be pushed because of Wellness Policy violation/he's too good looking to be relatable (yes, seriously). However, there is a lot of understandable frustration with how things are going that should not be dismissed or poo-pooed away with well-meaning comments that just add to the frustration. If we want to make the online wrestling fandom the inclusive place we claim it is, we need to be more willing to actually listen to the concerns and frustrations of each other and realize that for many people, giving up on something you love is not as easy as it sounds, especially when it's something you've devoted a lot of time,money, and emotion into. Being frustrated with WWE doesn't mean they don't still love the company, and we shouldn't be outright dismissing them.
---
Always Use Your Head and visit the official Pro Wrestling Tees store for The Chairshot All t-shirt proceeds help support the advancement of your favorite hard-hitting wrestling website, The Chairshot!

---