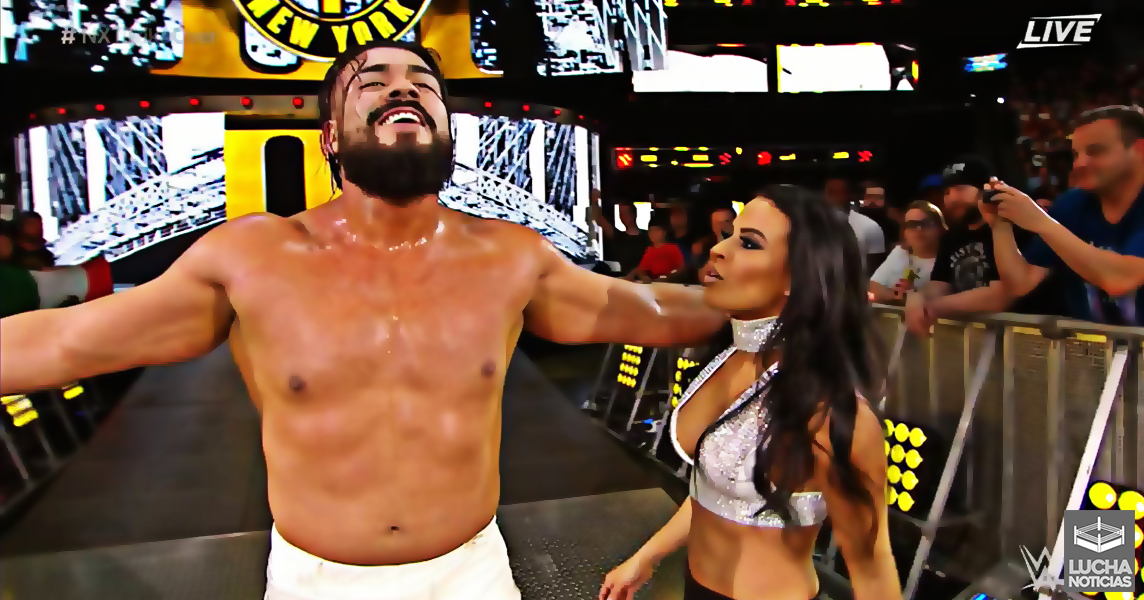 As I'm writing this I haven't watched Smackdown Live yet for this week but I can't help but respond to a comment I saw on twitter complaining about the amount of time that Andrade 'Cien' Almas got this week compared to some other guys.  Namely that he and Sin Cara only got a few minutes while AJ Styles and Nakamura got in a singles and tag match on the same show.  Now while we can debate how much has been too much Styles and Nakamura (my take is that it's old school booking so I'm mostly fine with it but I understand if you're done), what I'm not going to go down the rabbit hole with you on is demanding more TV time for Almas right now.  In his own words now is the time to be tranquilo.  Why?  Because most people still don't know who the heck he is, that's why.
The majority of the SmackDown Live audience does not watch NXT or CMLL.  They don't know about Los Ingernorables and they haven't seen his matches with Aleister Black or Johnny Gargano.  To them Almas is some guy who showed up on their TV a month or so ago and has beaten a few jobbers.  Until they get familiar with him and develop a reason to care, he's just a guy that's running his mouth.  He was supposed to have this program with Sin Cara but that got delayed because Sin Cara hurt his hand and missed a few weeks.  So now they're restarting it from almost square one.  My guess is that they would have had a match this Sunday at Extreme Rules and moved on but now it's been pushed back.
This goes back to what has been a real issue among the wrestling fans who are on social media a lot ranting about how much WWE messes up everything and everyone.  You want your guys and gals who have excelled elsewhere to get the same shine in WWE and get it right now, and if they don't then they're 'ruined' or 'buried'.  And I'm here to say that most of the time that's not so.  You already care about those wrestlers but the general audience does not because they don't know them and aren't going to be swayed by simply watching a YouTube video of a match they had in Ring of Honor or New Japan or somewhere else.  What you do there only matters when you're trying to get signed; once you do sign you're starting over with a new, different audience and have to get over with them.
Recommended reading:
Sure they could put Almas on TV against Daniel Bryan next week, and give them 20 minutes.  Then what?  You wasted what could be a pay per view match next year on 'free' TV just to give a rub to part of the audience that's already plugged in.  Almas is a chance for them to build a Latin superstar who does not come with all the baggage that Alberto Del Rio has.  The last thing they should do is push him to the moon the way that they did with Alberto before the audience got familiar with him, and end up with a really talented guy that the general audience isn't checking for because he was put in big spots before they were comfortable enough with him to be ready for it.  When a guy truly gets over with the main audience almost everything he does is gold but if he doesn't then they won't care.
Daniel Bryan got a three year build before he beat John Cena at Summerslam 2013.  CM Punk was on the roster for a few years before he got that rub  And even Cena himself spent a year jobbing on TV before becoming more competitive then winning big.  It takes time, even if you have an impressive resume from previous companies.  Was there any indication in 2010 when Bryan joined the roster that he could pull of something like his part in Team Hell No from 2012 to 2013?  Or blossom into the guy that sparked the Yes Movement in 2013/14?  No there wasn't.  These things take time.
Everyone can't be AJ Styles.  He was an urban legend like Batman that everyone had heard of even if they hadn't actually seen him, and he wears lot of cool looking gear that's easy to sell.  The 'OMG he's finally here!' thing that happened when AJ walked through that curtain at the Royal Rumble just doesn't exist for most people in the business so when they arrive in the WWE they're going to have to get acclimated and get brought along as if nobody knows them, because most people don't.  Even if you already do, and have seen all their greatest hits so far.  So trust the process!  If it's allowed to work out the results will more than likely be better than if they just hotshotted it to give you what you want.
Chairshot Staff Picks: Survivor Series/NXT Takeover War Games
Who you got?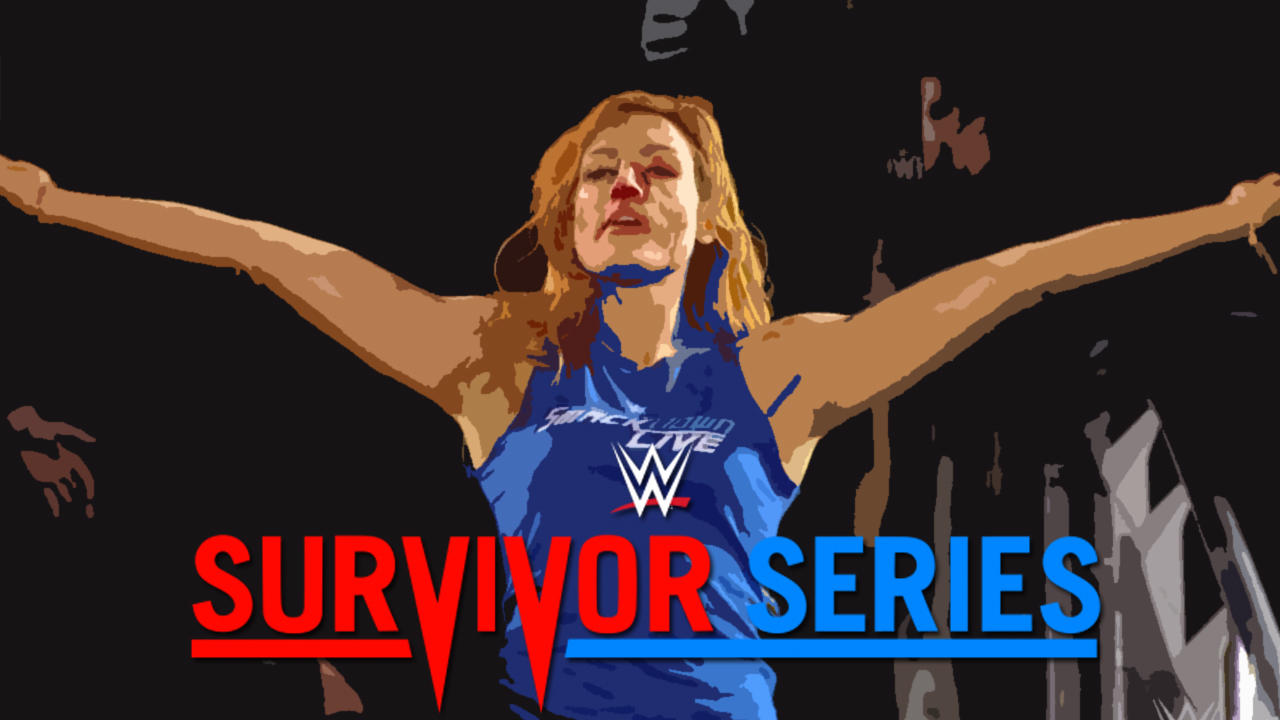 Ladies and gentlemen my name is PC Tunney and welcome back to The Chairshot staff picks! I am thrilled to be reincarnating our PPV prediction series and bringing them to our very astute audience right here on THECHAIRSHOT.com. Survivor Series is a great place to kick things off again. The spirit of brand competition is back and with it comes the long running sibling rivalry between Stephanie and Shane. Not to mention we also have an excellent four match card for NXT Takeover War Games. So as we prepare for the final of the big four PPVs, I have only one question…  Are you ready?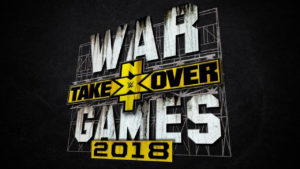 NXT TAKEOVER WAR GAMES – Staples Center Los Angeles, CA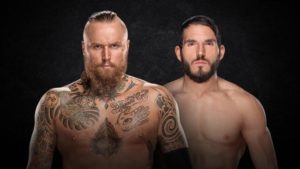 Aleister Black vs Johnny Gargano
STAFF PICKS
Carter: Gargano
Cash: Black
Cassada: Gargano
Gunz: Black
Mcleod: Gargano
Sarpraicone: Black
Scopelliti: Gargano
Weigel: Gargano
Ames: Gargano
Cook: Gargano
Mitchell: Gargano
Platt: Gargano
DPP: Black
Balaz: Black
DeMarco: Gargano
Tunney: Black
10-6 JOHNNY GARGANO #UseYourHead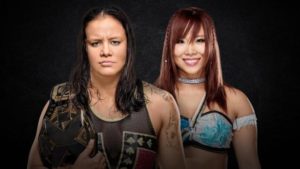 2 out of 3 Falls for the NXT Women's Championship
Shana Baszler (c) vs Kairi Sane
STAFF PICKS
Carter: Sane
Cash: Baszler
Cassada: Baszler
Gunz: Baszler
Mcleod: Sane
Sarpraicone: Sane
Scopelliti: Baszler
Weigel: Baszler
Ames: Baszler
Cook: Baszler
Mitchell: Sane
Platt: Sane
DPP: Sane
Balaz: Baszler
DeMarco: Baszler
Tunney: Baszler
10-6 Shana Baszler #UseYourHead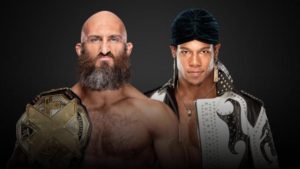 NXT Championship
Tommaso Ciampa (c) vs Velveteen Dream
STAFF PICKS
Carter: Ciampa
Cash: Dream
Cassada: Ciampa
Gunz: Ciampa
Mcleod: Ciampa
Sarpraicone: Ciampa
Scopelliti: Ciampa
Weigel: Ciampa
Ames: Ciampa
Cook: Ciampa
Mitchell: Ciampa
Platt: Dream
DPP: Ciampa
Balaz: Ciampa
DeMarco: Ciampa
Tunney: Ciampa
14-2 Tommaso Ciampa #Use Your Head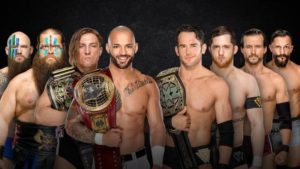 WAR GAMES
The Undisputed Era vs War Raiders, Ricochet & Pete Dunne
STAFF PICKS
Carter: War
Cash: War
Cassada: Era
Gunz: Era
Mcleod: War
Sarpraicone: Era
Scopelliti: War
Weigel: War
Ames: Era
Cook: War
Mitchell: Era
Platt: Era
DPP: Era
Balaz: War
DeMarco: Era
Tunney: Era
9-7 THE UNDISPUTED ERA #UseYourHead
Booking The Future Of Gargano & Ciampa at NXT TakeOver: WarGames
Their story is not over…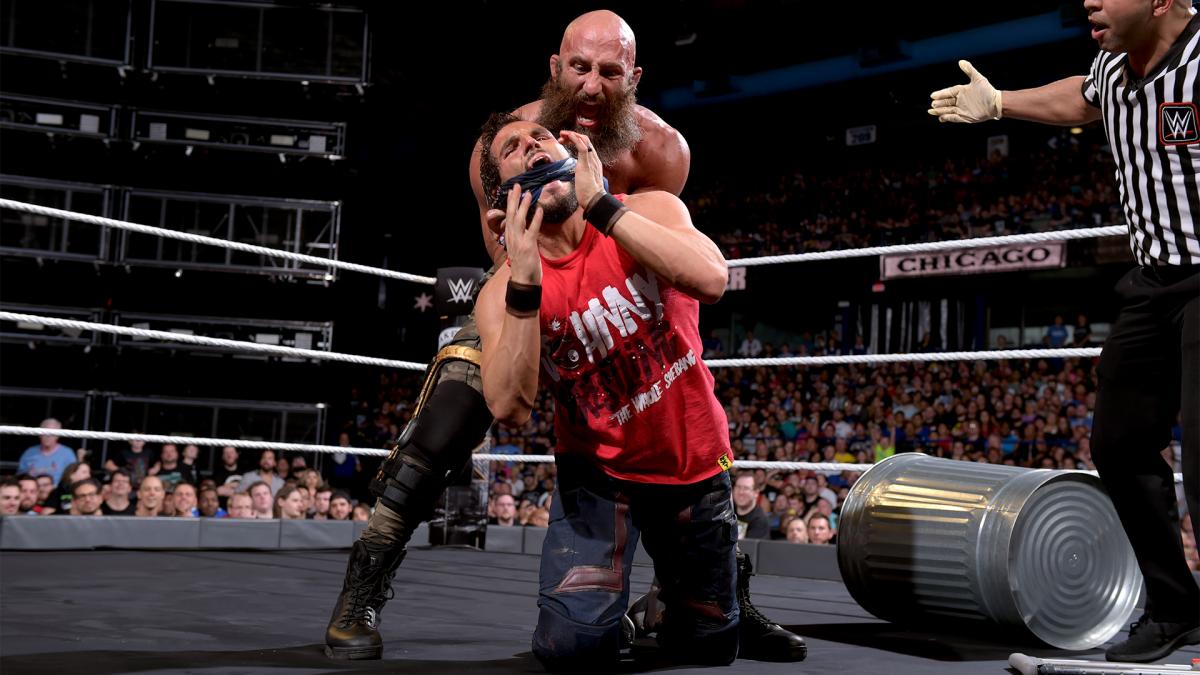 Some may think that the Johnny Gargano and Tommaso Ciampa storyline has been tossed aside, but the card for Saturday at NXT TakeOver: War Games provides the perfect stepping stones toward their final encounter.
Aleister Black vs Johnny Gargano
A lot of fans may feel that Gargano is a heel now but I don't think he's fully turned. At first glance, it seemed like Gargano was turning into Ciampa when he attacked Aleister Black. But remember, he attacked Black just so he could get his hands on Ciampa. 
Booking It: Aleister has the more legitimate gripe in this match so he's winning. Johnny robbed him of his championship and his rematch. We've never seen a feud get Black more fired up than this one. That's why I want the fans to be able to feel Black's anger in the finish. When Aleister Black hits Gargano with the Black Mass kick, I want Johnny to fall back into the ropes, bounce off, then take a second Black Mass on the rebound. Black purges his anger and earns a chance to reclaim his championship.
NXT Championship – Tommaso Ciampa (c) vs Velveteen Dream
I've been anxiously waiting for Velveteen to get a chance at the NXT Championship but I don't have a good feeling about this one. As much as I want Dream to get his first championship, this match had the "weakest" build among the four matches on the card. Everything Velveteen does is magic but Ciampa is on another level right now. 
Booking It: So yes, Ciampa is winning here. But I want Ciampa to have as difficult of a time as possible. Velveteen makes sure to always have the best ring gear for every TakeOver event. I'd like to use that to get into Ciampa's head. When Dream enters the ring, I want him to be wearing a vest or jacket. He won't take it off until Ciampa is in the ring. Underneath he'll be wearing a DIY shirt. That will clearly leave Ciampa flustered and immediately set him off to the point of trying to rip the shirt off. Fast forward to the end of the match. Ciampa has won but is still fixated on the shirt. He recovers it but throws it into the audience before exiting the building. 




Booking Forward: Black and Ciampa were the two winners on the night. That will set up the rematch for the NXT Championship that Aleister Black never got to have. Even their first match wasn't a clean victory since Gargano got involved. This rematch will take place at the TakeOver before the Royal Rumble. 
After the dust is settled from War Games and they're back at Full Sail, Johnny Gargano will confront Velveteen Dream backstage. He'll ask where Dream got the DIY shirt. Dream will say he has no memory of it, then Gargano will conclude by saying to stay out of his business. Tensions rise between the two over the ensuing weeks, also leading to a match at the next TakeOver. 
Johnny Gargano and Tommaso Ciampa will each win those matches, leaving their final encounter for the TakeOver before WrestleMania. Here, Johnny Gargano finally wins the big one. 
How does NXT Takeover War Games play into the long-term story with Tommaso Ciampa and Johnny Gargano? Let us know on social media @theCHAIRSHOTcom and always remember to use the hashtag #UseYourHead!