Honestly, Is Rusev Even That Great?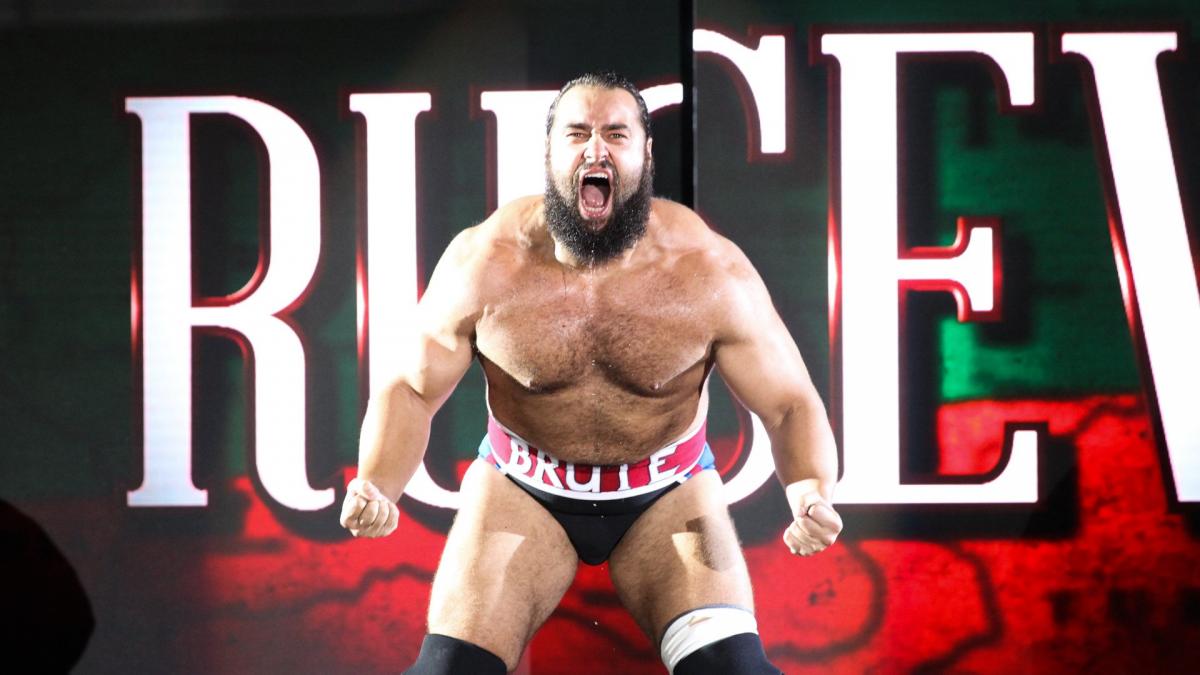 The Bulgarian Brute has fallen down the ranks a bit in the past month. At Extreme Rules in July, Rusev was in Smackdown's main event match. It was Rusev's first ever world championship match in WWE, and his first taste of the main event of a PPV.
Fast forward a month later, and he is slated to be on the SummerSlam kickoff show in a mixed tag team match with Lana against Zelina Vega and Andrade Cien Almas. Although Cien and Vega are fantastic talents, facing emerging talent is typically a demotion of some sort.
Many are sad to see that Rusev is not utilized as a consistent main event player on Smackdown, but (get your boos ready) I'm not really sure that he's good enough to warrant it.
Rusev's Positioning
Rusev Day is a fun gimmick, and WWE lost out by not pushing Rusev when the gimmick was at its height: true statement. If anyone should've been given a chance with a world championship, it should have been him instead of Jinder Mahal: true statement. He is great on the mic and is ready to be a top player in the company: now that's where I'm not sure.
I truly believe he is a great competitor. I believe he has in ring skill that rivals almost anyone in the WWE and I think he has a wealth of potential. However, there aren't many other aspects of his character that really allow for a connection.
Extremes & Promos
To be fair, WWE has not given Rusev enough for him to soar. However, I was really looking to him to push the envelope and try something different in his first world title feud. His program against AJ Styles was rather forgettable. The match at Extreme Rules was very well done, but the build really left a lot to be desired.
For one thing, most of the feud centered around Aiden English. I can understand that he's a part of the whole Rusev schtick, but the he never really broke out here as I thought he would. English kept getting floored by Styles and Rusev never followed up with an impactful promo to get everyone invested in the feud. This was a combination of WWE's mishandling of Rusev's heel/face dynamic, and Rusev not letting his character loose and breaking boundaries in his processes.
From that feud, I really learned that Rusev's promo delivery does not match his gimmick. He is quite calm and collected when he goes through a promo, which is sleep inducing to me. The Rusev Day chants and Aiden English are really all he has to get the crowd riled up. I don't think I've ever been impressed by anything he has done on his own besides the first Rusev Day celebration segment.
Conclusion
I would love for Rusev to be one of the greats, but as of now he's really not. A chant does not replace character and personality- that goes for both WWE and Rusev on their creative directions. Sometimes it's a vicious cycle where a competitor wants opportunities, but WWE simply doesn't invest enough in them to see what they can do. The result of this program with him was bland on both sides.
Am I mad that Rusev is on the SummerSlam kickoff? Yes. To go from WWE title match to the kickoff show is ridiculous, but there was no fire from him during that world title feud. There was nothing drawing me to him, and I was only drawn to Rusev Day.
WWE has to step their game up, but so does Rusev. If he wants to be one of the top guys, he has to start taking chances and really playing his character the way he believes he should be portrayed if he wants any shot at the world title again.