Joe's AAA TripleMania XXVI Results & Review: 8/25/18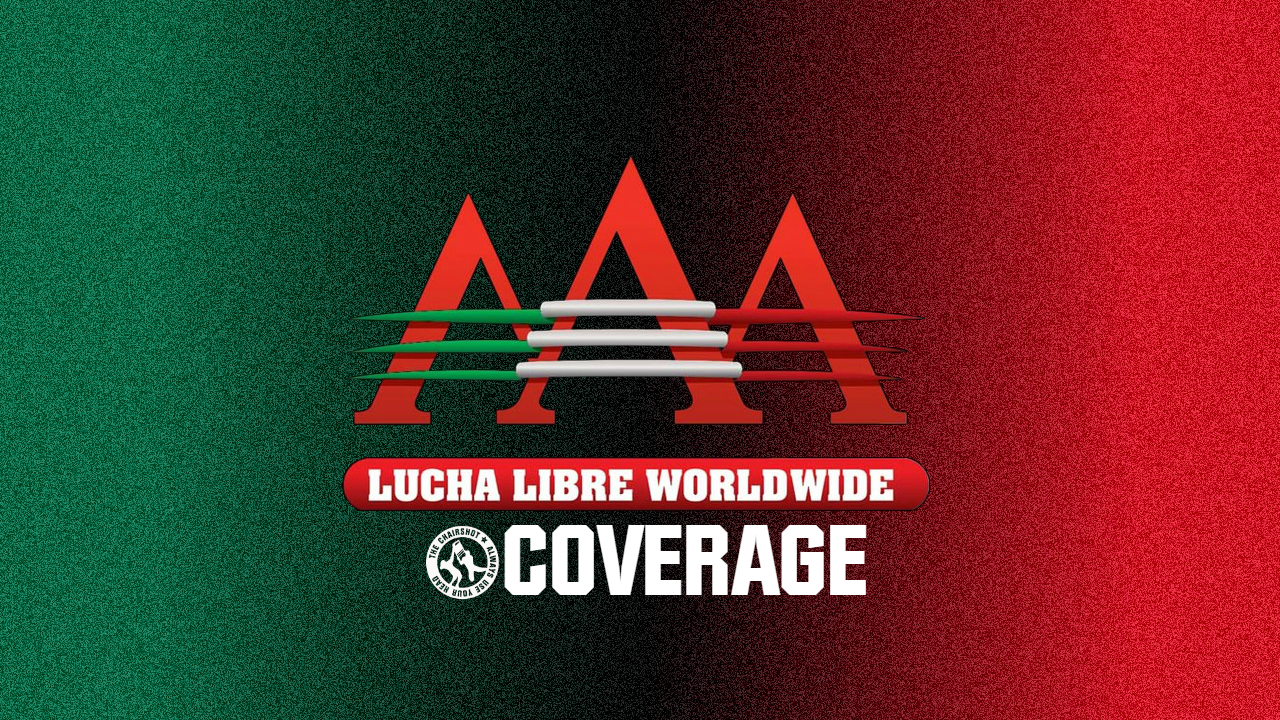 AAA Mega Championship
Jeff Jarrett (champion) vs. Brian Cage vs. Fenix vs. Rich Swann
Rich Swann comes out, I'm not sure why he's in the match, maybe because he was on WWE television a few months ago but who knows. He's followed by Brian Cage, and then Fenix. Jeff Jarrett, the champ comes out last. As Jeff made his way to the ring, someone threw a drink at him. A lot of heat on him. Jeff starts on the floor. He's gonna let the others go at it. Jeff is feigning that he twisted a knee as well when he attempted to get into the ring.
Fenix and Swann are going back and forth with high spots. Fenix does a dive to Cage, he gears up to do a dive to Jarrett, but Jarrett hits him with the guitar. Except the guitar doesn't break. So then he hits him again. Fenix is bleeding. Fenix might have a concussion, that first guitar shot didn't break at all. Jarrett is now hitting Swann and Fenix with a broken guitar, and the crowd is booing it. Brian Cage and Swann double team Jeff and hit him with the heart attack. Tribute to Jim Neidhart.
Swann does a dance and then him and Cage start to wrestle. Fenix is back and intercepts by hitting Swann with a super kick. He then goes after Cage. After that Fenix hits Swann with a hurricanrana. Fenix then goes to hit a dive on Cage but Cage catches him for a suplex. Jeff feigns a dive but does his strut instead. Swann comes in and gets Jeff out of there so it's now Swann and Fenix going after it. Cage then comes back in and Swann goes for a move that's countered into a power bomb, and then a buckle bomb. Moments later, we see Fenix and Swann on the top rope, Fenix dives to Cage, and Cage catches him, in a power slam position. Then Swann jumps and Cage catches him in a power bomb position then he slams them both. Cage goes for the pin but they kick out.
Jeff Jarrett is jawing to Mrs. Pena, the owner of AAA, (widow of Antonio Pena) she throws a drink into his face, and then Fenix dives into Jeff and nails Mr.s Pena. Christ. After all that is settled, making sure she's okay, Fenix gets into the ring and hits a muscle buster. Jeff breaks up the count and hits the ref. He then goes to pin Fenix after hitting him with a guitar and La Parka's music plays again. This is a call back to the early June event where Konnan came out in the La Parka outfit and counted 3 for Jarrett. So Jarrett thought it was Konnan but instead it was Dr. Wagner, Jeff and him jaw, and then Fenix capitalizes with a cutter for the victory. Fenix pins Jeff Jarrett with a cutter to become the new AAA Heavyweight Champion.
The crowds going crazy for Fenix. Interesting that the AAA Mega champ is scheduled to work the CMLL Anniversary Show.
Winner and new Mega Champion: Fenix
Poker de Ases In A Steel Cage Match
El Hijo del Fantasma vs. L.A. Park vs. Psycho Clown vs. Pentagon Jr
Two guys will escape from the cage and then the final two face off in a singles match. Pentagon Jr comes out first. Whole crowd is chanting Cero Miedo. Hijo Del Fantasma is out next. LA Park follows, but as LA Park comes out he wheels out Perrioth, a former luchador who he had legendary battles with. He is in a wheel chair after having a stroke a few years ago. Vampiro got really choked up over it. Vampiro embraces with Park before he gets into the ring. Next comes out Psycho Clown who has main evented the past 5 TripleMania's. He gets a big reaction, some boos and some cheers. Reminds me of someone in WWE.
Finally the match starts and they all exchange spots. Fatasma gets all the way to the top and rather than escape he does a dive off the cage. Fantasma is tearing at Pentagon's mask and he then hit him with a chair. He's starting to bleed. Park smashes Psycho Clown with a chair. Vampiro explains the meaning behind LA Park or La Parka, and it's basically the reaper, or death, The one who waits for you on day of the dead. They set up a table. Fantasma's hand is bleeding. Pentagon hit a package piledriver on Fantasma on a chair. Psycho clown did a suplex off the top rope onto a table on LA Park. Pentagon and Psycho Clown climb the cage next. Pentagon throws a fire ball at Psycho Clown as they're atop of the cage. Pentagon is the first to climb out. Psycho Clown is the next to escape shortly after so now it's down to Hijo Del Fantasma and LA Park in a singles match.
Fantasma hits Park with a middle rope dive. Fantasma throws Park into the crowd. Fantasma is ripping the mask off Park. He puts him on the announce table and hits a frog splash. Park is bleeding so bad. Park fights back and knocks Fantasma to the outside. He then hits a middle rope dive. Park now rips at Fantasma's mask and then hits him with a computer monitor. Park is brutalizing him in the crowd. Park hit him with a ladder, and Park then proceeds to spit up blood. Now they both look considerably gassed, but it's now more of a wrestling match.
The ref is starting to interfere as he senses Fantasma is in trouble. Fantasma and the ref go to the outside of the ring, and Park hits another middle rope dive. After they recover from the dive they make their way back into the ring. Fantasma threw his mask off and pretended that Park took it off him which would be a DQ. Then LA Park did the same. The ref raised both hands seeing who the crowd reacted louder for. He then told both to put their masks on and continue.
More ref interference however, and then Fantasma kicks Park in the nuts. He goes for the pin and Park kicks out. Fantasma argues with the ref then Park hits him with a low blow. Roll up, and 2 count. Park then executes a sunset flip in which the ref helps Fantasma counter it into a roll up combination on Park, but Park stops the refs hand from hitting 3. Fantasma argues with the ref and then clothesline him out of frustration. Park hits the spear and pins him. Fantasma loses his mask. LA Park pins Fantasma with a spear. Fantasma loses his mask.
Winner: LA Park
LA Park gives the ref the middle finger at the end. LA Park requests a mic and gives Fantasma the mic. Fantasma reveals his name which is Jorge Luis Alcantar Bolly, and then takes his mask off.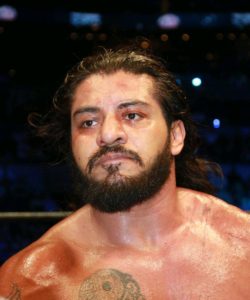 Park says he'll kick Fantasma's fathers ass any time because in 2013 he won the rights back to his name but AAA ignored it, but he respects Hijo Del Fantasma. Now Dr. Wagner is coming to the ring. Wagner is challenging him to a hair vs Mask match… in a years time. Park says he has never faced someone like him. Park also doesn't want to face him, he's only interested in his mask and Wagner no longer has it. The announcers spoke as if it were going to happen. Park seemed to have different plans. Show's over. Very entertaining, but long show. Maybe next year they could be kind and make it an hour shorter. Overall I give this show a thumbs up.