Joe's Lucha Libre Weekly: News & Opinions for 8/30/18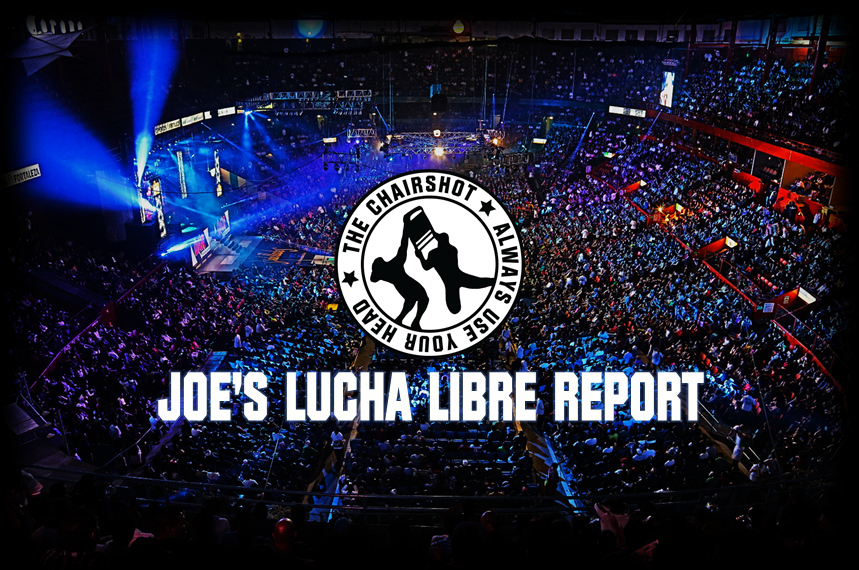 Joe Dinan brings keeps you updated on AAA, CMLL, and all things Mexico in the first edition of The Chairshot Lucha Libre Weekly!
CMLL
CMLL is in Arena Mexico this Friday at 9:30 eastern time. This live stream can be found on CMLL's website, but the show will be uploaded to youtube on CMLL's official YouTube page (VideosOficialesCMLL), 30 minutes to an hour after the show ends.The Monday show in Puebla, and the Arena Mexico show yesterday, are up on YouTube, CMLL weekly review will be up later this week.
The main event for the CMLL show this Friday sees LA Park, Diamante Azul (Blue Diamond), and Volador Jr vs. Tetsuya Naito, Bushi, and……… Rush! Originally this was supposed to be Evil, but Evil is injured so he will serve as a manager. Now, anybody who has knowledge of Los Ingobernables, knows Naito is the leader of the Japanese portion of the group, due to his time in Mexico. You'll notice watching Rush that Naito got a lot of mannerisms from him, but logically it makes sense for Rush to be the partner. A reuniting of the groups, it should be great. HOWEVER! We all know the original main event for the CMLL anniversary show was LA Park vs Rush in a mask vs hair match. That was abruptly ended when CMLL said they couldn't do the match because the other wrestling (AAA) contractually said they couldn't. Konnan has disputed this on twitter, and LA Park even posted his contract on twitter. (More on this later.)
We can definitely expect some fireworks for that match. To further the new Anniversary show main event we have Matt Taven vs Cavernario in a singles match in the co-main. Given what the main event will be and the fireworks we can expect in that match I wonder if the fans will be up for this match or if they will be waiting in anticipation for the main event?
AAA
AAA is back this Sunday live on Twitch for TV tapings for subscribers at 7:30 eastern time. Subscribing is 5 dollars are month. I believe, they upload episodes on their youtube page after they air on Mexican television, so the shows can be caught on delay.
The main event for this show pits LA Park vs Psycho Clown vs Hijo Del Fantasma. Fantasma now without his mask will be wrestling not for the first time since AAA since he'll be apart of the Expo Lucha shows taking place in Las Vegas this week (more on that later.) I'm interested to see where this goes, because clearly they have big plans for LA Park, and if they didn't they wouldn't have teased the mask vs hair match for next Triplemania with him and Dr. Wagner. Psycho Clown who has main evented the last few Triplemania's is one of their top guy, so what is next for him? He could feud with Park or Fantasma. The story leading up to Triplemania would make sense for both, but I think Fantasma would be the better choice.
But who knows what will happen with LA Park. If he catches fire in the United States again, maybe others on this site will be talking about him more than I will. I think a lot of our questions will be answered for the big MLW show next week. I'll be there on October 4th when he makes his return to New York, but nonetheless, other matches on this AAA show include, Jeff Jarrett, Brian Cage, and Killer Kross vs. La Parka (AAA), Dr. Wagner, and Murder Clown. We also have Juventud Guerrera and Jack Evans vs Aerostar and Drago. I'm excited for that match. There's a faction in AAA called MAD, which is spearheaded by Konnan. It includes Kevin Kross, Brian Cage, Teddy Hart, Juventud, Jack Evans, Jeff Jarrett, Konnan, and the new member, Australian Suicide. Think of them as an NWO takeover, it makes sense when you realize Konnan is basically booking now. With his time in WCW, and TNA, he is definitely cut from the sports entertainment cloth.